Copycat Whistle Dog – A&W has been an institution in the US and Canada for countless of years. It has been a fast-food chain that I have enjoyed going to since I was a child.
Amber, our daughter has also enjoyed this restaurant but she is not a burger fan! Luckily A&W had more to offer than just burgers and one thing she loved was their Whistle Dogs.
She and Ken were flabbergasted when they went in to order her beloved hot dog and found out they no longer offer it. WHAAAAAAT????!!! How could this be???!! Ken and Amber came home disappointed and decided to make their own Copycat Whistle Dog!!
Crisp Bacon is the Key!!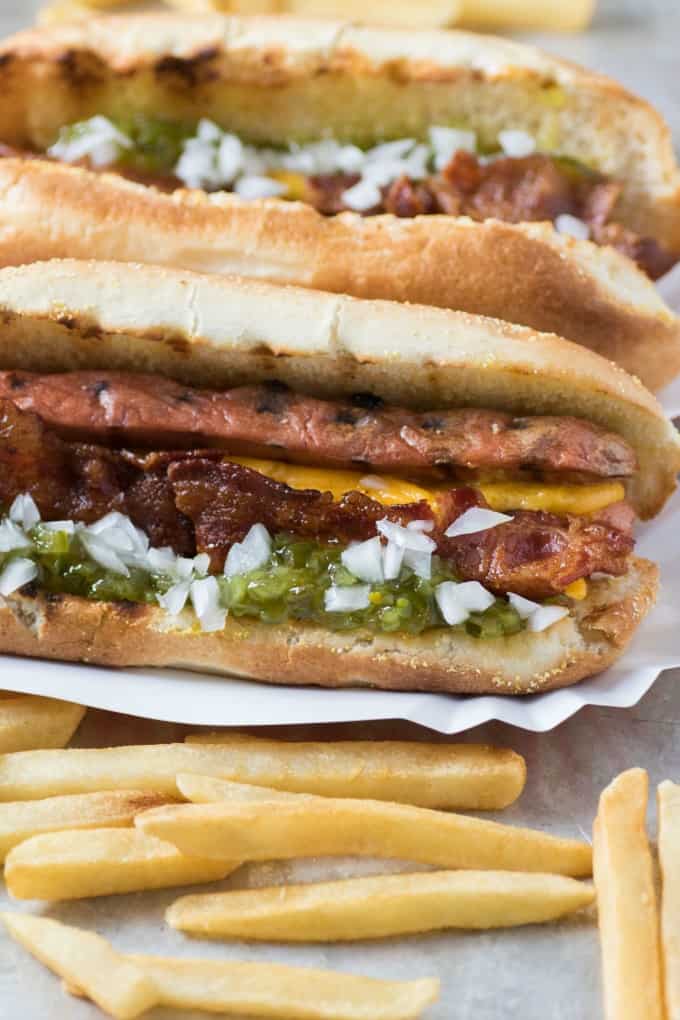 There are just a few things A&W did to make this hot dog really good. They sliced it in half and grilled it that way. They kept the condiments to a minimum, relish, bacon, and cheese.
We added in the little bit of white onion as it adds so much to the hot dog but you can omit that. Plus, they toasted the bun. No ketchup or mustard on this dog!! This is how is arrived!! And man are they good!!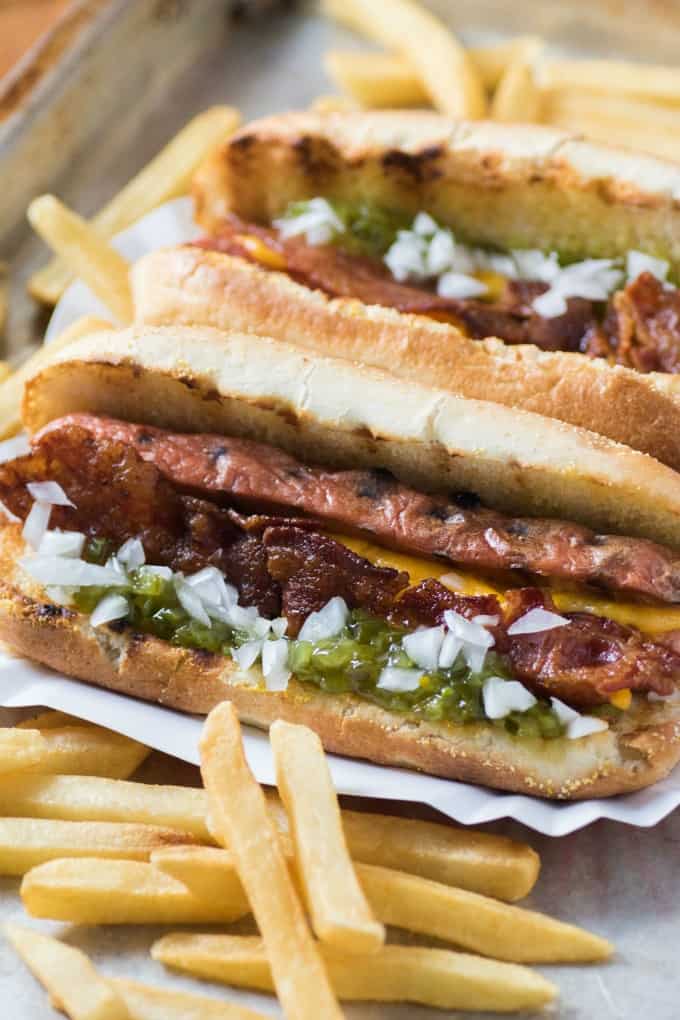 I believe the Whistle Dog was unique to the Canadian menu only. But now all of you can make this excellent treat for your family. It sure is loved here.
We cook up the bacon in the oven to a perfect crispness. Don't know why we haven't done that for years. It is the only way to cook it!! So little mess and you are free while it cooks too!!
Make this Tonight!!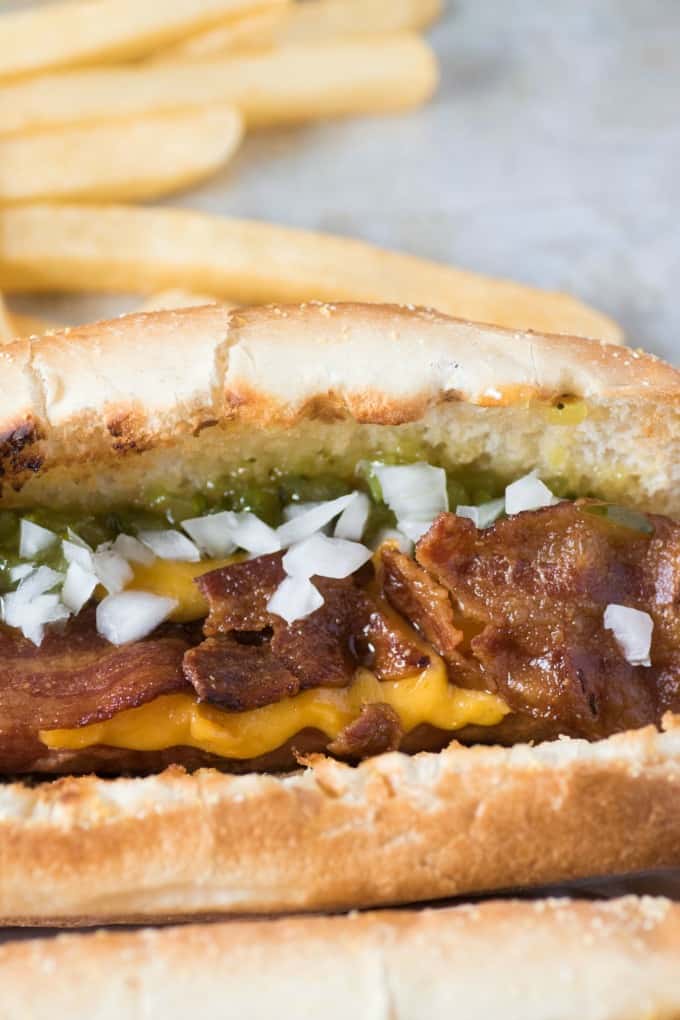 This Whistle Dog would be great for lunch or dinner this summer or anytime. Cooking the hot dog is easy on the grill or stovetop on a flat iron grill or cast iron pan.
The toppings are easy but an excellent combination of flavors! Add some fries to the order and you feel like you are back at A&W!!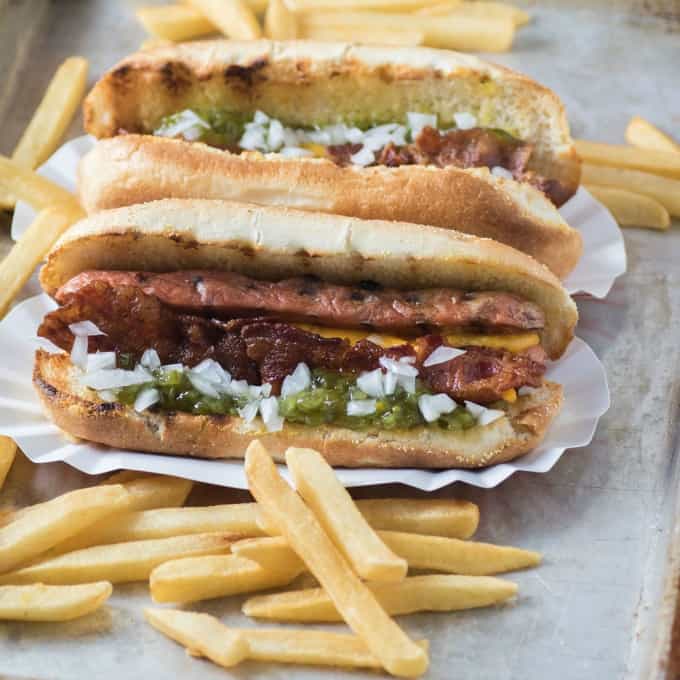 Try one of these delicious dogs today!! Even if it wasn't part of your childhood memories you can make some memories now!! There is nothing better than a great hot dog. Your family will love you for this recipe!!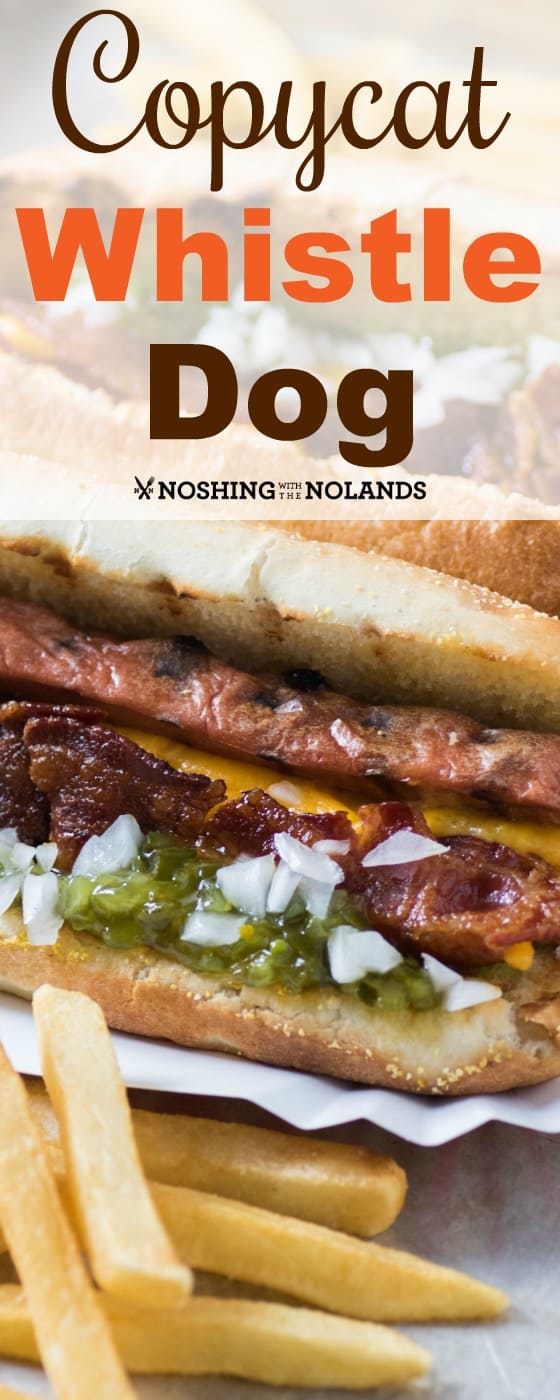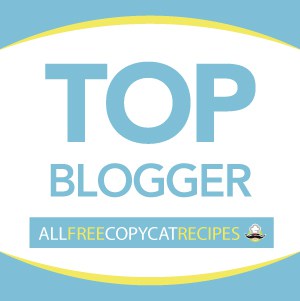 Copycat Whistle Dog Recipe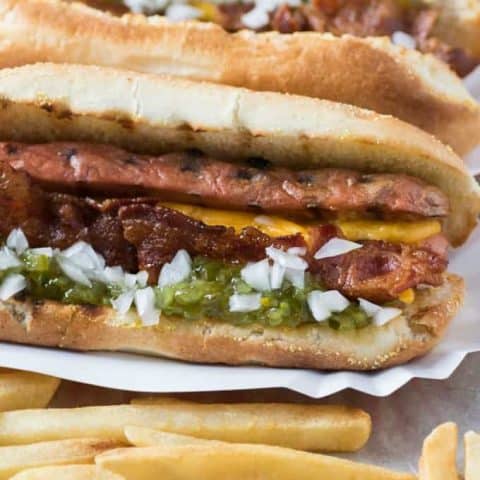 Copycat Whistle Dog
Prep Time: 5 minutes
Cook Time: 5 minutes
Total Time: 10 minutes
This Copycat Whistle Dog is taken from A&W who no longer have this on their menu. You can now make your own at home!
Ingredients
Hot dogs, all beef, sliced down the middle but not all the way through
Hot dog bun, toasted
Cheddar Cheese, grated
Bacon, cooked crisp
Sweet Relish
White onion, finely chopped, optional
Instructions
Heat up the bbq to medium and grill the hot dogs on both sides until nice grill marks appear. Toast the buns on the grill, open side down.
Place one hot dog in each bun and fill the hot dog with cheese. Run it under a broiler to melt. Top with crisp bacon, relish, and onion if desired. Serve immediately.