Perfectly Crispy Baked Bacon
Have you tried baking bacon? It is the only way we are doing it now! Every time we get Perfectly Crispy Baked Bacon with little to no splatters. It cooks completely evenly and not overcooked in the middle with fatty ends. It also seems to make even cheaper bacon taste wonderful. Brings out the flavor!! If you are a carnivore then there is nothing better than great bacon to enjoy!!
Gone are the days of bacon splattering all over the cooktop and standing there tirelessly cooking batch after batch when you can put it in the oven and relax. Why would you want to cook it any other way? Especially when it turns out perfectly every time!! Great with a make-ahead baked french toast. All are made in your oven!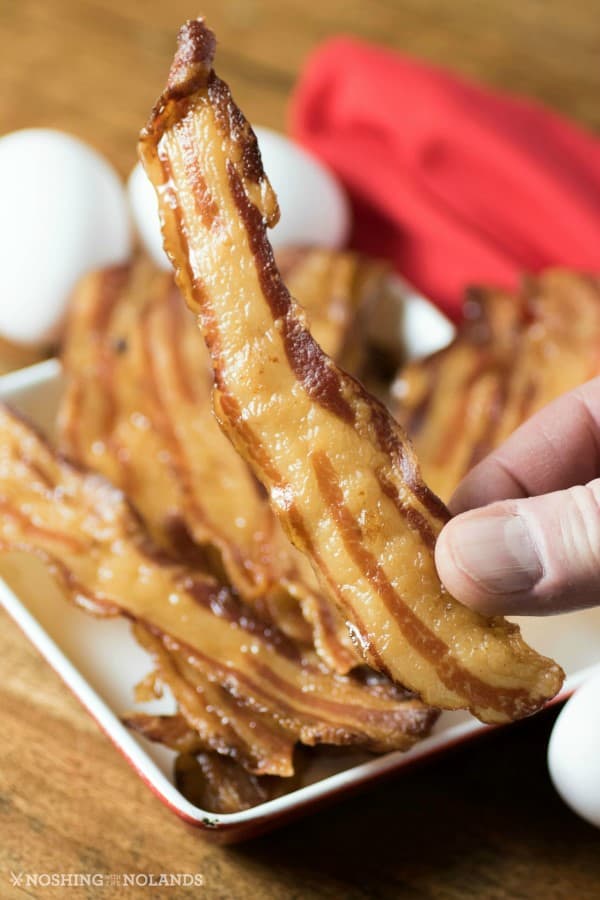 Bacon and eggs for dinner? You betcha! And now it couldn't be easier!! No more slaving over that hot stove getting splattered. Why we didn't discover this years ago I am not sure. I have to give all the credit to Ken as he started doing this and has perfected in both a toaster oven and a conventional oven.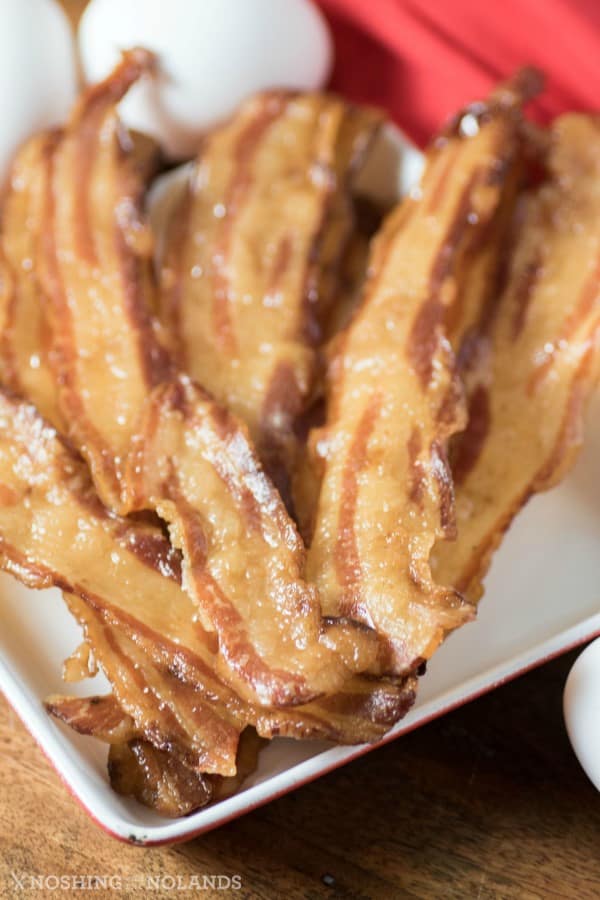 We have started buying less expensive bacon and baking it in the oven and it tastes amazing. So not only is this an easy and delicious way to make bacon but also cost-effective too. It, of course, works well with thicker more expensive cuts of bacon too.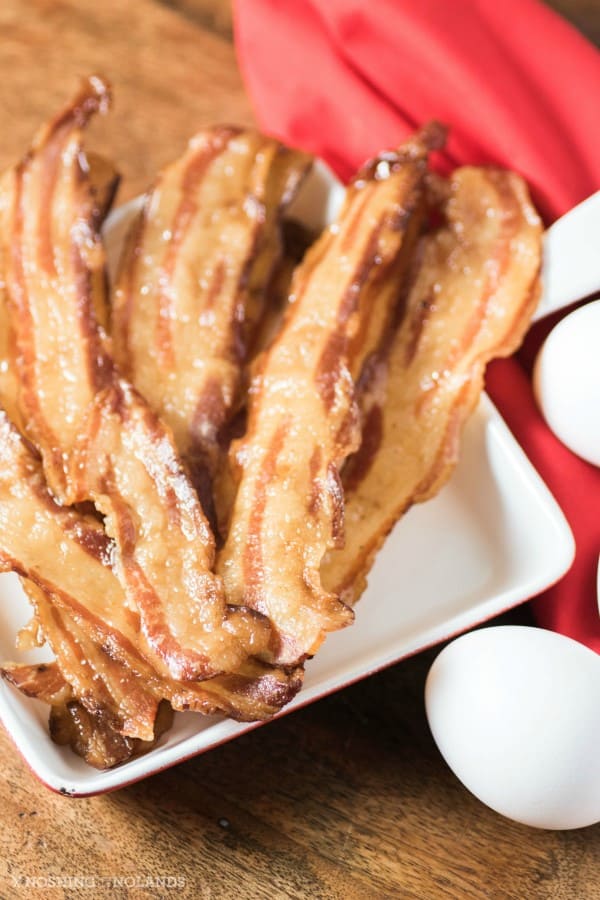 Salty, crispy, crunchy, I am drooling just thinking about bacon now. You just have one quick turn of the strips of bacon partway through. This is a great way to cook an entire pound and if you line the rimmed cookie sheet with foil (why wouldn't you) then cleanup is a cinch.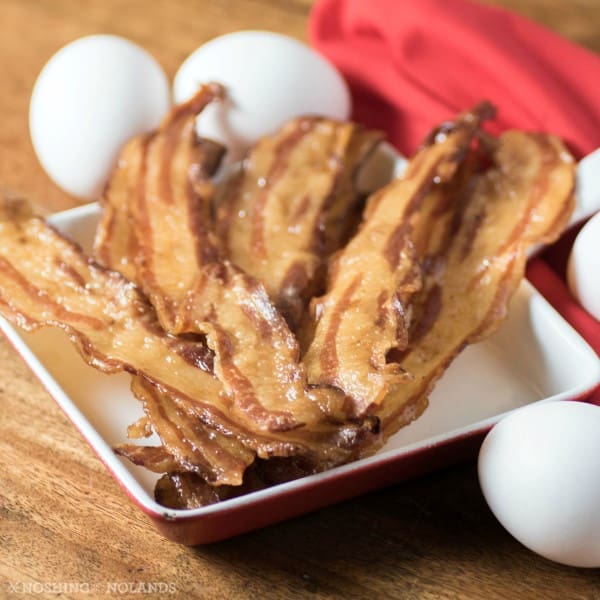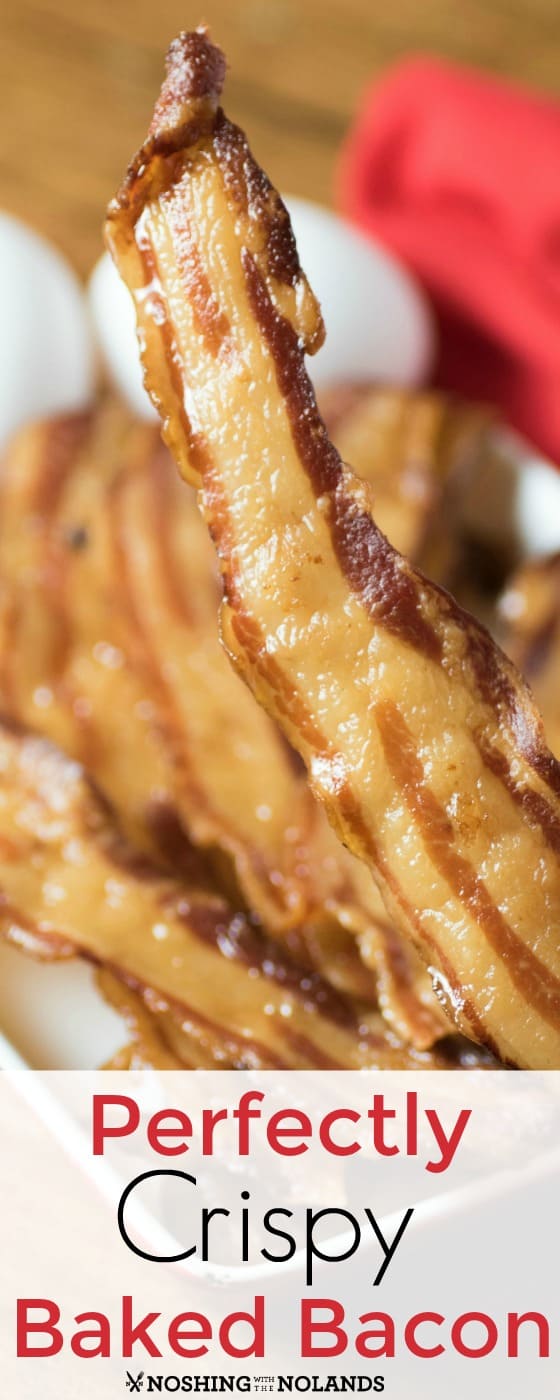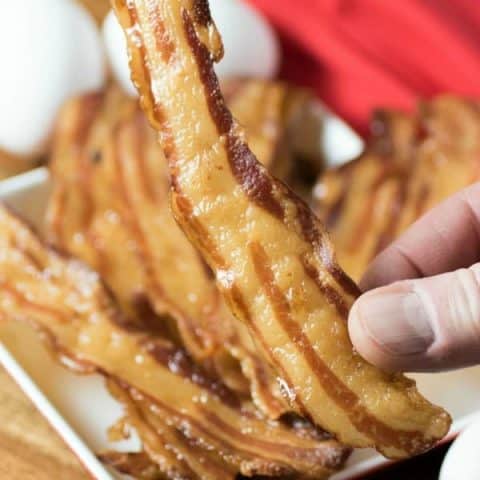 Perfectly Crispy Baked Bacon
Yield: 1 lb. bacon
Prep Time: 2 minutes
Cook Time: 22 minutes
Total Time: 24 minutes
Perfectly Crispy Baked Bacon is so easy, you will never want to cook it any other way!!
Instructions
Line a sheet pan with one piece of tin foil ensuring that it is completely covered, (this makes clean up a breeze).
Preheat the oven to 350F.
Lay the bacon out in a single layer covering the pan.
Bake for 10-12 minutes, remove the pan from the oven and turn the bacon (careful not to make a hole in the tin foil)
Bake for an additional 7-10 minutes or until desired doneness.
Remove the bacon to a paper towel lined plate and enjoy.
Let the bacon fat on the sheet tray cool and discard the foil. Your sheet pan should be clean leaving you with no messy cleanup.