This recipe was a kind of accident. Ken was making bacon for the oven and decided to add brown sugar. I walked by and decided to give the bacon some sweet heat. We have made this Brown Sugar Bacon many times since as we all rave about it.
Try this baked bacon candy instead of frying up bacon in a pan next time you want an amazing treat with your breakfast. This Brown Sugar Bacon goes great with eggs, waffles, pancakes, french toast, and more. Add some to our Breakfast Charcuterie Board, it will be the first to disappear. And if you love sweet heat then try our Hot Honey Recipe.
Helpful Items for This Recipe
This post contains affiliate links. As an Amazon Associate, I earn a small portion from qualifying purchases at no extra charge for you.
How Do You Flavor Bacon?
Although bacon punches a great flavor to begin with it is a blank canvas to add even more flavor to and it is also so easy. We always, always now bake our bacon as it really couldn't be easier and so much less mess to clean up and no splatter burns.
To start preheat your oven to 375F. Wrap a rimmed baking sheet with aluminum foil and add your bacon slices to the lined baking sheet in a single layer. Measure out your brown sugar and cayenne pepper.
Sprinkle the bacon with brown sugar first and then followed by the cayenne to taste. The flavor combination gives the perfect sweet-heat to your bacon.
Pop the bacon into the oven and bake for 12-15 minutes then turn the bacon and continue to bake for another 5-7 minutes.
Bake the bacon until the desired doneness but make sure the bacon is crisp. Be careful the bacon will go from not quite done to overdone very quickly. Keep an eye on it for the last few minutes.
The Key is in the Bag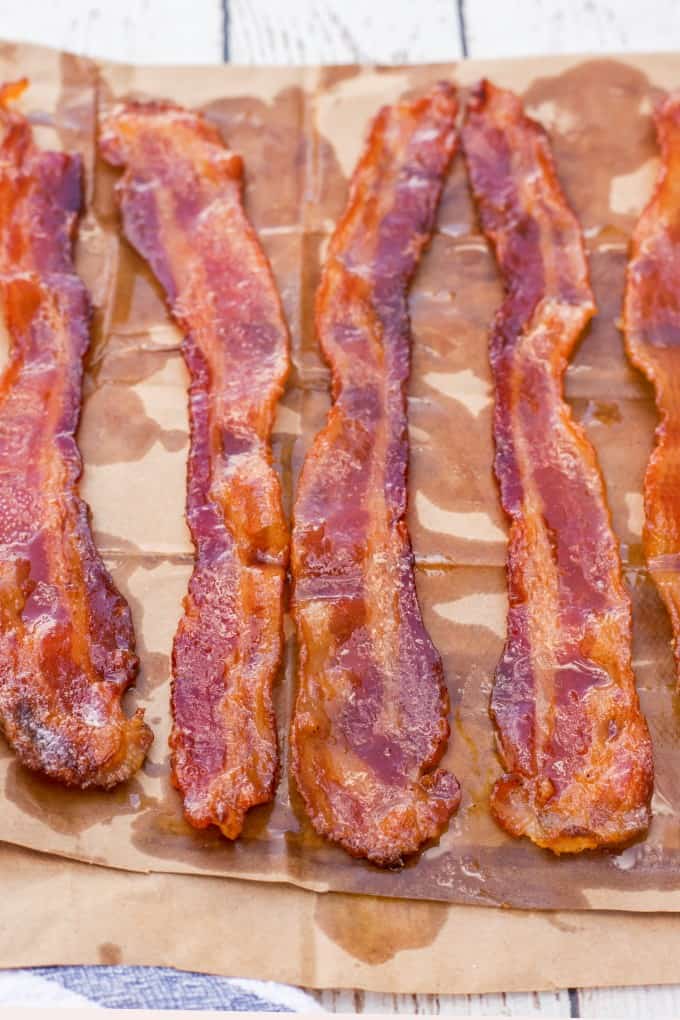 Drain the bacon on paper bags, if you use paper towels it will stick and give you a mess. Here is where you can learn from my experience, the paper bags work great!
You can place the bags on a cooling rack if desired. This recipe can also be made ahead of time but I like it fresh and hot out of the oven.
Sweet-Heat Brown Sugar BaconTreat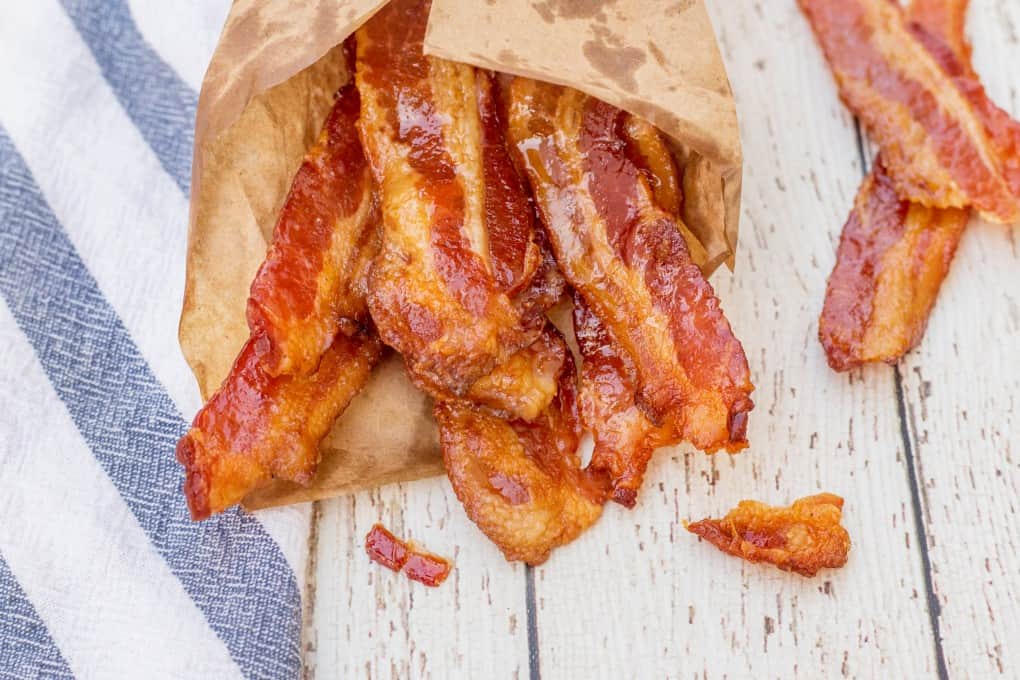 Now serve up this sweet-heat treat and listen for major raves!! Never is there a scrap of this bacon leftover, every delicious crispy morsel is devoured.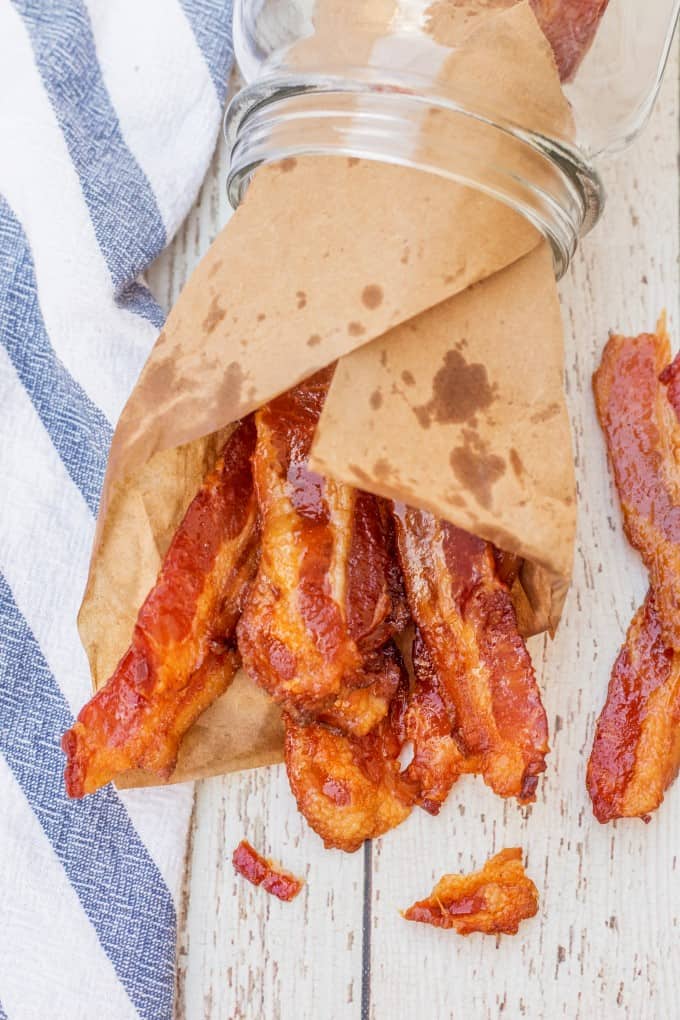 We have tried adding maple syrup and sriracha to bacon but the result isn't as crispy and wonderful as this is. It gives you more of a chewy bacon but I adore the crisp!! Use regular cut bacon as opposed to a thick cut. You will get the best results.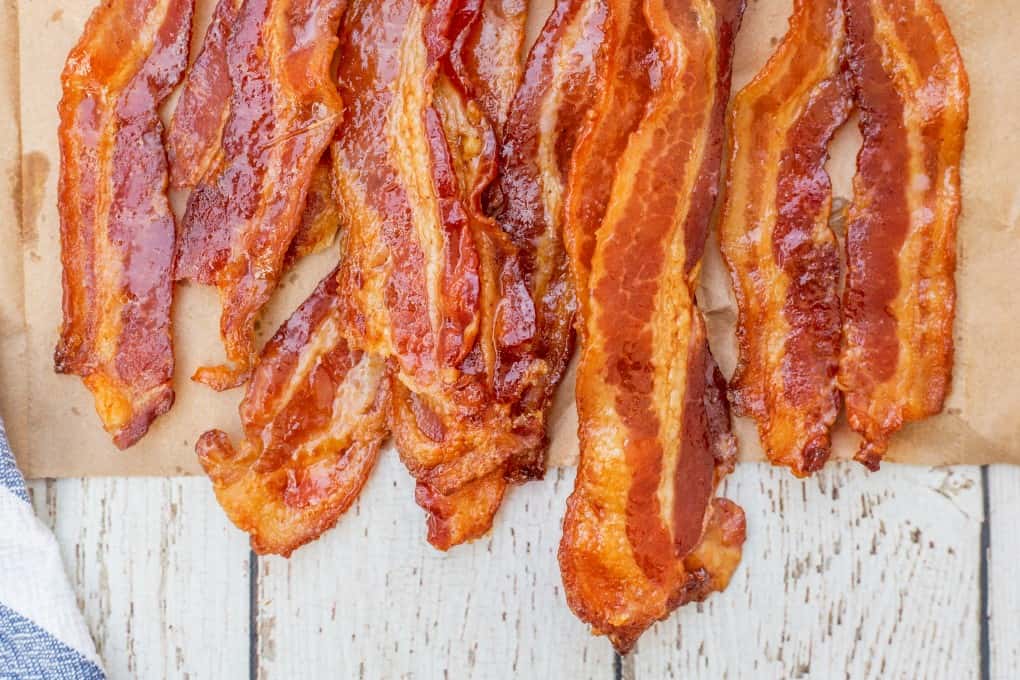 Using rimmed baking sheets with foil makes clean up so easy. If it is cooler outside or you have room in your refrigerator you can pop them there. The bacon grease will harden and the cleanup is even faster.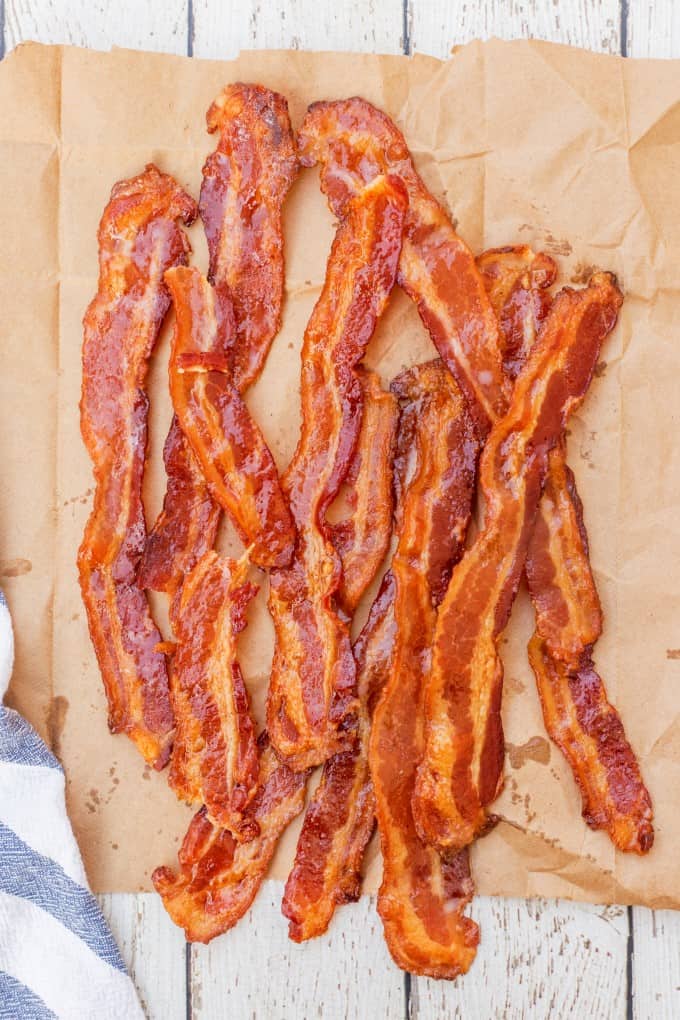 The smoky nature of bacon is married to the brown sugar and cayenne to nicely. This recipe I know you will want to make again and again. Enjoy!
Pin it HERE!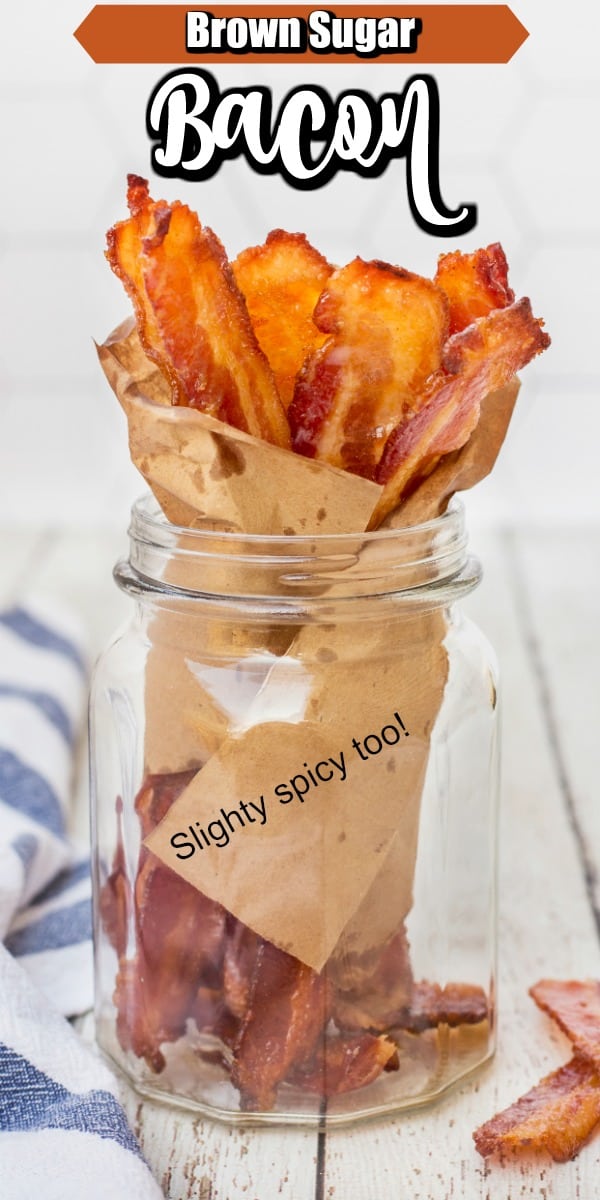 Pin it HERE!!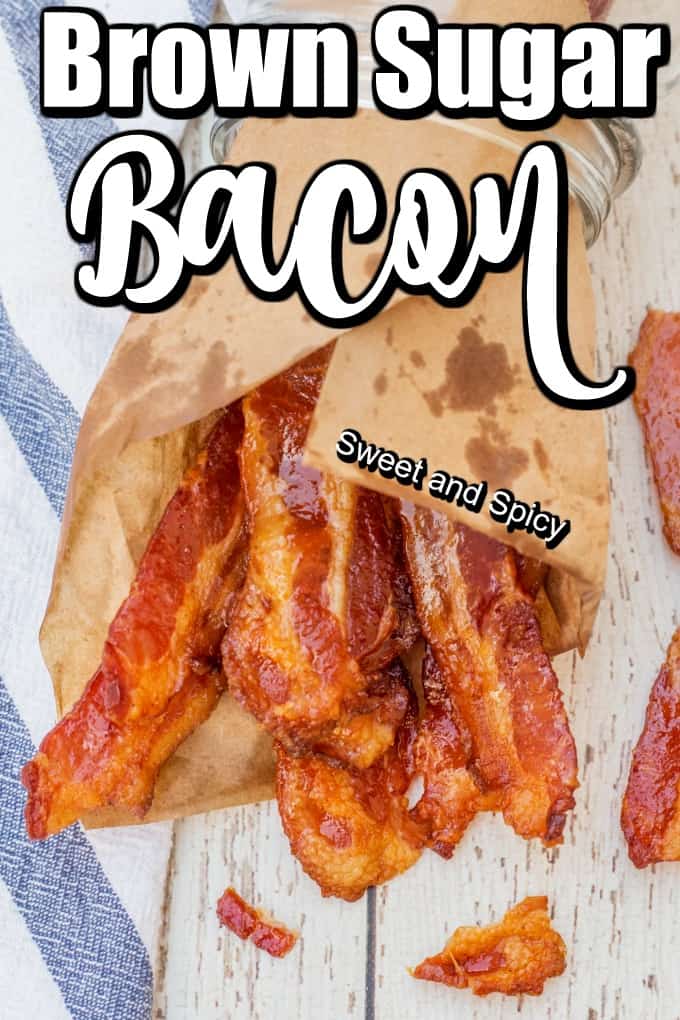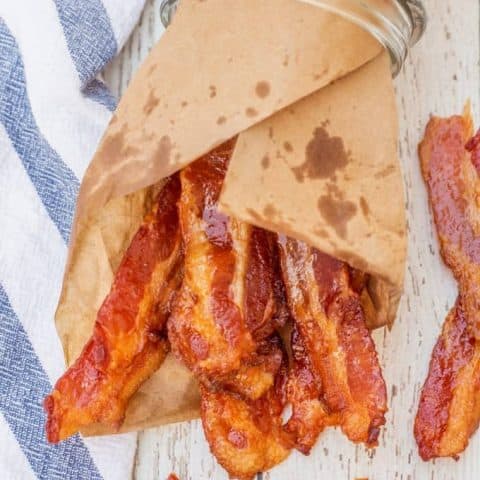 Brown Sugar Bacon
Yield: 11 or 12
Prep Time: 5 minutes
Cook Time: 20 minutes
Total Time: 25 minutes
This Brown Sugar Bacon is our favorite way to prepare bacon! Not only does it add a touch of sweetness but also a bit of heat and clean up couldn't be easier!! We love it and I know you will too!!
Ingredients
1 375g package of your favorite sliced bacon
1/3 -1/2 cup brown sugar
1-2 tsp cayenne pepper
Paper bags
Instructions
1. Preheat your oven to 375 degrees F.
2. Line a large cookie sheet (or 2 smaller ones) with foil.
3. Lay the bacon out in a single layer on the foil.
4. Sprinkle the brown sugar over the bacon making sure each slice is generously covered.
5. Sprinkle the cayenne pepper on top of the brown sugar, making it as spicy as you like.
6. Bake for 12-15 minutes then turn the bacon and continue to bake for another 5-7 minutes or until desired doneness. (be careful the bacon will go from not quite done to overdone very quickly).
7. Place on torn opened paper bags to drain. Do not use paper towels as they will stick.
Recommended Products
As an Amazon Associate and member of other affiliate programs, I earn from qualifying purchases.
Nutrition Information:
Yield: 12
Serving Size: 1
Amount Per Serving:
Calories: 157
Total Fat: 11g
Saturated Fat: 4g
Trans Fat: 0g
Unsaturated Fat: 7g
Cholesterol: 31mg
Sodium: 527mg
Carbohydrates: 3g
Fiber: 0g
Sugar: 2g
Protein: 11g
Recipe calculation was provided by Nutritionix and is an estimation only. If you need nutritional calculations for medical reasons, please use a source that you trust.