These Delicious Sausage Pinwheels are made in a buttery puff pastry filled with Italian sausage meat, spinach and cheese, and a flavour of pesto. Irresistibly yummy, this easy recipe will soon become a family's favourite.
Make these light and fluffy spirals to enjoy for your next picnic, on the side of a salad or even as a snack. You can enjoy them warm or cold; they are a great appetizer, a delicious side dish, and fantastic to eat on the go or for the kids' lunch or even a picnic. Also, try our amazing Vegetable Cream Cheese Pinwheels or Crunchy Southwest Chicken Pinwheels too!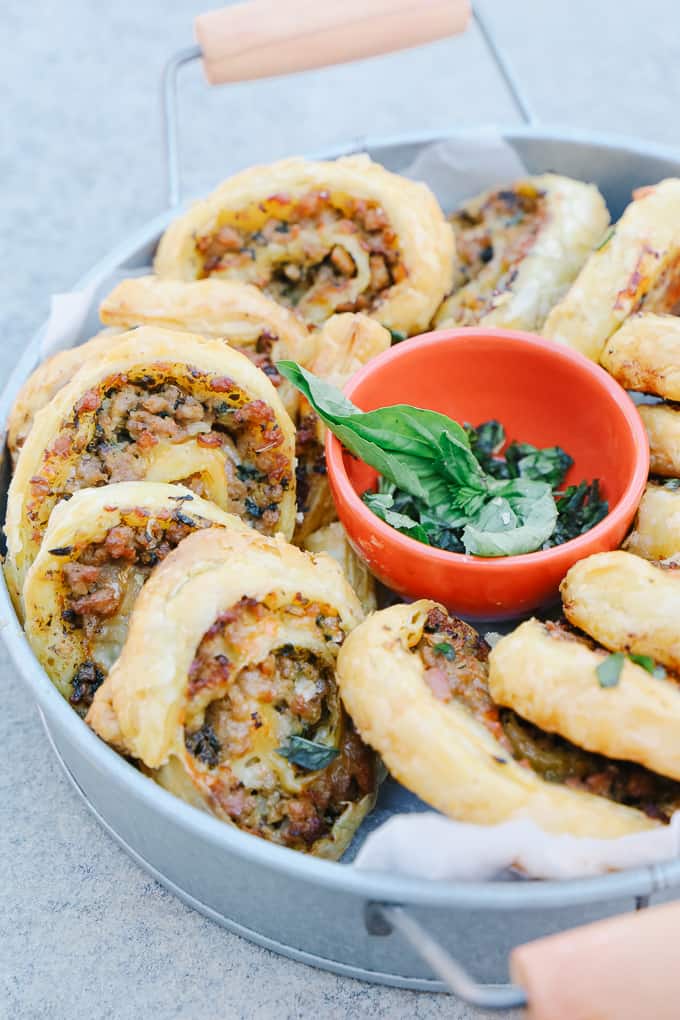 Hi there, Melanie from Bon Appét'Eat again. It's been a lot of fun to be part of the Noshing with the Nolands tribe. You should pop by my blog if you have a chance! If you are looking for another amazing appetizer, my cheesy pull apart bread is quite the sensation. Planning a picnic? Make your own spinach quiche from scratch.
Helpful Items For This Recipe
This post contains affiliate links. As an Amazon Associate, I earn a small portion from qualifying purchases at no extra charge for you.
What Do You Need to Prepare Sausage Pinwheels?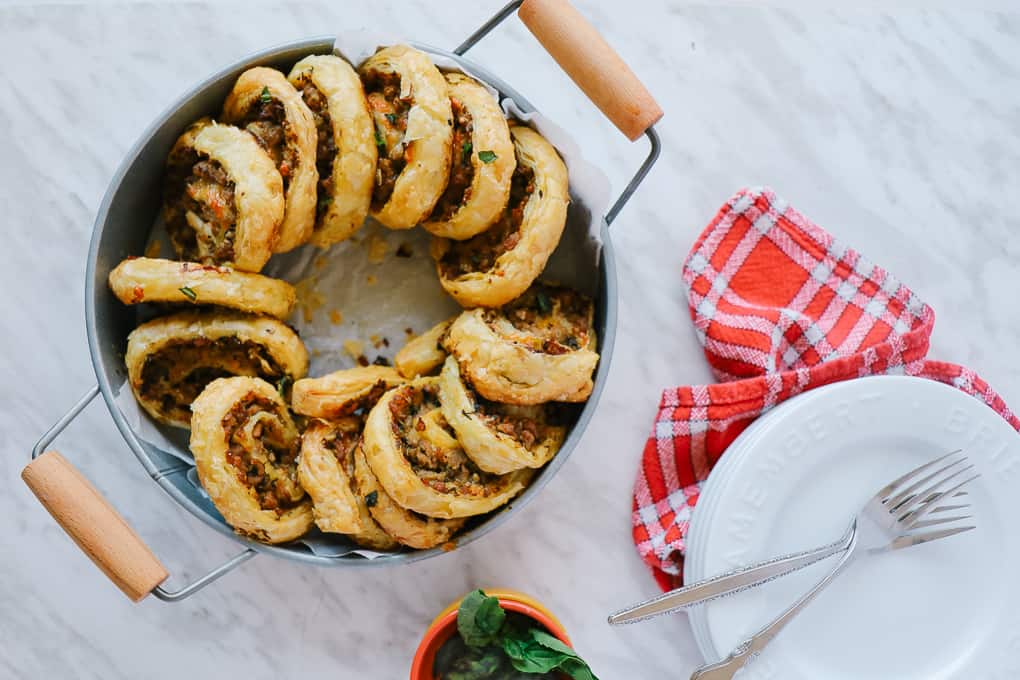 PASTRY: Don't forget to thaw your puff pastry by putting it in the fridge the day before or on your kitchen counter a couple of hours at room temperature.
PESTO: Such a go-to ingredient in my kitchen, this makes your pinwheels so much more delicious and somewhat a gourmet appetizer your family will love!
SAUSAGES: I recommend using Italian sausages. They already have such an amazing flavour; it's a great combination. You cut them open to get the meat out. Besides adding salt to taste, this is ready to be cooked. Discard the skin; you won't need it.
ONION: Adding half an onion cut in small pieces adds some more flavour to your pinwheels.
SPINACH: I would strongly advise you to go with fresh spinach for this recipe. However, if frozen spinach is all you have, make sure to thaw it and drain it well. Add an extra step to remove humidity by patting a paper towel on the spinach. Chop them up; you can skip this step if you wish, I personally prefer it that way as getting a big cooked leaf on my pinwheel is not appealing.
CHEESE: I use old cheddar but you can go with what you have or what you like.
How To Prepare The Sausage Pinwheels?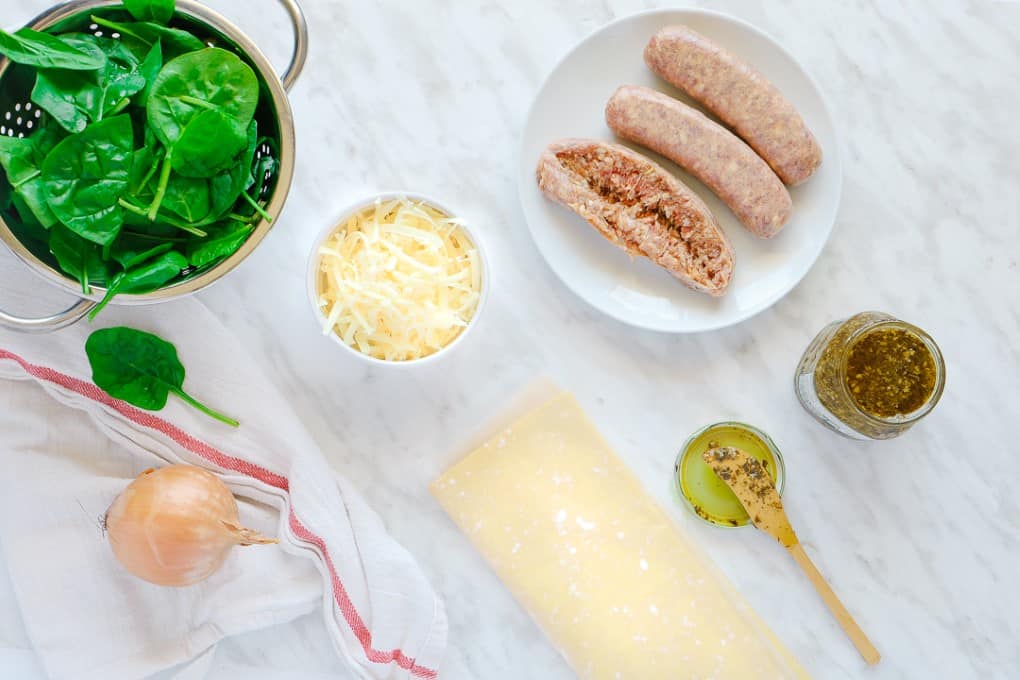 Preparing these babies is actually pretty simple and rather quick. If you have read another blog post from me, you will know I'm a strong believer in organizing your ingredients before getting started, it's called mise en place.
Then, wash your spinach, chop your onion and prepare the meat.
In a hot pan, sauté the onion in a little of olive oil until it becomes transparent. Add in the sausage meat and a few minutes later add the spinach.
Set the sausage mixture aside. If necessary, unroll your puff pastry on a lightly floured surface. Spread generously with pesto.
Now, add in your sausage mixture, spread it, but leave space on the border. When you roll, it will reach the border by itself.
Now it's time to add the cheese and roll slowly on the long side. Take your time; if you added the meat still warm, your dough is softer.
Since a picture speaks a thousand words, here are the steps to help you execute the recipe.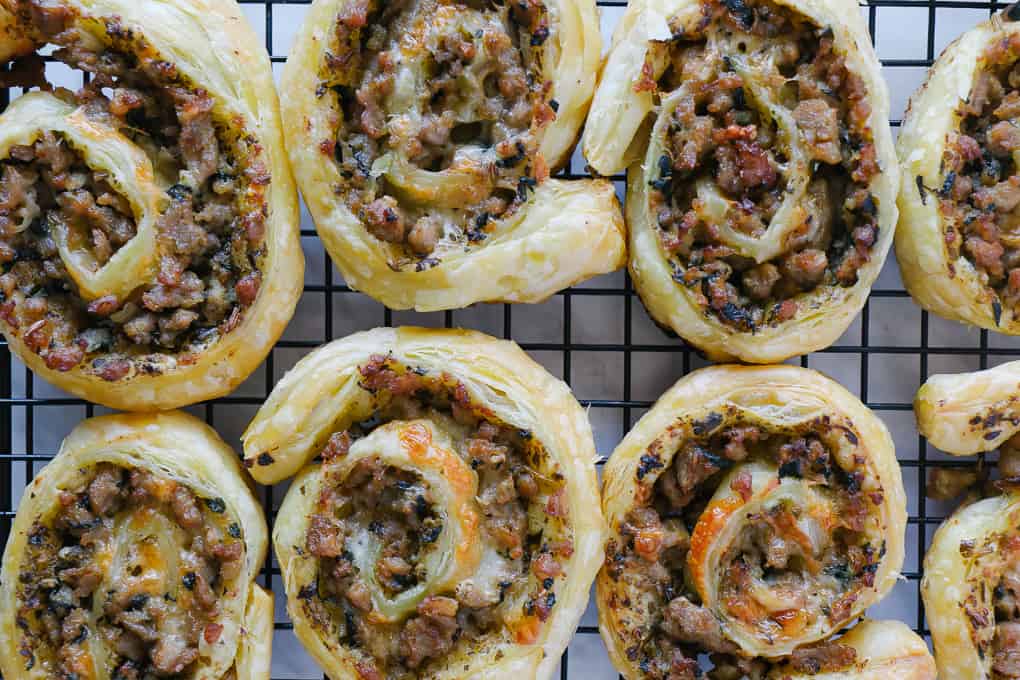 Once your dough is rolled, nice and tight, wrap it in a cling wrap and place in the fridge for at least 30 minutes. It will allow you to make a clean cut. Now you just need to slice and bake. Cut and place on a baking sheet, space them out as they'll grow.
Cook it in the oven on medium-high heat for 15 minutes or until the pinwheels are golden brown. READY!
A Few Recipe Notes
Can I make them ahead?: You can prepare this recipe in advance and bake it too. Once the pinwheels cool down, store them in an airtight container and place it in the fridge. Warm them up a few minutes in the oven.
Can I freeze my pinwheels? Absolutely! Follow the recipe all the way to where you are cutting them and placing them on a baking sheet and parchment paper. Freeze them like this on the tray; then you can place them in a ziplock bag until you need them. To cook them, place them again on a baking sheet and bake them frozen (35-40 minutes depending on your oven).
I don't have puff pastry, what can I use? Feel free to use another type of dough such as crescent rolls or make your own. I just love and recommend the puff pastry for its flakiness!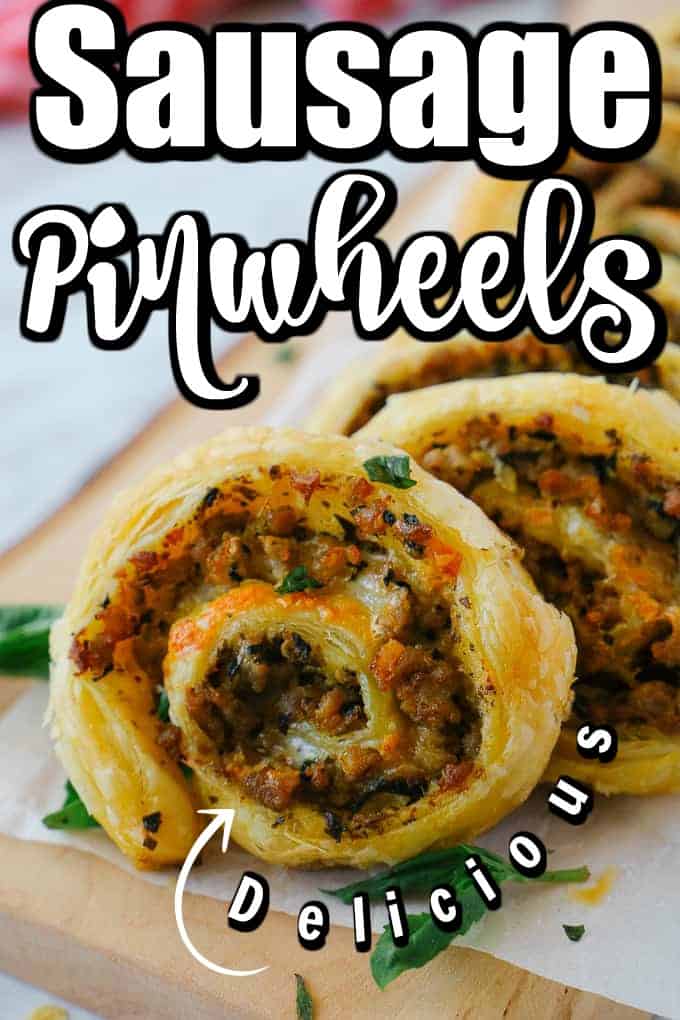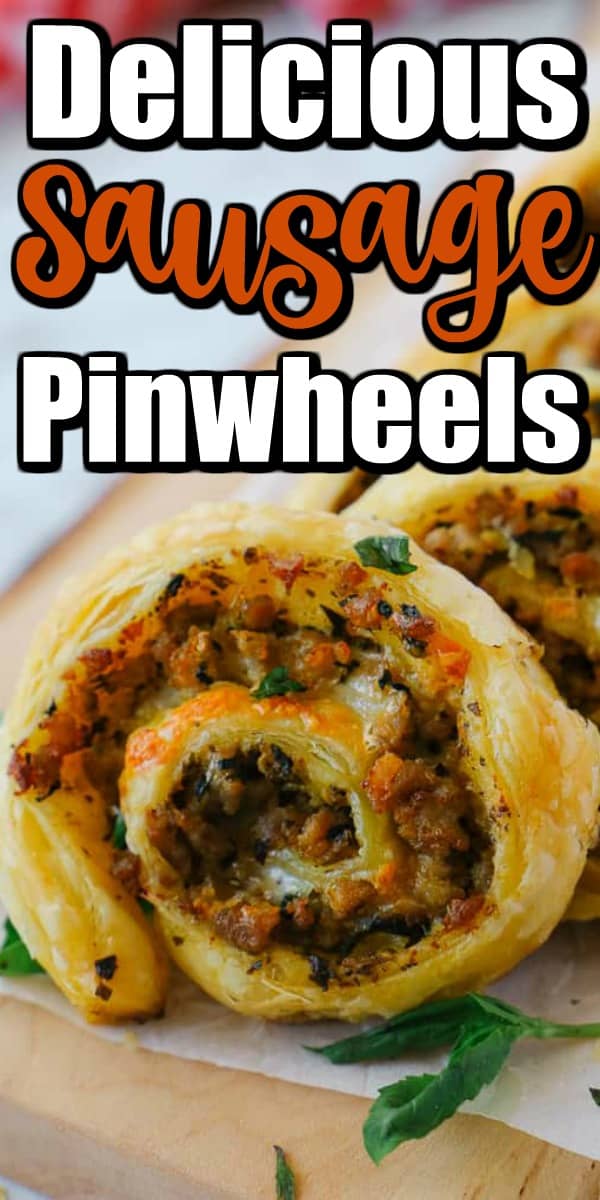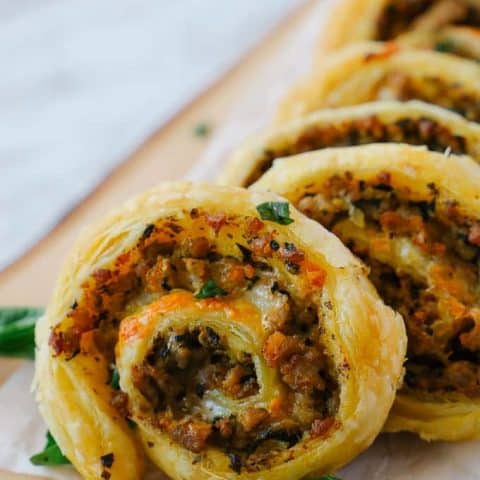 Delicious Sausage Pinwheels
Yield: 16
Prep Time: 20 minutes
Cook Time: 15 minutes
Additional Time: 30 minutes
Total Time: 1 hour 5 minutes
These Delicious Sausage Pinwheels are made in a buttery puff pastry filled with Italian sausage meat, spinach and cheese, and a flavor of pesto. Irresistibly yummy, this easy recipe will soon become a family's favorite.
Ingredients
1 sheet of puff pastry
1 tbsp of olive oil
1/2 onion
1 cup of spinach
1 pound of sausage meat (approx. 5 sausages)
4 tbsp. of pesto
1 cup of grated old cheddar cheese
Salt to taste
Instructions
Chop the onion into small pieces. Wash the spinach and chop. Set aside.
Cut open the sausage, take the sausage meat, and discard the skin.
In a pan, on medium-low heat, pour the olive oil and sauté the onion until translucent. (3-4 minutes)
On medium heat, add the sausage meat and the salt. Cook for 4-5 minutes and stir occasionally.
Add in the spinach and cook for 1-2 minutes. Remove from the heat and set aside.
Unroll your pastry on a lightly floured surface if necessary. Spread the pesto evenly.
Then, spread the sausage mixture. Leave space (1/2 inch) on the borders.
Sprinkle with the cheese.
Slowly roll your dough. Wrap in a cling wrap and refrigerate for 30 minutes. Preheat the oven to 350 degrees F.
Take your wrapped dough out of the fridge. Cut it into slices of 1/2 to 3/4 of an inch.
Place parchment paper on a baking sheet. Bake for 15 to 20 minutes.
Serve warm or at room temperature!
Recommended Products
As an Amazon Associate and member of other affiliate programs, I earn from qualifying purchases.
Nutrition Information:
Yield: 16
Serving Size: 1
Amount Per Serving:
Calories: 174
Total Fat: 15g
Saturated Fat: 5g
Trans Fat: 0g
Unsaturated Fat: 8g
Cholesterol: 32mg
Sodium: 355mg
Carbohydrates: 2g
Fiber: 0g
Sugar: 1g
Protein: 8g
Recipe calculation was provided by Nutritionix and is an estimation only. If you need nutritional calculations for medical reasons, please use a source that you trust.