Whether you're looking for a delicious party appetizer recipe, a healthy lunchbox meal, or a quick snack, these Vegetable Cream Cheese Pinwheels fit the bill! With a tangy cream cheese spread flavored with fresh herbs and packed with crisp, bright veggies, these pinwheels are a fun way to eat the rainbow. Best of all, they take only a few minutes to put together!
Looking for more easy appetizers? Try our Crunchy Southwest Chicken Pinwheels or our Cucumber Hummus Bites.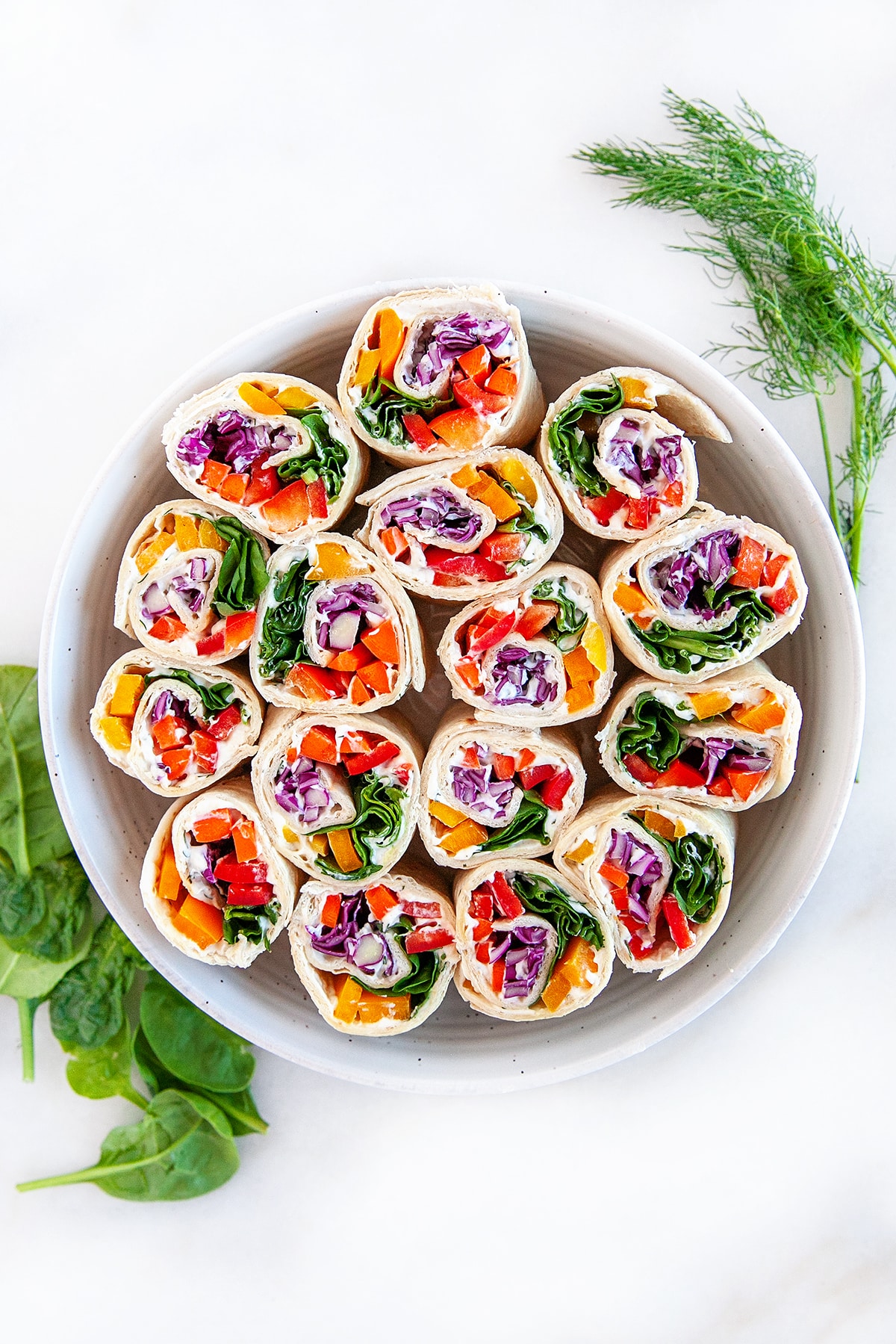 If you're looking for more ways to add vegetables to your diet, then you'll really love these Vegetable Cream Cheese Pinwheels! Every bite is filled with crunchy veggies, and they're so delicious that you'll want seconds and thirds. I especially love adding these to my kid's lunch boxes because it's a guaranteed serving of vegetables that I know they'll enjoy.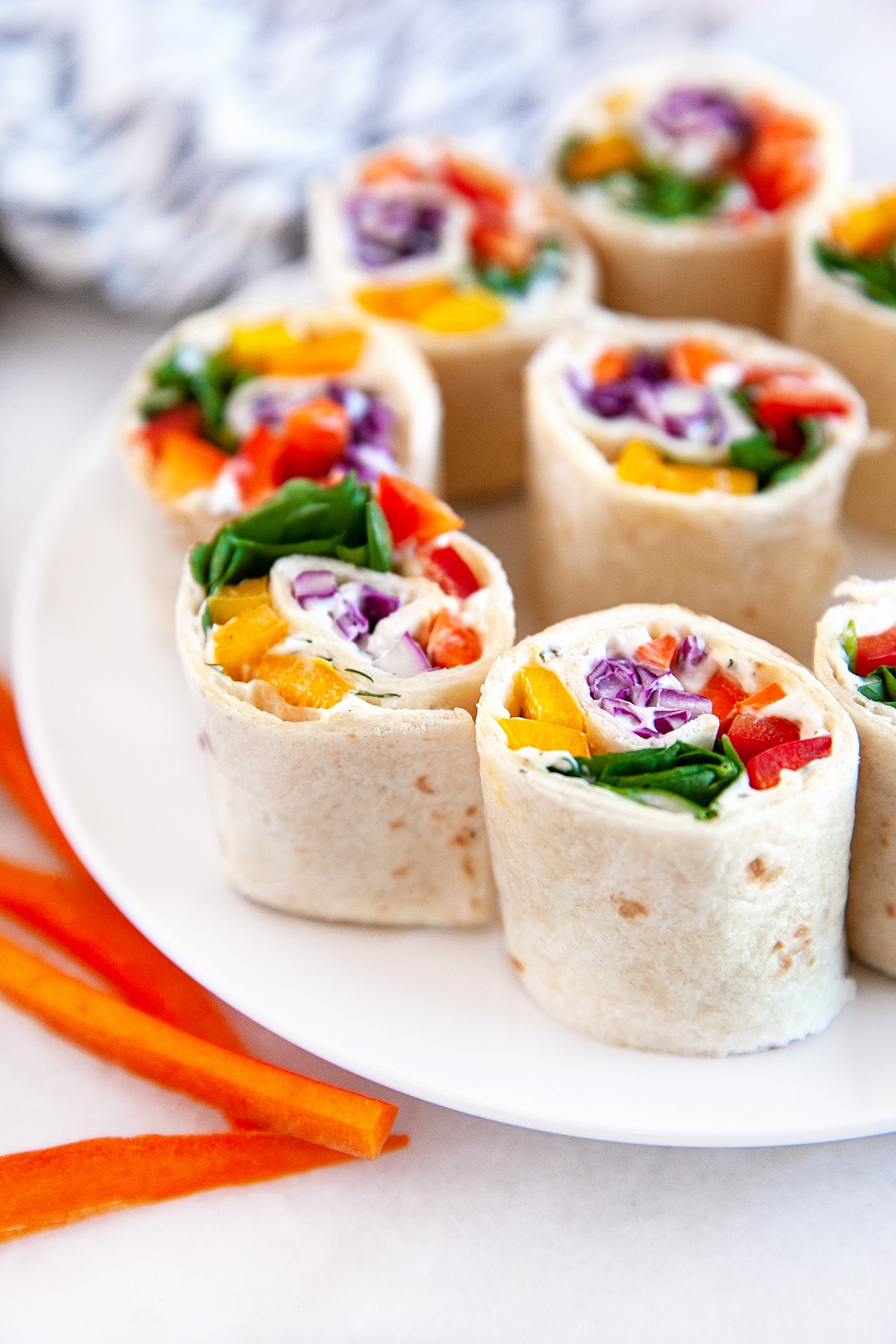 What Are In Cream Cheese Pinwheels?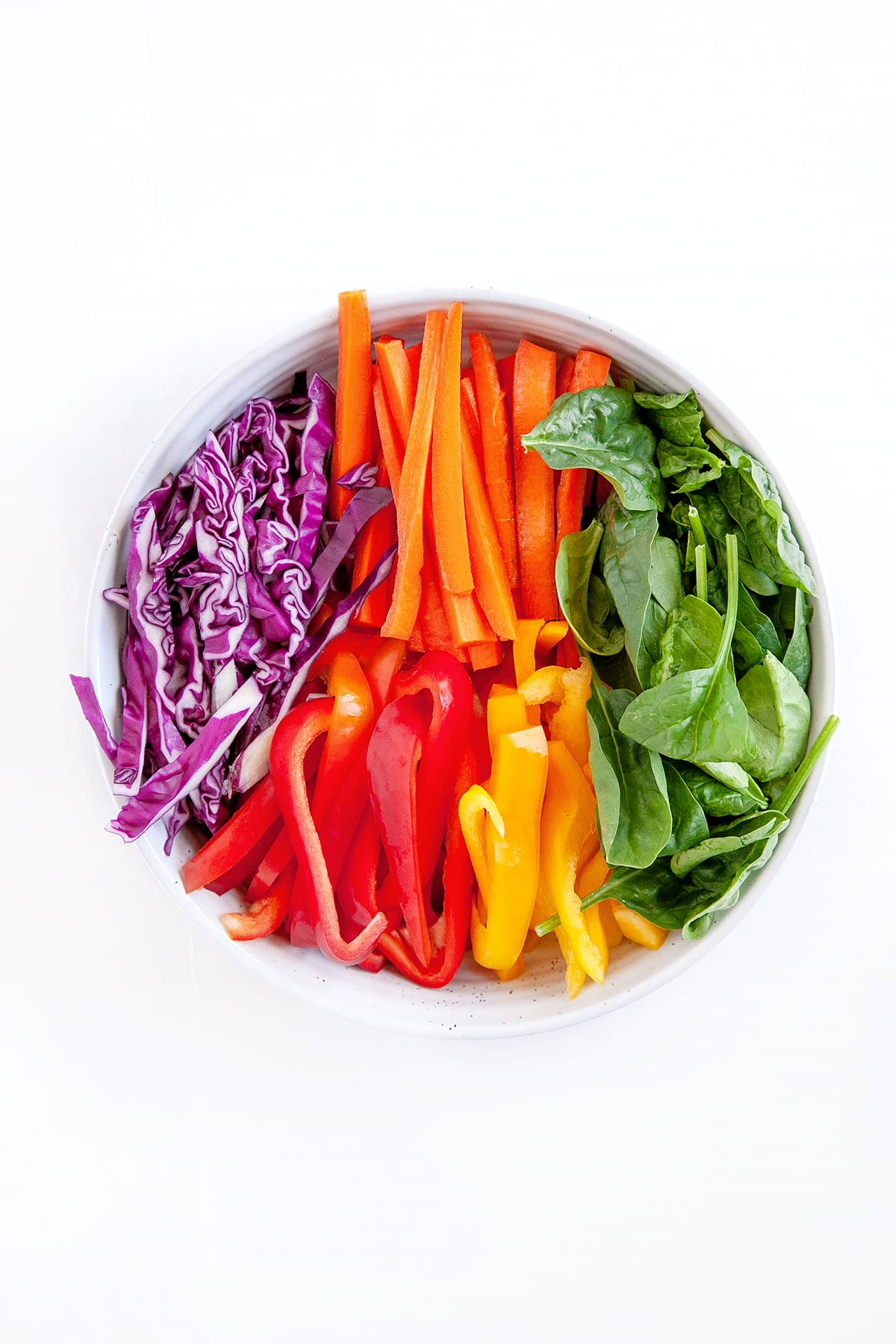 These Cream Cheese Vegetable Tortilla Pinwheels are basically like eating your favorite veggies and dip but in a wrap form! They're also very flexible so you can swap out veggies for your favorites. The best vegetables for these cream cheese rolls are ones that can be cut into strips and have some crunch. Here's what we put into our Pinwheels:
Ingredients
Tortillas – 8-inch flour tortillas work best. Make sure they are fresh and soft so they don't rip when you roll them up.
Red Bell Pepper – This adds a sweet crunch and so much color to the wrap. They're also really high in Vitamin C!
Yellow Bell Pepper – You can use any color of bell peppers, but I chose red and yellow for the color variety so the wraps would truly have a rainbow of vegetables.
Carrots – Choose full-size carrots, not baby carrots, and thinly slice them into skinny sticks.
Red Cabbage – It's called "red" but it adds a beautiful purple crunch to the finished wrap.
Spinach – It's always good when you can add this leafy green superfood to a meal. Choose baby spinach so you don't have to chop it up.
Options – Other vegetables that are good options in the wrap are Radishes, Cucumbers, and Broccoli. You can also add lunch meat, like deli ham and cheese or turkey if you want more protein.
For the Spread
Whipped Cream Cheese – The whipped version is easy to mix and spread and is just sticky enough to hold your pinwheels together when you roll them up.
Sour Cream – This adds a delicious tang flavor that the cream cheese doesn't have on its own.
Onion – You only need a small chunk and you'll grate it on a microplane so that you're really only adding a little bit of onion juice (no onion pieces) for a subtle onion flavor.
Ranch Seasoning – This is the dry ranch dressing mix and is normally available in most grocery stores.
Fresh Dill – Don't skip this ingredient because it adds so much flavor to the finished pinwheels! And is perfect for a burst of summer flavor.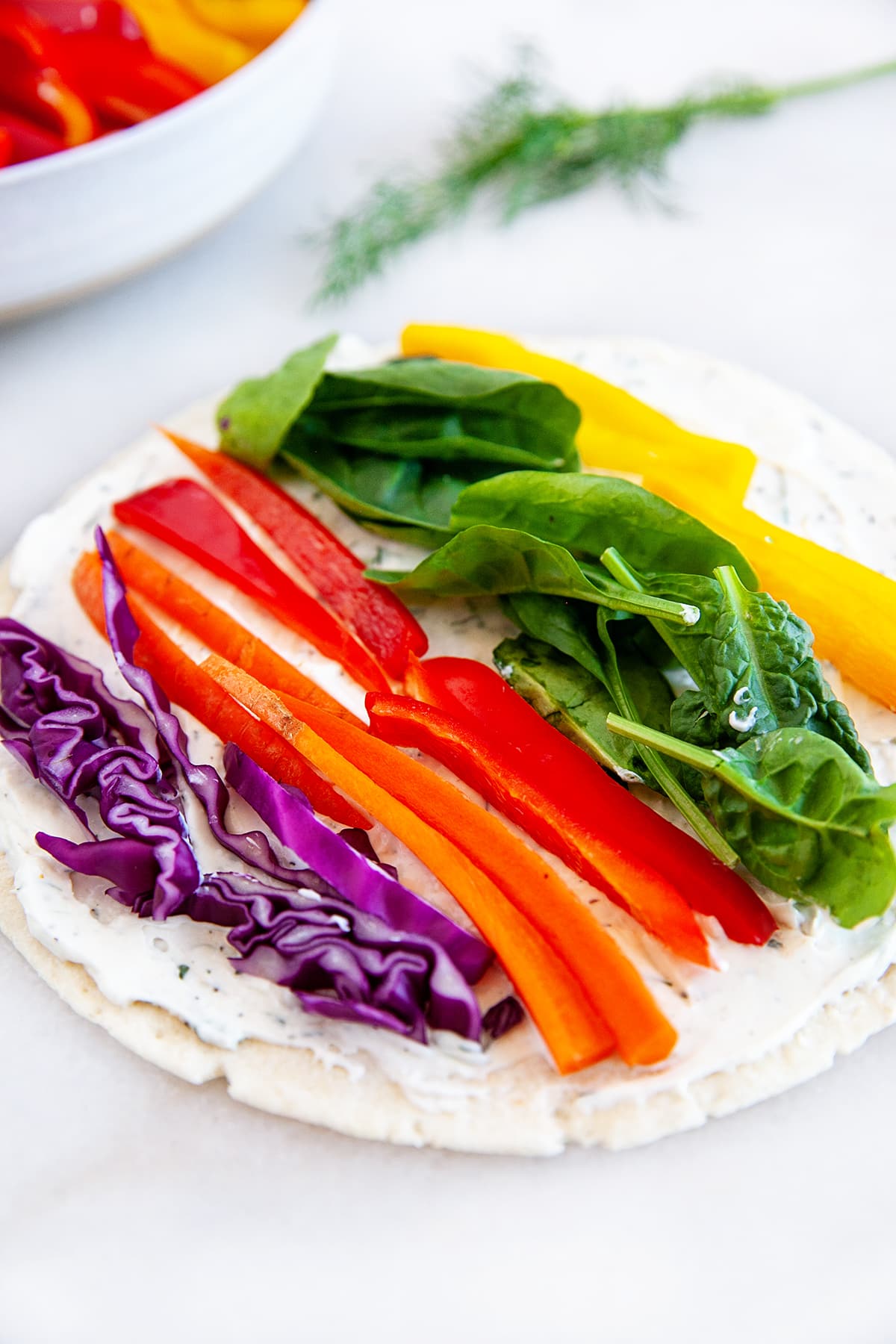 How to Make Cream Cheese Pinwheels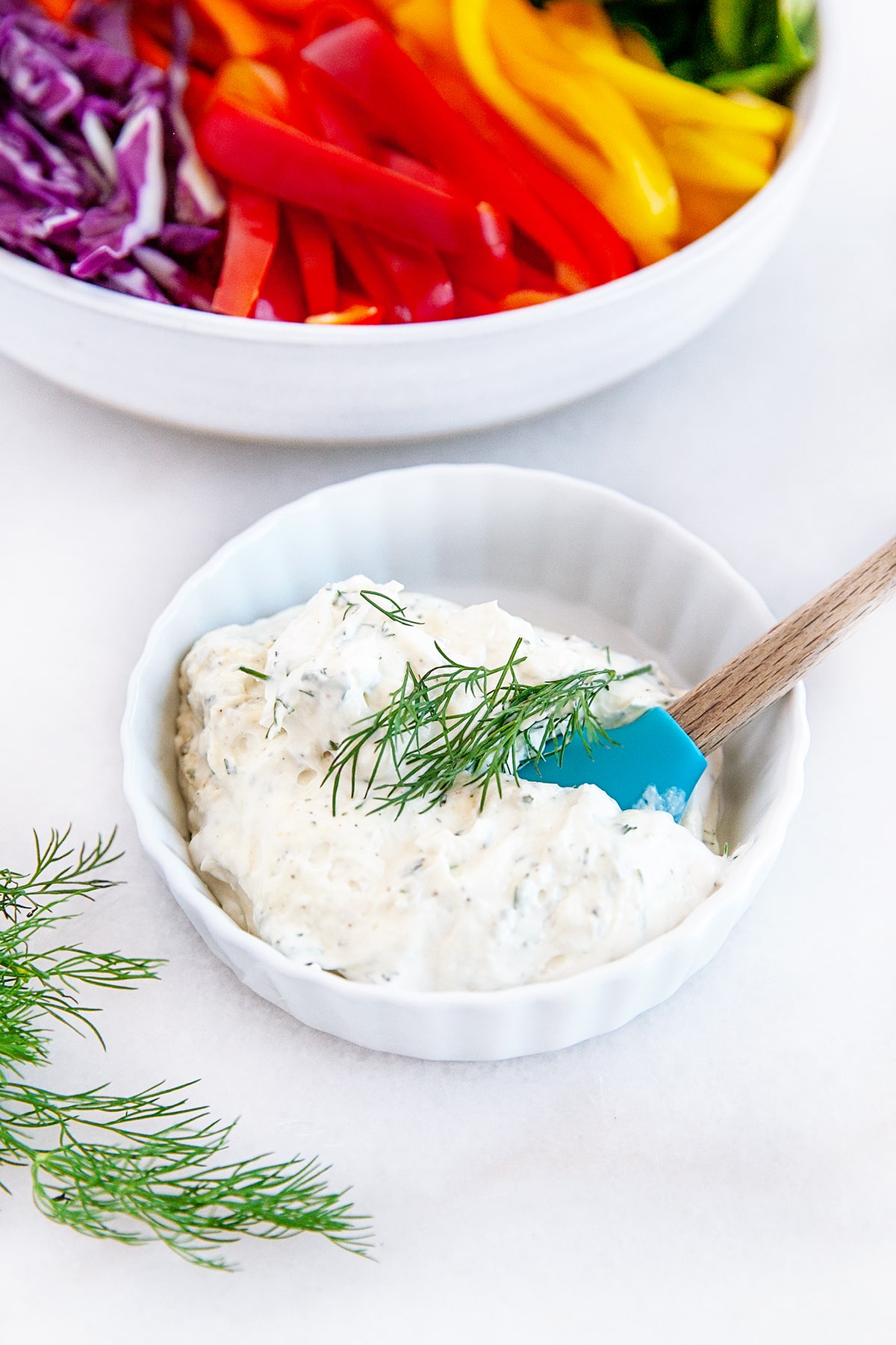 First combine the whipped cream cheese, sour cream, onion, Ranch Seasoning, and fresh dill in a small bowl. Stir until well combined, then place in the refrigerator while you prepare the veggies.
Cut the bell peppers, carrots, and cabbage into long thin strips. If you chop them into small pieces, they will fall out of the wraps when they are sliced into rounds, so keep them as long as you can. If you are using baby spinach, there is no need to cut it.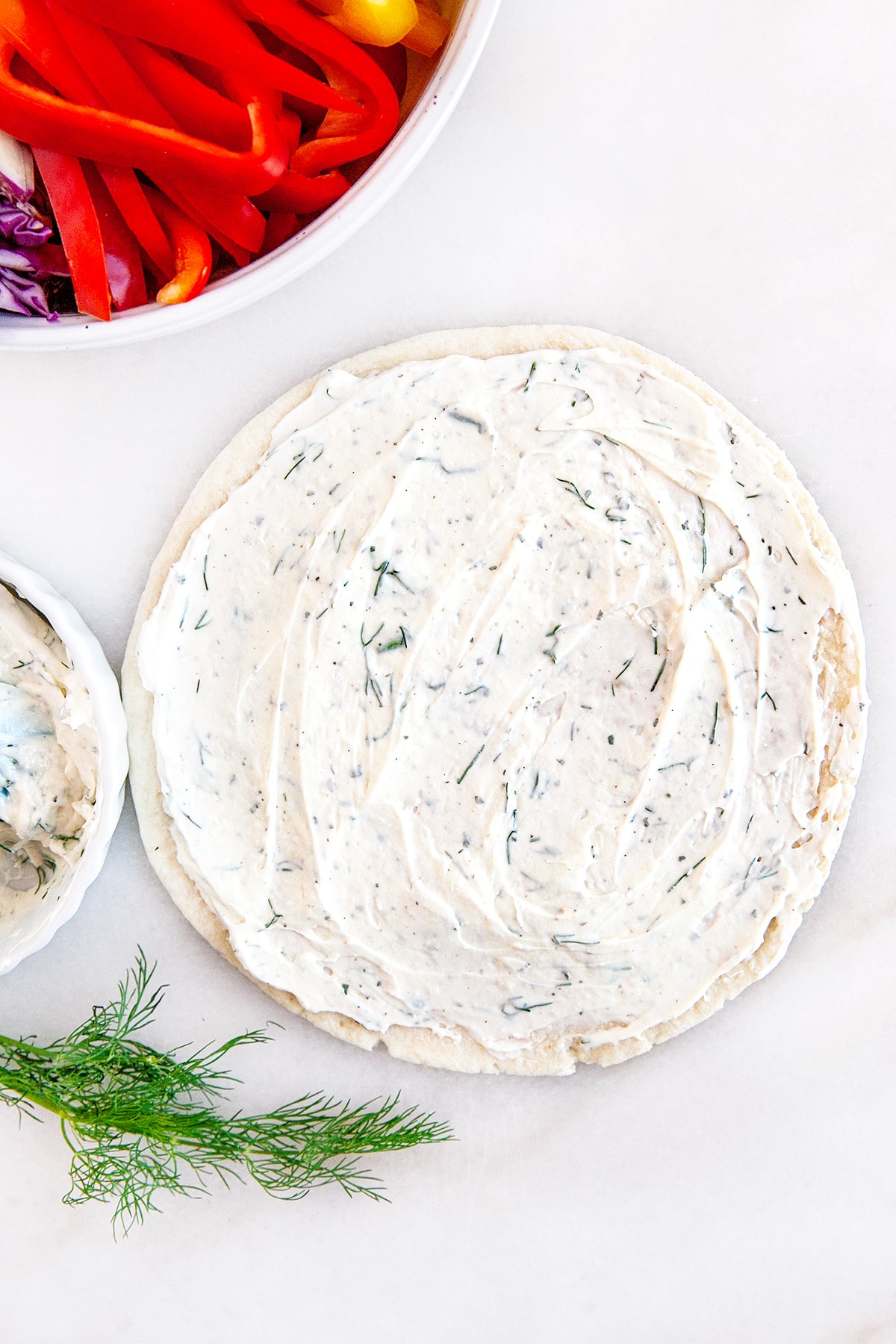 Spread the cream cheese mixture evenly over the tortillas. Bring the spread all the way to the edges of the tortillas.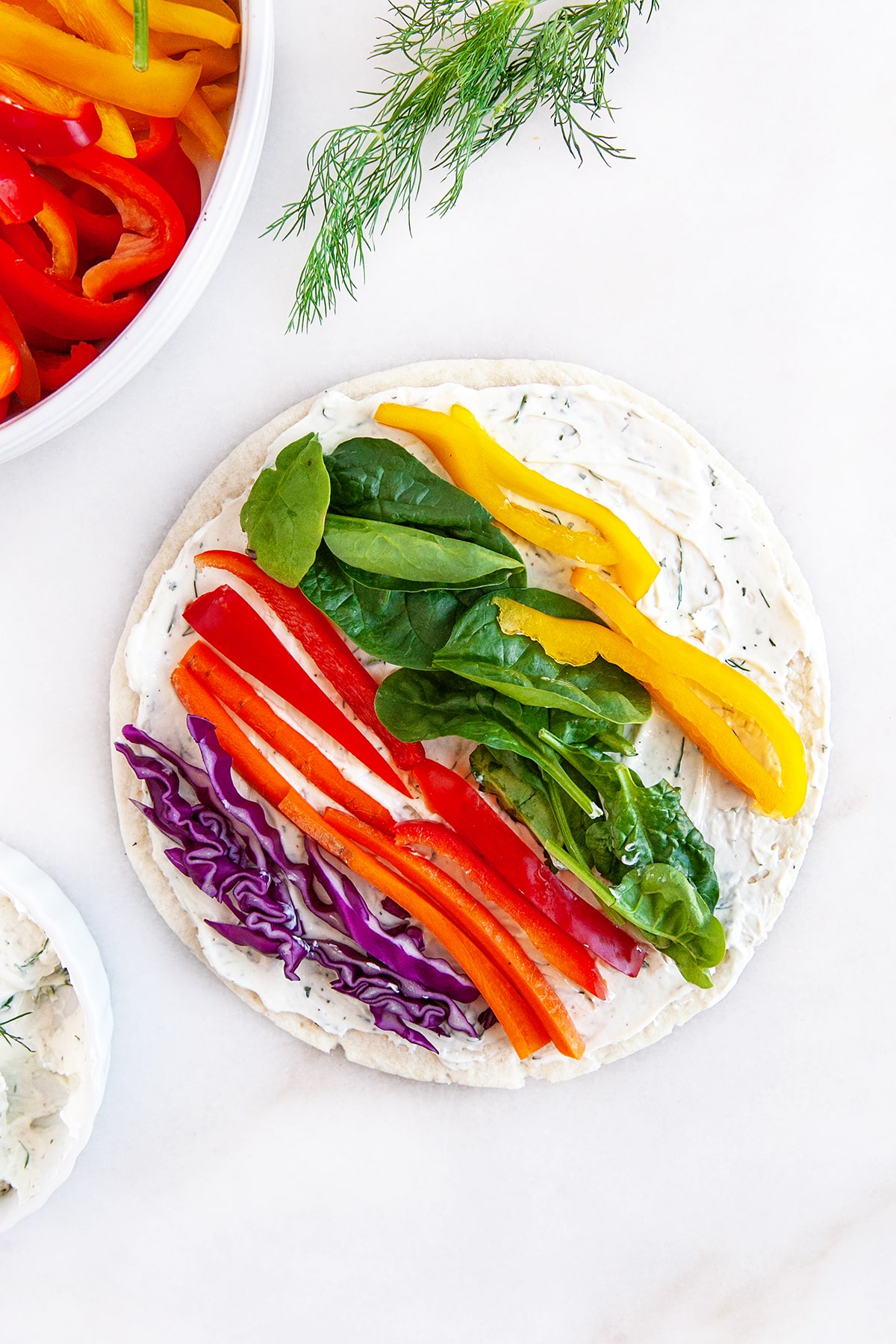 Layer the vegetables in rows across the tortillas. I used 4 slices each of the bell peppers and carrots and about two tablespoons of cabbage and spinach. Leave about an inch on one side of the tortilla to seal it up.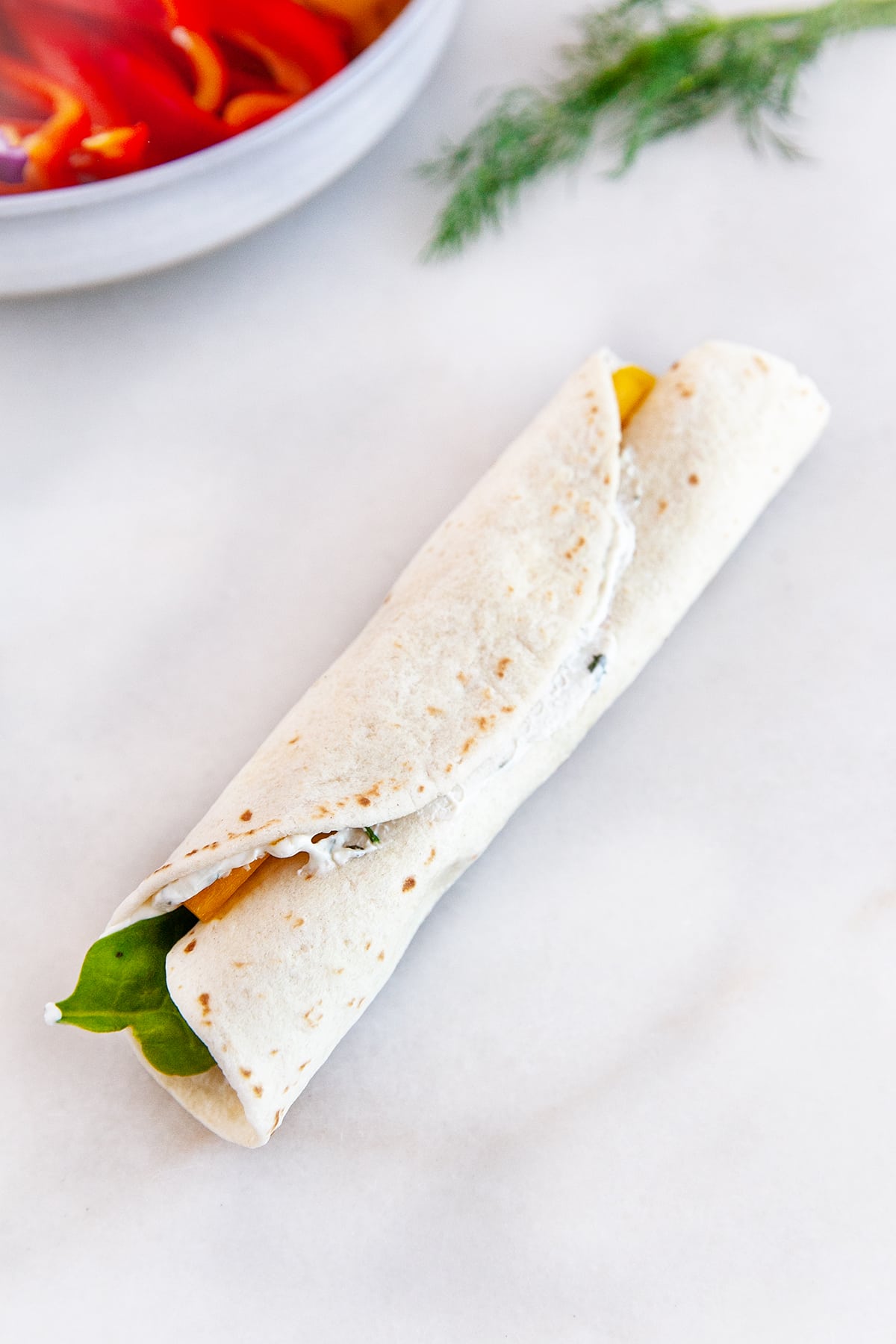 Roll the tortilla up tightly, finishing the roll with an inch of open cream cheese to seal the edge. Then, slice the tortillas crosswise into pinwheels (about two inches tall). I trimmed the ends off first so that they were all the same size, but this isn't strictly necessary.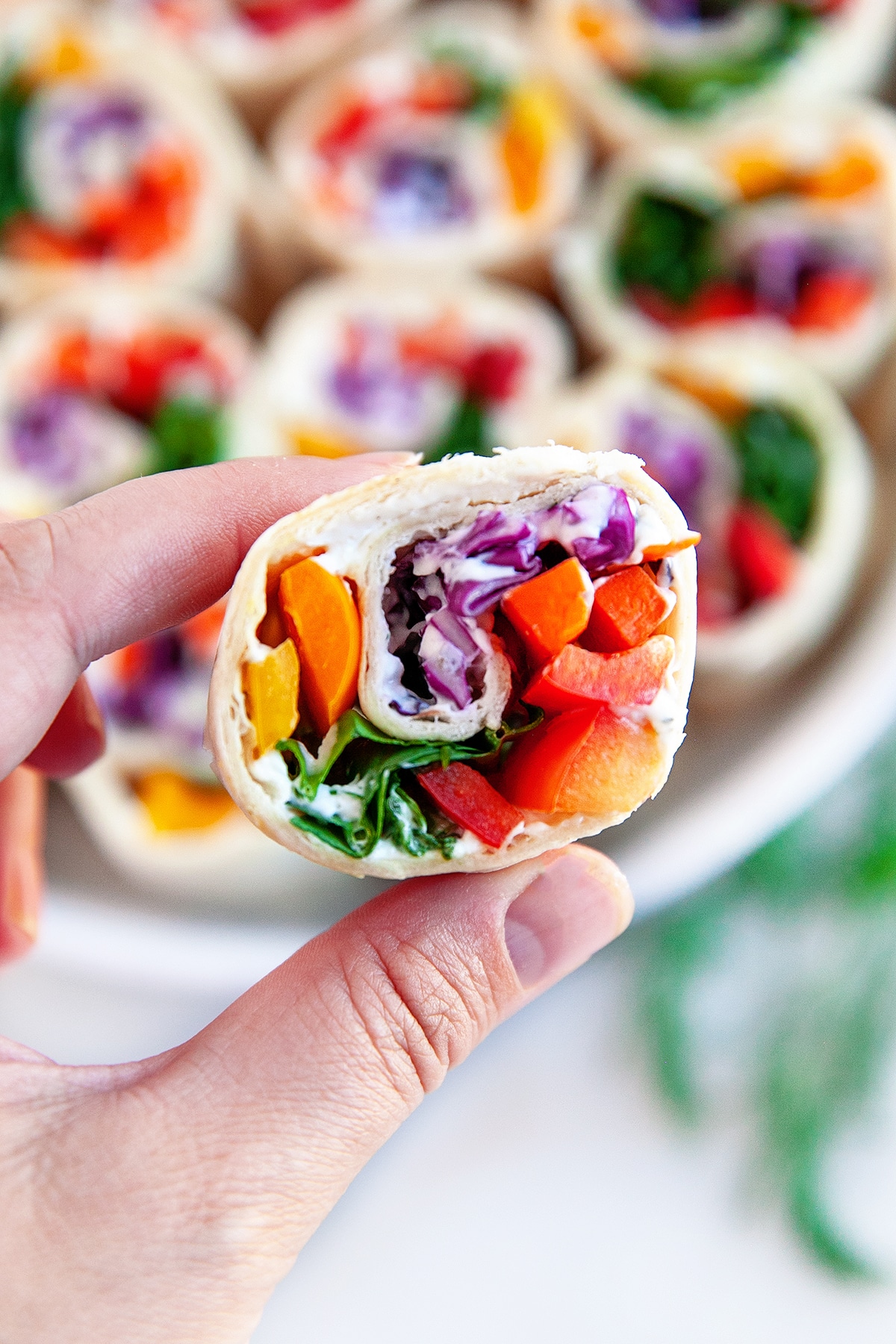 Can I Make Pinwheels in Advance?
These are great appetizers for parties and perfect snacks for lunchboxes because you can make them a day ahead. After you have sliced them into pinwheels, place them in an airtight container and refrigerate.
These pinwheels are also easy to double or triple if you're serving them for guests.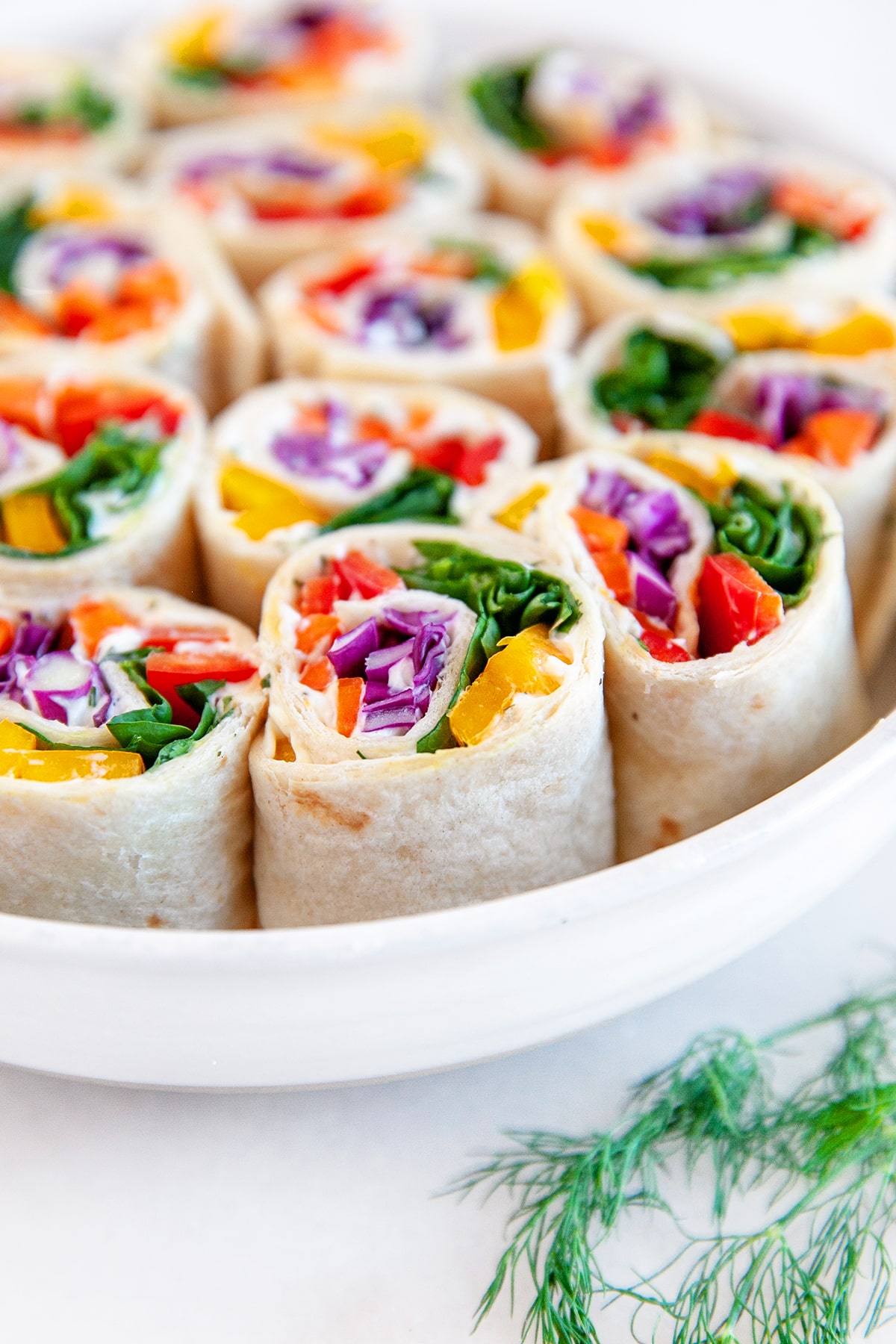 Recipe Pro Tips!
I have even more great ideas to change these great pinwheels up too.
Try adding in some shredded cheese like cheddar cheese, Mexican cheese like a blend, or even Cotija. You can use regular cream cheese softened too. Goat cheese adds another dimension of tang too.
If you would like Mexican flavors add some taco seasoning to the cream cheese filling and maybe even some green chiles too.
There is nothing easier than tortillas rolled up with some great fillings. They are easy to store in an air-tight container. Don't make them too far in advance, one day is fine so that everything stays fresh and crisp. These types of pinwheels do not freeze well.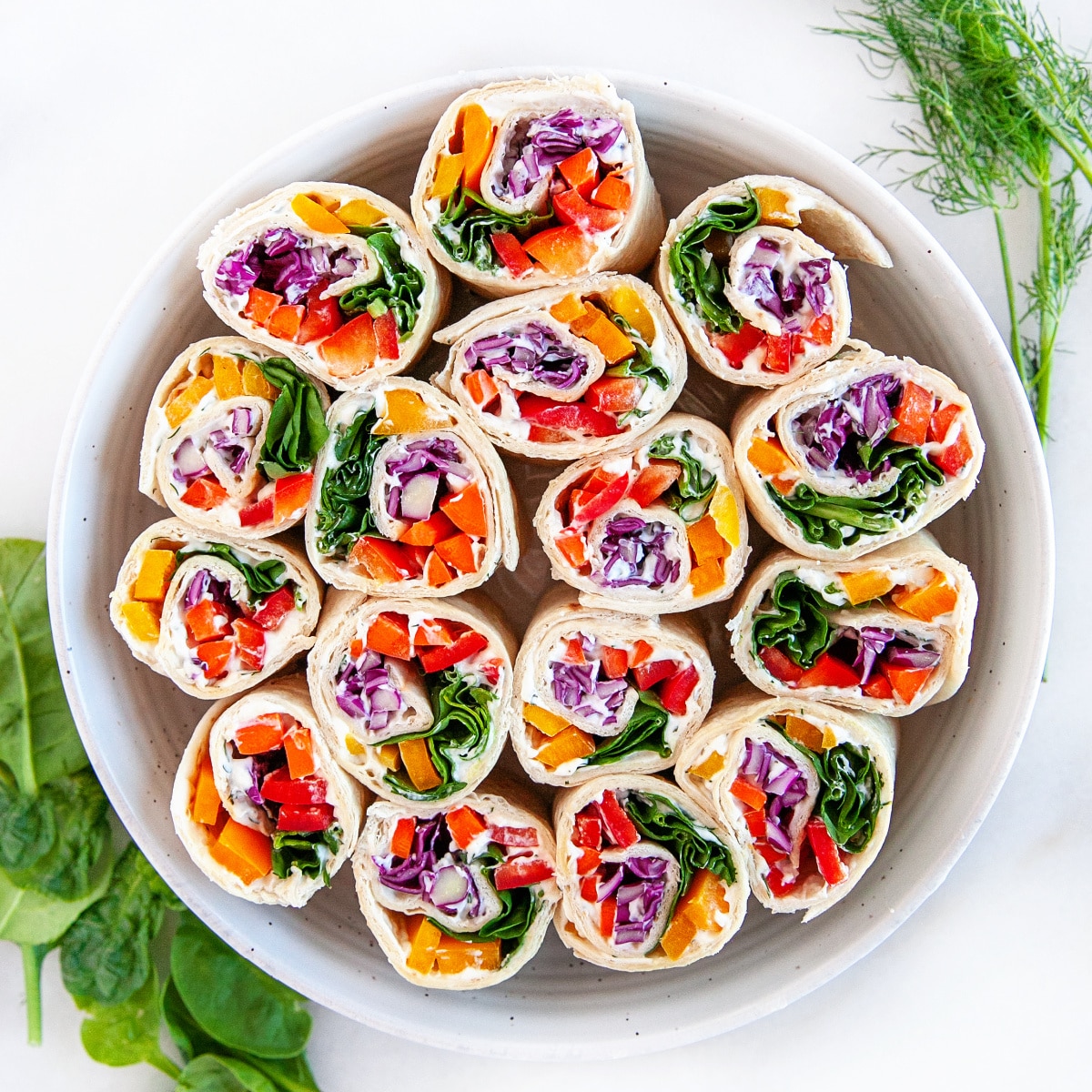 WANT MORE DELICIOUS PINWHEELS?
I personally love a pinwheel for an appetizer, lunch, picnic item, or more. They are so easy to make and can be changed to your liking too. There are recipes for hot and cold pinwheels below. Enjoy!!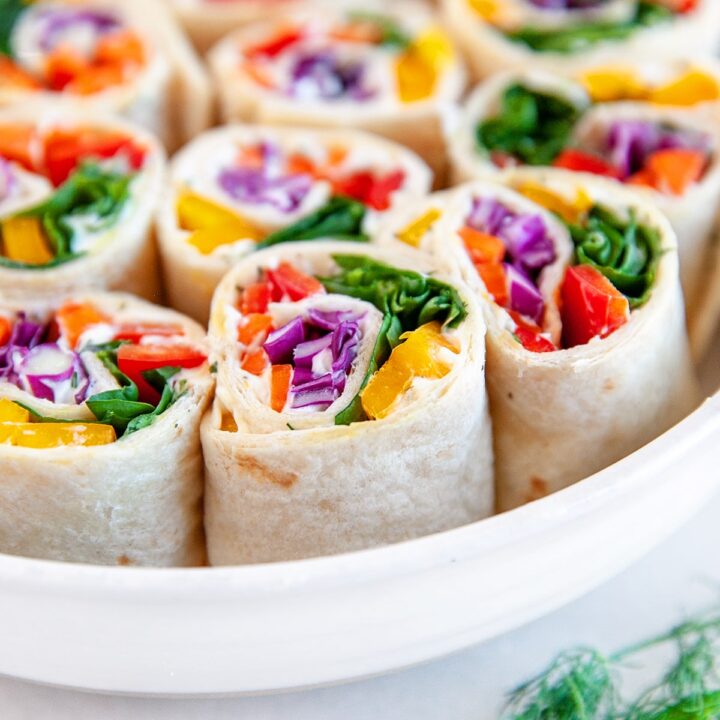 Vegetable Cream Cheese Pinwheels
Yield: 4 servings
Prep Time: 20 minutes
Total Time: 20 minutes
Eat the rainbow with these deliciously crunchy veggies paired with a fresh herb cream cheese spread.
Ingredients
4 (8 inch) flour tortillas
1 small red bell pepper
1 small yellow bell pepper
2 carrots
1 cup red cabbage
1 cup baby spinach
For the Spread
2/3 cup whipped cream cheese
1/3 cup sour cream
1 generous tablespoon Ranch Seasoning Powder
1 small chunk of yellow onion
2 tablespoons fresh dill, chopped
Instructions
In a small bowl, combine the cream cheese, sour cream, and ranch seasoning. Using a microplane, grate the small chunk of onion until you have a teaspoon (it will be mostly juices). Stir the grated onion in to the cream cheese mixture and taste. Add more onion if desired. Stir in the chopped dill. Refrigerate while you prepare the veggies.
Remove the seeds and stems from the bell peppers. Cut into long thin strips. Peel the carrots, remove the ends, and cut into thin strips. Chop the red cabbage into strips.
Spread the cream cheese mixture evenly over the tortillas, bringing the spread all the way to the edges. Layer the vegetables in rows (I used 4 strips each of bell peppers and carrots, and about 2 tablespoons each of spinach and cabbage.) Leave about an inch on one side of the tortillas.
Roll the tortillas tightly, starting on the veggie side and ending with the 1 inch of open cream cheese to seal the edge. Cut crosswise into pinwheels (about 2 inches). If you want them all even, trim the ends first before slicing. Serve immediately or refrigerate for up to a day.
Notes
See the post for more tips and tricks.
Recommended Products
As an Amazon Associate and member of other affiliate programs, I earn from qualifying purchases.
Nutrition Information:
Yield: 4
Serving Size: 1
Amount Per Serving:
Calories: 227
Total Fat: 14g
Saturated Fat: 8g
Trans Fat: 0g
Unsaturated Fat: 5g
Cholesterol: 38mg
Sodium: 389mg
Carbohydrates: 22g
Fiber: 3g
Sugar: 6g
Protein: 6g
Recipe calculation was provided by Nutritionix and is an estimation only. If you need nutritional calculations for medical reasons, please use a source that you trust.