I am with #BreadBakers today and the theme is Stuffed Bread. For a lot of us, we went to the savory side of things. That is where my mind went right away, to the cheesy yumminess, Cheesy Pizza Wheels #BreadBakers.
We love a great pinwheel in this household either warm or cold. Plus who doesn't love pizza!! These pinwheels are fun and always tasty and the smell of fresh-baked bread is always a winner.
Thanks to Jenni from The Pastry Chef Online for the great theme and for hosting this month's #BreadBakers. Also, try our new Crunchy Southwest Chicken Pinwheels for another great recipe.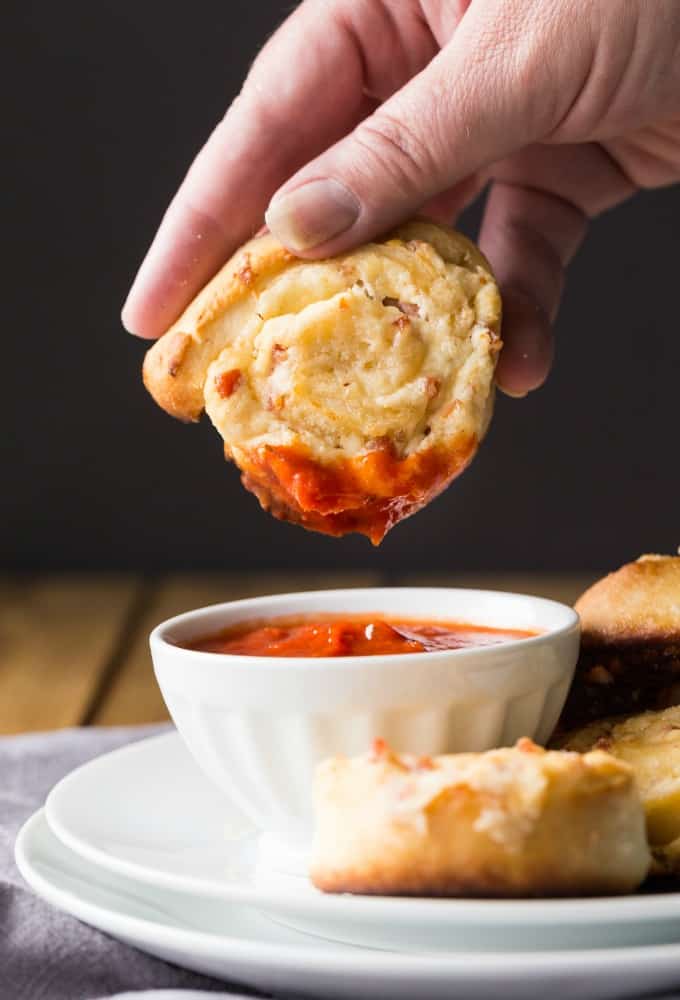 For the most part, when I think of bread I think of savory but of course, there are a lot of sweetbreads to make. Ken, my bread guy jumped right in there with me. At first, he created pizza bundles but I thought they were too big for an appetizer and that was where my mind was at. No problem though, we had those for dinner!!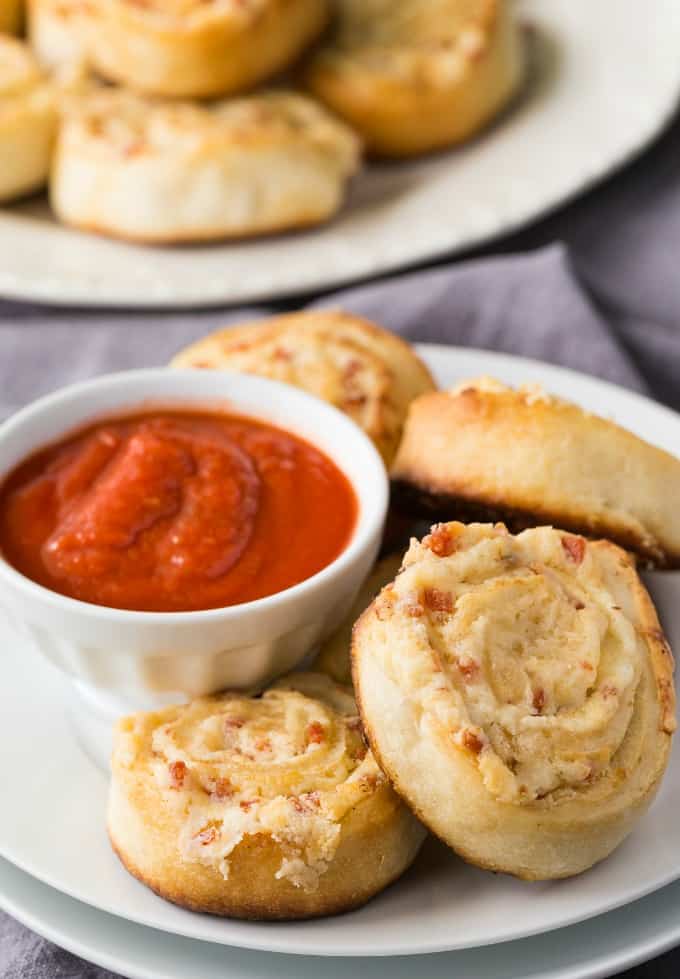 These little Cheesy Pizza Wheels are perfect for an appetizer, go great with a beer while watching the game, or are gobbled down by kids. The added flavor from asiago, cream cheese, parmesan, and pepperoni make these little guys a real winner of a munchie.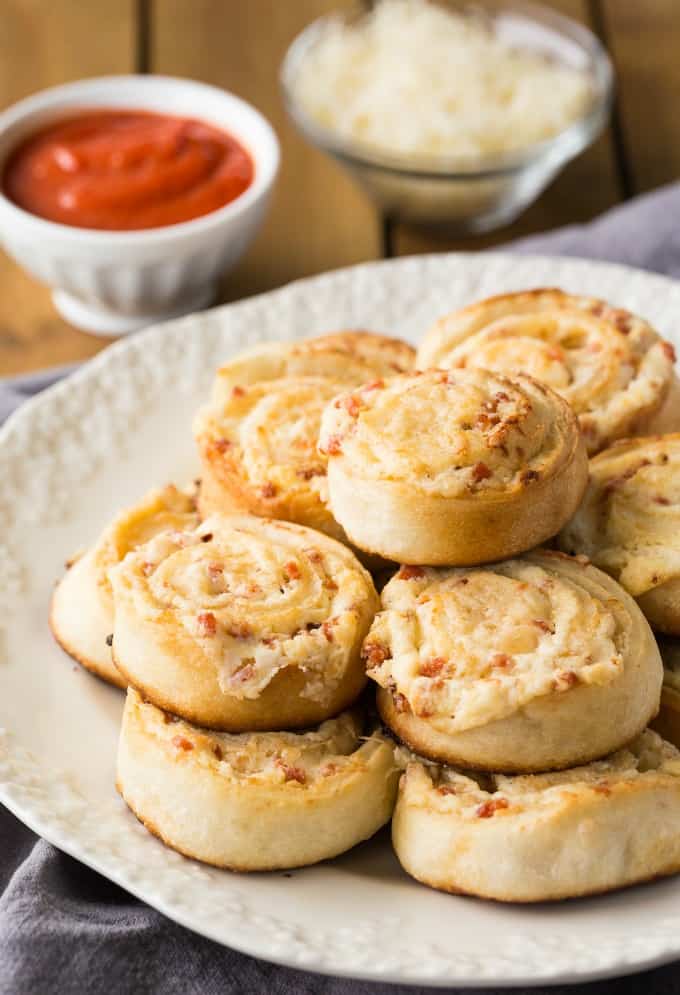 Light and fluffy pizza dough is jelly rolled with all the cheesy goodness. These are really easy to make and freeze well for an on the spot appetizer for unexpected company.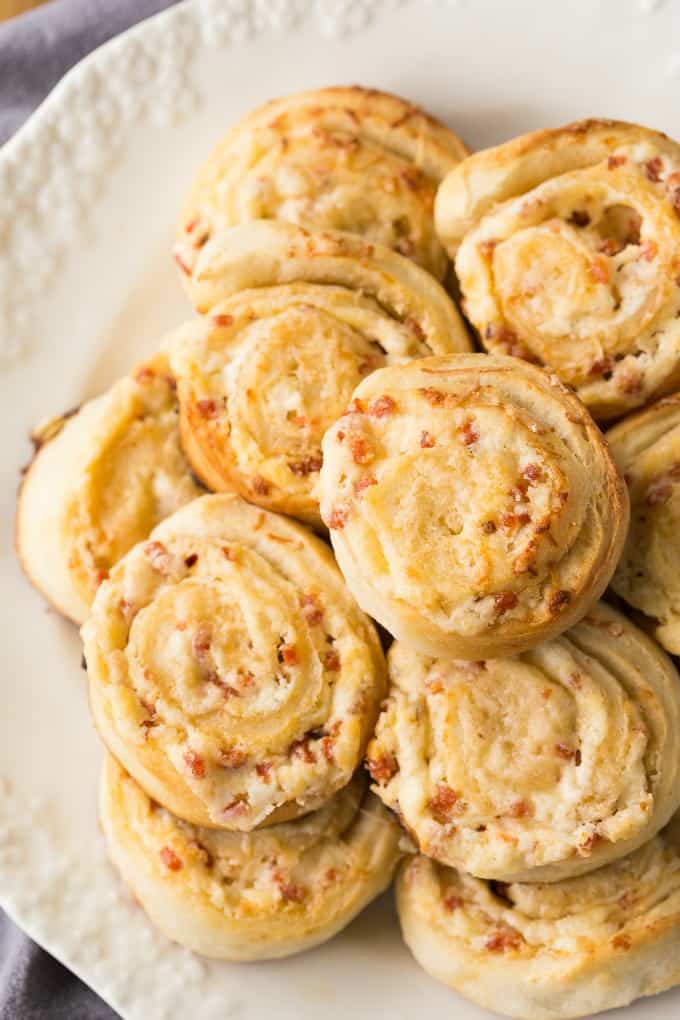 The Recipe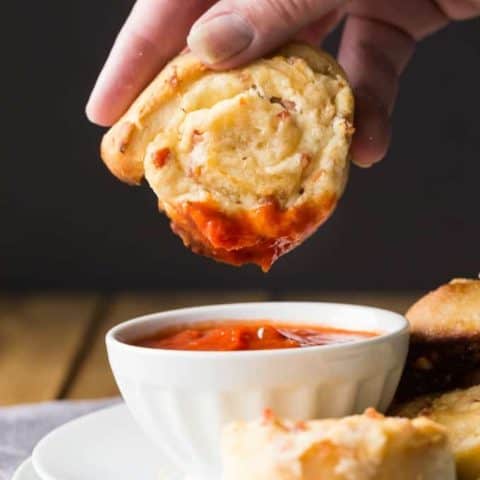 Cheesy Pizza Wheels #BreadBakers
Yield: 24
Cook Time: 15 minutes
Total Time: 15 minutes
Easy Cheesy Pizza Wheels are great for game day or kids will just gobble these down.
Ingredients
Pizza Dough
1 cup warm water
1 Tbsp. active, dry yeast
1 Tbsp. honey
1 tsp. salt
2 Tbsp. olive oil
2 1/2 – 3 cups organic bread flour
Filling
4 oz. light cream cheese, softened to room temperature
1 cup asiago, finely grated
3/4 cup parmesan cheese, plus extra for sprinkling on top
Salt to taste
1/2 tsp. red chili flakes
1/2 cup finely diced pepperoni
Melted butter from brushing
Pizza sauce or marinara for dipping.
Instructions
In a mixer bowl, pour in warm water and sprinkle yeast over the top. Stir until it dissolves and then mix in honey. Wait 10 minutes or until it is frothy. Add in salt, olive oil and 1/2 cup of flour. Using the paddle attachment on level 2, gently mix and gradually add flour until it forms a ball that clears the side of the bowl. Switch to hook attachment and knead for 3 minutes on level 5. The dough should be elastic and keep a finger imprint when touched. Remove the dough from the bowl. Lightly grease the bowl with olive oil. Place the dough back in and cover for 1 1/2 – 2 hours, until it has tripled in size. This is enough dough to make a double batch or a single batch and a pizza. You can also use store bought pizza dough.
Preheat oven to 425F. In a bowl, mix all 3 cheeses with the salt and red chili flakes. Take half the dough and roll out to a 16x8" rectangle. Spread the cheese mixture onto the dough, leaving an inch around the edges at top and bottom. Sprinkle cheese with the pepperoni. Starting from the longest edge roll up like a jelly roll. Make sure the roll is rounded. Cut into slices and bake flat on a greased baking sheet. Brush the top with a small amount of butter and sprinkle with parmesan cheese. Bake for 12-15 min. or until lightly browned and the dough is cooked and the cheese is melted. Cool slightly and serve. Freezes well and reheat from frozen for 10 min. at 350F or until warmed through.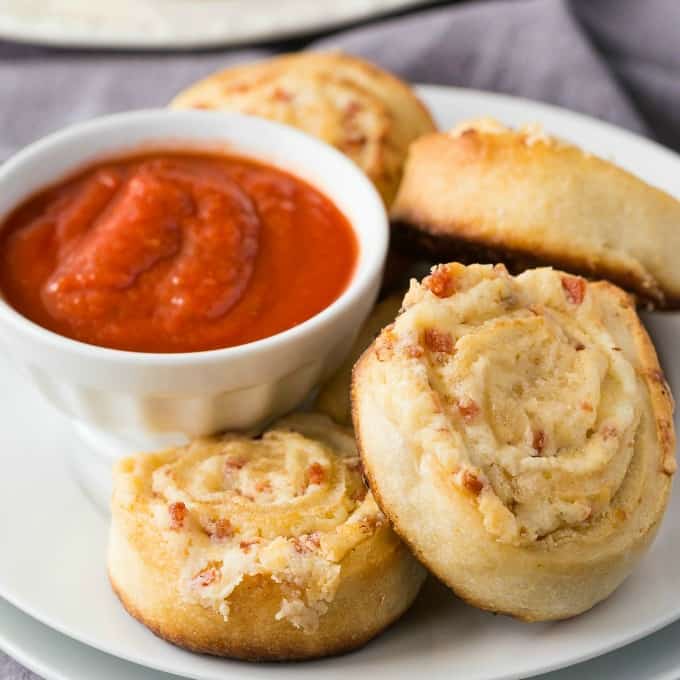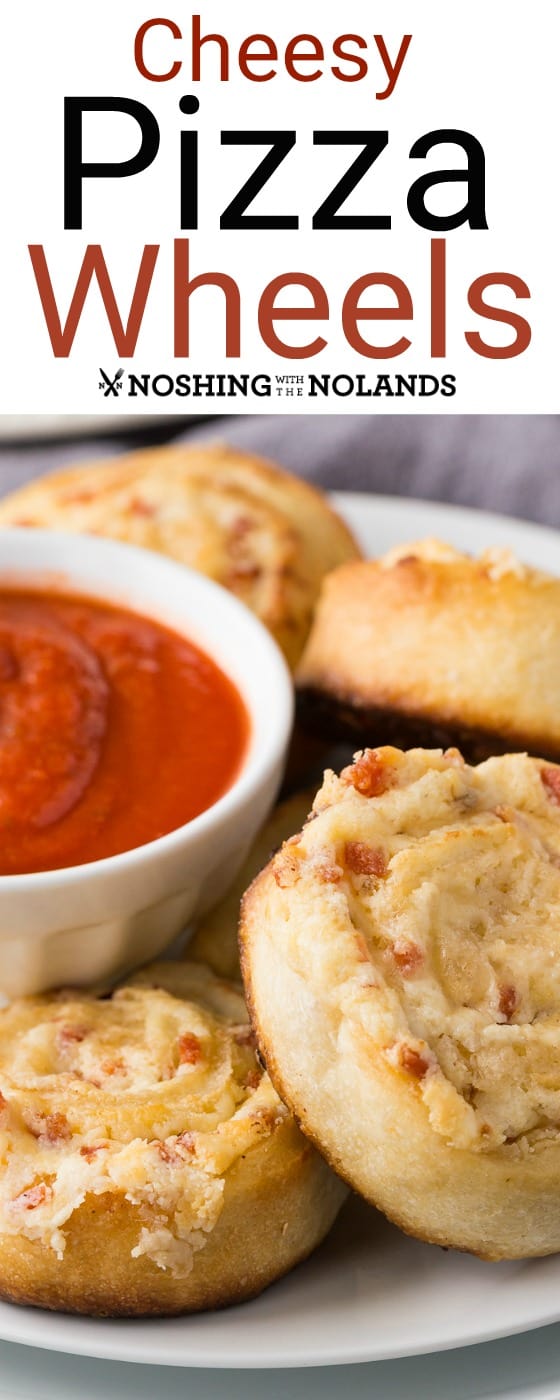 Stuffed Bread from the Bread Bakers
Sweet Bread
Savory Bread
#BreadBakers is a group of bread loving bakers who get together once a month to bake bread with a common ingredient or theme. Follow our Pinterest board right here. Links are also updated each month on this home page.
We take turns hosting each month and choosing the theme/ingredient.
If you are a food blogger and would like to join us, just send Stacy an email with your blog URL to [email protected]