This homemade Hot Honey recipe is a sweet and spicy condiment that adds delicious flavor to so many foods and drinks! You only need three ingredients and a few minutes to mix up a batch. It won't be long before you're adding a drizzle of Hot Honey to just about everything!
Looking for more deliciously unique condiments? Check out our Canned Candied Jalapenos or our Homemade Sweet Hot Mustard.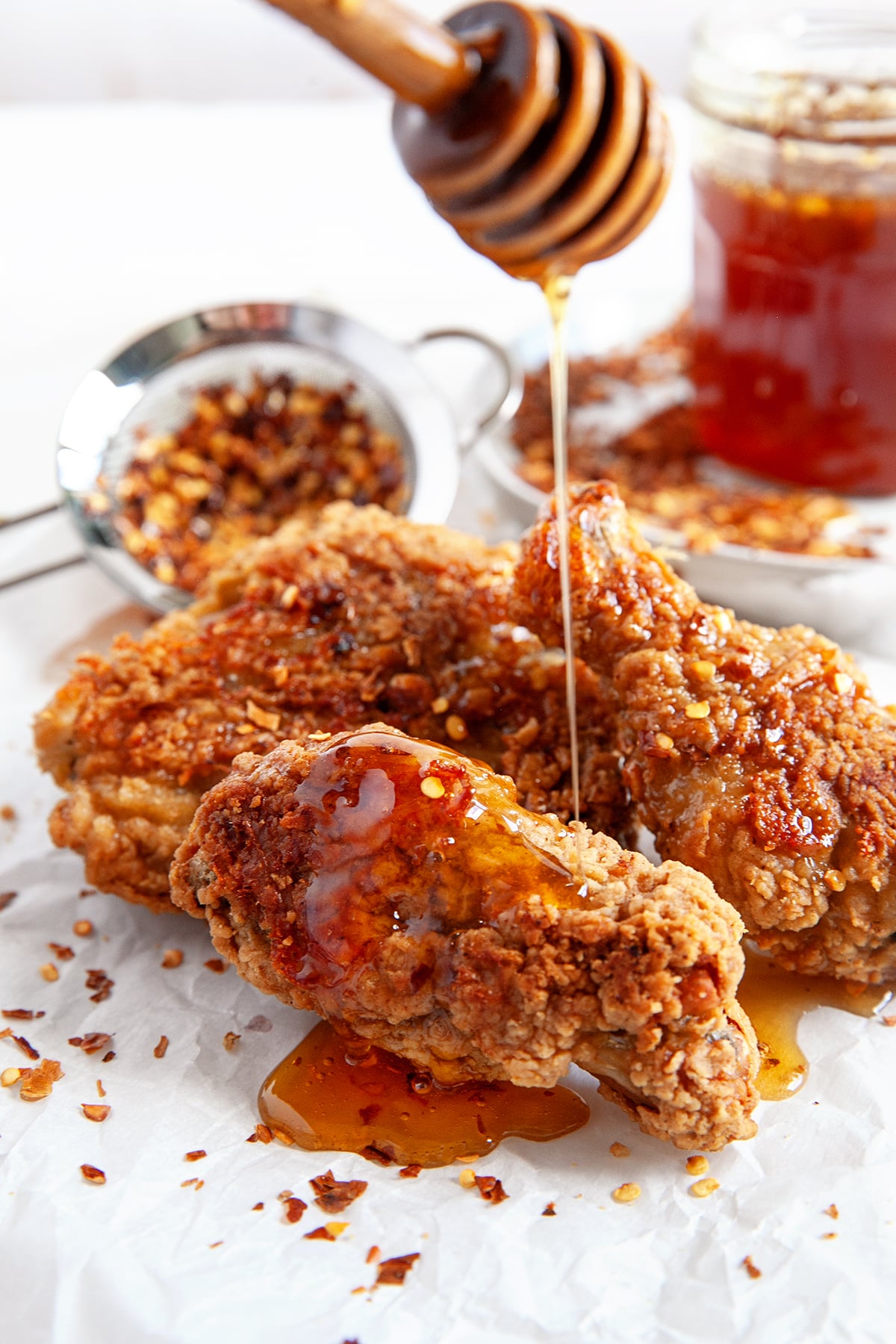 What is hot honey?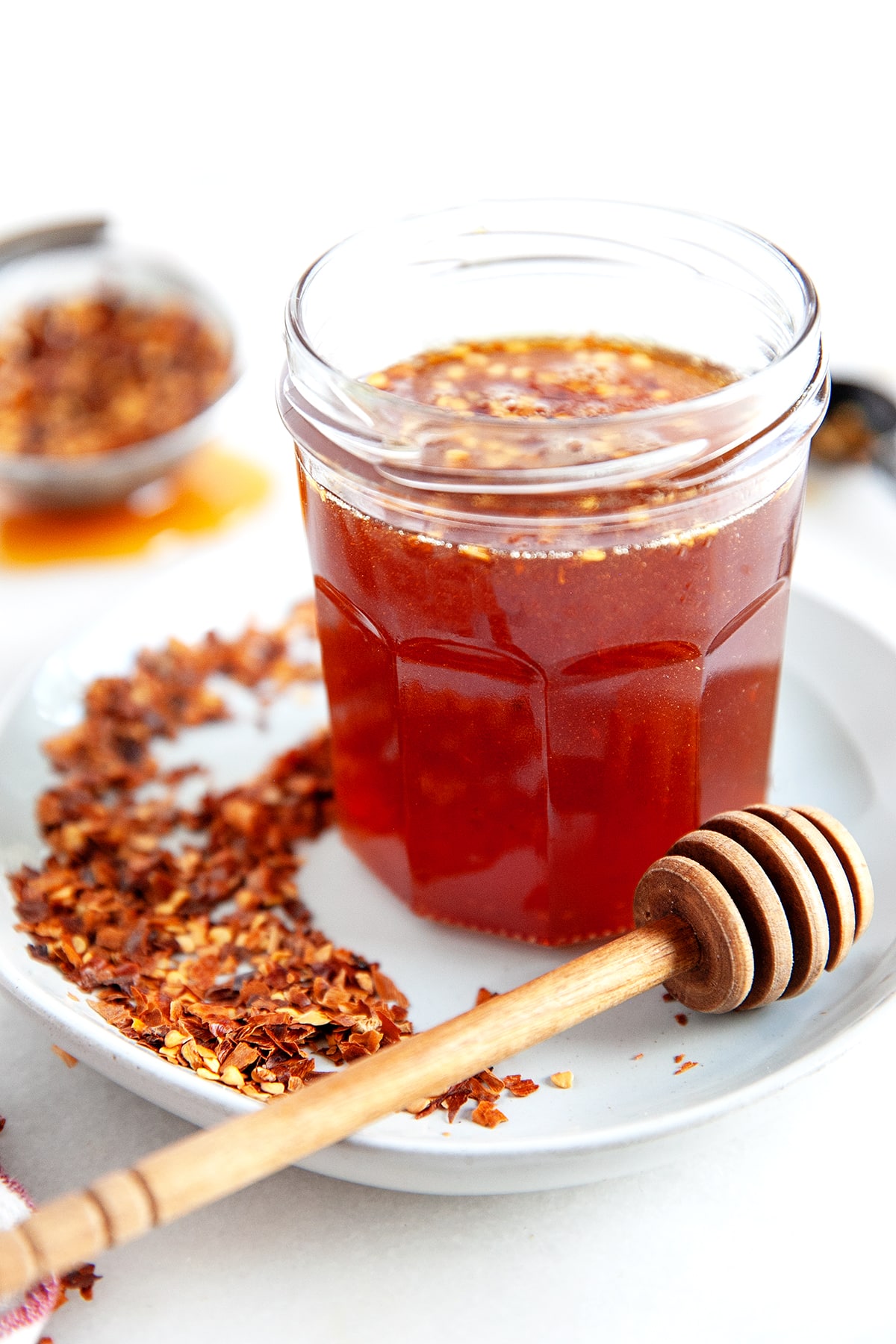 Hot Honey is a simple and delicious condiment in which liquid honey is infused with dried chile peppers to add spiciness and flavor. It's easy to make and extremely versatile!
You can serve it with a variety of foods and drinks, and it stores well for up to three months. It also makes an excellent homemade gift for foodie friends and neighbors. Best of all, you can adjust the spice level so that it's as hot (or not) as you like it.
What is hot honey made of?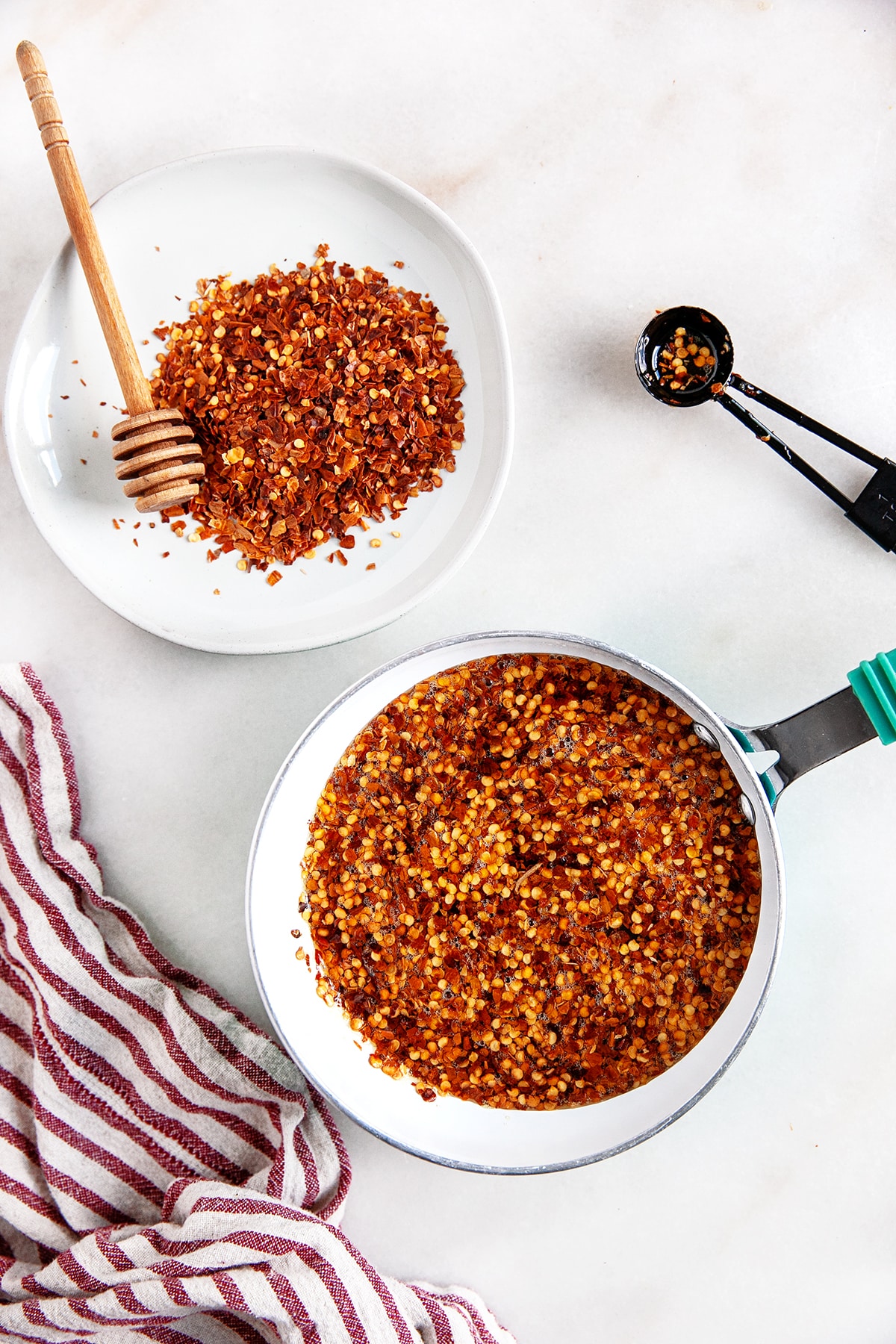 You only need three items for the hot honey ingredients to make your own Hot Honey at home! Best of all, you probably already have all three of them in your pantry to make your hot sauce or can easily access them at the grocery store.
Ingredients
Honey – You can use any honey for this recipe, but if possible, support your local farmers and bees and buy locally sourced honey!
Crushed Red Pepper Flakes – You can find these in the spice section of any major grocery store. You can also play with the recipe and try using different types of chili peppers, like dried peppers, like Ancho or Pasillas, for unique chile flavors.
Apple Cider Vinegar – It may seem strange to add vinegar to a honey recipe, but it helps cut the sweetness and brings out the spicy flavor a little more. If you don't have apple cider vinegar, you can also use Red Wine Vinegar.
How to Make Hot Honey?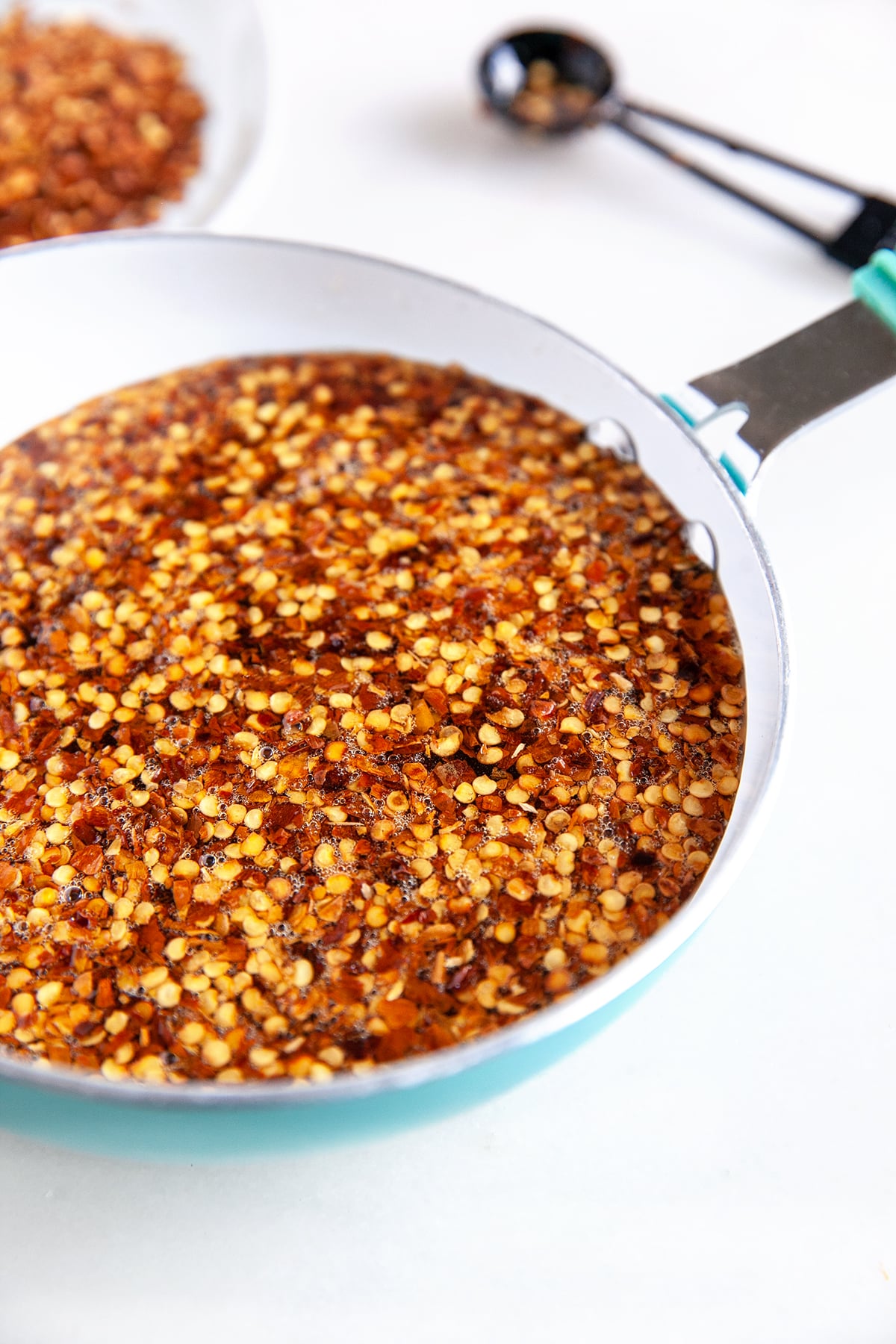 To make Hot Honey, combine the Crushed Red Pepper Flakes and Honey in a small pot and cook over medium heat. Heat the honey and chile mixture just until it begins to simmer. You don't want to boil the honey because it changes its quality and causes it to lose essential enzymes and nutrients.
Remove the honey from the heat and let it rest for 10 to 15 minutes to allow the pepper flavors and spice to infuse the honey.
After letting the flavors infuse, taste the Hot Honey. If you'd like it to taste spicier, you can let it infuse for another 10 minutes or so.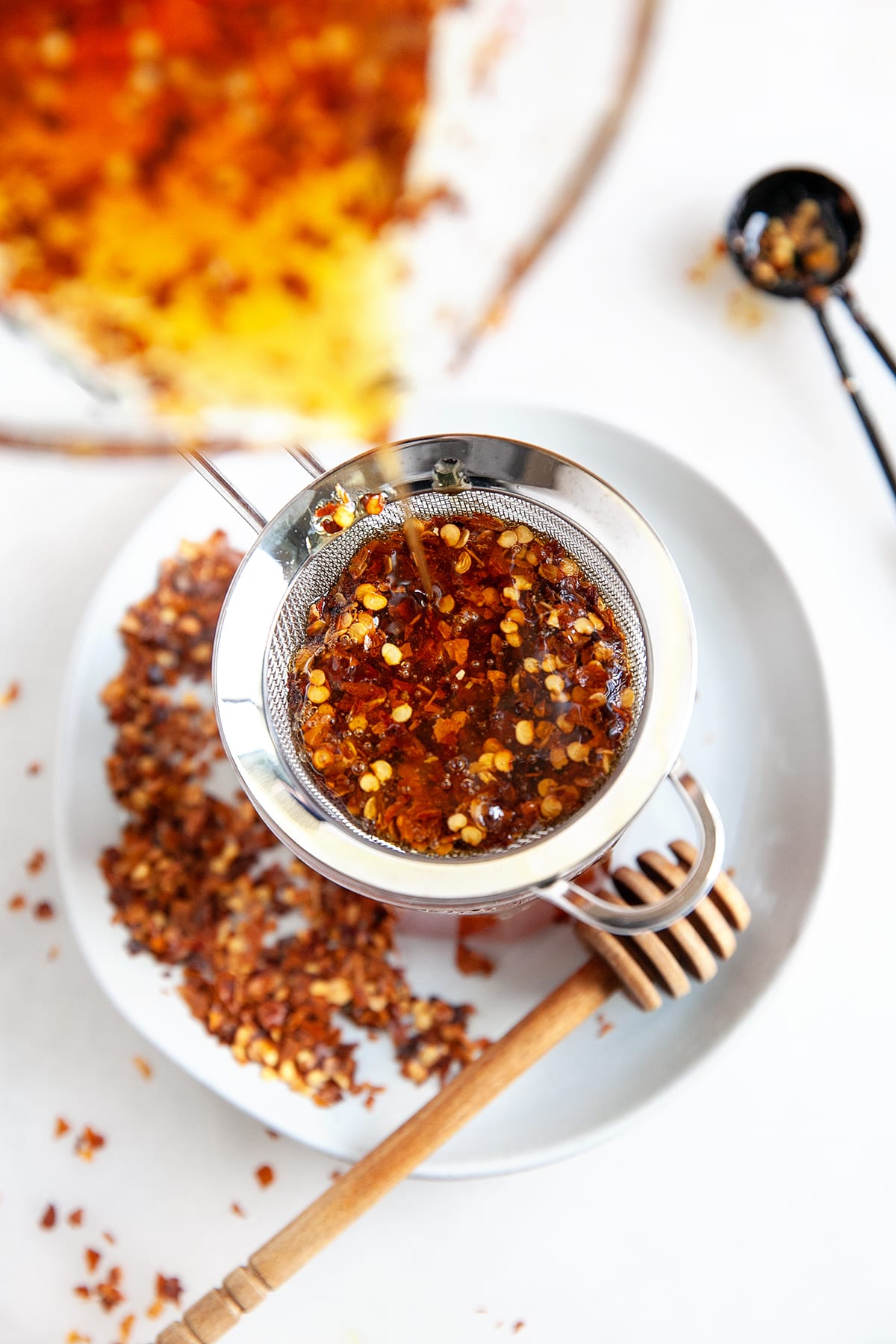 Once the honey has reached your desired spiciness level, place a fine mesh strainer over a medium-sized jar. Pour the honey through the mesh strainer to strain off the red pepper flakes.
If you like your Hot Honey spicy, you can leave some of the chile flakes in the honey, where they will continue to infuse heat as it sits. My personal preference is to strain off most of the pepper flakes, but I like to leave about a teaspoon or two in the honey.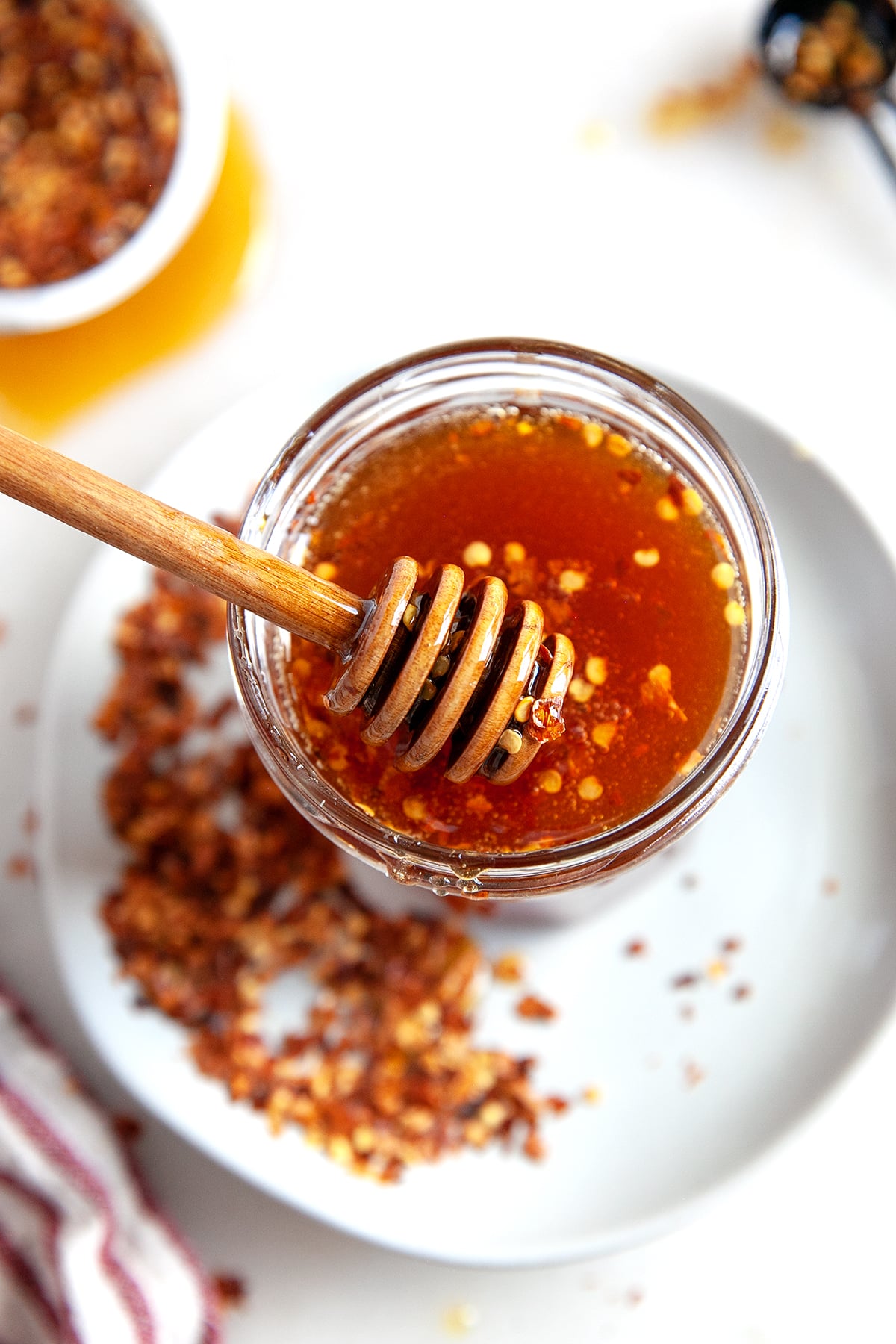 After straining the honey, stir in the apple cider vinegar. At this point, your Hot Honey is ready to serve and/or store!
What to put Hot Honey on?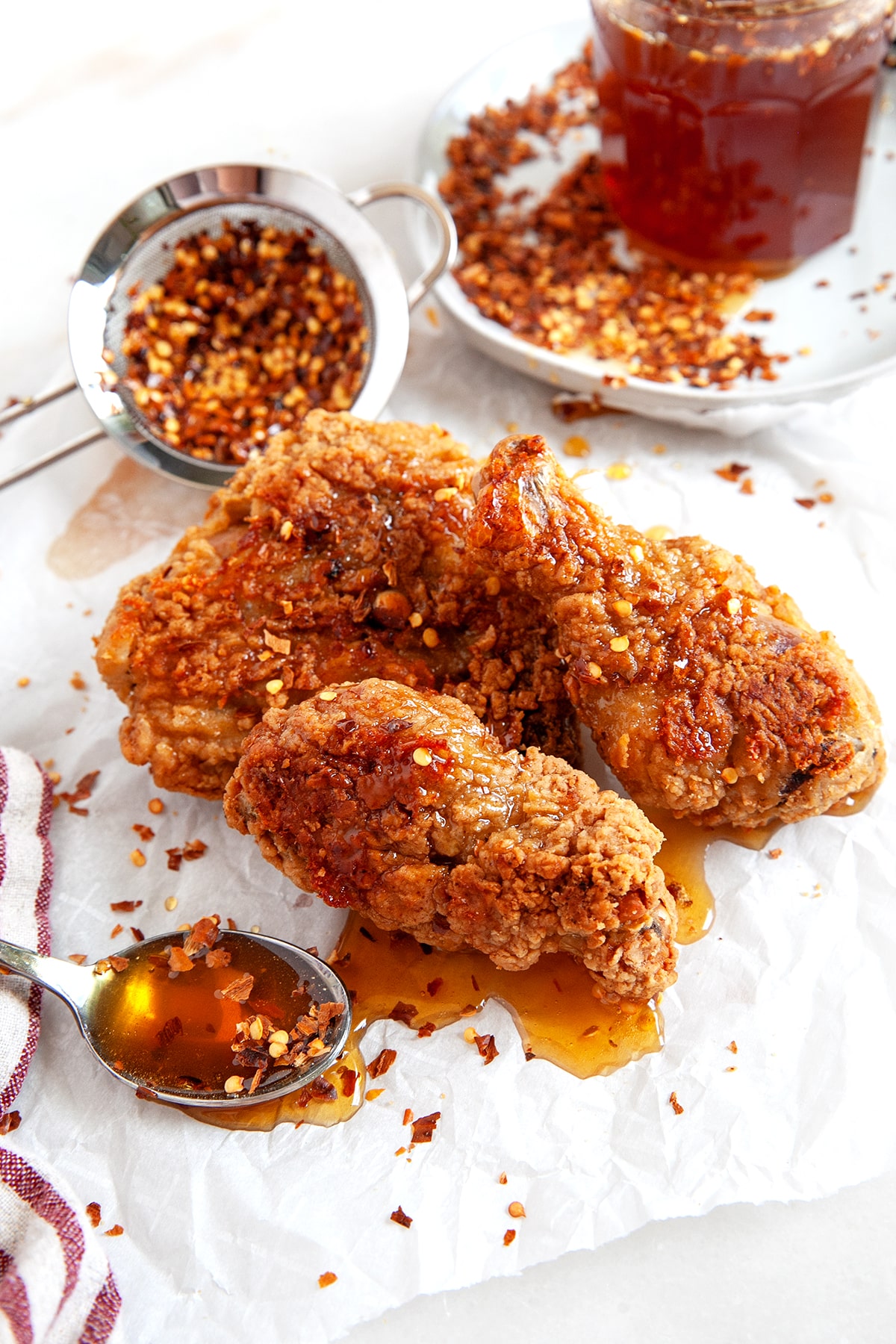 Hot Honey is such a versatile condiment. You'll be amazed at how many things it can pair with! That sweet heat is really a winner. Everything from drinks and desserts to meats and vegetables. Here are some fun ideas for how to use Hot Honey:
Meat and Fish – This spicy honey is so good drizzled over chicken wings, fried chicken, baked pork chops, and even grilled Salmon!
Bread and Biscuits – You already know how good a hot biscuit is with honey, but Hot Honey kicks it up to the next level! I especially love Hot Honey on Cornbread!
Roasted Vegetables – Hot Honey over roasted Brussels Sprouts is insanely delicious! And if you like that, try it drizzled over roasted carrots, broccoli, and even corn on the cob.
Drinks and Cocktails – Add a spoonful to a cup of hot tea or even in your next old-fashioned or gimlet. So good!
Desserts – Hot Honey over ice cream is a big hit at our house. You can also try it with cheesecake and brownies for a spicy treat.
Charcuterie Boards – You can dip everything in hot honey! It's especially good with cheese ( I love it with Brie!).
Recipe Pro Tips!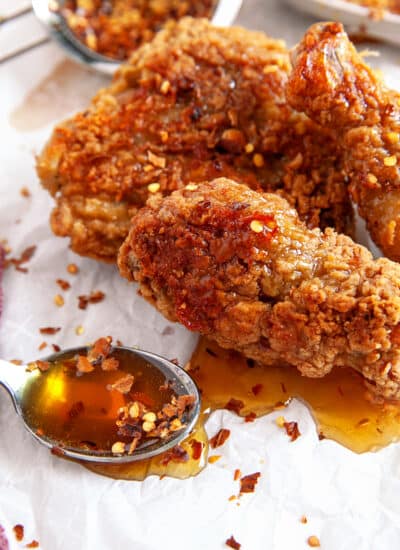 Can I use fresh chilies in place of dried chiles?
You can as you will be removing the chiles from the honey but be careful as fresh chiles can waiver from one to the other, even using the same kind of chile.
How can I store my hot honey?
You can store hot honey just like you do regular honey in the pantry. Don't store honey in the refrigerator, as it will crystalize and firm up much more quickly. Honey literally lasts forever, so you have a great shelf life for your condiment. If it does crystalize, just put the jar in hot water to dissolve the crystals.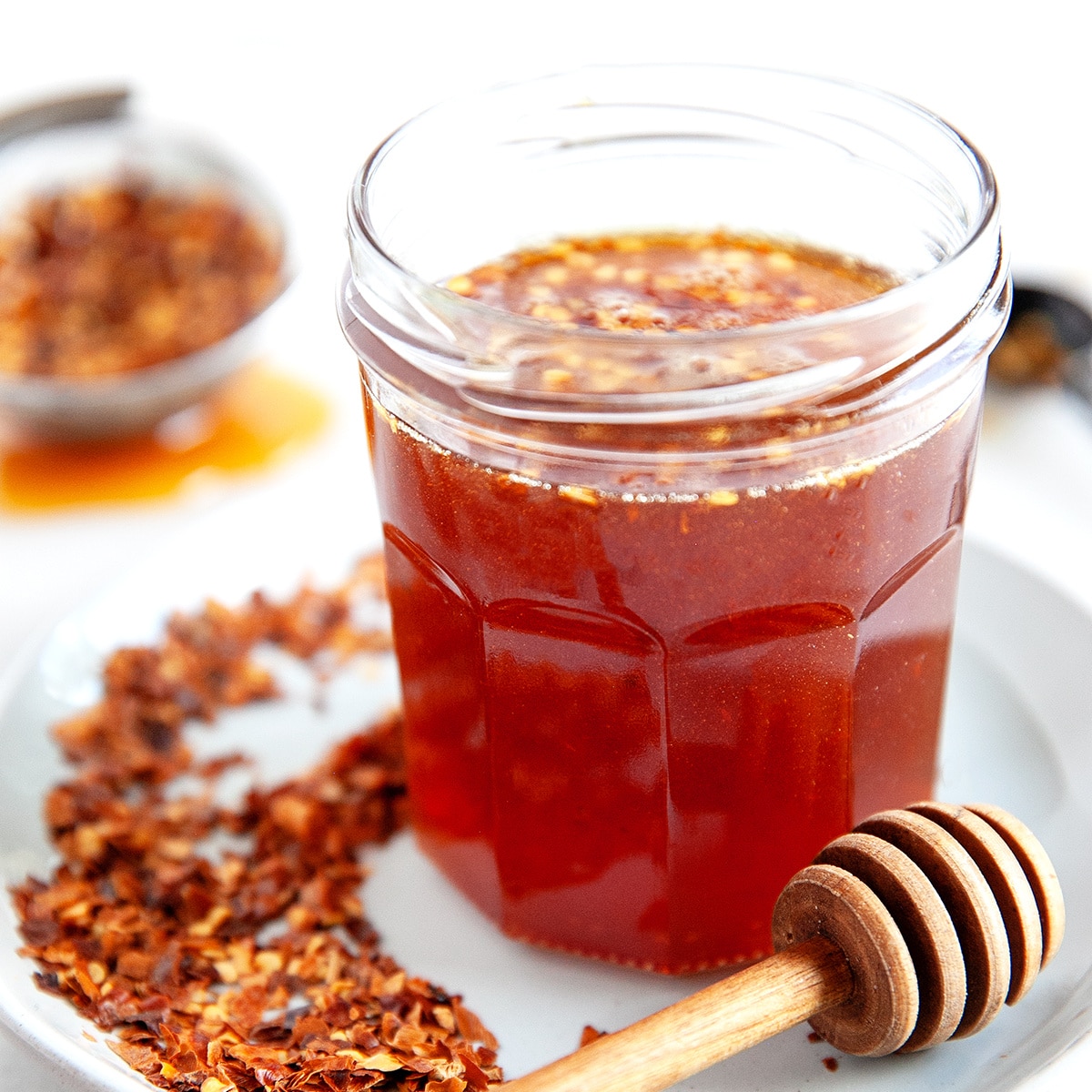 WANT MORE HONEY RECIPES? TRY THESE!!
Honey is such a versatile ingredient and can be used in both sweet and savory dishes. Here are some of our favorites that I thought I would share with you. You can even add some of the hot honey to these recipes too.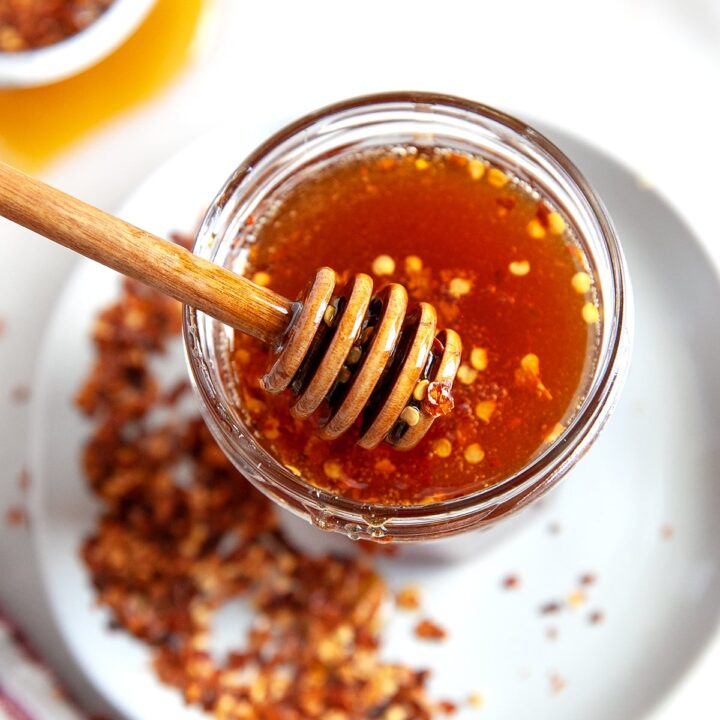 Hot Honey Recipe
Yield: 1 cup
Prep Time: 5 minutes
Cook Time: 20 minutes
Total Time: 25 minutes
Homemade Hot Honey is so easy to make, and it only takes just three ingredients for this sweet and spicy condiment! This spicy honey is great anywhere you use regular honey and more.
Ingredients
1 cup of honey
2 to 3 tablespoons crushed red pepper flakes
1 teaspoon apple cider vinegar
Instructions
In a small saucepan, combine the honey and red pepper flakes. Cook over medium heat just until the mixture begins to simmer. Be careful not to boil.
Remove the honey mixture from the heat and let it rest for 10 to 15 minutes. After the rest period, taste the honey. If you'd like more spice, let it rest for another 10 minutes or so.
When the honey has reached your desired spice level, place a fine mesh strainer over a medium jar. Pour the honey over the mesh strainer to remove the pepper flakes. If you'd like your honey to continue to get spicier, leave some or all of the red pepper flakes in the honey.
Stir in the apple cider vinegar.
Use the honey immediately or store at room temperature for up to 3 months.
Notes
See the post for extra tips and tricks.
Nutrition Information:
Yield: 16
Serving Size: 1 tablespoon
Amount Per Serving:
Calories: 68
Total Fat: 0g
Saturated Fat: 0g
Trans Fat: 0g
Unsaturated Fat: 0g
Cholesterol: 0mg
Sodium: 1mg
Carbohydrates: 18g
Fiber: 0g
Sugar: 18g
Protein: 0g
Recipe calculation was provided by Nutritionix and is an estimation only. If you need nutritional calculations for medical reasons, please use a source that you trust.