Honey Glazed Dijon Roasted Carrots
Do you need a great recipe for a quick and hands-off side dish? I love roasting veggies in the oven, and this easy recipe I just whipped up one night when I was bored of our plain old veggies. These Honey Glazed Dijon Roasted Carrots don't need a special event to be served; they are great any night of the week.
With 5 minutes of prep work for this roasted carrot recipe you know they can't be beaten. Pop them in the oven and let the roasting take over.
These glazed carrots are simply made with oil and seasonings. You probably have all the ingredients right now to make these scrumptious roasted vegetables. Plus, they aren't laden with too many calories either like some holiday dishes are. They are simple and delicious. Also, try our Carrot Ginger Soup, or Caramelized Carrots for a sweet treat too.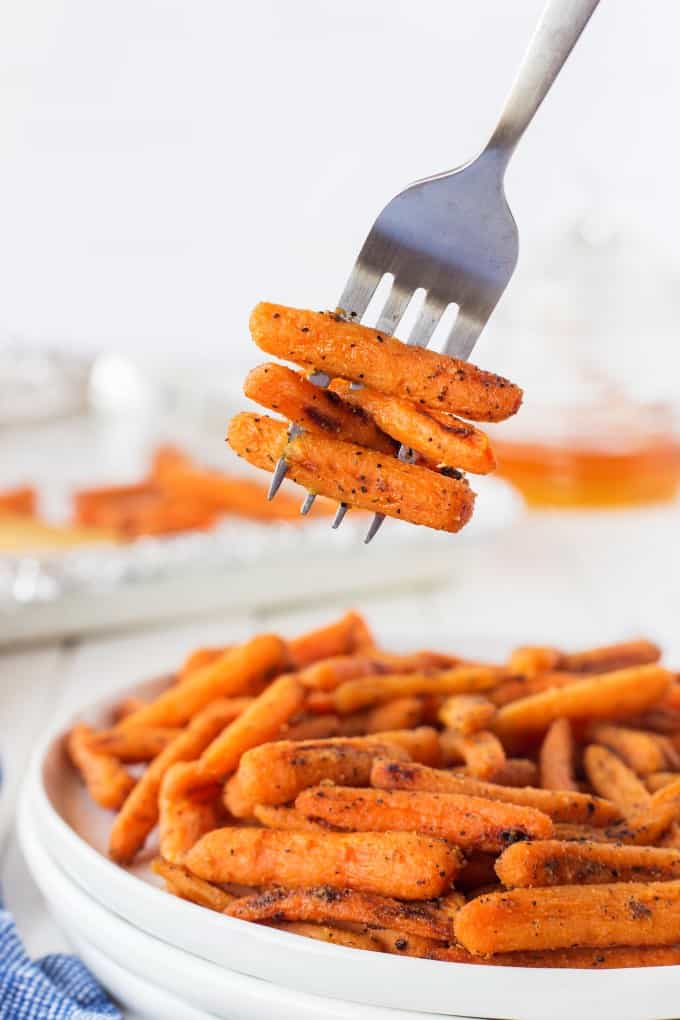 Helpful Items for This Recipe
This post contains affiliate links. As an Amazon Associate, I earn a small portion from qualifying purchases at no extra charge for you.
Aluminum Foil – 200 Square Feet
How to Roast Carrots in the Oven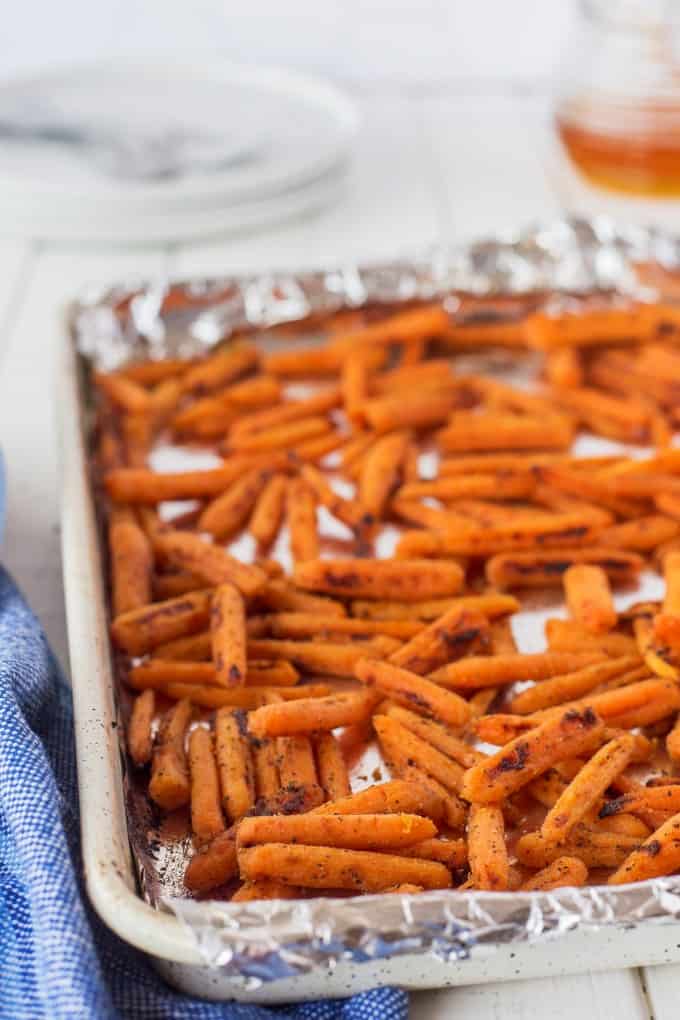 Carrots are a side dish that, for the most part, are easily neglected. Cooking carrots is simple; they boil-up or steam easily and usually are served with a pat of butter, salt, and pepper and away they go.
I remember my dad banning carrots from the house as he was so sick of having them. They were a go-to for both my mom and my grandmother and they just served them plain and basic. Roasting carrots brings out a whole new dimension to them. Dad would have loved them this way!
With ready-cut, washed, peeled carrots at our fingertips now we can bring carrots up a notch with little effort or time. Kids love them already dunked into a pool of Ranch Dressing. Show them a new way to love this veggie.
The carrots turn out sweeter than they already are as roasting brings out the sugars. Want to add a little heat to the mix? Sprinkle in some red pepper flakes to your glaze, not too much to make them spicy but just a pinch to add another component to them. A little warming in your mouth.
This would be great with beef dishes that can stand up to some extra flavors. I am thinking of an amazing Grilled Prime Rib Roast in particular!!
How To Roast Carrots
Ingredients
Baby-cut carrots
Olive oil
Honey
Dijon mustard
Kosher salt
Freshly ground pepper
Garlic powder
Preheat oven to 400 degrees F. Line a sided baking sheet with foil and sprayed with cooking spray. Place carrots in a large bowl. Mix together the rest of the ingredients in a small bowl. Pour the glaze ingredients over the carrots and toss the carrots in the lovely sweet and tangy mixture.
You can substitute melted butter for the olive oil if you like. I tend to use olive oil for all my roasting of vegetables but butter would make them a bit more decadent.
They would be an easy side dish to serve at a Thanksgiving or Christmas meal also. Adding in little warming spices like cinnamon, nutmeg, and ginger would have this vegetable fall and winter-ready for the holidays.
I always have one simple side dish that isn't laden with tons of heavy ingredients for a big dinner and I have made these and they are perfect for holiday buffets too.
Place carrots on the foil-lined sheet pan in a single layer and roast in the oven for 20 minutes. Toss well and roast for another 5 min. or until just tender. Broil for a few minutes until slightly browned with some charred bits and caramelized edges.
The high temperature does the final taste sensation for these carrots giving them that extra char. Once they are done you will want to serve them immediately while they are still hot, perfectly tender, and wonderfully seasoned.
Yes, they are that easy! So no excuses to not make these oven-roasted carrots that will wow your family or friends and here are the simple ingredients too. You can substitute brown sugar for the honey as that will be lovely too and makes them vegan friendly also.
Do You peel Carrots Before Roasting?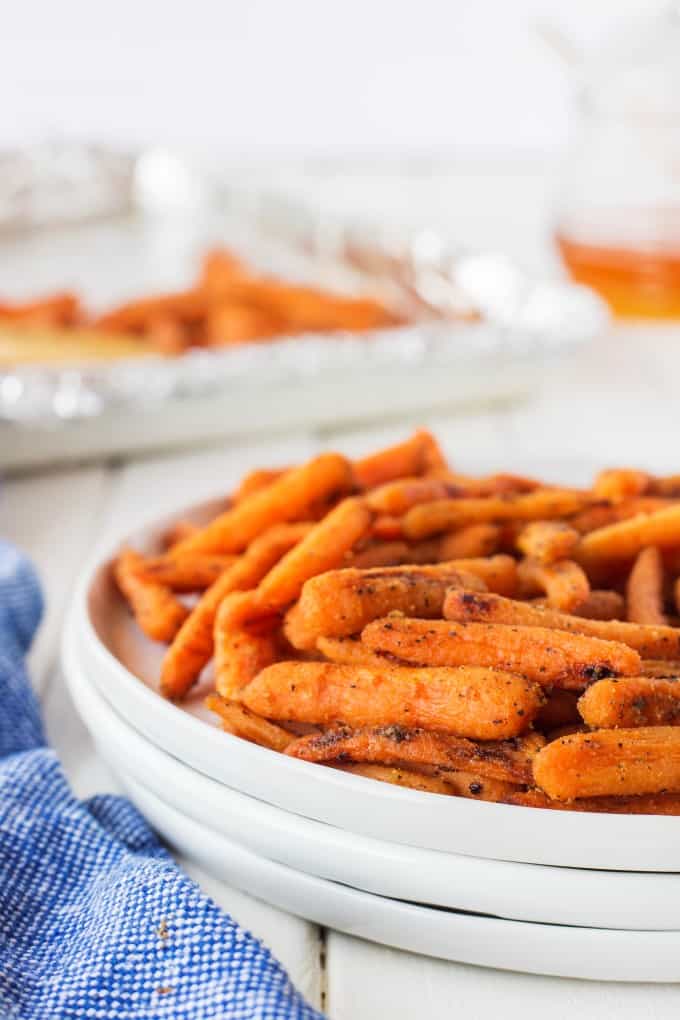 With this recipe, the baby-cut carrots are already peeled of course. But if I get small, fresh carrots from the farmers market, the grocery store, or my garden I don't peel them. If they are large older carrots I will peel them before chopping into smaller sizes.
Do you ask what really are baby-cut carrots? Well, you can get baby carrots which are just that, small younger carrots, or in the grocery store, there are large carrots that have been cut to resemble a baby carrot.
These baby-cut carrots, for the most part, are more uniformly shaped and are great for roasting as they will cook more evenly. The convenience is what wins me over every time. Washed, prepped, and ready to go. I love how easy they are to use.
Carrots are an inexpensive vegetable and they also store well. They can be pulled out as a great snack anytime and are a healthy choice for anyone in the family. Think of what is the first thing to feed a baby going onto solids. Yup, carrots are always there plus they are sweeter so babies love them too.
How Do You Cut Carrots For Roasting?
As mentioned, these carrots already come baby-cut. But what if you want to use large carrots. Wash them well first, peel them and then cut the larger end off and then cut the smaller tip off too. The trick is to try to get the carrots to the same size.
Slice the carrot down the center. And then cut the carrot into about 2″ pieces. The top or wider end of the carrot you may want to cut further into smaller strips. Keeping them as uniform as possible won't leave you with burnt bits and undercooked carrots.
You can also cut carrots on the diagonal or use a crinkle cutter to make carrots look fancier. Again, just try to keep them roughly the same size.
Nutritional Value of Carrots
Carrots are a crunchy, healthy vegetable that is a good source of beta carotene, fiber, vitamin K1, potassium, and antioxidants. They are also filled with lots of minerals and fiber. Noshing on carrots can help you lose weight too as they are low in calories. A cup of carrots only has 50 calories.
So add some more carrots to your diet and see the benefits. They make a healthy snack for your dog too. Mine so look forward to their morning treat of carrots and even know the word.
I have to be careful when we pull them out to have them for dinner as I have two dogs then looking at me longing for another round of munching.
More Great Carrot Recipes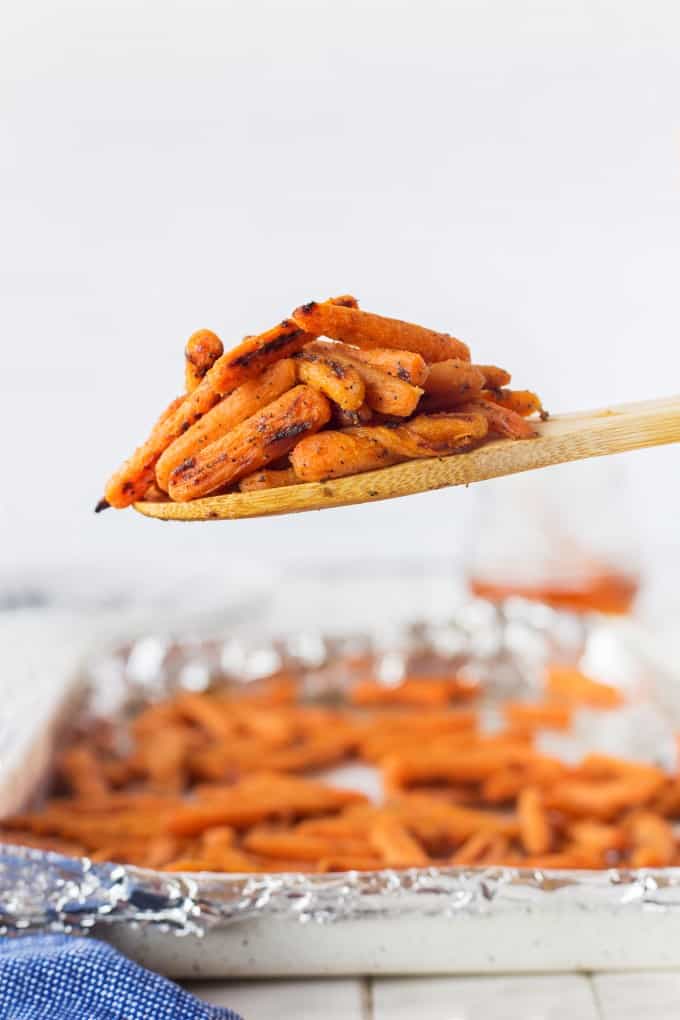 Here are some delicious recipes using the plain old carrot and bringing it to a new level. Some recipes are savory and then we take you to the sweeter side of things with desserts, muffins, cookies, and more.
The one thing you have to say about carrots is that they are versatile. They lend themselves to every culture and move from savory to sweet easily. They are a vegetable that we always have at the ready in our refrigerator.
Other Great Carrot Recipes
Creamy Vegan Moorish Spiced Roasted Carrot Soup
Buttery Mint Carrots and Snap Peas
Carrot, Parsnip, and Lentil Casserole
Carrot Recipes On The Sweeter Side
Zucchini Carrot Breakfast Muffins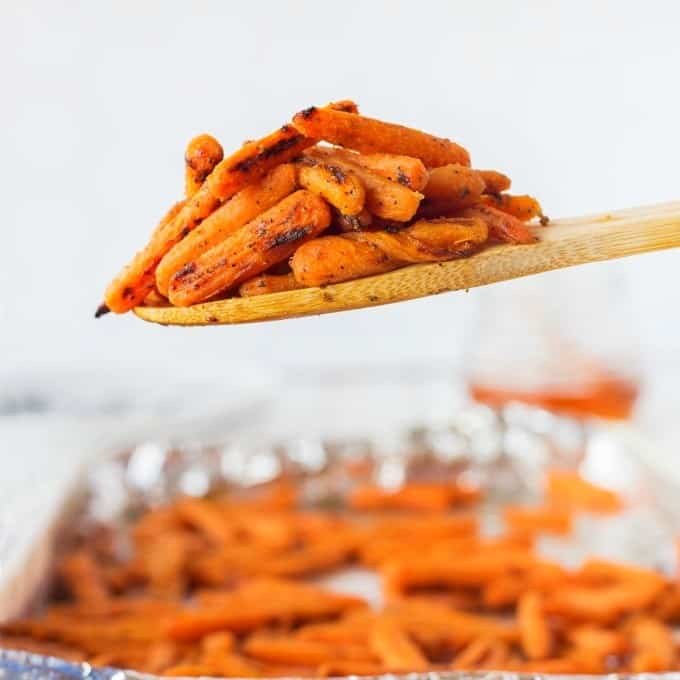 Pin it HERE!!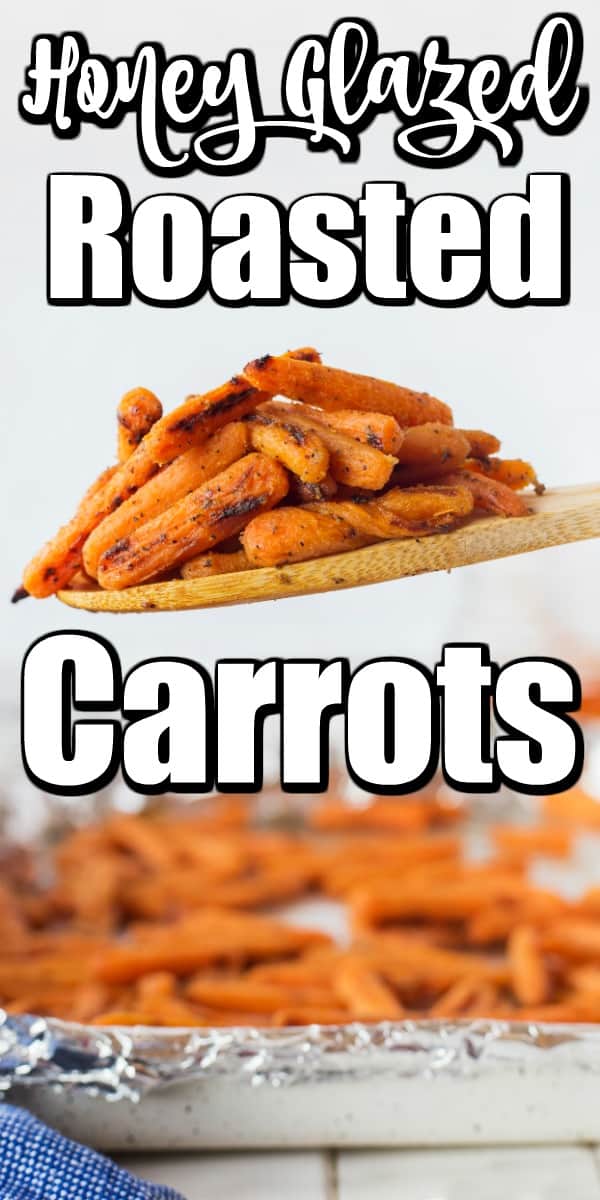 Pin it HERE!!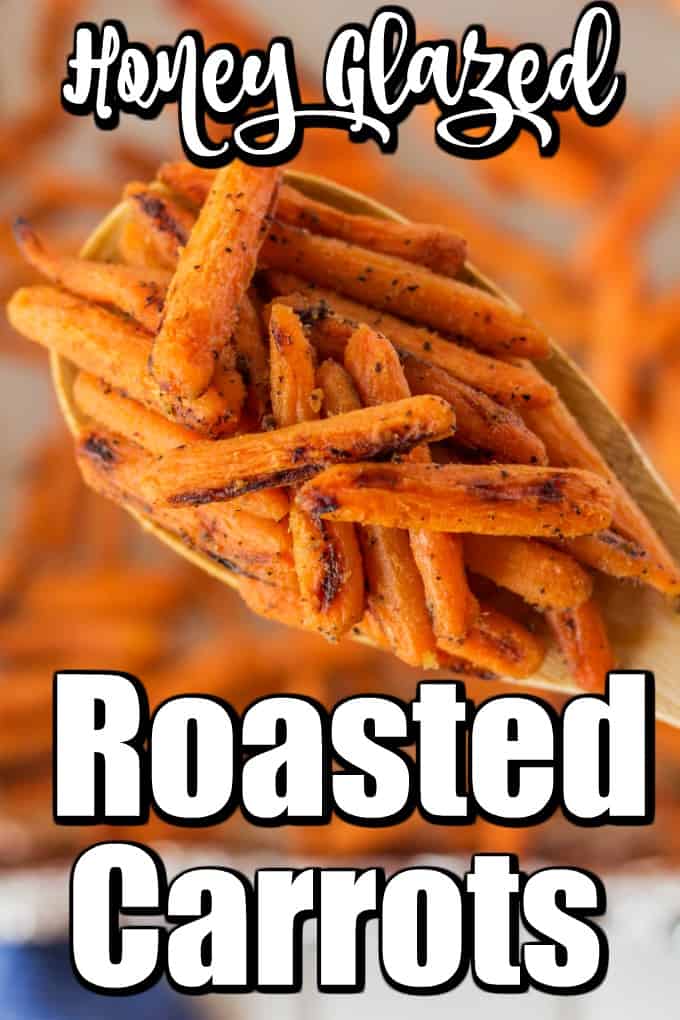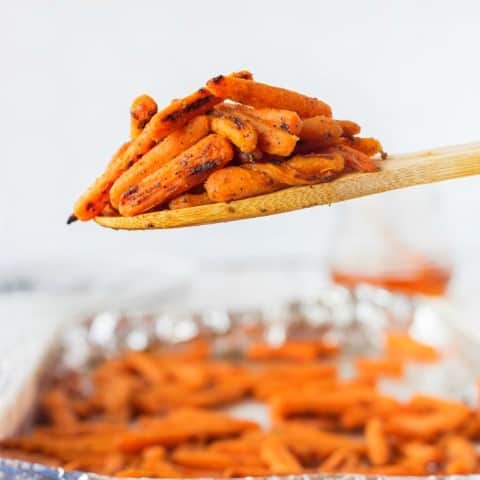 Honey Glazed Dijon Roasted Carrots
Yield: 4 servings
Prep Time: 5 minutes
Cook Time: 25 minutes
Total Time: 30 minutes
These very easy Honey Glazed Dijon Roasted Carrots make quick work of an easy side for any night of the week. They are sweet, tangy, and addictive. You will want to make them again and again.
Ingredients
1 1/2 lb. baby-cut carrots
2 Tbsp. olive oil
2 Tbsp. honey
1 Tbsp. Dijon mustard
1 tsp. Kosher salt
1/2 tsp. freshly ground pepper
1/2 tsp. garlic powder
Instructions
Preheat oven to 400F. Line a sided baking sheet with foil and sprayed with cooking spray.

Place carrots in a large bowl. Mix together the rest of the ingredients in a small bowl. Pour over carrots and toss.

Place carrots on foil and roast in the oven for 20 min. Toss well and roast for another 5 min. or until just tender.

Broil for a few minutes until slightly browned with some charred bits.

Serve immediately.
Recommended Products
As an Amazon Associate and member of other affiliate programs, I earn from qualifying purchases.
Nutrition Information:
Yield: 4
Serving Size: 1
Amount Per Serving:
Calories: 156
Total Fat: 7g
Saturated Fat: 1g
Trans Fat: 0g
Unsaturated Fat: 6g
Cholesterol: 0mg
Sodium: 782mg
Carbohydrates: 23g
Fiber: 5g
Sugar: 15g
Protein: 2g
Recipe calculation was provided by Nutritionix and is an estimation only. If you need nutritional calculations for medical reasons, please use a source that you trust.