Spring is coming and with that Easter. Carrot cake is a traditional cake served at this time of year but sometimes you don't have the time to do a layer cake compared to an Easy Carrot Snack Cake!! A snack cake is easy to make, easy to ice, and easy to serve. A complete win, win as it is just as delicious.
In a lot of carrot cake recipes, there is loads of oil as it is usually not a butter-based cake. To reduce some of that fat I substituted applesauce, which in my opinion just adds more flavor yet still keeps the cake just as moist. Try another one of our great recipes with our Coffee Cupcakes with Caramel Filling.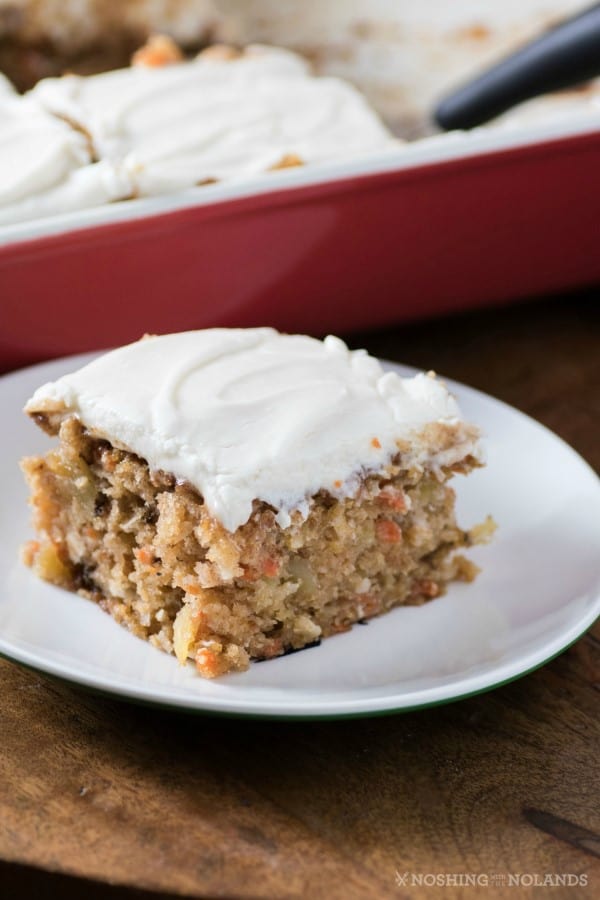 I love a carrot cake that has loads of wonderful ingredients like pineapple, coconut and walnuts plus all the earthy spices like cinnamon and nutmeg. This cake is moist and tender and people will be coming back for seconds and thirds!!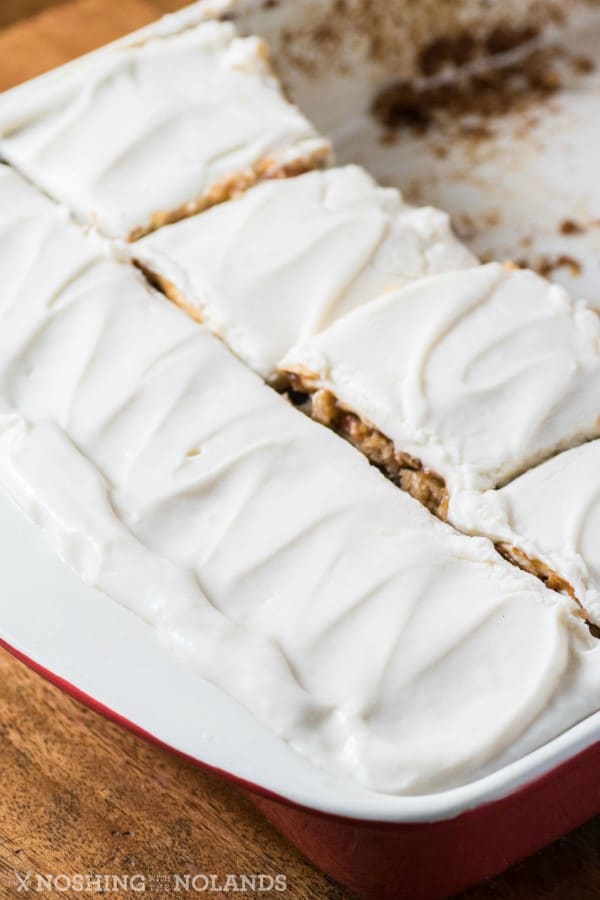 A large 9×13″ pan of cake can feed a crowd. There is still that wonderful cream cheese frosting that everyone loves so much with carrot cake.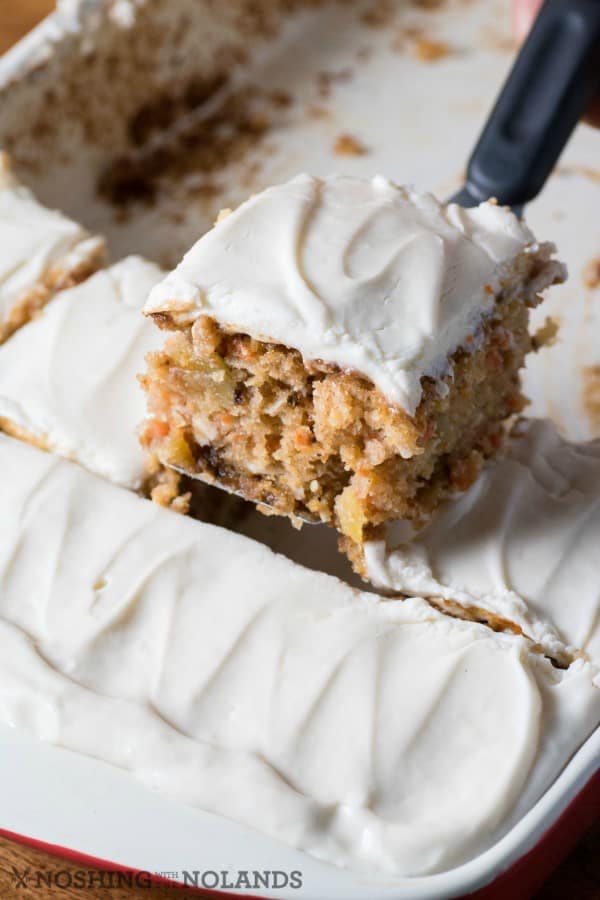 This cake cuts beautifully!! Get your forks ready as your piece is coming!! For a crowd or a casual dinner this Easy Carrot Snack Cake will be the hit for dessert. It also would make a perfect ending to a Mother's or Father's Day brunch!!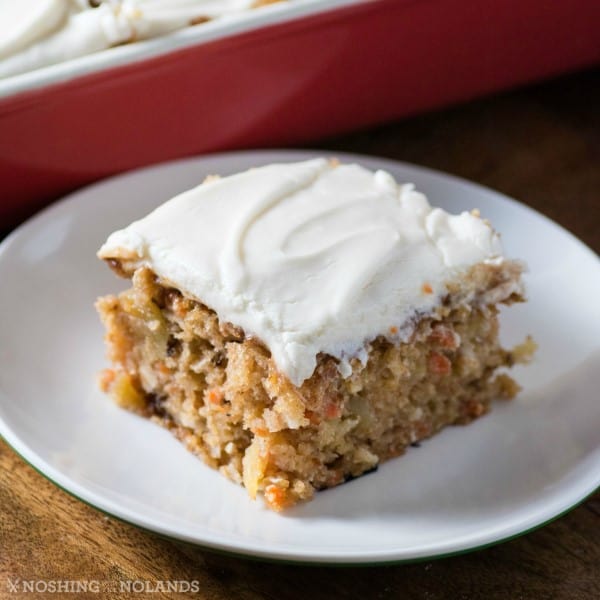 I always use the small individual applesauce containers so not to open up a big jar and have the rest leftover. I also decided to use 1/2 the amount of oil to applesauce and just measured it right in the little applesauce cup.
The Recipe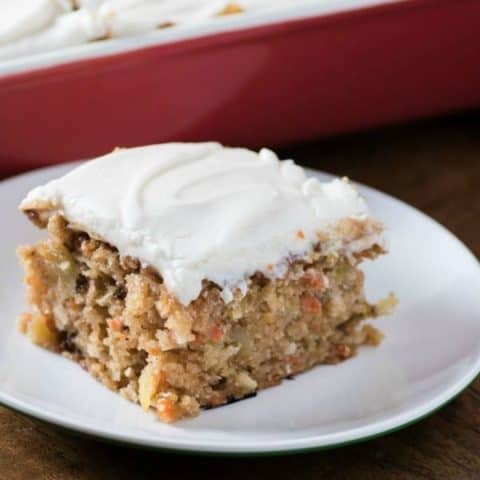 Easy Carrot Snack Cake
Yield: 20 squares
Prep Time: 20 minutes
Cook Time: 40 minutes
Total Time: 1 hour
Easy Carrot Snack Cake is a classic cake made easy to feed a crowd at anytime, from brunch to dessert!
Ingredients
Cake
200 ml. (7 oz.) applesauce
100 ml. (3.5 oz.) canola oil
2 cups sugar
3 eggs
1 tsp. vanilla
2 cups flour
1 tsp. baking soda
1 tsp. baking powder
1/2 tsp. salt
1 tsp. cinnamon
1/8 tsp. nutmeg
2 cups carrots, grated
1 cup flaked sweetened coconut
100 gm. (3.5 oz.) walnuts, chopped
1 cup crushed pineapple, not drained
Cream Cheese Frosting
1/4 cup butter
8 oz. light cream cheese, room temperature
1 tsp. vanilla
1 1/2 cups icing sugar
Instructions
Prepare a 9x13" pan by lightly greasing. Preheat oven to 350F.
Beat together in a bowl of a standup mixer with a paddle attachment the applesauce, oil, sugar, eggs and vanilla. Whisk together the flour, baking soda, baking powder, salt, cinnamon and nutmeg. Add slowly to the applesauce mixture. Fold in the carrots, coconut, walnuts and pineapple.
Pour into the prepared pan. Bake for 35-40 min. or until a toothpick comes out clean. Let cool completely.
For the frosting: In the a standup mixer with a paddle attachment beat the butter with the cream cheese until fluffy. Add in the vanilla and icing sugar slowly. Beat until smooth. Ice the cooled cake and refrigerate until cooled and set.