Ginger Cookie Crusted No-Bake Lemon Cheesecake
Ginger Cookie Crusted No-Bake Lemon Cheesecake is as simple as it is fabulous. No fuss with baking and worrying about the top cracking. The crust is super easy with using Nairn's ginger stem cookies and butter. It pairs gorgeously with the creamy dreamy lemon filling. Nairn's is a brand that I trust and enjoy. They offer two great oat crackers and three delicious cookies to choose from here in Canada. Come down to the bottom of the post to enter our giveaway for lots of Nairn's products and a cute Pippa bag!
Nairn's products are made with whole grain oats that slowly release energy, making them a healthier alternative for the whole family. I feel good in offering these to my family.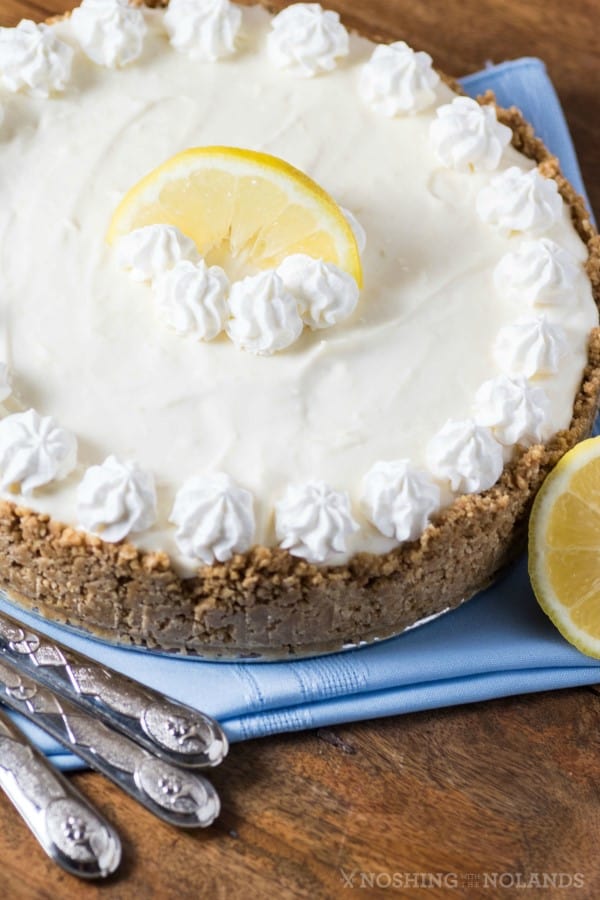 This is honestly one of the simpliest desserts I have ever made but it sure doesn't look like it. It would be a luscious offering for the Easter table either at a brunch or a dinner.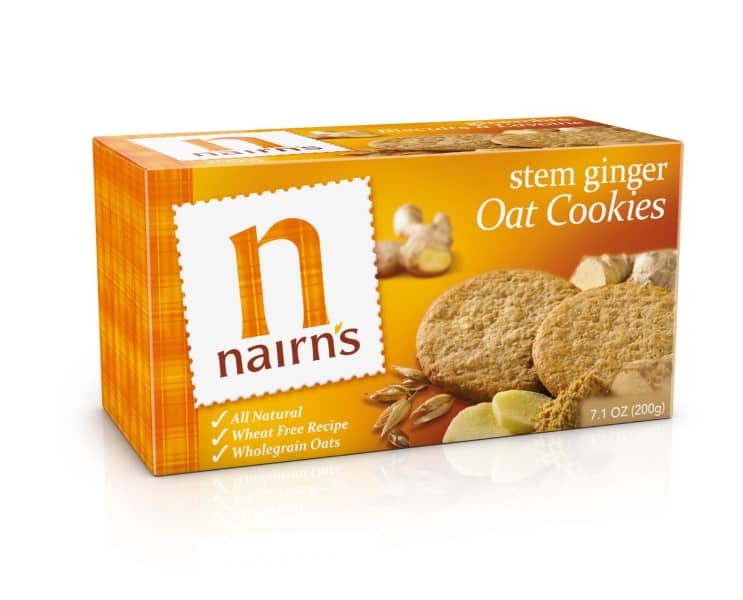 Nairn's biscuits are a household treasure here. My favorite are the stem ginger oat biscuits that I used today for the crust. A couple of ginger stem biscuits and a cup of tea is a cherished treat that can be had at anytime. They only have 44 calories each but are bursting with flavor. The biscuits are wholesome and tasty made with whole grain oats. They also contain 40% less sugar than the average biscuit.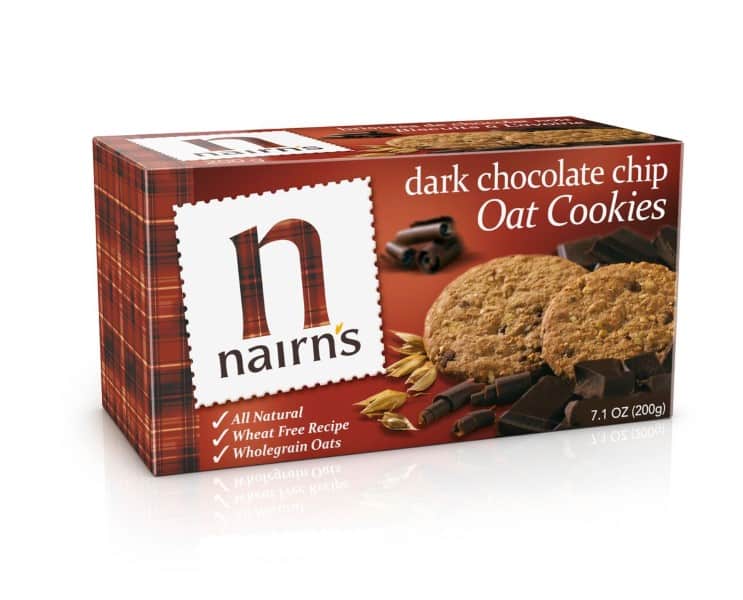 Amber's favorite are the Dark Chocolate Chip Oat Biscuits. I like that they are individually wrapped into packages of 5 biscuits. Perfect for a lunch box.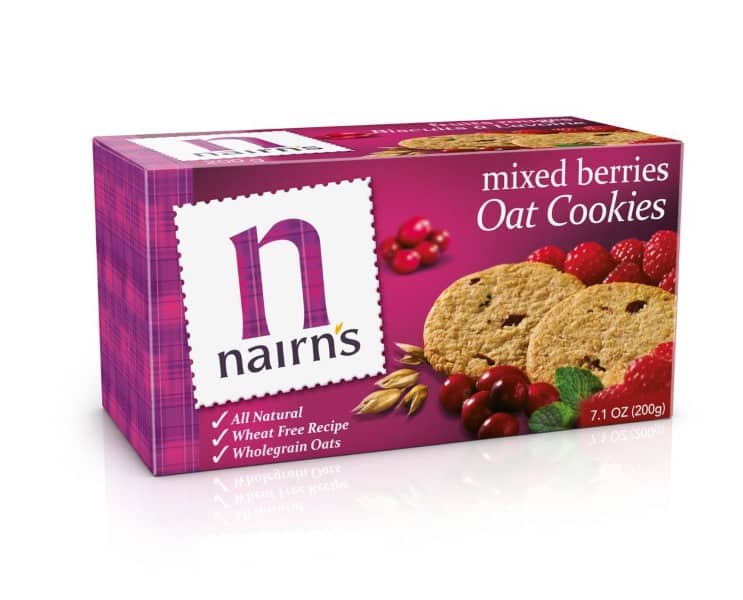 The third biscuit that is available in Canada is Mixed Berries Oat Cookies. These cookies also have the same great benefits and are full of cranberries and bursting with raspberry flavor too.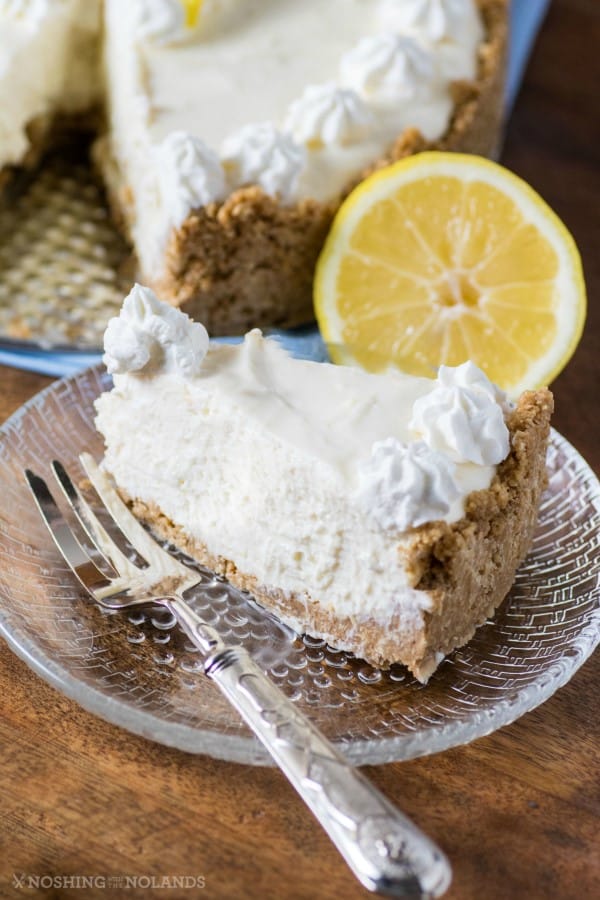 Making a crust from Nairns' ginger stem cookies was so easy and added in so much flavor to this scrumptious dessert. The cookie crust also stood up well to slicing and serving and made a pretty edge to this delightful cake.
Because of the simplicity I am not sure I will bake a cheesecake again. This no-bake recipe sure fits the bill for ease for me. It is a recipe that all your friends and family will love.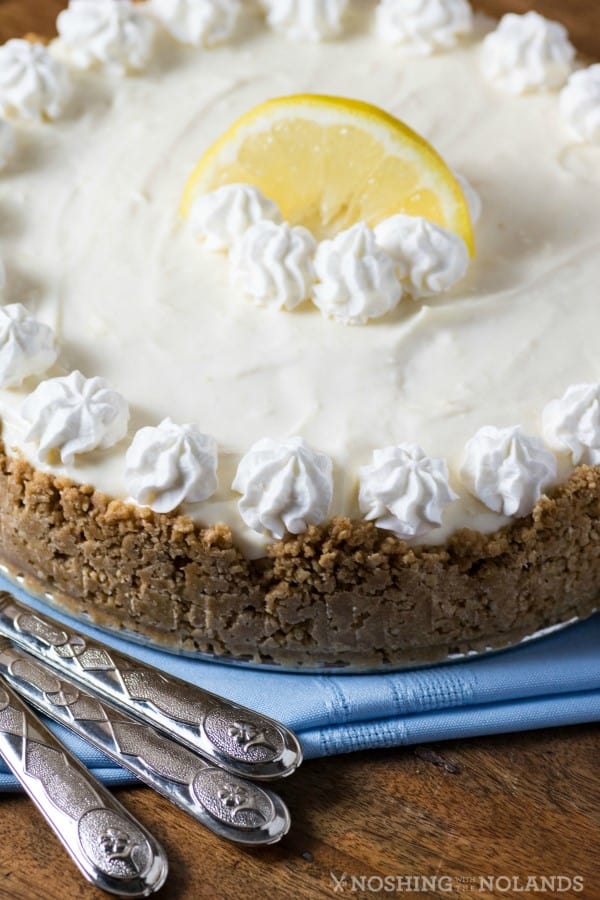 The Recipe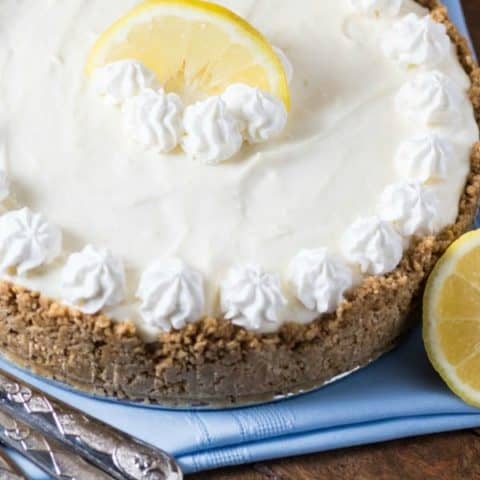 Ginger Cookie Crusted No-Bake Lemon Cheesecake
Yield: 12-16 slices
Prep Time: 25 minutes
Total Time: 25 minutes
Ginger Cookie Crusted No-Bake Lemon Cheesecake will have you making this again and again for its' ease as well as wonderful flavors.
Ingredients
Ginger Cookie Crust
1 1/2 pkg. (30 cookies) Nairn's Ginger Stem Oat Cookies
10 Tbsp. butter (I used salted but you can also use unsalted), melted
Cheesecake
2-8 oz. ligh cream cheese packages, room temperature
1-5 oz. can sweetened condensed milk
Juice from a lemon and zest (1/4 cup juice)
1 cup lemon yogurt
1 pkg. (7 gm.) gelatin
1/2 cup sweetened whipped cream for decoration (1/2 cup whipping cream with 1-2 Tbsp. fine sugar)
Lemon slices for decoration
Instructions
Place ginger stem cookies in a sealable bag and crush with a mallet or rolling pin. Pour into a medium bowl and add the melted butter. Press into a 9" springform pan spreading them about 1 1/2"-2" up the sides also. Place in the freezer while you make the filling.
Sprinkle the gelatin over the lemon juice in a small microwave proof bowl and let stand for 5 min.
In a standup mixer with a paddle attachment or using a hand held mixer, beat the cream cheese until smooth. Beat in the condensed milk a little at a time and scrape down the side as necessary.
Microwave the lemon and gelatin for 30 seconds to dissolve. Beat into the cream cheese. Beat in the yogurt and zest.
Pour into the chilled crust and smooth top with a spatula. Cover with plastic wrap and let set and chill for 3 hours.
When ready to serve, whip cream and sweeten with sugar. Decorate as desired and add lemon slice.
Unclasp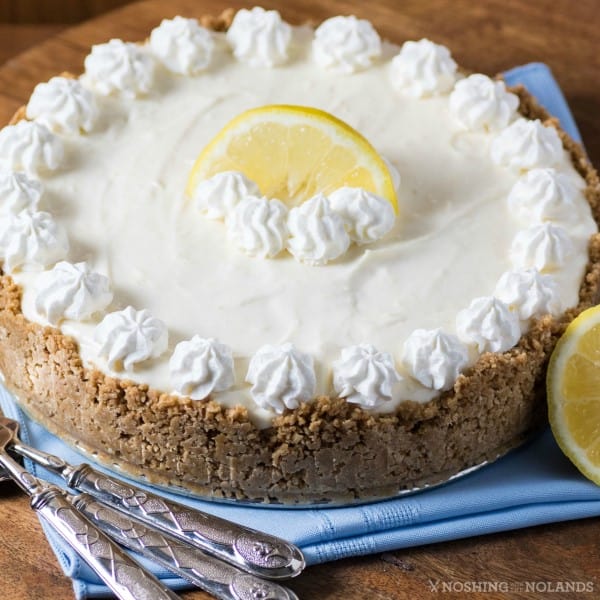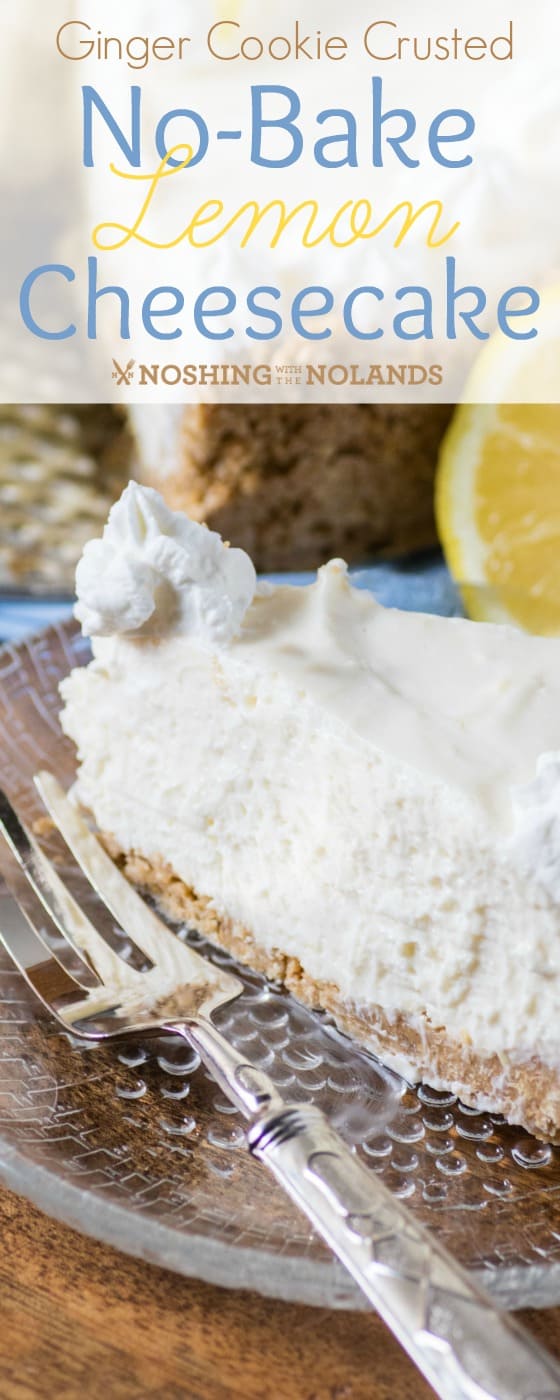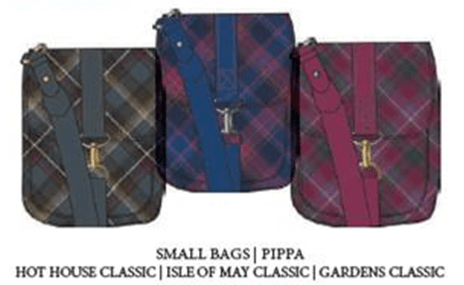 Here is our giveaway for Nairn's Oat Crackers. You will receive a prize pack of crackers and cookies plus one of these gorgeous Pippa bags. All from Edinburgh, Scotland! They generously sent me two bags, one for Amber and one for me. They are adorable and surprisingly hold a lot.
Giveaway available to Canada only. A random draw will be held on April 9th at 12:00am, which at that time a random winner will be chosen. The winner will have 48 hours to respond by email or another winner will be selected. Good luck everyone!