This easy Carrot Ginger Soup recipe is both deliciously nourishing and super simple to make. But while it may be simple, it's full of flavor, and every creamy spoonful tastes amazing. Serve it with a slice of hot buttered bread, and you'll be as obsessed as we are!
Want more great soup recipes to make? Try this Broccoli Soup Recipe, or how about Cheesy Chicken Potato Soup or Instant Pot Butternut Squash Soup? A bowl of warm soup is so comforting!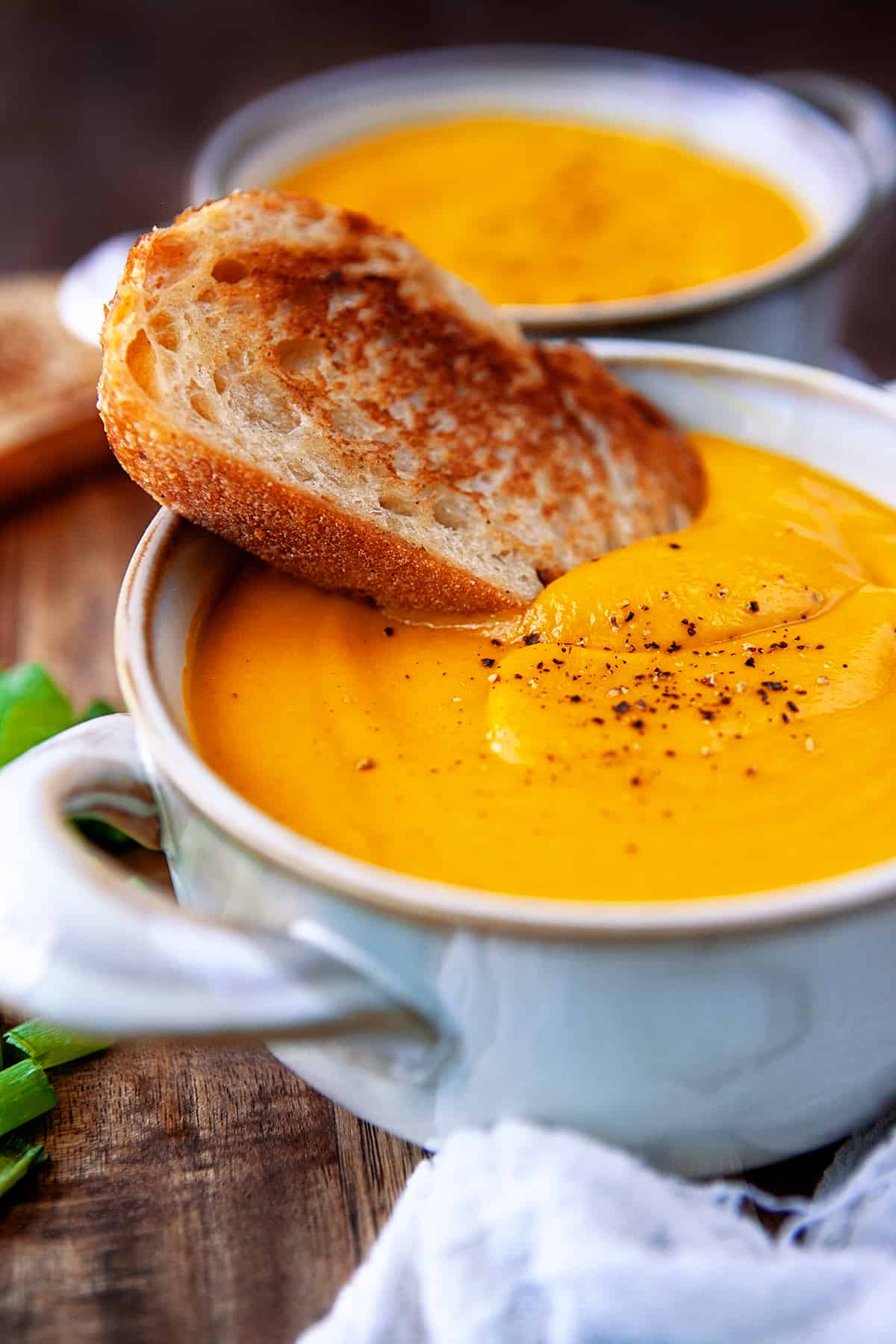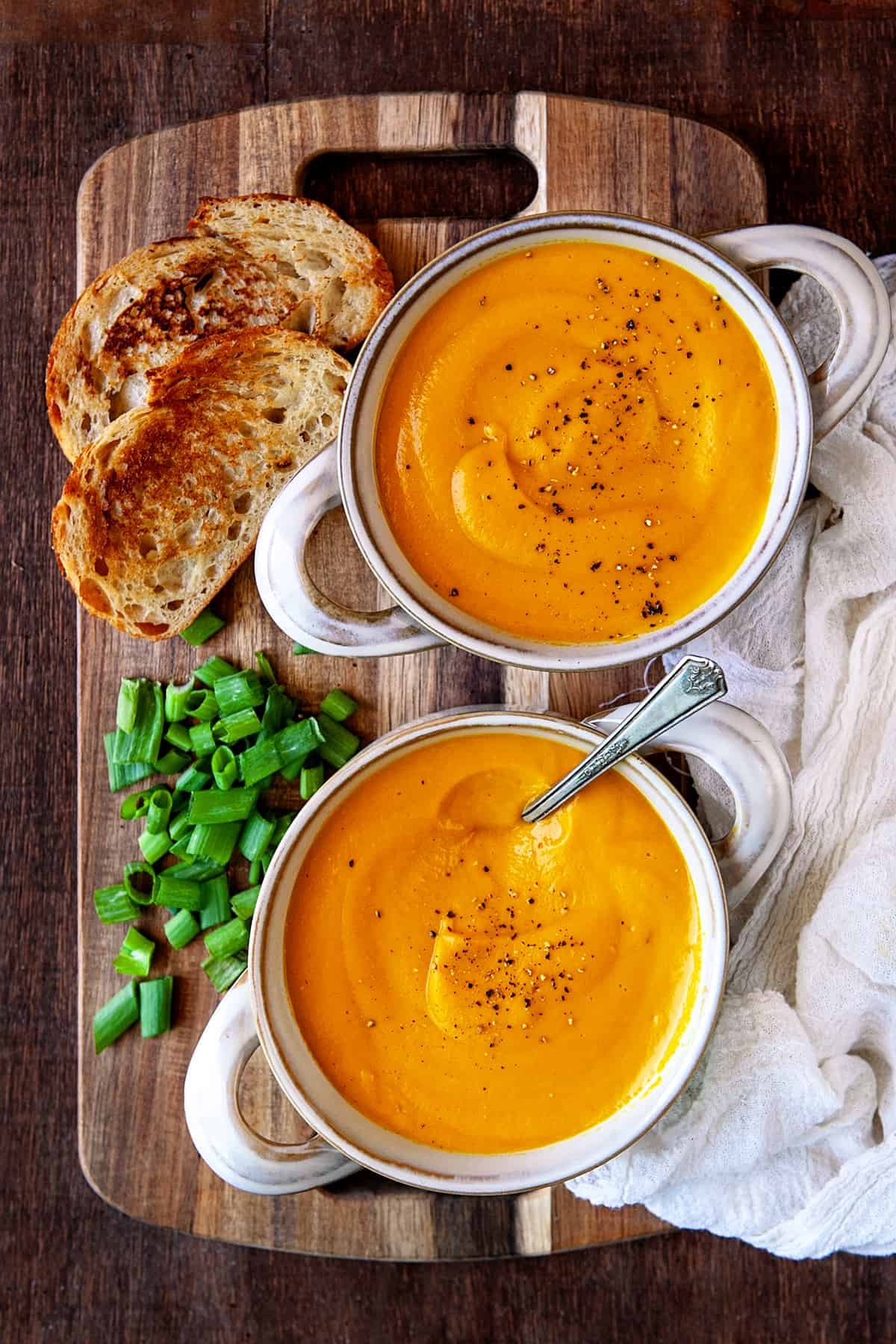 WHAT IS IN CARROT GINGER SOUP?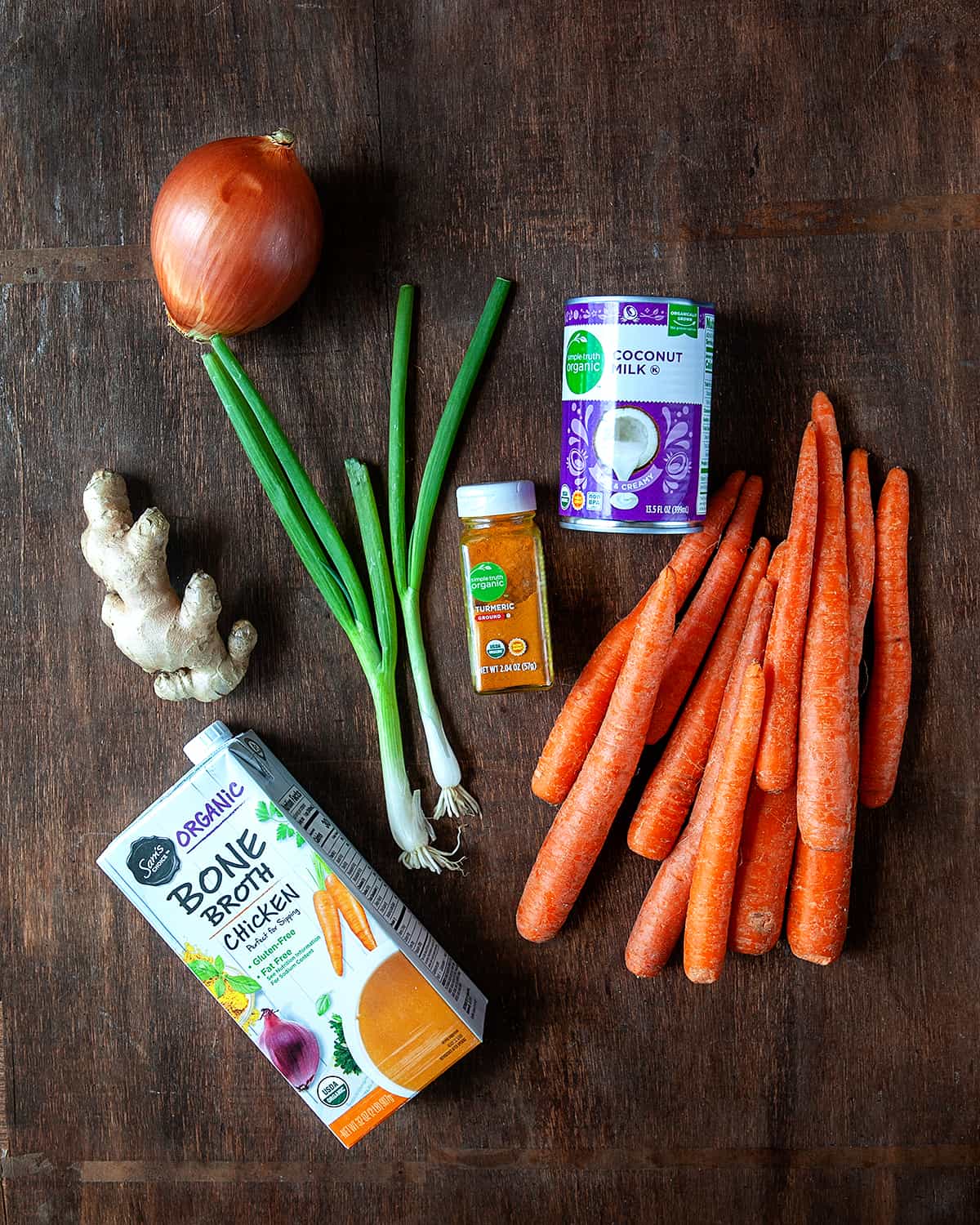 Carrot Ginger Soup is one of those deceptively simple recipes. With only a few basic ingredients, you can whip up this incredibly delicious and healthy soup. Sometimes simple is the best. Carrots can be just as sweet as sweet potatoes in soup; it is amazing how their sugary side shines through.
INGREDIENTS
Carrots, peeled and diced into thin rounds
Chicken broth (I like to use bone broth for the added flavor and nutrients, but you can even use a vegetable broth for a vegetarian version of this soup)
Fresh ginger, finely diced
Sweet yellow onion, chopped
Full fat coconut milk (stir so the coconut cream is mixed in well before you add it to the recipe)
Ground turmeric
Olive Oil
Green onions (optional garnish)
Salt and Pepper to taste
HOW TO MAKE CARROT GINGER SOUP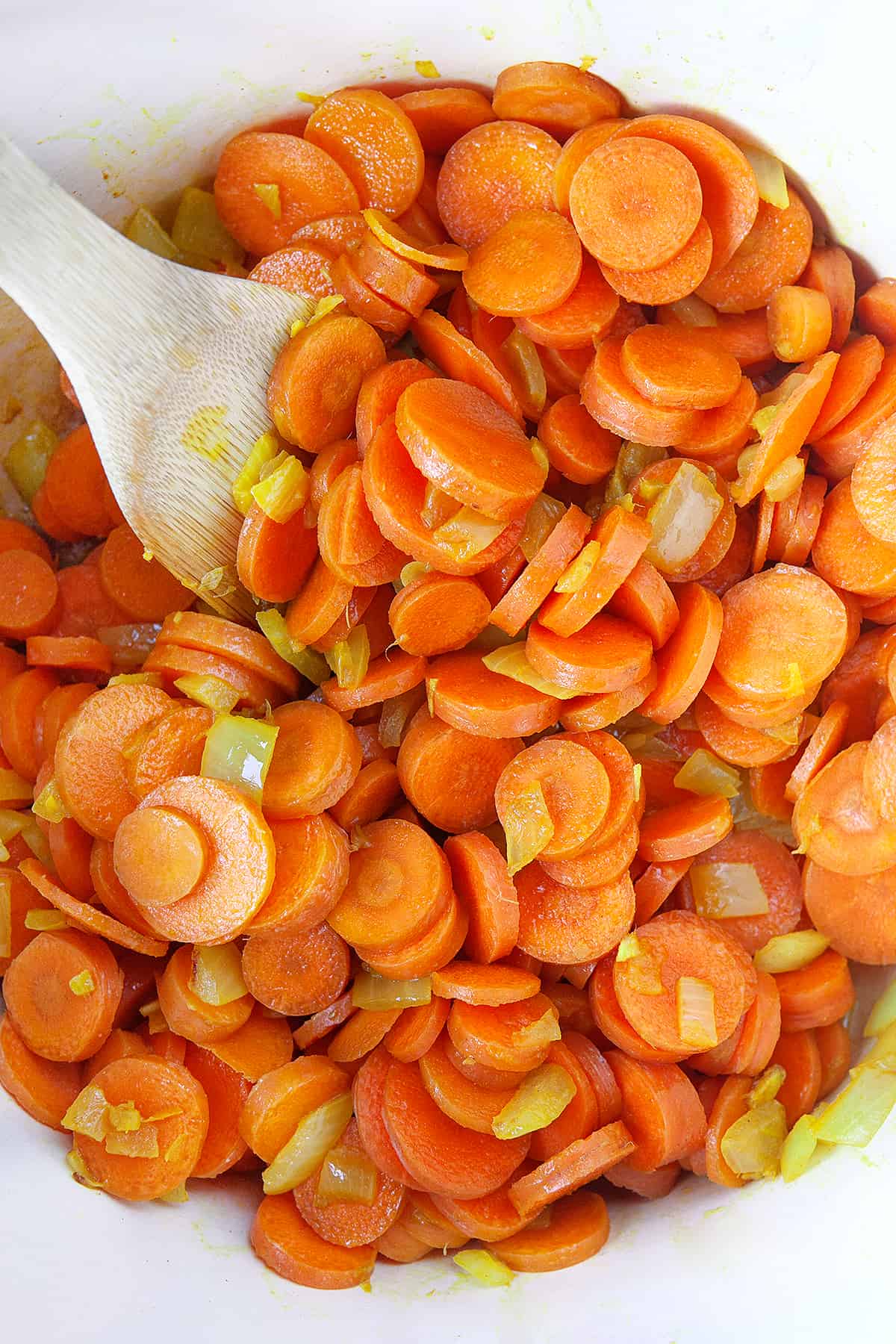 Begin by heating the olive oil in a large dutch oven or large pot over medium heat. Add the chopped onion, finely diced or grated fresh ginger, and ground turmeric. Sauté for about five minutes, or until the onion is softened. Add the peeled and sliced carrots and sauté for another five minutes.
Pour in the broth and bring to a boil over medium-high heat. Once boiling, reduce the heat and simmer covered for about 30 minutes, or until the carrots are soft.
Turn off the heat, and add the coconut milk. At this point, you are ready to puree the soup. The coconut milk will cool it down slightly, but it still will be a hot liquid, so proceed with caution. You can use an immersion blender, but pureed soups are better with a normal blender. I love a thick, creamy carrot ginger soup, so I always use my Blendtec blender – it's worth the effort for those buttery smooth spoonfuls of soup.
To puree the soup in a blender, do it in small batches and be very careful because the soup is hot. Blend until smooth.
Once it's completely smooth, taste and adjust the salt as needed. The amount of salt you need will depend on how salty your chicken broth is. I normally only need about 1/2 teaspoon of salt.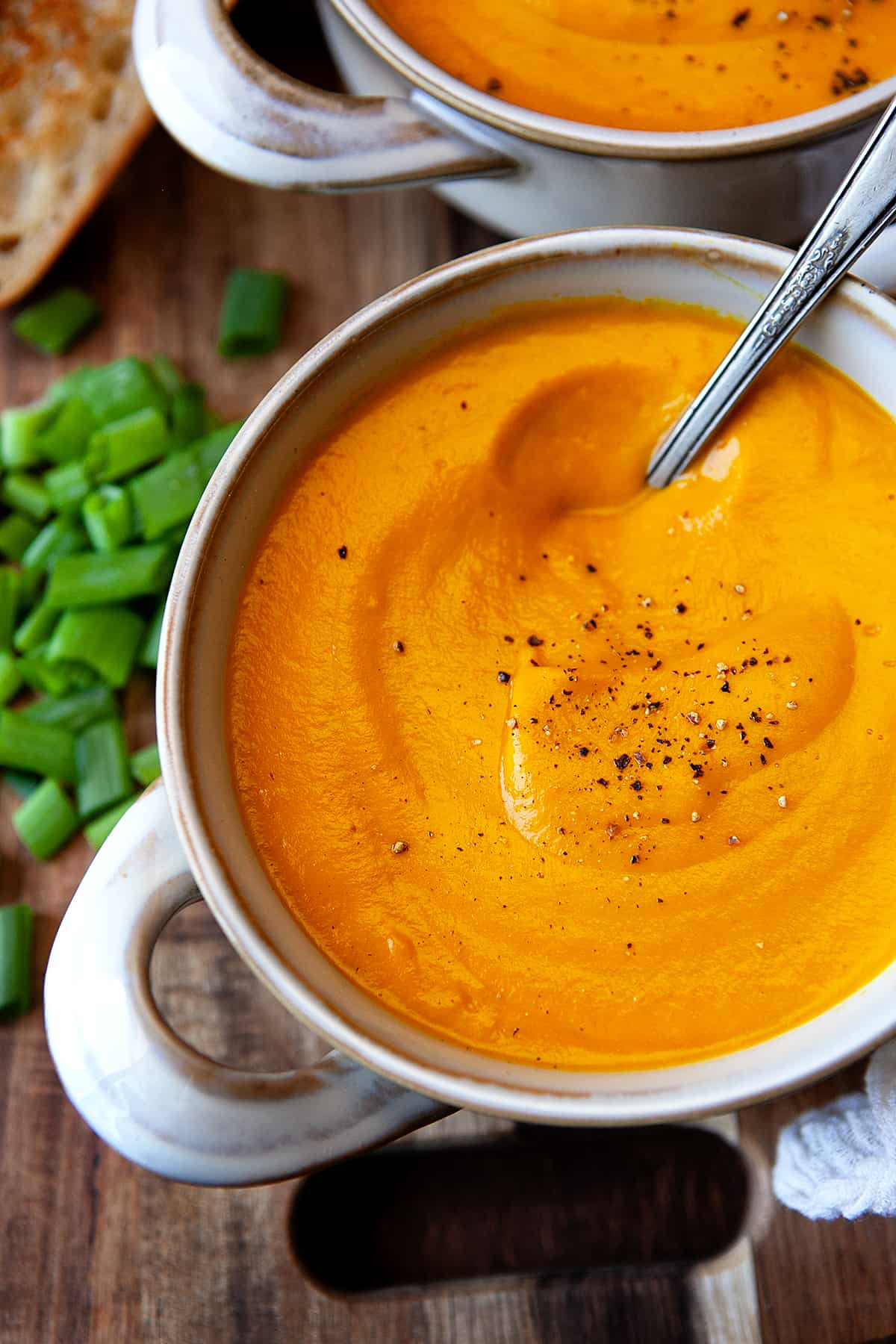 WHAT GOES WELL WITH CARROT SOUP?
To serve the soup, I recommend keeping it simple. I like to add a few chopped green onions as a garnish, along with a few grinds of pepper. You can also serve it with a dollop of sour cream.
Carrot Ginger Soup can be served as a side dish with any meat, poultry, or fish main dish. My favorite way to enjoy carrot soup, however, is with a side of buttery toasted artisan bread or garlic bread. It's even good with a grilled cheese sandwich (excellent for dipping!).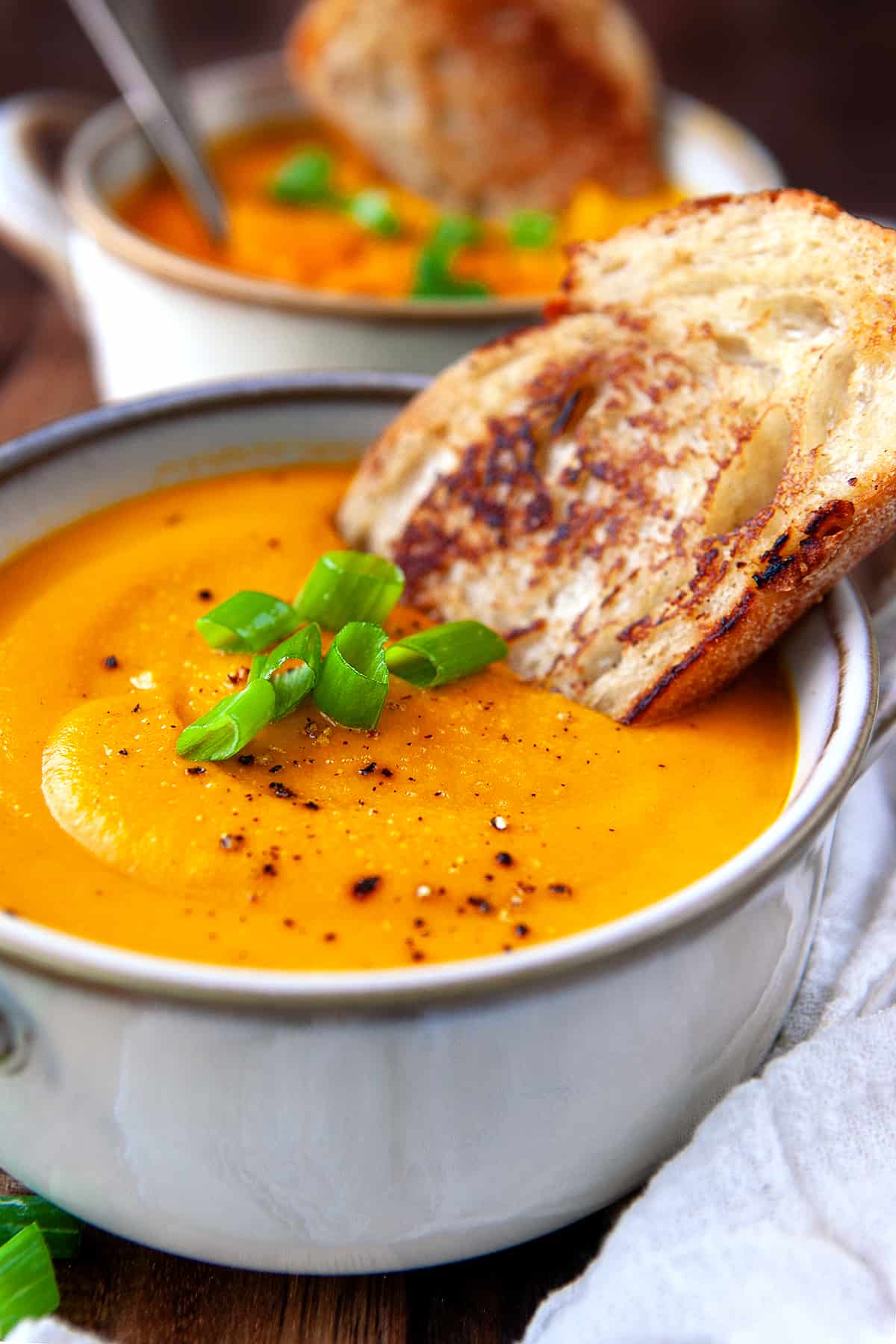 WHAT ARE THE BENEFITS OF CARROT GINGER SOUP?
The primary ingredient in Carrot Ginger Soup is carrot, which is a nutritional powerhouse vegetable. But this soup is especially nourishing because every single ingredient in it has impressive health benefits.
Carrots are loaded with Vitamin A, Beta Carotene, fiber, potassium, and antioxidants.
Ginger has chemical compounds that help the body ward off germs. It's also anti-inflammatory and packed with antioxidants.
Turmeric is also anti-inflammatory and has antioxidant properties that fight free radicals in the body.
Onions are high in vitamin C, fiber, and even folic acid.
Coconut Milk helps make this creamy soup dairy-free. Studies also show that eating coconut milk can improve cholesterol levels.
Chicken Bone Broth is rich in vitamins and nutrients, including calcium, magnesium, and phosphorus.
Of course, the real reason to eat Carrot Ginger Soup is that it is delicious! It does help, however, to know that every tasty bite is incredibly nourishing too!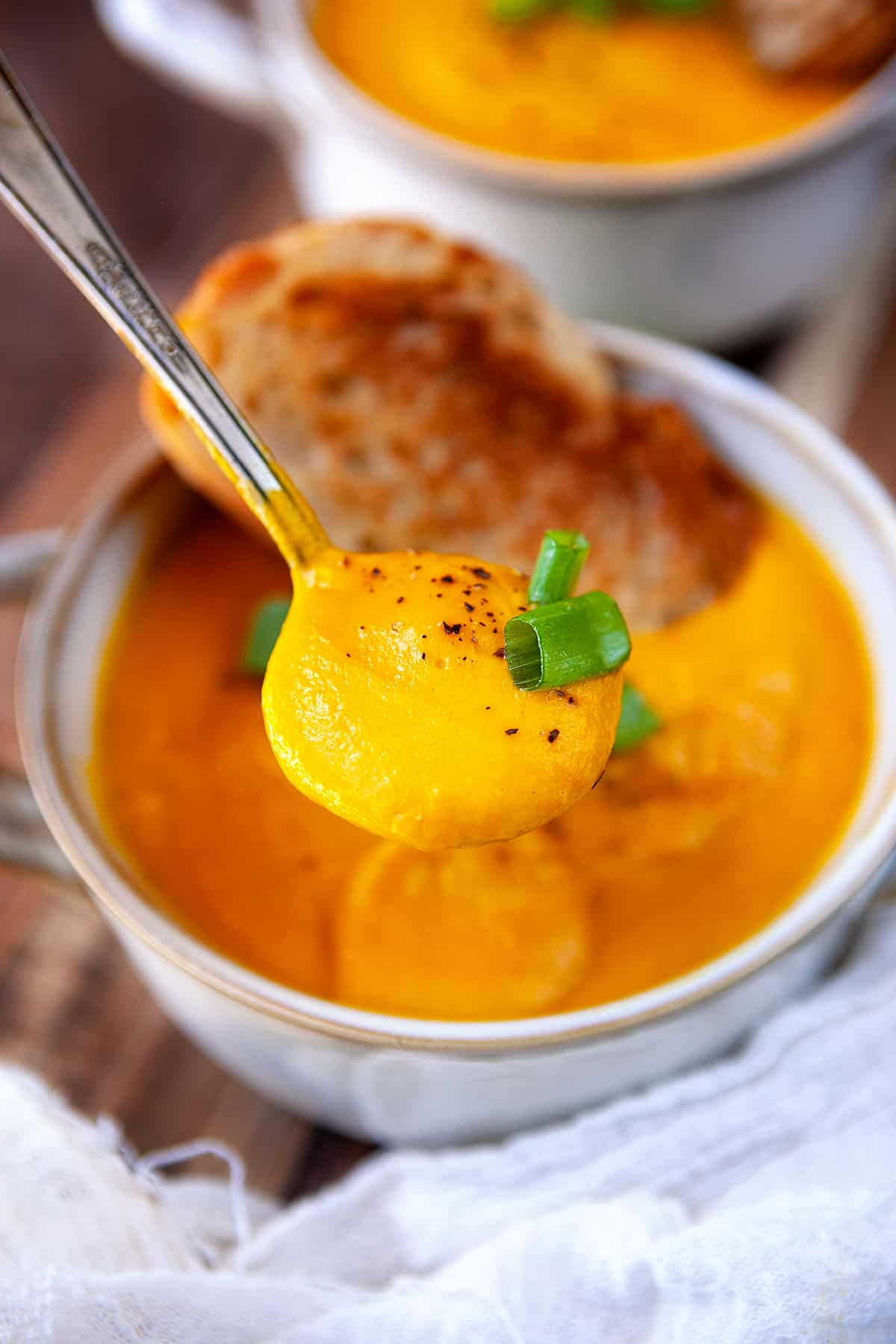 HOW LONG DOES CARROT SOUP LAST?
This Carrot Ginger Soup tastes great as soon as it's ready to eat, but it will continue tasting delicious for the next five days. Just keep it refrigerated and then reheat it when you're ready to serve it.
You can also freeze carrot ginger soup in freezer-safe Ziploc bags or Pyrex containers for up to six months. When you're ready to serve it, just reheat the soup over low heat in a saucepan on the stovetop.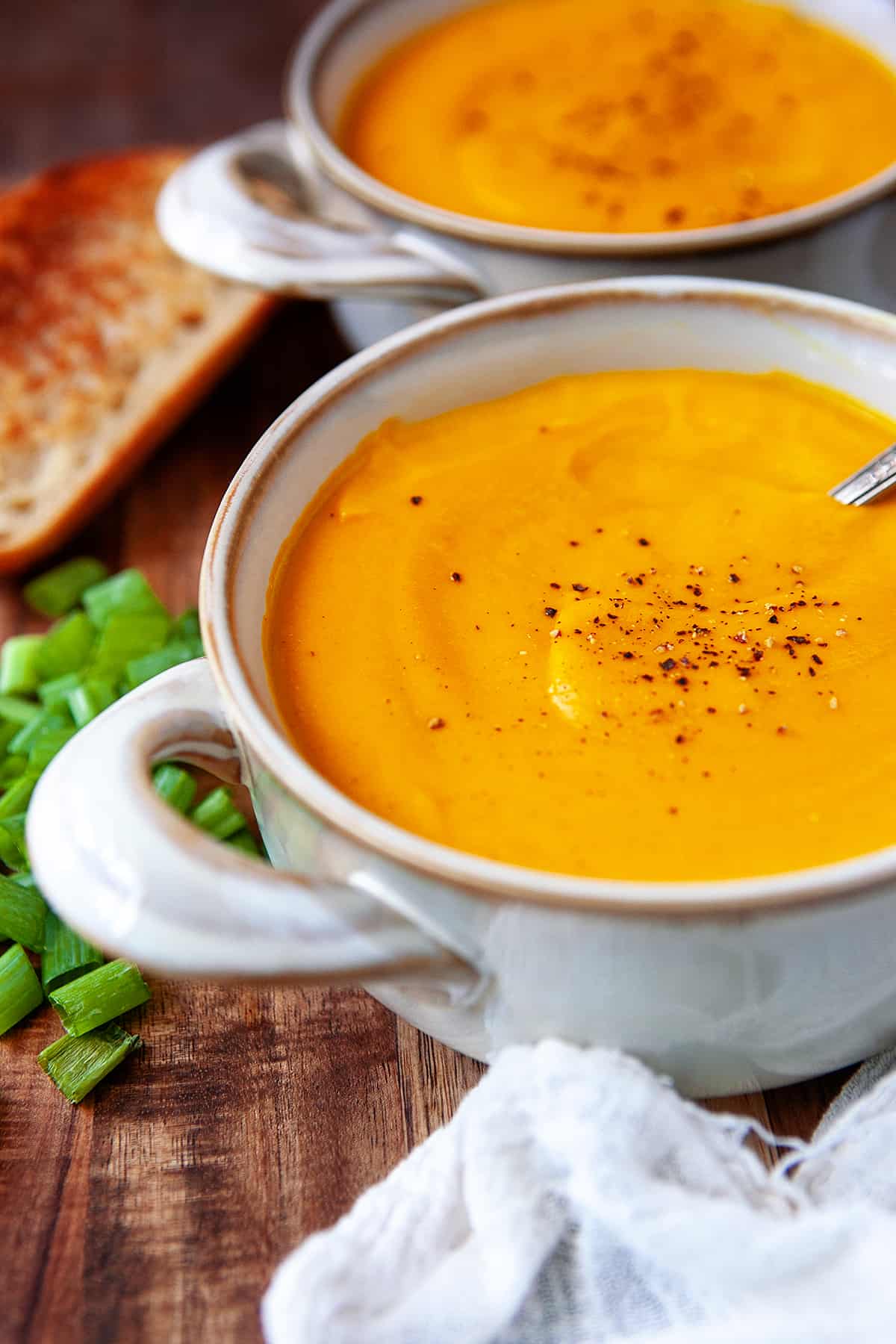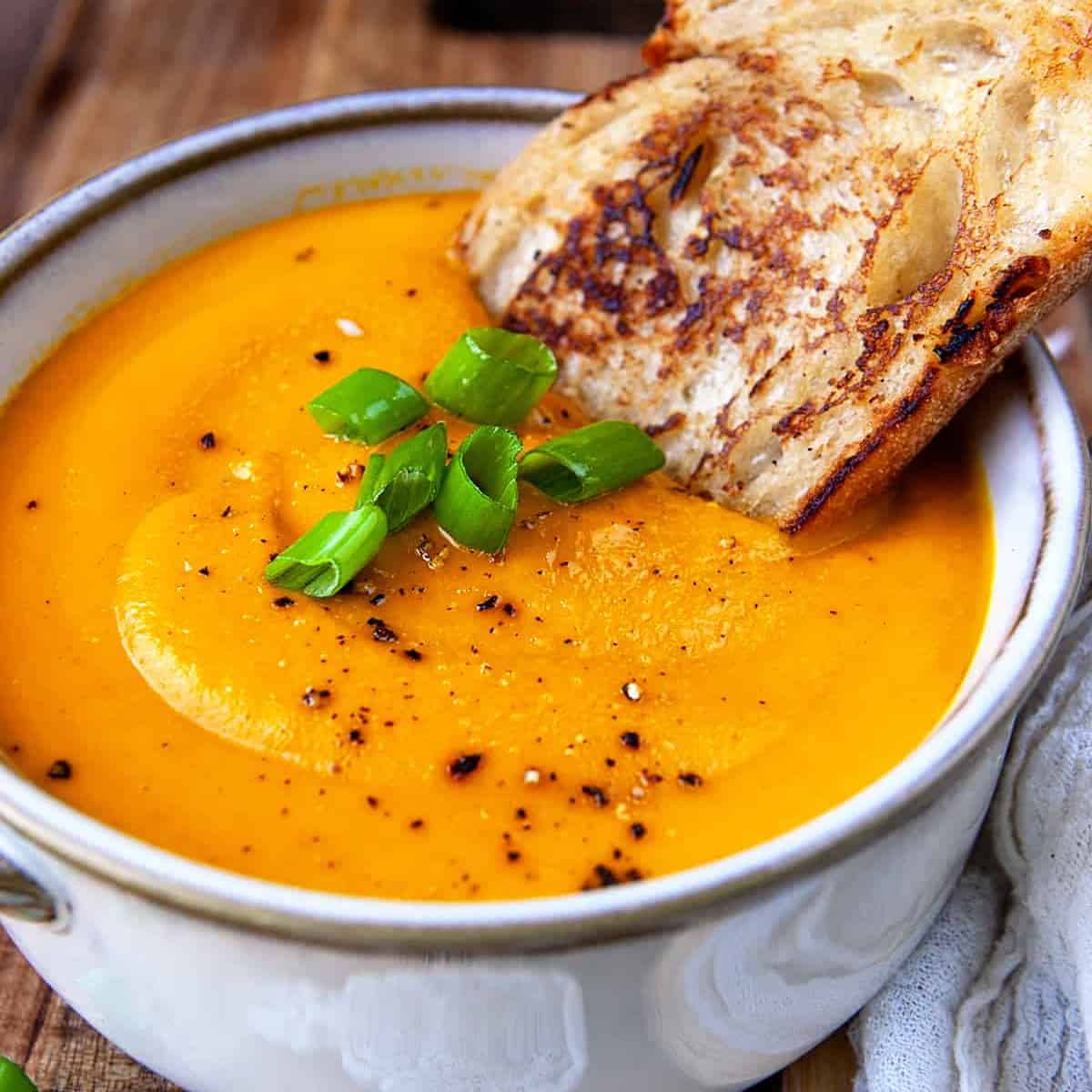 Pin it HERE!!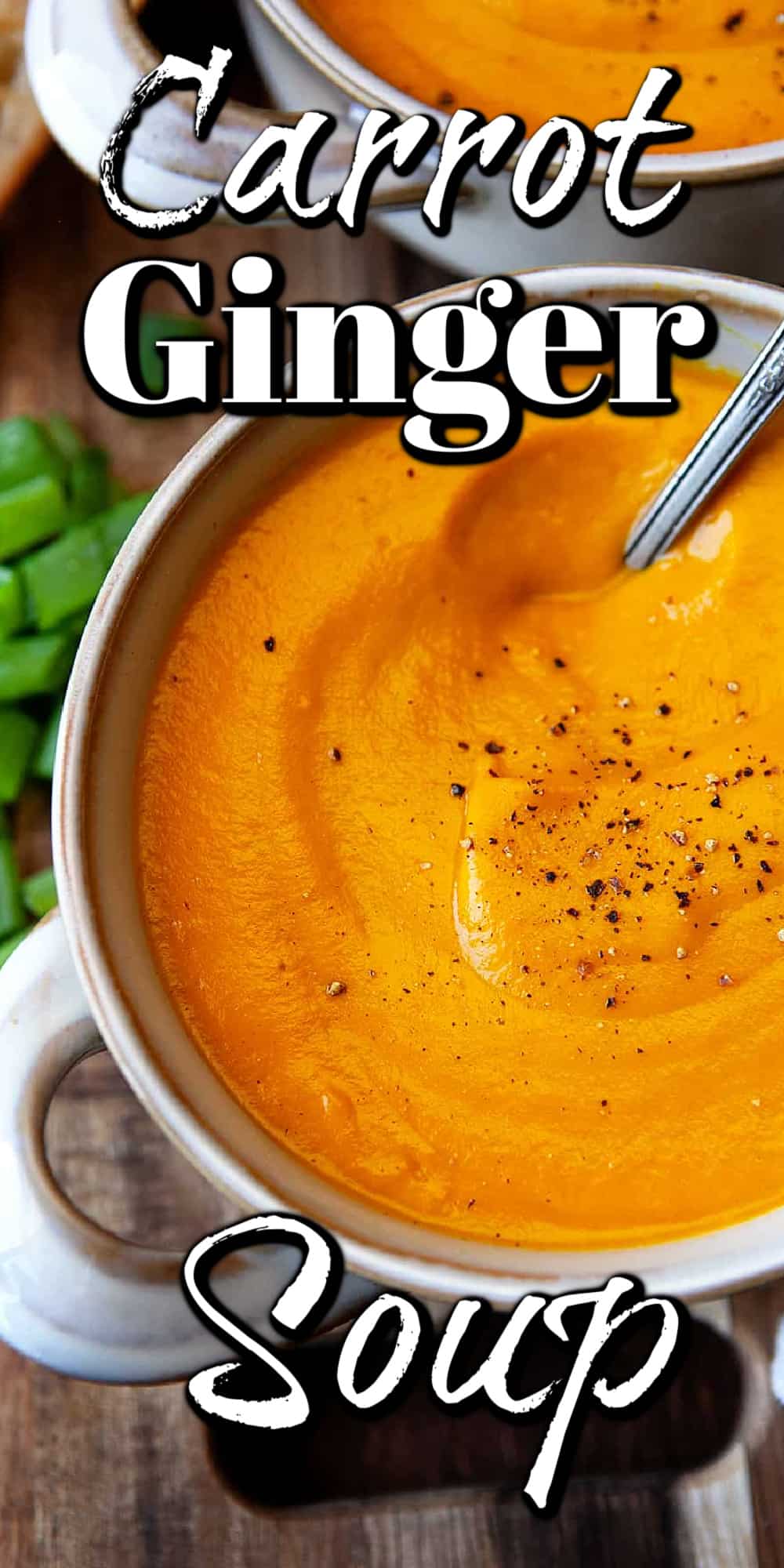 Pin it HERE!!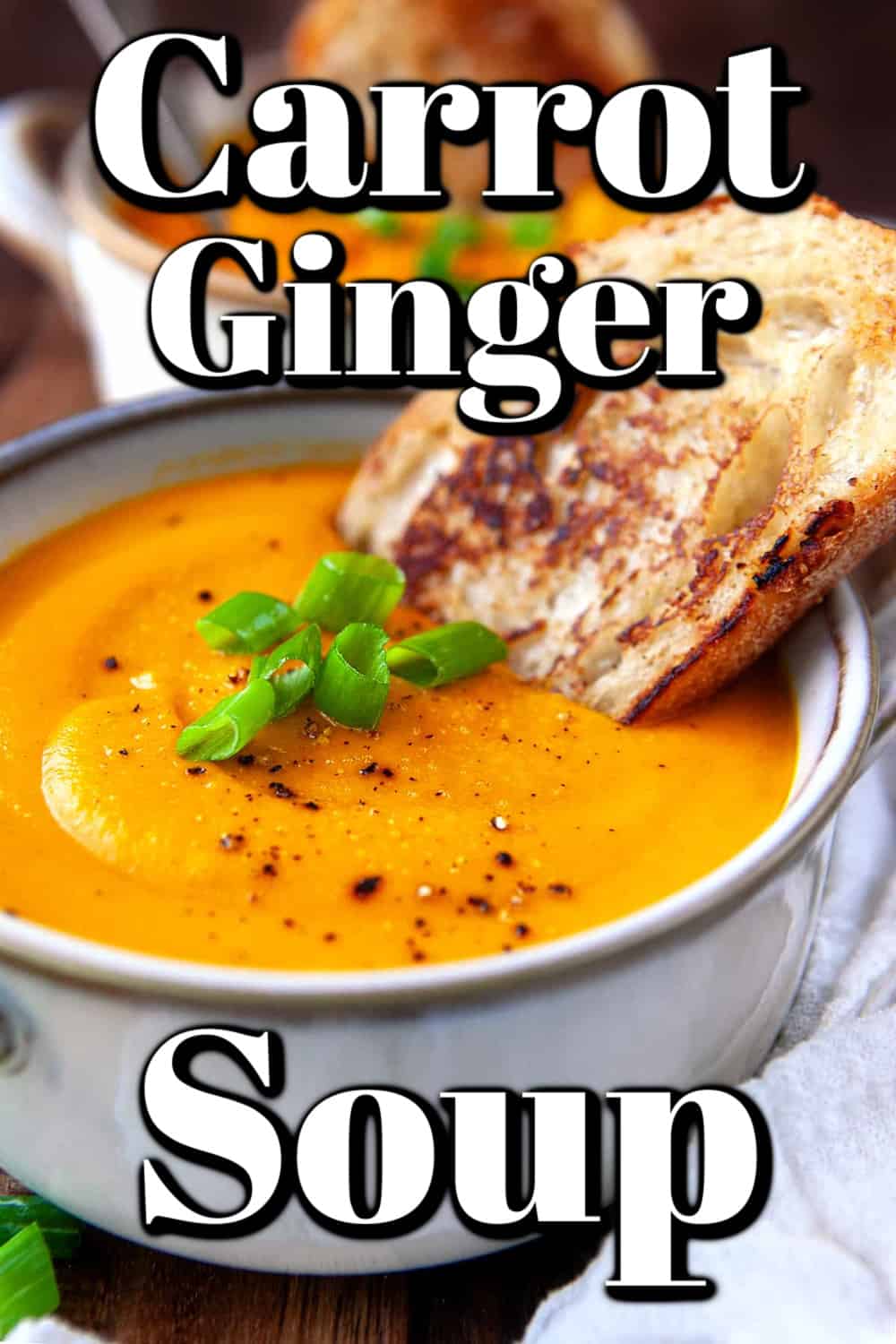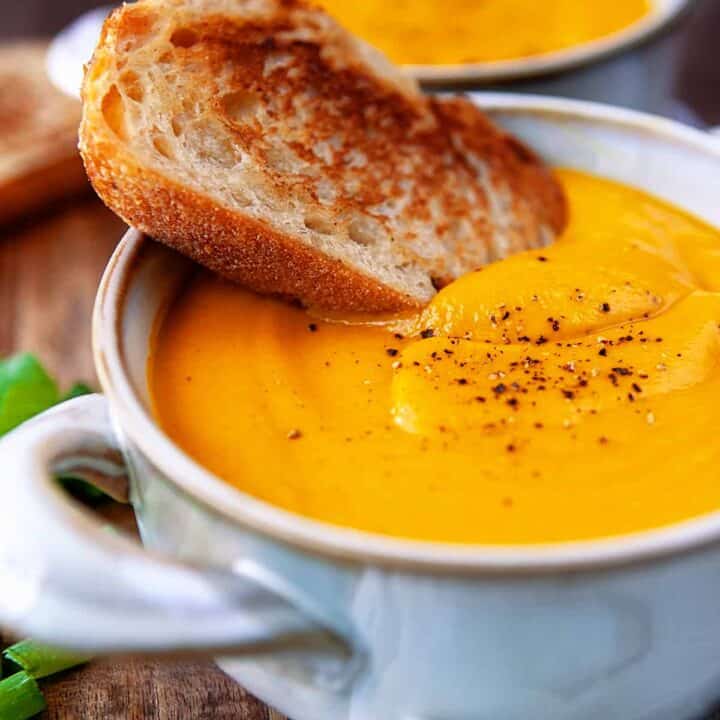 Carrot Ginger Soup
Yield: 6 servings
Prep Time: 15 minutes
Cook Time: 40 minutes
Total Time: 55 minutes
This smooth and creamy Carrot Ginger Soup is both delicious and nourishing. It's also super simple to make! This is a soup that we also love to entertain with, always getting rave reviews.
Ingredients
2 tablespoons olive oil
1 large onion, diced
1 heaping tablespoon minced peeled fresh ginger root
1/2 teaspoon ground turmeric
2 lbs carrots, peeled and cut into rounds
4 cups chicken bone broth
1/2 cup full fat coconut milk, stirred
2 green onions, sliced
Instructions
Heat olive oil in a large dutch oven or soup pot over medium heat. Add the onion, ginger, and turmeric. Saute, stirring occasionally, for 5 minutes, or until the onion is softened. Add the carrots and cook for another 5 minutes.
Increase the heat to medium-high. Add the broth and bring to a boil. Reduce the heat to a simmer and cook covered for 30 minutes, or until the carrots are soft. Stir in the coconut milk.
In small batches, puree the soup in a blender until completely smooth. Add salt to taste. Serve with green onions and freshly ground black pepper.
Nutrition Information:
Yield: 6
Serving Size: 1
Amount Per Serving:
Calories: 170
Total Fat: 9g
Saturated Fat: 4g
Trans Fat: 0g
Unsaturated Fat: 4g
Cholesterol: 2mg
Sodium: 416mg
Carbohydrates: 16g
Fiber: 5g
Sugar: 7g
Protein: 8g
This post contains affiliate links. As an Amazon Associate, I earn a small portion from qualifying purchases at no extra charge to you.