One of my hands-down favorites for a cake is carrot cake but for ease, I also love Carrot Cake Cupcakes!! There is nothing like a moist, nutty, fruity carrot cupcake that is laden with a delicious cream cheese frosting.
In my carrot cake or cupcakes I really want a few things, nuts preferably walnuts, pineapple preferably crushed, and lots of carrots. For the top of it, I want a gorgeous cream cheese frosting and then again a few scattered nuts.
Amber made these gorgeous cupcakes and she didn't fail in any way making them just how I love them!!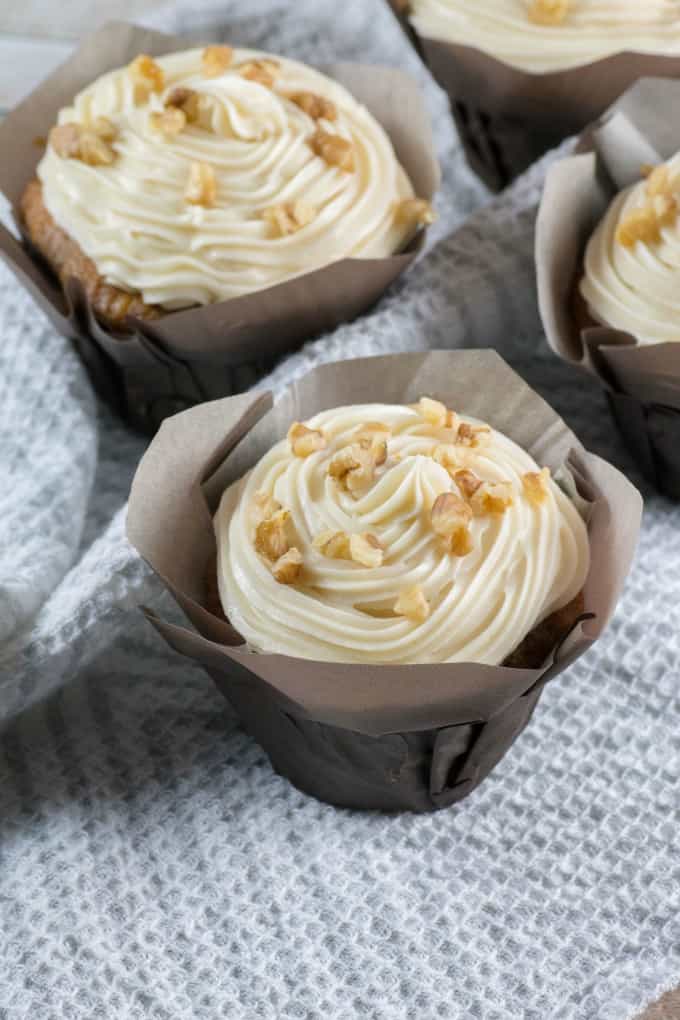 Helpful Items for This Recipe
This post contains affiliate links.
Cupcake Liner Muffin Wrapper, 24 Pieces (these are the ones I use)
Nonstick Carbon Steel Muffin Pan – 2-Pack
Snap and Stack Cupcake Storage Carrier 2 Tier – Store up to 24 Cupcakes or 2 Large Cakes
Amber always does such a pretty job on icing cupcakes. I have her do all my cupcakes. She has the knack way more than I do.
I love these simple parchment cupcake liners too. They are just found in our grocery stores but you can buy them in bulk on Amazon also.
How to Make Homemade Carrot Cake Cupcakes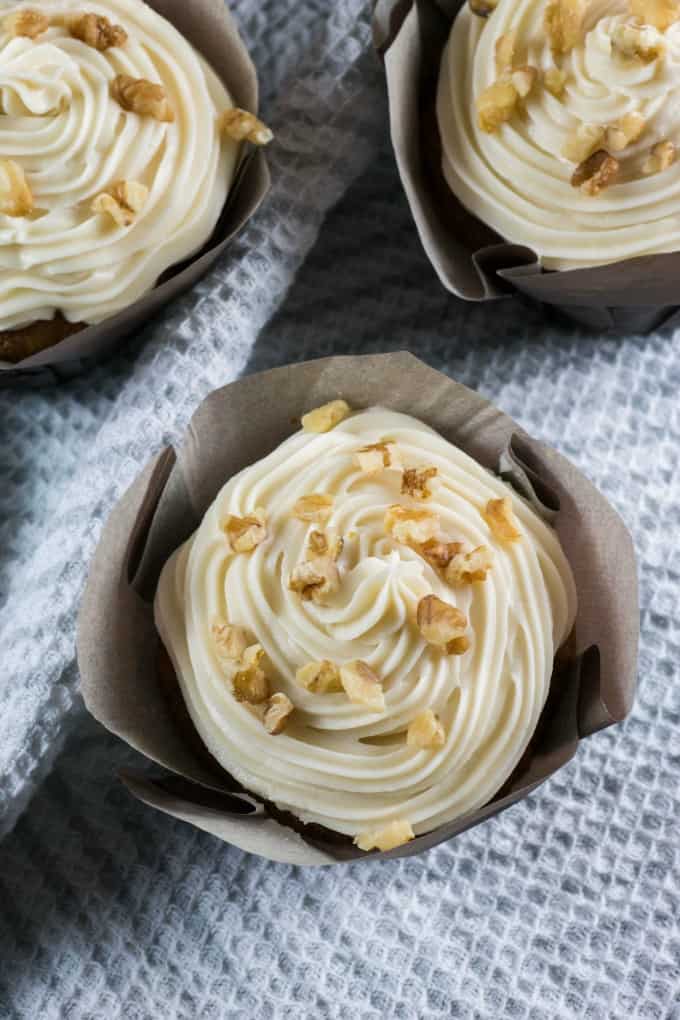 Cupcakes are pretty easy to make. Amber can vouch for that. The batter for these cupcakes are a canola oil, white sugar and brown sugar base. That is what you always start to mix together first, fat and sugar.
Then add in your eggs one at a time mixing between additions. This is followed by the vanilla. This is pretty similar for most batters and a good base to learn.
Dry ingredients are then whisked together in a medium sized bowl. This makes sure there is even distribution of the flour, baking soda, baking powder, salt, cinnamon, nutmeg, cloves and ginger.
The dry ingredients are now added in, mixing until smooth. Lastly is the wet ingredients and nuts. In this case it is the carrots, pineapple and walnuts.
The batter is then poured into the paper liners to 3/4 full. Careful with the larger liners like we have to not overfill them. You should get 12 maybe 14 cupcakes.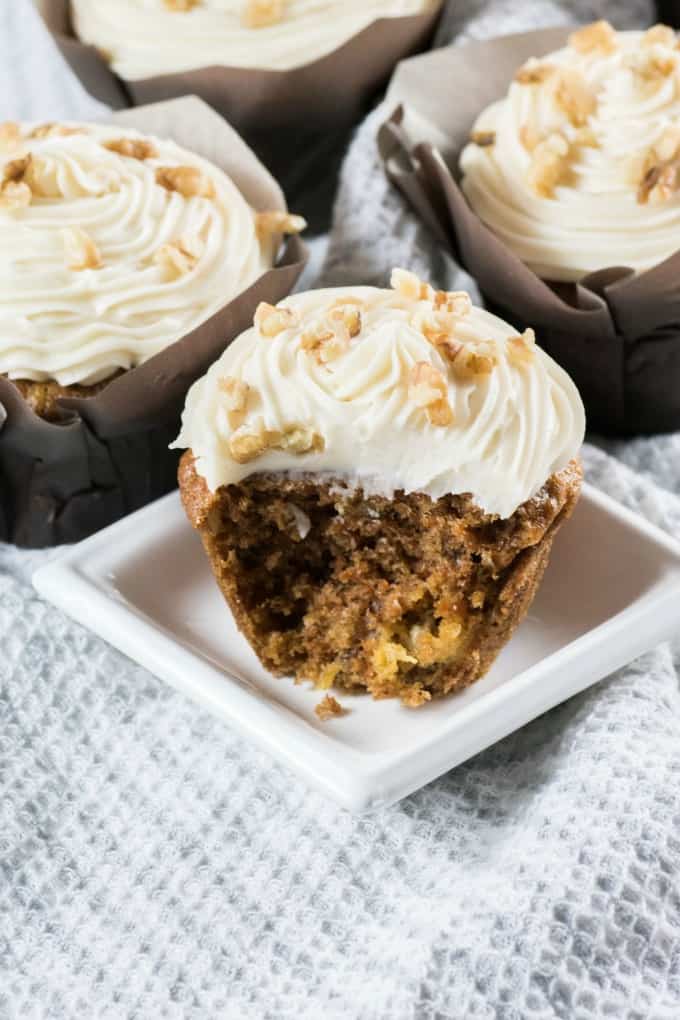 Here is an inside shot. See the delicious pineapple poking through plus there are lots of walnuts in there too and of course carrots!!
For spices I like a mixture of cinnamon, nutmeg, cloves and ginger. It gives the cupcakes that perfect aromatic bite. The cream cheese frosting with its tang finishes the cupcake off perfectly.
How to Decorate Carrot Cake Cupcakes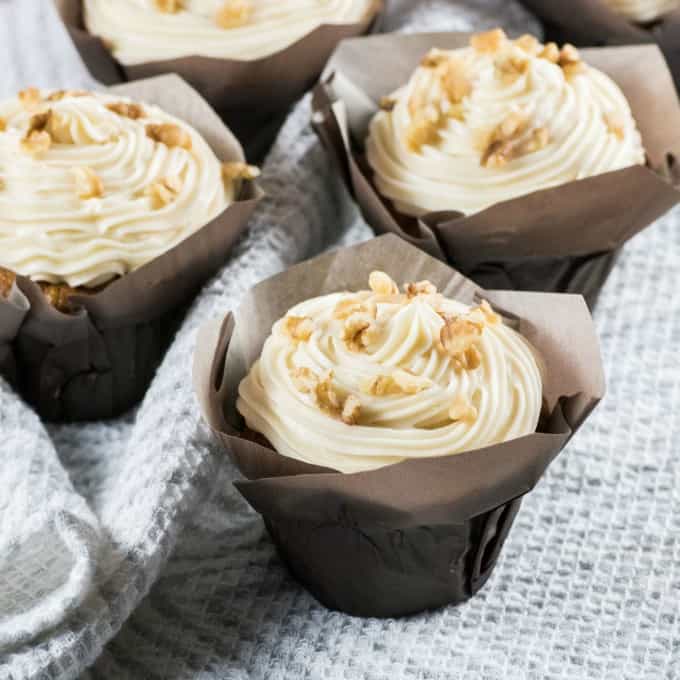 Traditionally and my absolute favorite is a cream cheese frosting. This frosting that we made is simple with only 5 ingredients, cream cheese, butter, vanilla, powdered sugar and heavy cream to get the right consistency.
Cream these ingredients together; you may still see little lumps. Just crank the mixer to high and give that frosting a good beating. It will get smoother and fluffier.
We used a star tip #21 for piping but you can use what you like. Amber first piped a small amount into the center to give them some height and then working from the outside in started spiraling the icing towards the center.
You want a good amount of icing but nothing crazy. Then finish them off with a sprinkling of chopped walnuts for some crunch and decoration.
These also freeze well. I just pulled out two from the freezer for Amber and her tutor to enjoy while studying for exams. That is the best time to have a little treat!! Makes the studying go down better!!
Cupcakes with cream cheese frosting can sit at room temperature for up to 8 hours. After that time they should be stored in an air tight container in the refrigerator. They should be brought back up to room temperature before serving though.
You can get fancy cupcake carriers as I have shown you with a link above. I only have a cake one but a cupcake carrier would be ideal for transporting or storing cupcakes.
Where Did Carrot Cake Originate From?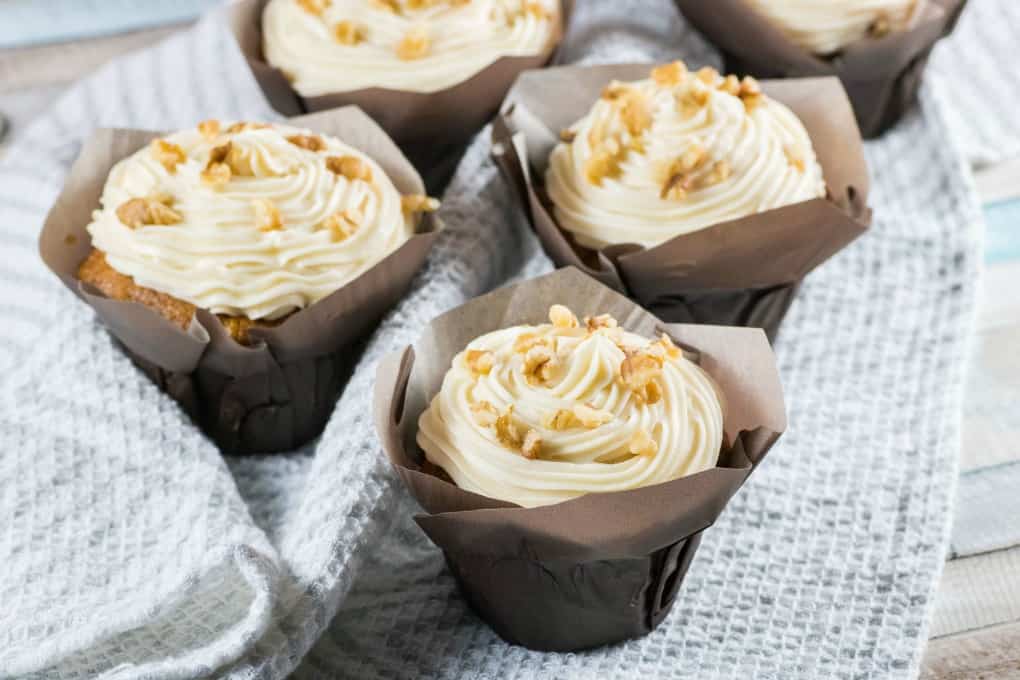 According to The Carrot Museum and the history of carrot cake no one really knows where the carrot cake originated from. A good guess would be that our modern day carrot cake descended from Medieval carrot pudding that was enjoyed around Europe.
Carrot cake evolved from being baked in a pastry like a pumpkin pie and served with a sauce (heavens that sounds good), to more of a plum pudding and baked in a pan with icing.
Because sugar and sweeteners were hard to find and expensive, carrots with their natural sweetness were used to sweeten up desserts. I am sure we would find the desserts of yore to be a lot different than we have today!!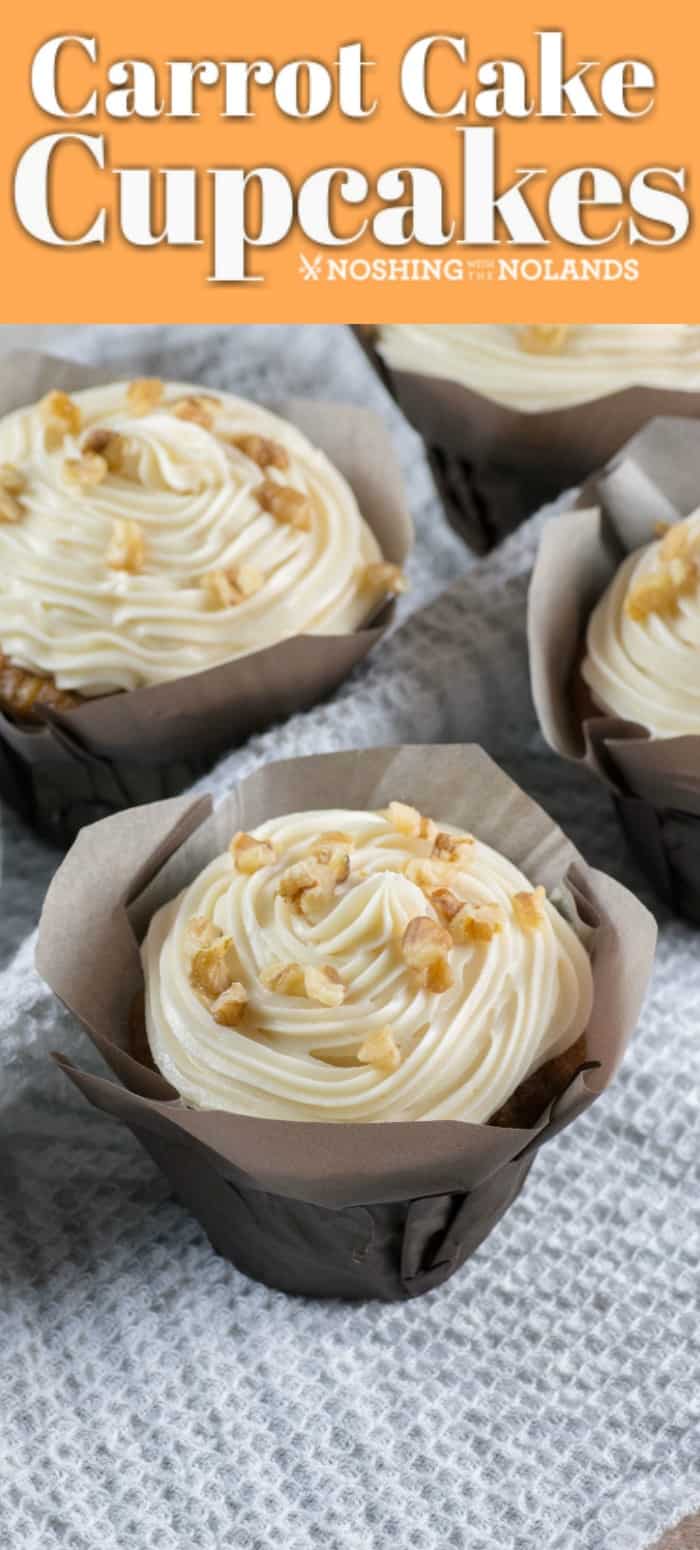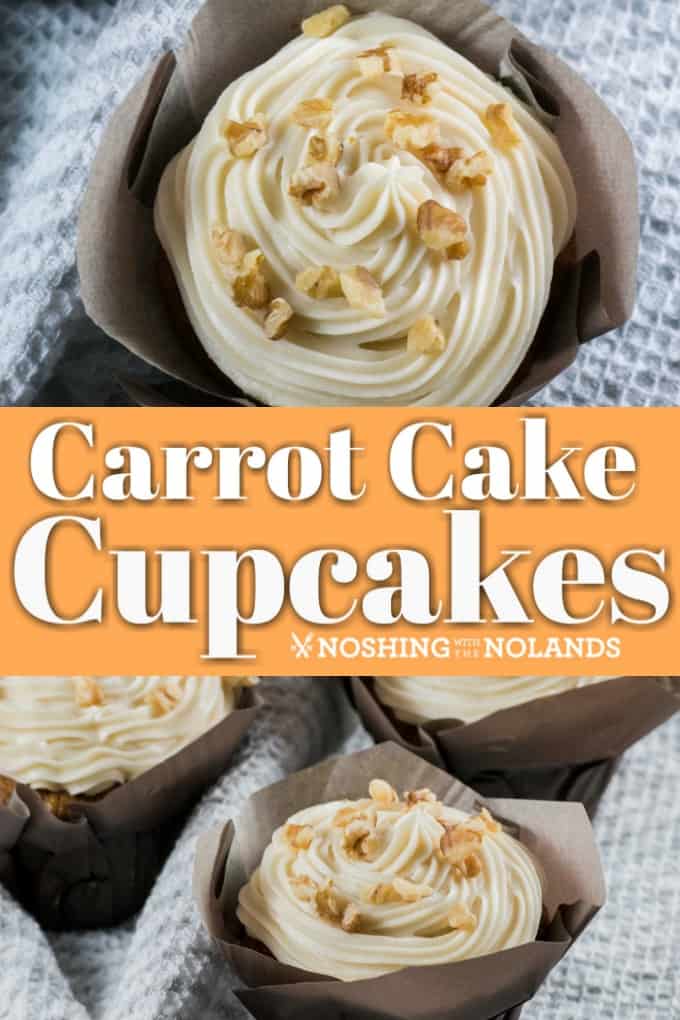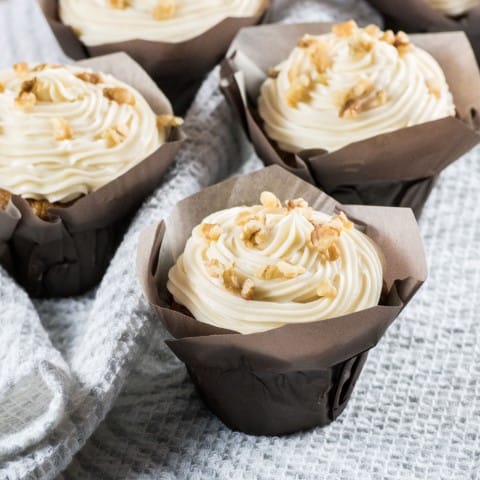 Carrot Cake Cupcakes
Yield: 12 cupcakes
Prep Time: 30 minutes
Cook Time: 20 minutes
Total Time: 50 minutes
Carrot Cake Cupcakes have been around for a long time but they are one of my favorite desserts. Filled with sweetness from the carrot themselves to pineapple and both white and brown sugar they are perfectly balanced with aromatic spices like cinnamon, cloves, nutmeg and ginger.
Ingredients
Cupcakes
3/4 cup canola oil
1/2 cup white sugar
1/2 cup brown sugar
3 eggs
2 tsp. vanilla extract
1 2/3 cups flour
1 tsp. baking soda
1/2 tsp. baking powder
1 tsp. salt
2 tsp. ground cinnamon
1/2 tsp. ground nutmeg
1/4 tsp. ground ginger
1/4 tsp. ground cloves
1 1/2 cups carrots, finely grated
1/2 cup crushed pineapple, drained
1 cup walnuts, chopped
Cream Cheese Frosting
1 (8 oz) block of light cream cheese, at room temperature
1/2 cup butter
1 tsp. vanilla extract
4 cups powdered sugar
1-2 Tbsp. heavy cream
Walnuts, chopped to garnish
Instructions
Line a 12 cup muffin pan with cupcake liners and set aside.
Preheat oven to 350F.
In a large bowl of a stand up mixer add oil and sugars and beat to combine and smooth. Add in eggs one at a time and mix between additions. Add in vanilla and mix.
In a separate medium sized bowl whisk together the flour, baking soda, baking powder, salt, cinnamon, nutmeg, ginger and cloves.
Add the flour slowly in batches to the egg mixture and beat until smooth.
Slowly add in the carrot, pineapple and walnuts and stir until just combined.
Fill the cupcake liners until they are 3/4 full.
Bake for 18-20 min. or until the cupcakes spring back with a light touch or a toothpick/cake tester comes out clean.
Let cool 5 min. in the pan and then completely cool on wire racks.
When cupcakes are cool prepare the frosting.
To prepare the frosting mix the cream cheese, butter and vanilla in a clean bowl of a stand up mixer. Beat well to combine, make slightly fluffy and smooth. Gradually add the powdered sugar and again beat well. Add the heavy cream to get the right consistency for piping.
Using a #21 star tip or tip of your choice add a dollop of icing to the middle of the cupcake to get some height. Then starting on the outside pipe in circles to the center. Garnish is chopped walnuts if desired.
Notes
Cupcakes will keep at room temperature for 8 hours, then store in an air tight container refrigerated for up to 4-5 days. Cupcakes will also freeze well.
Recommended Products
As an Amazon Associate and member of other affiliate programs, I earn from qualifying purchases.
Nutrition Information:
Yield: 12
Serving Size: 1
Amount Per Serving:
Calories: 574
Total Fat: 31g
Saturated Fat: 8g
Trans Fat: 0g
Unsaturated Fat: 22g
Cholesterol: 71mg
Sodium: 422mg
Carbohydrates: 71g
Fiber: 2g
Sugar: 54g
Protein: 6g