Mason Bees – How to Raise Your Own
We are delving into the world of bees and in particular Mason Bees!! This has been a fascination of mine for the last few years, Mason Bees – How to Raise Your Own! As our planet is ever changing with the abuse we lay upon it we need to sit back and see how, as an individual, we can help.
We were raised thinking that flowers like dandelions were an evil to have anywhere in our yard or along boulevards and parks. We have thought that our fruit and veggies have to be pristine and completely bug free. With the path that we are on our food is going to have to be GMO for us to survive.
With all of this came massive amounts of pesticides and weed killers and never did we realize that using these products is also inevitably going to effect birds, bees or other insects and animals that we really need to have for our planet to survive and "bee" healthy.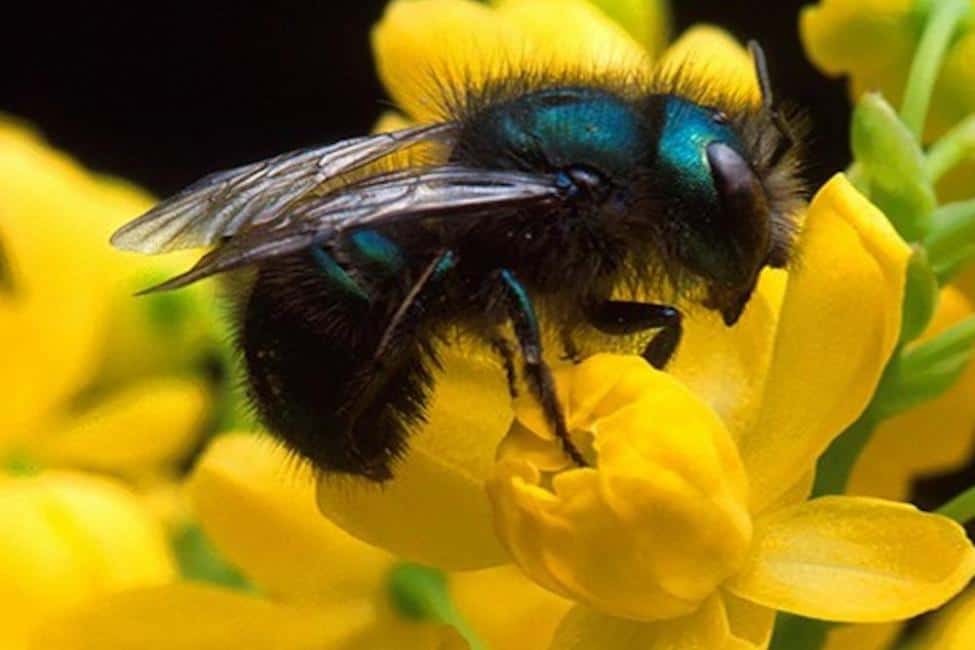 Some very clever people like Kris Brown-Schoepp from The Wild Bird Store are trying to help change this by promoting bee knowledge and bee care with offering up mason bee seminars.
Kris and her store will not only provide you with all the answers that are needed but have also all the supplies you need.
The Wild Bird Store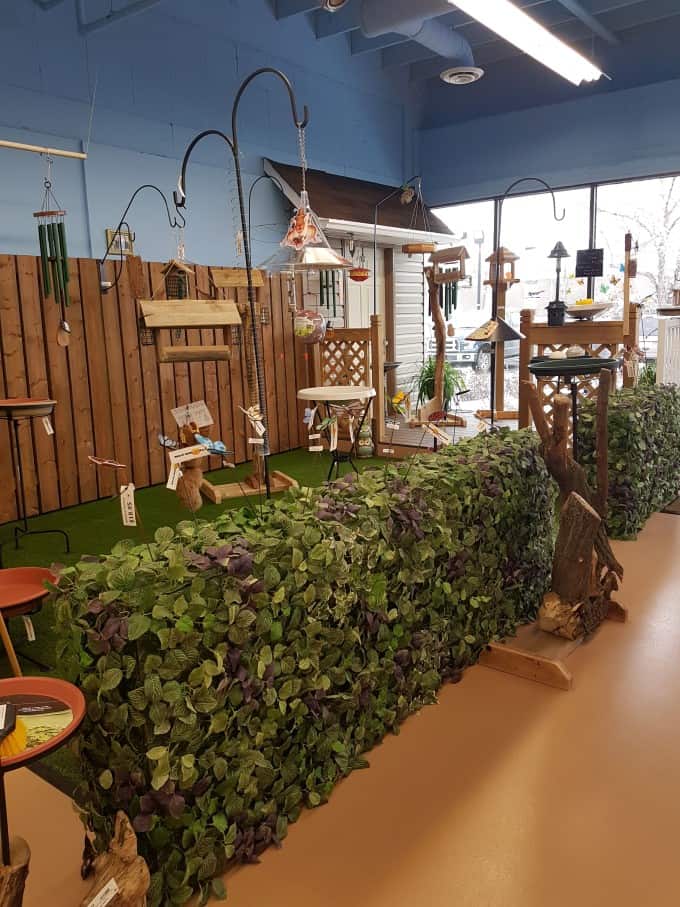 The Wild Bird Store is located at 5901 3 St SE, Calgary, AB T2H 0P3. This store proudly carries Mother Nature's® Bird Seed products.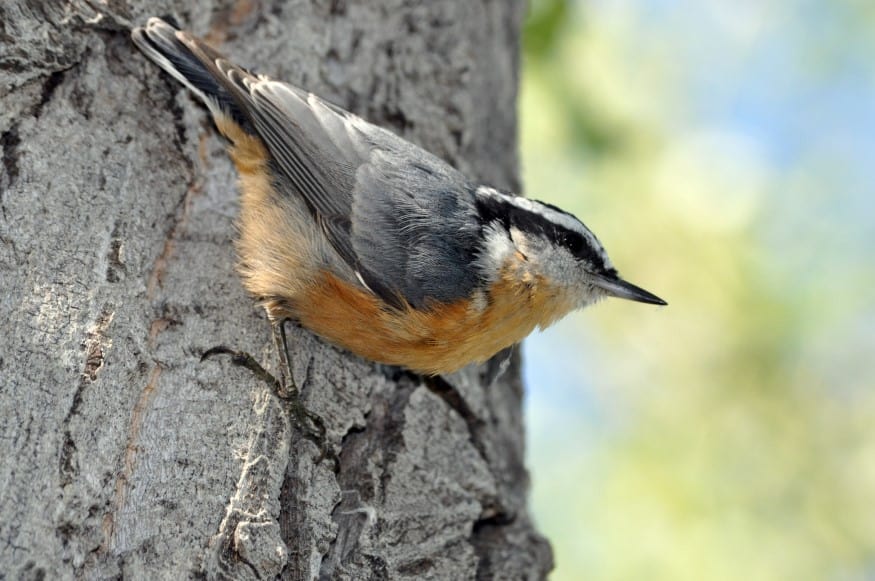 The store not only has what you need for bees but an extensive collection of wonderful accessories to attract wild birds to your yard too.
Through learning more about mason bees and their habitat and how we can help put them back into our environment will only benefit us and our planet.
What Are Mason Bees?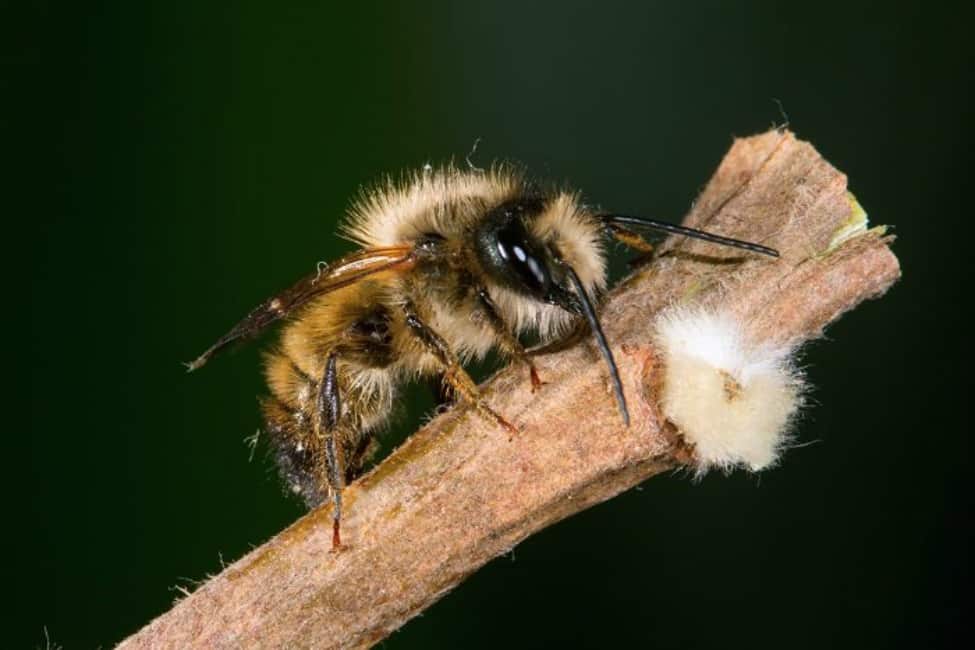 Mason Bees and in particular Blue Orchard Mason Bees get their name from their habit of nest-building. They seal off the cells where they lay their eggs with a mortar like application of mud.
Having a supply of the right mud is key to having these bees stick around and nest in your yard.
Mason bees are solitary bees, meaning they work for themselves and live independently. They don't have a queen to look after and they don't produce honey.
This makes them quite docile as they have nothing to protect and are just happy efficient pollinators.
In relation to honey bees – it would take 2 honey bee hives (each contains 10,000-60,000) to pollinate 1 acre of orchard, but just 300-400 mason bees to do the same work.
Where do Mason Bees Live?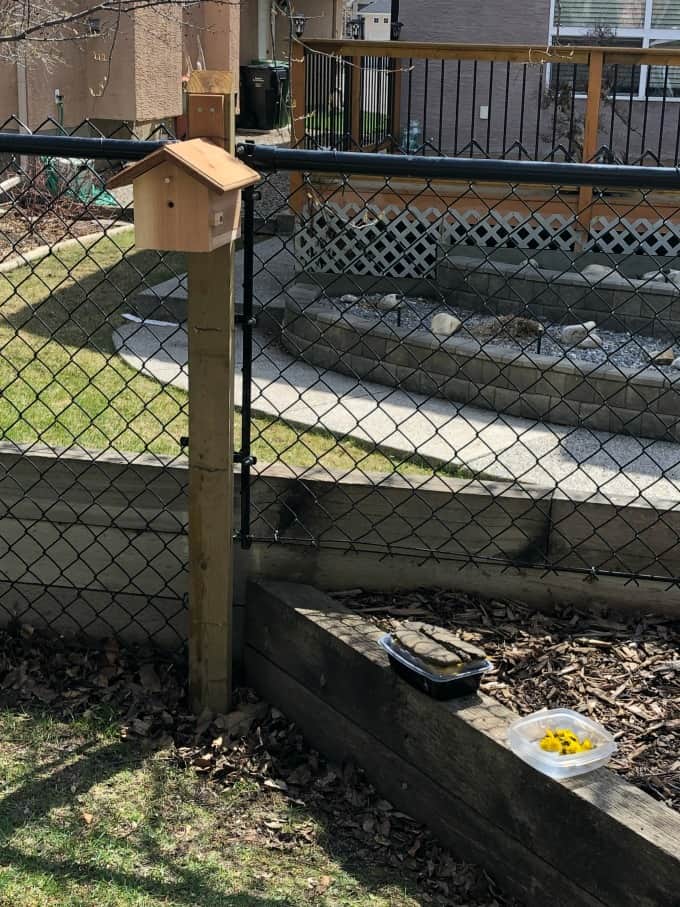 You can purchase little houses from The Wild Bird Store here in Calgary that are custom made. These bee houses make a perfect home for your mason bees.
Houses should have an open cavity where you can put either tubes or trays inside for easy removal in the fall.
Don't purchase ones with built in tubes as they will only be a one time use and because you can't clean them out the bees will not return again.
Also stay away from homes that have holes drilled into it, these are hard to get the cocoons out of as well as hard to clean.
You can see in the picture a strange container with mud on top. This is their clay mud they need to make the little sections inside the house where the larvae live.
A few days after the eggs are laid, they munch away on the food that's been stored in their cell, which usually lasts them about 10 days.
Then the larva spins a cocoon and pupates. By autumn, the insects look like an adult bee, but they remain inside their cocoons throughout the winter.
When the weather warms in the spring, the males break through first; the females emerge several days later.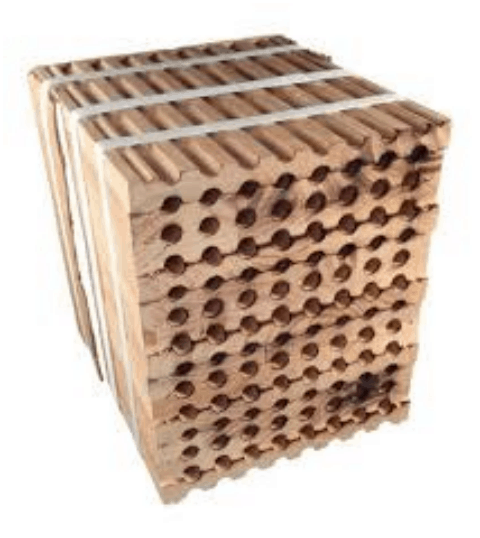 This is the type that I have inside my house which I can remove, take out the cocoons and clean for next year.
There are ones that are made from wood or recycled corn husks that are environmental and stand up to repeated use.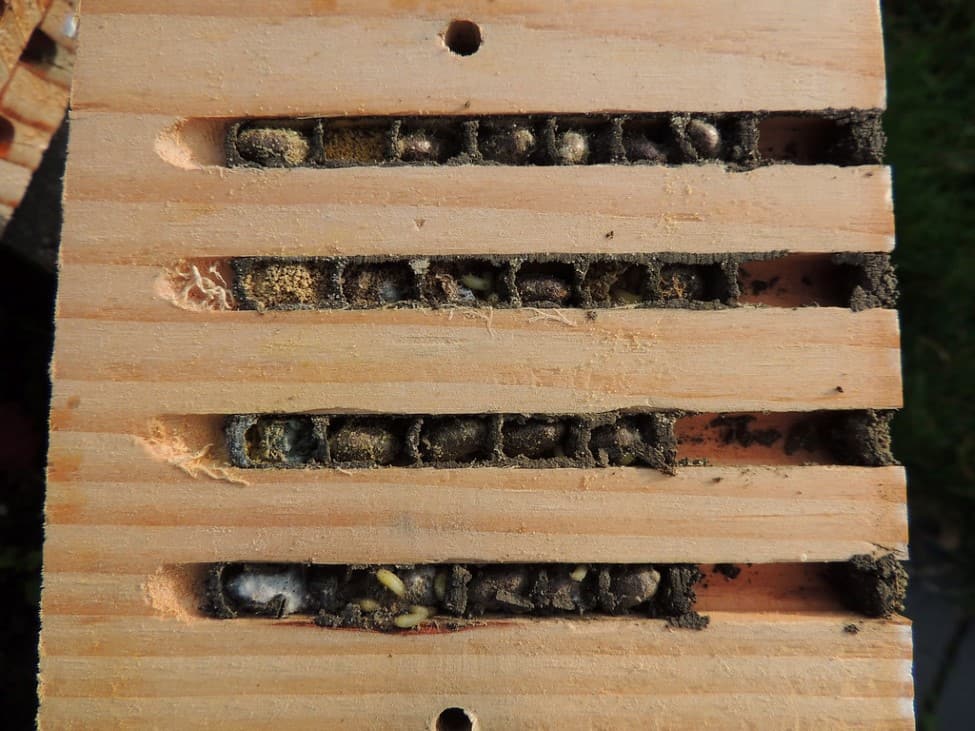 Do Mason Bees Sting?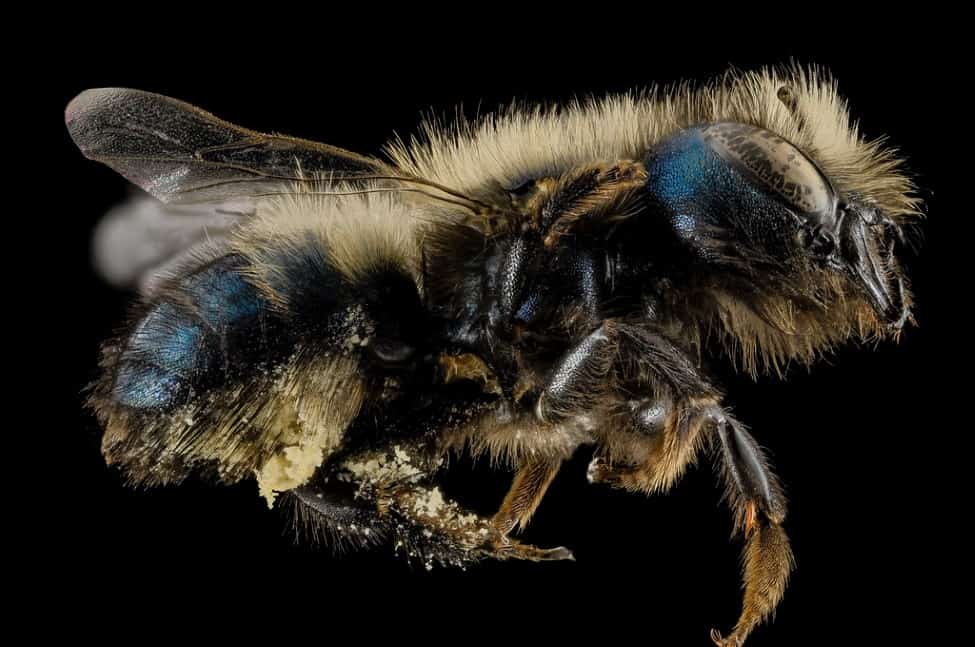 These bees are non-aggressive, with only the females having a stinger. They only sting if handled roughly or trapped under clothes.
Left alone they go about their business as pollinators. They are more like a fly in size and don't hover but dart quickly from flower to flower. See how full of pollen she is.
They spend about 6-8 weeks pollinating tree fruit in spring and early summer. Each female lays 1-2 eggs per day.
Eggs destined to be female are placed at the back of the tube so that the males can emerge first in the spring which after fertilizing they die off after about a week.
When To Release Mason Bees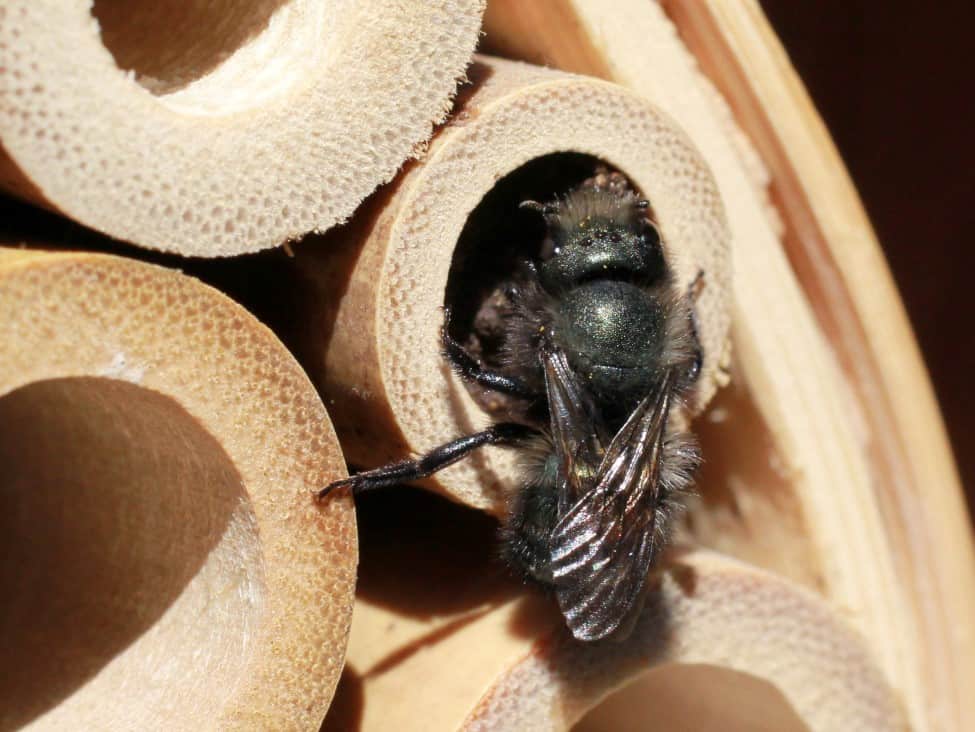 Release these friendly bees when you first start to see dandelions bloom. Dandelions because they bloom in early spring are a great source of food.
You take the cocoons from your fridge and put them into the bee house to hatch. Make sure the house is in a nice warm spot so that they will want to now wake up.
We had ours in a larger box with sugar water on a mat as some were hatching already. They come in boxes like the size of a matchbox with about a dozen cocoons in them. This gave them a food supply until we could get them outside when the weather was better.
Soon after the dandelions are gone, our backyard trees burst into blooms and I watch as many different varieties of bees are busy pollinating. I hope our mason bees will have a happy home here.
Did you know there are over 300 species of bees in Alberta alone? There are over 16,000 of species of bees worldwide. Pretty amazing facts that was I learned.
How to Attract Mason Bees?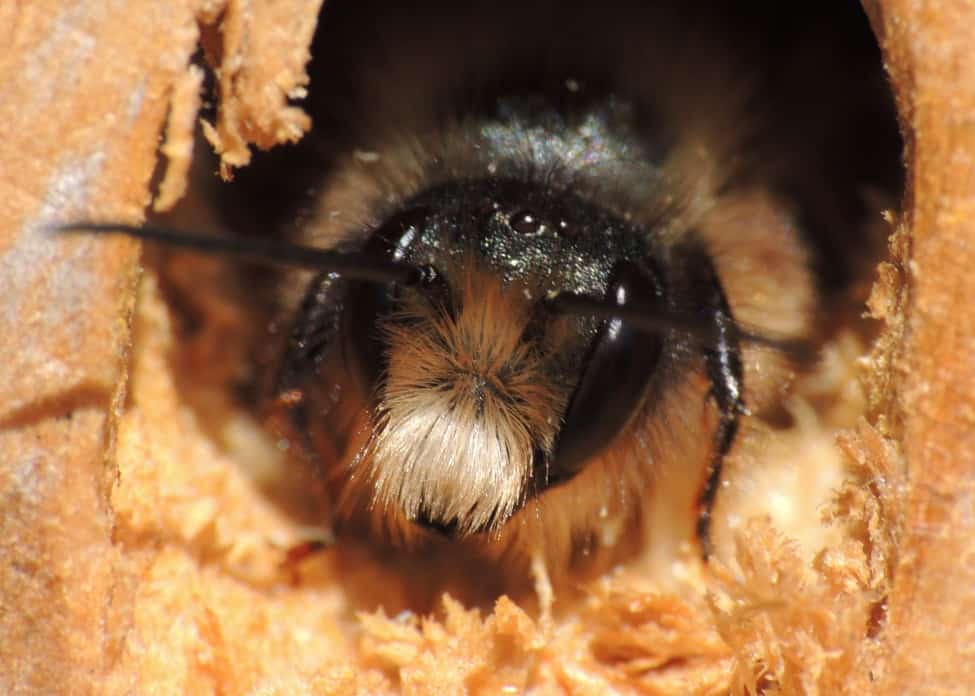 Once you have your bee house set up you want to keep your bees in your yard as much as possible.
Make sure you have a healthy supply of flowers and fruit trees, otherwise your bees will leave for greener pastures.
They will travel up to 300 feet to find food, which is over your neighbor's fence and potentially will not return to your yard if it is more favorable over there.
So make sure you have a nest, food supply and clay mud.
Cleaning, Drying and Storing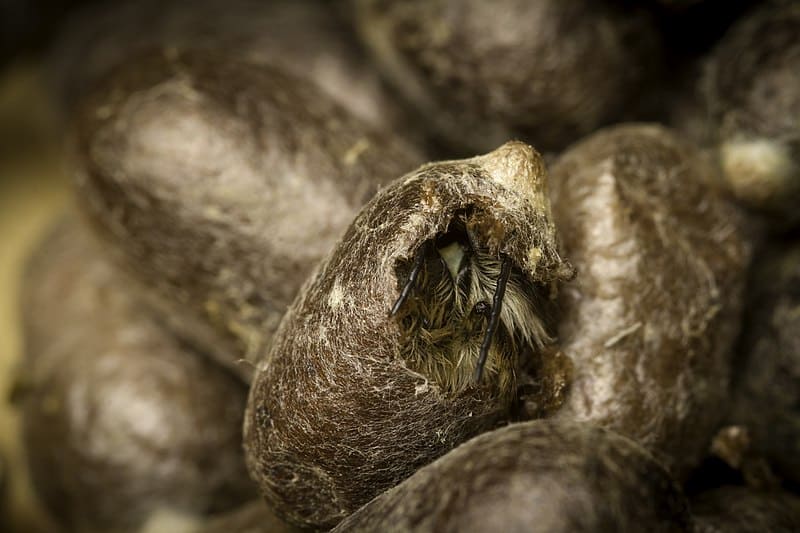 If there are no holes in the cocoons and they look like fuzzy raisins they are good, you can go ahead and clean them in a bucket full of water.
Fill a bucket with cold water, pour the cocoons into the water and give them a good stir for 2-3 minutes. All of the dirt and debris will sink to the bottom and you can then use a sieve to retrieve the cocoons.
Place the cocoons on paper towel, spread out and let dry overnight, dump cocoons onto dry paper towel and allow to dry for another 8 hours.
Follow The Wild Bird Store on Instagram, Twitter and Facebook. Start to plan to add bees to your yard next spring. Give Kris a call at (403) 640-2632, she is a wealth of information, book a seminar and do some more research. Before you do something wrong call and ask, she is happy to help.
Have you tried raising mason bees? Do you have some extra information to add? This is all still new to me and a learning curve and I would love to hear your stories on raising these bees too.