Cheesy Noodle Ham Casserole
Don't you love a great easy casserole recipe to feed your family at anytime of the year. When I have leftover ham from a summer picnic, the holidays or Easter I then like to reinvent it into something like this Cheesy Noodle Ham Casserole.
My family dives right in and I haven't slaved all day to create something new again. Therefore it is a win, win for all.
The ingredients in the recipe are simple, maybe even a bit old fashioned using canned soup. That is what I like about it too, reminds me of my mom and my childhood.
It has that noodle cheesy goodness that we all love and uses up a leftover is what I like!! It is a one pot meal that everyone loves and I love that it is with less cleanup too.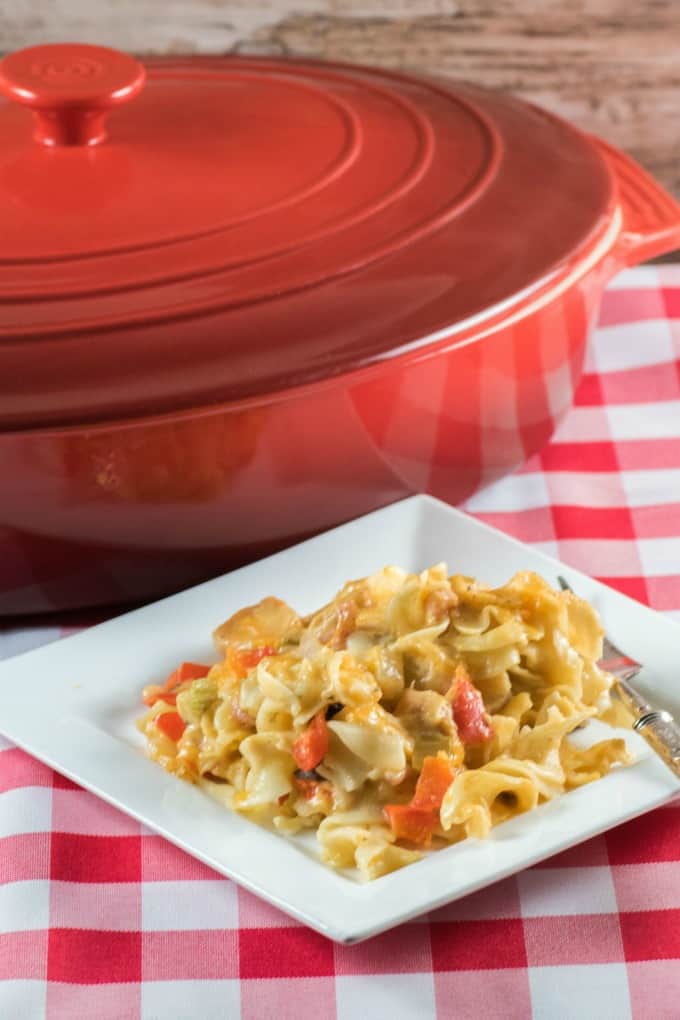 My mom and grandma used to make casseroles like this one with egg noodles, soups, veggies and a protein like ham or chicken or turkey. They were easy and very much in vogue in the 60's.
I have always loved a cream of whatever soup. One of my faves has been a cream of mushroom; I remember always amping it up slightly with milk, never water and loved the taste of added fresh or dried tarragon and freshly cracked pepper.
My mom loved that I made a "gourmet" soup out of a canned soup when I was little. I was at it young in the kitchen messing around and making up my own recipes.
How to Make Ham and Cheese Casserole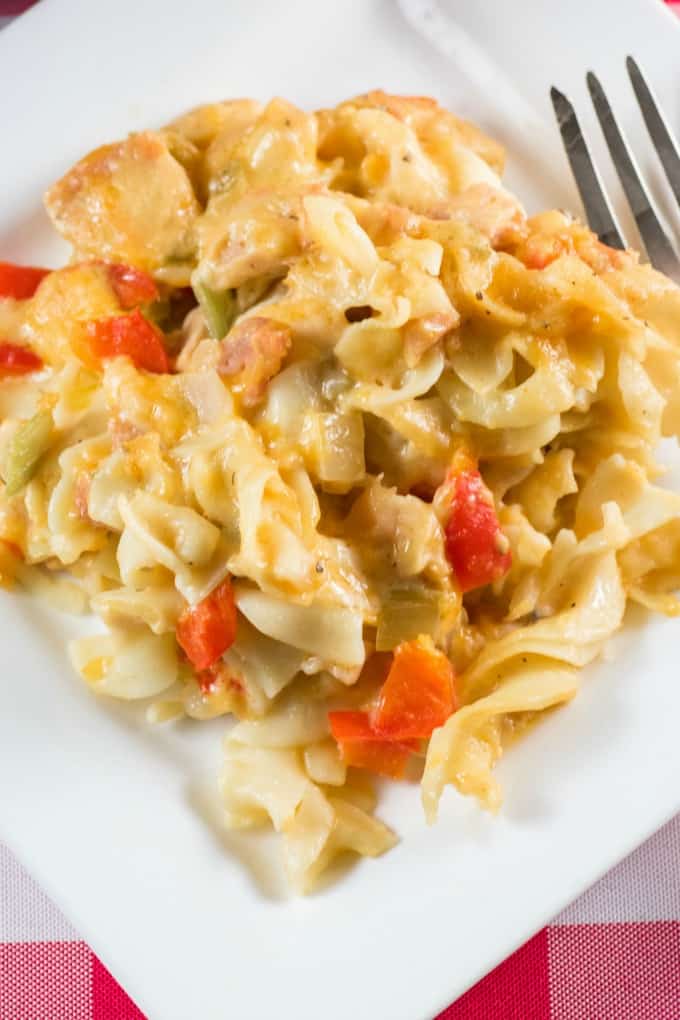 To make a ham and cheese casserole not only does the recipe have my fave cream of mushroom soup but also a cheddar soup.
A little bit of milk and sour cream loosens up the soups to more of a sauce-like consistency.
Then to make it even more cheesy I added in 2 cups of cheddar cheese that has been grated. To give the casserole body we add in lovely egg noodles.
Besides the ham I love adding in little bits of sweet red pepper, onion and celery and a seasoning of garlic powder and onion powder evens it all off.
You could change the veggies up to spinach, pea, corn, asparagus or any combination of vegetables you like.
Once put together it is baked in a 350F oven for 40-50 minutes. It could be all prepared up to this point earlier in the day and then just popped into the oven for a quick and easy dinner.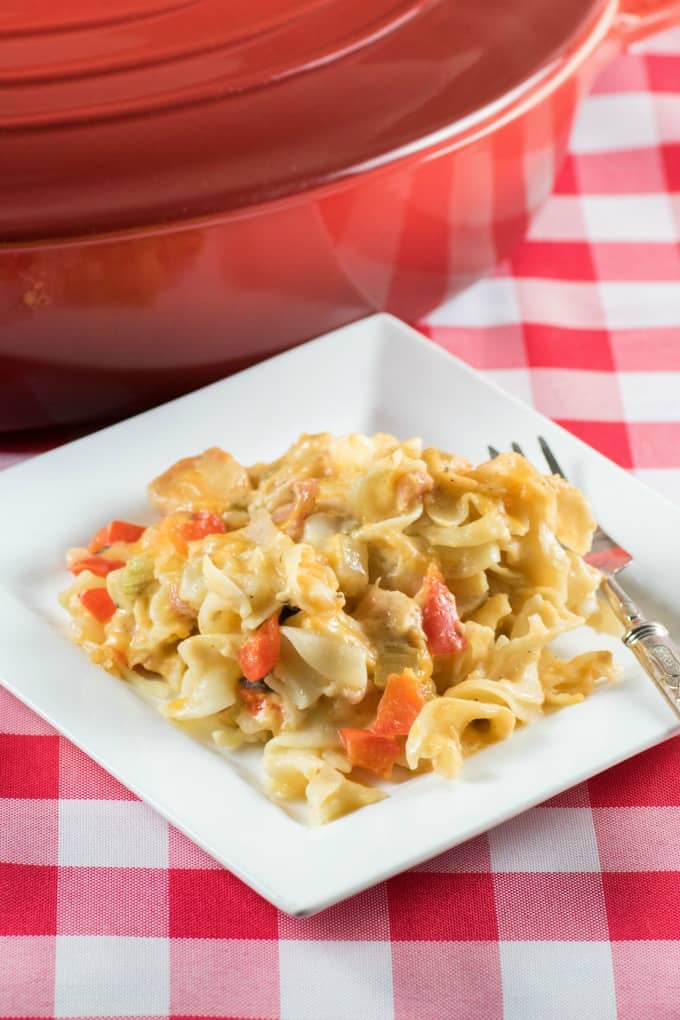 We are not talking fancy here, we are talking Monday to Friday fare made delicious!! Pure comfort food made into a casserole recipe but also a real tried and tested family loved recipe.
This is one of the best recipes for leftover ham but you don't have to wait for leftovers either, just purchase a couple ham steaks and you are on your way!!
Quick and Easy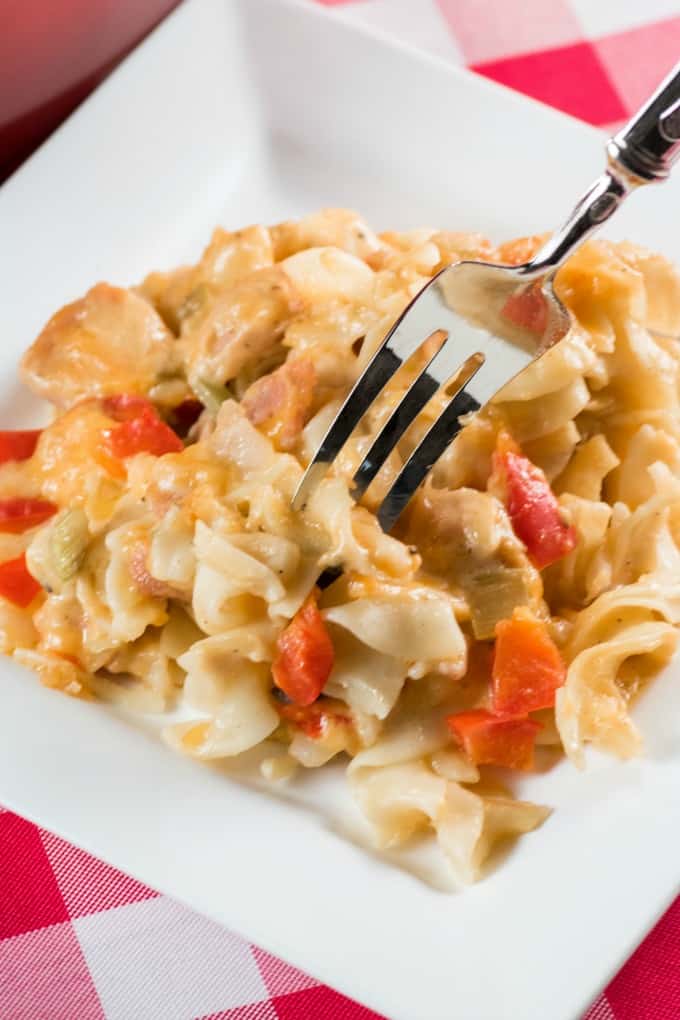 Meals like this one everyone will love from toddlers on up! Don't have egg noodles? Then try another pasta that you like or enjoy as in macaroni, penne, rotini, the sky is the limit.
That is also the beauty of a dinner like this as you can add in what you have on hand, what your family likes and then it can be your own!!
Old-Fashioned comfort food at its best!! Enjoy!!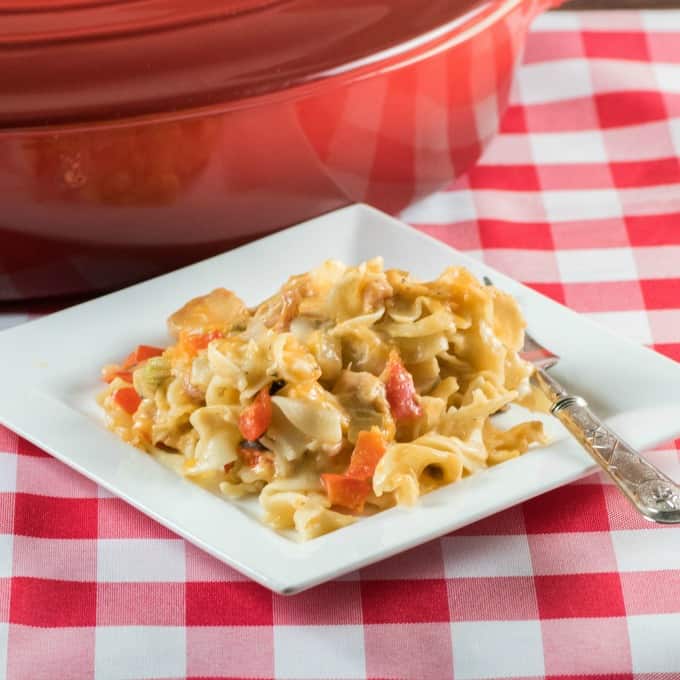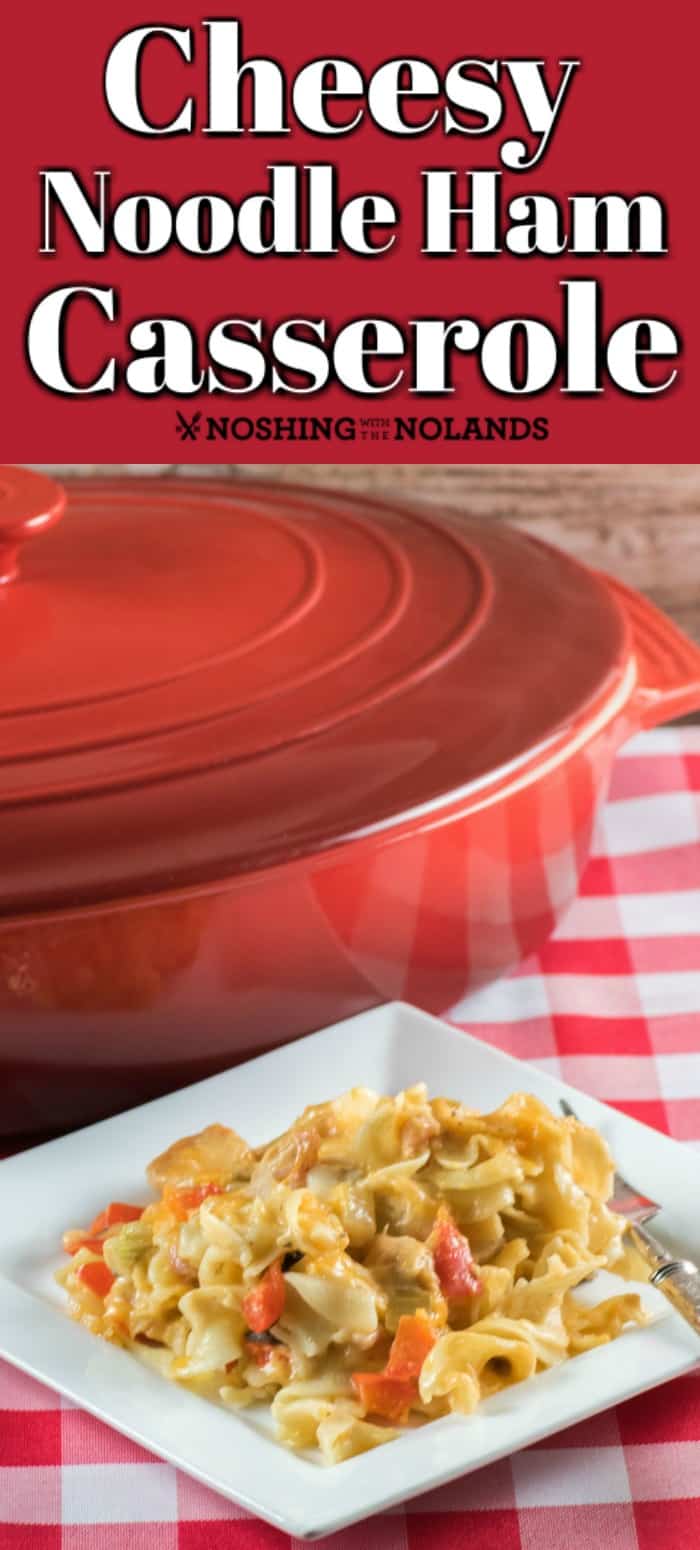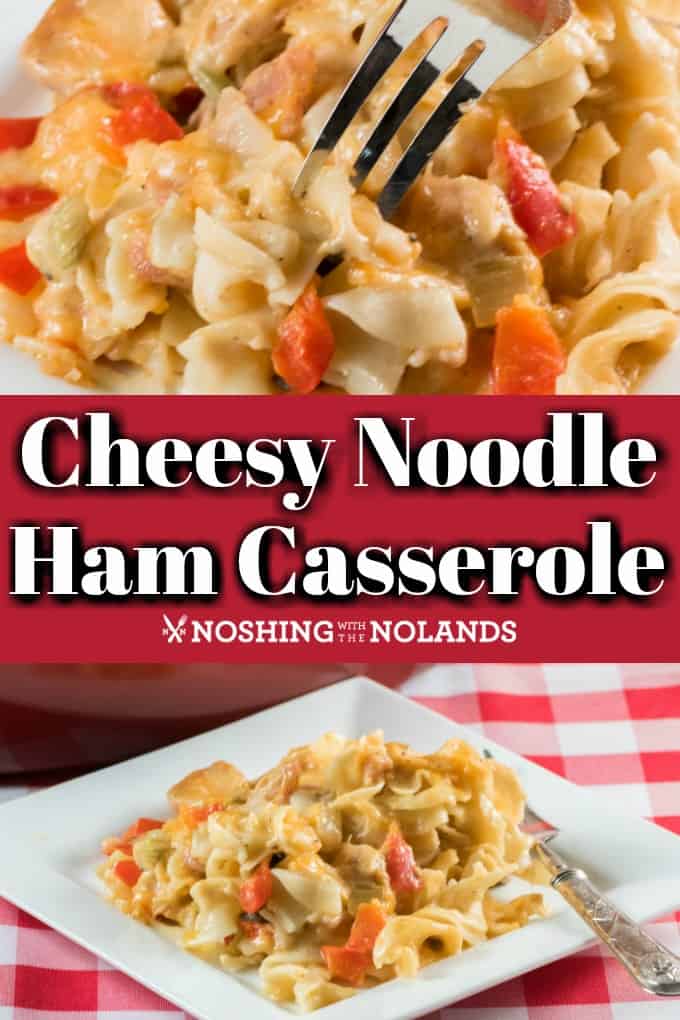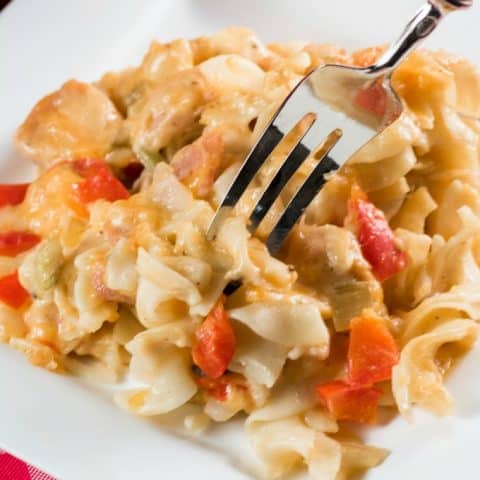 Cheesy Noodle Ham Casserole
Yield: 6-8 servings
Prep Time: 15 minutes
Cook Time: 50 minutes
Total Time: 1 hour 5 minutes
This Cheesy Noodle Ham Casserole will bring back childhood memories of what mom used to make with leftovers. A pure comfort dish that everyone will love.
Ingredients
8 oz. (4 to 4 1/2 cups) egg noodles, cooked according to package
1 red pepper, small diced
1 small onion, small diced
2 stalks celery, small diced
1 Tbsp. butter
4 cups cooked ham, chopped
2 cups cheddar cheese, grated
1 (10 1/2 oz.) can cream of mushroom soup
1 (10 1/2 oz.) can cheddar cheese soup
2/3 cup sour cream
1/2 cup milk
1 tsp. garlic powder
1 tsp. onion powder
2 Tbsp. butter plus additional for casserole dish
Instructions
Preheat the oven to 350F. Butter a 2 quart casserole and set aside.
In a large skillet melt the 1 Tbsp. butter and saute the red pepper, onion and celery until tender.
In a large bowl add in the ham, vegetable mixture and cheese and mix.
In a medium sized bowl whisk together the sour cream, soups, milk, garlic powder and onion powder.
Add half the noodles to the buttered casserole. Top with half the ham/veggie mixture. Spoon half the soup mixture over the ham. Repeat layers.
Dot with 2 Tbsp. butter and cover loosely with foil.
Bake for 40-50 min. until creamy and heated through. Serve immediately.
Nutrition Information:
Yield: 8
Serving Size: 1
Amount Per Serving:
Calories: 524
Total Fat: 30g
Saturated Fat: 15g
Trans Fat: 1g
Unsaturated Fat: 12g
Cholesterol: 106mg
Sodium: 1375mg
Carbohydrates: 36g
Fiber: 3g
Sugar: 3g
Protein: 28g