Bee Sting Cake – Bienenstich
I adore reviewing cookbooks and have done many, many of them on the site. Although the internet is a vast resource for all recipes there is nothing like the feel and vision of going through a cookbook. Today I bring to you this amazing Bee Sting Cake – Bienenstich from Poh Bakes 100 Greats by Poh Ling Yeow.
The Bee Sting Cake or Bienenstich is a German dessert with a golden brown honey almond topping. It is a very traditional not too sweet cake that is sliced in half with a serrated knife so that a filling can be added. I think this would be perfect served over Easter!
It is in a category of yeasted cakes which I will explain more of. This is just one of the wonderful recipes in Poh's cookbook that is interesting and different for the reader/cook/baker to explore.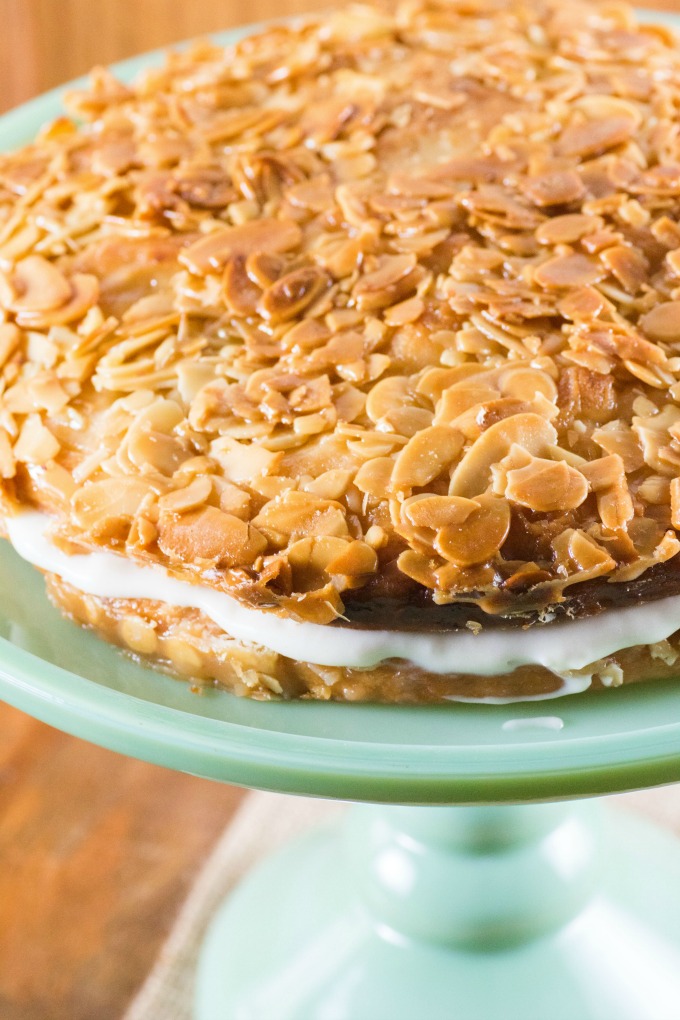 See that topping!! Isn't it amazing!! That creamy filling just calls your finger into the picture for a little swipe and lick. It is flavored with a touch of orange liqueur, quite sublime!
Besides being baked in a round spring form cake pan I have also seen it baked in a square cake pan or doubled up and baked in a 9×13″.
What is Bee Sting Cake?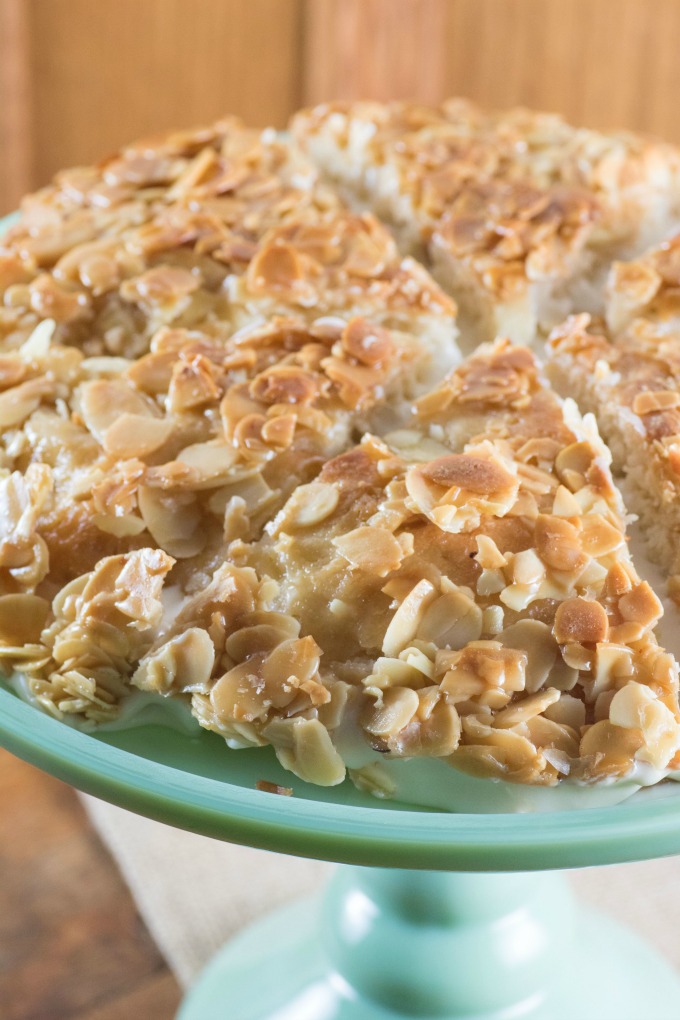 Bee Sting Cake is different from many as it is not a cake batter at all but made from a yeasted dough like a brioche bread. The top is made from crunchy almonds and honey and the interior is a light and creamy custard filling or Creme Patissiere.
I made double the Creme Patissiere which is the filling and made the other half into ice cream for my daughter to enjoy!
This is a perfect cake for afternoon tea as it is for dessert. The wonderful topping makes this cake so special. It is crunchy and ooey gooey together and it caramelized to perfection. Simply heavenly!!
Why is it Called Bee Sting Cake?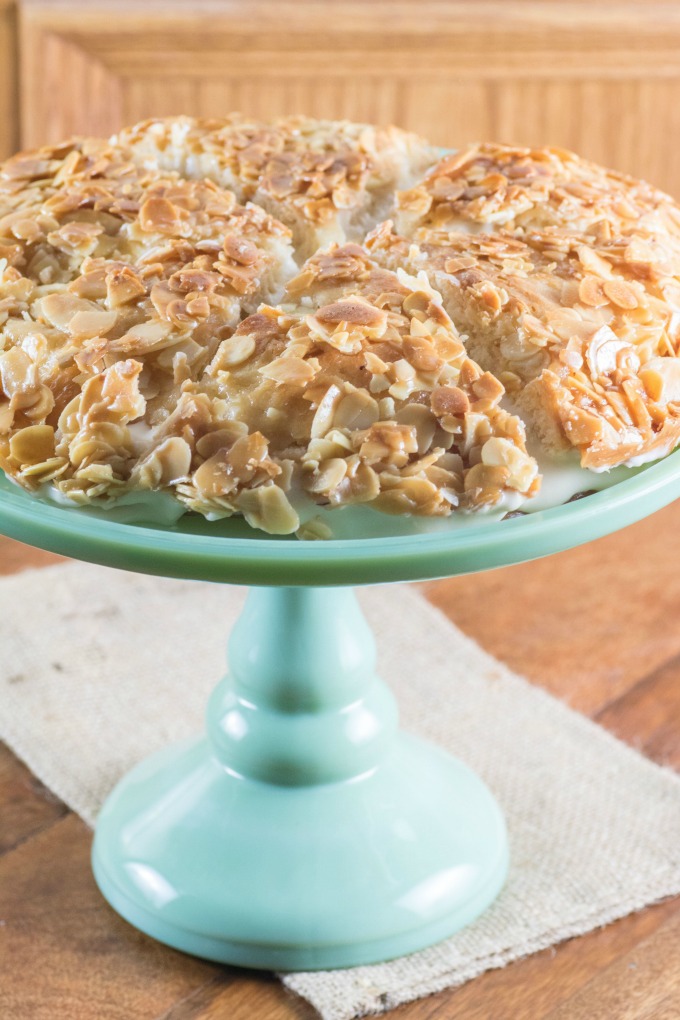 This scrumptious cake is perfect for spring! The name attracted me right off the bat being playful and fun. I have never heard of Bee Sting Cake before. You do not want to get stung from a bee but you sure do want to eat this cake.
There are two versions of why this is called Bee Sting Cake. The first version of where the name came from was that a bee was attracted to the sweet honey topping. The baker who invented the cake was stung by the bee!
Another source for the name was that a group of German bakers in the 15th century lobbed beehives at raiders from a neighboring village. They were successfully able to get them to retreat. The cake was then baked to celebrate.
Well, there are no bees here at this time of year but spring is on the horizon as we are quickly moving through January already.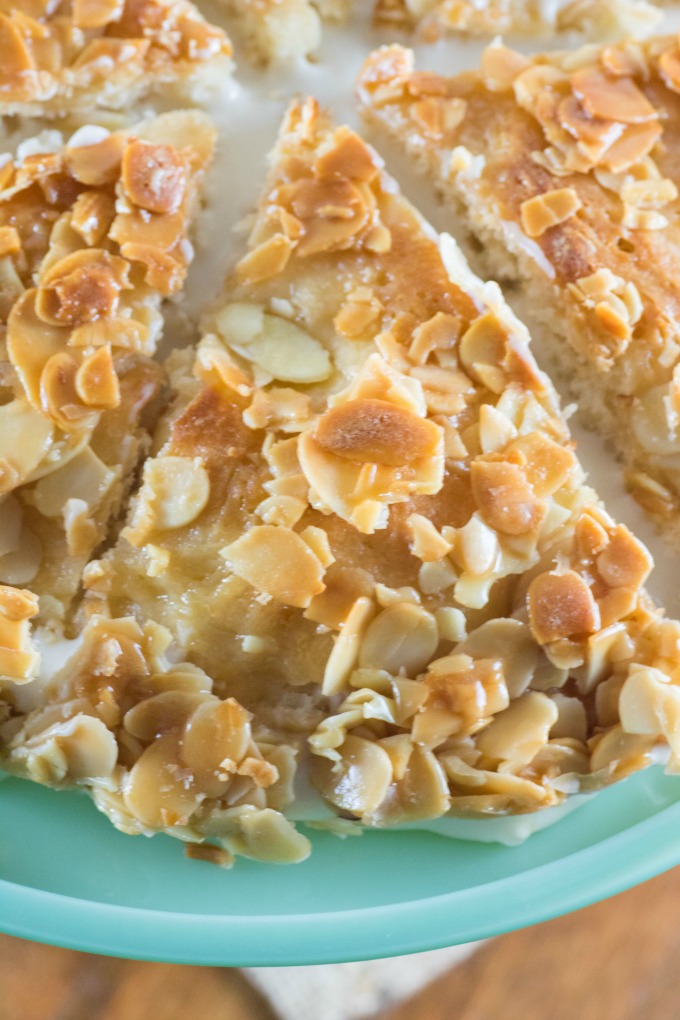 It is suggested and this is a great tip, to slice the top before putting it on as the cream filling will just all ooze out and become a big mess.
Then you only have to cut through to the bottom to slice a piece, very clever for serving. We just sliced ours in to 6 pieces but the recipe does recommend 10.
Poh Bakes 100 Greats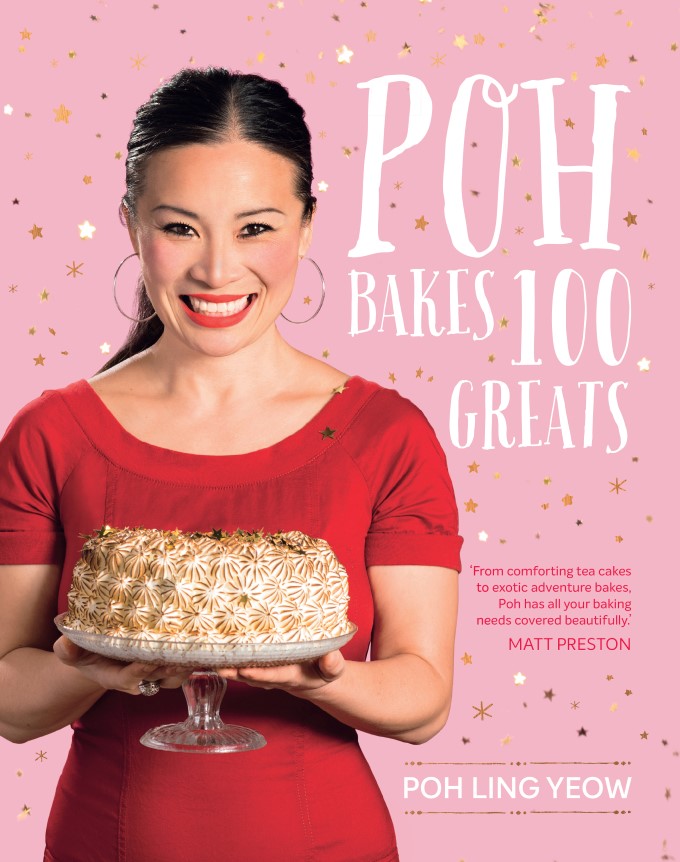 After a meteric rise in fame after Australian MasterChef, Poh Ling Yeow returns with this amazing cookbook. This cookbook is perfect for any budding baker to whip up masterful creations.
Poh Ling Yeow's must-have recipes have been tried and perfected over her years of baking experience, both as a TV personality and the owner of her café and bakery Jamface.
From sweet to savory here are a few picks to try first. Baked Lime & Chocolate Tart, Malaysian Pineapple Tarts, Orange Kisses with Cream Cheese Centres, and Beef Stout Pie with Blue Cheese Crust.
Put this cookbook on your top 10 must haves list. Publishing date is February 5, 2019.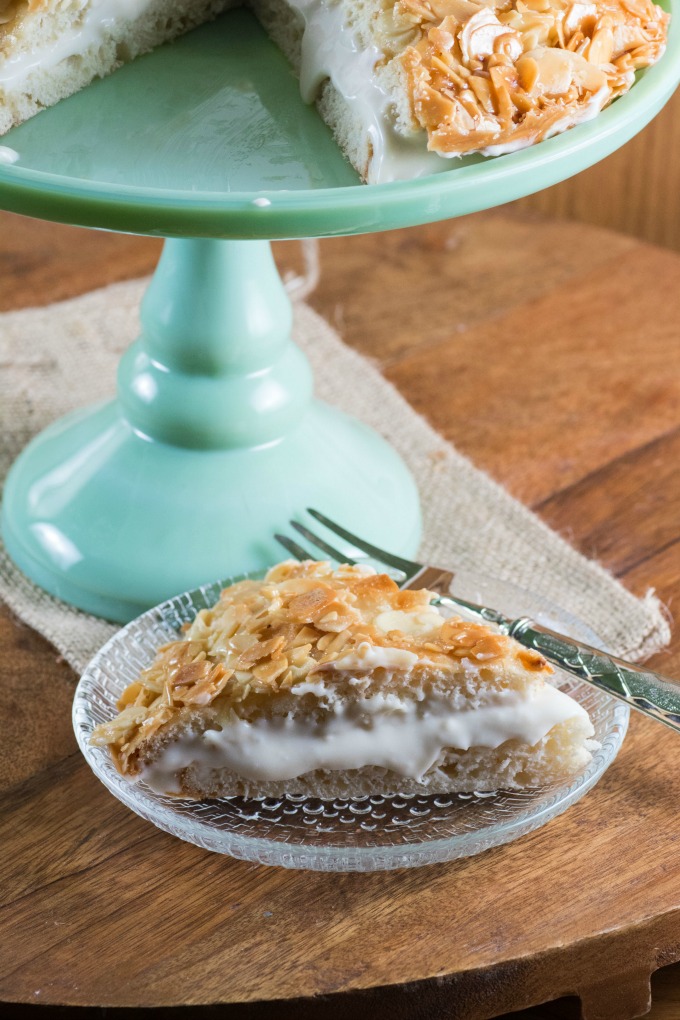 My custard did turn out a bit too loose as I forgot to whip the cream instead of just adding it. My error, not that it made one bit of difference in it being gobbled down.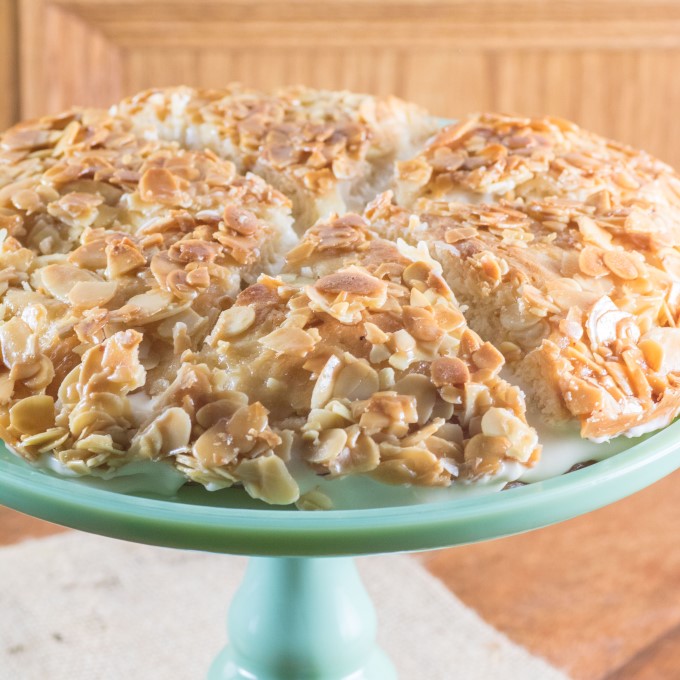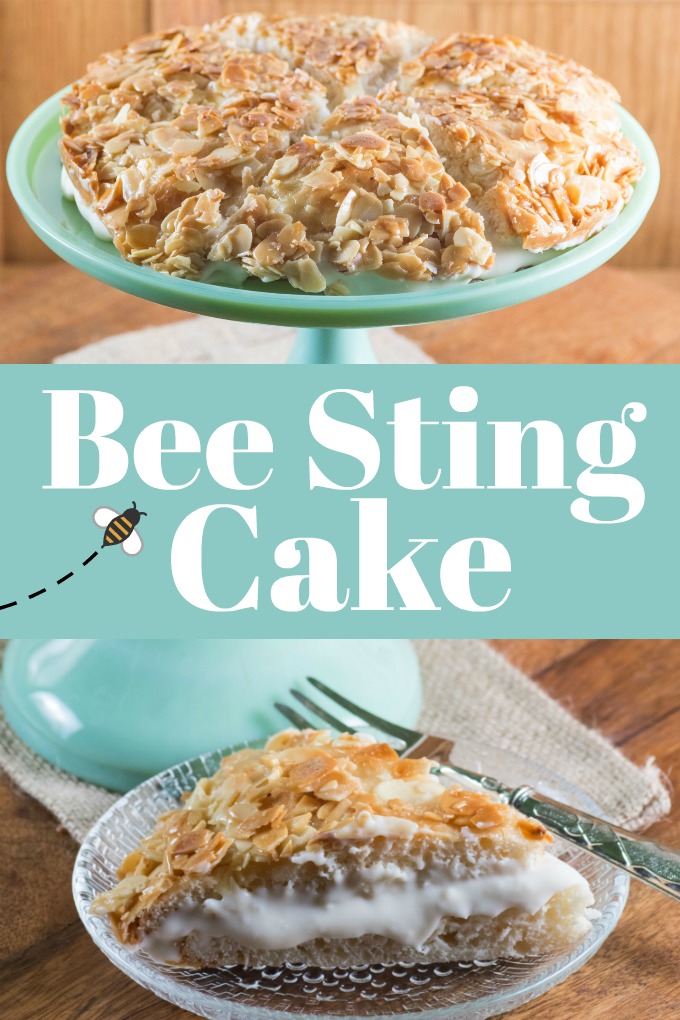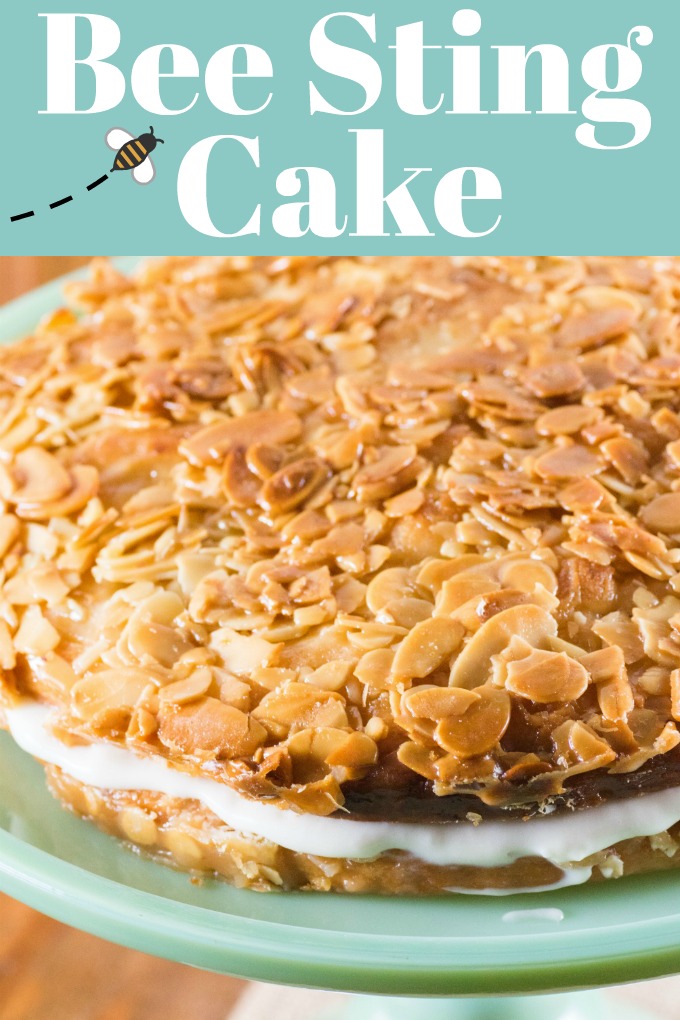 Bee Sting Cake Recipe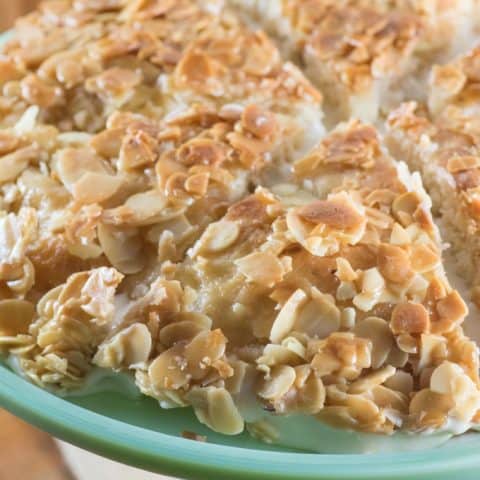 Bee Sting Cake - Bienenstich
Yield: FEEDS ABOUT 10
Prep Time: 40 minutes
Cook Time: 40 minutes
Additional Time: 1 day
Total Time: 1 day 1 hour 20 minutes
I've eaten Bienenstich for years, not realising it's really just brioche baked in a round cake tin with a caramel nut topping and custard in the middle! I guess that's why it's so important to know the classics because, with these basic skills, so many delicious yet simple things can be made.
Ingredients
BRIOCHE
260 g (91/4 oz/ 1 3/4 cups) plain (all purpose) flour + extra, for dusting
1 teaspoon dried yeast
2 tablespoons caster (superfine) sugar
25 g (1 oz) unsalted butter, softened
130 ml (4 1/2 fl oz) tepid milk
1 large egg
1/2 teaspoon salt
TOPPING
50 g (2 1/4 oz) unsalted butter
55 g (2 oz/ 1/4 cup) caster (superfine) sugar
1 tablespoon milk
1 tablespoon honey
1/4 teaspoon salt
80 g (2 3/4 oz/ 3/4 cup) flaked almonds
TO FINISH
1/2 quantity chilled Crème Pâtissière
(see page 204)
50 ml (1 3/4 fl oz) thickened (whipping) cream
CREME PATISSIERE
1 litre (35 fl oz/4 cups) milk
6 egg yolks + 2 extra whole eggs
200 g (7 oz.) caster (super fine) sugar
100 g (3 1/2 oz.) wheaten cornflour (cornstarch)
60 g (2 oz.) chilled unsalted butter, thinly sliced
2 teaspoons vanilla bean paste or vanilla extract
1 tablespoon Cointreau or Grand Marnier liqueur
Instructions
To make the brioche, combine the flour, yeast, sugar, butter, milk
and egg in the bowl of an electric stand mixer fitted with a dough
hook attachment. Hook on the lowest setting for 2 minutes, then add
the salt and hook for a further 5 minutes until the dough is sticky,
smooth and glossy. Leave the dough in the bowl, and press plastic
wrap directly on its surface, making sure any gaps around the side
are sealed. Refrigerate overnight.
The next day, grease the ring of a 22 cm (81/2 inch) springform
tin with butter, then cut strips of baking paper to line the side. Turn
the base of the tin upside down, so it no longer has a lip. Place a piece of
baking paper over it, then clamp the ring around it to secure.
Scrape the dough out of the mixing bowl into the prepared tin.
Sprinkle some flour over the top to stop your fingers from sticking,
and press it evenly to cover the bottom of the tin.
Cover with plastic wrap, then a clean tea towel, and allow to rise in a draught free spot
in the house – and a warm one if possible – for about 1 hour, or until
the dough has doubled in volume.
Preheat the oven to 180°C (350°F) fan - forced.
To make the topping, combine the butter, caster sugar, milk, honey
and salt in a small saucepan. Cook over medium heat until everything
has melted and combined. Stir in the nuts, then set aside to cool.
Spread the topping carefully and evenly over the surface of the
risen dough, and bake for about 30 minutes, or until an inserted
skewer comes out clean. Cool the brioche completely, before
removing from the tin.
To finish, place the chilled crème pâtissière in a medium mixing
bowl, and whisk with an electric mixer on high speed for about
10 seconds, to loosen the mixture. Add the cream and whisk
until combined.
Use a serrated knife to slice the cake in half horizontally, then
slice the top half into 12 segments. (We only did 6 as shown.)
Otherwise the nuts will shred the brioche on the way down and all the custard will ooze out.
Spread the custard on the bottom half, replace the individual top
slices, cut all the way through the bottom half and serve.
This is best eaten on the day it is baked.
For the Creme Patissiere:
Microwave the milk in a large heatproof bowl for 4–5 minutes on the highest setting.
Meanwhile, whisk the egg yolks and extra eggs with the sugar until pale and thick. Do not allow the sugar to rest on the eggs for any length of time before whisking vigorously, or it will pickle the yolks unevenly and create a lumpy mixture. Whisk in the cornflour until smooth. Add to the hot milk, and whisk to combine.
Microwave for 2 minutes, then whisk madly until smooth. Repeat this twice, or until the mixture is very thick and swirls stay put like whipped cream. Cool for about 5 minutes, before whisking in the butter and vanilla until combined. Allow to cool for about 30 minutes, whisking enthusiastically every 10 minutes to get rid of any steam trapped in the custard and helping it to set. Cover with plastic wrap pressed directly onto the surface of the custard, and refrigerate overnight or until completely chilled before using. When ready to use, whip together the crème pâtissière and Cointreau with an electric mixer on high speed until silky and glossy.
If you want the crème pâtissière to be lighter, whisk in some Crème Chantilly (see page 203) or even a tiny bit of milk.
Notes
I only use wheaten cornflour (cornstarch) in my baking. It's not accurately named and it's the old-fashioned stuff everyone used until a few years ago, when gluten intolerances resulted in maize cornstarch becoming more prevalent. Texturally, maize cornflour leaves a grainy residue in the mouth. To be sure what you're getting, always check the ingredients list on the packet.
Nutrition Information:
Yield: 10
Serving Size: 1
Amount Per Serving:
Calories: 383
Total Fat: 16g
Saturated Fat: 9g
Trans Fat: 0g
Unsaturated Fat: 7g
Cholesterol: 210mg
Sodium: 284mg
Carbohydrates: 46g
Fiber: 1g
Sugar: 27g
Protein: 10g
Courtesy of Poh Bakes 100 Greats by Poh Ling Yeow. Reprinted with permission from Murdoch Books. Available where books are sold February 5, 2019.