Saskatoon Honey Gin Bramble Cocktail
I love designing different cocktails with unique spirits like in this Saskatoon Honey Gin Bramble Cocktail. Eau Claire Distillery just released this Saskatoon Honey Gin on March 20 as a seasonal product, just in time for spring.
It sure didn't take me long to then wrap my head around this gorgeous bramble cocktail. The color, the wonderful light fruity flavor, everything screams spring to me. Ken said hands down this is the best cocktail he has ever had.
The Turner Valley based craft Distillery, Eau Claire Distillery prides itself on making fantastic unique spirits. This gin pays homage to our Canadian prairies with locally sourced honey, Saskatoon berries, rose hips, and Alberta malted barley, in addition to classic gin botanicals.
We also love making a Chambord Bramble Cocktail using their Christmas gin at holiday time or their Parlour Gin throughout the year.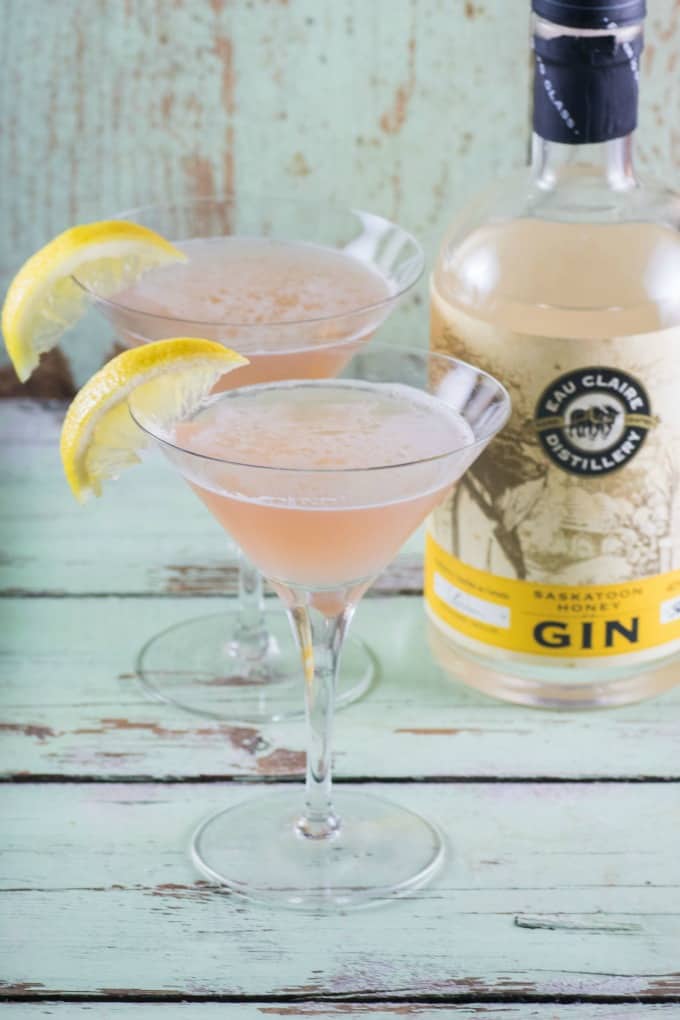 This cocktail bursts with wonderful flavors from the gin plus a hint of raspberry from Chambord and the freshness from lemon and sweetness from simple syrup or sugar syrup.
What is sugar syrup for cocktails? More commonly called simple syrup it is an equal combination of sugar and water that is heated until the sugar crystals dissolve.
Simple syrup should last for a month or more stored in the refrigerator. You can easily make more as needed.
A one cup water to one cup sugar ratio will make you lots of syrup for cocktails. It is inexpensive and as the name says, simple to make.
Saskatoon Honey Gin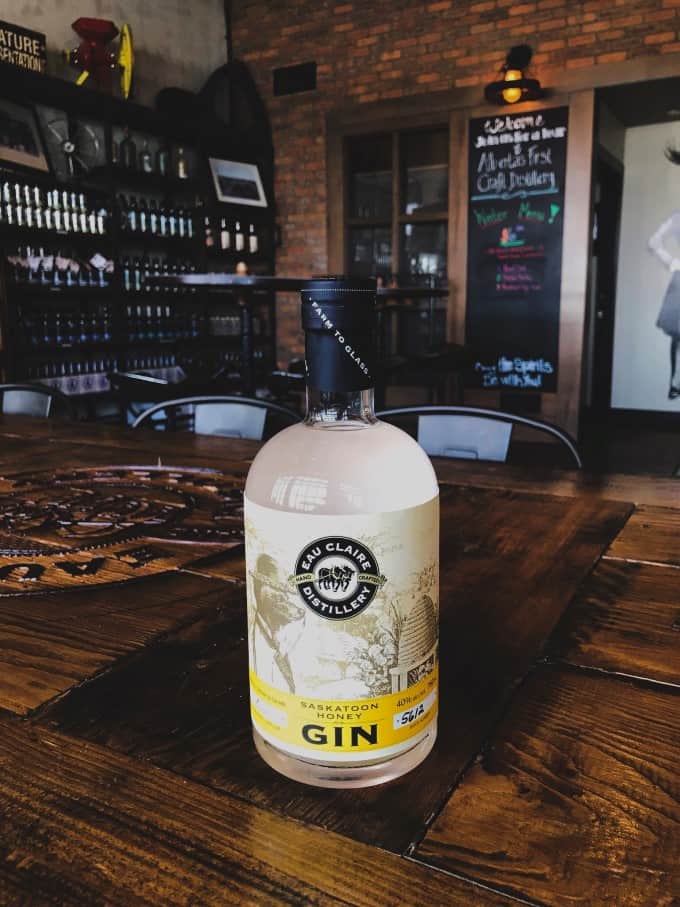 The Master Distiller for Eau Claire Distillery is Caitlin Quinn. She selected the two complementary flavors of Saskatoon Berries and local honey. The gin has the perfect balance of tart and sweet.
Saskatoon berries from The Saskatoon Farm and honey from the Chinook Honey Company are both locally sourced just down the road.
"This innovative pink gin is silky and smooth – a great addition to your cocktail repertoire" said Eau Claire Distillery President and Co-Founder, David Farran.
Eau Claire has other distinctive liquors like Three Point Vodka, Parlour Gin, and Prickly Pear EquineOx. Plus seasonal spirits like Gin Rummy, Christmas Gin and their award winning Single Malt Whisky.
I have also received their Apple Brandy and made an amazing Easy Apple Brandy Sticky Toffee Pudding that would blow you away with how good it is!!
What is a Bramble Cocktail?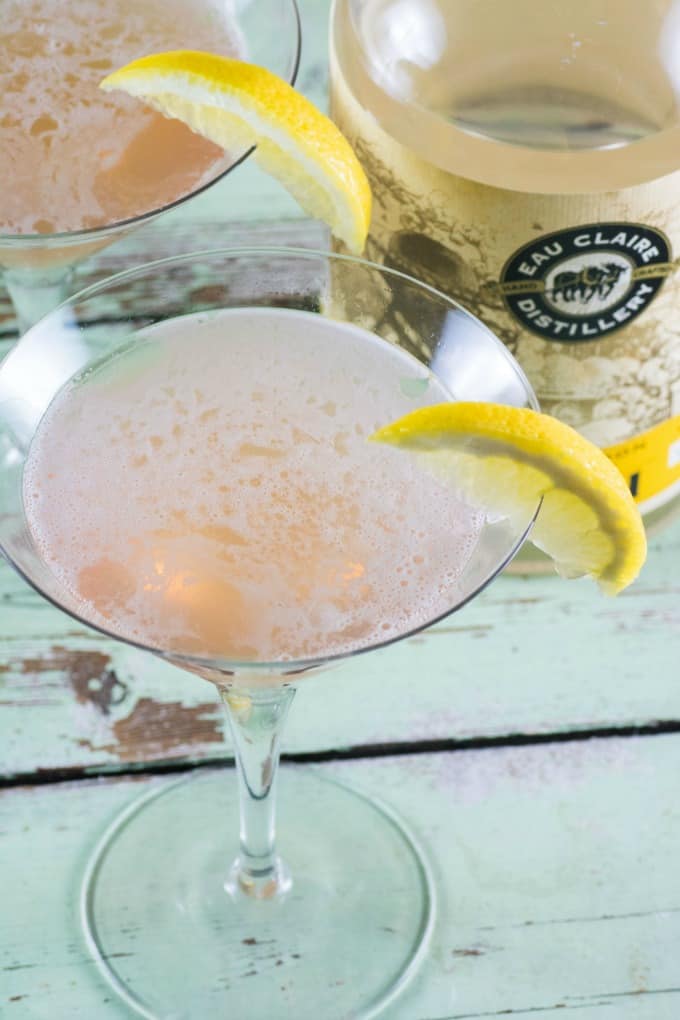 Back to the cocktail at hand!! What is a Bramble Cocktail? The Bramble Cocktail recipe was invented in 1984 by Dick Bradsell, the bartender in England's cocktail lounge, Fred's Club in London's SoHo.
It is essentially a short gin sour with a drizzle of crème de mûre, a French blackberry liqueur, over the top. Chambord, which is more readily available here, is a good substitute. We also took the liberty of mixing the Chambord right in the drink to up that pretty pink color.
Normally served on crushed ice, we decided to do away with the ice and serve it straight up. Our cocktail also got a quick garnish of a lemon slice. Keeping it to the original you would add in two blackberries on top of the ice. A few floating frozen Saskatoon berries would heighten this cocktail to the next level.
Saskatoon berries in the winter and early spring are hard to come by unless you have some stowed away in the freezer. The drink is truly great as is. Since we did do lots of toying with this cocktail already any frozen berry or skewered fresh would work just as well.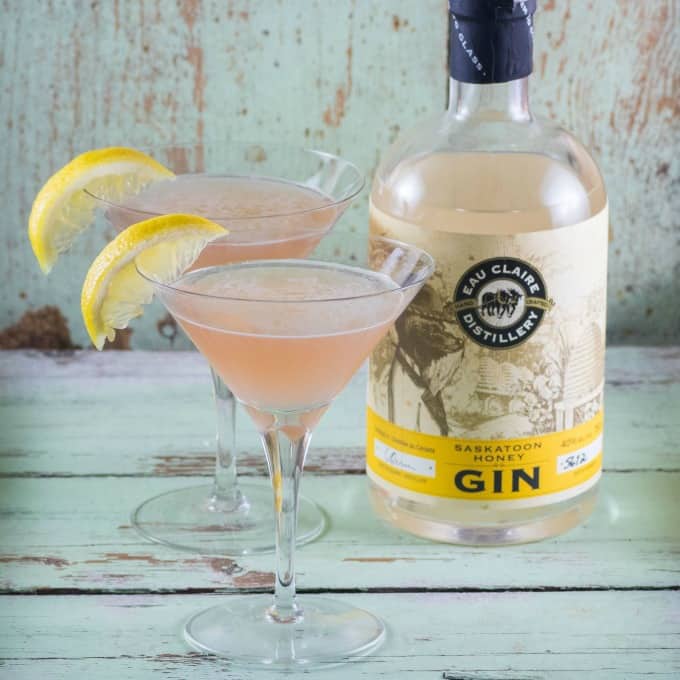 Follow along to find out more great spirits and libations on Eau Claire's Twitter, Facebook and Instagram. Take a drive out to the distillery, spring and summer are the perfect time to have a nibble and sip on an amazing cocktail.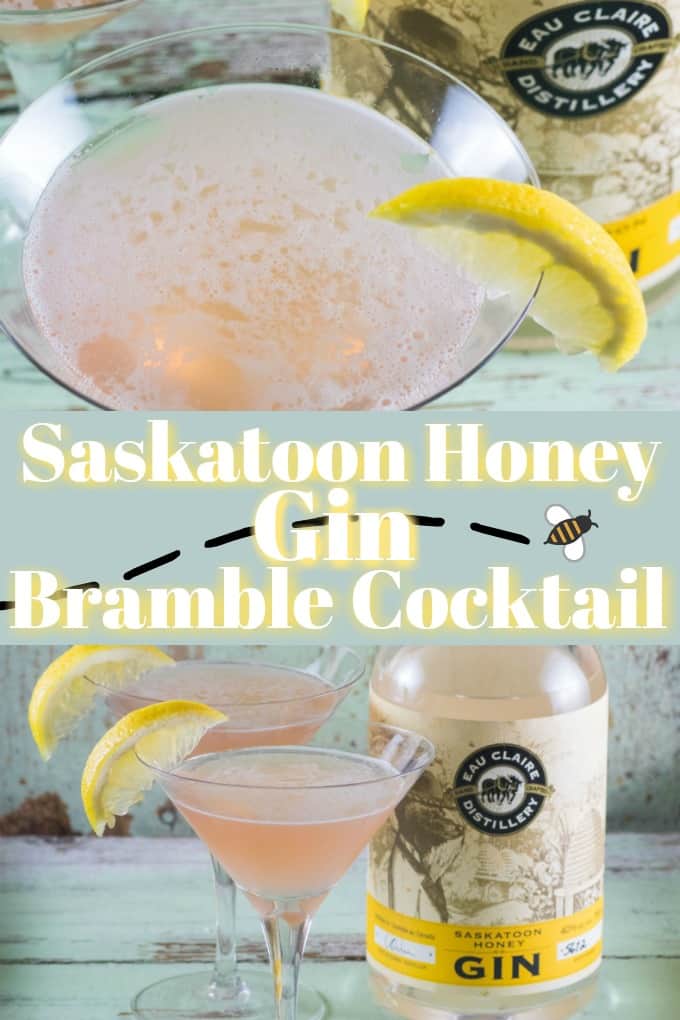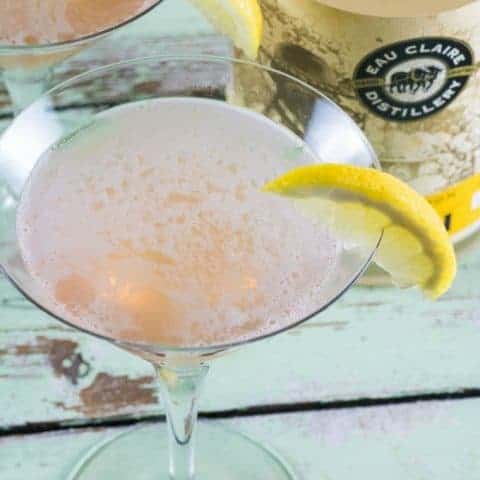 Saskatoon Honey Gin Bramble Cocktail
Prep Time: 3 minutes
Cook Time: 5 minutes
Total Time: 8 minutes
Like the gin itself this Saskatoon Honey Gin Bramble Cocktail has the perfect balance of sweet and tart.
Ingredients
1 1/2 oz. Eau Claire's Saskatoon Honey Gin
1/2 oz. Chambord liqueur
1 oz. fresh lemon juice
1/2 oz. simple syrup
Instructions
Make the simple syrup by mixing 1 cup sugar and 1 cup water in a small saucepan, heat and stir until the sugar is dissolved. Refrigerate any remaining and use up within a month.
Fill a cocktail shaker with ice and add in the gin, Chambord, lemon juice and simple syrup.
Shake and pour into an appropriate glass.
Garnish with floating frozen Saskatoon berries if available and a twist of lemon.
Nutrition Information:
Yield: 1
Serving Size: 1
Amount Per Serving:
Calories: 252
Total Fat: 0g
Saturated Fat: 0g
Trans Fat: 0g
Unsaturated Fat: 0g
Cholesterol: 0mg
Sodium: 2mg
Carbohydrates: 37g
Fiber: 0g
Sugar: 36g
Protein: 0g