Snickers Rice Krispies Treats
Fusing two delicious dessert treats together sure worked well for these Snickers Rice Krispies Treats. Ken came up with this idea and made them for one of our church refreshment days. They were a hit with the parishioners, none were brought home!
This is an easy treat to make too! I think almost anything that is made in a 9×13″ pan is easy, right? The size is perfect for a crowd too. You can never go wrong with an ooey gooey caramel, chocolate and peanuts never mind the beloved rice krispie square.
Do you need to feed a crowd for a brunch, potluck, or casual dinner or just treat the kids to an after-school snack? These will be a scrumptious way to win over the crowd or your kids!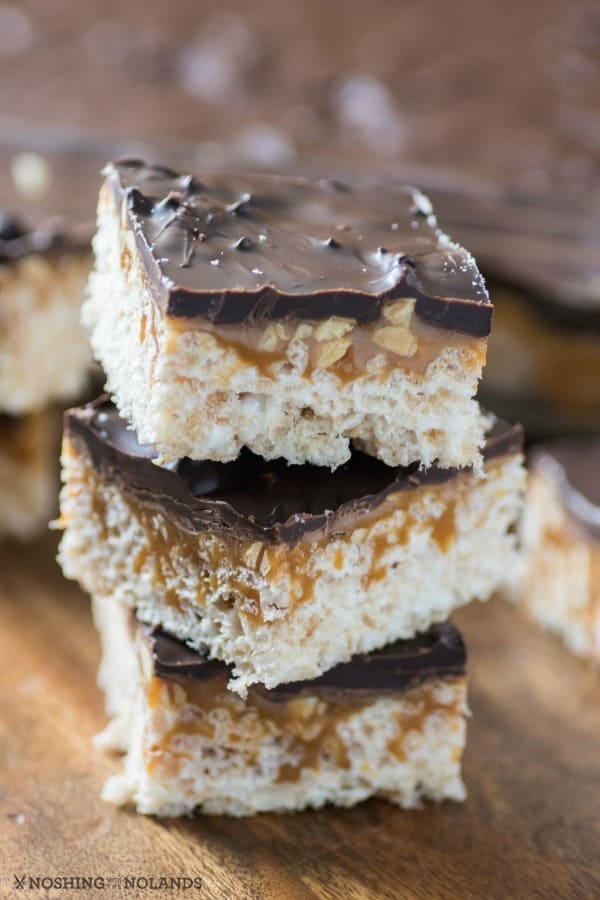 You are writing down the ingredients aren't you? You have to run to the store to get them to make them right away! I know you are! This is a winner of a treat and kids young and old would love these.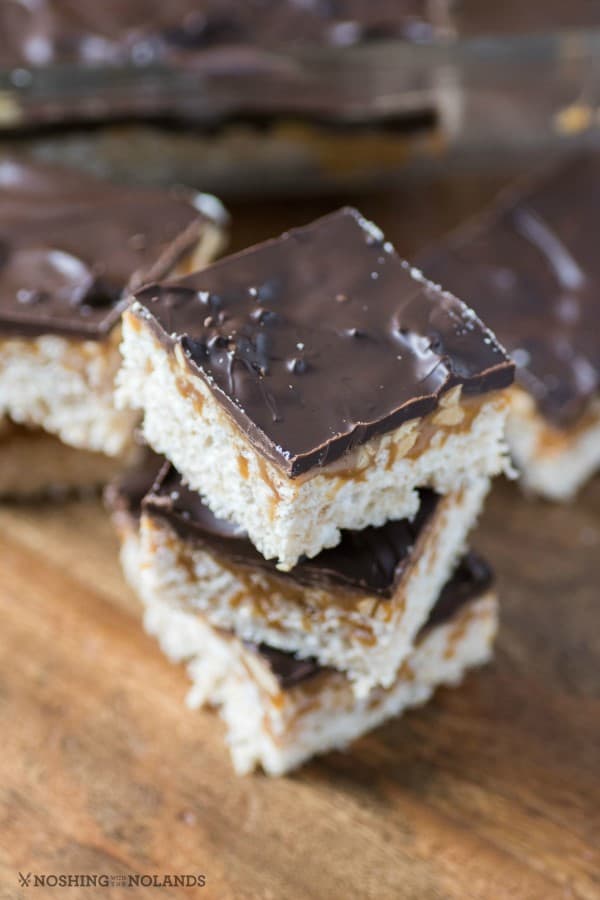 Putting two classics together like this is an awesome idea. You get everything that you love with the Snickers bar and all the crunchy gooeyness of the rice krispie treat! These are all common ingredients, nothing flashy here but good 'ol comfort food at its' best. This dessert is completely portable in the pan or slice up nicely to place in a sealed container too!
The Recipe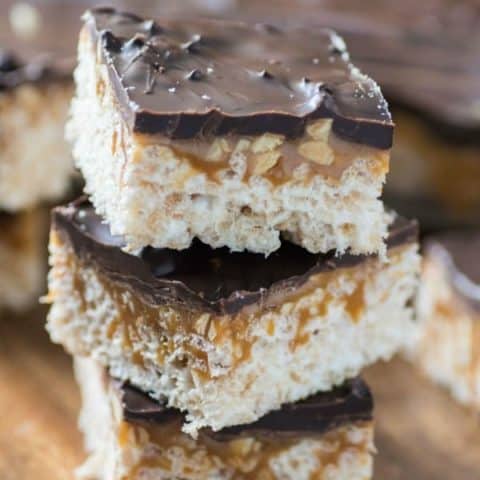 Snickers Rice Krispies Treats
Yield: 24-36 pieces
Prep Time: 20 minutes
Cook Time: 10 minutes
Total Time: 30 minutes
This dessert marries two classics together in these scrumptious Snickers Rice Krispies Treats!
Ingredients
1/4 cup butter
5 cups mini marshmallows
6 cups Rice Krispies cereal
1 tsp. vanilla
1/2 cup peanuts, chopped
16 oz. caramels, unwrapped
3 Tbsp. half and half cream
2 cups semi-sweet chocolate chips
Instructions
Grease a 9x13" pan with cooking spray and set aside.
Melt your butter in a large microwave bowl. Add in the marshmallows and microwave on medium for 1 min. intervals stirring after each. Add the vanilla and stir. Pour in your rice krispies and stir well but gently. Pour mixture into the prepared pan and press down evenly with a spatula lightly sprayed with cooking oil.
Add the peanuts in an even layer.
In a medium sauce pan add the caramels and start to heat, add the cream and stir until melted and combined.
Pour the caramel over the rice krispies.
Melt the chocolate chips in a microwave bowl at 30 second intervals until melted. Stirring after each. Pour chocolate over caramel and spread evenly.
Refrigerate to cool. Remove from fridge about 30 min. before serving and cut into desired size pieces.