Easy Peasy Hamburger Minestrone Soup
Looking for a hardy, filling, comforting bowl of soup that is easy and the whole family will love. I have for you today Easy Peasy Hamburger Minestrone Soup. This is one of my favorite soups of all time.
This minestrone soup recipe we have been making for so many years. It is the best recipe that is not only healthy but delicious. I think it originally came from the TV guide which I loved to get the recipes from.
Are you old enough to remember that? I loved the TV guide for not only seeing what was on TV but also for stories and recipes. It was a weekly publication that came to the house and I loved to get it and was the first to read it.
It is hard at times to find something that the whole family will love. Our daughter has devoured this everytime we make it and I feel good serving it to my family too!
We have loved this soup that it is full of protein and vegetables and is a complete meal in a bowl. She loves to pile the grated Parmesan cheese on high!!
Minestrone Soup Recipe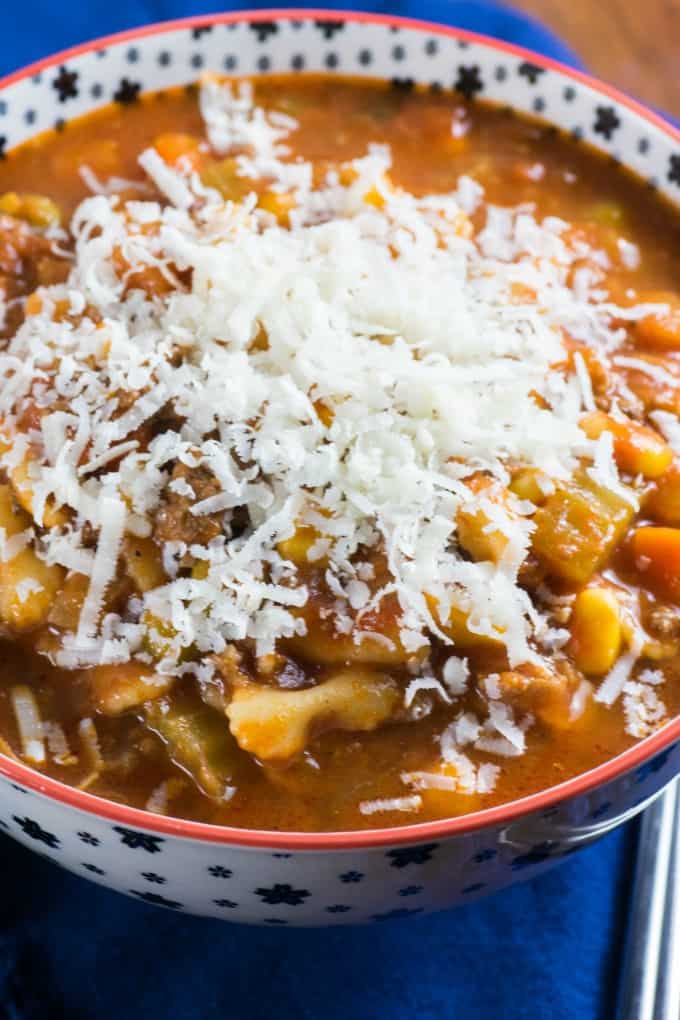 Helpful Items for This Recipe
This post contains affiliate links.
To make this soup it is about as easy as opening up cans and jars and has been a favorite of our family for decades.
Not only is there lots of veggies like onion, celery, corn, peas, carrots, green beans, tomatoes but there is also lean ground beef and pasta to round it out.
This soup could be simply made vegetarian or vegan with the omission of the hamburger. It would also be just as delicious with the inclusion of chicken or sausage as the protein of choice.
The origins of minestrone soup go back to ancient Roman times where their diet was mainly vegetarian because of the lack of protein available.
Because minestrone soup doesn't have a set recipe it varies wildly from region to region in Italy. It can be a very thick stodgy soup to something that is quite brothy with diced vegetables to about anything in between.
What is Minestrone Soup?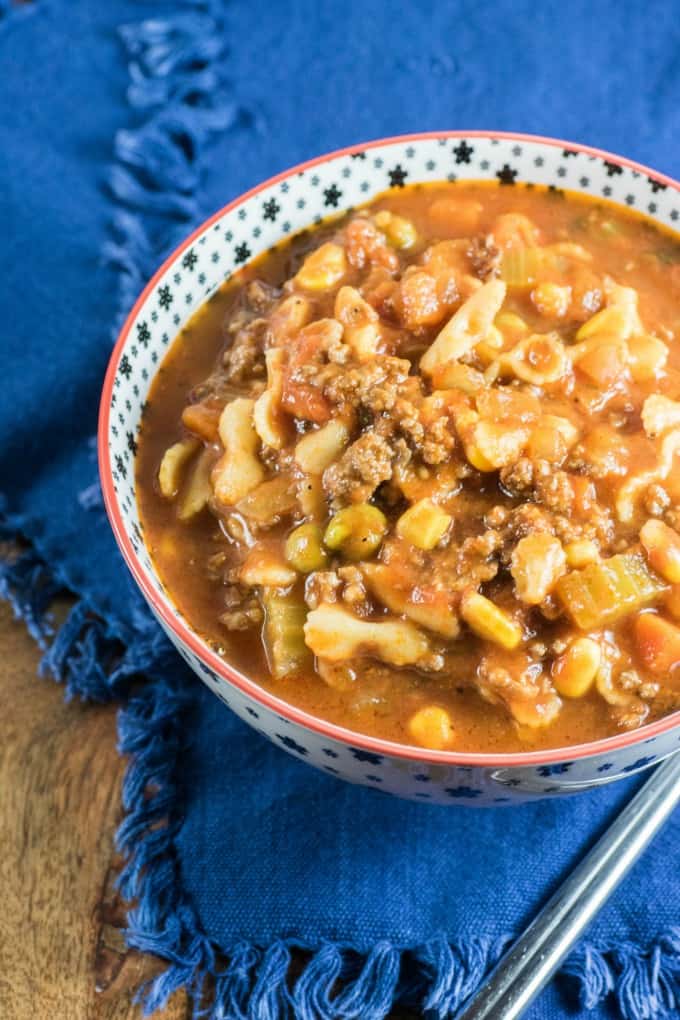 What is Minestrone Soup? It is a soup from Italy that is made with vegetables, often with the addition of pasta or rice, sometimes both.
Want to make this gluten free? Hold the pasta and add the rice! It is as simple as that but be careful to fully check canned products for gluten. Something like onion soup or spaghetti sauce may have gluten hidden in the ingredients.
Other common ingredients are beans, kidney bean or white beans but we have omitted those in our version.
Onions, celery, carrots, stock, and tomatoes are also other favorites to add. The lovely thing about this recipe is that there is no set recipe for minestrone, since it is usually made out of whatever vegetables you have.
There is also no need for vegetable broth or chicken broth. Just adding in 5 cups of water does the trick to thin it out enough to make it a soup.
For ease we usually make it just like it is though but feel free to make it your own. Add in what your family loves!!
The Mustard Seed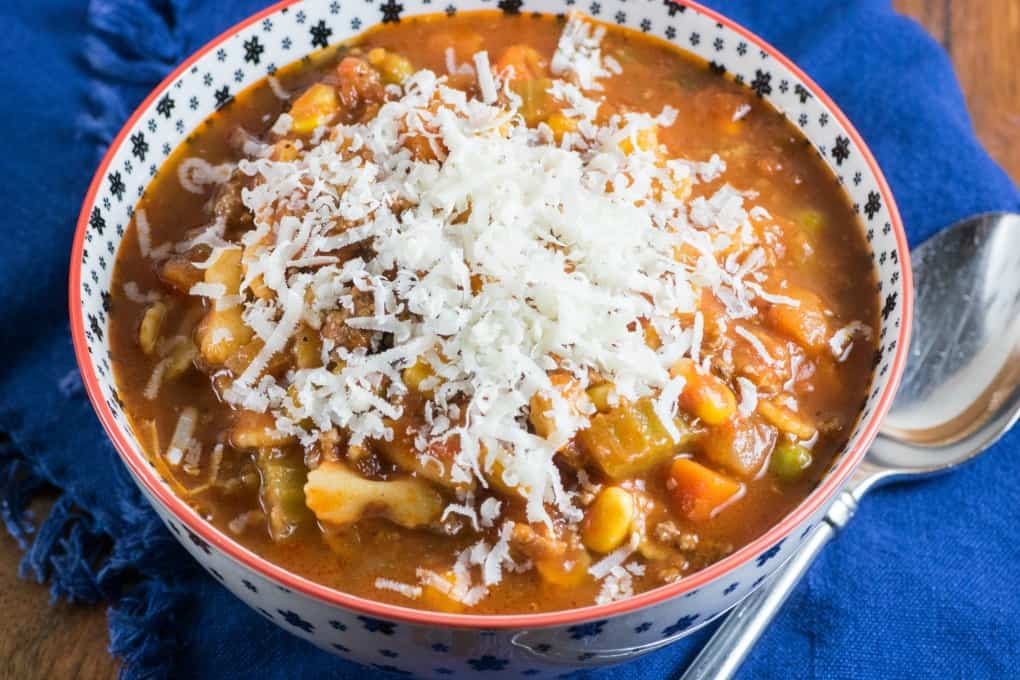 This recipe has come in handy for so many casual occasions and has also been brought down many times to The Mustard Seed which is our local homeless shelter.
I know that this soup provides not only my family with great nutrition but also someone who is very much in need of a good comforting meal.
The Mustard Seed writes:
"At The Mustard Seed, we help meet the basic needs of shelter, food, clothing and acceptance for men and women experiencing poverty, and work with them to find sustainable housing and employment."
This year we helped out by donating Christmas dinner meals to The Mustard Seed and by providing homemade sweet treats to our Drop-In Centre. If possible think about a food or money donation to your local shelter this holiday season.
Find out what your shelter needs, some ideas are a hamper with a complete turkey dinner or a backpack filled with the basic needs. If you are low on funds volunteer your time, that can be the most precious gift of all.
How To Make Minestrone Soup?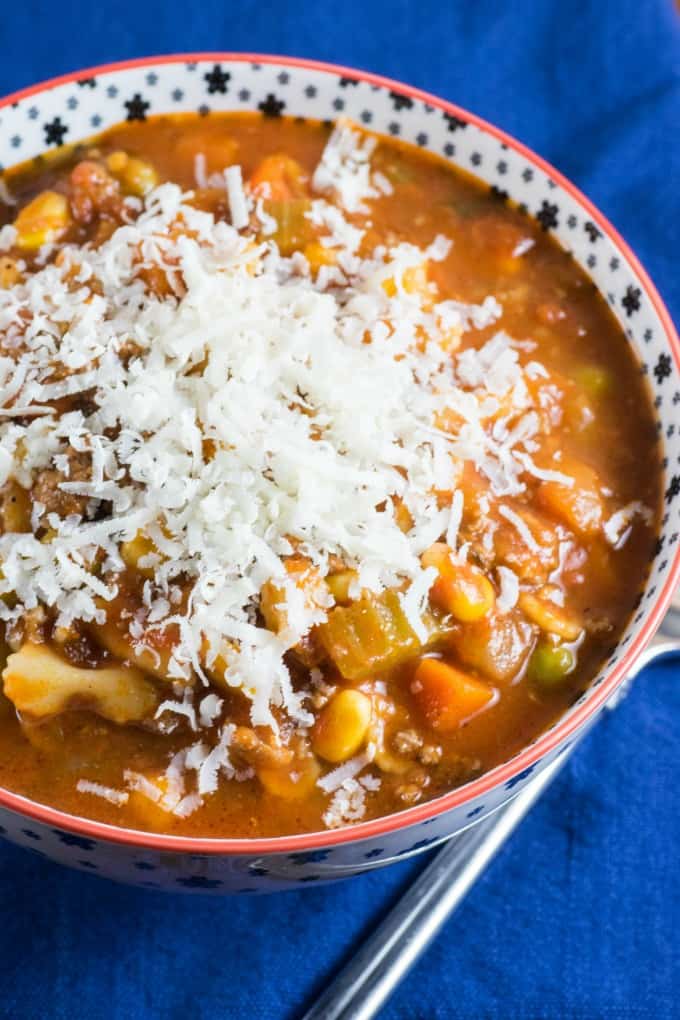 How to Make Minestrone Soup? Like I said this recipe is about as easy as opening up cans and jars! It is a fairly fast soup to make and no need to be slow cooking in a slow cooker or crock pot.
It is all done on the stove top in a large dutch oven or a pot. There are two simmers that take place for 30 minutes each.
First is after you have browned the beef and sauteed the onion and celery. Then the canned diced tomatoes, onion soup and water are added, followed by the frozen mixed vegetables. Bring this to a boil and simmer for 30 minutes.
Then the rest of the ingredients are added. The spaghetti sauce, pasta, parsley, sugar, herbs and salt and pepper. A second time you bring to a boil and now simmer for 30 minutes again.
Now the house is smelling fragrant and your tummy is starting to rumble for the soup to be finished.
You may be thinking why add sugar? It cuts the acidity of the tomatoes nicely. It is something that I commonly add when cooking with tomatoes.
Lastly, we serve it up and pile on the Parmesan cheese. A lovely Italian bread or buns go perfectly to complete this very satisfying meal.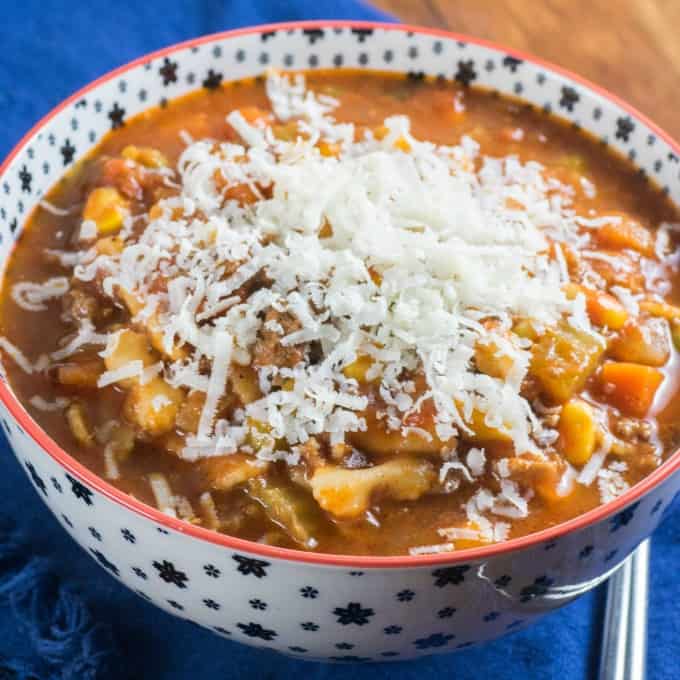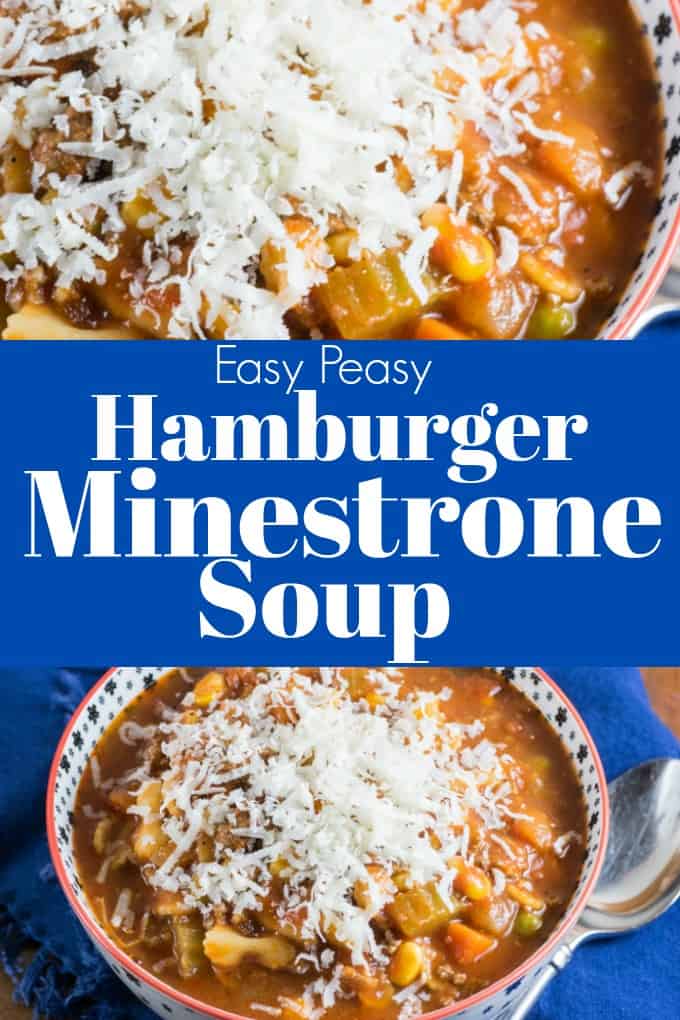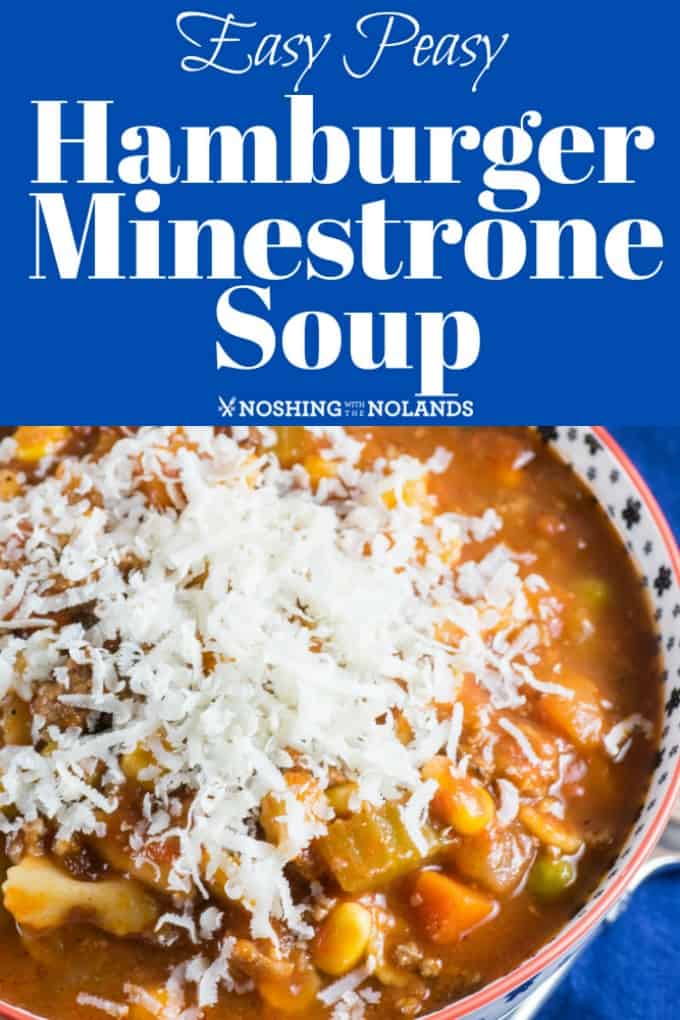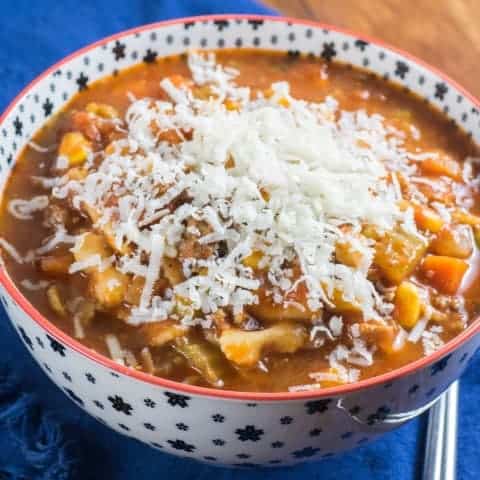 Easy Peasy Hamburger Minestrone Soup
Yield: 8 servings
Prep Time: 20 minutes
Cook Time: 1 hour 5 minutes
Total Time: 1 hour 25 minutes
This Easy Peasy Hamburger Minestrone Soup has been a family favorite for so many years. It is a pure bowl of comfort!
Ingredients
1 1/2 lbs. lean ground beef
1 onion, chopped
1 celery stalk, chopped
1 (28 oz.) can diced tomatoes
2 (10 oz.) cans onion soup
5 cups water
1 small pkg. frozen mixed vegetables
1 (25 oz.) jarred spaghetti sauce
1/2 cup small pasta
2 Tbsp. parsley, chopped
1/2 tsp. each thyme, oregano and basil
1 1/2 tsp sugar
Salt and pepper to taste
Grated Parmesan cheese
Italian bread
Instructions
In a large dutch oven or soup pot brown the ground beef lightly. Add the onion and celery. Cook until tender.
Add tomatoes, onion soup and water and bring to a boil.
Add frozen vegetables, cover and simmer for 30 minutes.
Add spaghetti sauce, pasta, parsley, sugar, herbs, salt and pepper.
Simmer uncovered for 30 minutes, stirring occasionally.
Serve and top with grated Parmesan cheese and Italian bread.
Recommended Products
As an Amazon Associate and member of other affiliate programs, I earn from qualifying purchases.
Nutrition Information:
Yield: 8
Serving Size: 1
Amount Per Serving:
Calories: 246
Total Fat: 11g
Saturated Fat: 4g
Trans Fat: 0g
Unsaturated Fat: 5g
Cholesterol: 77mg
Sodium: 326mg
Carbohydrates: 9g
Fiber: 2g
Sugar: 3g
Protein: 26g
The information shown is an estimate provided by an online nutrition calculator. It should not be considered a substitute for a professional nutritionist's advice.