It is back to school time! Are you happy or sad? I always have mixed emotions at this time of year. Saying goodbye to summer is hard but fall is my favorite time of year. With the season changing I start to look for comfort meals again and these Slow Cooker Sloppy Joes fit the bill perfectly. Easy, family meal that slowly cooks away all day as you work or do chores, errands or a little down time.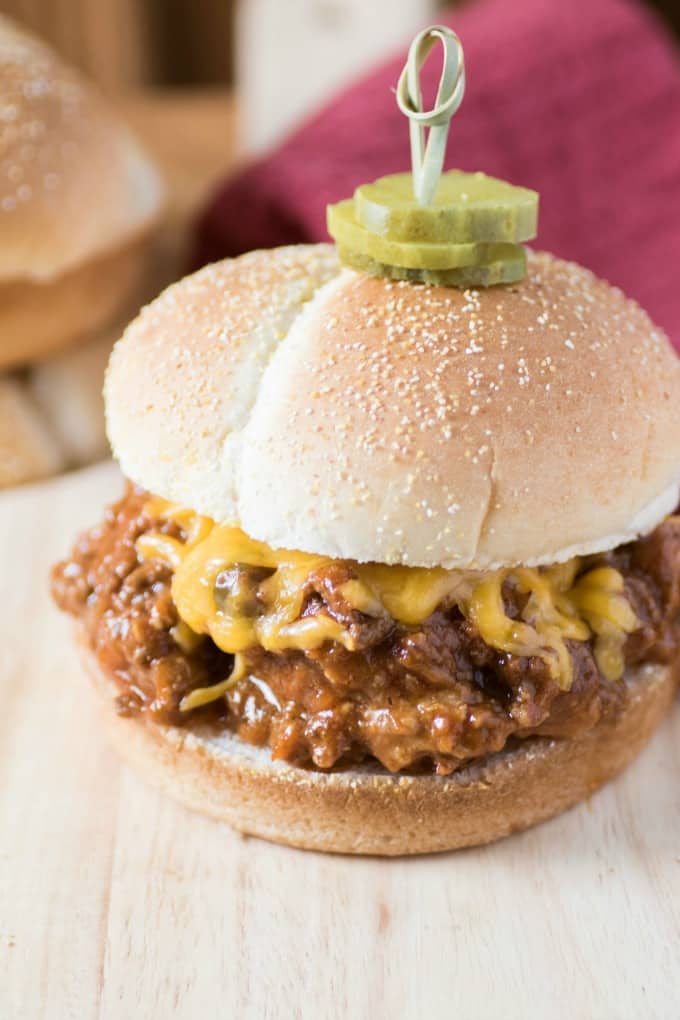 I love adding a little melty cheese on top. You just have to run these under the broiler for a minute to get that cheese-a-melting!! The whole family will come running to the table when they find out it is Sloppy Joe night. These have been a family favorite for a hundred years but coming to the name, Joe in the 1930's!!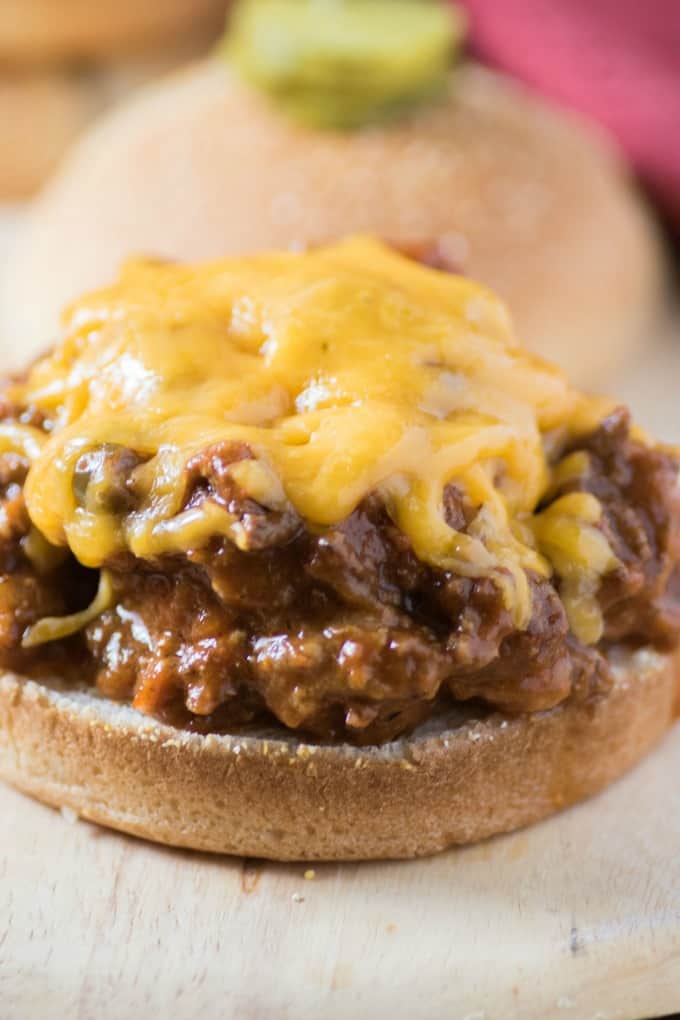 Your basic Sloppy Joe is made of ground beef, onions, tomato sauce, ketchup and Worcestershire sauce and served on a hamburg bun. We added a few more ingredients like sausage, green pepper, brown sugar, yellow mustard, chili powder, garlic powder and tomatoes to give our Joe even more flavor! Then we slow cooked it for ease and mellowing to give you this yumminess on a bun!!
This is such a satisfying meal, meaty and cheesy! Make a double batch for game day or any casual party or get together. A Sloppy Joe is great at anytime of year from a backyard BBQ, to back to school or a cold winter night! The beauty is that it is easy and with common ingredients. People can also easily help themselves if served up in a crowd.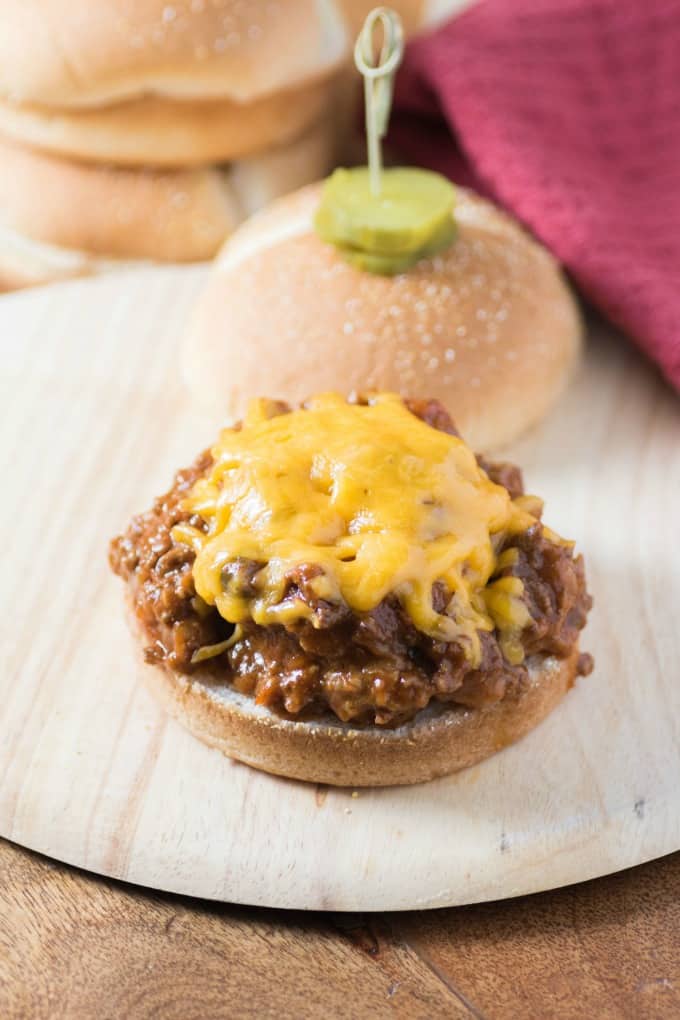 Get it on the weekly menu; your family will be very happy you did!! ENJOY!!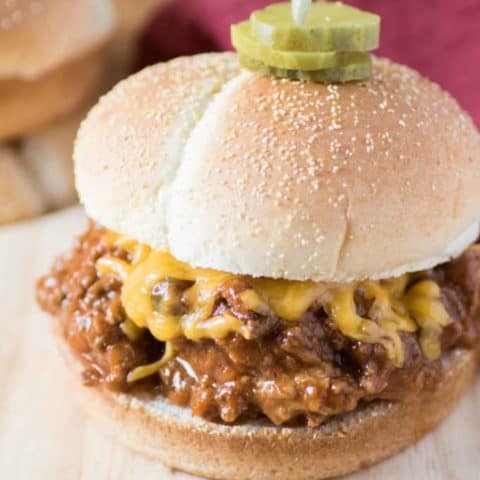 Slow Cooker Sloppy Joes
Yield: 8
Prep Time: 25 minutes
Cook Time: 7 hours
Total Time: 7 hours 25 minutes
Slow Cooker Sloppy Joes can be the ultimate easy dinner for back to school or game night! Everyone will be diving in!
Ingredients
1 lb. extra lean ground beef
1 lb. sausage meat, I used mild Italian
1 medium onion, chopped
1 medium green pepper, chopped
1/2 cup water
213 ml. (7 oz.) tomato sauce
16 oz. can diced tomatoes
1/2 cup ketchup
1/4 cup brown sugar
2 Tbsp. apple cider vinegar
2 Tbsp. yellow mustard
1 Tbsp. Worcestershire sauce
1/2 tsp. garlic powder
1 Tbsp. chili powder
Salt and freshly ground pepper to taste
1/4 cup flour with 1/4 cup water
8 hamburg buns
Cheddar cheese, grated
Instructions
In a large saute pan over medium-high heat add the beef, sausage, onion and green pepper. Cook until the meat until browned. Drain if necessary and then add the 1/2 cup water to scrape up any caramelized bits in the pan while stirring and let evaporate.
Add this mixture to your slow cooker. Add the rest of the ingredients except the flour and stir well. Cover and cook slowly on low for 7 hours or on high for 4 hours.
About 20 min. prior to finishing mix the flour with warm water and whisk into the sloppy joes. Turn to high and let bubble and thicken.
Place a large spoonful on the bottom of a hamburg bun. Top with cheddar cheese and run quickly under a broiler. Top with the other bun and serve.