This Slow Cooker Beef Dip tastes like a restaurant-quality meal. The beef is pull-apart tender and the au jus will have you dunking again and again. The au jus is great with our Best Prime Rib Sandwich so make extra and freeze.
This is hands down one of my favorite slow cooker recipes and I got this wonderful recipe from my girlfriend Cheryl. We have made it countless times over the years. It is a tried and tested family-loved recipe!
It is so easy to pull together and you have that lovely au jus to dunk and gobble down your sandwich with. I make this at any time of the year. It is not a super thick stew or soup that you associate with the winter in the crock pot. It works well for a crowd in the summer too, everyone loves Beef Dip!!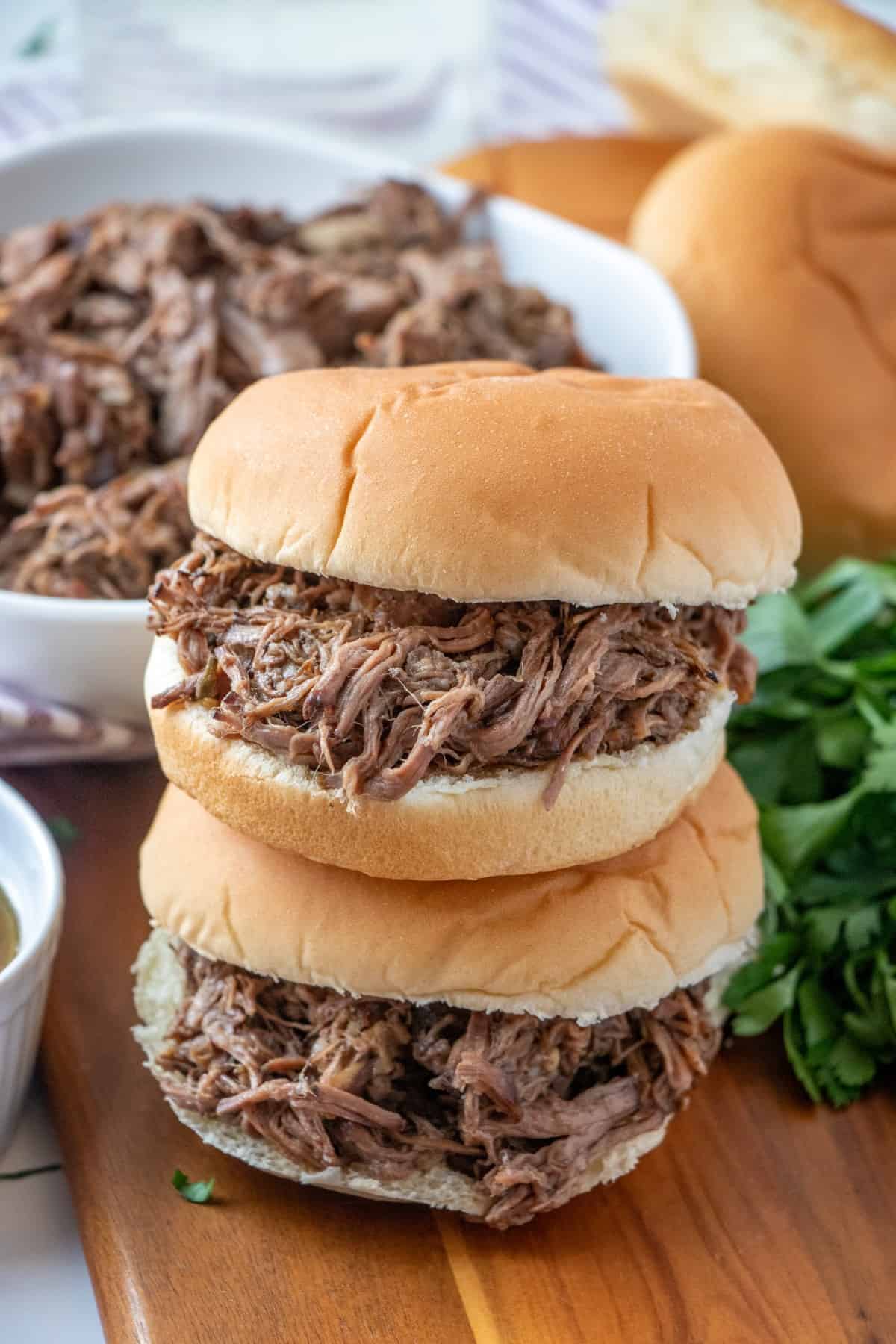 With this Slow Cooker French Dip Sandwich, the beef is so juicy and flavorful, all you need is a great big yummy bun!!!
Slow cooked all day makes the most tender meat and fills your house with an amazing aroma.
What Is A Beef Dip Sandwich?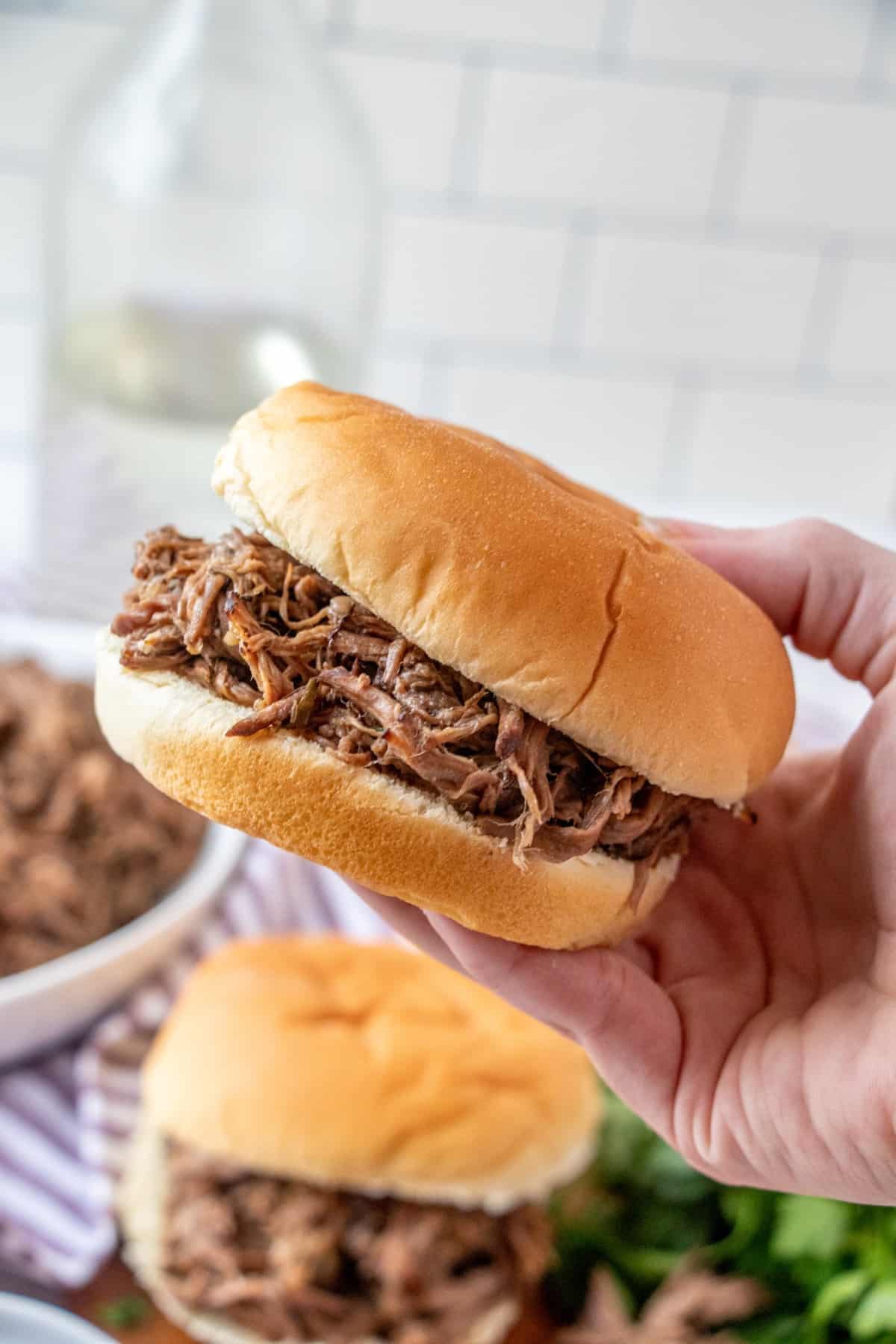 A beef dip sandwich, also known as a French beef dip, is a hot sandwich piled high with thinly sliced or shredded roast beef on a large roll or baguette.
It is usually served plain as we have it here. Variations include topping it with cheese, like Swiss cheese, or caramelized onions, and serving it with a dipping container of au jus or beef broth which is the very liquid it is cooked in.
An Italian Beef Dip is also wonderful and made similarly to the French Beef Dip but topped with spicy giardiniara and sweet peppers. Giadiniara is an Italian relish or pickled vegetable condiment. It is commonly made spicy but a milder version in used in a muffuletta sandwich.
How To Make a Beef Dip Sandwich?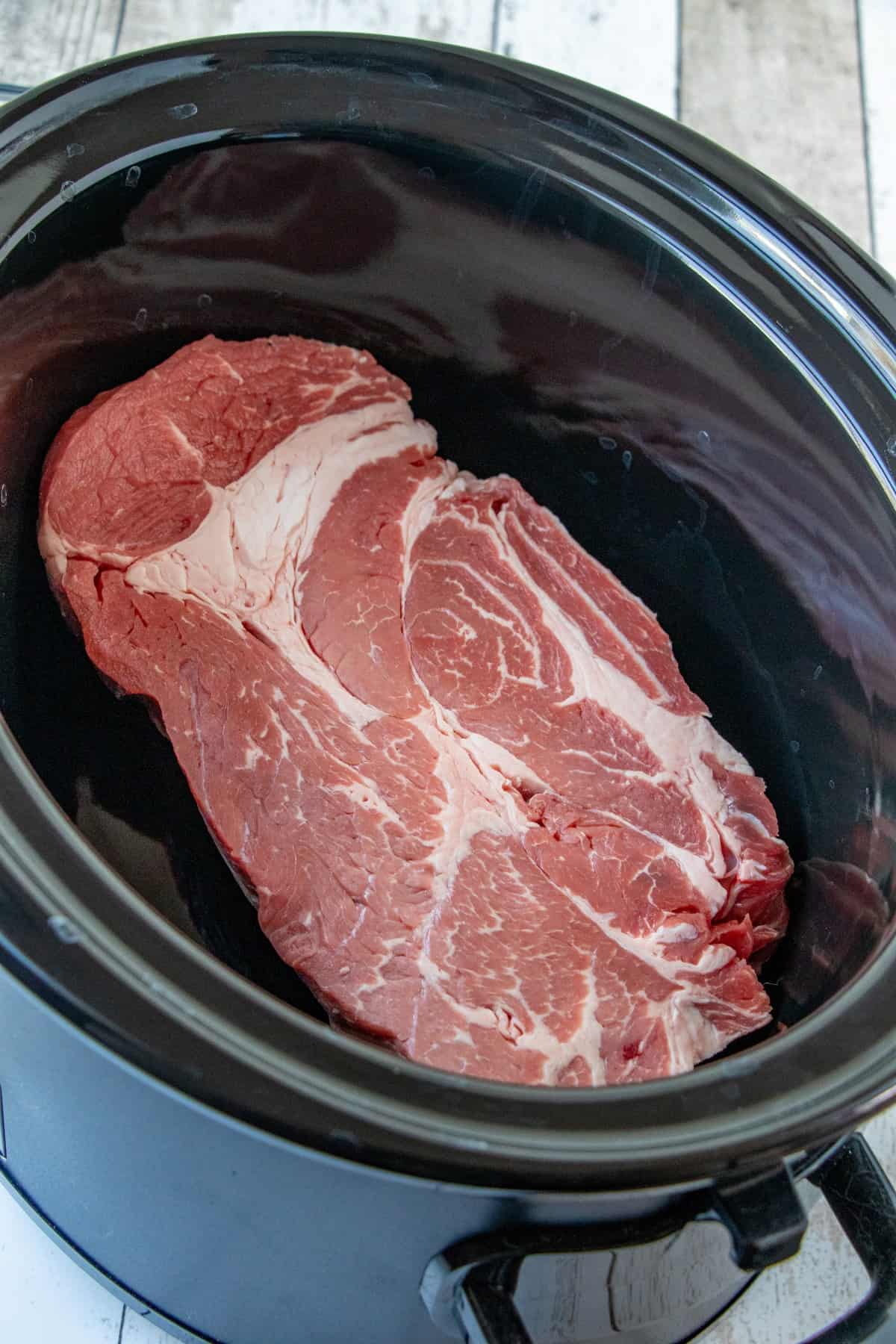 The ingredients for the beef dip are very simple. You probably have all that is needed at home and maybe even a roast in the freezer. Pull that roast out, defrost and get it into your slow cooker.
You will so love this recipe and so will your family. It is a meal that all of us love and I love it because it is so easy to make!!
Ingredients
beef roast (any inexpensive cut)
sodium-reduced soy sauce
water
Beef broth
Bay leaf
Black Peppercorns
Dried rosemary
Dried thyme
Garlic
Place the roast in the slow cooker. Mix together the soy sauce, water, beef broth, bay leaf, peppercorns, rosemary, thyme, and garlic, and pour over the top of the roast. I feel there is enough salt in both the soy sauce and beef broth but at the end of the cooking process, you may want to season again.
Cover and cook for 7-8 hours on low. I turn the roast once during cooking. It takes a nice long cook time so this is a recipe where you can put it on in the morning and when you come home from work, dinner is ready. I have never tried to cook it on high so I can't recommend that.
After the roast is cooked, remove and pull the beef apart on a cutting board. I also like to remove any excess fat. Skim the layer of fat from the top of the au jus and strain the sauce if you like.
Serve on fresh buns, or sub buns and serve with the sauce for dipping.
Seriously good!! You can add a larger roast and double the sauce. You might not want to double peppercorns and garlic though.
What Cut of Beef Do You Use for Beef Dip?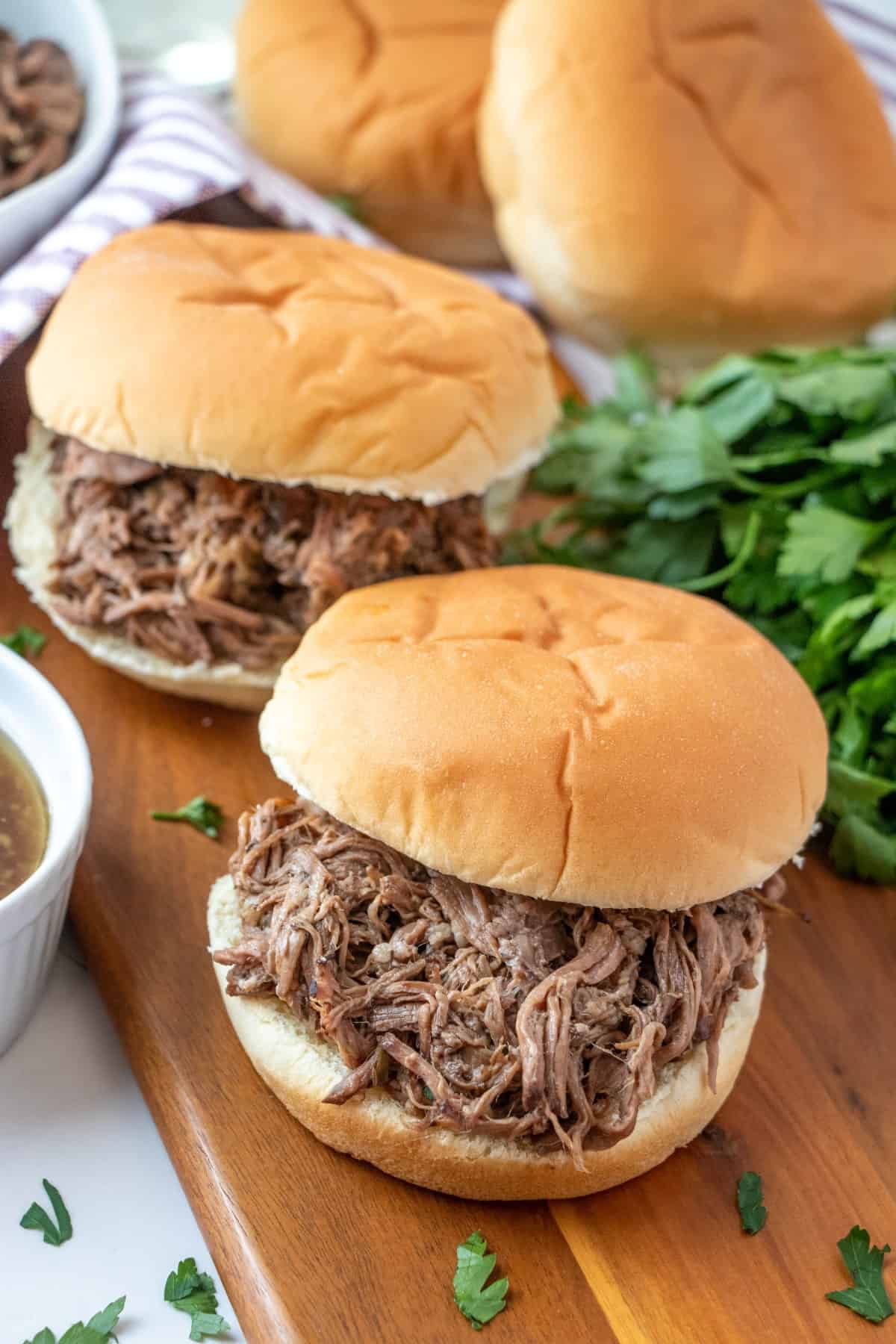 Number one I usually go for an inexpensive cut of beef. A chuck roast would be the perfect cut and one that has some fat and marbling would work best.
You can remove the fat after it has cooked and also skim the fat off the top of the au jus but you will want a fattier roast to start with as it will give you more flavor and the meat will be more tender too.
What to Serve With Beef Dip?
Beef Dip is a simple dinner made even easier with a slow cooker. The last thing you want to do is then slave over sides!! This is what we like to serve a beef dip sandwich with besides a bowl of the au jus (meaning with juice) and maybe horseradish sauce (I am a massive fan of horseradish but the family isn't). You can also add on Dijon mustard if you like and butter the buns too.
coleslaw
simple greens salad or a simple wedge salad
French fries or yam fries (frozen)
potato chips
veggies and dip
pickles
Potato salad or macaroni salad (I like to serve these in the summer months with a beef dip)
Is Beef Consomme The Same as Au Jus?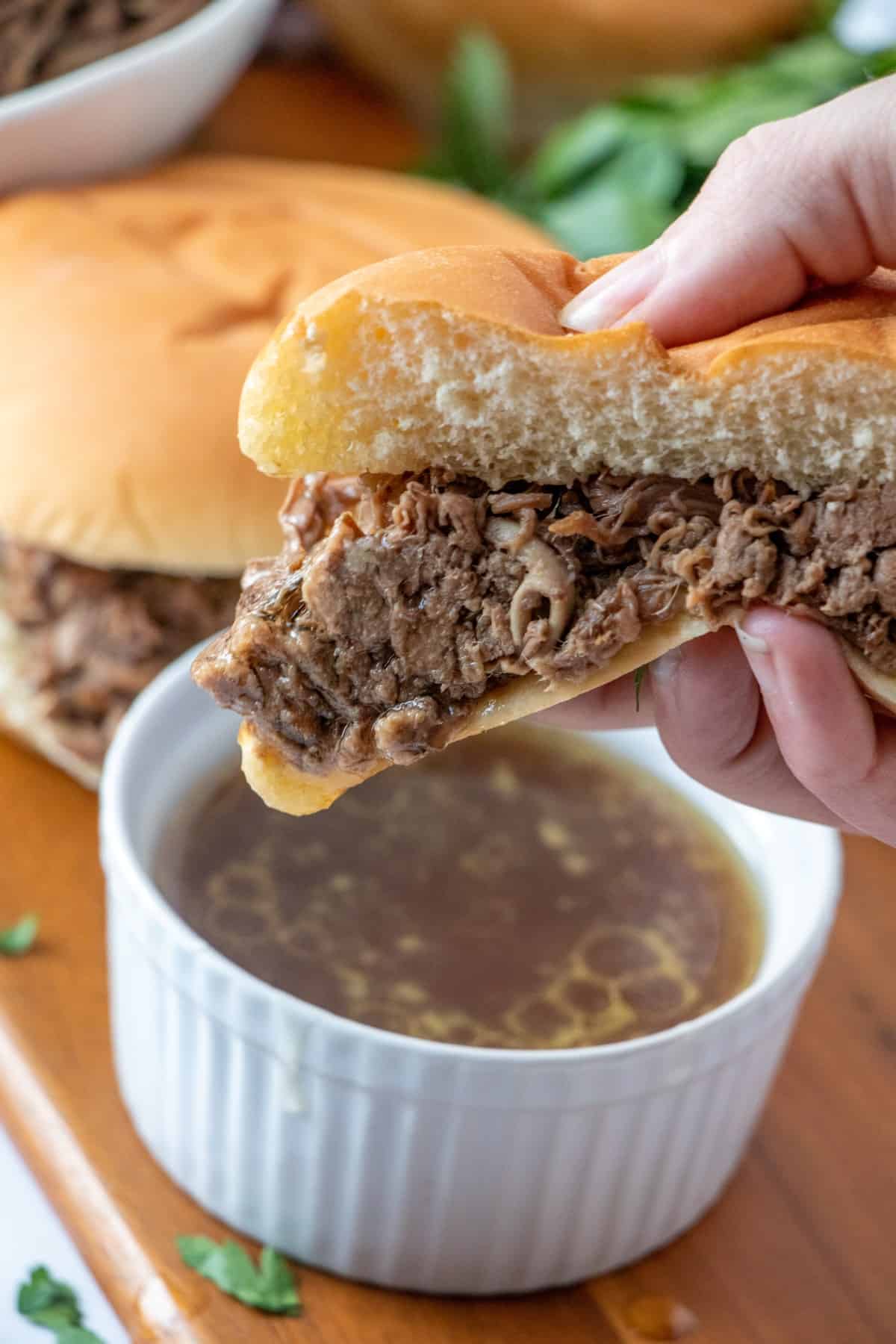 Beef consomme and au jus are two different things. Au jus is created from cooking meat and is basically the juice coming off the meat.
Au jus is something that you dip your meat or sandwich into and is usually made along with the meat. Like in this recipe. It is commonly also served with prime rib.
Beef consomme on the other hand is a recipe on its own and is a flavorful soup that is to be served alone. It is made from brown beef stock and seasonings. It should be completely clear and never cloudy. Consomme is also fat-free.
The difference then again of beef stock is that it is made from a combination of bones, vegetables, seasonings and liquids. Similar to chicken stock but using beef bones instead of a chicken carcass.
Why is it Sometimes Called a French Dip Sandwich?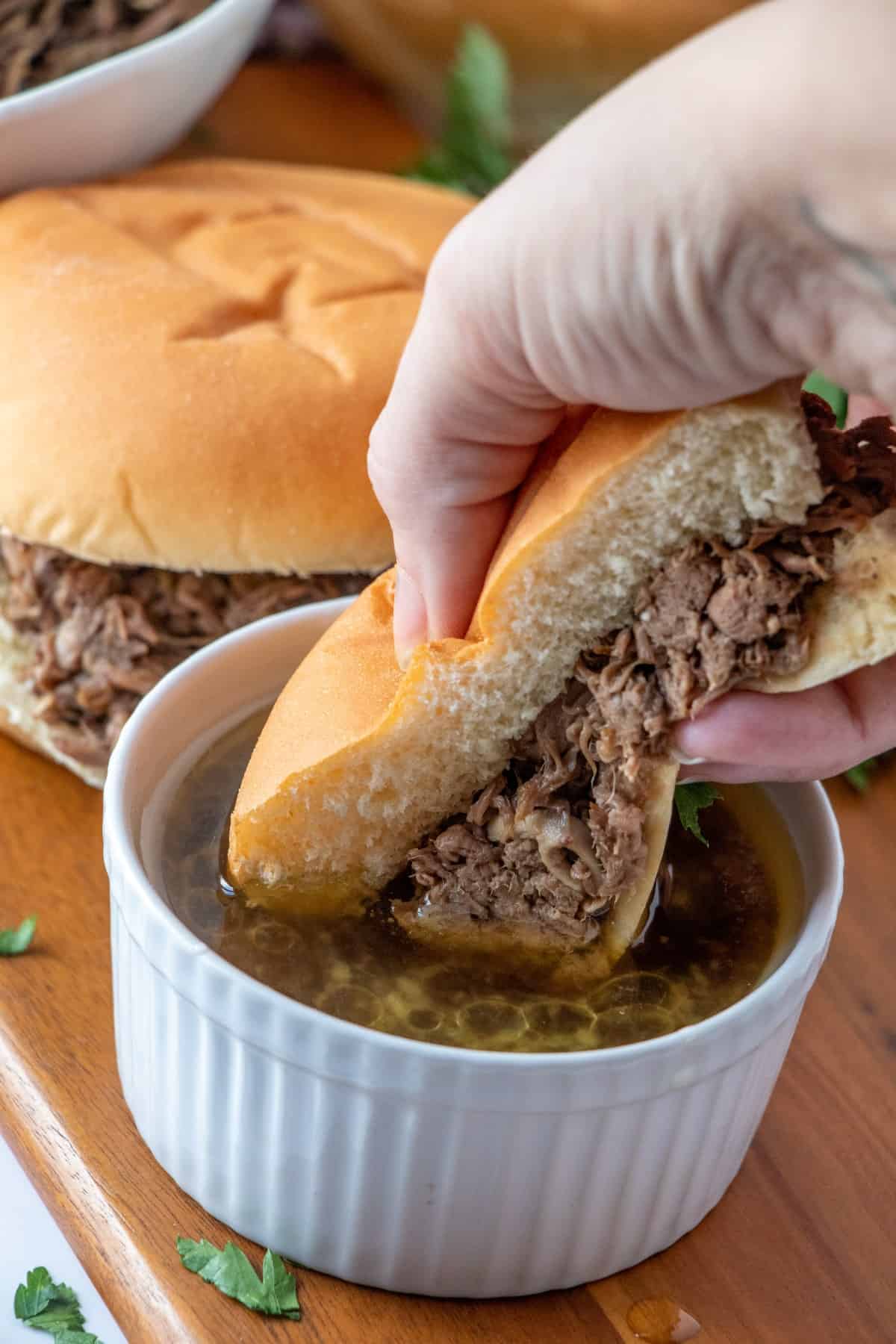 Philippe's restaurant was established in 1908 by a man named Philippe Mathieu in Southern California. He claims to be the creator of the French Dip or French Beef Dip sandwich.
In 1918 he accidentally dropped a bread roll in an au jus filled beef pan and then called the sandwich and his creation a "French Dipped Sandwich" because of his own heritage.
And that is where the sandwich was born and continued until this day to be a very popular choice.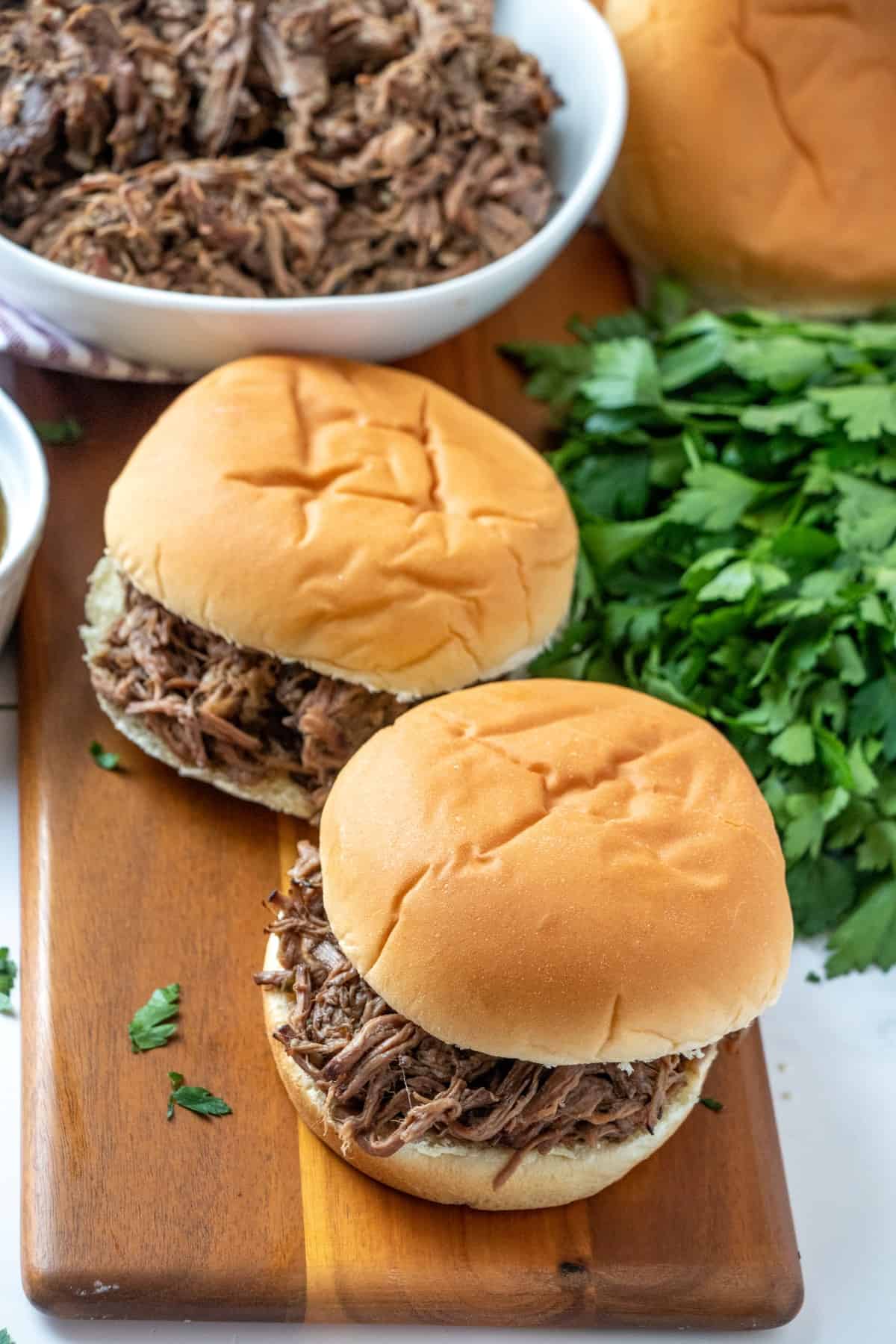 Other Great Slow Cooker Recipes to Try!
The slow cooker or crock pot is an excellent appliance to save you time and energy. Amazing meals can be made if you use the machine correctly. Some recipes require a longer cook up to 8 hours, like the one we have for you today, while others are only 4 hours.
This holds true for chicken dishes like our Butter Chicken where you still want the chicken to hold its shape. I think following those cook time is important to make sure the outcome of the recipe is excellent.
Here are are few of our favorite recipe, some are sides, some mains but all are fantastic and made so easily in the slow cooker! Enjoy!
Healthy Slow Cooker Butter Chicken
Crock Pot Bacon Cheese Ranch Potatoes
Crock Pot Honey Sriracha Chicken
Pin it HERE!!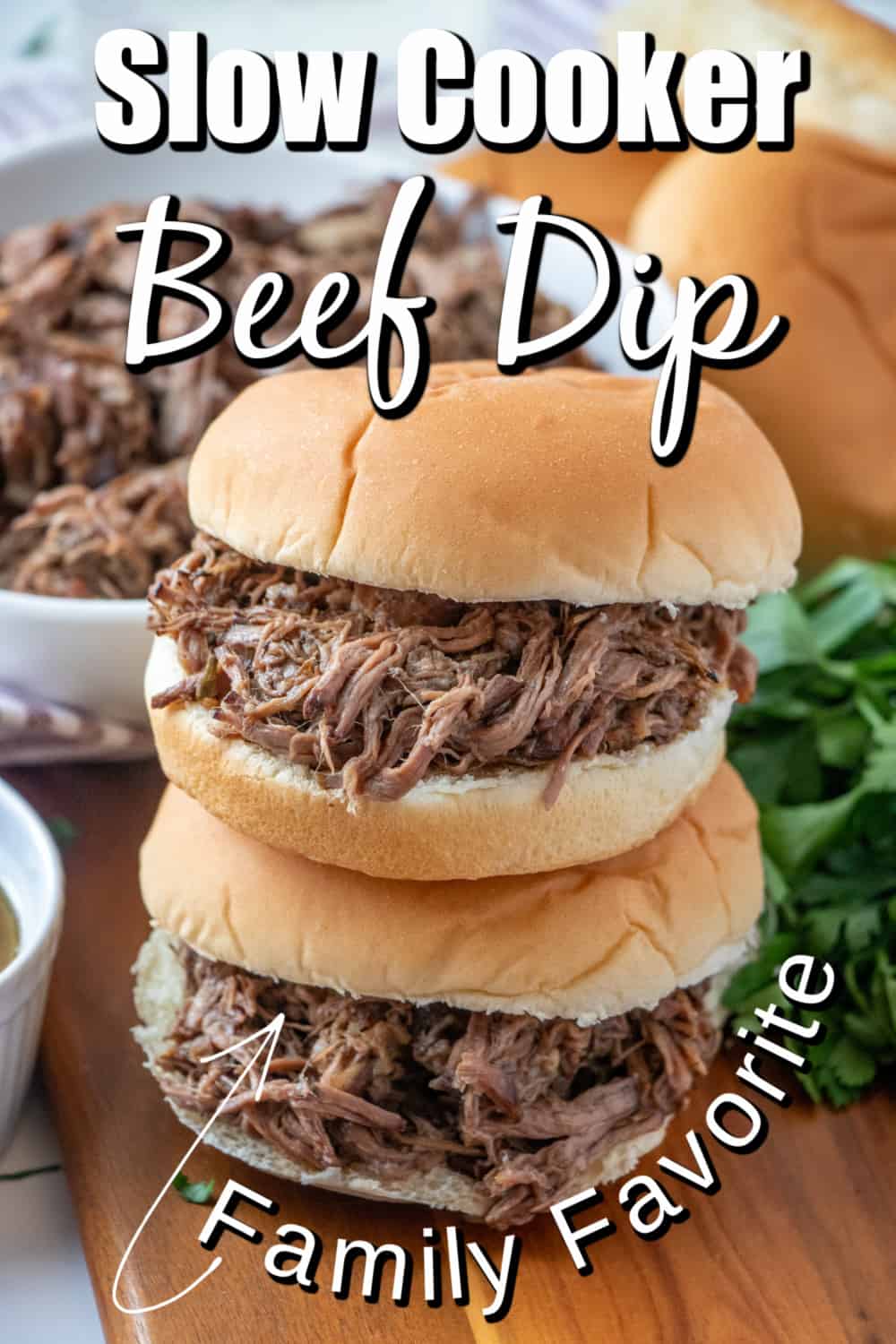 Pin it HERE!!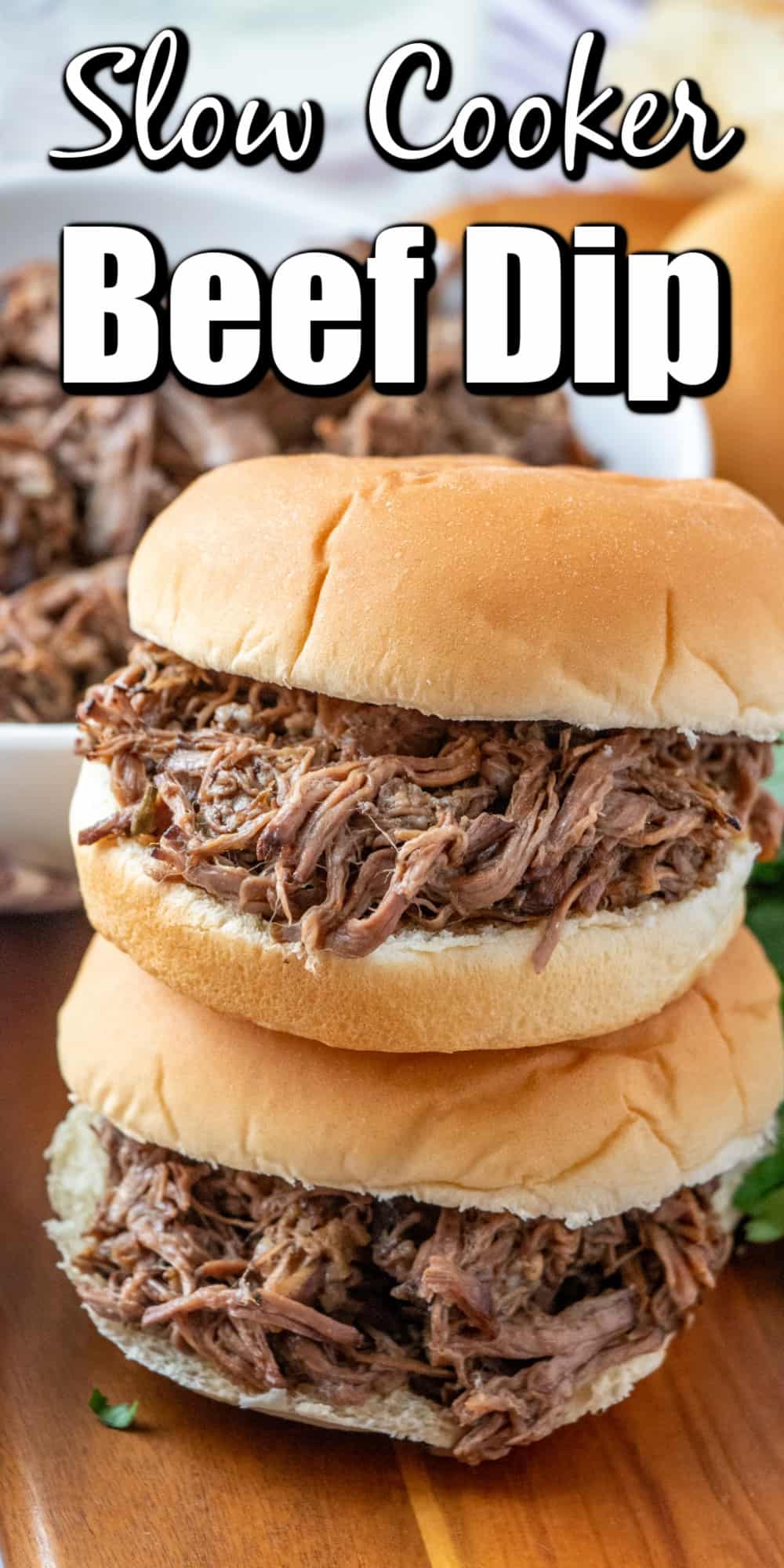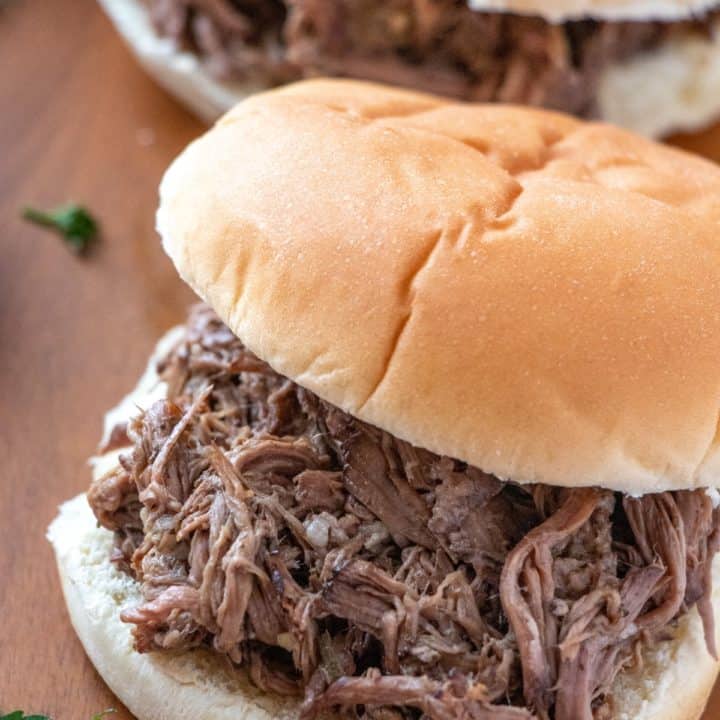 Slow Cooker Beef Dip
Yield: 6
Prep Time: 10 minutes
Cook Time: 8 hours
Total Time: 8 hours 10 minutes
An amazing restaurant quality beef dip made at home in your slow cooker!!
Ingredients
3 lb. beef roast (any inexpensive cut)
1/3 cup sodium-reduced soy sauce
1/4 cup water
1- 10 oz. can beef broth
1 bay leaf
15 peppercorns, whole
1 tsp. rosemary
1 tsp. thyme
4 cloves garlic, minced
6 Ciabatta or Kaiser Buns
Instructions
Place the roast in the slow cooker. Mix together the soy sauce, water, beef broth, bay leaf, peppercorns, rosemary, thyme, and garlic, and pour over top of the roast.
Cover and cook for 7-8 hours on low. I turn the roast once during cooking.
After the roast is cooked, remove and pull the beef apart. Skim off the layer of fat and strain the sauce if you like. You can remove the fat from the meat too before pulling the beef apart.
Serve on fresh buns, or sub buns and serve with the sauce for dipping.
Recommended Products
As an Amazon Associate and member of other affiliate programs, I earn from qualifying purchases.
Nutrition Information:
Yield: 6
Serving Size: 1
Amount Per Serving:
Calories: 817
Total Fat: 45g
Saturated Fat: 18g
Trans Fat: 0g
Unsaturated Fat: 22g
Cholesterol: 272mg
Sodium: 1250mg
Carbohydrates: 24g
Fiber: 3g
Sugar: 2g
Protein: 74g