Healthy Slow Cooker Butter Chicken
We have a daughter that just adores Butter Chicken!! So instead of always going out and paying high restaurant prices I decided to make a Healthy Slow Cooker Butter Chicken at home.
I consider Amber to be a butter chicken aficionado, so when she raved about the dish and said that it was just as good as her favorite restaurants, I knew I had a winner of a recipe.
I wanted to try to keep it healthy too and not add in loads of oil and cream as a traditional recipe has.
I wondered how a light coconut milk would work and it was fantastic. There is loads of flavor from all the spices and the coconut milk and tomato paste pair perfectly.
Plus this recipe could not be any easier. It all went into my gorgeous KitchenAid Multi-Cooker and so very slowly cooked on low to the ultimate dish you see here.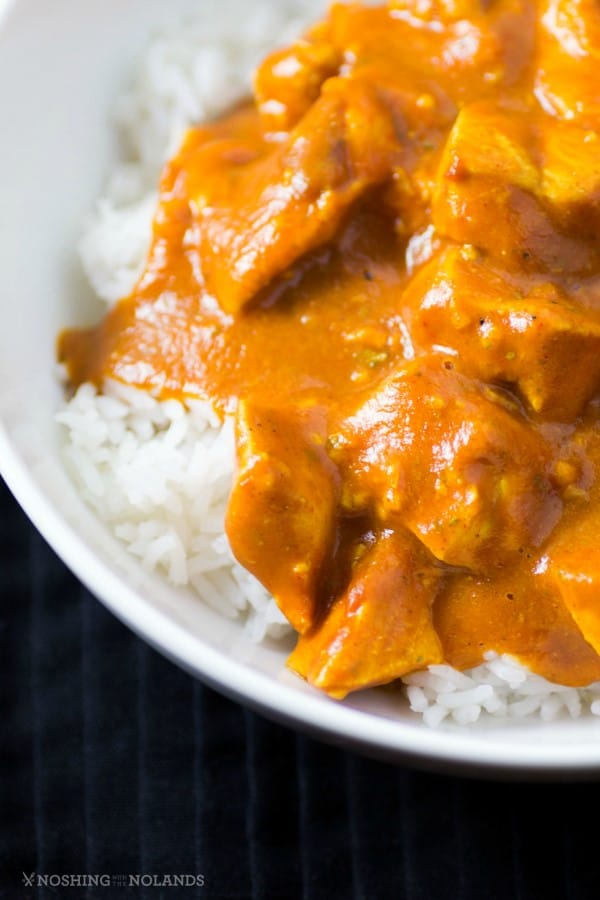 The sauce is perfection, the chicken so perfectly cooked.
I love using my KitchenAid Multi-Cooker.
It cooks at 190F which is really low for slow cooking.
This lets the meat stay together and you don't have the stringy mess that you sometimes see in slow cooked meals.
KitchenAid Multi-Cooker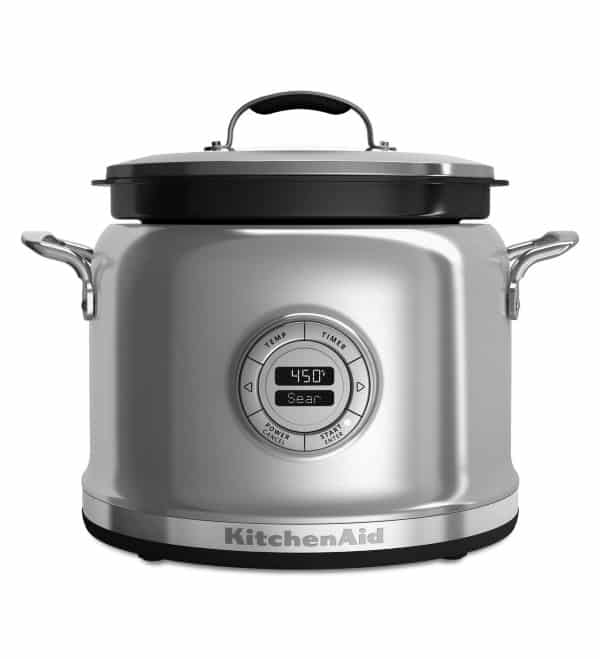 To Purchase This Item
This post contains affiliate links.
Slow cooking is not all this multi-cooker can do.
I did a full review with a delicious Slow Cooker Lasagna Soup, as the machine can also cook risotto, rice, sear, sauté, simmer, make soup, yogurt , boil/steam, slow cook high and low, and keep warm (up to 24 hours).
You can go from morning to night making delicious recipes. I have tried almost all of the settings as we have this multi-cooker in use all the time.
Can't say enough about the wonderful value of such a great machine.
You now can get rid of all the other machines and keep just one, this amazing KitchenAid Multi-Cooker.
The sear setting alone makes my life so much easier. If any recipe calls for you to cook something ahead of time you can in this wonderful machine, less dishes, less mess, perfection!!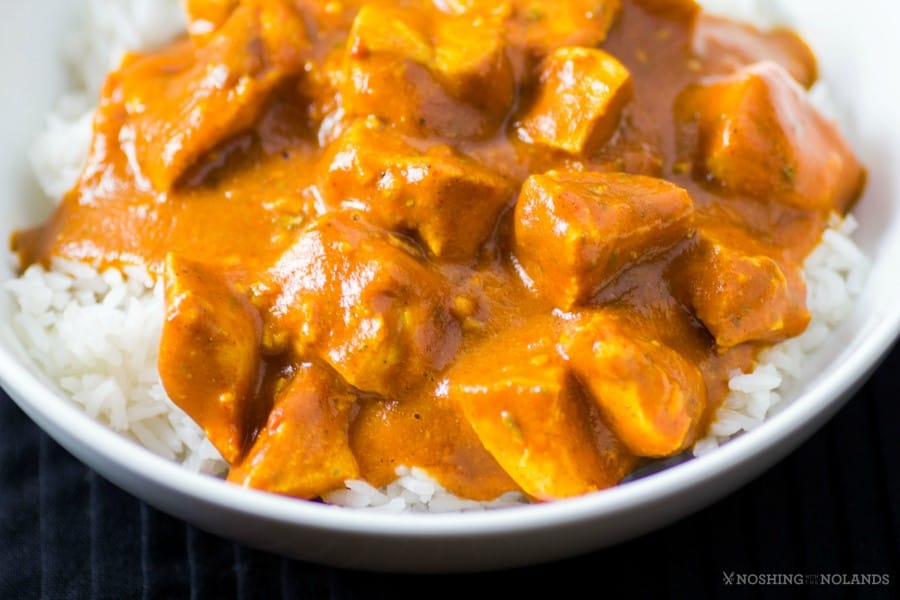 The wonderful spices of Indian flavors this dish superbly. We added in tumeric, cumin, garam masala, cayenne, coriander,and paprika, plus lots of garlic.
It was a perfect butter chicken and one that you will want to be sharing with your family too.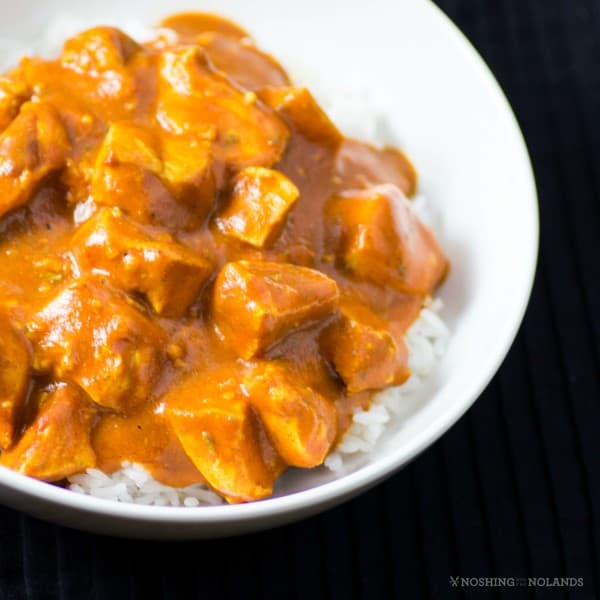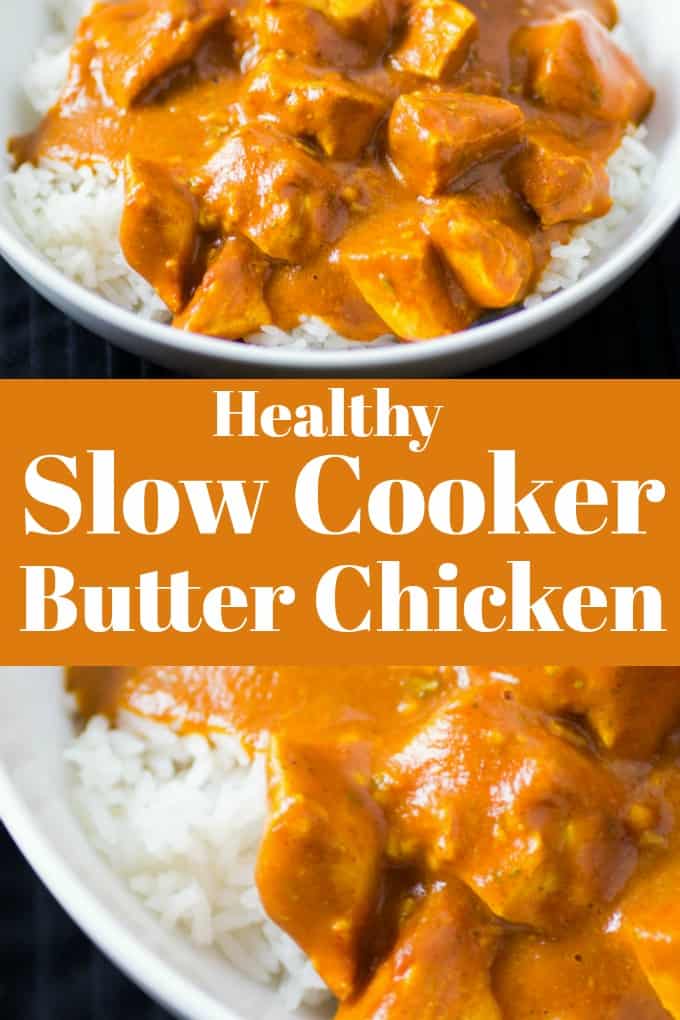 The Recipe
Healthy Slow Cooker Butter Chicken
Stop the expensive meals at restaurants to get the wonderful flavors of Butter Chicken, now you can easily make it at home in your slow cooker.
Ingredients
1 Tbsp. olive oil
9 cloves garlic, crushed
1 (14 oz.) can light coconut milk
1 (6 oz.) can tomato paste
2 Tbsp. flour
2 tsp. garam masala
½ tsp. cayenne, or to taste
1 tsp. dried coriander
1 Tbsp. paprika
1 tsp. tumeric
1 tsp. cumin
1½ tsp Kosher salt, or to taste
Freshly ground pepper to taste
2 lbs. boneness, skinless chicken breasts, cut into 1 inch pieces.
Instructions
Heat the oil in the multi cooker (or a saucepan) on sear. Add the garlic and cook contiuously stirring for about 1 min. Stir in coconut milk, tomato paste, flour, garam masala, cayenne, coriander, paprika, tumeric, cumin, salt and pepper. Stir and cook for about 2 min. until thorougly mixed. Add in salt and pepper. Add in chicken, stir well. Cover and cook for 5-6 hours on low. Serve over rice and with naan bread if desired.