Kofta (Meatball) Curry
I have a meatball fetish lately! I loved making both the Slow Cooker Turkey Appetizer Jelly Meatballs and Quick Easy Asian Meatballs. Now I am onto making Kofta (Meatball) Curry. This recipe is from a cookbook that I was recently given to review from the ever so lovely Karen Anderson. She has poured all her hard work into A Spicy Touch by Noorbanu Nimji and Karen Anderson. A cookbook that is full of family favourites from Noorbanu Nimji's Kitchen.
Yup, I went straight to the meatball recipe. I love that so many cuisines encompass the tiny culinary sphere. Meatballs take on whatever sauce you are adding them too! A tiny blank canvas that can have additions added to it and so many ways to change the sauce, it is really endless.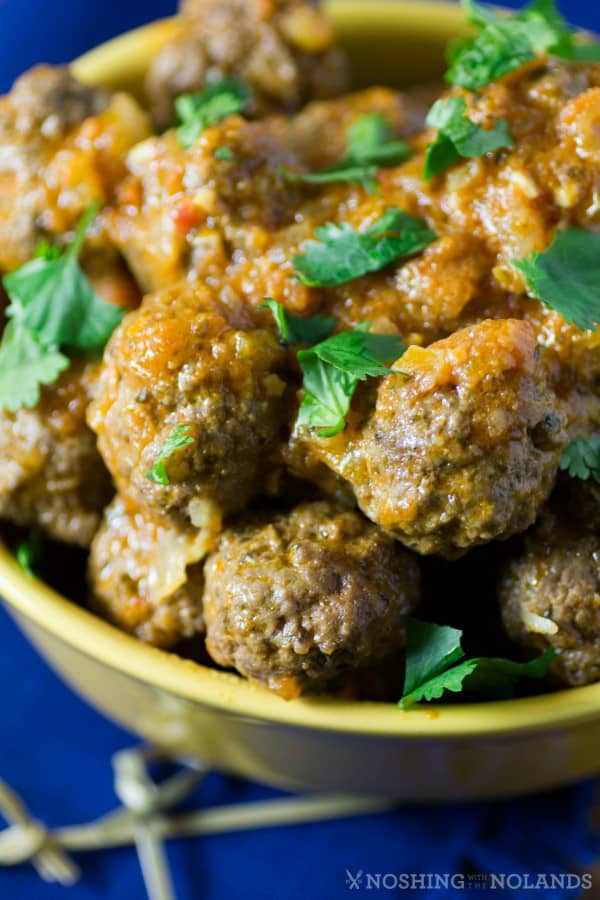 This recipe I loved, as the meatballs are not cooked ahead of time but actually in the sauce. Not only is this way easier but it also renders a very tender meatball and the sauce can easily penetrate right into the meat, delightful.
A Spicy Touch Cookbook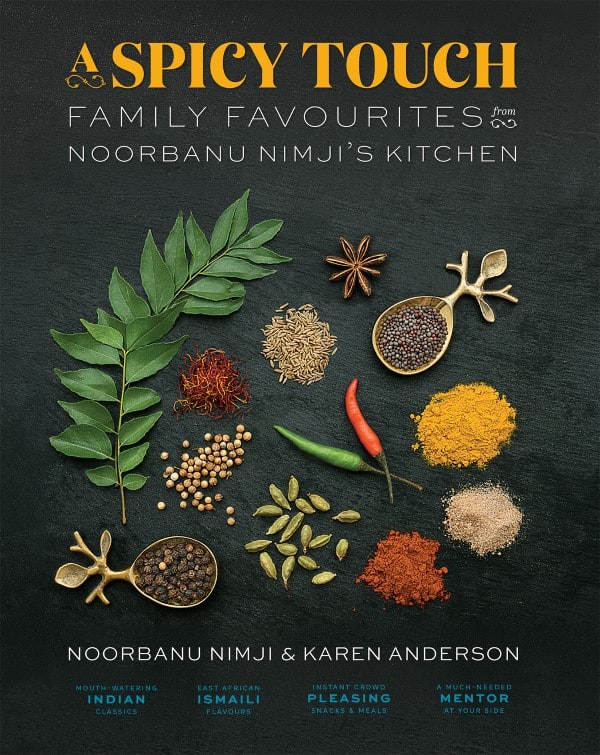 This cookbook is not just recipes but education into the world of Indian cuisine. A fascinating journey to Noorbanu Nimji's kitchen! A collection of her favorite recipes and enlightenment to the wonderful ingredients she uses to magically create her dishes. The book is a "best of", a collection of sixty years of cooking.
This cookbook will teach you how to make a safe passage to the world of Indian cooking. One that I admit I only dabble in. For Indian cooking along with other cuisines, you need a well-stocked kitchen. Luckily, I had that covered, the spices and herbs we have already for the most part and they are used frequently.
The cookbook is an exceptional hardcover with stunning photography and glorious recipes to match. It will be the only Indian cookbook you will need, it has it all covered here.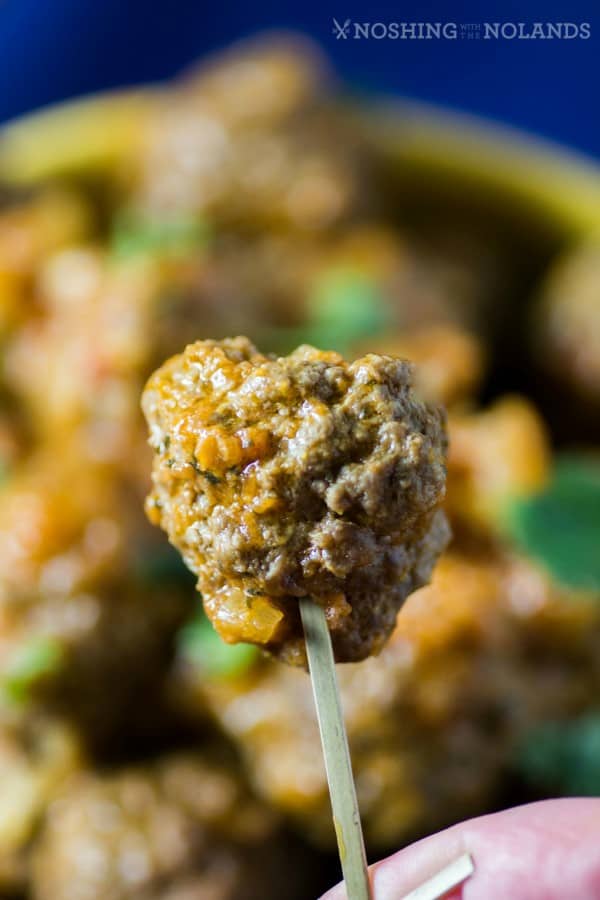 I have to admit that taking these photos were difficult for the sheer drool factor I had going on. I had to nip one, two then three of the Kofta Curry to keep myself sated!! They are wonderfully flavored with lots of earthy Indian spices. Don't let the list of ingredients scare you off, the meatballs come together very quickly.
Recipes from A Spicy Touch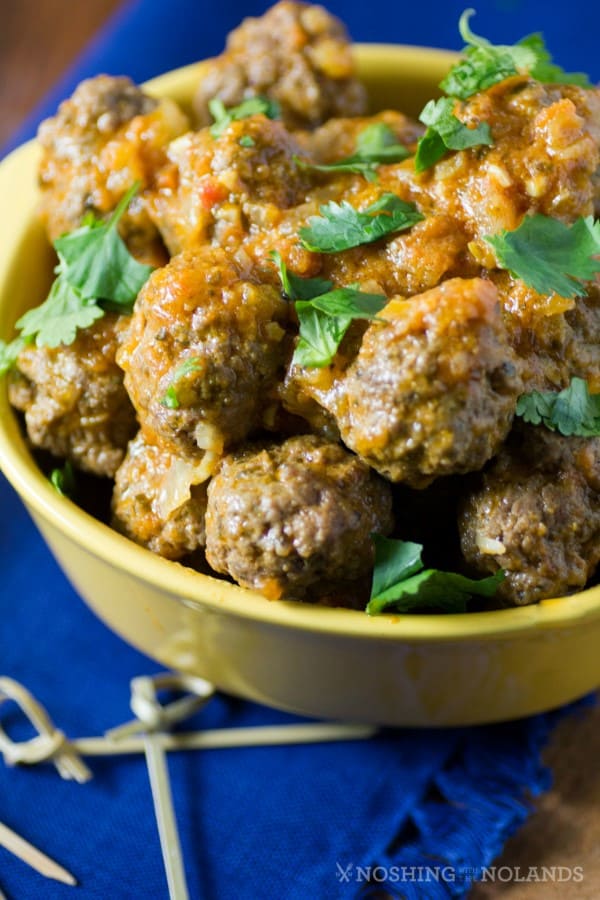 The cookbook has many recipes that I can't wait to try like Bhajia (Mixed Vegetable Pakoras), Coconut Prawns, step by step Samosas, Coconut Chutney and Lemon Chutney. I adore chutney and these recipes are from the first few pages only. Noorbanu and Karen then dive into mains like Lamb Masala, Butter Chicken, Karai Chicken, and Spiced Up Fish Cakes.
Next, we are onto grilling with dishes like Tandoori Chicken, Grilled Steak with Avocado Tomato and Corriander Salas and Barbecued Corn with Cumin-scented Butter. Vegetables come into play with recipes like Potato Curry, Spicy Coconut Green Beans and Matar Paneer, (Peas and Cheese). The awesomeness continues in sections on Dal, Rice, Breads, Drinks, Desserts and more.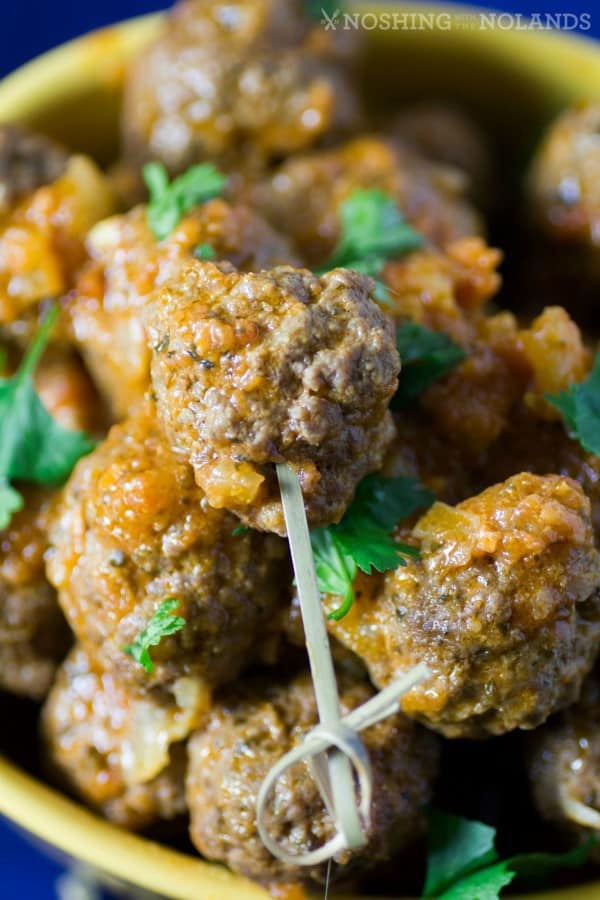 About the authors:
Noorbanu Nimji is a cookbook author, A Spicy Touch is her fourth installment in this cookbook series. Noorbanu was born and lived in Nairobi, Kenya with roots from Gugarat, India. She moved to Canada in the 1970's.
Karen Anderson is founder, owner, and operator of Calgary Food Tours Inc. She is a columnist with CBC and Calgary's City Palate magazine. Annually Karen leads a culinary and cultural tour to India. This is her first cookbook.
Photographer:
Pauli-Ann Carriere is a photographer and entrepreneur who resides in Vancouver, B.C. Pauli-Ann travels annually with Karen Anderson to India where she is greatly inspired to capture the culture of the people, places, colours, texture, and light. She also is a featured artist with Provide Home in Vancouver.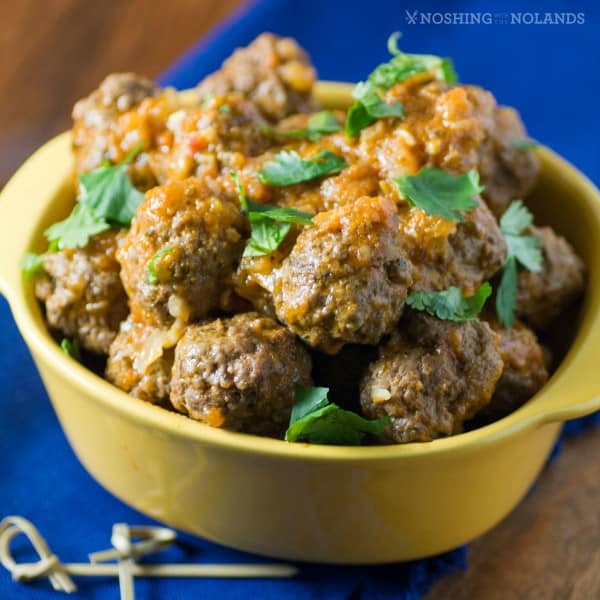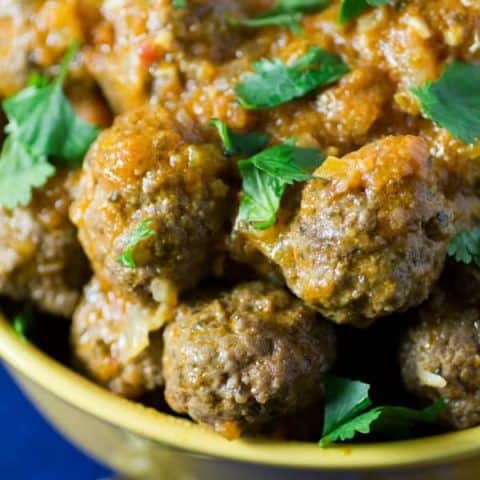 Kofta (Meatball) Curry
Yield: 3-4 servings
Prep Time: 15 minutes
Cook Time: 55 minutes
Total Time: 1 hour 10 minutes
Everyone loves meatballs and these spice-filled delicacies disappeared quickly during our photo shoot for the book. They are as delicious as they look.
Ingredients
For the Meatballs
1 lb lean ground beef
½ teaspoon Garlic Paste
½ teaspoon Ginger Paste
½ teaspoon Green Chilli Paste
½ teaspoon salt – or to taste
½ teaspoon ground cumin
1 Tablespoon finely cut coriander leaves
¼ teaspoon Garam Masala
1 slice bread, soaked then squeezed
1 Tablespoon onion, grated (optional)
For the Sauce
2 Tablespoons olive oil
½ cup chopped onion
½ cup canned crushed tomato
½ teaspoon Garlic Paste
½ teaspoon Ginger Paste
½ teaspoon Sambal Oelek
½ teaspoon ground cumin
¼ teaspoon turmeric
½ teaspoon ground coriander
½ teaspoon salt, or to taste
1 Tablespoon yogurt
1 cup water
1 Tablespoon finely cut coriander leaves
Instructions
Combine the ground beef, garlic, ginger and chilli pastes, salt, cumin, coriander leaves, Garam Masala, bread and onion until mixed thoroughly and then shape into balls the size of a walnut (about 24). Place in the refrigerator until needed.
Heat the oil in a saucepan on medium heat, add the onion and cook until golden brown.
Stir in the tomato, garlic and ginger pastes, Sambal Oelek, cumin, turmeric, coriander, salt and yogurt and cook for 3 to 4 minutes.
Add the water and bring to a boil.
Gently add the meatballs and cook, without stirring for about 10 to 15 minutes.
Lower the heat and simmer for another 10 minutes.
Enjoy hot garnished with coriander leaves and accompanied by Parotha or Rotli or rice, pickles, salads and yogurt.
Nutrition Information:
Yield: 4
Serving Size: 1
Amount Per Serving:
Calories: 475
Total Fat: 29g
Saturated Fat: 9g
Trans Fat: 1g
Unsaturated Fat: 17g
Cholesterol: 121mg
Sodium: 1113mg
Carbohydrates: 15g
Fiber: 3g
Sugar: 6g
Protein: 39g
Recipe calculation was provided by Nutritionix and is an estimation only. If you need nutritional calculations for medical reasons, please use a source that you trust.