Quick Easy Asian Meatballs
I am with Pulo Cuisine today bringing you delicious Quick Easy Asian Meatballs. Gather the family around the table as everyone is going to love this recipe. Kids adore little meatballs and mom is going to love how easy these are to pull together with the awesome Lemongrass Atsuete Marinade from Pulo Cuisine. The meatballs have a quick cook in the oven and then tossed in Pulo's wonderful sauce. Your whole family will be asking for these again and again.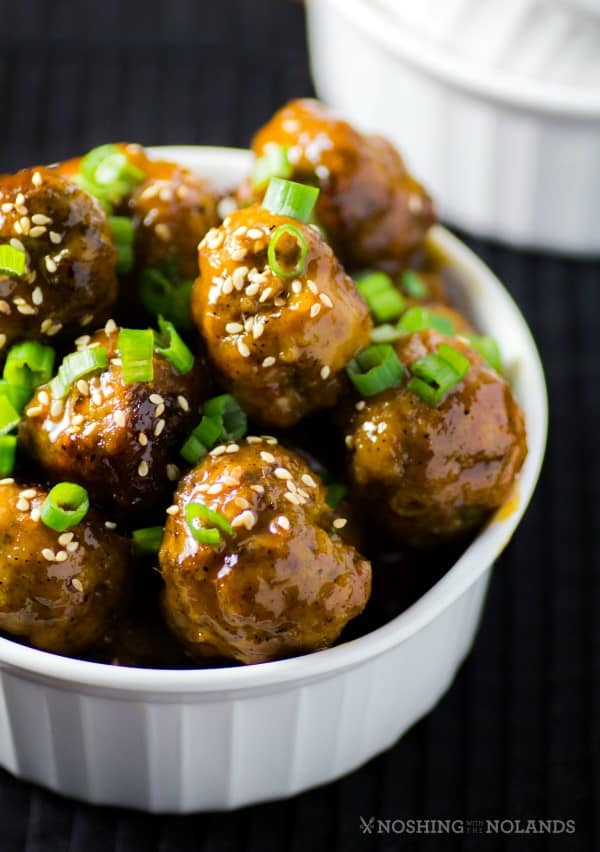 Serve up these delicious Quick Easy Asian Meatballs with Pineapple Coconut Rice and a simple veggie for a complete meal. The rice is super easy too!! The Lemongrass Atsuete give the meatballs a mild citrus and peppery flavour that will have you piling these meatballs high!!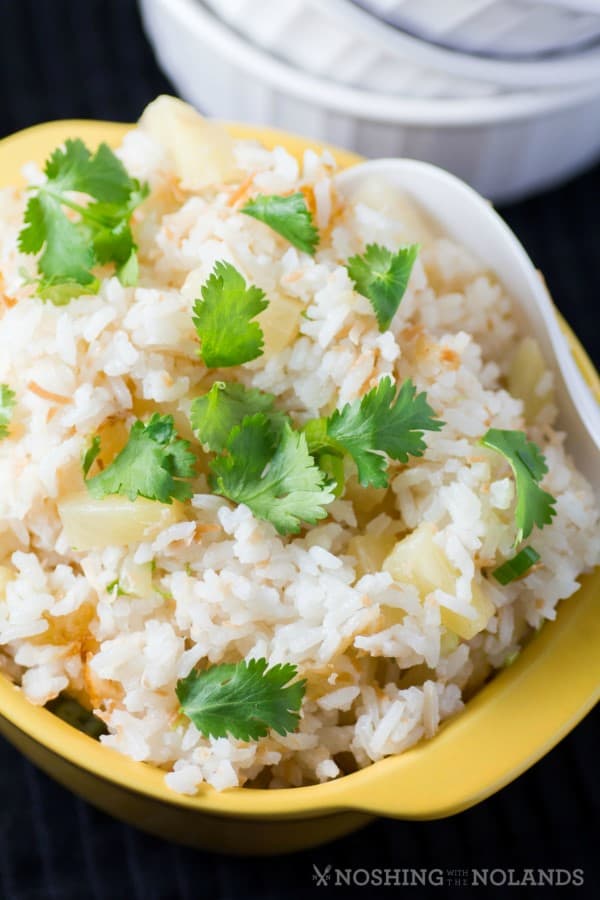 I love using Pulo Cuisine sauces and marinades. They are so quick and easy to use and make a fabulous dinner in a flash. The simple rice pairs perfectly with the meatballs and your kids will be going crazy for this wonderful and easy bright meal, perfect for spring/summer or anytime!!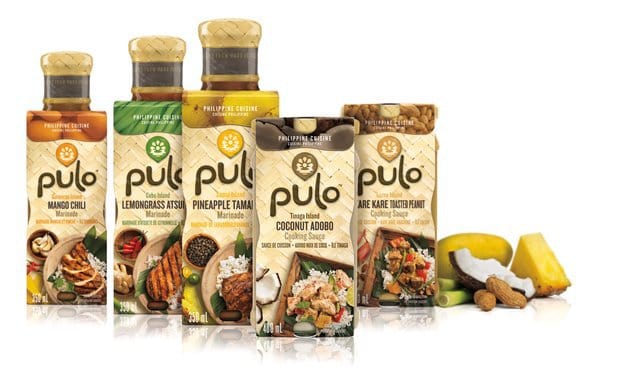 Here is the entire collection of wonderful sauces and marinades. Along with the Lemongrass Atsuete Marinade, that we used here today they have Mango Chili Marinade and Pineapple Tamarind. They also have Coconut Adobo and Kare Kare Toasted Peanut Cooking Sauces. All are wonderful products that make you life so much easier!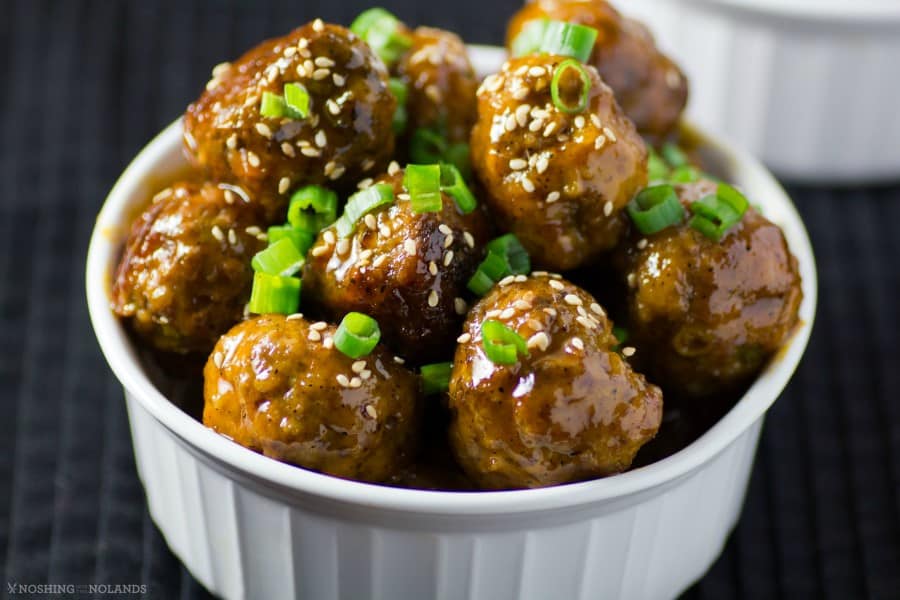 Pulo is an authentic collection of sauces and marinades inspired by the Islands of the Philippines. With over 7000 islands, the country is a dynamic mixture of different cultures: Malay, Chinese, Spanish and Indian. These influences have all contributed to the richness of Philippine cooking –the original fusion cuisine.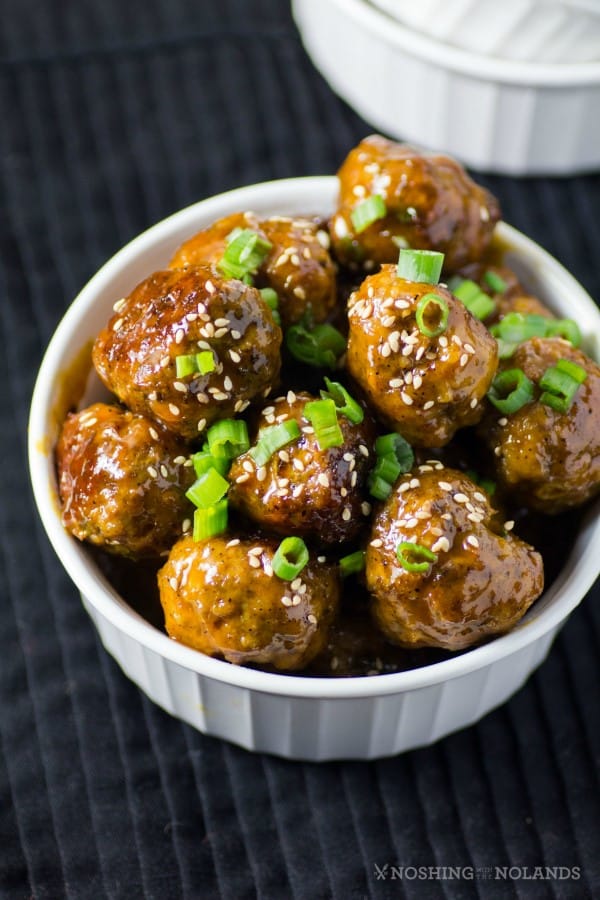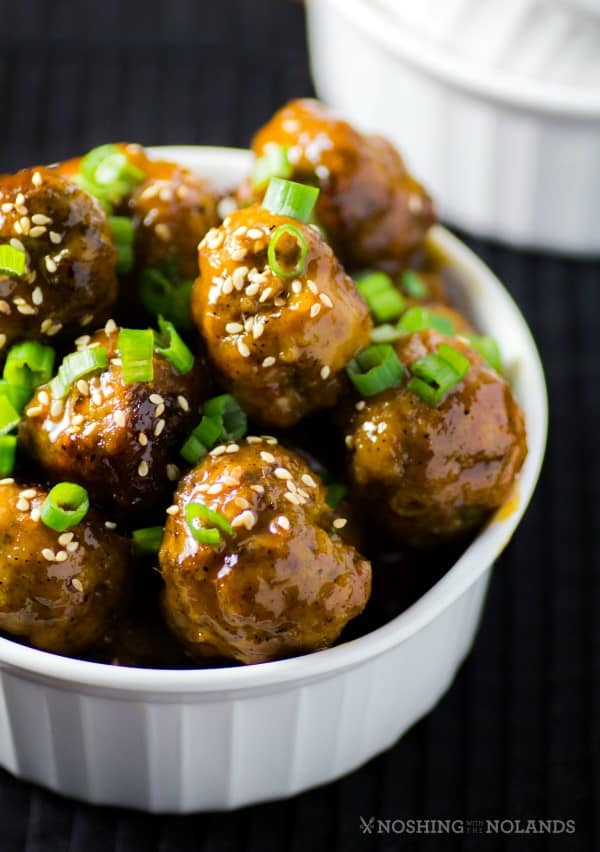 Quick Easy Asian Meatballs
Yield: 40 meatballs
Prep Time: 15 minutes
Cook Time: 25 minutes
Total Time: 40 minutes
You and your family will love these Quick Easy Asian Meatballs that bring you the wonderful flavors of the Philipines to you with Pulo Cuisine.
Ingredients
1 lb. lean ground pork
1 lb. lean ground beef
2 tsp. sesame oil
1 cup Panko crumbs
2 tsp. fresh ginger paste
2 eggs
3 tsp. minced garlic
1/3 cup green onion, chopped
I jar (350 ml.) Pulo Cuisine Lemongrass Atsuete Marinade
Sesame seeds and green onions for garnish
Instructions
Preheat oven to 400F. Mix togethter the pork and beef well. Add in the sesame oil, Panko crumbs, ginger, garlic, eggs and green onions. Roll into 1-1 1/2" meatballs. Place on a greased cookie sheet. Bake for 20-25 min. or until browned and cooked through.
Place meatballs into a large saucepan and pour Pulo Cuisine Lemongrass Atsuete over and gently heat. Serve with the Pineapple Coconut Rice.