Ham and Bean Soup (Crock Pot Recipe)
I love a big ham for the holidays. Not a spiral ham but one with a bone in. Then I get to make a great soup like this Ham and Bean Soup (Crock Pot Recipe). For my last ham we had I divided the ham into three for leftovers and froze them. I kept the bone with some extra meat on it for this soup.
The first recipe we made was this Leftover Ham and Noodle Casserole, yum! Next was this delicious Ham and Bean Soup and lastly we still have some still for a Quiche Lorraine. We also love to make a Yellow Split Pea Soup with Ham too, always a winner.
I love that in the colder months, making homemade soup and just pulling out the crock pot feels very comforting and satisfying.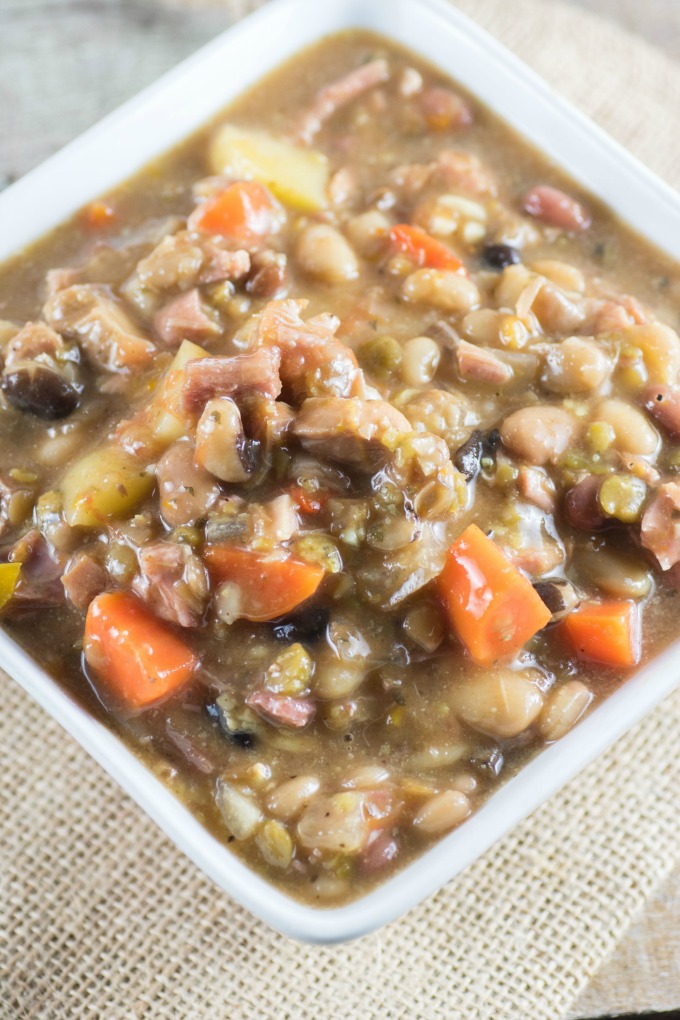 Helpful Items for This Recipe
This post contains affiliate links.
This is a stick-to-your-ribs soup, one that is a whole meal in a bowl. Grab a crusty bun, loaf or cornbread for a little bit of dipping and you have an amazing dinner.
To make this soup really great I added in a 13 bean soup mix that is easily found in your local grocery store.
So easy to use, it just has the beans and no seasoning. Beans like navy beans, black beans, red beans, pinto beans, baby lima beans, large lima beans, garbanzo beans, great northern beans, and kidney beans.
Plus there are also black-eyed peas, yellow split peas, green split peas, and lentils. Beans are high in fibre, low in fat and contain no cholesterol. Win, win, win!! I love beans!!
To take the "gas" out of the beans you must do one of two things. Either soak the beans overnight or for 6 hours.
If you don't have the time or you forgot then rinse the beans well and place in a pot. Cover with three times their volume of water, bring up to a boil, uncovered and then reduce heat to simmer for 2 minutes. Remove from heat and let the beans sit for one hour.
How to Make Bean Soup with a Ham Bone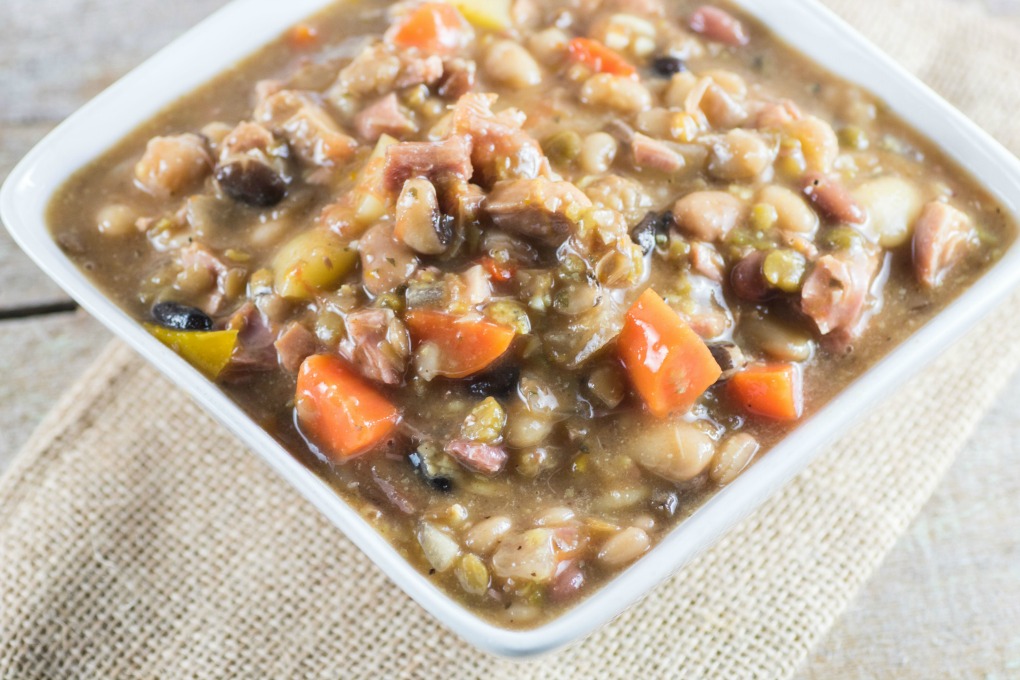 So how do you make bean soup with a ham bone? This is the easy part. Take off any excess meat from the bone and place the bone into your slow cooker. Chop up the extra meat and set aside.
There are lots of added veggies in there too besides the meat and beans, like little potatoes, carrots, peppers, tomatoes, onions and garlic. Add those into the crock pot along with the meat and prepared beans, plus chicken stock, thyme and salt and pepper.
The soup slowly cooks away in the crock pot filling your home with a wonderful aroma. That is just a bonus in making the experience so comforting. After cooking on high for 4 hours or low for 8 hours your wonderful meal is ready.
If you don't have all day this recipe could easily be made in an instant pot or pressure cooker in a fraction of the time. For this recipe though I love the slow cooking and putting it on in the morning to enjoy it later in the day.
Once the beans are tender and the soup is done just remove the ham bone and once it is cool enough remove any meat that is useable on the bone and place it back into the soup. Discard the bone and finish seasoning with salt and pepper and serve.
Ham and Bean Soup Recipe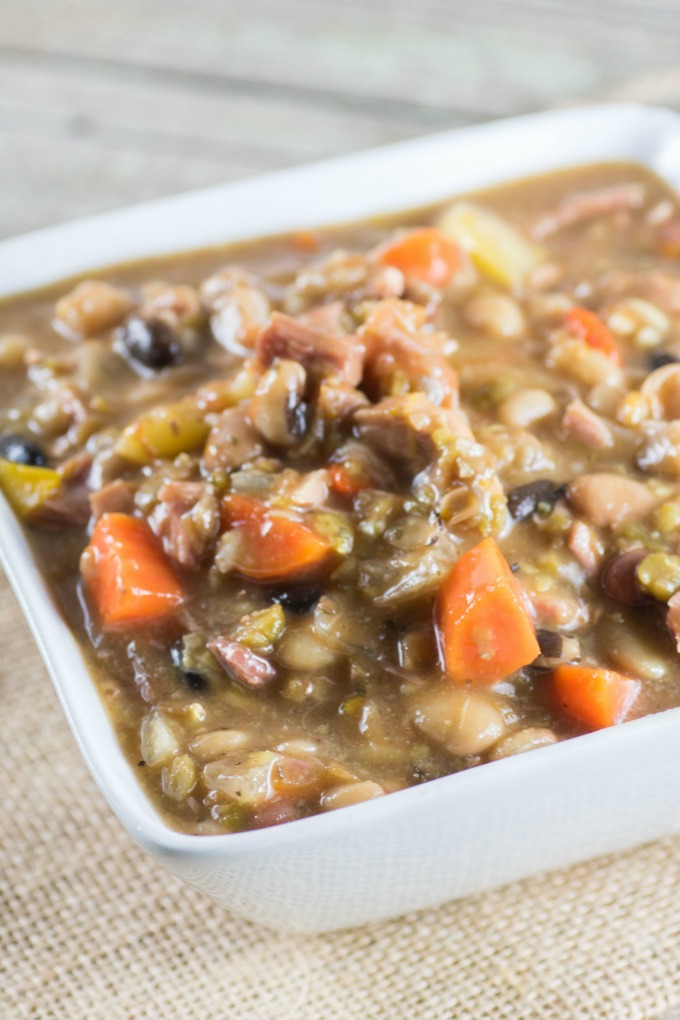 This soup is luscious, filling, full of flavor and you are getting a lot of the flavor from the leftover ham bone! I love recipes that use all your ingredients and you are not wasting anything.
You could also use a smoked ham hock or two if you don't have a whole leftover ham. You will get the true smoky ham flavor from that too.
Making a homemade soup from a ham bone is rewarding, easy, absolutely delicious and something that you will feel good about serving your family.
If you have a ham from the holidays be it Thanksgiving, Christmas or Easter or any occasion for that matter try this soup. It is a great homemade recipe and you will love it.
Have a bit left from the night before? You are in luck as it makes a great portable lunch to take to work too. Your co-workers will be envious of your lunch choice for sure.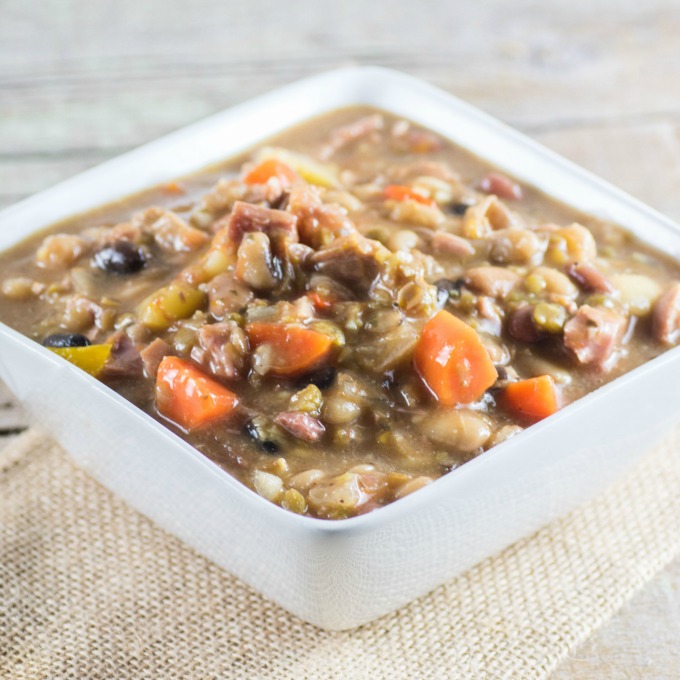 Ham bones freeze very well so don't feel pressured that you have to make it right away. Freeze the bone and extra meat and make the soup on the perfect snowy winter day that you need some comfort.
You can also make the soup your own, add in what you like, what you have on hand. This is where creativeness can shine through, it is easy to do with a soup recipe.
Never made a homemade soup like this before? Give it a try and you will be very happy with the outcome. Enjoy!!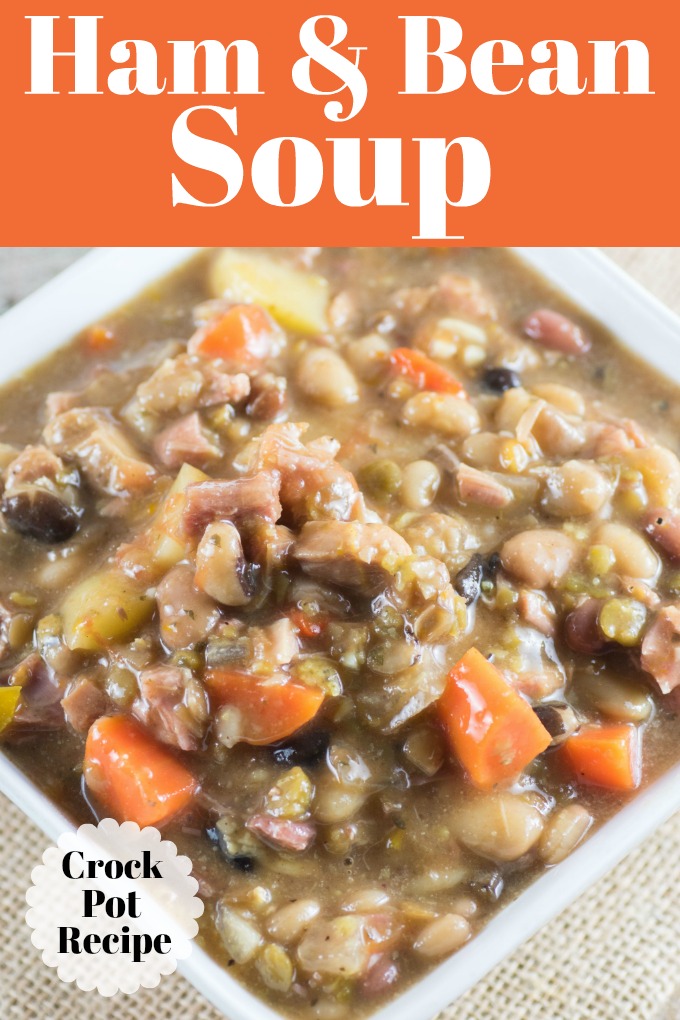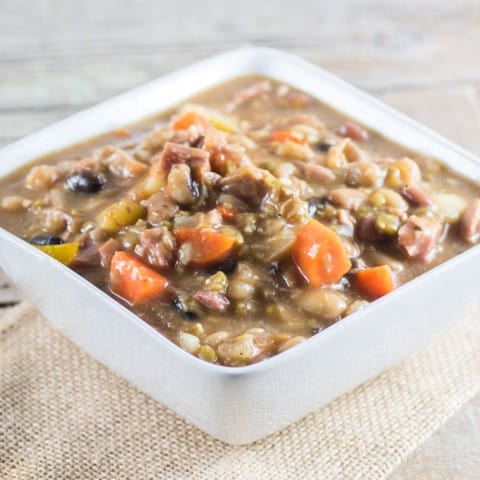 Ham and Bean Soup (Crock Pot Recipe)
Yield: 6-8 servings
Prep Time: 10 minutes
Cook Time: 8 hours
Total Time: 8 hours 10 minutes
This comforting Ham and Bean Soup (Crock Pot Recipe) is perfect on a cold winter night. Save the ham bone from the holidays and place it in the freezer for later use.
Ingredients
1 onion, chopped
2 tsp. garlic, minced
2 large carrots, peeled, quartered and sliced
1 cup little potatoes, diced
1 cup peppers, diced (your choice of color)
1 - 15 oz. can diced tomatoes
1 ham bone or 1-2 smoked ham hocks
1 1/2 cups ham, diced
16 oz. dried bean soup mix (should be just beans, peas, and lentils not seasoning)
8 cups low sodium chicken broth or bouillon
3 sprigs fresh thyme
Salt and pepper to taste
Instructions
Prepare the beans by soaking for at least 6 hours or overnight. For a fast method rinse the beans well and place in a pot. Cover with three times their volume of water, bring up to a boil, uncovered and then reduce heat to simmer for 2 minutes. Remove from heat and let the beans sit for one hour.
Place all the ingredients including the prepared beans into the crock pot. Stir well to combine.
Cook for 4 hours on high or 8 hours on low.
Remove the ham bone and once cool enough to touch take off the excess meat and add back into the soup. Serve with a salad, crusty bun or loaf or cornbread.
Recommended Products
As an Amazon Associate and member of other affiliate programs, I earn from qualifying purchases.
Nutrition Information:
Yield: 8
Serving Size: 6 oz
Amount Per Serving:
Calories: 249
Total Fat: 4.7 gg
Cholesterol: 32.3 mgmg
Sodium: 794 mgmg
Carbohydrates: 36.8gg
Sugar: 6.1gg
Protein: 18.6gg