I have made Tortilla Soup for years but never a Slow Cooker Tortilla Soup. Thought this would be even easier and then ready when we wanted dinner. I love the flavors in this soup, we have always been big Mexican cuisine fans. I don't like this soup spicy hot but nice and mild with the addition of canned green chiles.
You can cool it off with a big dollop of sour cream if you prefer. I have that sometimes but this time I opted to leave it out. Cilantro fan? Sprinkle some on, otherwise omit it. The finishing touches can be your own.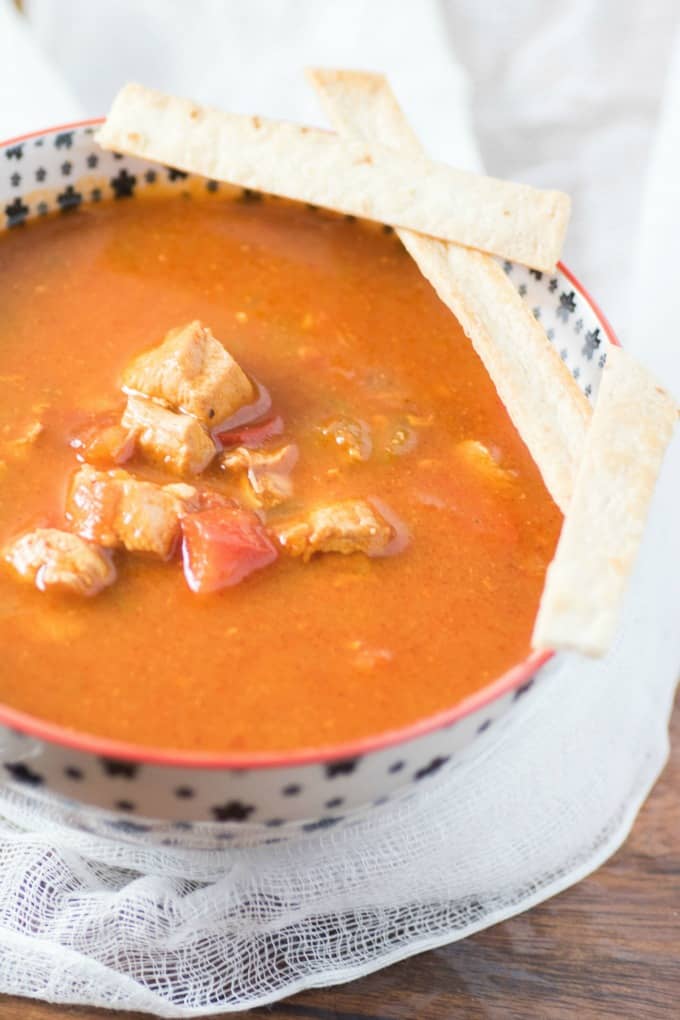 Another favorite of this soup is the crispy tortilla strips. I don't put them in the soup to get soggy but love them crisped up with a light spray of cooking oil and then salt and quickly baked in the oven. Once you discover this you will want to make those all the time.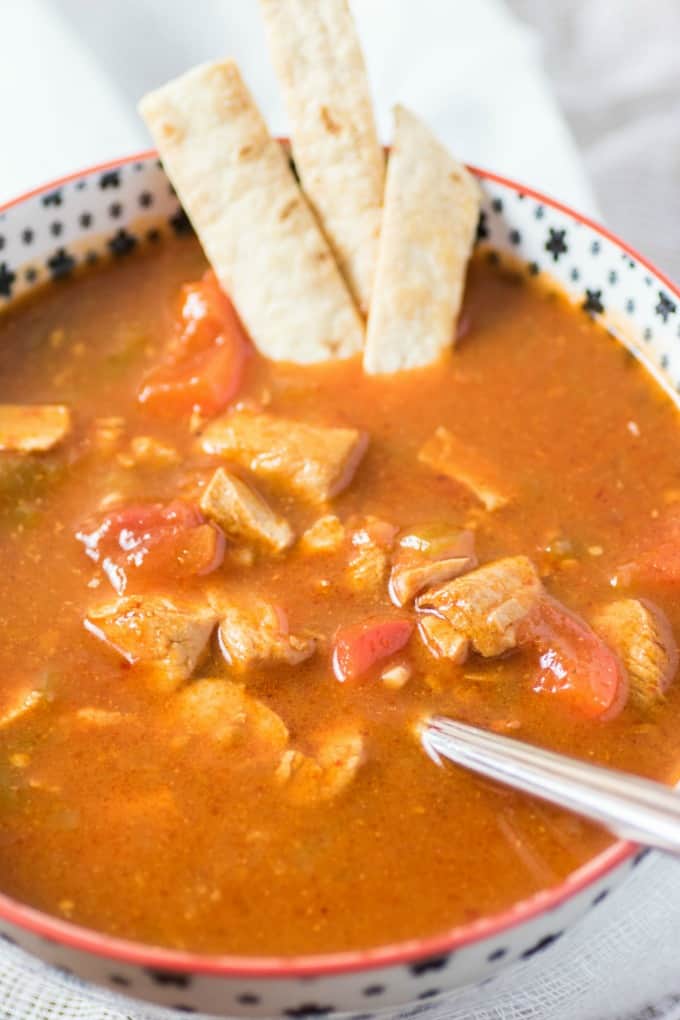 Hearty and fulfilling without being calorie laden is what is so awesome about this soup. It has a gorgeous flavor from cumin, garlic, and chili, plus a healthy dose of bell peppers, onions, and tomatoes. The chicken gives it all the protein that is needed.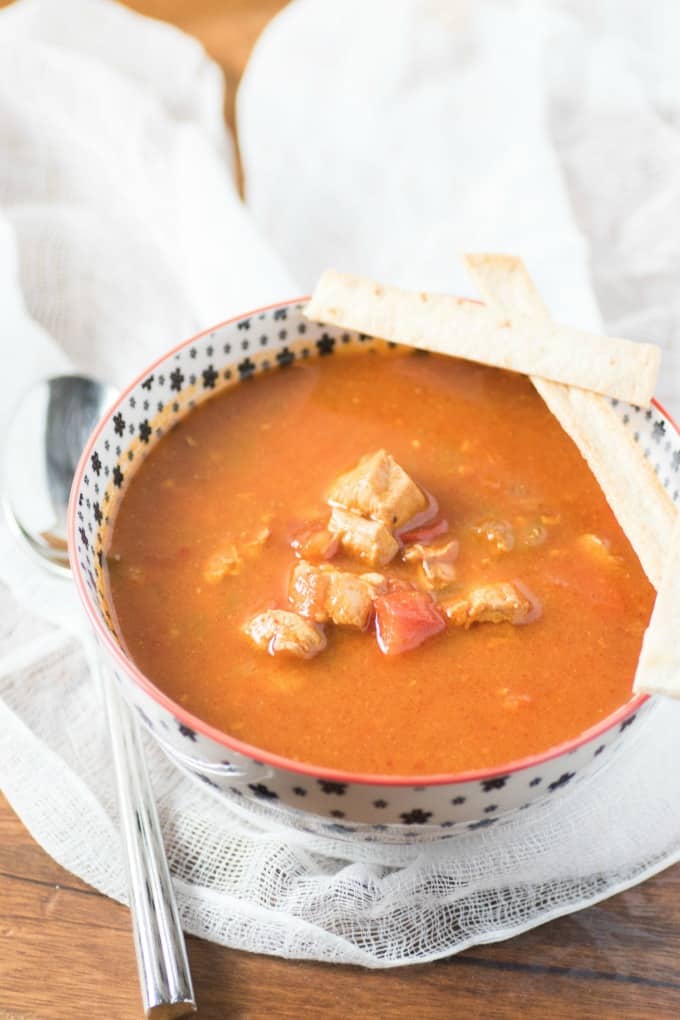 You can get those tortilla strips right into the soup but for me, I love dipping and dipping. The crispness of the tortilla strips has it going on for me!! Try this soup out, you and your family will love it! We sure have every time we have made it, one of our favorite soups hands down.
The Recipe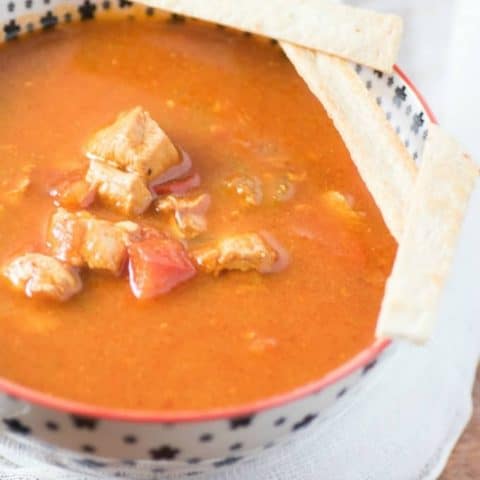 Slow Cooker Tortilla Soup
Yield: 6-8 servings
Prep Time: 20 minutes
Cook Time: 7 hours
Total Time: 7 hours 20 minutes
A delicious and easy Slow Cooker Tortilla Soup that is a hearty and sastifying meal served up with simple tortilla strips for dunking!!
Ingredients
2 Tbsp. canola oil
2 large skinless boneless chicken breasts
1 (4.5 oz.) small can green chiles
1 medium onion, chopped
1 red bell pepper, chopped
1 Tbsp. garlic, minced
1 Tbsp. cumin
1 Tbsp. chili powder
1/8 tsp. cayenne
1 pint (16 oz.) tomatoes
1 (8 oz.) can tomato sauce
900 ml. (3 1/2 cups approx.) low sodium chicken broth
Salt and pepper
Tortillas, flour or corn (I prefer flour)
Cooking spray
Sour cream and cilantro for garnish, optional
Instructions
In a slow cooker with a sear option or alternatively in a saute pan over medium high heat add the oil and saute the chicken until browned. Stir in the green chiles, onion, red pepper and garlic and saute for 5 min.
Transfer the mixture to a slow cooker if needed. Add in the cumin, chili powder, cayenne, chicken broth, tomatoes and tomato sauce. Season with salt and pepper. Cook on low for 6-7 hours or high for 3-4 hours.
Meanwhile preheat oven to 400F. Spray a baking sheet lightly with the cooking oil spray. Arrange tortilla strips onto the baking sheet and lightly spray them with the cooking spray. Bake 10 min. or until lightly browned. Sprinkle lightly with salt. Set aside.
Serve the soup with the crisp tortilla strips and sour cream and cilantro if desired.