Crock Pot Bacon Cheese Ranch Potatoes
Want a recipe that is so easy that a child can make it? Yup, get your kids into the kitchen making these simple yet amazing Crock Pot Bacon Cheese Ranch Potatoes. Not only are they simple but kids will be diving into the Crock Pot to get more and more of these wonderfully cheesy bacon ranch flavored little potatoes.
I used simple ingredients, ones that are readily available and prepared already to make this recipe super easy. Also using foil inside your Crock Pot there is not clean up! Gotta love that. These can be made all year round but would be fantastic with any BBQ meal for the spring/summer months. Kids will find great accomplishment in making this recipe from start to finish.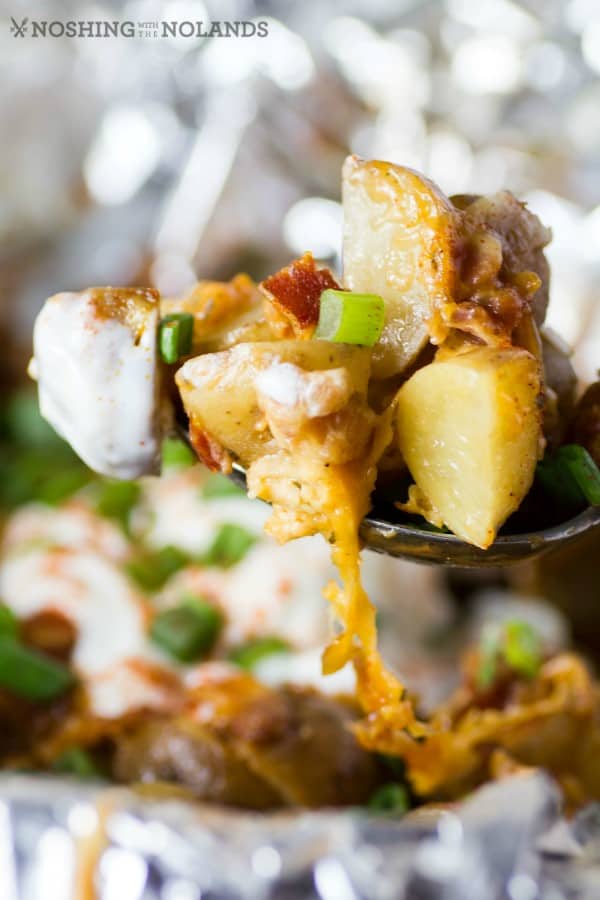 These Crockpot Bacon Cheese Ranch Potatoes cook up with layers of ranch dressing, bacon and cheese all in your slow cooker. Four easy ingredients and then a little garnish with paprika, sour cream and green onions. I got this idea from flipping through a new cookbook called 150 Best Recipes for Cooking in Foil by Marilyn Haugen. They had their packs to cook on a BBQ but I thought you could add more to it and have the ease of a slow cooker. They worked out great!!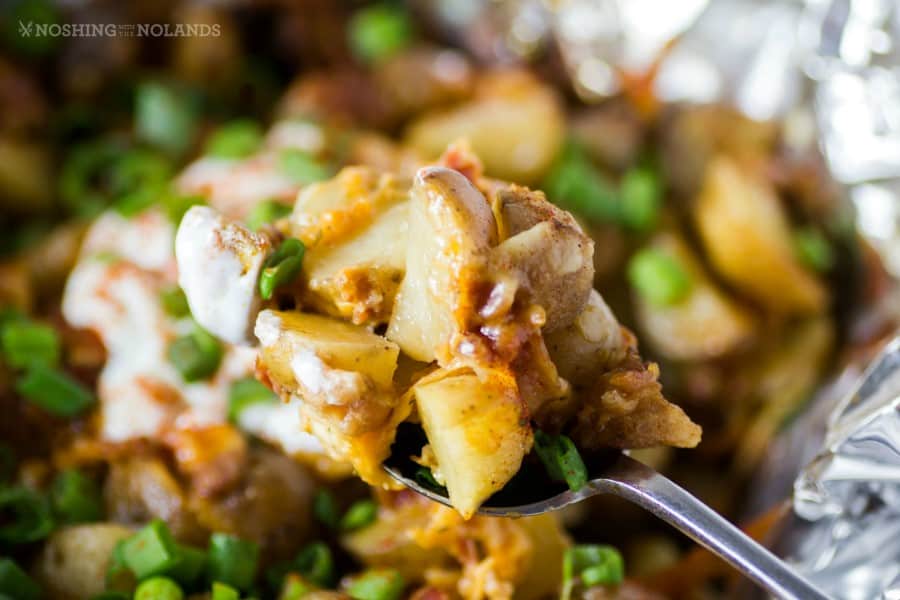 Potatoes in general over the years having been getting a bad rap but they are very nutritional. The Little Potato Company potatoes have more potassium than a banana. Creamers potatoes are naturally fat-free, cholesterol-free, and only 20 calories each. They contain vitamins, minerals, antioxidants, potassium, fiber that provide healthy energy.
These creamer potatoes that The Little Potato Company has, no one else has. They own the exclusive rights to six varieties. They are not new potatoes but full grown potatoes all with unique flavors. They are conveniently packaged, all pre-washed and ready to be cooked. They are small so for a busy family they are perfect as they can be cooked up quickly.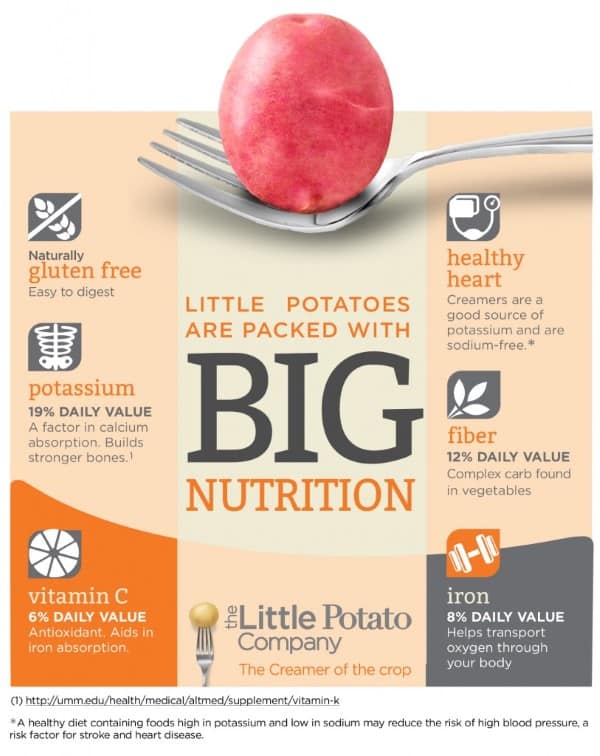 Here is a fantastic video describing the story behind The Little Potato Company. It is a family owned and operated and they are always researching and hunting to find new potatoes to bring to you and your family.
Get your little chefs into the kitchen to help with meals, not only can you have fun but kids then start to recognize ingredients more and are more apt to try new foods if they have some hands on experience.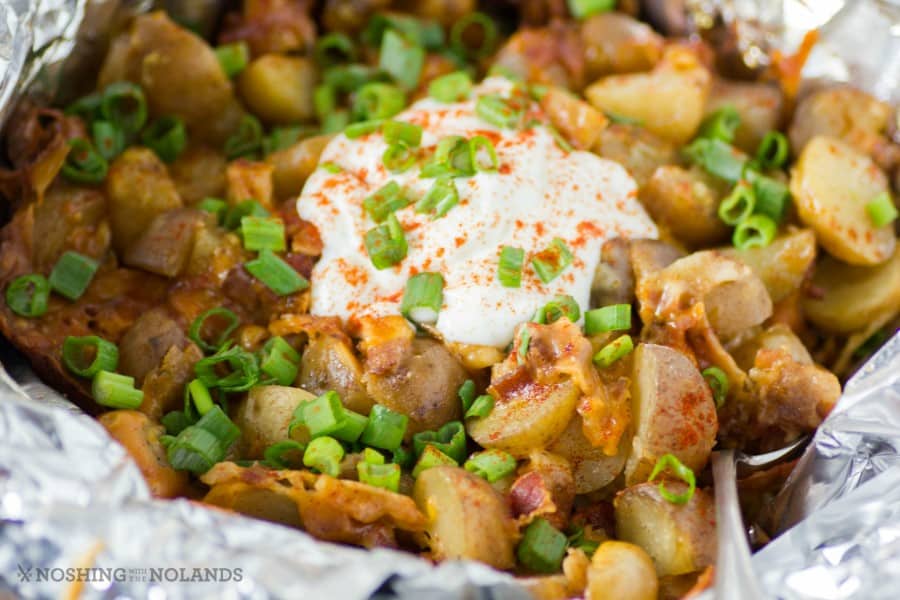 I love working with these little potatoes as the recipes are really endless to create and are never boring. I hope you enjoy this recipe and all of the other wonderful recipes here using The Little Potato Company potatoes we have for you.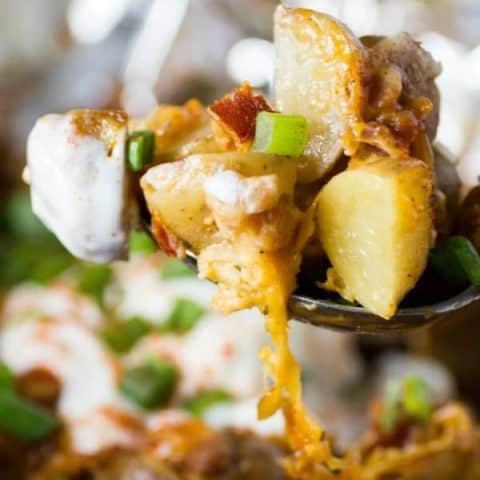 Crock Pot Bacon Cheese Ranch Potatoes
Yield: 8-10 servings
Prep Time: 15 minutes
Cook Time: 6 hours
Total Time: 6 hours 15 minutes
This recipe is child's play and can be made from start to finish by any young chef. It is glorious layers of potatoes, ranch dressing, bacon and cheese, need I say more!!
Ingredients
1.5 lbs. The Little Potato Company Blushing Belles
1.5 lbs. The Little Potato Company Baby Boomers
1 pkg. (3 Tbsp.) dry ranch dressing
12 slices (650 gm.) microwave ready bacon
3 cups grated cheddar cheese (packaged grated cheese works great)
Foil
Garnishes
Paprika
Sour cream
Green onions
Instructions
Line a crock pot with foil. Two sheets are needed to cover the inside of the bowl completely. Have enough to hang over the bowl so you can cover the potatoes completely. Spray with cooking oil.
Cook bacon on paper towels in the microwave according to the package instructions. Let cool and then chop.
Halve or quarter the potatoes and place one third into the bottom of the slow cooker. Sprinkle on 1/3 of the ranch dressing (about 1 Tbsp.). Top with 1/3 of the bacon and then 1/3 of the cheese. Repeat layers twice more. Fold the foil over top and seal.
Cook on low for 5-6 hours until potatoes are fork tender. Lift the foil package out of the slow cooker and place in a bowl. Garnish the top with paprika, green onions and sour cream. Serve immediately.
For this post we have one month of free potatoes to give away to one lucky winner from the US or Canada. The contest is open until April 23, 2016 at 12:00 am. At that time a random winner will be chosen. The winner has 48 hours to respond by email or another winner will be chosen. Good luck everyone!