12 Stocks, Broths and Soup Starters
Do you love to make your own stocks or broths? I sure do and have forever. Here is a great roundup of 12 Stocks, Broths and Soup Starters. All these recipes will come in handy when you need to make your own or you have ingredients just hanging around and not knowing what to do with them.
You know like a big ham bone after Easter, veggies that may have seen a better day, beef bones or chicken/turkey carcass after Christmas or Thanksgiving. Throw them in a big pot or slow cooker and make a gorgeous broth or stock from them, so easy and so healthy too.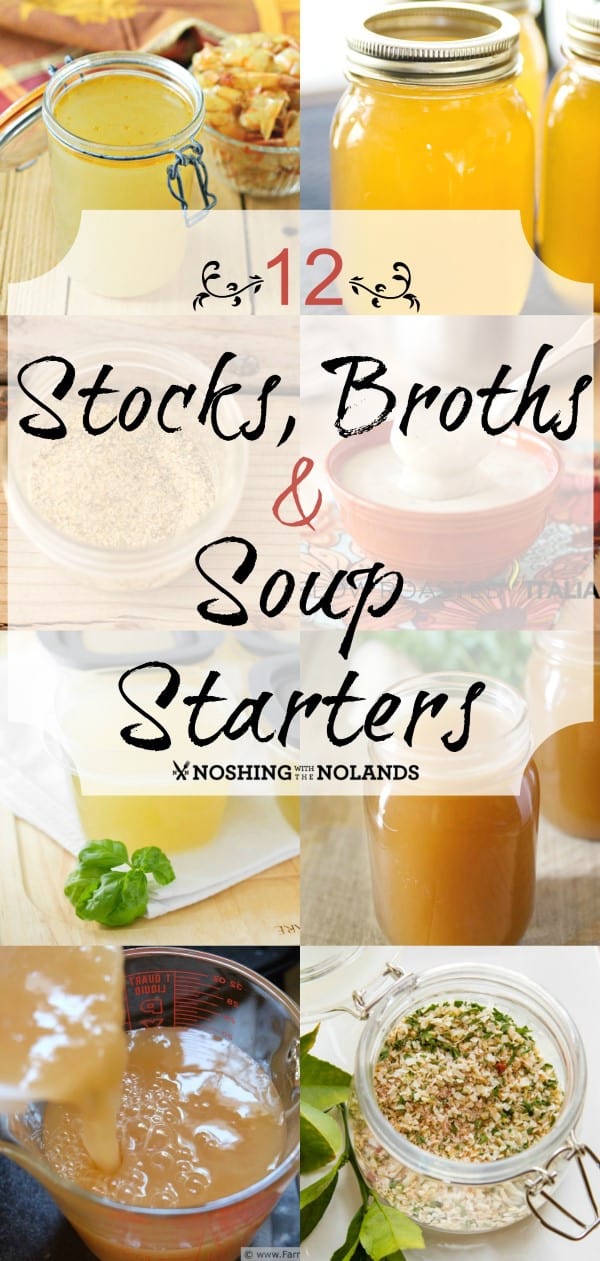 These 12 Stocks, Broths, and Soup Starters will be classic recipes that you will want to refer to again and again. Stock is inexpensive to make especially if it something that you are going to discard anyway. They are also expensive to buy but you can have a freezer full of them. I freeze mine in different sizes so if I only need 1/2 cup for a sauce then I have that available. If I need 4 cups for soup then I have that too.
Fish or shrimp stock is almost impossible to find and makes such a difference when you really need it in a recipe. Check out all of these, we will take you from vegan/vegetarian all the way through the different meats to fantastic starters that can be added to so many recipes. ENJOY!!
How to Make Vegetable Stock by Confessions of an Overworked Mom
Homemade Vegetable Broth by Oh My Veggies
Traditional Fish Stock by Epicurious
Shrimp Stock by Everyday Maven
Overnight Slow Cooker Chicken Stock Noshing With The Nolands
Flu Fighter Chicken Stock by Everyday Maven
Ham Stock by Farm Fresh Feasts
Beef Stock by Culinary Ginger
The Best Beef Stock by Savory Experiments
Homemade Condensed Cream of Chicken Soup by The Roasted Italian
Instant Vegetarian Broth Mix by Life Currents
Homemade Onion Soup Mix by Life Currents