Overnight Slow Cooker Chicken Stock
I love to make homemade chicken stock and I have for years and years. I think it is nothing like your store bought and it really is easy to make. So after watching The Chew and hearing Clinton Kelly always talk about making Overnight Slow Cooker Chicken Stock I decided one evening to give it a whirl. I thought he had such a great idea to put it on overnight and in the morning you just strain, package and freeze. You then have gorgeous homemade chicken stock at the ready for all your soups, sauces and dishes.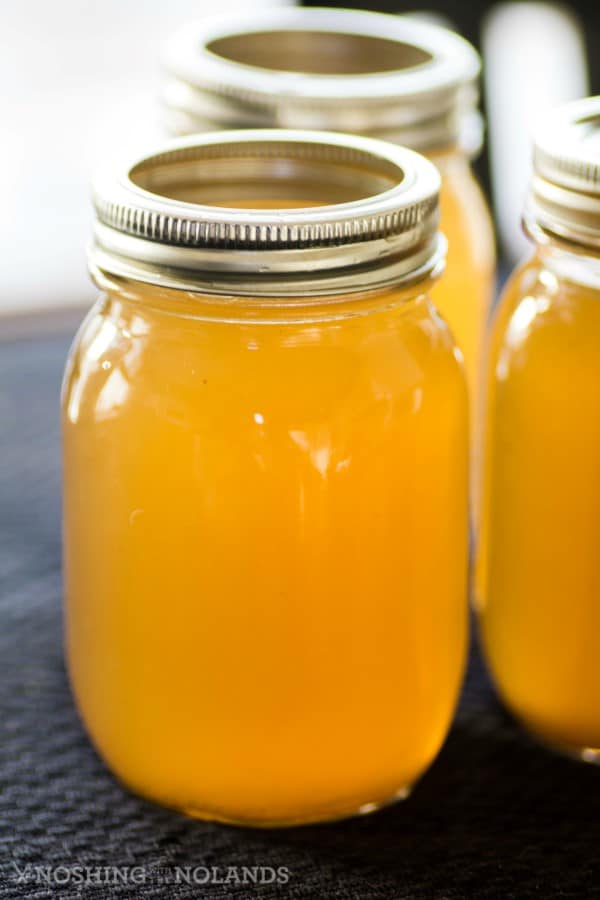 Look at the gorgeous colour of this chicken stock with all natural and healthy ingredients, you know it will taste fantastic. Plus you control the amount of salt that also goes into it. I used rottiserie chicken bones for this stock, so it was even easier to make. After a simple dinner I threw the bones into the slow cooker, along with other ingredients I literally had hanging around. If you don't have a leek, don't fret add more onion, a peeled purple onion does well too. I give them a wash but don't remove the skins on the yellow and white onions. I slice one in half and stud it with cloves. I throw in old, tired parsley or other herbs that have seen a better day. Have a few shallots or whole heads of garlic, everyone is welcome into the pool. Celery, carrots can join the crowd to but after washing, don't peel the carrots or remove the greens on the celery. Just cut them in half and throw them on in. With a few more additions you will have the most gorgeous of chicken stocks and your home will be filled with an amazing aroma from the broth cooking.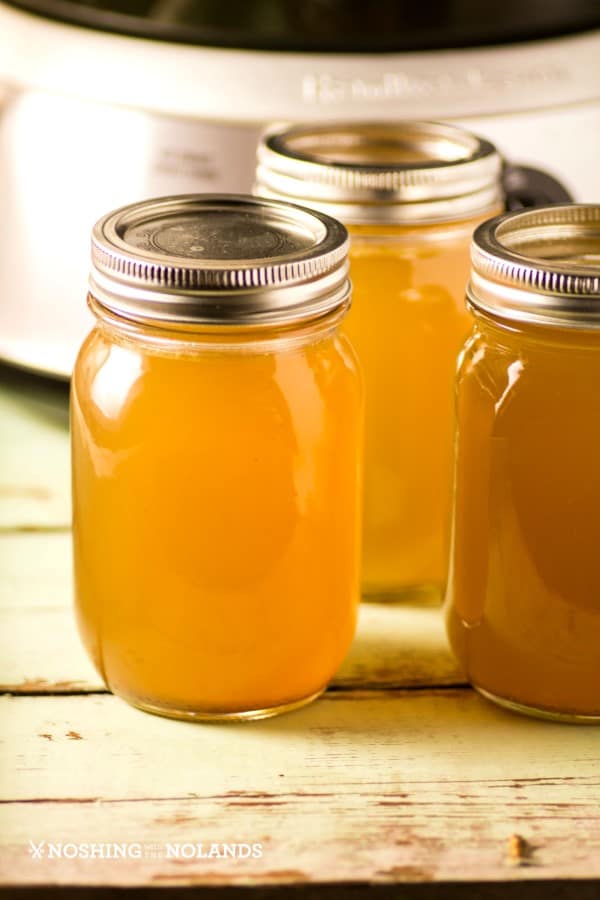 The cost of chicken stock can be very outrageous considering you can easily make this at home with leftover veggies that are hanging around and a store bought rotisserie chicken carcass. Easy, peasy and delightfully good!
Here is a good general recipe for a chicken stock that I have made for years. Don't have all the ingredients? Don't sweat it. Have sweet onion instead of yellow, dried herbs instead of fresh, crushed jarred garlic instead of a whole head, don't worry, through it in as you will be straining it all in the end. Other additions like a parsnip can be a welcome ingredient to. Let the recipe become your own. ENJOY!!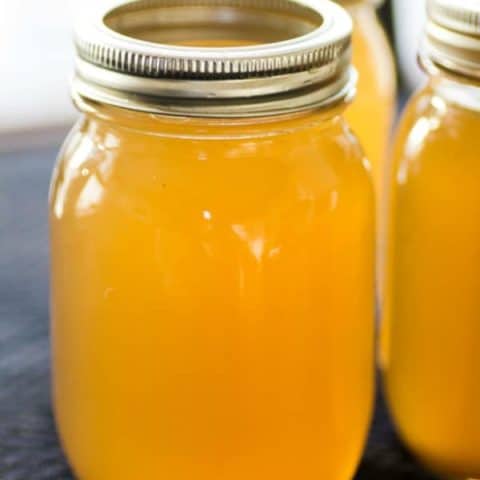 Overnight Slow Cooker Chicken Stock
Prep Time: 20 minutes
Cook Time: 8 hours
Total Time: 8 hours 20 minutes
An easy overnight stock can be made and then frozen, saving you lots of money on store bought broth.
Ingredients
1 chicken carcass
3 whole carrots, washed and unpeeled
1 large yellow onion, washed and unpeeled
6-8 cloves
2 white onions, unpeeled
1 red onion, peeled
2 shallots, unpeeled
1 whole head of garlic, unpeeled
3 stalks of celery, washed and cut in half
3 bay leaves
3 sprigs of fresh thyme tied together
15-20 black peppercorns
Large bunch of parsley
Water to fill
Instructions
Place carcass in the slow cooker. Add in the carrots. Slice the yellow onion in half and stud the onion on the cut side with the cloves. Add in the white onion, red onioin, shallots, whole head of garlic, celery, bay leaves, thyme, peppercorns and parsley. Fill the slow cooker to desired level usually more than 3/4 full.
Set on low and cook overnight for at least 8 hours. Let cool enough to work with, strain and package in desired amounts. I usually do 2 cups, 1 cup and 1/2 cup containers and then freeze.