Corned Beef and Cabbage Soup
St. Patrick's Day is coming up fast and I thought I would share this gorgeous yet healthier dish, Corned Beef and Cabbage Soup. This is a great way to still enjoy the decadence of a delicious Irish meal with fewer calories and yet all the goodness. This makes a big pot so I already have enough again to share for my St. Patrick's Day.
My family is big lovers of corned beef and cabbage and we always wonder why we only have it once a year. It is so good, with this recipe you can enjoy it many more times as it is lightened up and a lovely healthier version of your traditional meal. We always have our cabbage done in butter and cream or roasted cabbage which are divine!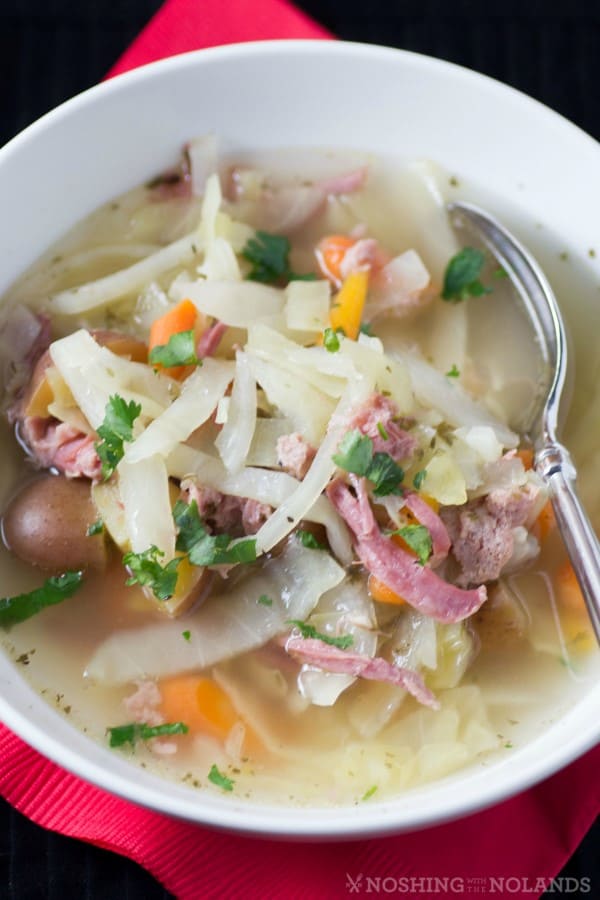 In this recipe I wanted to add in wonderful Creamer potatoes, I actually don't buy any other potatoes now or very little. Little Potato Company's potatoes fit the bill for so many dishes and can be used in a great healthy recipe like this one. Little potatoes are rich in potassium. They are also packed with vitamins, minerals, antioxidants and fibre. They're gluten-free, and contain zero fat, sodium or cholesterol but best of all they are delicious. I love the creamy centers and they don't take long to cook at all, 5 min. in the microwave, 15 min. to boil, 30 min. to bake and 40 min. to grill. Plus they are washed and ready to use right out of the bag.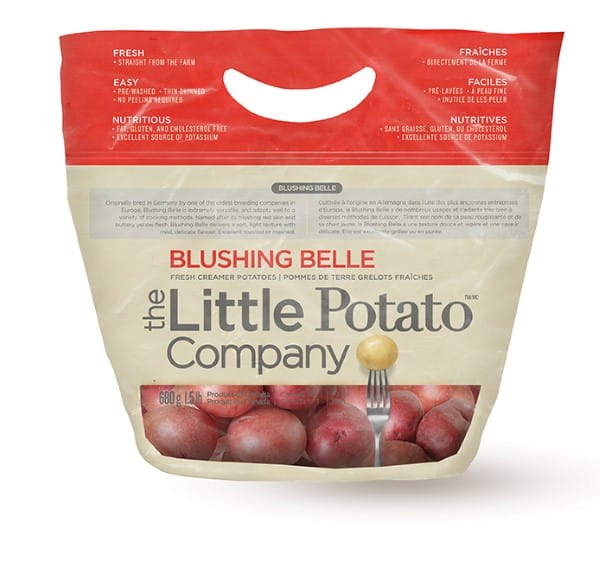 For this recipe I used Blushing Belles, they are a red Creamer potatoes with blushing red skins and creamy yellow centers. They added a little extra color to this fantastic soup and so much heartiness for only 20 calories per potato!
The broth is light as it is only water but the corned beef adds all the flavor as it cooks low and slow for a long time. Plus I added in a little bouquet garni for some extra flavoring that heightened what the corned beef had. Enjoy this with your family and friends and pull out the corned beef more often from the meat department, you will be so glad you did!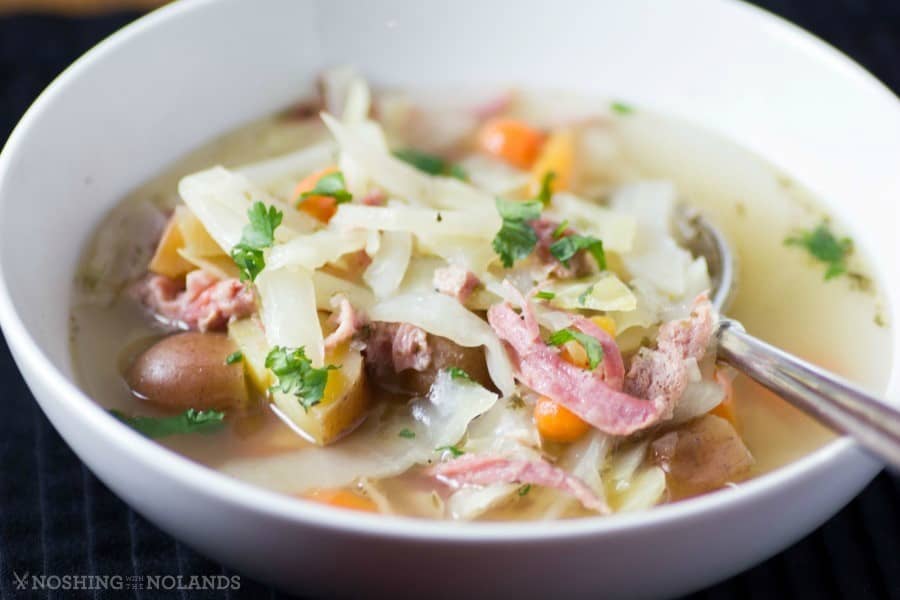 The Recipe
Corned Beef and Cabbage Soup
Yield: 10- 12 servings
Prep Time: 30 minutes
Cook Time: 4 hours 30 minutes
Total Time: 5 hours
A wonderfully lightened up Irish dinner that can be enjoyed on St. Patrick's Day or any other.
Ingredients
2 tsp. olive oil
2 onions, chopped
3 tsp. garlic
3 medium carrots, chopped
1 1/2 lb. lean corned beef brisket
12 cups water
3 bay leaves
1 tsp. thyme
1 Tbsp. dried parsley
Bouqet Garni of peppercorns, mustard seeds, fennel seeds and 3 cloves
1 small head cabbage, chopped
1-1 1/2 lb. bag of Little Potato Company's Blushing Belle potatoes, halved or quatered depending on size.
1/2 cup fresh parsley, chopped
Salt and pepper to taste
Instructions
Add the olive oil to a large soup pot and over medium heat saute the onion and the garlic, until the onions are translucent. Add the carrots and saute for 3 min. Add the corned beef and any seasonings that come with the corned beef, bay leaves, water, thyme and dried parsley.
With a small piece of cheese cloth folded 3 ply and twine make a little bouquet garni of the peppercorns, mustard seed and fennel adding in about 12 or so of each and then 3 cloves. Tie up with the twine. Add to the soup pot and bring up to a simmer. Simmer on low for about 3-4 hours or until the corned beef is tender. Remove the corned beef and shred on a cutting board, return it to the soup.
Add in the cabbage, potatoes and adjust the seasoning with salt and pepper. Remove the bouquet garni. Cook until the potatoes are tender about 30 min. Serve with chopped parsley.
Adapted from
skinnytaste.com