We are showcasing the lovely and versatile Shirataki noodles from House Foods today with this Fresh Asparagus Pea Lemon Pasta. Ken gets so excited when I am doing recipe development with this brand. He is a true carnivore but is so enthusiastic about us working with these noodles every time I use them.
He couldn't wait to try this pasta and was very, very pleased with the results. Ken, my daughter, and I love how these amazing noodles stand up in so many recipes. Their texture is fantastic and they are super easy to use. All they require is a simple rinse and then a quick 2-3 min. boil. They are gluten-free, have no cholesterol, are vegan, and are super low in calories (10 per serving). This makes this Fresh Asparagus Pea Lemon Pasta a winner of the dish for spring/summer or anytime!!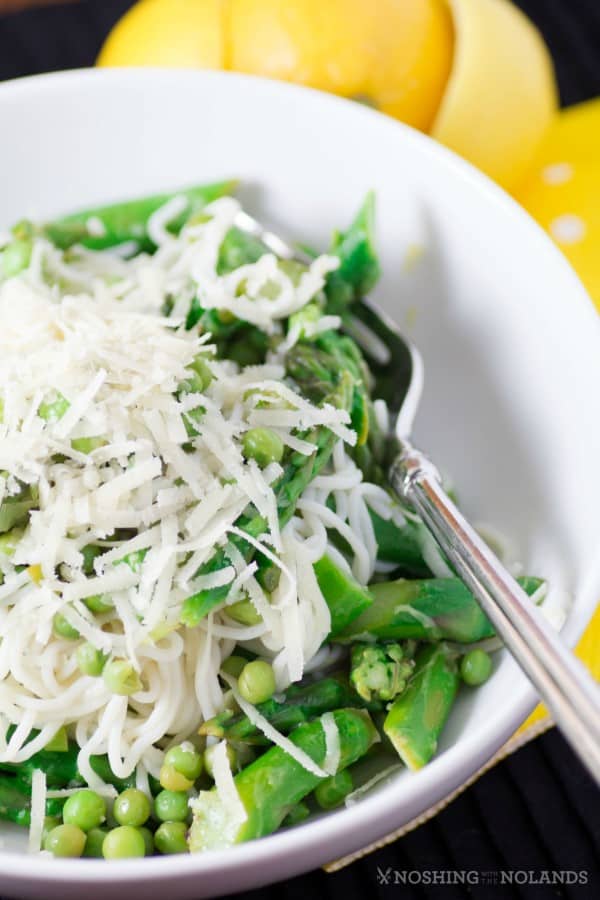 Isn't this a pretty pasta dish? So full of fresh flavors from spring, asparagus, peas, and green onions plus the added wonderful boost from a lemon butter sauce. All topped with incredible Parmigiano Reggiano. I sure would love to dive in again!!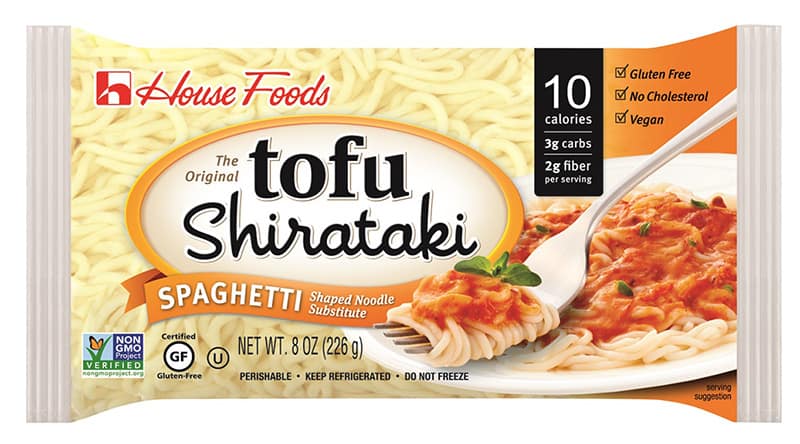 These noodle work great, hot or cold, in soups or salads, casseroles or pasta, and lots more. They can be simply dressed or featured with lots of other gorgeous ingredients.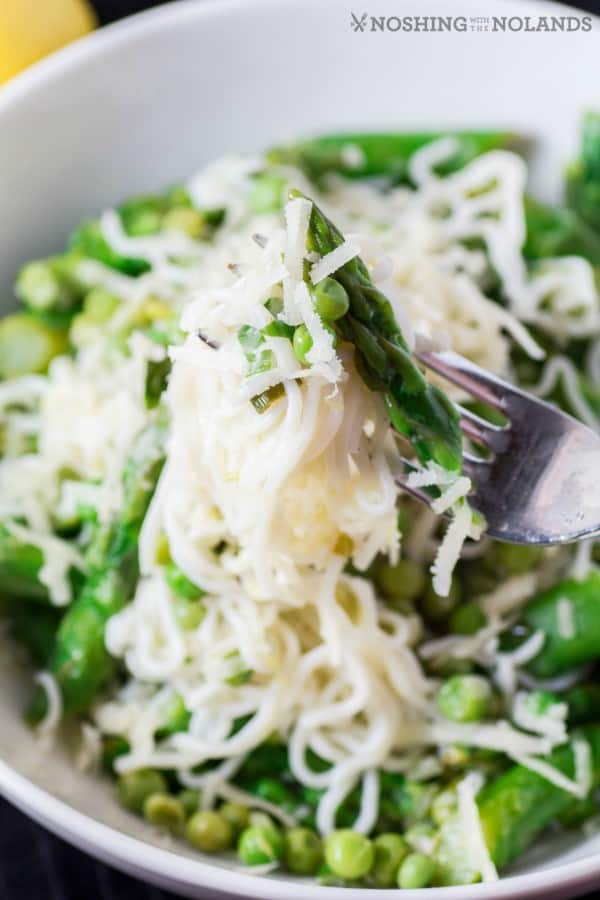 I love lemon to liven up pasta at this time of year, not too much to overpower but just the right amount to enhance a pasta dish like this. Lemon makes it all come alive!!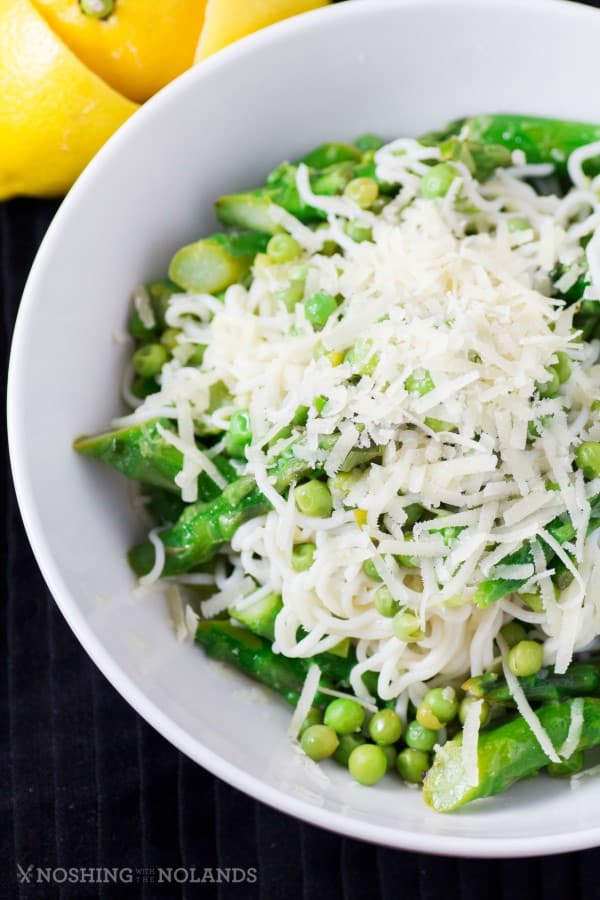 What is Shirataki you ask? Well, it is a Japanese noodle made from Konnyaku or Konjac, an Asian yam. The noodles are low in carbs, so they are a perfect ingredient for people watching their weight and they are also great for diabetics too or people who have gluten sensitivity. The noodles have a slightly chewier texture making them delicious in so many dishes!! They stand up gorgeously and they don't mushy at all.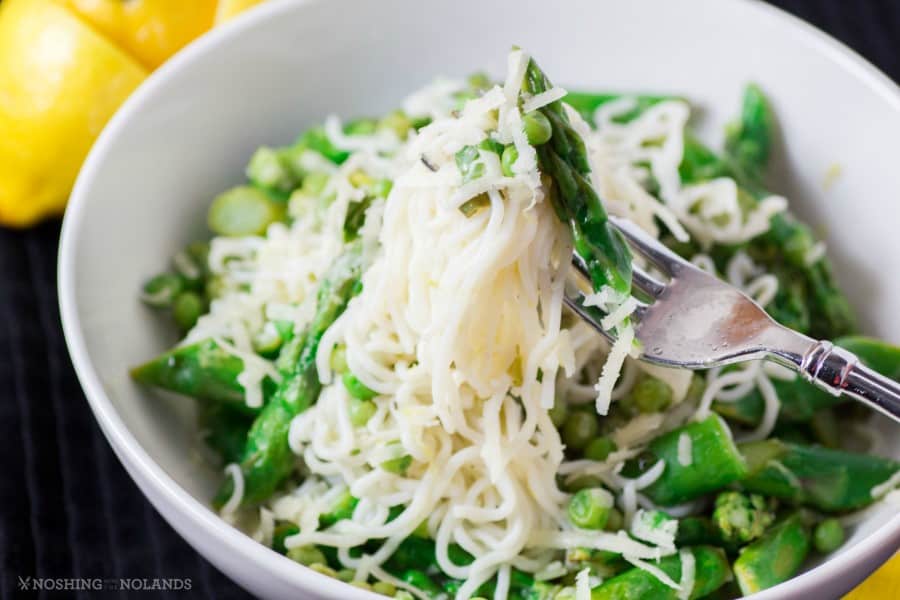 The Recipe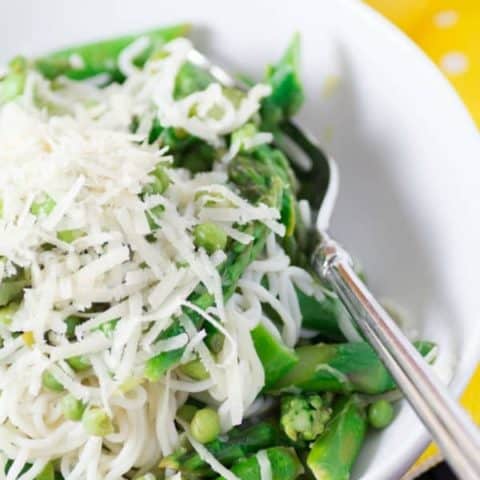 Fresh Asparagus Pea Lemon Pasta
Yield: 2-3 servings
Prep Time: 10 minutes
Cook Time: 12 minutes
Total Time: 22 minutes
A gorgeous spring/summer pasta bursting with lemon, asparagus, peas and spring onions.
Ingredients
2- 8 oz. pkg. Shirataki Spaghetti Noodles
1 large bunch of asparagus
Salt, butter and sugar for asparagus
1 cup fresh or frozen peas
2 green onions, chopped
3 Tbsp. butter divided
zest from 2 lemons
2 Tbsp. lemon juice
Salt to taste
Parmesan cheese (Parmigiano Reggiano)
Instructions
Slice asparagus into bite size pieces. In a shallow skillet add water, a pinch of salt and sugar and a dab of butter. Bring to boil and add the asparagus, cook for 2-4 min until tender crisp. Drain and immediately immerse in an ice bath to lock in the colour. Set aside.
Rinse and cook the Shirataki according to the package for 2-3 min. Drain and set aside.
Add the peas to 1/2 boiling water and cook for 1 min. or until just thawed and heated through. For fresh cook for 3 min. or until tender crisp. Don't drain the peas and add the 2 Tbsp. butter, lemon juice, zest and salt to taste.
Meanwhile cook the green onion in 1 Tbsp. butter until just cooked but not browned. Add the asparagus, pea mixture, and shirataki noodles to the skillet. Heat until just warmed through. Salt to taste if desired. Serve with the parmesan cheese immediately.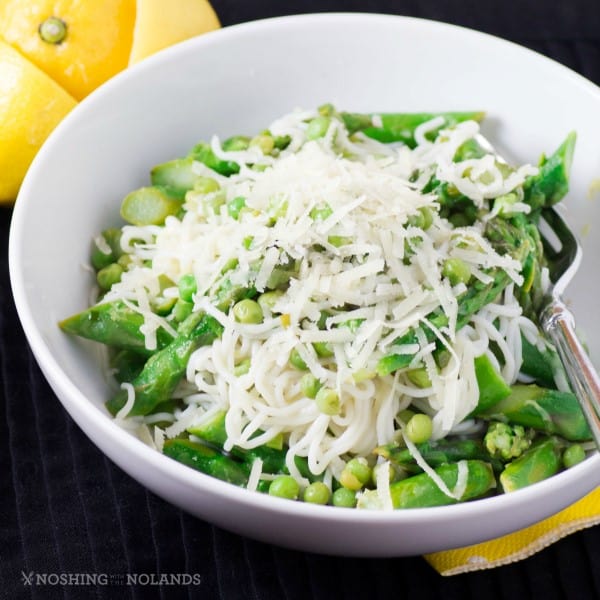 Also try this fabulous spring/summer recipe, Asian Noodle Summertime Salad. These recipes will get you hooked on House Foods' delectable Shirataki noodles.