French Vanilla Cappuccino Milkshake
Disclosure: I was compensated for this post. All opinions and experiences are my own.
Are you tired and hot from the dog days of summer? Need a refreshing pick me up? Have a gang headed over that you know would love a cooling, delectable French Vanilla Cappuccino Milkshake? Or do you just need a little break and want to grab some shade, a book and this wonderful treat? I don't need any excuse to indulge in a wonderful cooling milkshake!! And when it is this easy using Hill Bros. French Vanilla Cappuccino Drink Mix then what are you waiting for?
I made a pretty edge to the milkshake using the Hills Bros. Cappuccino French Vanilla Drink Mix with cream cheese and sprinkles. Then I placed it in the freezer and when I was ready for my milkshake so was my glass, icy cold from the freezer!!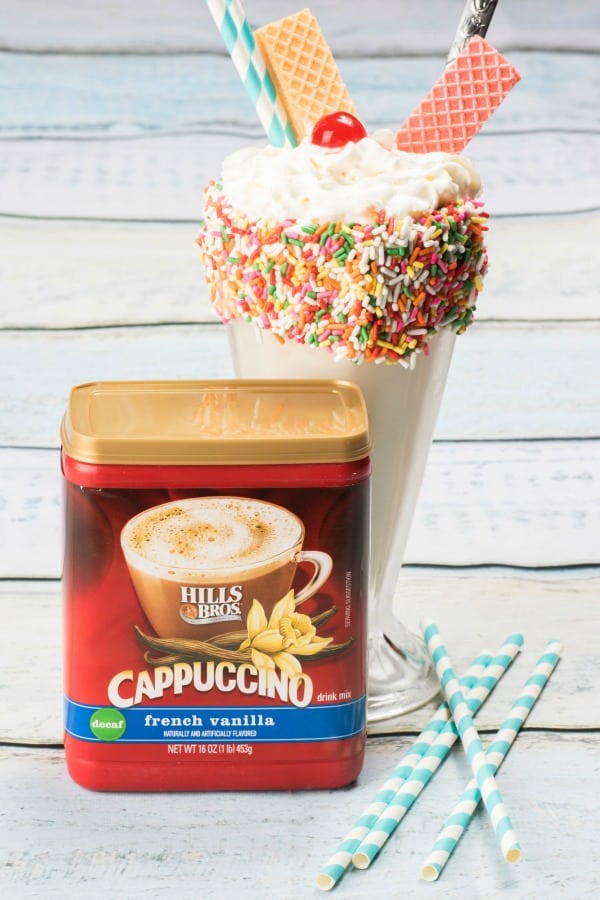 I love that they offer a decaf with their cappuccinos if you are not wanting the caffeine. This would be a great late night treat too that is not going to keep you up at night!!
* MILKSHAKE * GOODNESS!!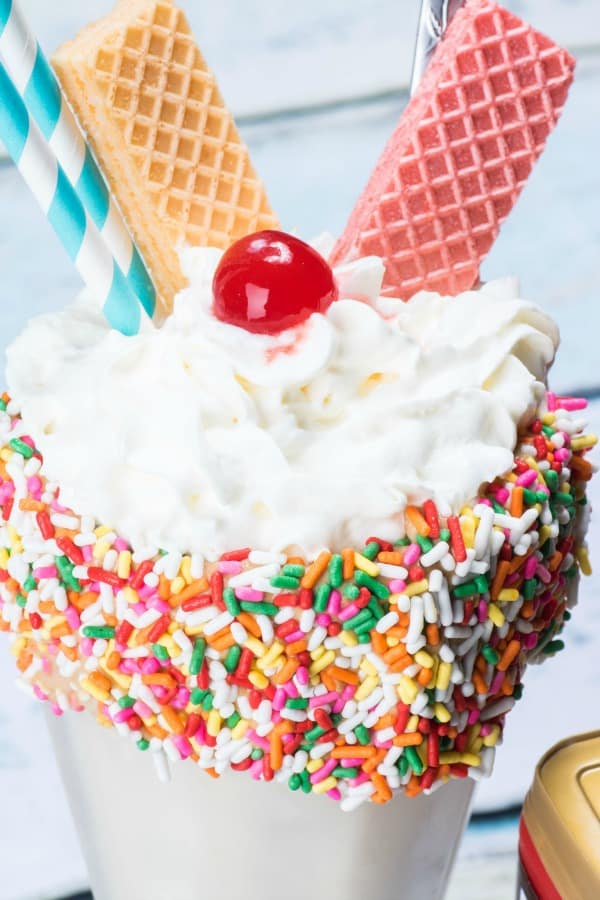 Our daughter's favorite flavor is wonderful french vanilla in an ice cream or a shake. Adding in the flavor of cappuccino just made this milkshake even better. A real treat for those hot summer days!!

Rich and creamy, and easily made. You can have a wonderful cappuccino at anytime of the day. Take a canister to work and have one at home. There are lots of flavors to choose from also, like double mocha, English toffee, hazelnut, mocha mint, salted caramel (mmmm, so good!) and white chocolate caramel.
The Recipe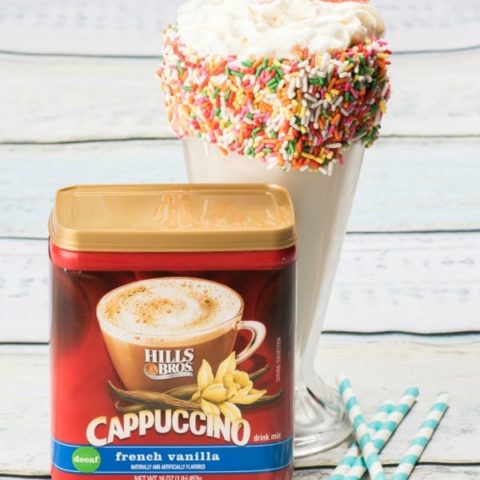 French Vanilla Cappuccino Milkshake
Yield: 1
Prep Time: 5 minutes
Total Time: 5 minutes
A thick and creamy, ice cold French Vanilla Cappuccino Milkshake will cool off the crowd in the dog days of summer.
Ingredients
Rim
2-3 Tbsp. light spreadable cream cheese
1 Tbsp. French Vanilla Cappuccino Drink Mix
Colorful sprinkles
Milkshake
1/2 cup milk
4 scoops French vanilla ice cream
1 Tbsp. French Vanilla Cappuccino Drink Mix
Whipped cream
Cherry
2 wafer cookies
Straw and long spoon
Instructions
Mix cream cheese with the French Vanilla Cappuccino Drink Mix and spread onto the top of a milkshake glass. Roll in sprinkles and place in the freezer until ready to use.
When ready to make the milkshake. Add the ice cream, milk and drink mix to a blender. Add the drink mix last. Whirl on high until smooth. Pour in the prepared glass. Top with whipped cream, cherry and wafer cookies. Serve at once.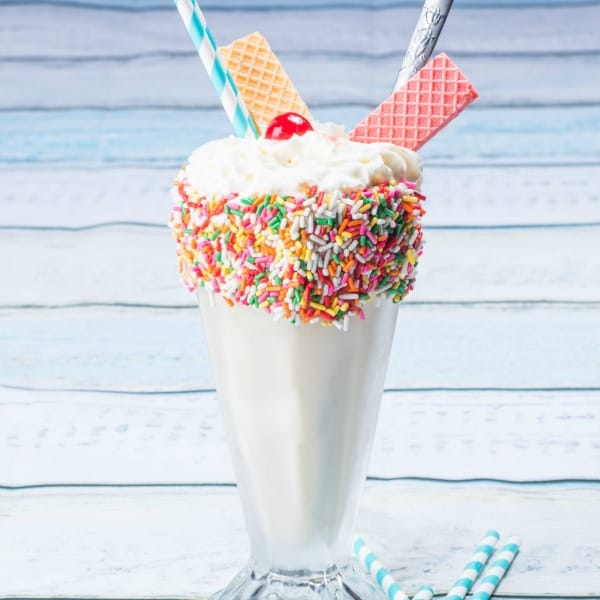 Come and enter our giveaway for an astounding one year supply of cappuccino or coffee!!