This White Grape and Pineapple Spritzer is a deliciously simple mocktail drink for adults. It may not have alcohol, but this fruity spritzer is a refreshing virgin drink alternative.
And if you're in the mood for additional satisfying mocktail fruit drinks, check out our Virgin Pina Colada, Blueberry Basil Lemonade, Better Than McDonald's Mango Pineapple Smoothie, or maybe a Strawberry Pineapple Lemonade will hit the spot.
I always love to serve up a mocktail when entertaining to anyone that doesn't like to drink alcohol for whatever reason. It is nice to have an alternative.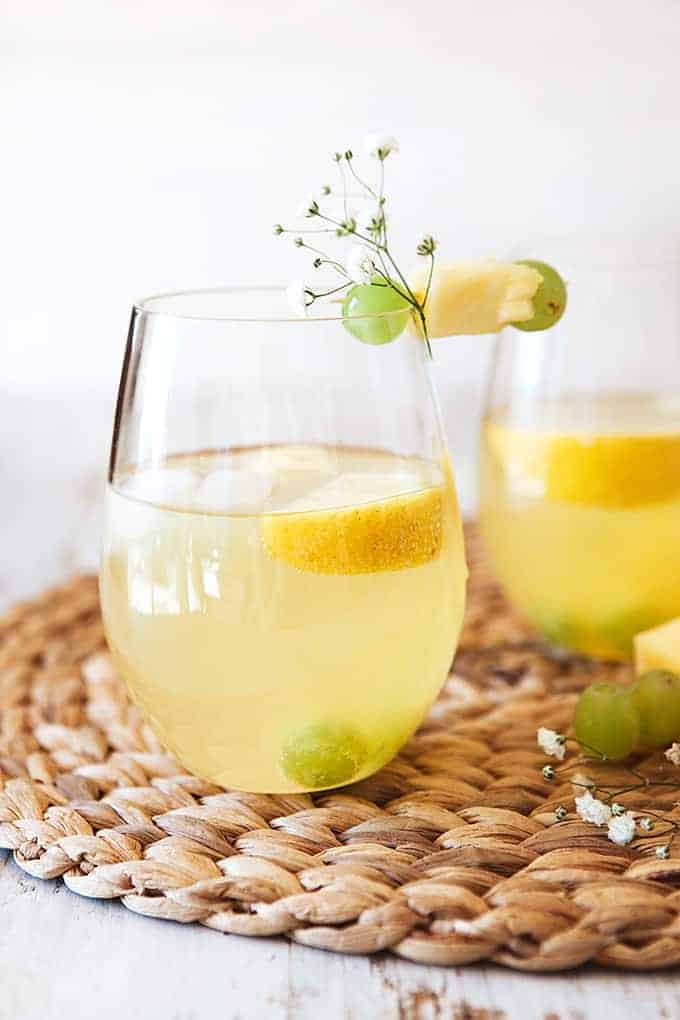 Helpful Items For This Recipe
This post contains affiliate links. As an Amazon Associate, I earn a small portion from qualifying purchases at no extra charge for you.
S.Pellegrino Sparkling Natural Mineral Water
Hi, I'm Allison Ruth! I'm new around here, but I'm so excited to join this community. I dish up a lot of delicious recipes as well as content for book lovers of all ages on my site, Some the Wiser. I look forward to sharing delicious recipes here too.
For months now, our favorite Cinnamon Roll Muffins and big mugs of New Mexican Hot Chocolate have been giving us life over here during dreary winter days. Finally, with the sun shining a little bit longer, I'm looking for light and fresh recipes to add into the mix. This spritzer is just the ticket!
Today's recipe is for a simple mocktail drink recipe for adults. A mocktail is just like a cocktail but without the alcohol.
There are many reasons why someone would choose a non-alcoholic drink. But just because you're not drinking alcohol, doesn't mean you can't enjoy mixing up fun drinks! Mocktails are great for baby showers, family parties, and so much more.
This White Grape and Pineapple Spritzer is a bright, tropical-flavored drink with a sparkle. It's a perfect drink for entertaining, ideal for a spring or summer dinner party, shower, or brunch.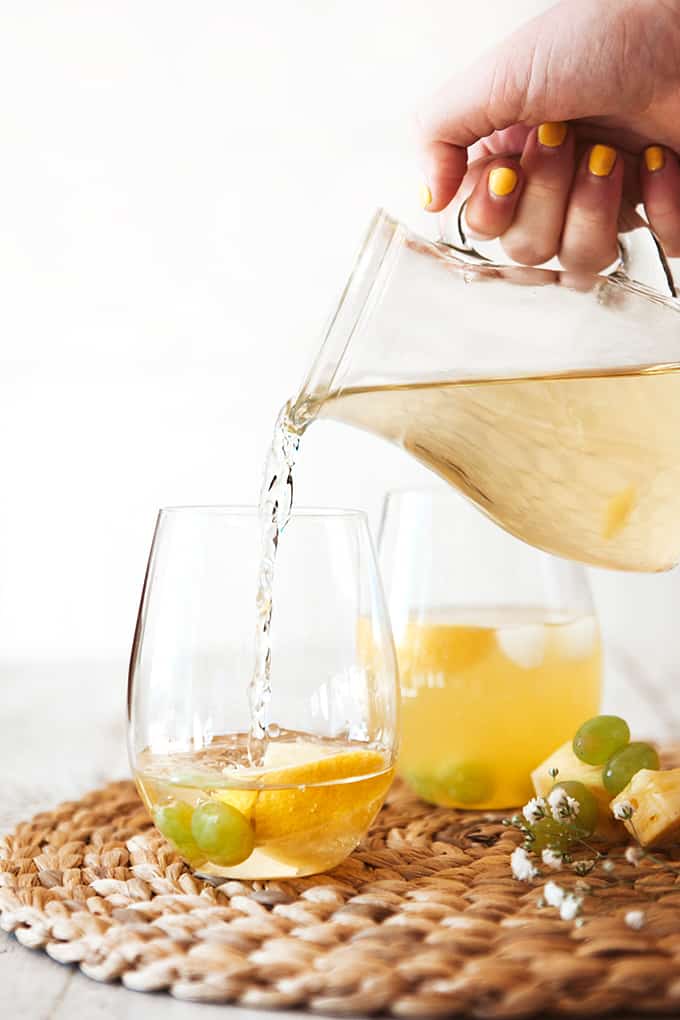 A Mocktail Spritzer
Let's talk about just how tasty this mocktail spritzer is! Yes, it's non-alcoholic, but what it lacks in alcohol, it definitely makes up for in flavor.
To give it extra flavor (and a special little bite at the end), I like to begin by placing a couple of grapes, a chunk of fresh pineapple, and a lemon wedge in the bottom of the glass. The combination of sweet pineapple, tart lemon, and bright juicy grapes is perfection!
The drink is made with three parts: white grape juice, pineapple juice, and sparkling water. The white grape juice has a mild, but crisp flavor, and it's not overly sweet which makes it the best base for the spritzer.
Pineapple juice gives the spritzer a bright, fruity, tropical flavor. It also adds the ideal amount of sweetness.
You top it all of with a generous splash of sparkling water. This really is the secret ingredient that makes it so appealing and refreshing. It gives this spritzer the sparkle that makes it special.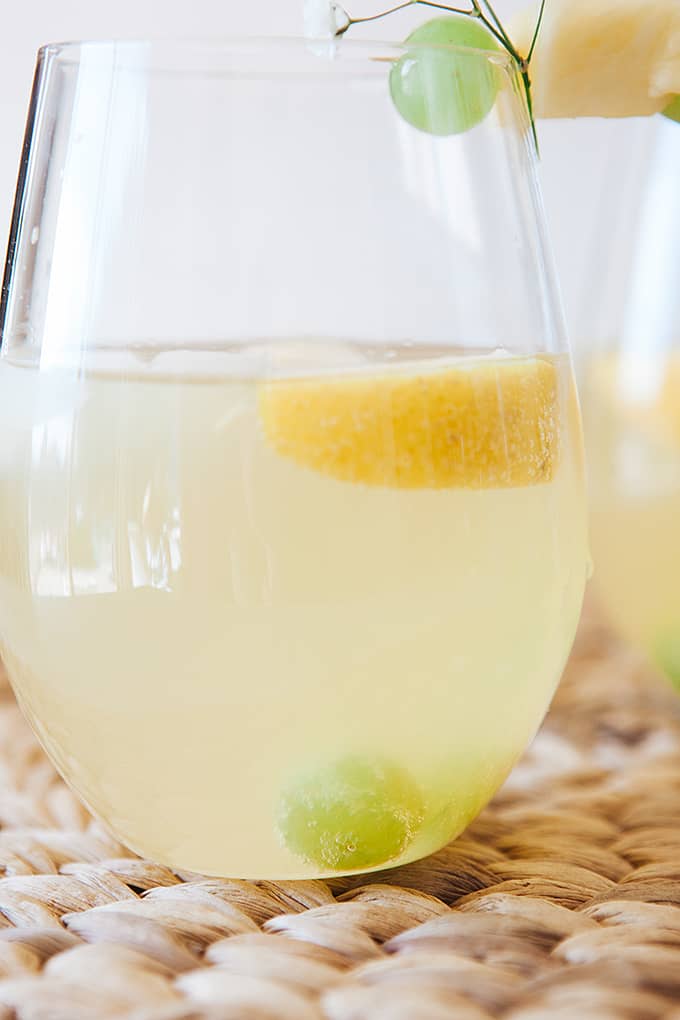 Is a Spritzer Alcoholic?
A spritzer is a chilled drink with carbonated water or club soda. It's true that spritzers are often made with white wine, but the wine is not a requirement.
The crucial ingredient in a spritzer is a carbonated beverage. It's the carbonation that gives it the spritz it's known for.
In this recipe, I've replaced the wine with white grape juice, making it a non-alcoholic beverage. The spritz in this recipe is carbonated mineral water.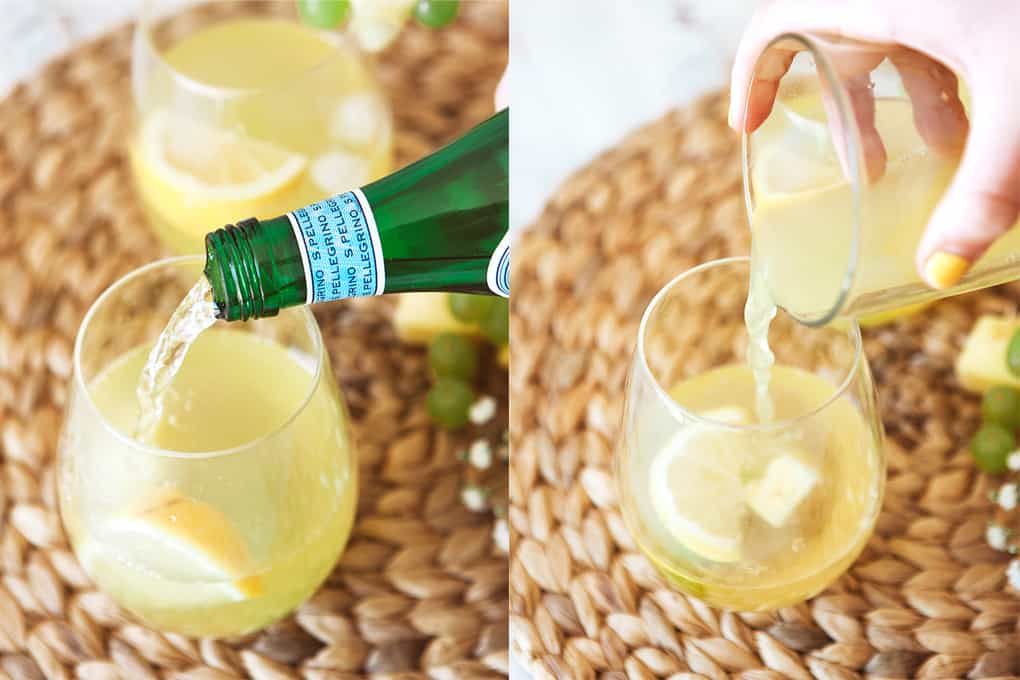 Is Club Soda the Same as Sparkling Water?
Club soda is not the same as sparkling water, but it can usually be used interchangeably in a drink recipe.
The main difference between club soda and sparkling water is how they are carbonated. Club soda's carbonation, as well as the carbonation in seltzer, is artificial. Likewise, sparkling water has naturally occurring carbonation.
For this White Grape and Pineapple Spritzer, I used S. Pellegrino, sparkling natural mineral water. I do like that the carbonation is natural, but I also just like the pretty green bottles. For me, pretty always wins extra recipe points.
You can easily substitute the sparkling water for club soda or seltzer in this spritzer recipe.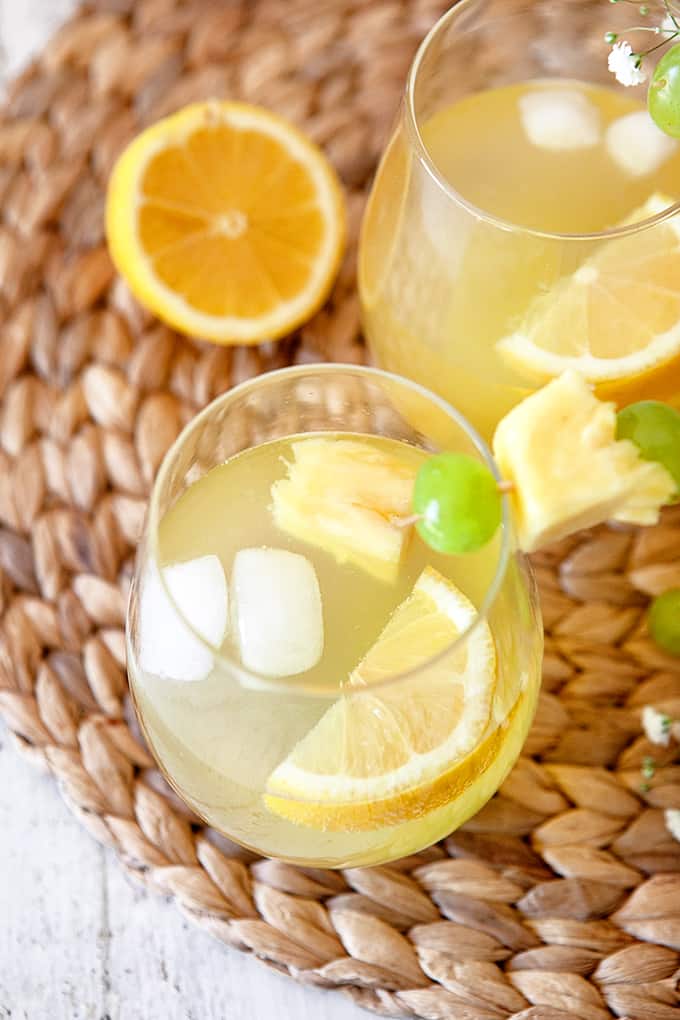 Tips for Making a Great Mocktail Spritzer
Make sure all of your ingredients are well chilled. A cold spritzer is the best spritzer.
Use fresh fruit. Fresh pineapple, grapes, and even the lemon wedge add to both the flavor and the visual appeal of the drink.
Garnish! Remember how I said pretty always earns extra recipe points for me? Well, a mocktail recipe definitely moves up to the next level when you take the time to add a little garnish and make it extra special.
Mix this spritzer up one glass at a time, as you're ready to drink it. This drink is best immediately after you prepare it, while the bubbles are still sparkly.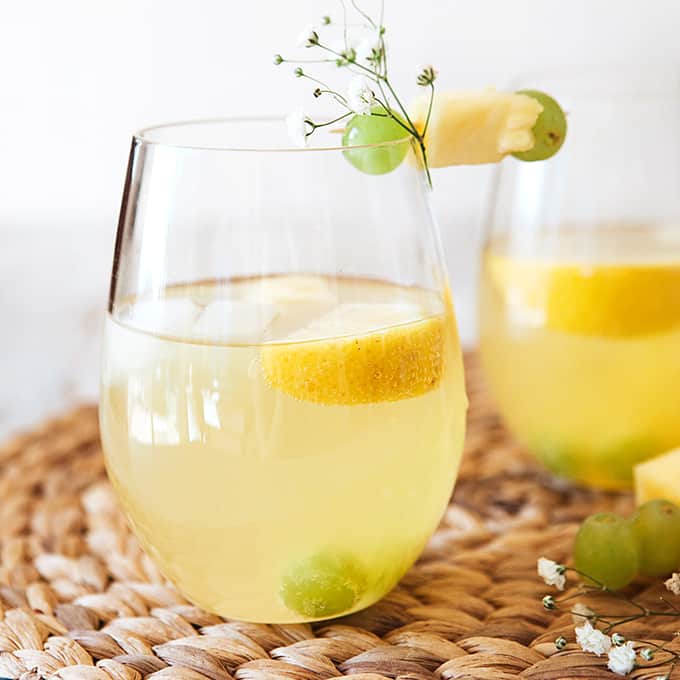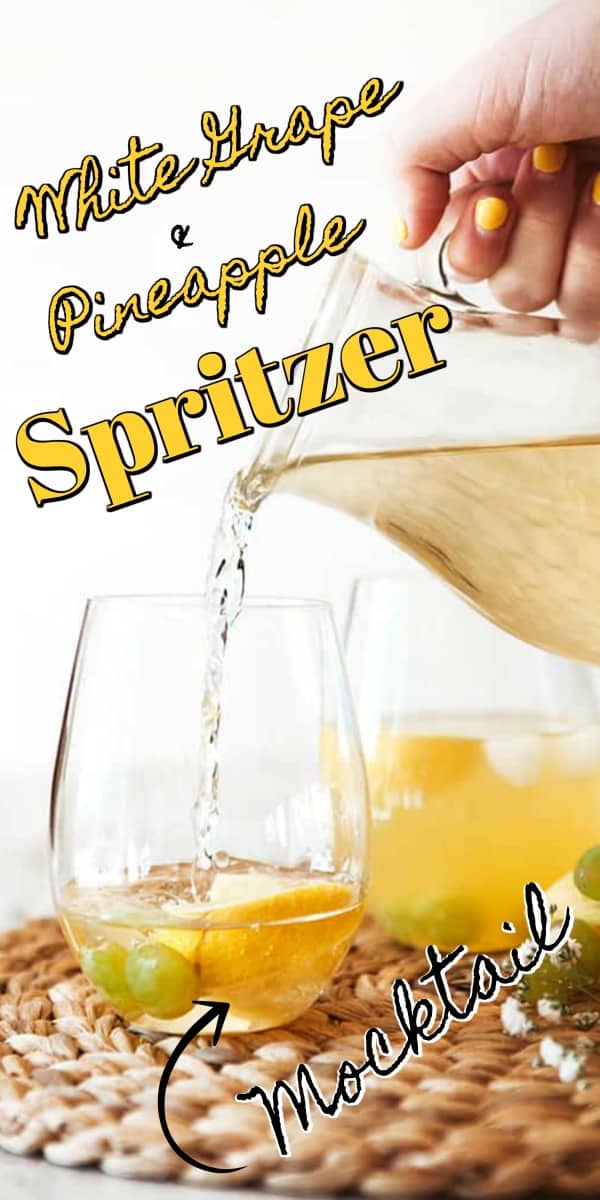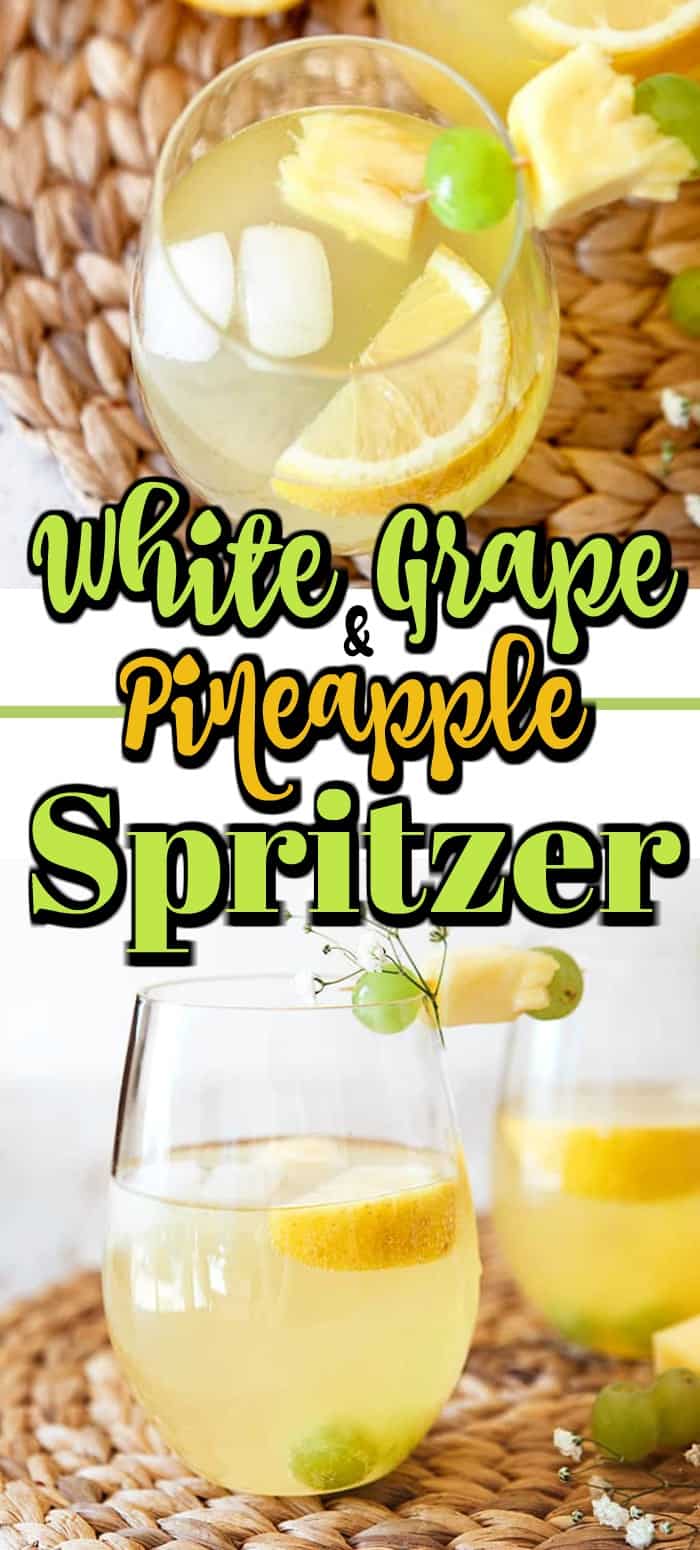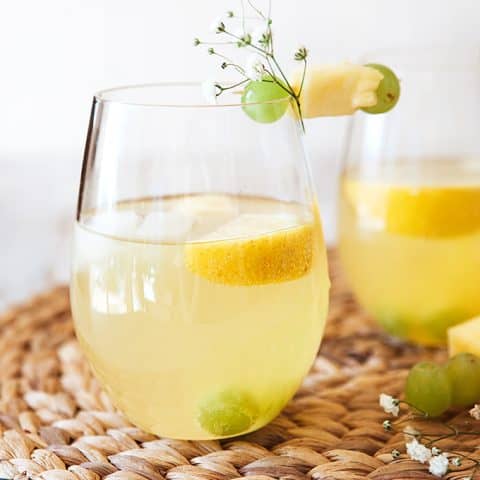 White Grape and Pineapple Spritzer
Yield: 1 drink
Prep Time: 10 minutes
Total Time: 10 minutes
This White Grape and Pineapple Spritzer is a deliciously simple mocktail drink for adults. It may not have alcohol, but this fruity spritzer is a refreshing virgin drink alternative.
Ingredients
2 green grapes
1 cube fresh pineapple
1 lemon wedge
ice cubes
4 ounces white grape juice, chilled
3 ounces pineapple juice, chilled
2 to 3 ounces sparkling water (like S. Pellegrino) or club soda
(optional: additional grapes and pineapple for a garnish)
Instructions
Put the fresh fruit, lemon wedge, and a couple ice cubes in the bottom of a glass.
Add the grape juice and pineapple juice, then add the sparkling water. Garnish if desired.
Notes
I like to put my glass, with the fruit and ice in it, onto a kitchen scale. I set the tare to zero, and then add the juice and sparkling water so I can accurately measure how many ounces. It's not necessary, but it is a quick and easy way to get the ratios just right.
Recommended Products
As an Amazon Associate and member of other affiliate programs, I earn from qualifying purchases.
Nutrition Information:
Yield: 1
Serving Size: 1
Amount Per Serving:
Calories: 239
Total Fat: 1g
Saturated Fat: 0g
Trans Fat: 0g
Unsaturated Fat: 0g
Cholesterol: 0mg
Sodium: 14mg
Carbohydrates: 62g
Fiber: 5g
Sugar: 47g
Protein: 3g
Recipe calculation was provided by Nutritionix and is an estimation only. If you need nutritional calculations for medical reasons, please use a source that you trust.