Life is busy and getting back into the groove after summer can be hard. This Stove Top Chicken Broccoli Cheesy Rice Casserole will help you ease back into family dinners. Maple Leaf Natural Selections has launched a new line-up of shredded meats to help with your busy nights.
Maple Leaf's shredded meat which includes pork, turkey, and chicken are here to help time-starved parents still make a delicious homemade meal. Personally I love using an already prepared product like this as it saves me oodles of time. Shredded meats like this are easy, natural and versatile.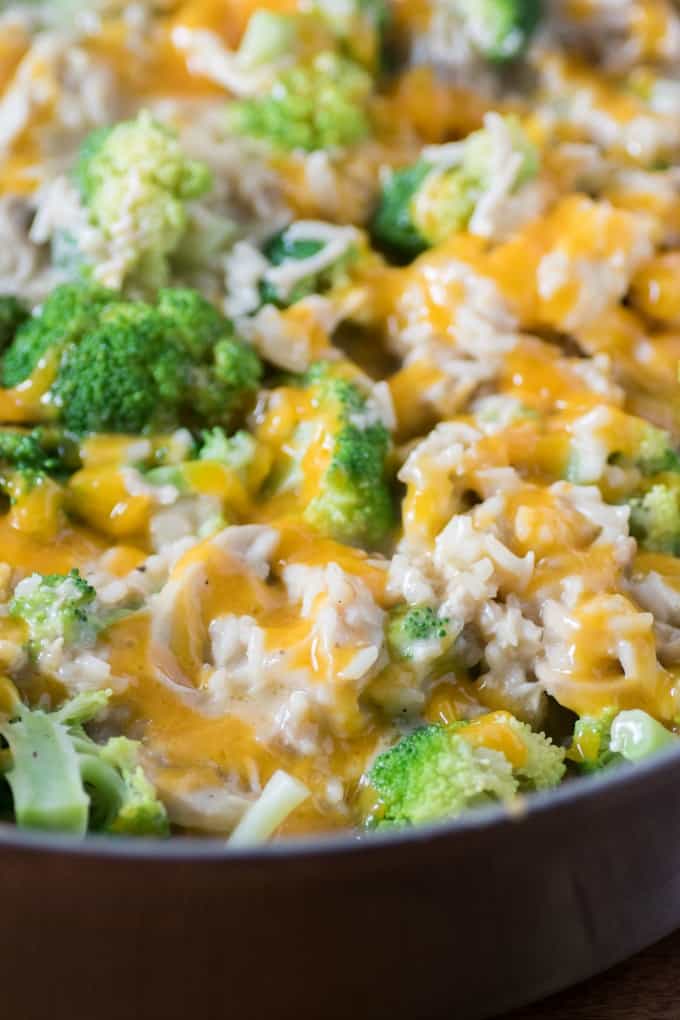 I used to make a casserole like this years and years ago and it was always a hit. Making it on the stove top though is even faster. You could cook the broccoli in with the other ingredients but I love to steam it and then shock it in cold water to lock in that glorious green. Then at the end it is just added with the chicken and the cheese to heat up.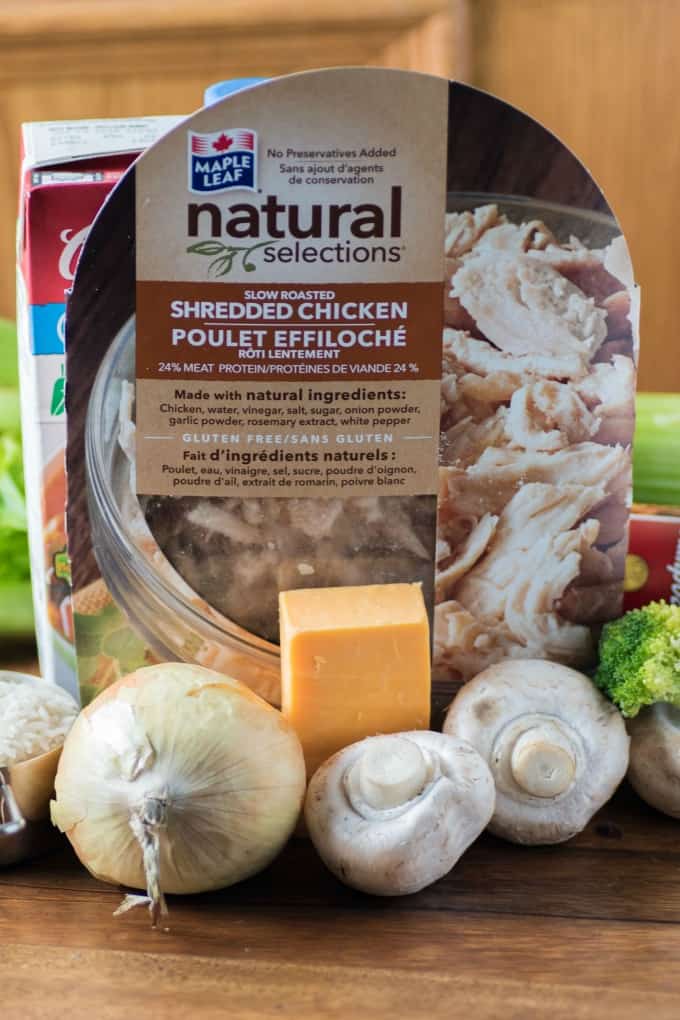 Maple Leaf Natural Selections
Maple Leaf Natural Selections are made with natural ingredients with no preservatives, this saves time and is just like the fresh ingredients without the hassle. It is versatile as it is not packaged in sauce and minimally spiced so it can be used in any dishes you like.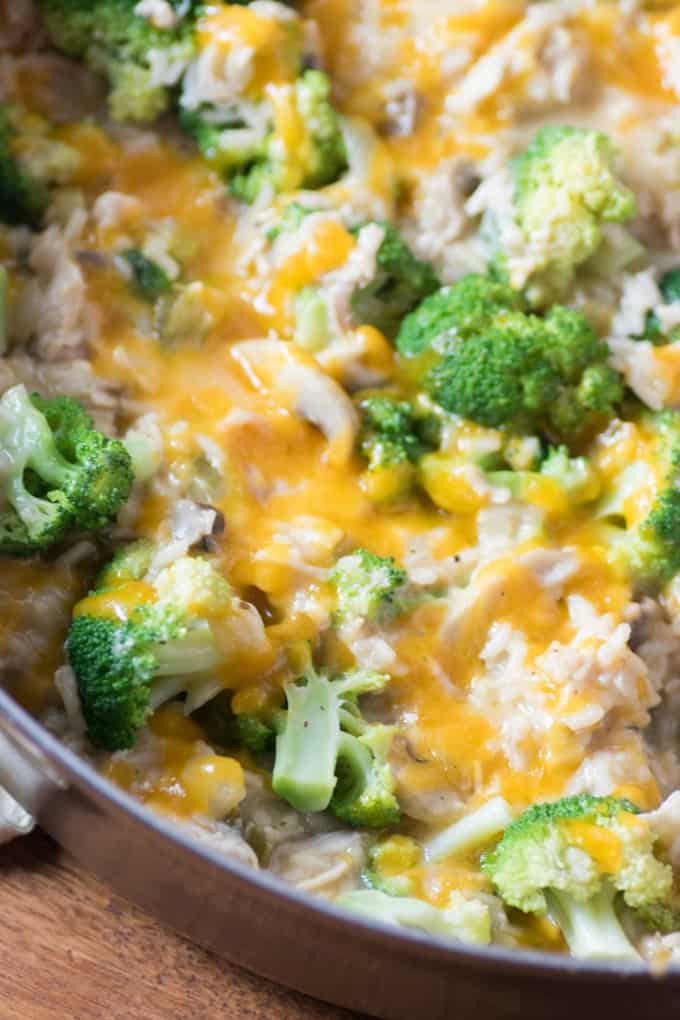 Creamy and cheesy and so full of wonderful flavors and nutrition. Your family will love this when you place it on the table. You will love it as it is a healthy and easy meal solution using already shredded chicken. This is a complete meal with all your veggies, chicken, and rice.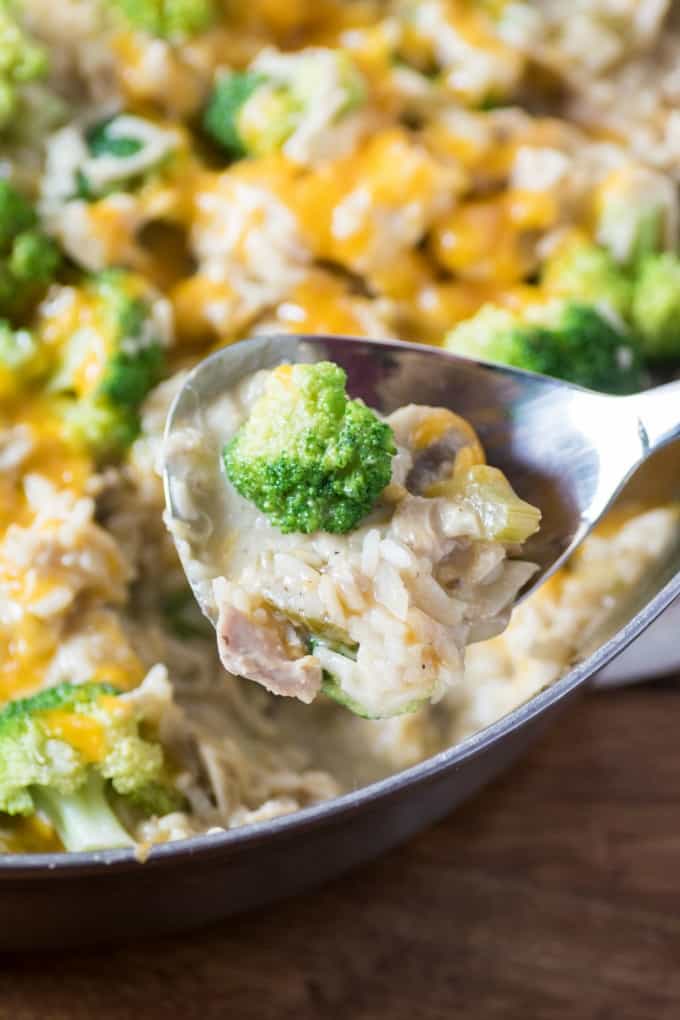 Not having to put the oven on is a bonus too. This cooks up quickly in one pan so minimal clean up also. Plus, nothing says home cooking like a casserole. Everyone loves them!!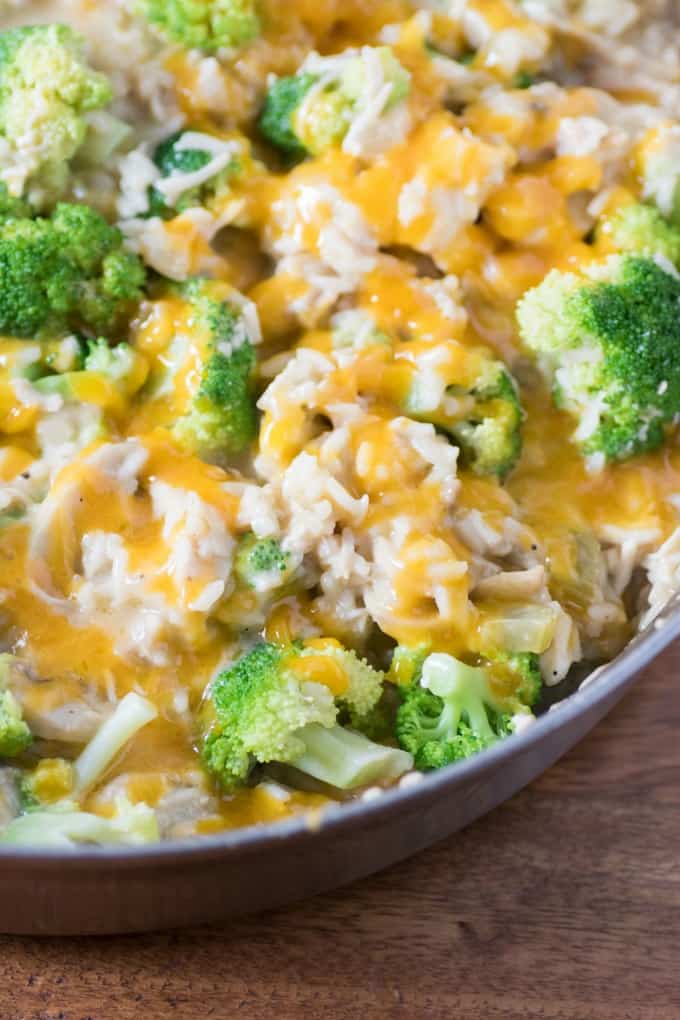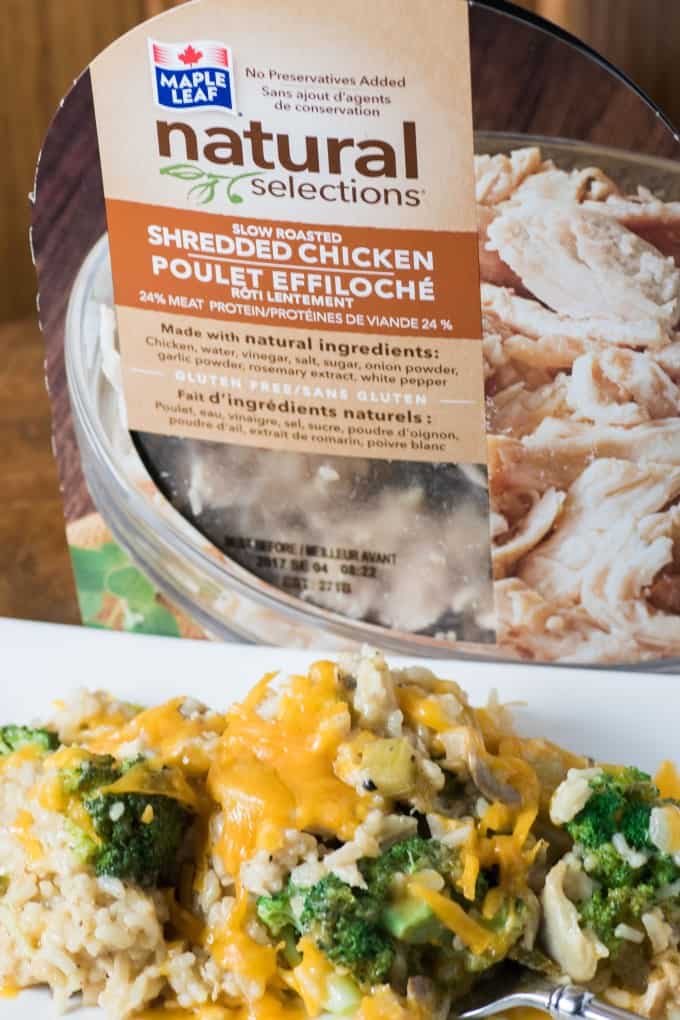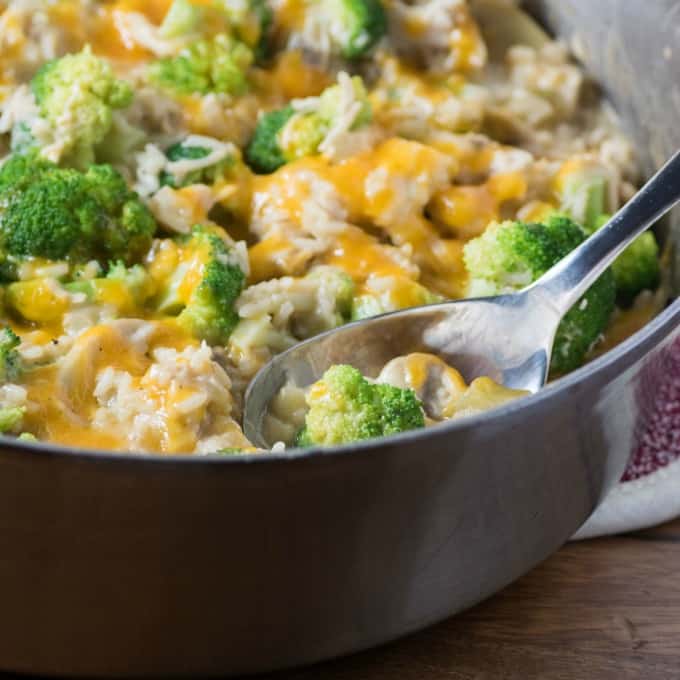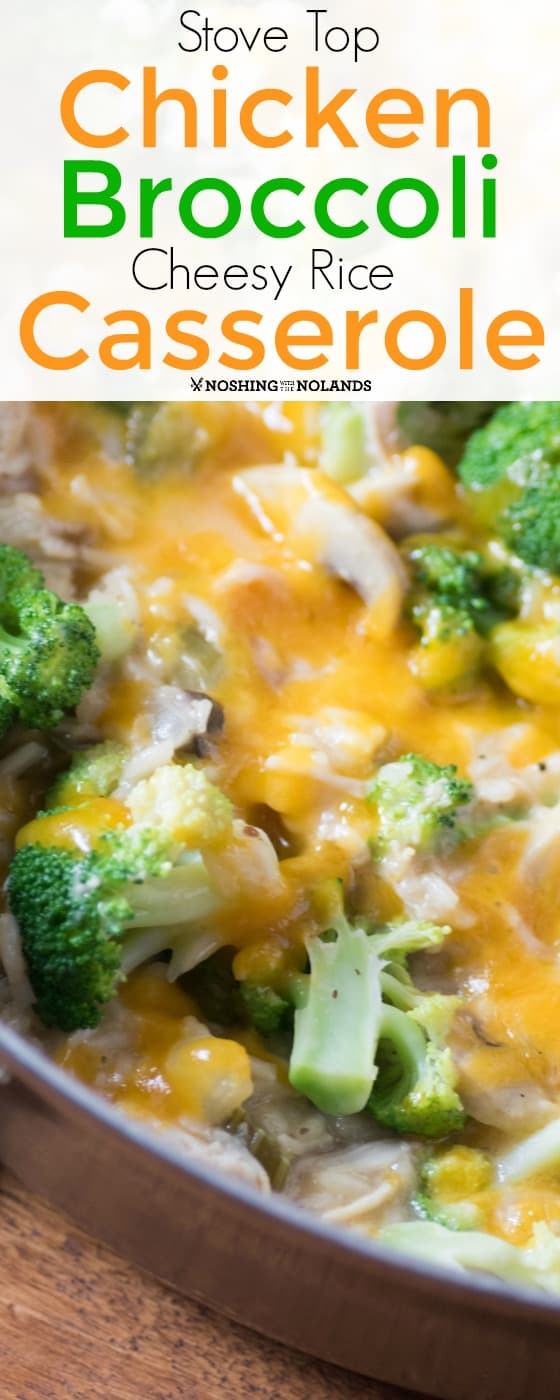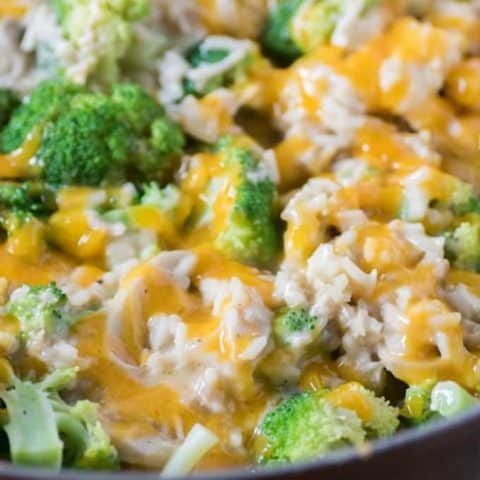 Stove Top Chicken Broccoli Cheesy Rice Casserole
Yield: 6 servings
Prep Time: 15 minutes
Cook Time: 30 minutes
Total Time: 45 minutes
We love this delicious Stove Top Chicken Broccoli Cheesy Rice Casserole as it is easy to make with little cleanup. Using Maple Leaf's already cooked and shredded chicken is a big time saver!
Ingredients
1 Tbsp. canola oil
1 small onion, chopped
2 celery stalks, chopped
3 tsp. garlic, minced
6 large mushrooms, sliced
Salt and pepper to taste
1 cup rice
10 oz. can cream of mushroom soup
2 1/2 cups low sodium chicken stock, plus more as needed
1 pkg. (200gms) Maple Leaf Natural Selections Shredded Chicken
2 cups broccoli florets
1 cup cheddar cheese
1/2 cup Parmesan cheese
Instructions
Over medium heat in a large saute pan add the canola oil and saute the onion and celery for 3 min. Add the garlic and cook for an additional minute. Season with salt and pepper and then add the mushrooms. Cook until the mushrooms are tender.
Add the rice and stir to combine. Add in the can of soup and again stir to combine. Slowly add in the chicken stock incorporating into the soup mixture. Bring to a simmer and cover. Cook for 15 min., stirring after 10 min. Add in a splash more of chicken stock if mixture is too thick and not quite cooked. Adjust seasoning.
Meanwhile, steam the broccoli until just tender. Shock in ice water and then drain and set aside.
When the rice is cooked add in 1/2 cup cheddar, Parmesan and stir well. Add in the chicken and stir well. Carefully add in the broccoli and stir just to incorporate slightly.
Top with the rest of the cheddar cheese, cover and let the cheese melt and the mixture heat. Serve immediately.
Nutrition Information:
Yield: 6
Serving Size: 1
Amount Per Serving:
Calories: 285
Total Fat: 16g
Saturated Fat: 6g
Trans Fat: 0g
Unsaturated Fat: 8g
Cholesterol: 44mg
Sodium: 941mg
Carbohydrates: 19g
Fiber: 3g
Sugar: 2g
Protein: 17g
Recipe calculation was provided by Nutritionix and is estimation only. If you need nutritional calculations for medical reasons, please use a source that you trust.