Russian Chicken has tender chunks of chicken baked in an easy and delicious tangy sauce for a simple and satisfying weeknight meal that the whole family will love! We just made a Russian Dressing but it is the creamy variety.
I don't recommend to use this style of dressing as it won't turn out the same. A red tangy dressing like Catalina is recommended for this dish.
Looking for more boredom busters to get you out of your weeknight dinner rut? Be sure to try some of our other great chicken recipes like Baked Chicken Flautas (Rolled Tacos) or Teriyaki and BBQ Popcorn Chicken!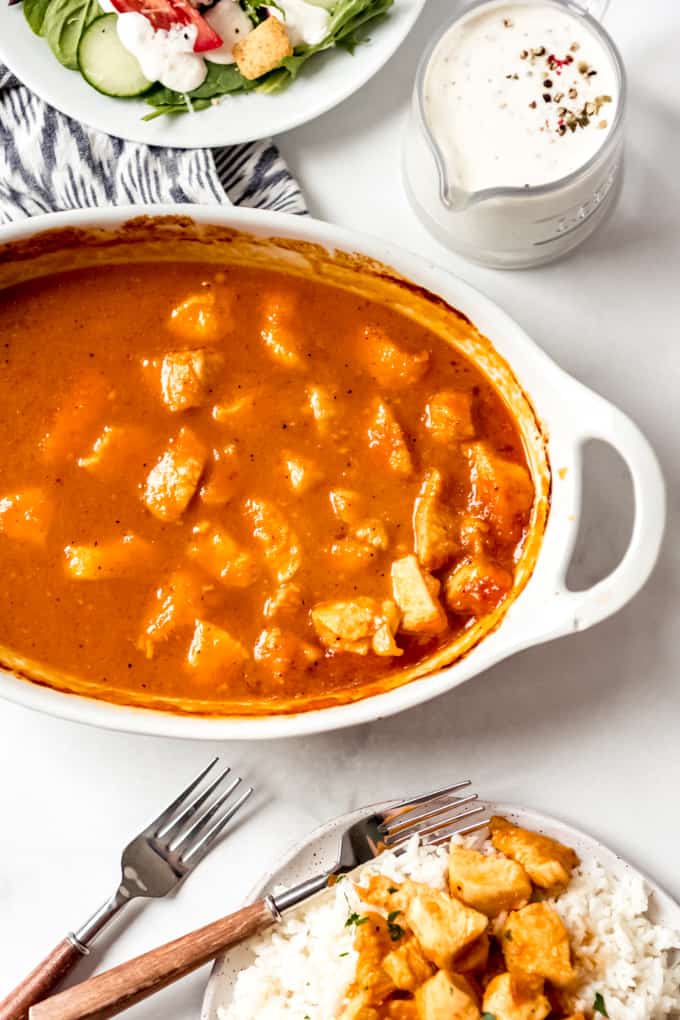 Hey there! It's Amy from House of Nash Eats again with a scrumptious and juicy chicken dinner that was definitely a winner with my family!
This is one of those chicken recipes that come together with minimal effort but taste like a lot of work went into it. It's mostly just blending up a simple sauce, tossing it with chicken pieces in a baking dish, and baking until done! There is very little prep or clean-up required.
Helpful Items for This Recipe

Russian chicken got its name, not because it is actually from Russia, but because it is one of those super simple recipes that call for Russian dressing (or Catalina) and apricot preserves to create a quick and easy sauce that you pour over the chicken. The sauce marinates and flavors every last morsel of tender chicken while it bakes in the oven for a mostly hands-off approach to dinner.
When you go shopping for the ingredients for this dish, be sure to look for the bright red kind of Russian dressing, not the thick, creamy kind, which won't work the same for this dish. If you have a hard time finding it, Catalina dressing, which is almost the same thing both in terms of color and flavor, works just as well.
The dried onion soup mix adds a savory element to the sauce that helps balance out the sweet from the dressing and preserves. All of it is wonderful served over a bed of rice with extra sauce spooned over the top.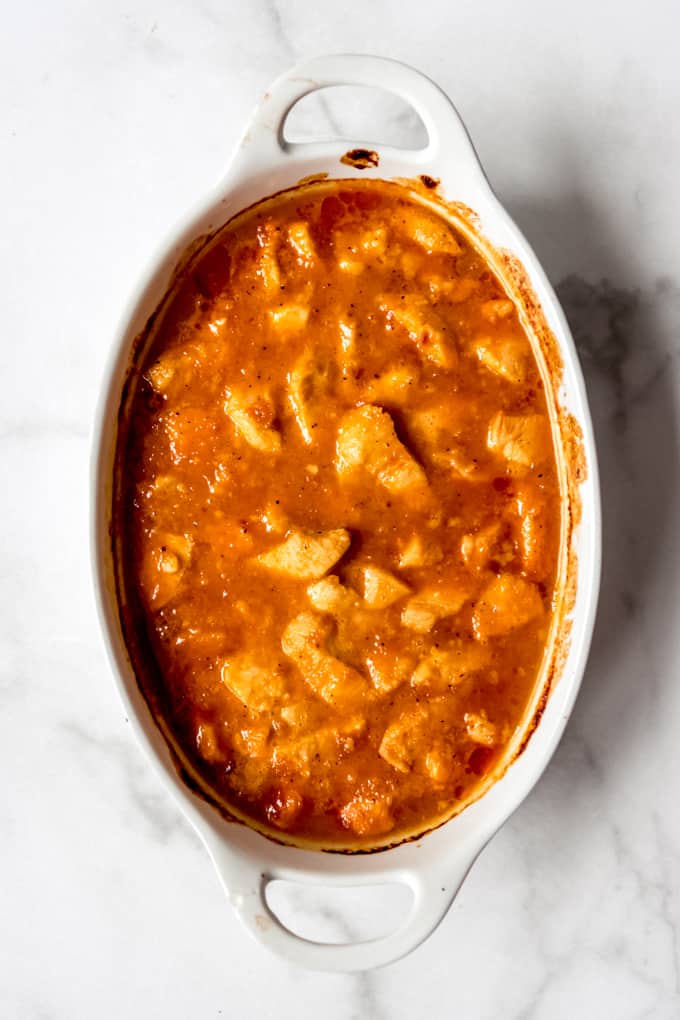 How to Make Russian Chicken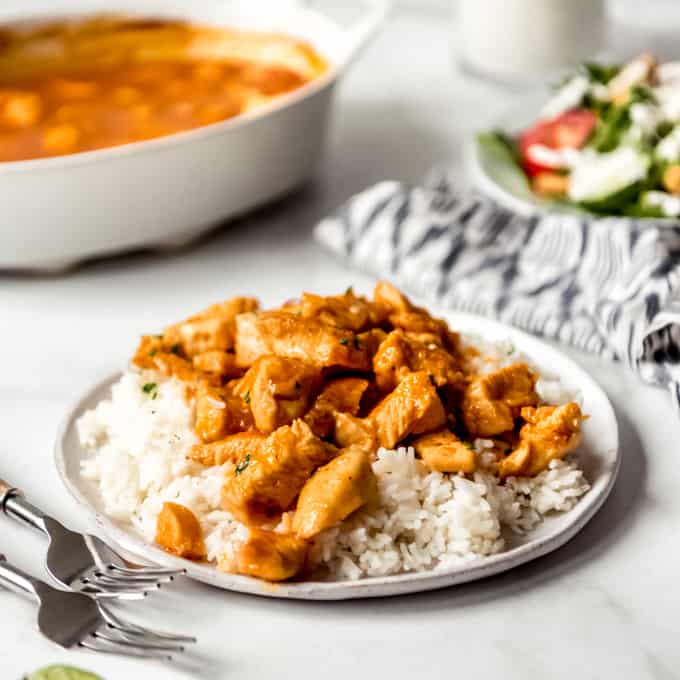 Slice boneless, skinless chicken breasts or chicken thighs into 1-inch bite-size pieces. I've made this recipe both ways and either cut of meat is good.
Mix dressing, preserves, dried onion soup, garlic powder, salt, and pepper in a blender until smooth. This can also be done by hand, but since apricot jam can be thick I find it much easier to incorporate them using a blender.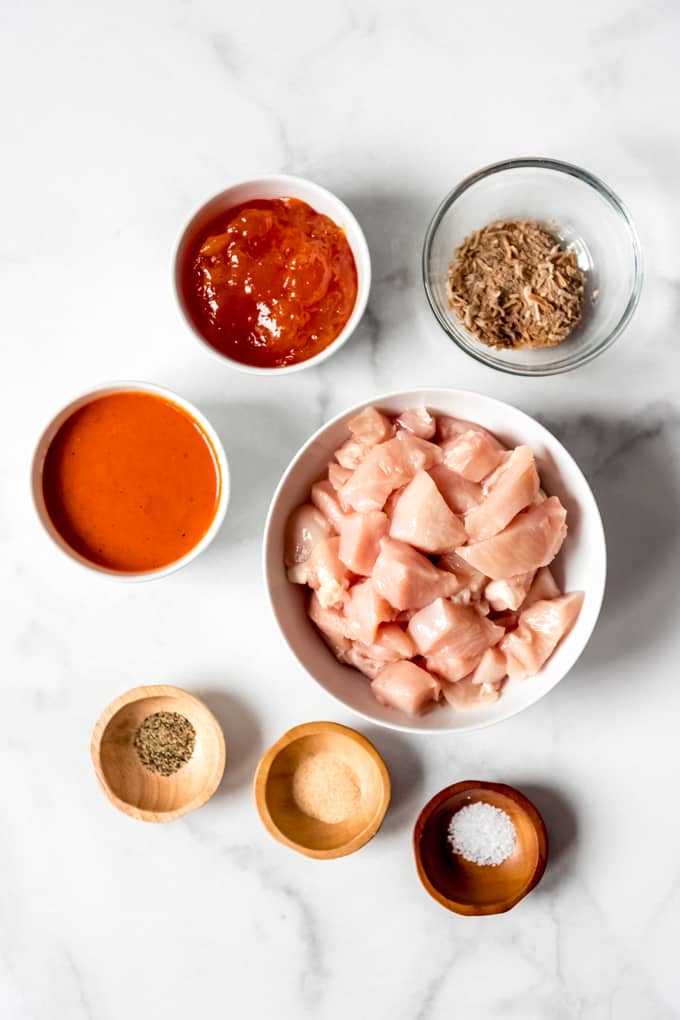 Add the chicken pieces to a casserole dish. Pour the sweet and tangy sauce over the top, stirring to coat. Cover with foil and bake in a preheated oven for about 30 minutes. Remove the foil to bake uncovered for another 10-20 minutes until the chicken is done and the sauce is bubbling.
Let cool for 10 minutes before serving as the sauce is always very hot.
Helpful Tips for Russian Chicken
If you prefer, you could bake whole chicken breasts rather than cutting them into bite-size pieces first. I just prefer more of the gloriously sweet and tangy sauce coating every bite of chicken.
This is a great slow cooker meal if you want to set it and forget it earlier in the day. Just mix the sauce ingredients and add them, along with the chicken, to your slow cooker. Cook on LOW heat for 4-6 hours until the chicken is cooked through.
You can even freeze leftover Russian chicken for up to 2 months. Just let it cool, then freeze in an airtight freezer-safe container. Thaw in the fridge overnight and reheat the next day. Serve with some fresh white rice for a quick and easy lunch or dinner.
If you have a hard time finding apricot preserves, this recipe would work just as well with peach jam instead. I tend to have a jar of one or the other in the pantry, along with bottles of the oily red Russian dressing or Catalina dressing and chicken breasts in the freezer. That means I can make this anytime I want, even if I forget to plan ahead!
What to Serve with Russian Chicken?
While Russian chicken is great served over white or brown rice, you could also serve it over pasta, egg noodles, or even with mashed potatoes. We also love to serve a good vegetable like roasted asparagus or a nice salad with homemade Olive Garden salad dressing with this dinner.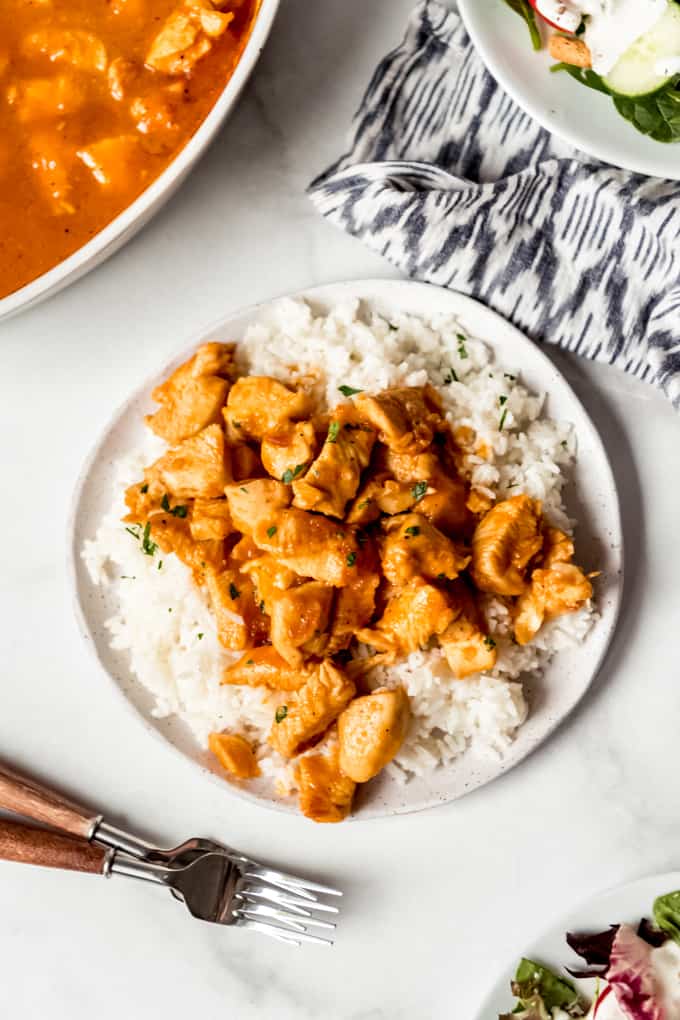 Pin it HERE!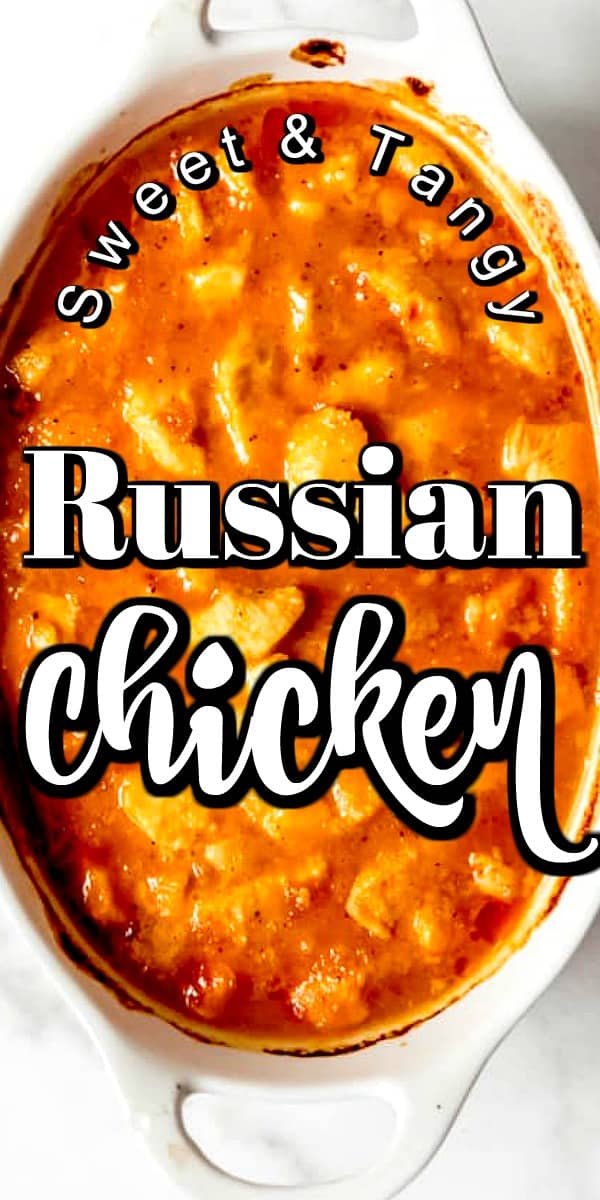 Pin it HERE!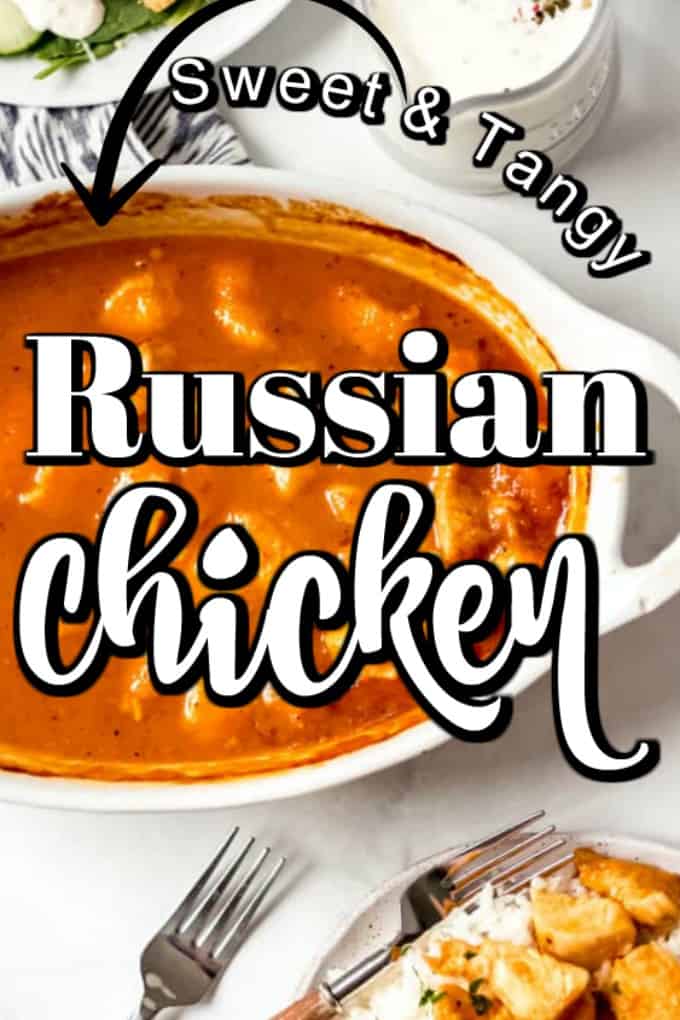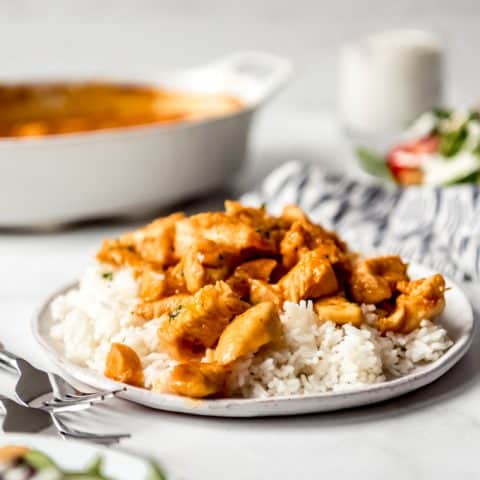 Russian Chicken
Yield: 6 Servings
Prep Time: 10 minutes
Cook Time: 40 minutes
Total Time: 50 minutes
Russian Chicken has tender chunks of chicken baked in an easy and delicious tangy sauce for a simple and satisfying weeknight meal that the whole family will love!
Ingredients
4-6 boneless, skinless chicken breasts, cut into 1-inch pieces
1 cup Russian or Catalina dressing
1 cup apricot preserves
1/2 teaspoon garlic powder
1/2 teaspoon salt
1/4 teaspoon ground pepper
1 pkg. dry onion soup mix
Instructions
Preheat oven to 400 degrees F.
Pat chicken pieces dry with a paper towel, then add to a casserole dish.
Combine the dressing, preserves, garlic powder, dry onion soup, salt, and pepper in a blender or food processor. Blend or pulse until smooth, then pour over the chicken, tossing to coat evenly.
Cover the casserole dish with foil and bake for 40-50 minutes, removing the foil during the last 10 minutes of baking until the chicken is cooked through and the sauce is hot and bubbly.
Serve over rice, pasta, or potatoes.
Recommended Products
As an Amazon Associate and member of other affiliate programs, I earn from qualifying purchases.
Nutrition Information:
Yield: 6
Serving Size: 1
Amount Per Serving:
Calories: 450
Total Fat: 12g
Saturated Fat: 3g
Trans Fat: 3g
Unsaturated Fat: 8g
Cholesterol: 102mg
Sodium: 846mg
Carbohydrates: 47g
Fiber: 0g
Sugar: 34g
Protein: 38g