Parmesan Kale Chips
We have a fantastic cookbook for you today called Rush Hour Meals by Rose Reisman. From this cookbook I selected Parmesan Kale Chips. This really isn't a meal option but a snack or side dish. I have been wondering for a long time would these really crisp in the oven enough to be called a chip? Are they crunchy like a real potato chip or do they get soggy in no time.
We love kale here and have it many ways. So I decided to play this one out and see for myself and my family if this would really work. How astounding are these kale chips!! Crisp, light as air and full wonderful kale flavor that really has a lovely slightly bitter taste. Pairing up the kale with the salty wonderful parmesan is fantastic. As a result, these were an instant hit and one that we have already made again.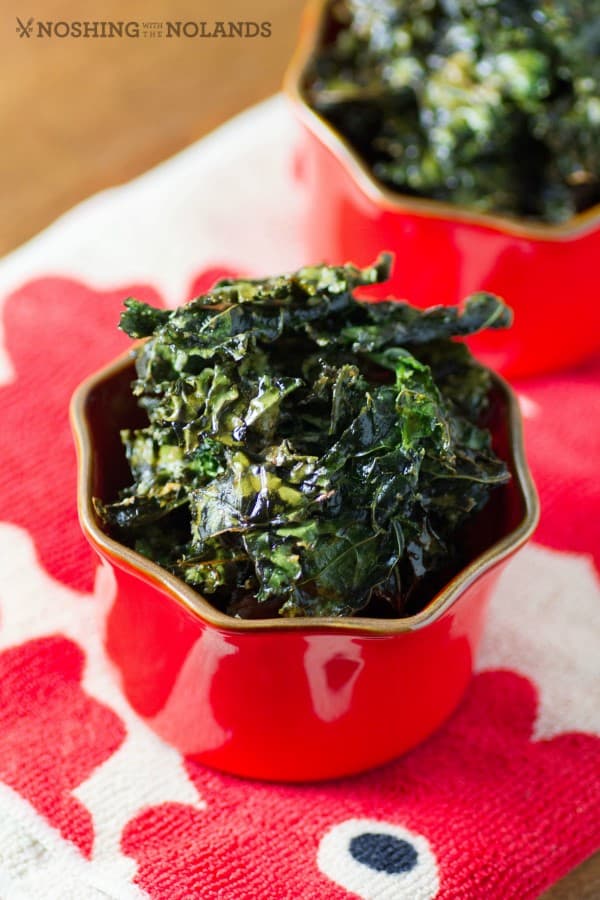 When you pick up these chips they are as light as air. The moisture bakes out of the kale very quickly giving you a crisp perfect chip. Just make sure to spread them out with space inbetween and not overlapping them when baking.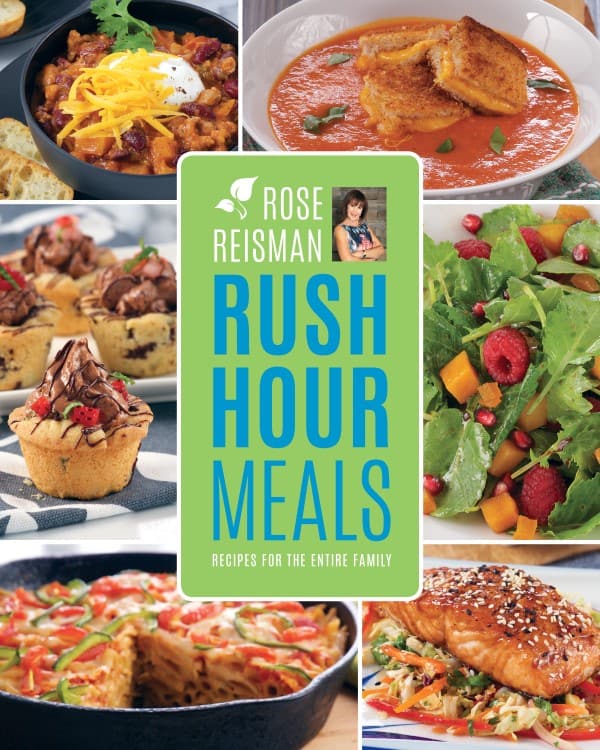 I love recipe books with quick fix dinner ideas. Before trying the Parmesan Kale Chips, we made Chicken with Roasted Cherry Tomatoes and Asiago. This was a delicious fast meal that was prepped in 5 min and cooked in 19 min. We all loved it and I can't wait to try more out of this mouth watering cookbook. Recipes like Mac & Cheese Wonton Cups, Turkey Chili with Butternut Squash or Greek Salad with Roasted Potatoes.
Family cooking is about three things according to Rose Reisman, nutrition, taste and getting your food on the table! Rose is a master of simple, delicious family cooking. Rush Hour Meals gets dinner on the table in 30 minutes or less! This cookbook contains 112 fantastic recipes that your family will love from appetizers to dessert and all day breakfasts!!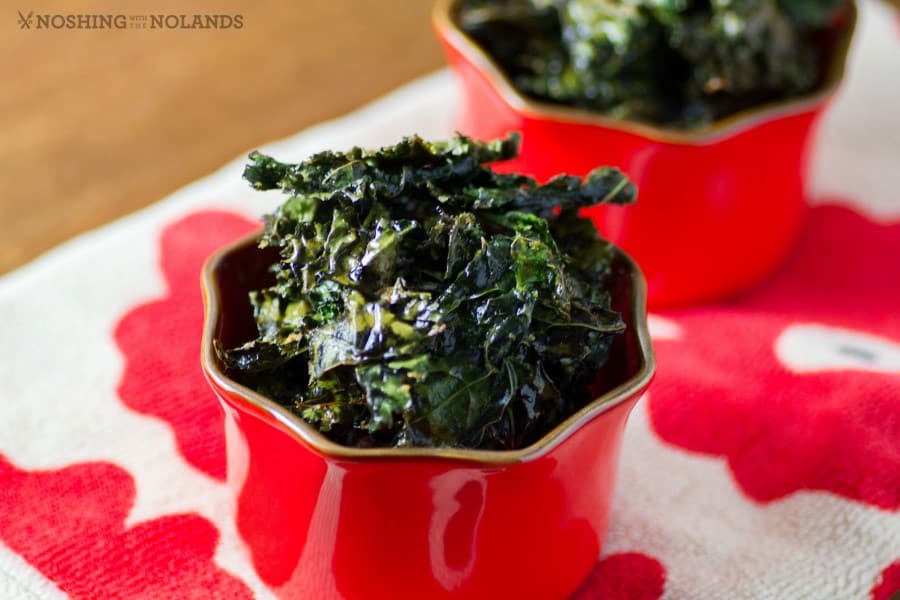 The second time I made these I served them on the table as a side dish for everyone to snack on with dinner. They were gobbled right down with everyone enjoying them immensely.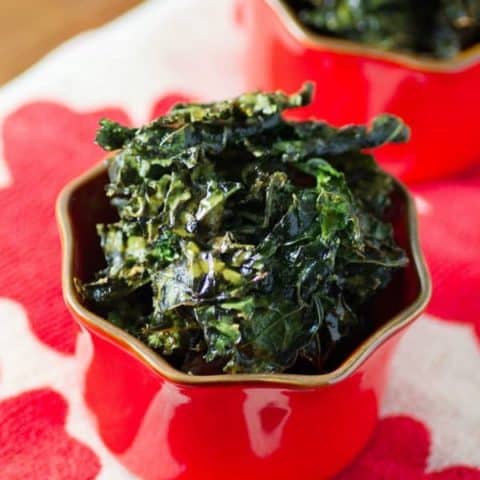 Parmesan Kale Chips
Yield: 8 servings
Prep Time: 5 minutes
Cook Time: 15 minutes
Total Time: 20 minutes
If raw kale leaves don't appeal to you, try baked kale chips! These crispy, salty green snacks are trendy for a reason: they are easy to make, incredibly healthy and so delicious! Not to mention that baking the kale instead of deep-frying it retains all of its nutritional benefits. To keep these chips crisp, do not cover them after they are baked.
Ingredients
1 large bunch green kale, trimmed and thick centre rib removed
2 Tbsp (30 mL) olive oil
2 Tbsp (30 mL) freshly grated Parmesan cheese
Salt and pepper
Instructions
Preheat the oven to 350°F (175°C). Spray 2 large baking sheets with vegetable oil.
Tear the kale leaves into bite-size pieces and place in a large bowl. Add the oil, Parmesan, and salt and pepper. Using your hands, massage the leaves for about 2 minutes to soften them. Arrange the leaves in a single layer on the prepared baking sheets.
Bake in the preheated oven for 15 minutes or just until crisp. Remove from oven and let cool completely on the baking sheets.
TIP
To store chips so they stay crisp, place dry (uncooked) rice in the bottom of an airtight container and then place the cooled kale chips loosely on top. Cover and set aside at room temperature. The rice will absorb any excess moisture. Will keep for up to 1 week.
NUTRITION TIP
Kale is a superfood, and 1 cup (250 mL) provides more than your daily needs for vitamin A and vitamin C. Vitamin A is important for eye health, and vitamin C strengthens your immune system. Kale chips are a great low-calorie snack: 1 cup (250 mL) contains only 33 calories, 3 grams of protein and 2.5 grams of fibre.
FOR KIDS
Even kids enjoy this crunchy leafy green snack. Ask them to join you in the kitchen to help you prepare it. It's a great way to educate children about this healthy alternative to the standard potato chip.
NUTRITIONAL INFORMATION
PER SERVING (1 CUP)
Calories 43
Carbohydrates 0.1 g
Fibre 0.3 g
Protein 0.8 g
Fat 3.9 g
Saturated Fat 0.7 g
Cholesterol 1.1 mg
Sodium 26.3 mg
Rose Reisman is one of the best known and most highly regarded cookbook authors in Canada. She is a leading authority on the art of eating and living well. She has had 19 cookbooks published and is also a speaker, columnist and TV personality. She has Rose Reisman Catering which focuses on a newly launched Children's Lunch Program and Personal Gourmet, a fresh and frozen food delivery program. She also consulates at the Pickle Barrel chain and Glow Fresh Grill. Rose resides in Toronto with her husband, four children, two identical granddaughters and her dogs and cats.