Fresh Kiwi Mango Strawberry Salsa is so refreshing for a hot summer day. It is a salsa that everyone will love to dive into. Fresh, healthy and easy to prepare, a fantastic salsa that goes great from an appetizer to dinner and beyond. Zespri SunGold Kiwifruit is the star of the show in this gorgeously colourful salsa. These SunGold Kiwifruit are bursting with healthy vitamin C, E, potassium and fibre.
Kiwifruit are so enjoyed in this house in many recipes but they are also an easy "Cut and Scoop" snack for anytime of the day. I love to put them in my daughters lunch boxes too. I just slice them in half and then put the kiwi back together and place it is a zipper plastic bag. It is then ready for my daughter to scoop out and enjoy. I have done this for years and it is always a fruit that is eaten in her lunch box.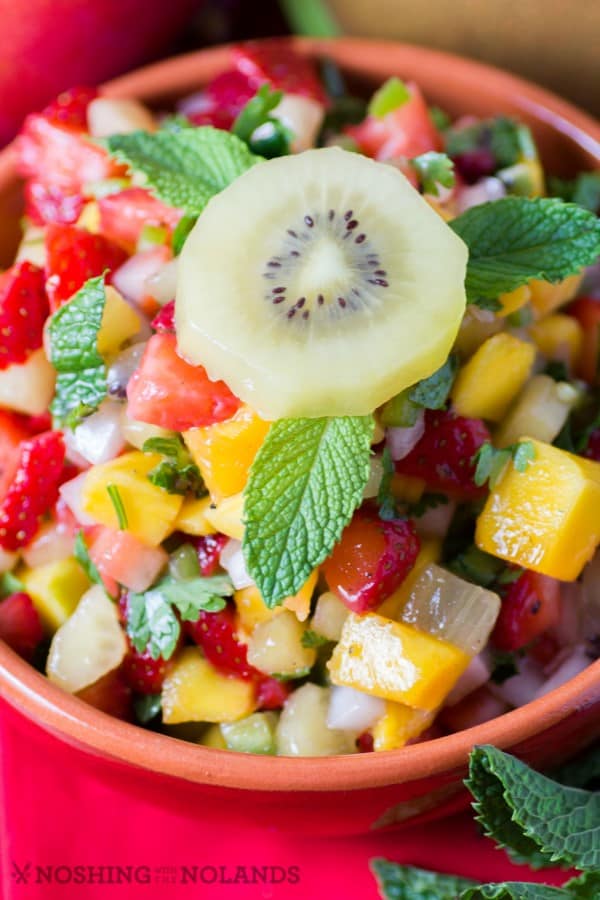 Disclaimer: This is a sponsored post from Zespri Kiwifruit but all opinions are my own.
This is one gorgeous salsa don't you think and the flavors are amazing together. Fresh fruit, with a little onion, jalapeno, cilantro and mint go so perfectly together. You will want to be making this again and again.
Zespri SunGold Kiwifruit has lots of great benefits besides its scrumptious sweetness. They are high in fibre, so high that only two kiwis equal a bowl of bran flakes. Kiwifruit will significantly slow and reduce the uptake of sugars in the bloodstream. This is great for losing or maintaining a healthy weight. Having a kiwi as a snack helps you avoid high-sugar treats between meals. Grab a kiwi, slice, scoop and go. They also help to maintain a healthy blood sugar level as part of a diabetes treatment plan.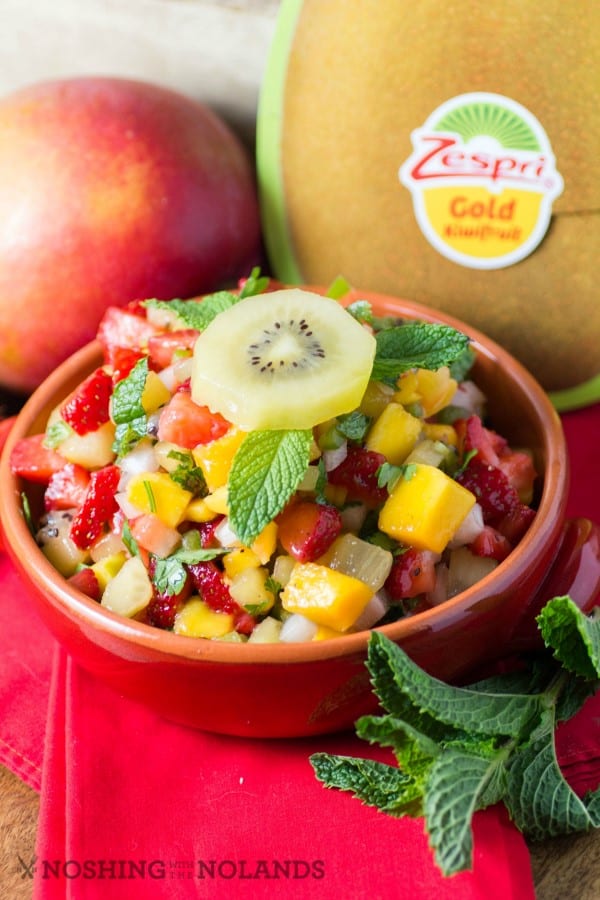 These pretty SunGold Kiwifruits can be found in grocery stores from May to October, so keep an eye out for them. They are a gorgeous colour and are sweeter than their green cousins. They taste like a cross between a mango and strawberry, another reason they go so well in this salsa! They have a smooth hairless skin and juicy, yellow flesh inside.
Once your kiwis ripen in abut 3-7 days, they will stay fresh in the refrigerator for another 2 weeks. Now that is a great tip to get more longevity out of your fruit!! My mouth is watering thinking about these awesome kiwifruits again.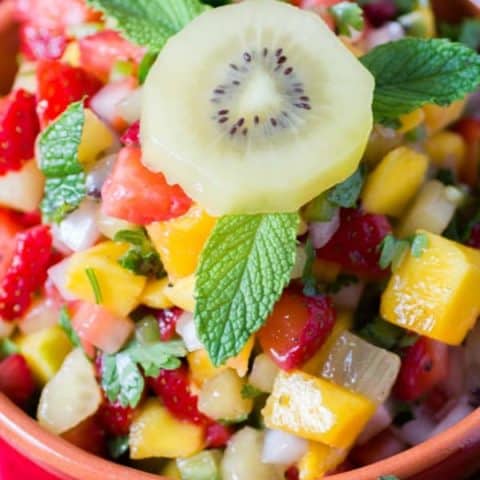 Fresh Kiwi Mango Strawberry Salsa
Prep Time: 15 minutes
Total Time: 15 minutes
A fresh fruit salsa of kiwi, mango and strawberry that pair lovely with onions, jalapenos, cilantro and mint. Perfect for a sunny summer afternoon or anytime.
Ingredients
4 Zespri Gold Kiwiwfruit, peeled and diced
8 large strawberries, topped and diced
1 large mango, peeled and diced
1/4 cup sweet onion, diced
1 large jalapeno, seeded and minced
1/4 cup cilantro and mint, chopped
Juice of one lime
1 Tbsp. olive oil
Salt and pepper to taste
Instructions
In a large bowl, add all the ingredients and toss gently. Serving immediately is best.