Do you love dinners with an easy clean up? Well, foil pack cooking will be something you will fall in love with then. These Clam, Bacon, Little Potato Foil Packs require one pan for preparation and nothing else but your BBQ.
They are loaded with delicious clams, thick crispy bacon and perfectly cooked Little Potato Company potatoes. Plus there is a lovely sauce in the bottom that is created while cooking for scrumptious bread dipping, my favorite!!
These packs are perfect for summer BBQ season. A lot of the ingredients can be prepped ahead of time, freeing you up for an easy throw together meal for company.
Plus, the ease of cleanup for a party afterwards is perfect. For a chance to win a free month of Creamer potatoes, scroll down to the bottom and enter our giveaway!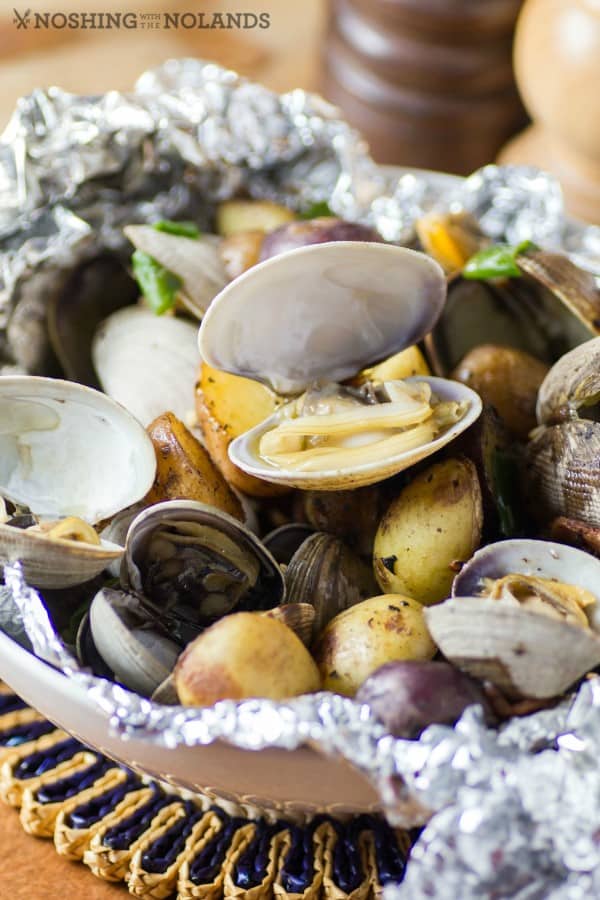 Seafood, bacon and potatoes are a wicked combo!! Adding a fresh salad to this meal will have it complete!! Cook your creamer potatoes completely but not overcooked and they will be perfect in the packs.
To pan fry these little potatoes, start with a small amount (1 tsp.) of bacon fat with 1 Tbsp. of butter and cook on medium low with the cover on in a large saute pan. As the potatoes cook, remove the lid and increase the heat to brown. Season with salt and pepper and they are ready for the packs.
Mmmmm, butter!!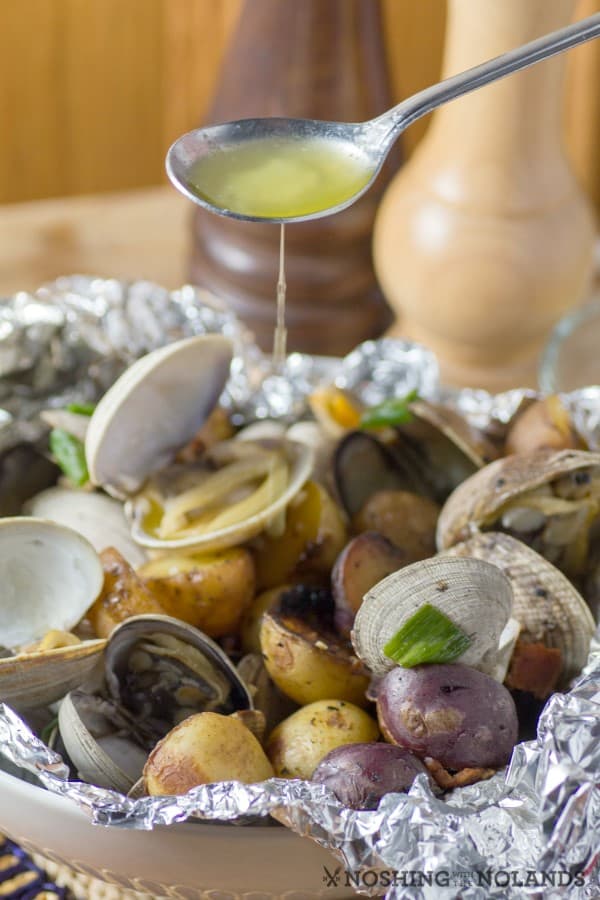 For the perfect added richness we dribbled melted butter into the hot steaming pack of clams and potatoes. This drizzled it's way down to the sauce in the bottom therefore adding in the right touch of deliciousness. Sometimes I add a dab of butter into the pack but this worked even better for getting the butter onto the clams themselves.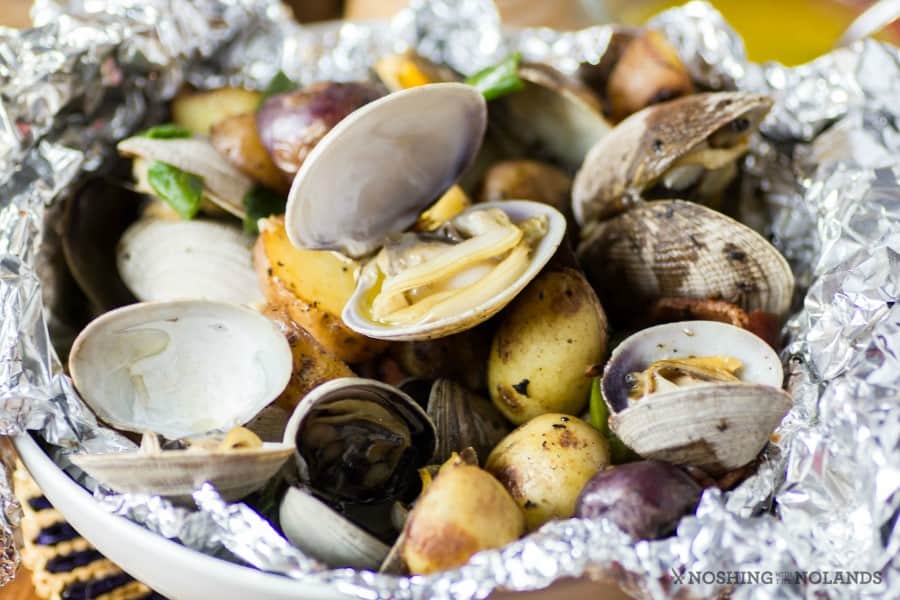 See the lovely purple potatoes in here, they come as part of the Terrific Trio from The Little Potato Company. They make a special presentation in any dish.
Terrific Trio Creamer Potatoes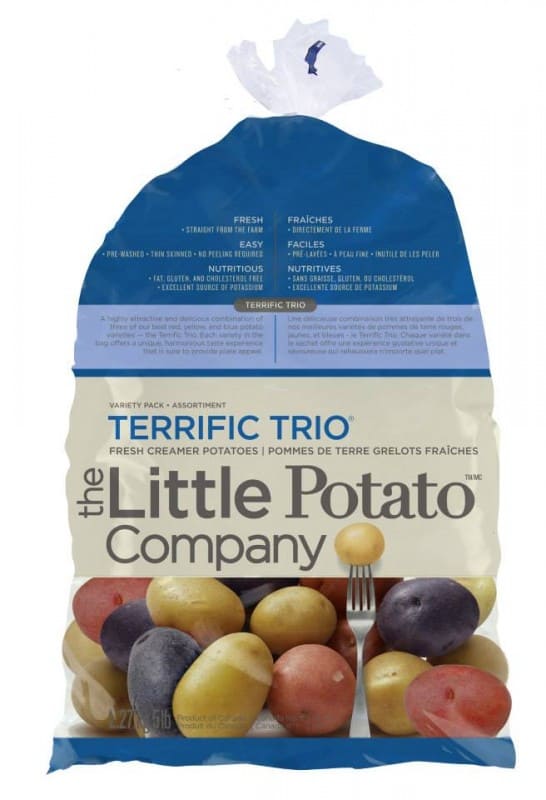 Furthermore, Terrific Trio comes with three different potatoes together. Red, yellow and blue varietals each bring something to the table because they are not only eye pleasing but add in their different taste profiles. The yellow Creamer, which is one of my faves is smooth and also buttery, the red has a sweet yet earthy taste. The blue Creamer has such pretty purple skin and little veins of purple running through some of them. They really taste like a great potato!! All The Little Potato Company Creamers come pre-washed which is great as they are ready to roll for you. Cooking them is fast and easy too! Boiling requires 15 min., baking 30 min., BBQ 40 min. and in the microwave only 5 min. In our recipe today they need about 20-25 min for perfection.
Clam, Bacon, Little Potato Foil Packs Recipe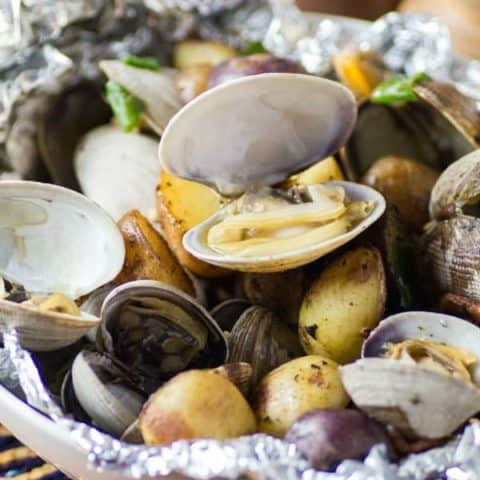 Clam, Bacon, Little Potato Foil Packs
Yield: 4 servings
Prep Time: 20 minutes
Cook Time: 40 minutes
Total Time: 1 hour
A rich and delightful BBQ entree that requires no clean up. Making these Clam, Bacon, Litle Potato Foil Packs will be come one of your family or entertaining dishes for this summer.
Ingredients
12-14 clams per package (48-56), rinsed
1.5 lbs. Terrific Trio
1 Tbps. butter
Salt and pepper
12 slices thick sliced bacon, cooked saving a small amount of fat in the pan (1tsp.)
5-6 green onions, chopped
2 tsp. garlic, minced
8 oz. white wine
Heavy duty BBQ foil
Melted butter for serving
French bread for dipping
Instructions
Make four foil packets using about 2'x2' of foil, set aside.
Cook the potatoes in the same large pan as the bacon with 1 tsp. of reserved bacon fat and 1 Tbsp. butter. Start off medium low with the lid on for about 10 min., as the potatoes cook, remove the lid and increase the heat cooking them until brown and just fork tender. Season with salt and pepper.
Heat the BBQ to medium about 375F.
Divide the clams and the potatoes per package. Add three slices bacon, crumbled and 1/4 of the green onions to each package. Sprinkle with freshly ground pepper. Create packs with the foil bringing up the sides. Mix the wine and garlic together and add a quarter of it to each package, 2 oz. Fold the pack up tightly being careful not to puncture the foil.
Put the packages on the grill. Close the lid and for 10-12 min. Shake each pouch after 7 min. Serve immediately with drizzled butter and bread for dipping.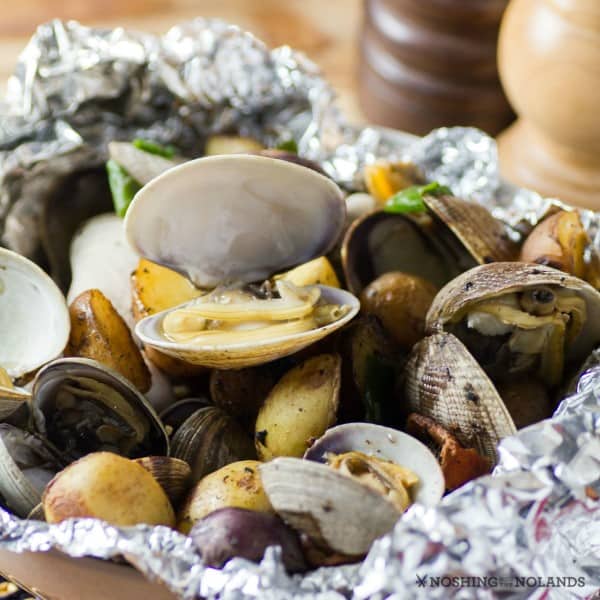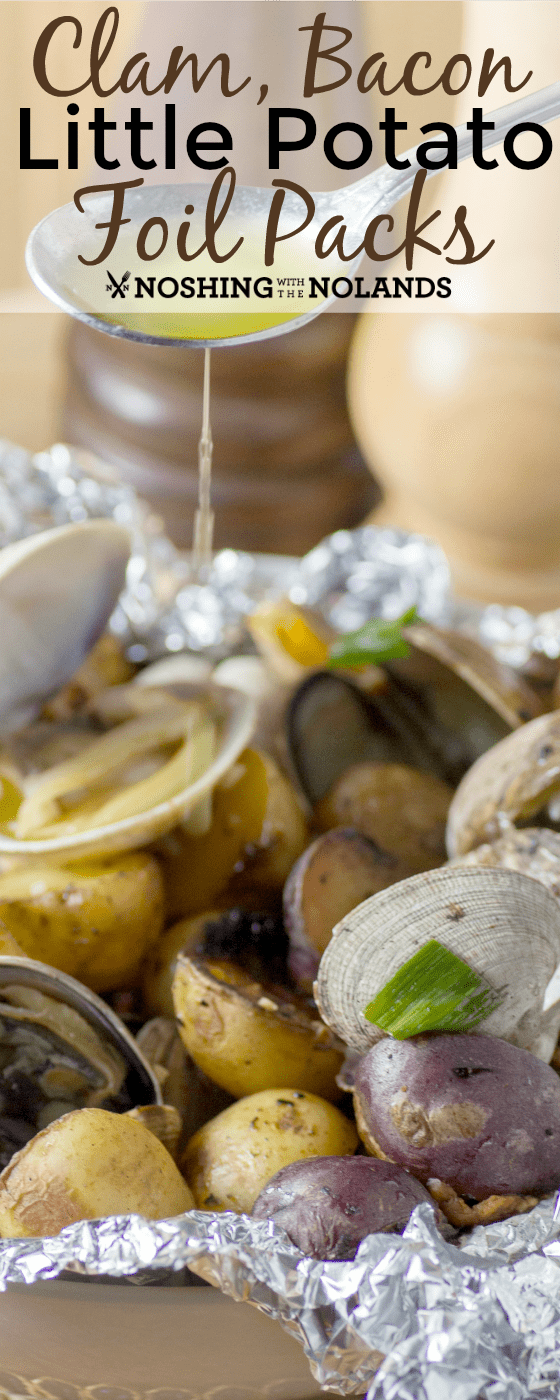 Giveaway
We have for a chance for you to win a free month of wonderful Creamer potatoes to try this recipe and more!! winners will be selected from the US or Canada. The contest is open until August 4, 2016 at 12:00 am. At that time a random winner will be chosen. The winner has 48 hours to respond by email or another winner will be chosen. Good luck everyone!