Sweet Sriracha Roasted Cauliflower
I am a sucker for a great side dish, especially when it is roasted. Something that is full of flavor that complements the main just makes the enter meal so much more enjoyable. Sometimes it is hard to pair something with an Asian meal. This Sweet Sriracha Roasted Cauliflower is absolutely perfect!!
This recipe is from the new cookbook Liv B's Vegan on a Budget by Olivia Biermann. I love to review cookbooks, it is one of my favorite things to do.
This bright and delicious cookbook has me strumming through the pages with eager anticipation in wanting to try one after another of her fantastic recipes.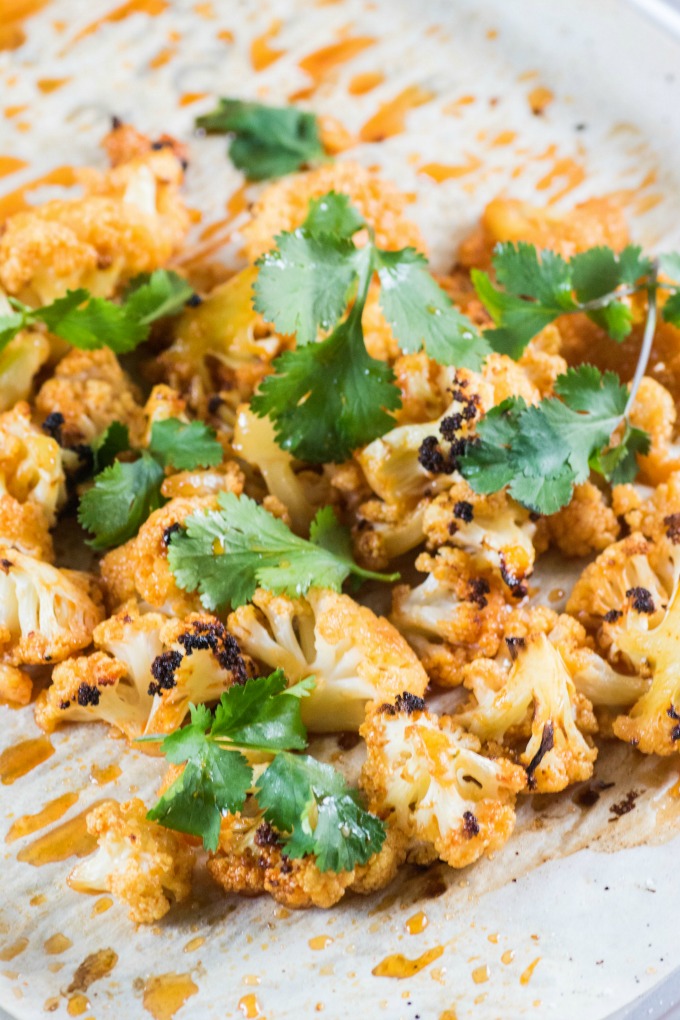 I love the sweet heat of this recipe and I kept it in just a bit longer to get that charred edge that just adds so much more flavor too. Roasting veggies is the best and this recipe is wonderful.
In Olivia's cookbook she has given you easy-to-follow icons that identify which recipes are also gluten-free, portable or ideal for gatherings. This recipe in particular is great for a gathering and is also gluten free!!
Olivia also shows you how to keep the prices down while eating a delicious plant-based diet. A diet that is fast and simple too. You don't want to be breaking the bank with the rising cost of vegetables!!
This is an easy recipe to keep stored away at the back of your mind too when you see cauliflower on sale. Grab one or two heads of cauliflower and make this up on a budget!!
Liv B's Vegan on a Budget Cookbook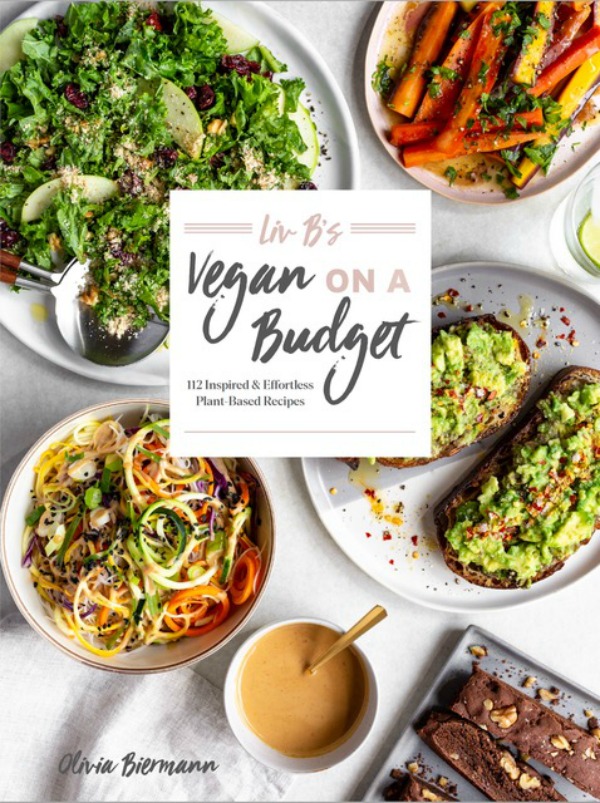 We like to have vegan/vegetarian meals at least once a week. We may even want more after looking at this delicious cookbook. Olivia Biermann has the Liv B blog along with a You Tube Channel. Olivia isn't your typical vegan cooking star though as she doesn't want to spend tons of time in the kitchen.
She enjoys meals that are simple to make but are still absolutely delicious. She avoids "fancy" ingredients and likes to cook with what most people have on hand.
Liv B's Vegan on a Budget is filled with 112 simple recipes that showcase meals from breakfast to dinner. She has balanced the cookbook out nicely between sweet and savory, comfort foods and healthy choices.
You'll find recipes for Tropical Green Smoothie, Half-Baked Cookie Dough Pancakes, Spicy Mango Salsa, Famous Lasagna Soup, Ginger-Glazed Carrots and Deep-Dish Apple with Caramel Sauce to name a few.
How to Roast Cauliflower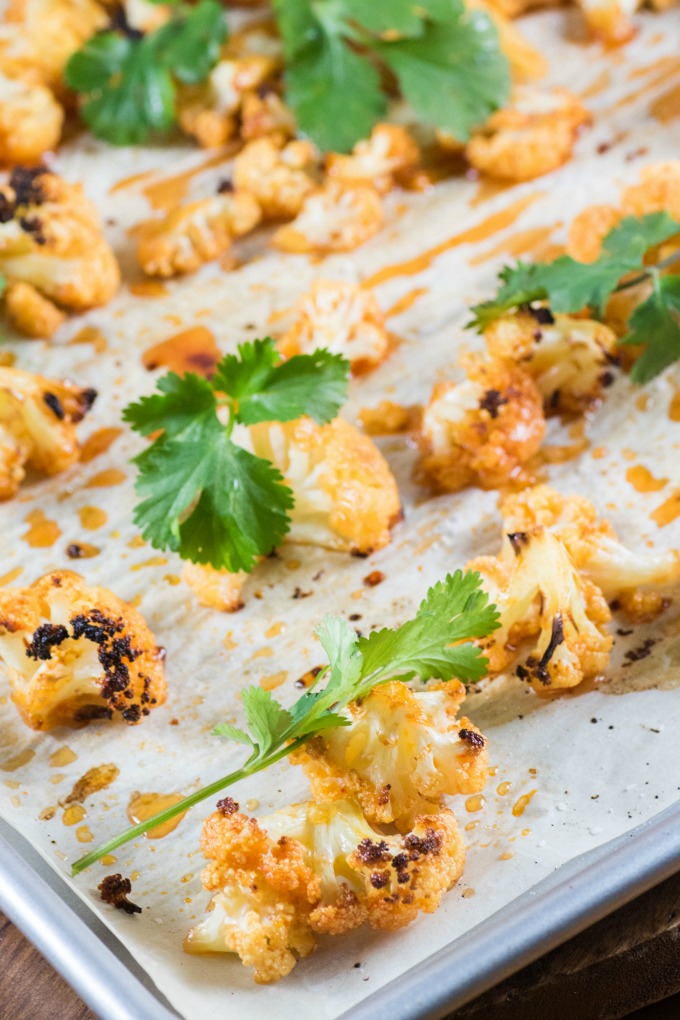 You can easily do a basic roasted cauliflower recipe by simply cutting up a cauliflower into florets and drizzling on olive oil, salt and pepper. A hot oven does the best work, anywhere from 375-450F gives you a crispy result.
One of the key things to remember is not to crowd the cauliflower while cooking. Let the air get at them to roast instead of steam them. Vegetables have a high water content so it is best to give them lots of room to get the crispy results you are wanting when roasting.
Putting the oven on convection will also help in speeding up the process and giving the cauliflower a nice little bit of char too.
Best Roasted Cauliflower Recipe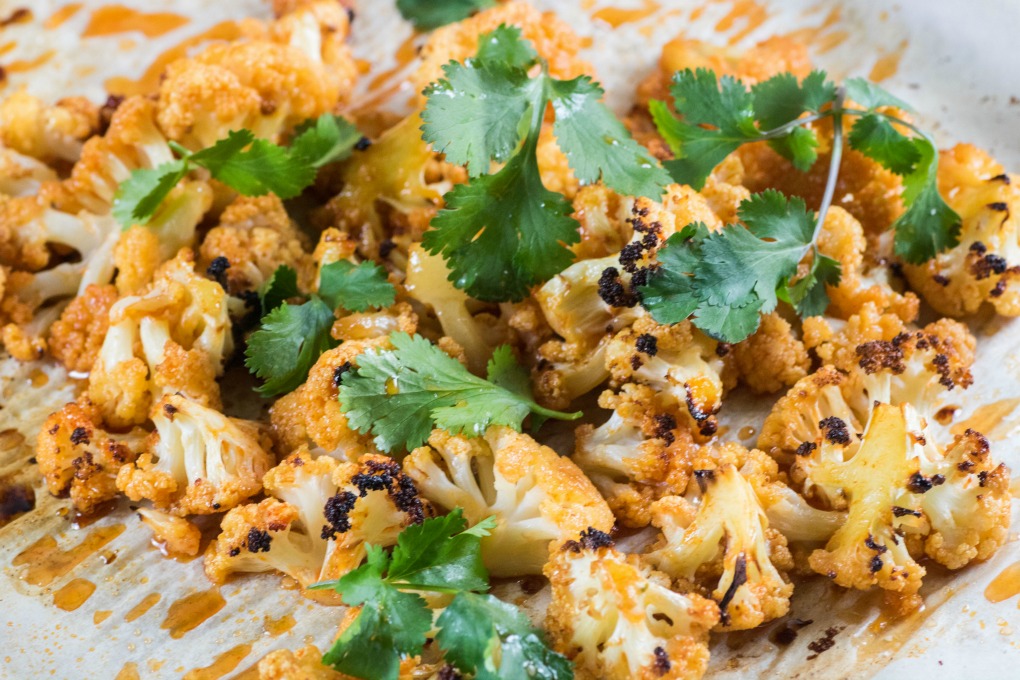 I love this recipe for not only its simplicity but for the sweet heat from the combination of sriracha and maple syrup. There are only 5 ingredients in this recipe, cauliflower, salt, vegetable oil and the foremost mentioned sriracha and maple syrup.
Super easy but the flavor will be the thing that blows you away. I just added in the bright cilantro for some contrasting color. Another very simple addition if you want!
Clean up is a breeze too with using parchment paper on the rimmed baking sheet. If you want to keep the costs down though, just use plain old elbow grease to get that pan sparkling again. After a little soak it will be easy too.
How Long to Roast Cauliflower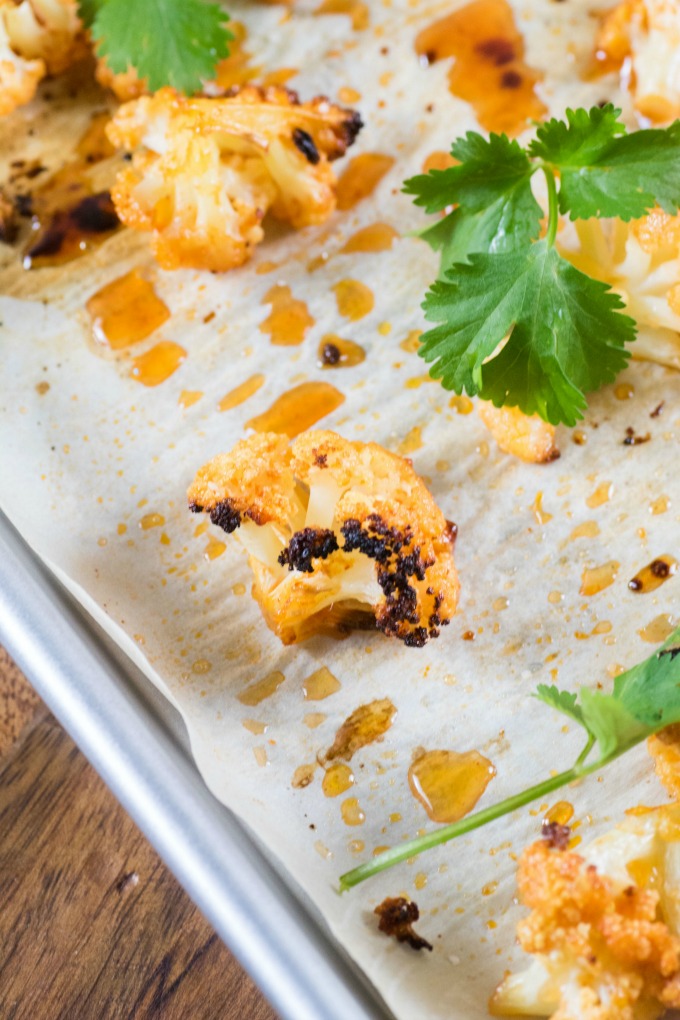 I just want to grab that crispy sweet heat right from the page, don't you? Keep an eye on the cauliflower towards the end of roasting so that you will get that perfect doneness. Toss the cauliflower first in the oil and roast for 10 min.
It then bakes for a further 15 min. dressed up with the sauce!! Keeping it simple sometimes makes the best recipes!! You will love the results of this one.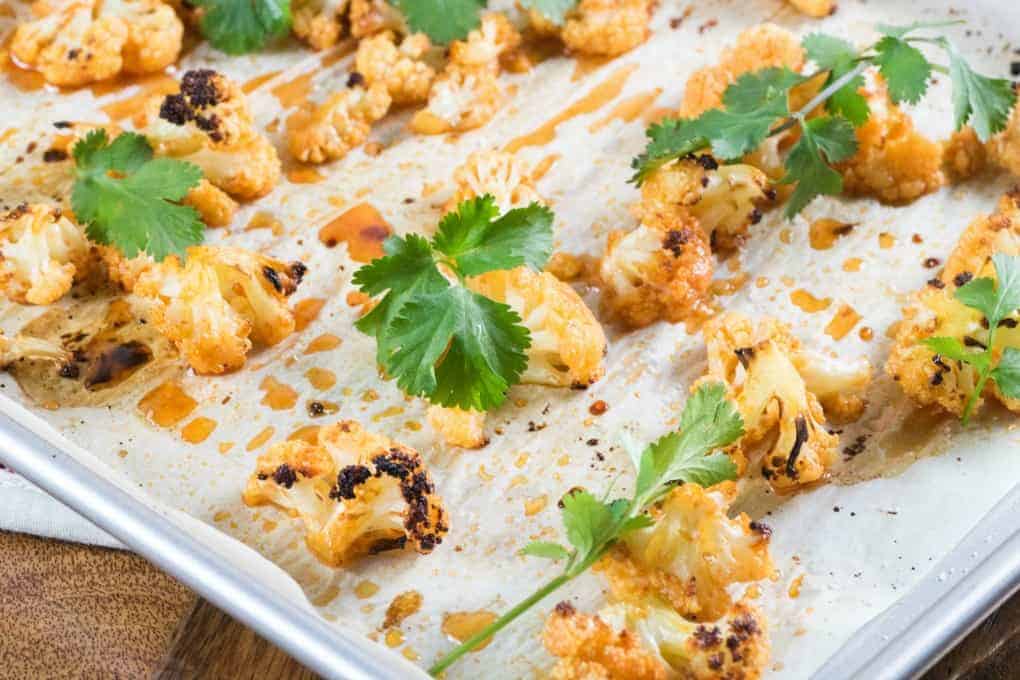 Lots of times we will have an Asian meal like pot stickers, spring rolls, summer rolls etc. but you want something different than a stir fry to go with them. This would be the perfect recipe to add in that little extra dish that takes no time at all.
Does cauliflower bore you? Well you can leave that boredom behind with this very delicious side. I love roasted cauliflower! Try it today, trust me you will be making it again and again!!
About the author: Olivia Biermann shows through video tutorial a step-by-step approach to her audience that vegan cooking is anything from boring, flavourless or "too healthy"!
Olivia resides in Halifax, Nova Scotia, Canada. You can follow her also on Instagram.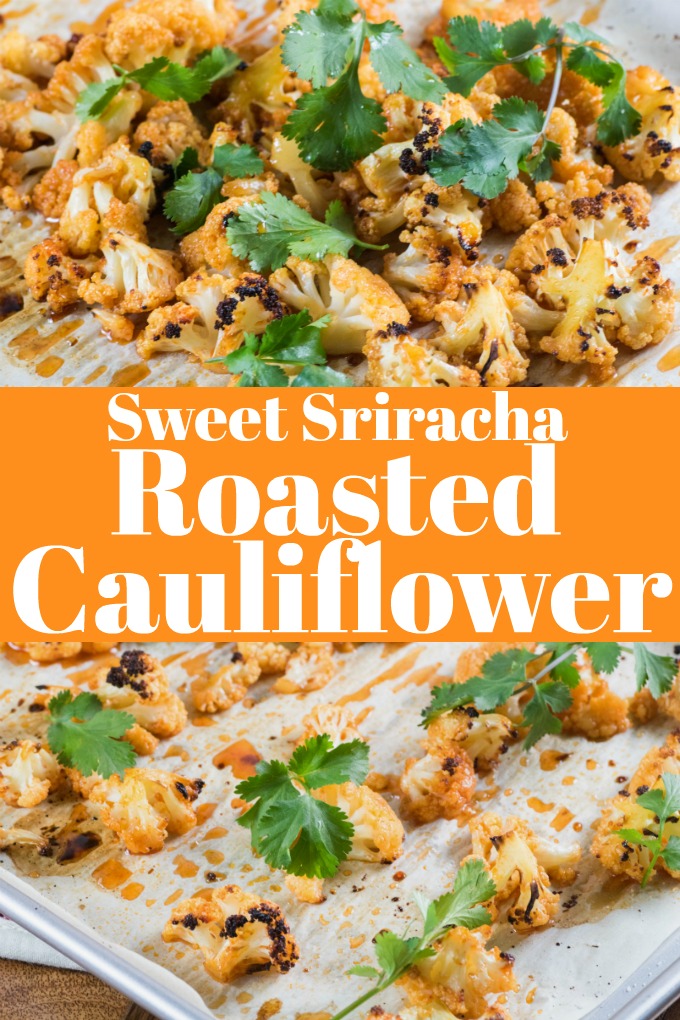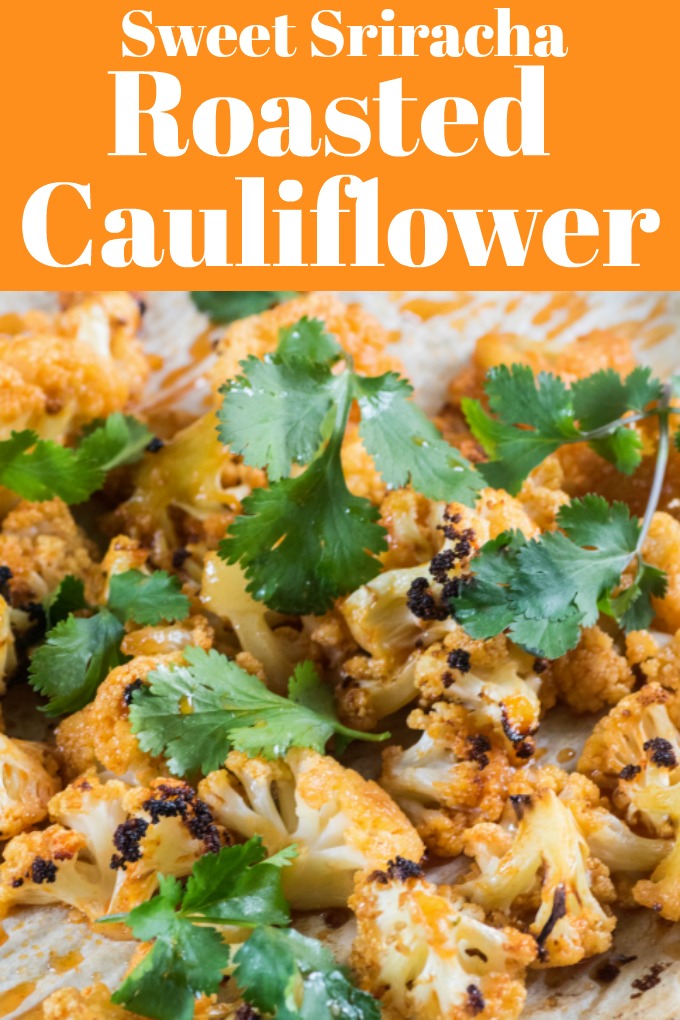 Sweet Sriracha Roasted Cauliflower Recipe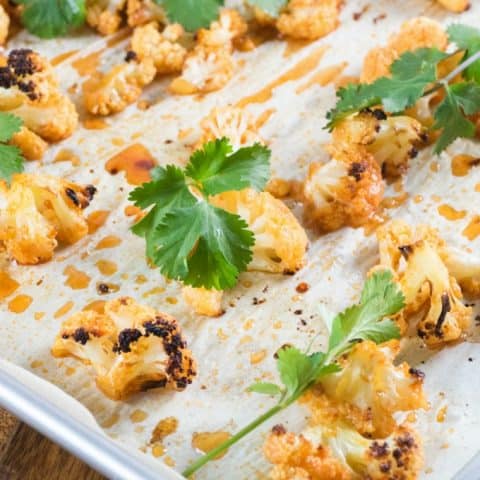 Sweet Sriracha Roasted Cauliflower
Yield: 4 servings
Prep Time: 5 minutes
Cook Time: 25 minutes
Total Time: 30 minutes
This cauliflower recipe makes a nice change from typical roasted veg because of its unique sweet and hot flavors. It makes a great side dish with Chickpea, Lentil and Sweet Potato Curry (page 165), and I also use it in Sweet Sriracha Cauliflower Wraps (page 131).
Ingredients
1 large cauliflower head, 
chopped into florets
1 tbsp (15 mL) vegetable oil
2 tbsp (30 mL) Sriracha sauce
1/4 cup (60 mL) pure maple syrup 
or agave nectar
1/4 tsp (1 mL) salt
Instructions
Rimmed baking sheet, lined with parchment paper or foil
1. Preheat the oven to 425°F (220°C).
2. Combine the cauliflower and oil in a large bowl; toss to coat.
3. Spread out the cauliflower in an even layer on the prepared baking sheet, setting aside the bowl. Bake in the preheated oven for 10 minutes, until the cauliflower begins to brown.
4. Meanwhile, whisk together the Sriracha sauce and maple syrup in the large bowl.
5. Remove the cauliflower from the oven and return it to the bowl with the Sriracha sauce mixture, setting aside the baking sheet. Toss to coat.
6. Return the cauliflower to the baking sheet, spreading it out in an even layer; sprinkle with the salt and bake for another 15 minutes, until tender. Remove from the oven; serve.
Notes
My Tip
Store the roasted cauliflower in an airtight container in the fridge for up to 3 days. To reheat, bake for 15 minutes in an oven preheated to 350°F (180°C), or heat in the microwave for 1 minute or until heated through.
Nutrition Information:
Yield: 4
Serving Size: 1
Amount Per Serving:
Calories: 303
Total Fat: 5g
Saturated Fat: 0g
Trans Fat: 0g
Unsaturated Fat: 4g
Cholesterol: 0mg
Sodium: 394mg
Carbohydrates: 66g
Fiber: 5g
Sugar: 56g
Protein: 4g
Courtesy of Liv B's Vegan on a Budget by Olivia Biermann © 2019
www.robertrose.ca
Reprinted with permission. Available where books are sold.
Image credit Brilynn Ferguson