What is Chayote Squash and What Do I Do With It?
What is Chayote Squash and What Do I Do With It? Chayote (chai·ow·tei) squash, also known as mirliton squash or Mexican pear squash, is a small summer squash native to Mexico but now found worldwide in warmer climates.
Chayote, like the tomato, is technically a fruit although it is almost always prepared as a vegetable. This squash looks like a large, lumpy, unripe pear.
It has a color ranging from pale green to dark green with white flesh. Another favorite that we have discovered is cucamelons or Mexican Mouse Melons, which we grow each year at home. See some other unique vegetables like Jicama, Kohlrabi, Chayote Squash, and more.

Some varieties have a spiny texture to the skin while others are smooth but bumpy. While chayote can be eaten raw or cooked, it is more commonly cooked unless being served in a salad or as an appetizer.
Raw chayote drizzled with lemon or lime juice and a pinch of salt is a favourite snack in many Southern households. The skin is edible and full of nutrients so leave it on when preparing chayote.
Check out our new How-To section to learn more about unusual produce plus great ideas for the kitchen and home.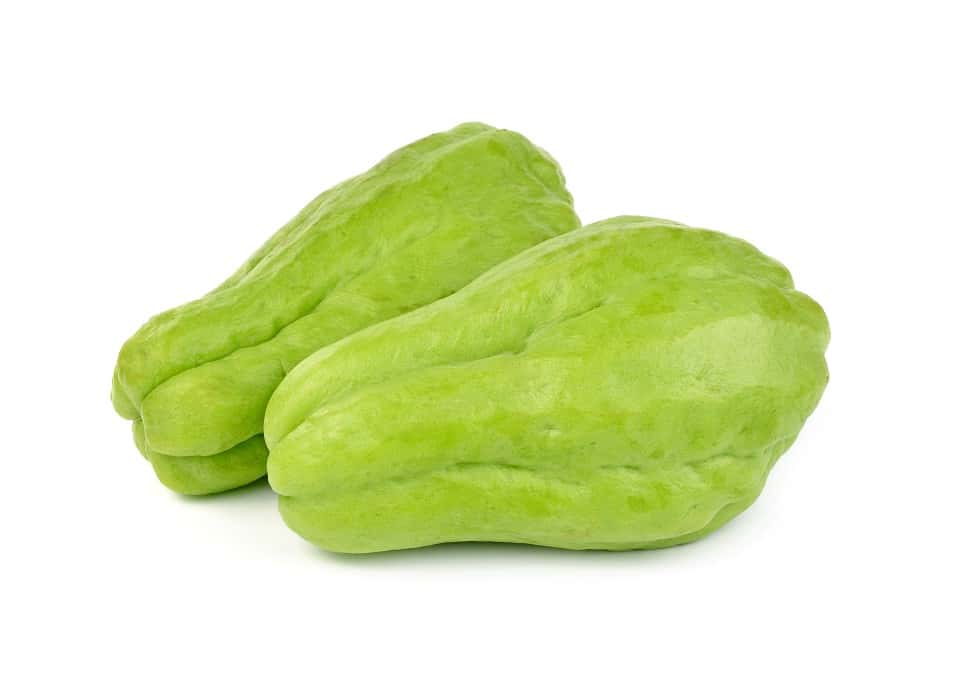 Benefits of Chayote Squash
Chayote is very healthy and is used as a replacement for starchy vegetables such as potatoes. A cup of chayote has 25 calories and only 6 grams of carbs so chayote is very popular with people who are doing Keto or other low-carb diets.
It is a good source of vitamin C, vitamin B, potassium, and amino acids. Chayote has been used in traditional medicine in Latin America and Asia for its anti-inflammatory properties and chayote tea is a common natural treatment for a variety of ailments.
What Does Chayote Squash Taste Like?
If you have ever tried Jicama they are a bit similar as Chayote is slightly sweet but also very, very juicy and crunchy like Jicama. Unlike Jicama's colouring though Chayote is green on the outside to white or pale green on the inside.
The first time I tried them I thought it was honeydew on my plate but when tasted they burst with juice and were served hot with salt, pepper and butter.
How to Cook Chayote Squash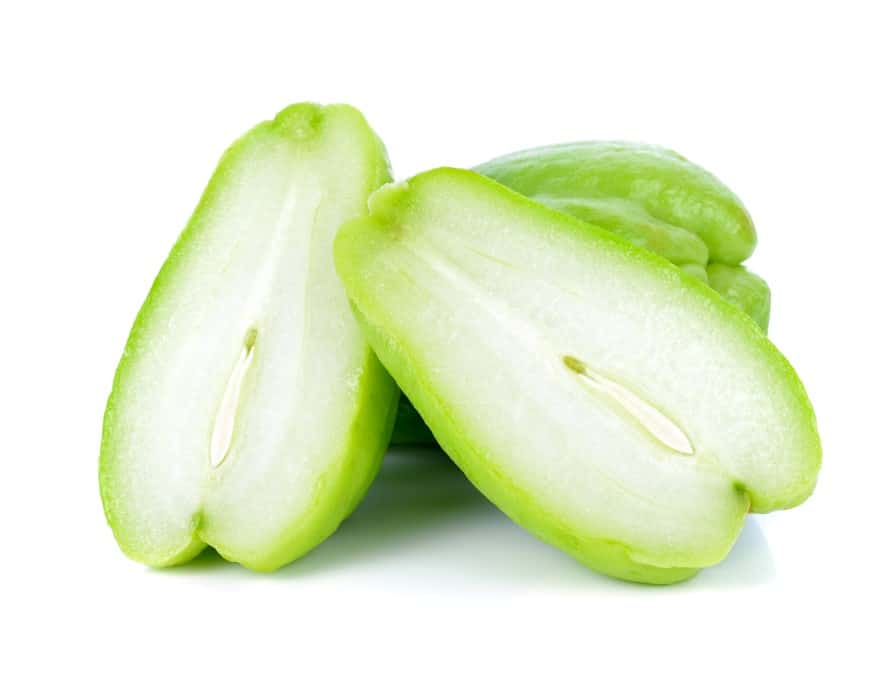 There are a number of ways to cook chayote squash. All parts of the plant can be used depending on how it is prepared.
In South-East Asian cuisine, the young shoots of the chayote plant are used in a stir fry while the leaves and the fruit itself are used in soups.
Chayote can be used as a substitute for or in combination with other summer squash and roasted. Because it is water-rich, you should not add salt until after it is done cooking or it can become dehydrated.
Instead, simply chop the chayote fruit into small pieces and toss with about 2 tablespoons of oil – olive oil is a great one to use. Roast for 15-20 minutes at 375 degrees Fahrenheit.
You can use the roasted chayote as a side dish on its own or add it to a casserole or curry.
You can also grill chayote fruit by slicing it into medium slices (about the same thickness as you would zucchini or eggplant), brushing with olive oil and grilling for 4-5 minutes per side.
One of the most popular uses of chayote squash is in soups. Because of its mild taste, the chayote squash is well suited to be used in soups. It does well with bold flavours and ingredients such as chipotle and hot peppers as it helps balance them out.
Also, another note that when preparing chayote it tends to leave a white film on your hands that dries and feels restrictive and tight. For me it has just washed off. This is from the sap of the fruit. If you want to avoid this then use gloves while preparing.
Where do I Buy?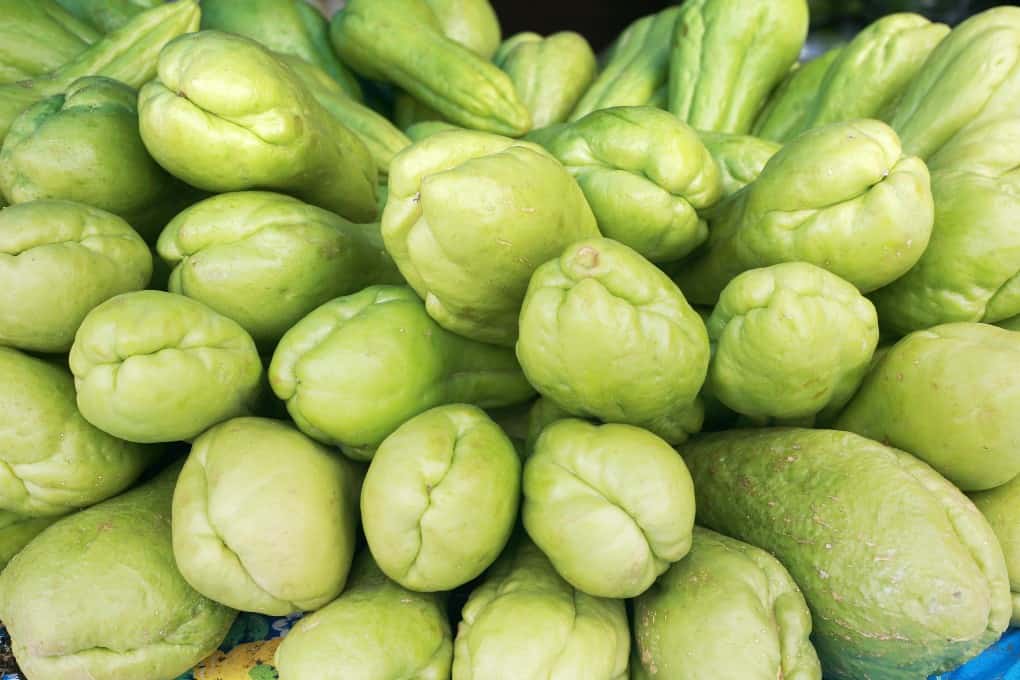 Chayote squash can be found in some grocery stores or specialty fruit and vegetable markets. In the summer it can sometimes be found at Farmer's Market.
Depending on where you live, chayote can be available year-round. If you don't see it, try asking your produce manager, and remember to check under the name mirliton as well.
Ripe chayote should be firm to the touch and the skin shouldn't have any soft spots on it. Store chayote squash in the fridge and use within a few weeks for optimal freshness.
Have you cooked with chayote squash before? What are your favorite things to do with it?