Disclosure: I was compensated for this post. All opinions and experiences are my own.
August is usually perfect weather in many areas of North America to be enjoying the outdoors and the summer heat. To make life easier for these dog days of summer, foil packs come in so handy. This recipe for Steak and Little Potato Foil Packs couldn't be easier using Creamer potatoes from The Little Potato Company.
To make these foil packs irresistible we dab the steak bites with garlic herb butter that also melts into the Little potatoes and sweet onions. Heavens, nothing could be better.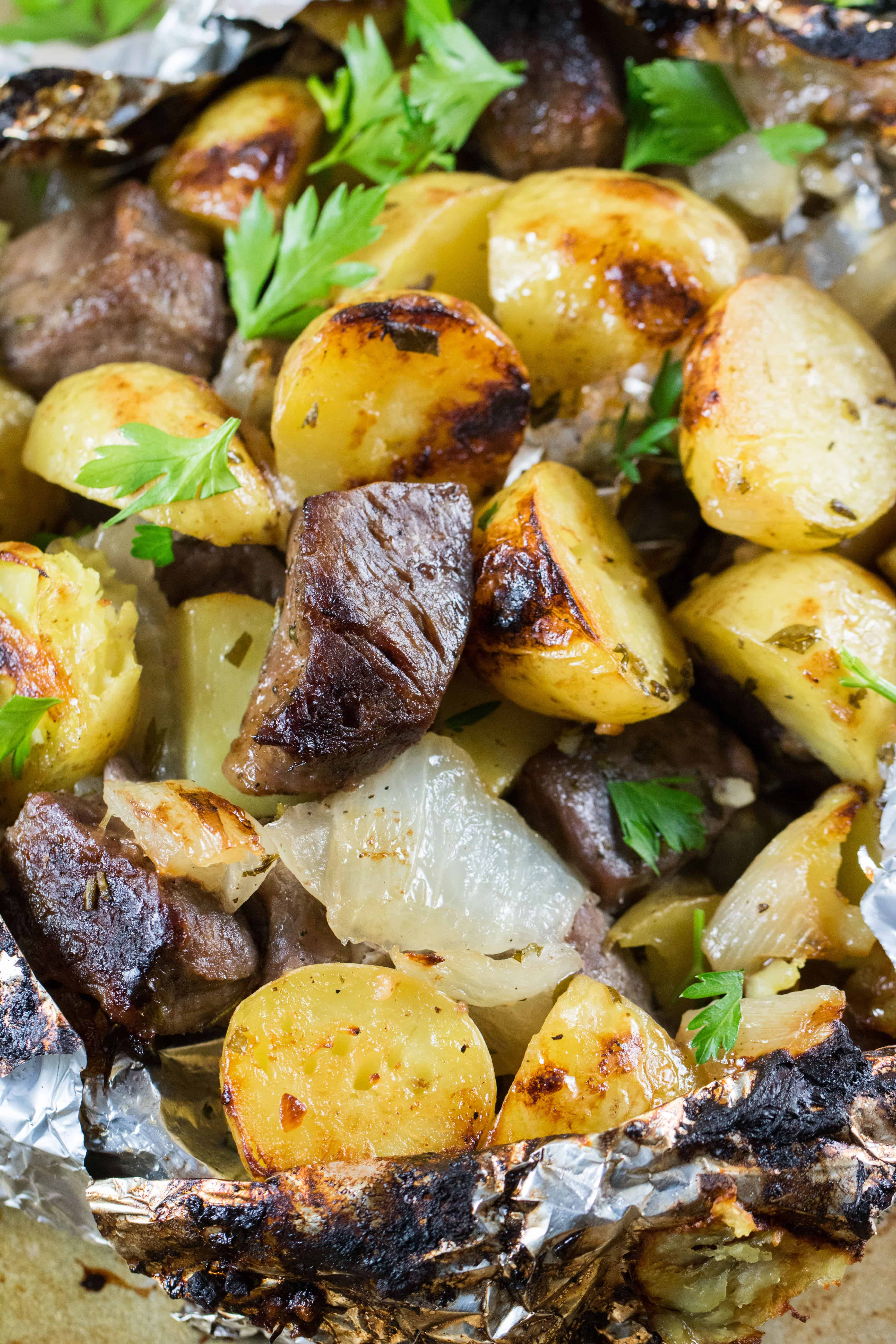 Foil packs leave little to no cleanup. They are versatile to make on your BBQ at home or a grill when camping. They are also so easy to make ahead of time and just pop them on when company is enjoying a drink and some chill time.
There is nothing that I love better to do than to serve an easy dinner when company comes but one that is still going to impress. It will taste wonderful and they will think you have slaved to make it but in reality they are so easy and a great make-ahead recipe.

What Do You Put in a Foil Dinner?
Foil dinners or foil pack dinners are easy but so delicious. For this recipe we started with slicing Little potatoes in quarters or halves and placing them in a bowl with large diced sweet onions.
A little toss with olive oil, salt and pepper is all that is needed. The steak is then cubed, seasoned again with salt and pepper and the potatoes, onion and steak are added to a large piece of foil.
A garlic and herb better is prepared and dotted onto the steaks. This is all wrapped up into a nice tight package. I like to fold the ends and tops over twice to seal well so you can flip the pouch without leakage.
A quick turn on the grill on both sides and your packet is cooked and ready for diving into. Careful, these packs are hot!!
Creamer Potatoes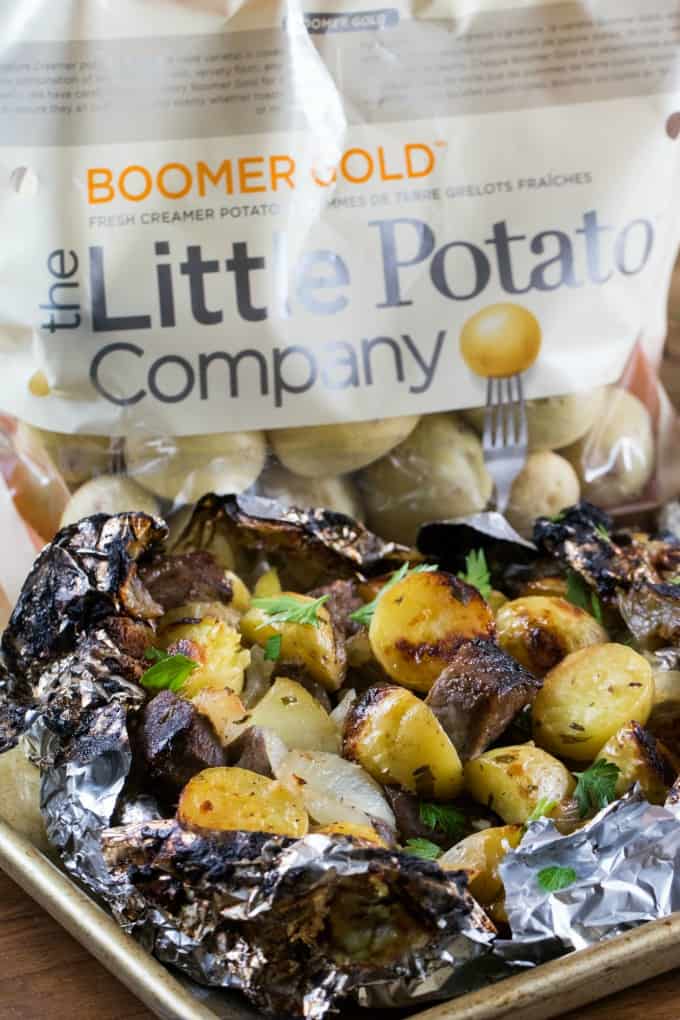 These packs are made with the goodness of The Little Potato Company's Boomer Gold Little Potatoes. These Creamer potatoes come pre-washed so just a quick "slice and go" is all that is needed.
No peeling is required; Creamers are meant to be eaten with their naturally tasty nutritious skins on. Boomer Gold is The Little Potato Company's signature potato.
The combination of delicate golden skin, velvety flesh, and naturally buttery flavor make this Little potato a great choice for foil packs.
Creamers are consistently sized in each package so every single one cooks to the same doneness which is important also in a foil pack.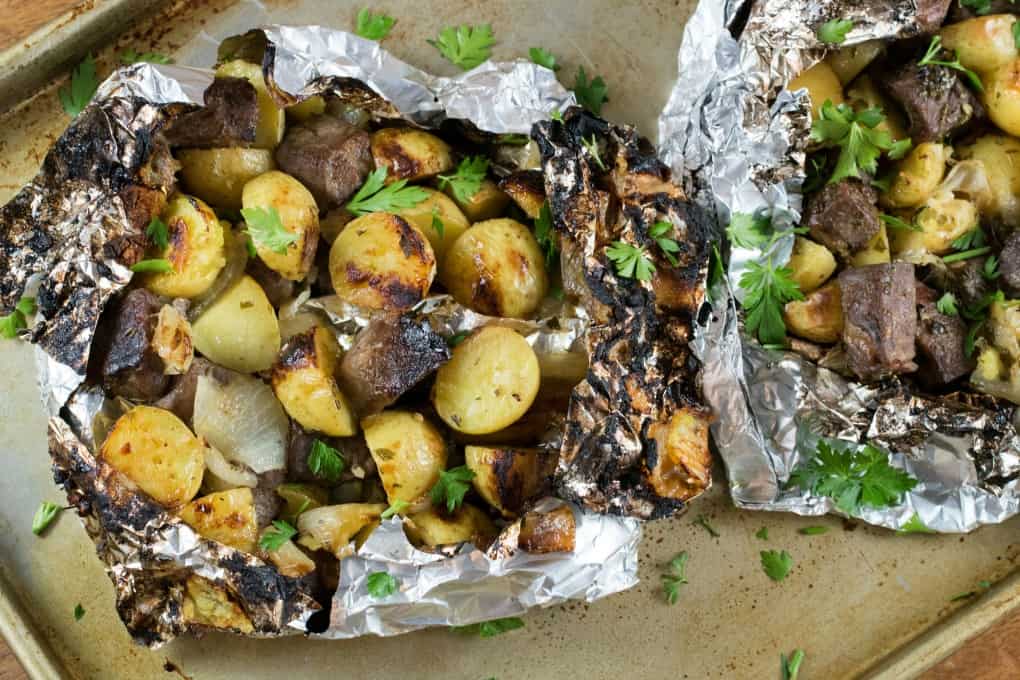 I love getting a great char on the Little potatoes and steak. So have the grill preheated and ready to roll before you put the packs on.
Flip the packet over on high heat at the end to give the Little potatoes and steak that lovely color from the BBQ.
The onions become even sweeter, the garlic herb butter has covered the potatoes and steaks and the only final touch is a sprinkling of parsley.
Pile these foil packs up a on baking tray and have everyone grab one. All that is needed is a scrumptious salad to go with it!
More Foil Packs to Enjoy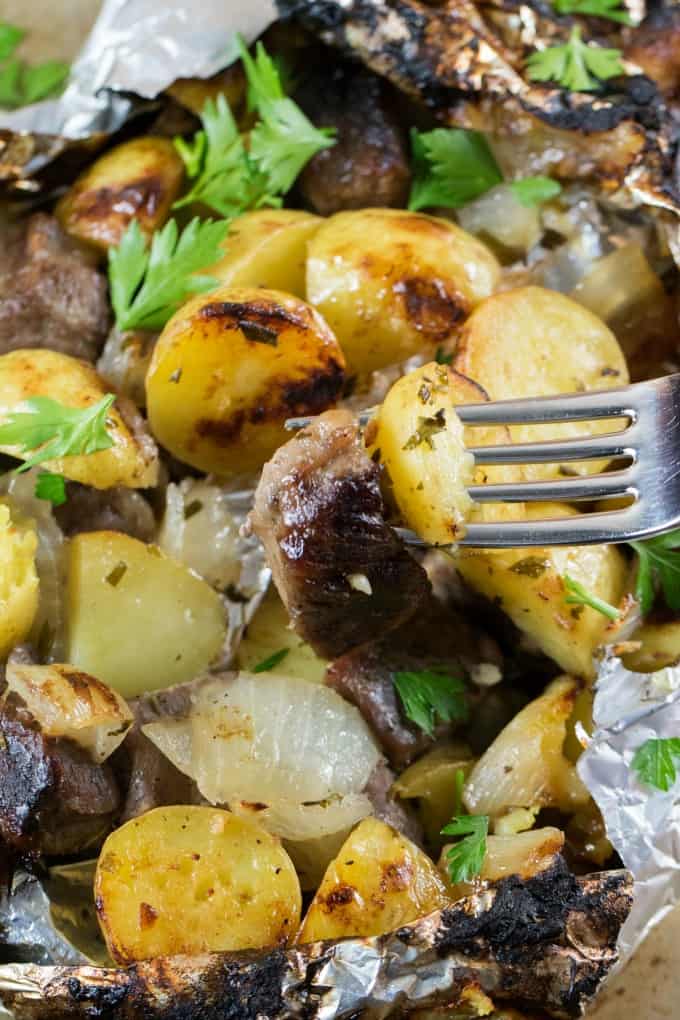 We have done a few foil packs now using Little potatoes and I would love to share with you some more ideas. We adored the Grilled Caprese Chicken Little Potato Foil Packs.
These are great for a back to school meal too when it is still nice out and a way to ease you back into having dinner on the table quickly.
Grilled Spiced Chicken Potato Foil Packs have been very popular on Pinterest all summer long. This is again, an easy yet delicious dinner.
Lastly, our Clam, Bacon, Little Potato Foil Packs create a lovely meal that is company worthy. These would even make a great appetizer or starter if you made up just a couple of foil packs.
Can you Put Foil Packets in the Oven?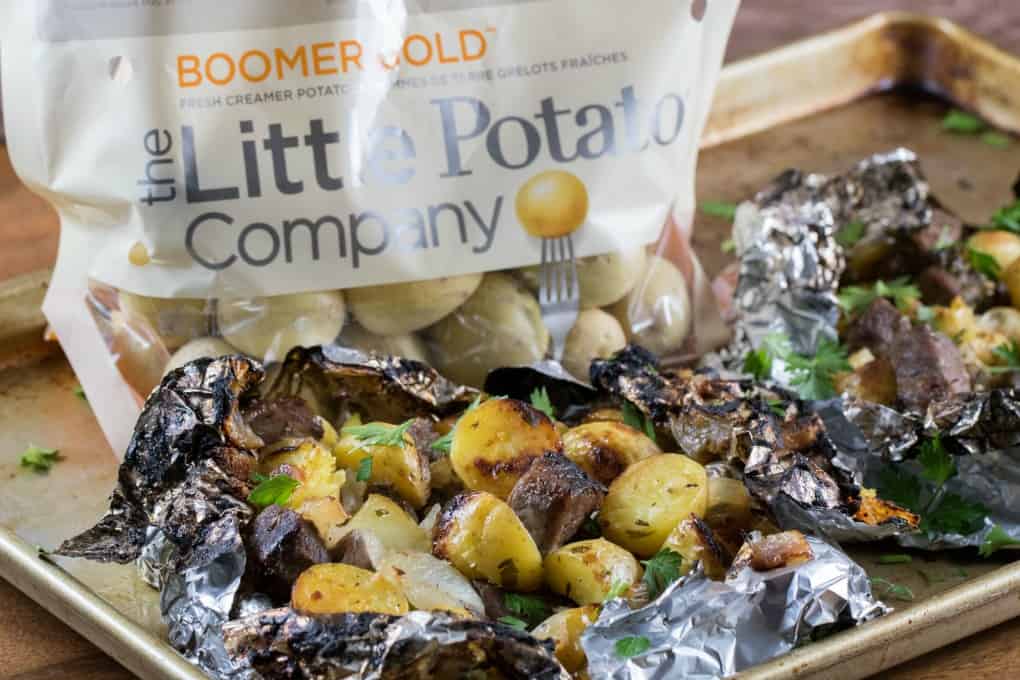 Can you put foil packs in the oven? Did the sky open up and start to pour on your BBQ? Too cold out but you still want the ease of a foil pack dinner!! Yes, you can simply roast these packs in a hot oven.
Preheat to 425F and roast for approx. 25-30 min. or until the potatoes are tender and the steak is the required doneness.
Unfortunately, you may have to sacrifice and really medium-rare steak for a well-done steak for these foil packs as you want everything uniformly cooked.
The garlic herb butter is so tasty you won't care so much in this recipe. The steak is more like tender steak bites in with the Creamers so I know you won't mind.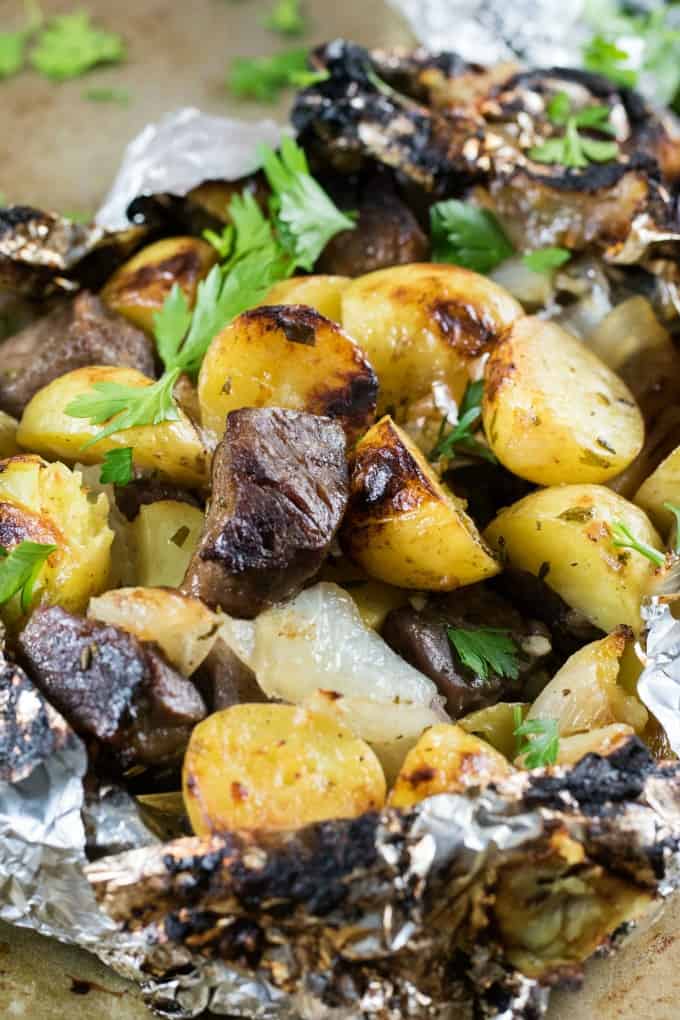 A foil pack dinner is also called a Hobo Foil Packet Dinner because of the ease of making them and they really are a summer comfort food.
Make sure the packets have some extra fat in them so they don't dry out. For our recipe it is the garlic herb butter for others it may be an oil like an olive oil that imparts flavor as well as fat.
Either way, you want them to stay moist and delicious so that everyone will be wanting you to make these again and again. You, of course, will be happy to oblige as they are so easy.
What Aluminum Foil to Use?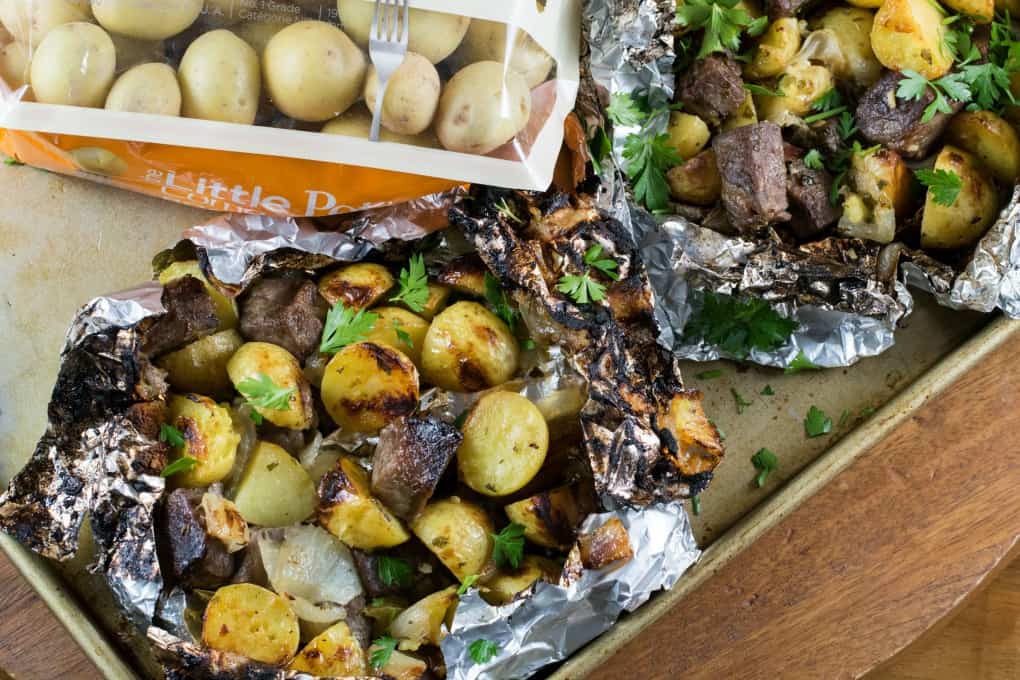 You can try using a heavier duty aluminum foil that is made for barbecuing or more commercial use which will not tear as easily.
I have used just regular aluminum foil and it has worked just great too. Enjoy this recipe and tell me if you have tried others also using Little potatoes.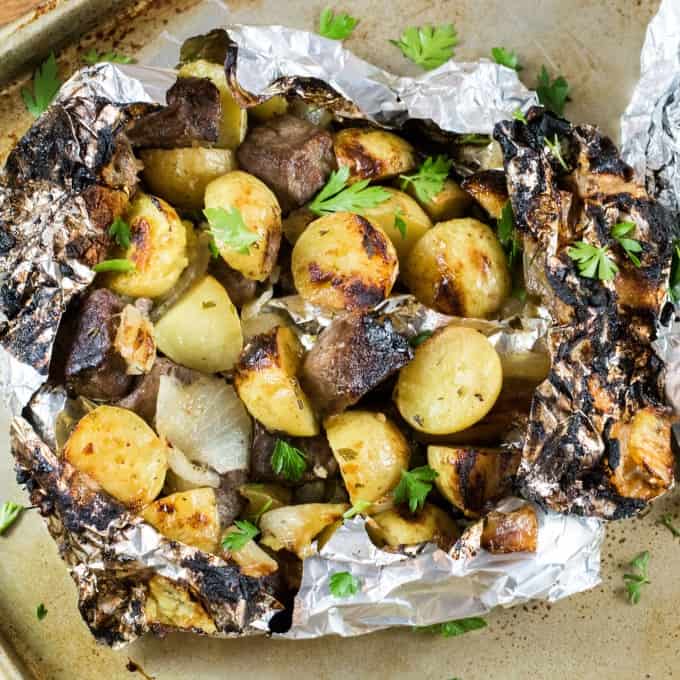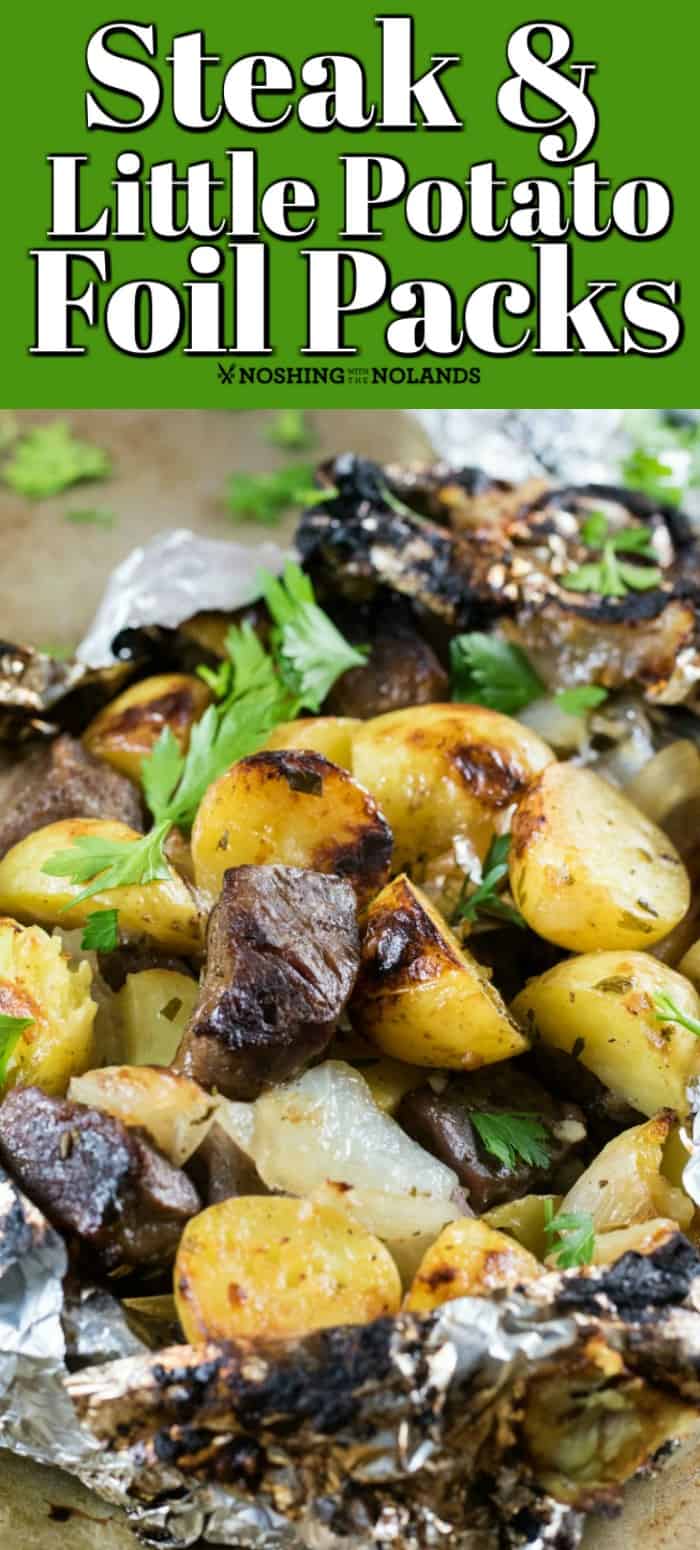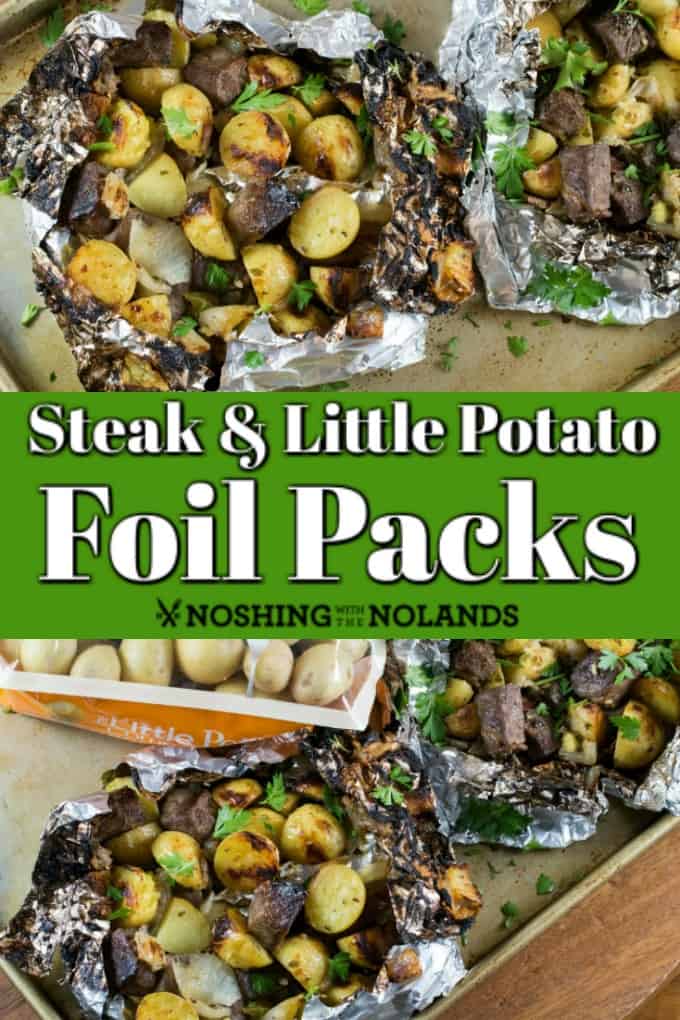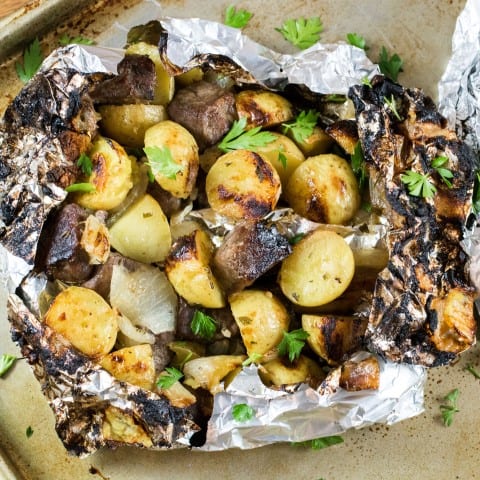 Steak and Little Potato Foil Packs
Yield: 4 servings
Prep Time: 15 minutes
Cook Time: 25 minutes
Total Time: 40 minutes
These Steak and Little Potato Foil Packs are so easy to make, can be made ahead of time and are amazingly delicious with garlic herb butter.
Ingredients
1 1/2 lbs. The Little Potato Company's Boomer Gold
1 sweet onion, large dice
1 Tbsp. olive oil
Kosher salt and pepper to taste
1 1/2 lbs. NY strip steak, cut into 1" cubes
Garlic Herb Butter
1/2 cup salted butter, room temperature
1 Tbsp. garlic
3 Tbsp. fresh parsley, chopped
1 1/2 Tbsp. fresh rosemary, chopped
1 1/2 Tbsp. fresh thyme, chopped
1/2 tsp. Kosher salt
1/4 tsp. freshly ground pepper
Instructions
In a medium bowl add in the Little potatoes, sweet onions, salt, pepper and olive oil. Toss well to coat.
Season steak well with Kosher salt and pepper.
Cut four 18x12" pieces of aluminum foil and place them on the counter.
Cream together the garlic butter ingredients in a small bowl.
Divide the Little potatoes and onions between the four pieces of foil placing the vegetables in the center of each piece.
Top the Little potatoes with the steak dividing evenly between packets. Dab each piece of steak with some garlic butter.
Double fold tops and end of the foil packets not making them too tight to leave room for steam.
You can make the packets ahead of time and refrigerate at this point.
When ready to BBQ, heat the grill to medium high heat and grill for 20-25 min. or until potatoes are tender.
Serve, packets will be hot to open with caution.
Notes
Flip the packets over at the end on high to get a nice char on the steak and vegetables. Don't overcook or burn the foil packs.
Nutrition Information:
Yield: 4
Serving Size: 1
Amount Per Serving:
Calories: 949
Total Fat: 64g
Saturated Fat: 30g
Trans Fat: 1g
Unsaturated Fat: 27g
Cholesterol: 195mg
Sodium: 681mg
Carbohydrates: 43g
Fiber: 5g
Sugar: 6g
Protein: 49g
Recipe calculation was provided by Nutritionix and is an estimation only. If you need nutritional calculations for medical reasons, please use a source that you trust.