I love spanakopita but sometimes along with other appetizers they can be filling. These little Spanakopita Tarts are the perfect size. Just a few bites and the phyllo is so lovely and crispy.
These little tarts are a perfect appetizer for entertaining. They can be made ahead of time and frozen, then popped into the oven to warm up again. Plus, they are easy to make from the start!
Spanakopita or spinach pie is a Greek savory pastry. We have kept the traditional ingredients, phyllo pastry, spinach, feta, onion and then we added in a little ricotta too and topped the tarts with Parmesan.
I love adding Parmesan when baking savory items it always browns up so lovely.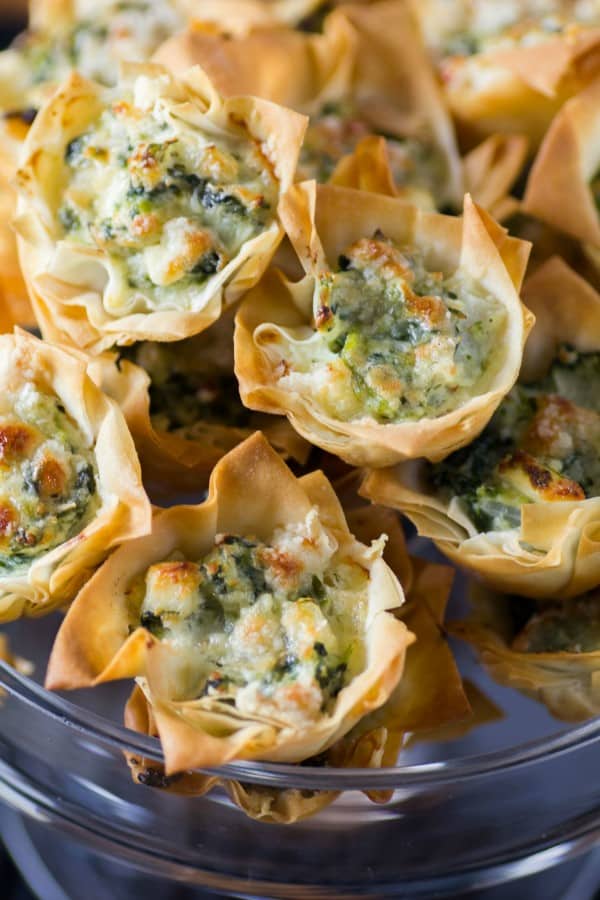 Helpful Items for This Recipe
This post contains affiliate links.
Spanakopita Tarts are perfect for a game day appetizer and something different from the usual wings and dip. Everyone loves the tangy, slightly salty filling, so delicious.
They are also fantastic for holiday entertaining like Easter, Thanksgiving, Christmas, New Year's Eve and more!! An appetizer that you can serve all year round!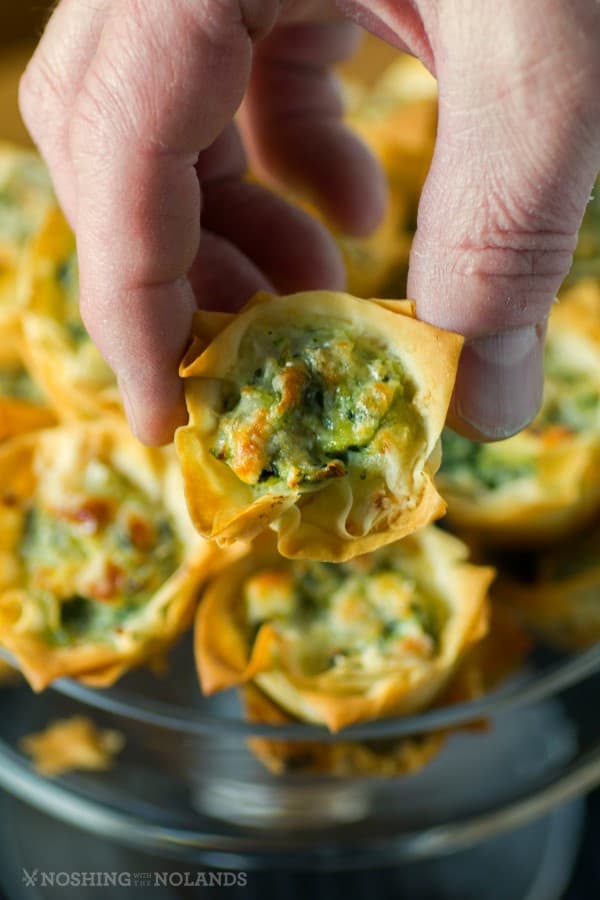 Do you have a mini muffin pan? That is how we made these! We make countless of savory and sweet items in this pan.
Actually these are the work of the talented Ken and he did an outstanding job on these little yummy bites.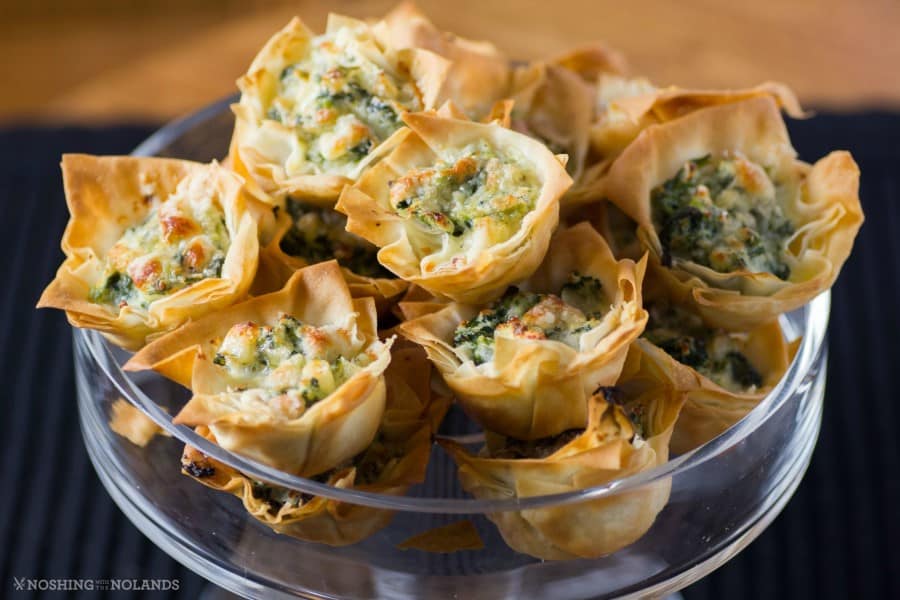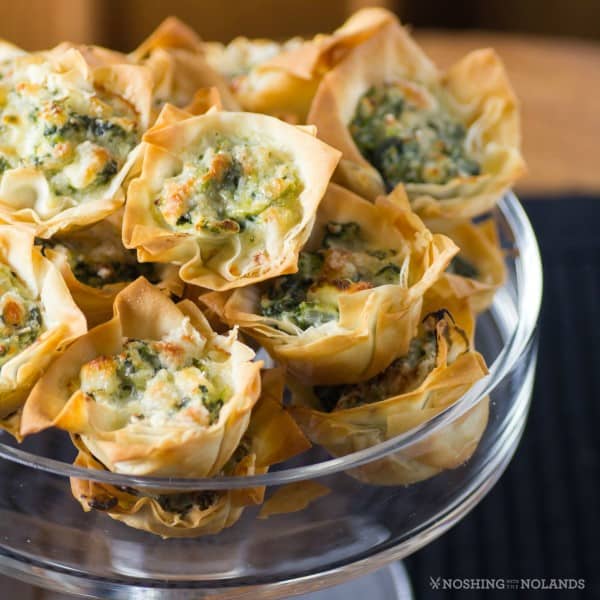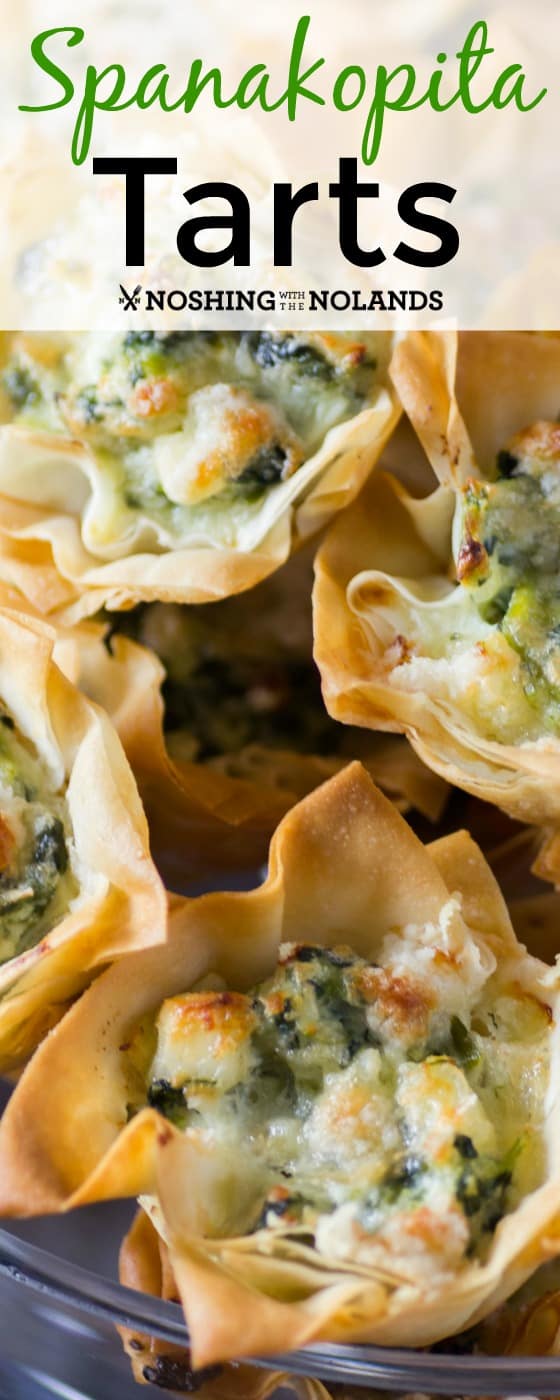 Spanakopita Tarts Recipe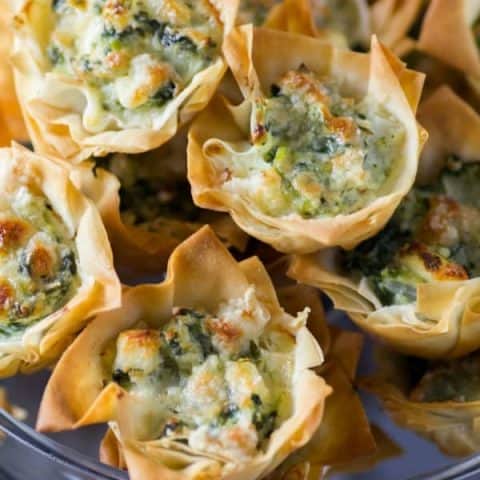 Spanakopita Tarts
Yield: 48 mini tarts
Prep Time: 25 minutes
Cook Time: 20 minutes
Total Time: 45 minutes
Spanakopita are reduced down to bite sized tarts giving you the ease of a quick freezer ready appetizer for game day, holidays and more!
Ingredients
1 Tbsp. canola oil
1 small onion, chopped
3 green onions, chopped
1- 10 oz. package spinach, thawed, chopped and squeezed of moisture
6 oz. feta cheese, crumbled
1 cup ricotta cheese
2 eggs
Salt and pepper to taste
Large pinch of nutmeg
1 lb. phyllo, you may not use it all
8 Tbsp. of butter, melted
1 cup Parmesan, grated
Instructions
Preheat oven to 375F. Butter a 24 mini muffin pan and set aside.
Heat the 1 Tbsp. of canola oil in a medium skillet over medium heat, add both the onions and cook until soft.
While the onions are cooking, mix together the spinach, feta, ricotta and egg. Add in the cooked onion. Season with salt, pepper and nutmeg. Combine well and set aside.
Take the phyllo from the package and roll out flat, cover with a clean damp tea towel. Remove one sheet and lay flat on the counter. Brush with the melted butter. Lay on another sheet of phyllo. With a pizza cutter or sharp knife cut into 2" pieces. Place each square in a cup of the muffin pan and lightly brush with butter. Repeat the layers two more times for each cup, off setting the squares slightly. You will then have placed three squares in each cup with a total of 6 individual sheets of phyllo.
Place a tsp. of the spinach mixture in each cup and then top with a pinch of Parmesan.
Bake for 15-20 min. until golden brown. Serve immediately or let cool and freeze.
Note: If frozen, reheat in a 350F oven for 15-20 min. or until heated through. Will freeze well for 1-2 months if properly sealed.