These Heart Shaped Rice Krispie Treats are next level! They're the gooey, crunchy treats you've always loved but with a few little tweaks to make them taste extra delicious. Plus, adding sprinkles and chocolate to the heart-shaped treats will make them the prettiest treats at the table.
If you're looking for more fun No-Bake Desserts, also check out these, Valentine's Day Pink Popcorn, Valentine's Day Puppy Chow, Love Bug Valentine's Day Cookies, Layered Rice Krispies Squares, Snickers Rice Krispie Treats, and these adorable No-Bake Peanut Butter Jam Thumbprints.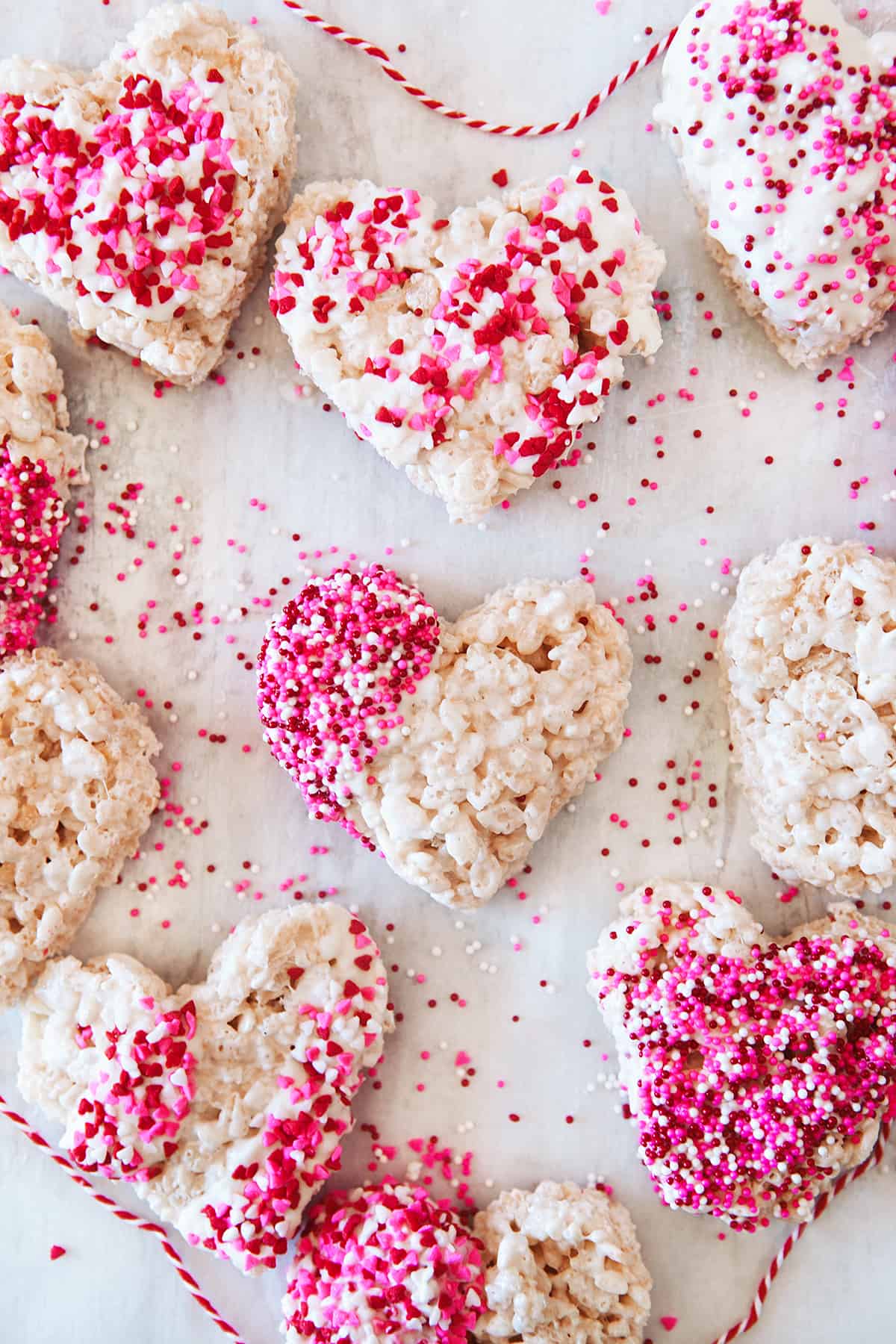 Hi there, it's Allison from Some the Wiser. It's always so much fun to pop in here with a tasty recipe to share with you. I actually love making fun treats this time of year, especially these Stuffed Puff Pastry Donut Hearts. Another Valentine favorite is this to-die-for Dark Chocolate Strawberry Tart.
How to Make Heart Shaped Rice Krispie Treats
Rice Krispie Treats are one of the quickest and easiest desserts to make! To make the basic treats, there are just three simple steps:
First, melt butter in a large saucepan over low heat.
Add marshmallows and stir until completely melted, then remove from heat.
Finally, add the Kellogg's Rice Krispies and stir until well coated.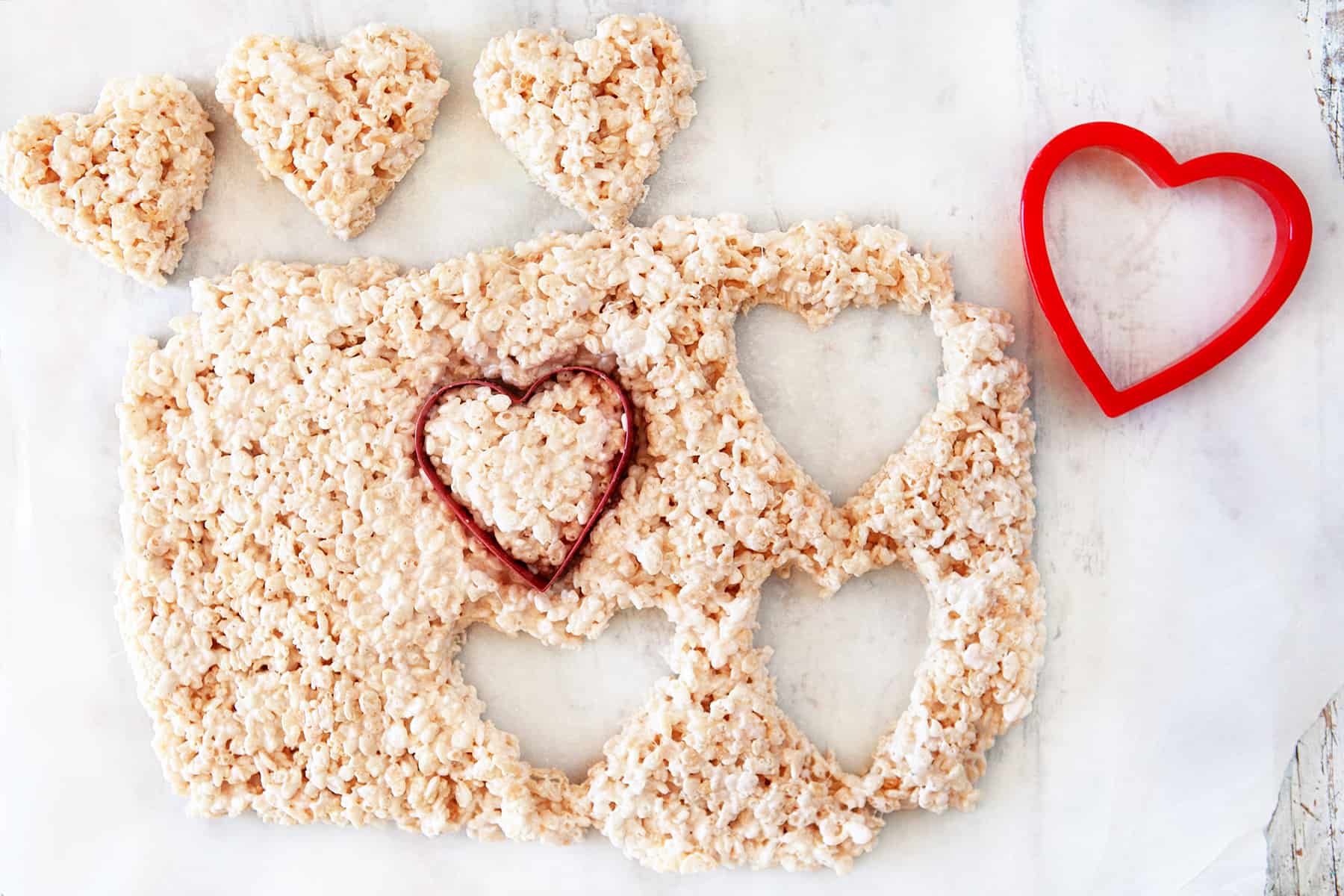 To make these extra special Heart Shaped Rice Krispie Treats, you just need to make a few quick adjustments to the classic recipe.
Increase the butter by 1 tablespoon and the marshmallows by 1 ounce. This keeps the treats a little bit softer, so they are easier to mold into the heart shape.
Instead of putting them into a pan to shape them and cut the treats, place them onto a large sheet of parchment paper or wax paper. Then, use a buttered spatula or wax paper square to shape them into a rectangle shape, leaving them about 1 inch thick.
Use a heart shaped cookie cutter to cut them out.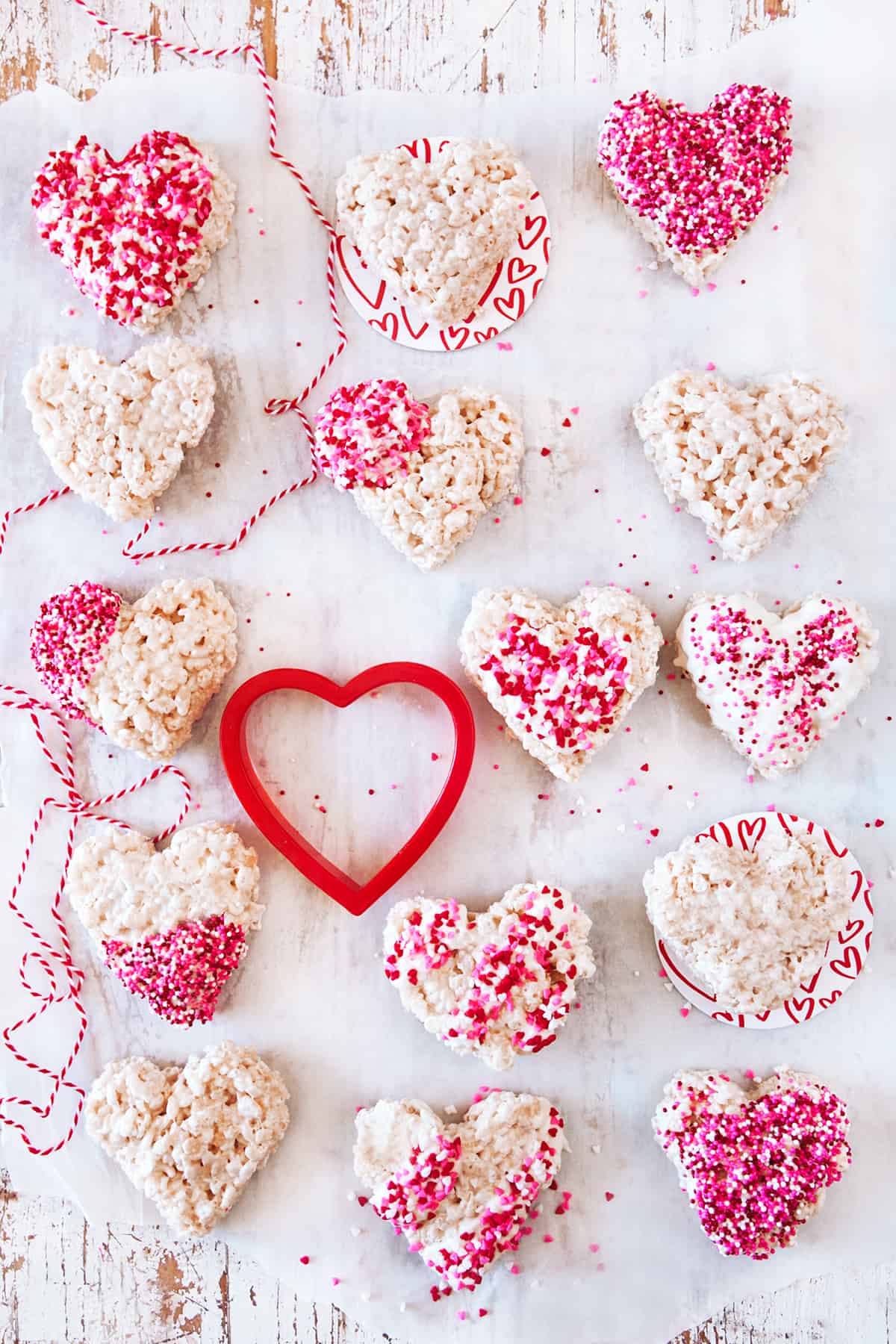 How do you cut Rice Krispie Treats Neatly?
To cut them neatly, just grease your cookie cutter with a little bit of butter, or spray it with some cookie spray. You'll probably want to repeat this step every few cuts so the cookie cutter remains coated in cooking spray and can slice cleanly through the sweet treats.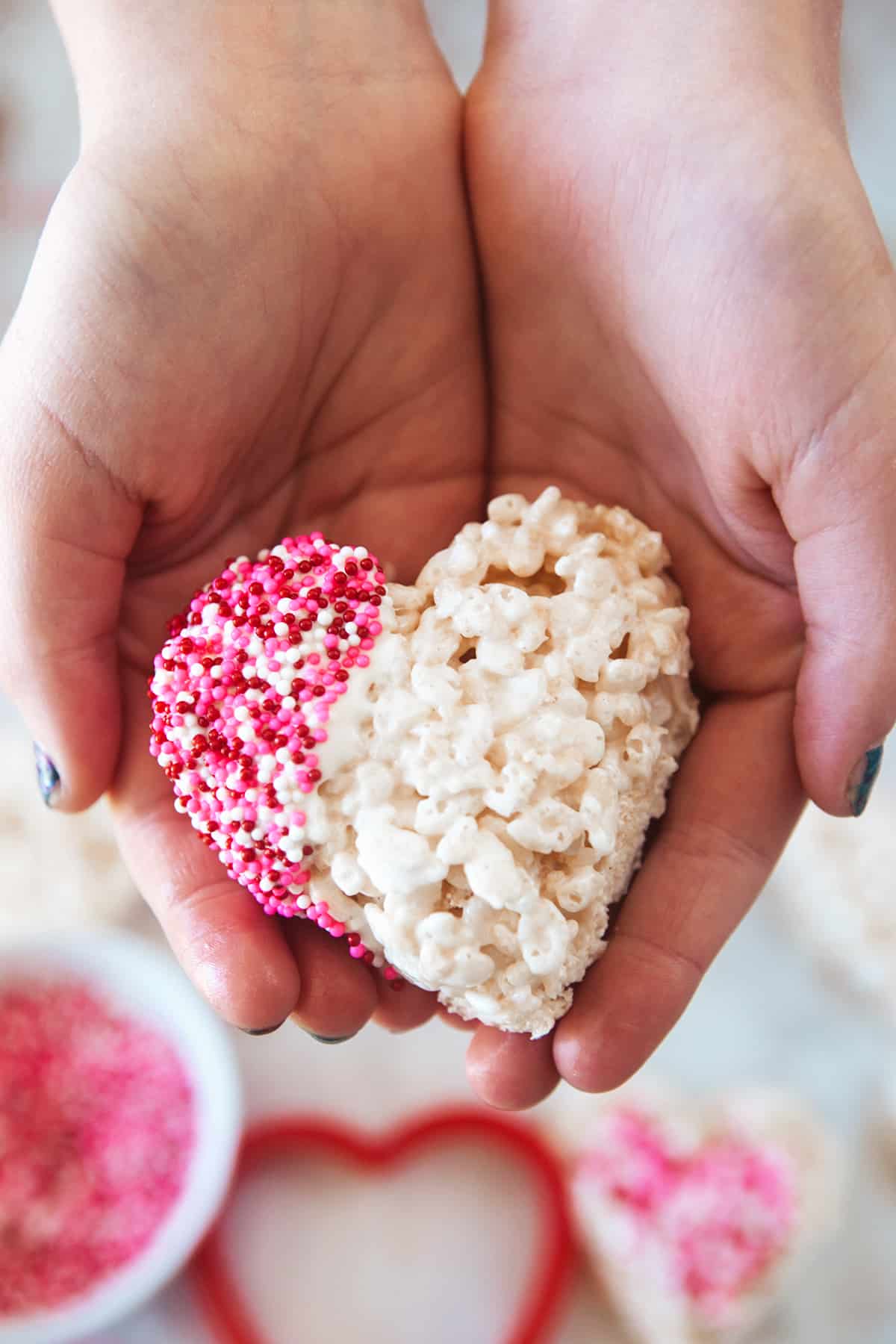 How Do You Keep Rice Krispie Treats From Getting Soggy?
If you're Rice Krispie Treats are getting soggy, you might be using too much butter. Try cutting back on the butter by 1/2 a tablespoon or so and see if that helps.
Alternatively, if your treats are too hard, it may be because you are melting the butter and marshmallows too fast and too hot. Keep the temperature low and they should stay nice and soft.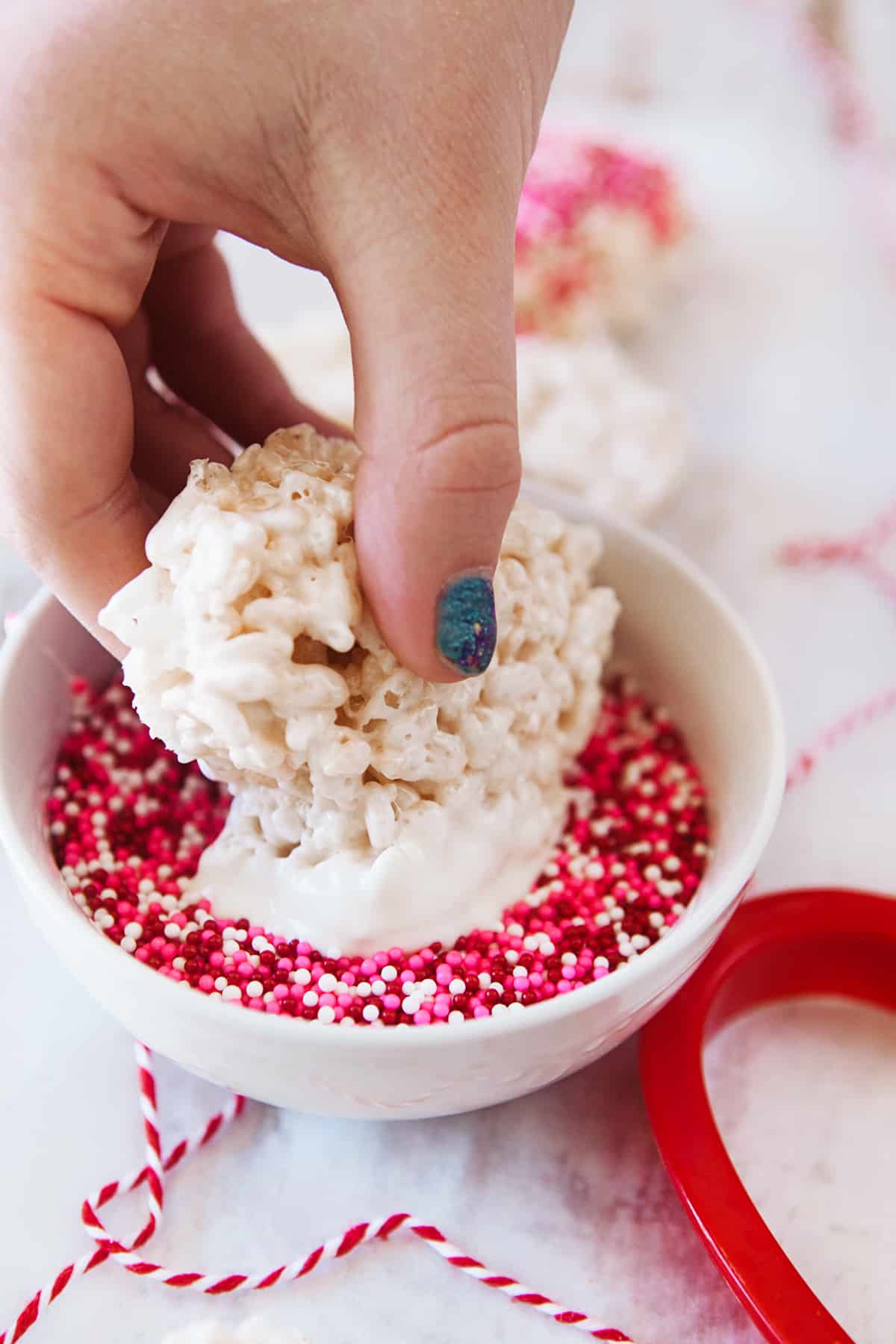 Decorating Rice Krispie Treats
Once you have your Heart Shaped Rice Krispie Treats, it's time to have fun. These are really fun and easy to make, so if you're cooking with kids, this is a great recipe to involve them in.
To make these easy Valentine Rice Krispie Treats, you'll want some good chocolate, white or dark, for melting, and some fun sprinkles, and maybe even food coloring if you really want to make them pop. Not only does the chocolate make a perfect base for the sprinkles, but it also makes these Rice Krispie Treats taste amazing!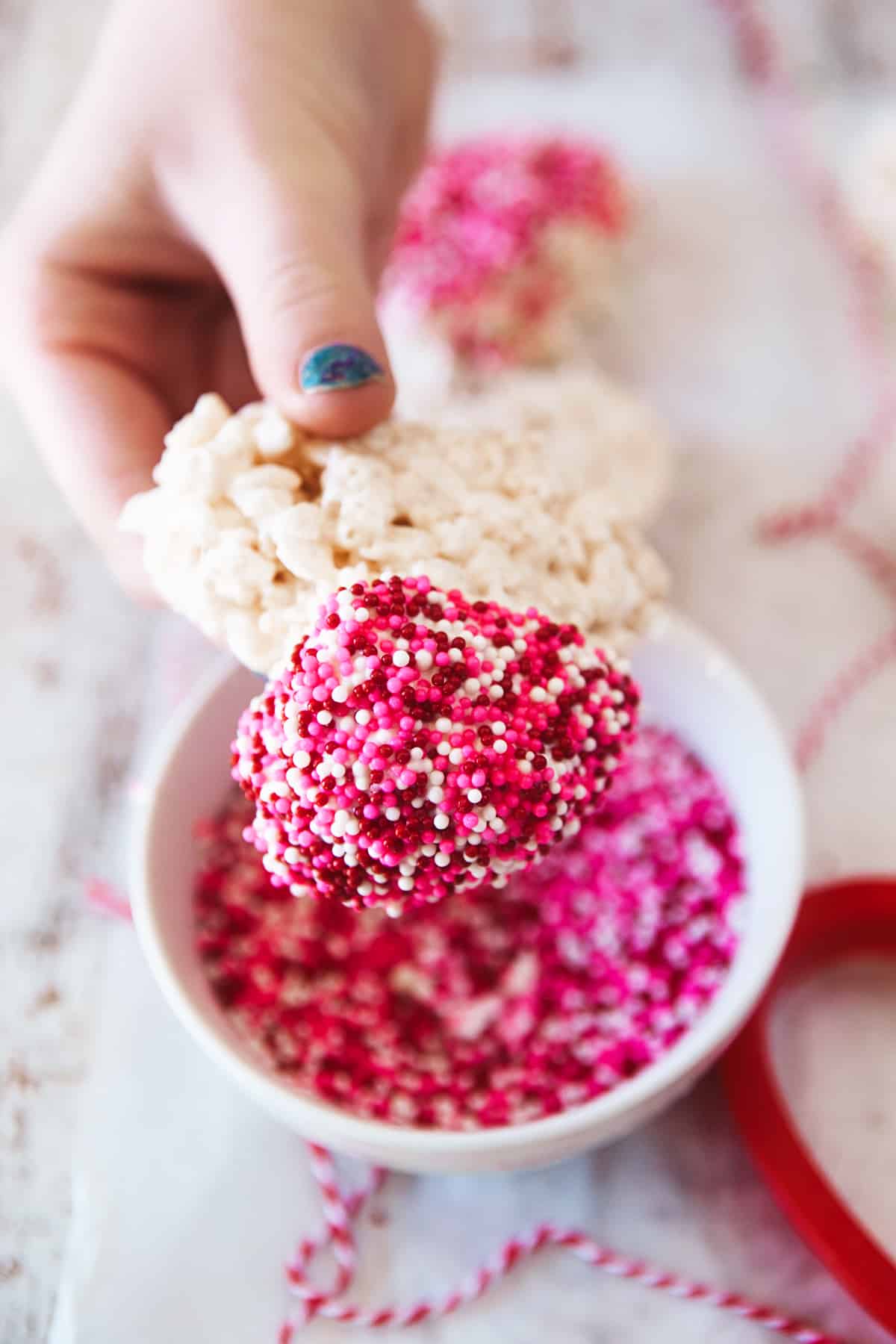 First, melt your chocolate chips (I like to use these Ghiradelli Melting Wafers) either in a double boiler or in a microwave safe bowl. If you want to use food coloring, stir it into the melted chocolate.
Then, you can either dip your rice krispie treats into the chocolate or drizzle it onto them. Quickly dip them into the sprinkles, or sprinkle them over the treats. You can make different designs if you'd like – it's all very simple and fun!
Then, just pop them in the fridge for 5 to 10 minutes to let the chocolate harden, and you have super fun Valentine treats.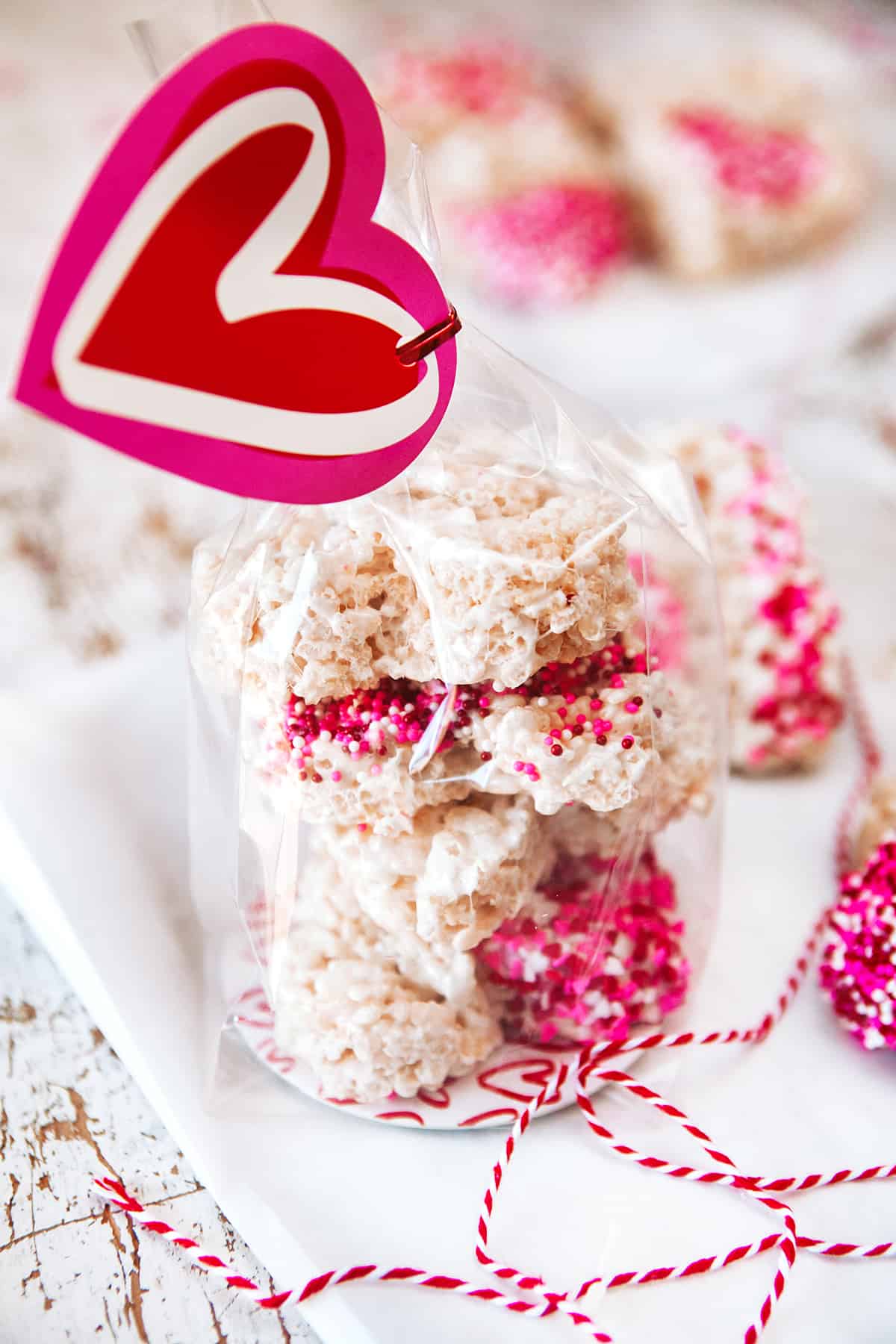 These are so cute, easy, and tasty that they also make great food gifts. Just wrap them in some cellophane and add a heart or fun ribbon and voila!
And, you're not limited to Valentine's Day treats with these. Just use different colored sprinkles, and these work great for a birthday party too!
How Far Ahead Can I Make Rice Krispie Treats?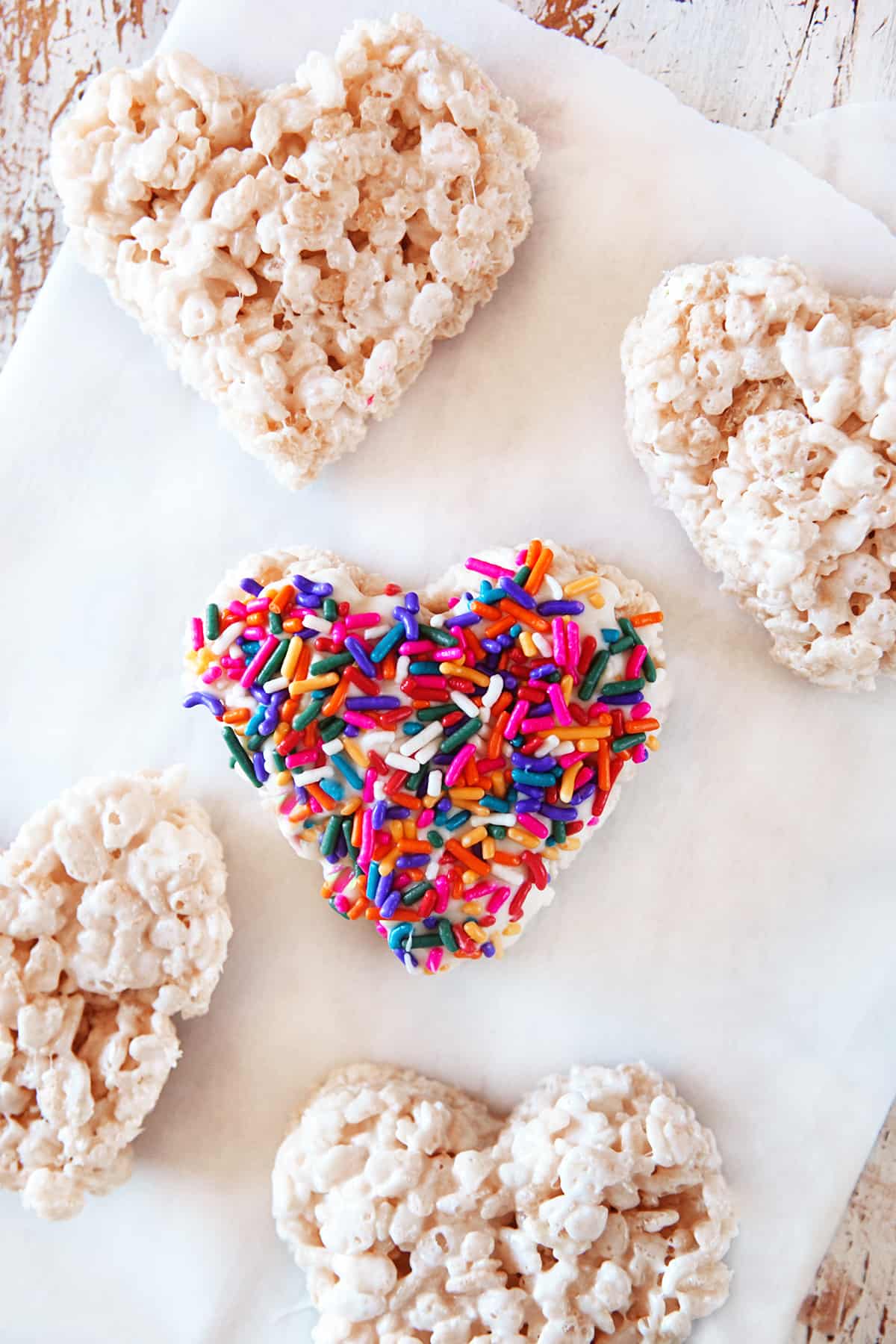 Rice Krispie Treats taste best the day they are made. However, you can make them up to three days ahead and they'll taste pretty fresh.
After three days, Rice Krispie Treats get too hard to really enjoy them.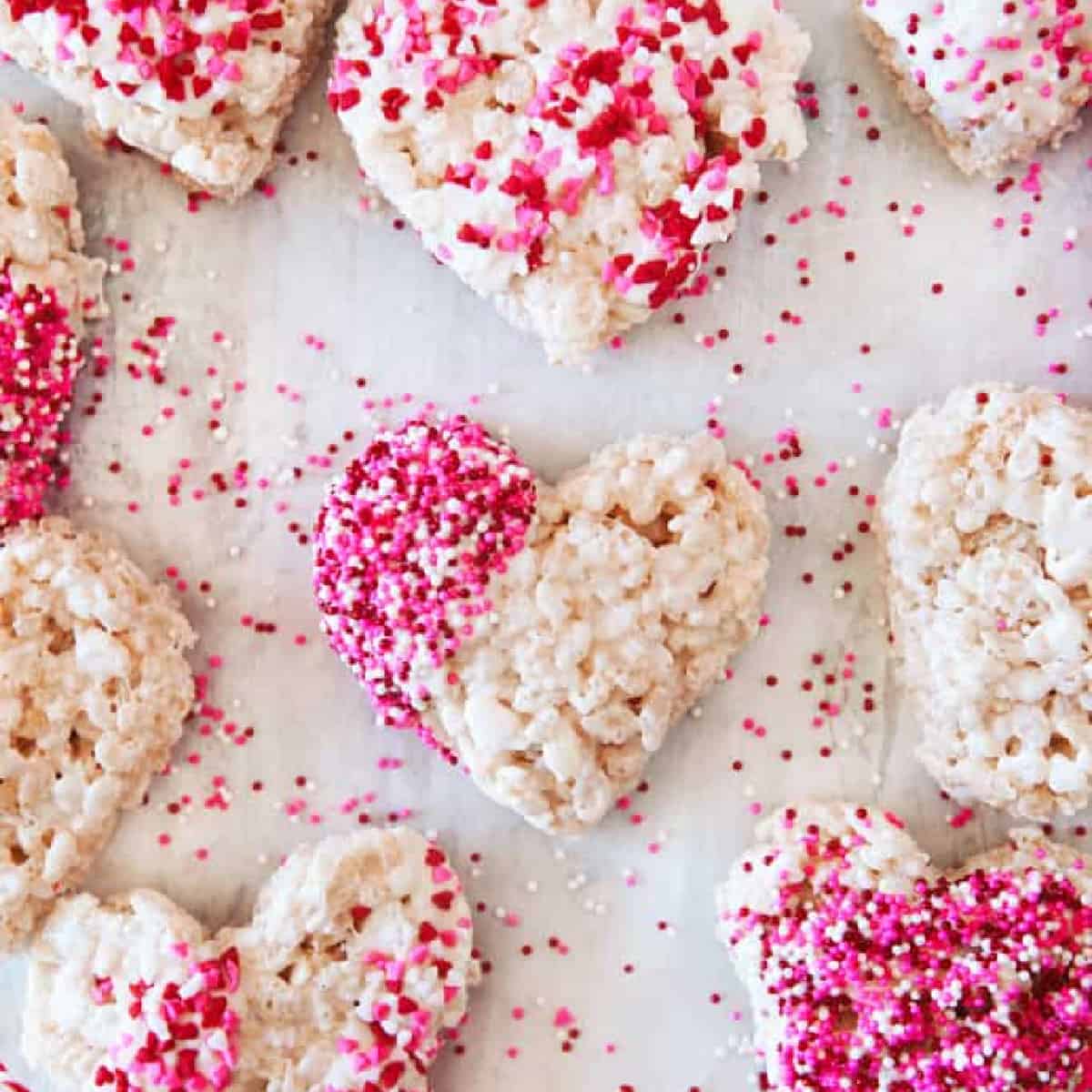 Pin it HERE!!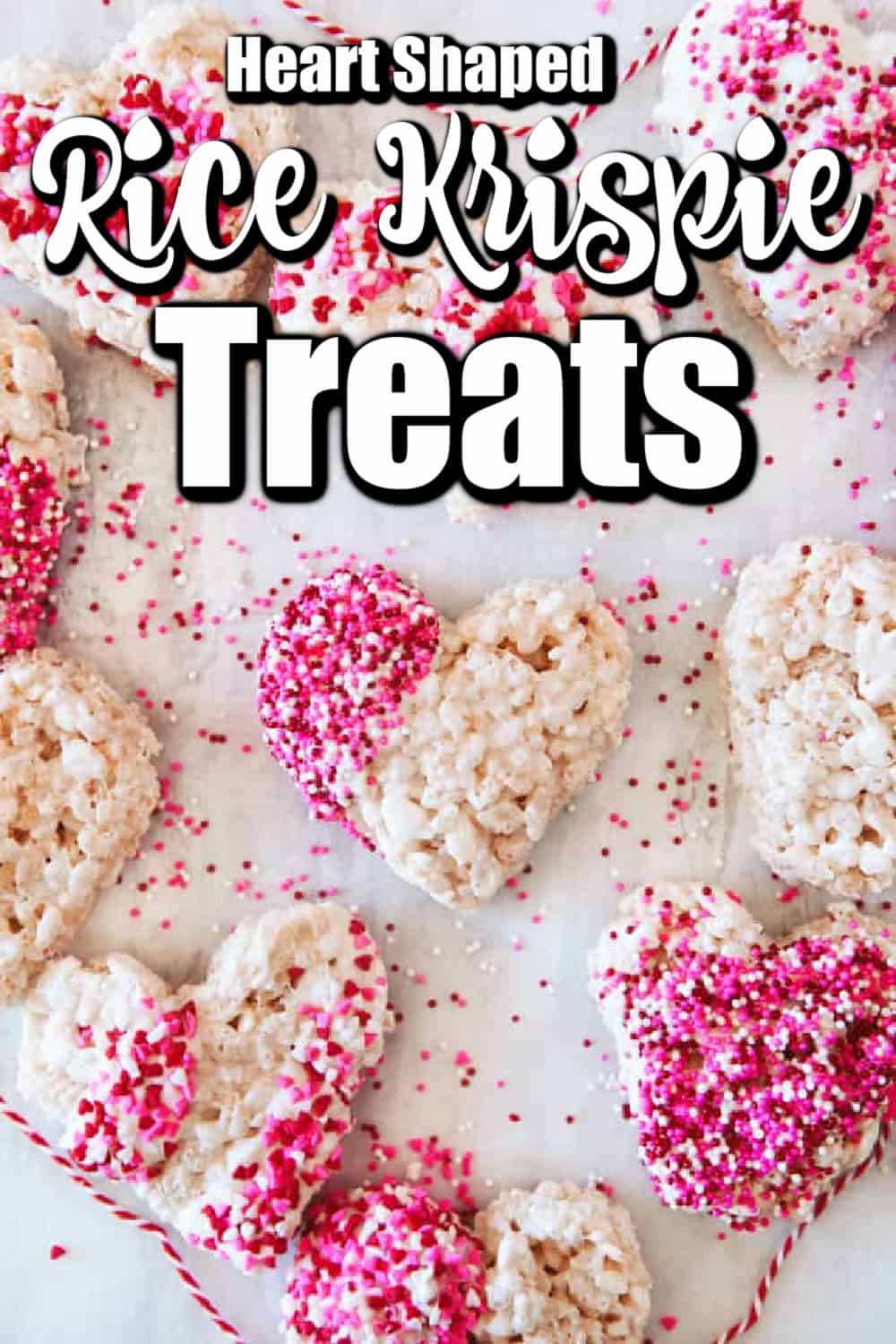 Pin it HERE!!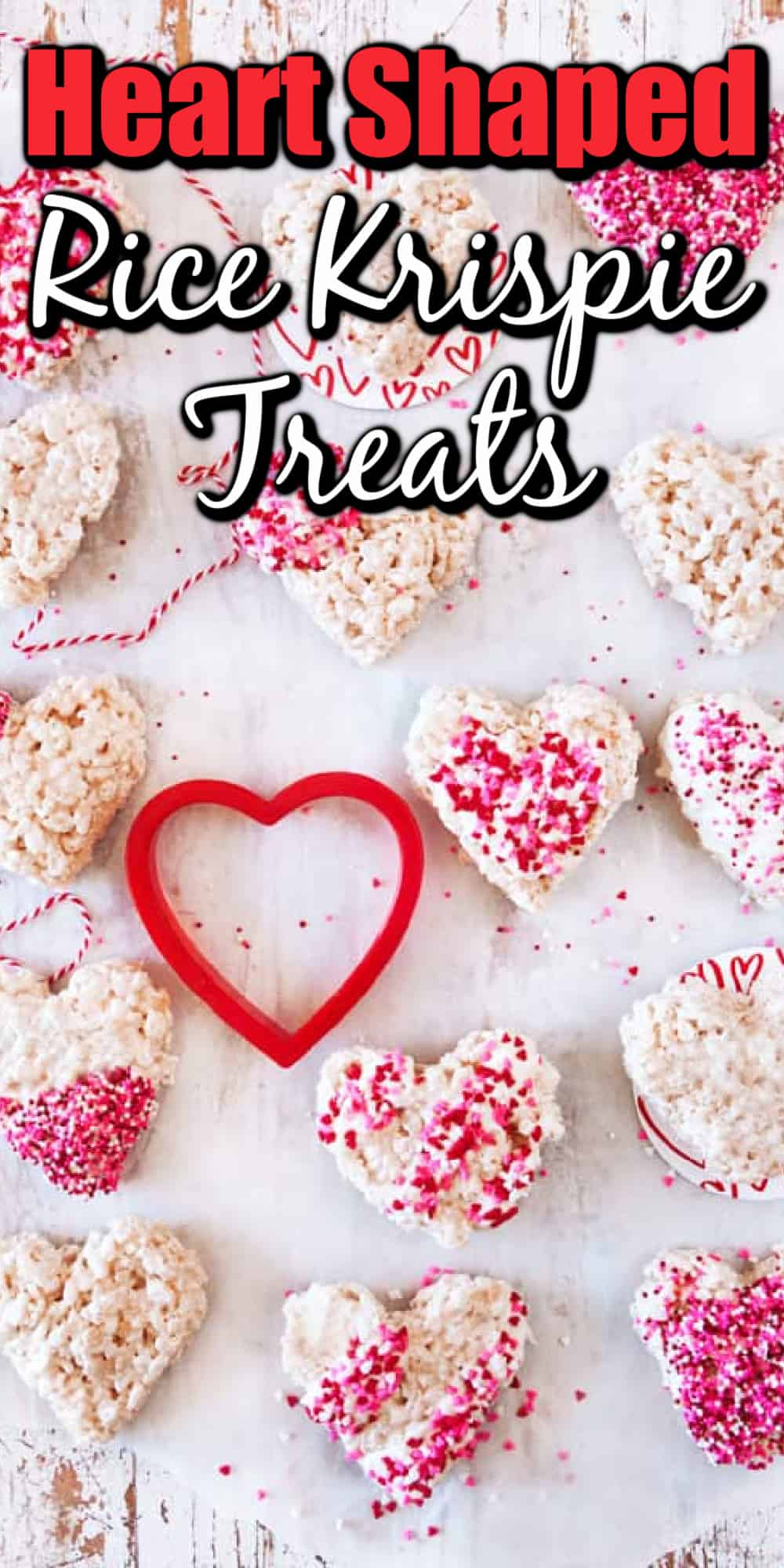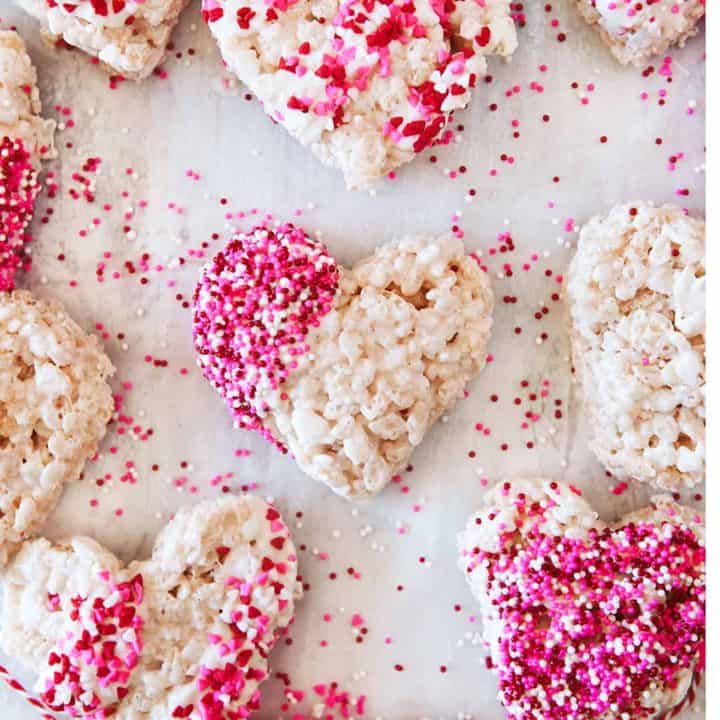 Heart Shaped Rice Krispie Treats
Yield: 16 hearts (3 inch)
Prep Time: 5 minutes
Cook Time: 10 minutes
Additional Time: 15 minutes
Total Time: 30 minutes
These no-bake Heart Shaped Rice Krispie Treats are fun to make with the kids. They are a perfect project to enjoy over Valentine's Day. They take little effort and have maximum enjoyment in making them and eating them.
Ingredients
4 tablespoons butter
11 to 12 ounces of mini marshmallows
6 cups Rice Krispies cereal
For the toppings
6 ounces melting chocolate wafers (white or dark chocolate)
assorted sprinkles
food coloring (optional)
Instructions
In a large saucepan, melt the butter over low heat. Add the marshmallows and stir continuously until completely smooth. Remove from heat.
Stir in the Rice Krispies cereal until completely coated.
Turn the mixture out onto a large sheet of parchment paper or wax paper. Using a greased spatula, shape it into a large rectangle, keeping it about an inch deep all over.
Grease a 3-inch heart shaped cookie cutter and cut out the hearts. Once you've made the first round of cuts, reshape the remaining rice krispie mixture into another smaller square or rectangle and repeat until you've cut all the hearts.
Let the hearts harden for about 15 minutes while you melt the chocolate in a double boiler or microwave safe bowl' (at half power for 30 seconds, and then 15-second intervals until smooth). Dip the treats into the chocolate, or drizzle the chocolate, and add sprinkles. Harden in the fridge for about 10 minutes or just until the chocolate is set. Enjoy!
Recommended Products
As an Amazon Associate and member of other affiliate programs, I earn from qualifying purchases.
Nutrition Information:
Yield: 16
Serving Size: 1
Amount Per Serving:
Calories: 856
Total Fat: 5g
Saturated Fat: 2g
Trans Fat: 0g
Unsaturated Fat: 2g
Cholesterol: 8mg
Sodium: 326mg
Carbohydrates: 207g
Fiber: 1g
Sugar: 140g
Protein: 6g
Recipe calculation was provided by Nutritionix and is an estimation only. If you need nutritional calculations for medical reasons, please use a source that you trust.