I love no-bake recipes and lately have been trying more. They are quick, easy, and of course, require no power from your oven. I have been dreaming of doing these No-Bake Peanut Butter Jam Thumbprints for some time now. Thinking that it would be wonderful with crispy pretzels and crunchy Rice Krispies. They turned out just like I imagined. Rich and delicious from the peanut butter, fresh from the jam, and with the perfect crispy crunch too! Like an adult peanut butter sandwich that kids would also adore!
They are simple to make and require no skill so they are a good cookie for kids to help in the kitchen with too. No fear of getting burnt by a hot oven either. They do have to stay refrigerated and should be served directly out of the fridge or they tend to get soft quickly but it is not like they last when they are pulled out. They have gobbled down right away anyway!! Try our baked version too of Peanut Butter and Jelly Cookies, a combination that can't be beaten. Or for another no-bake cookie try our Chocolate No-Bake Cookie, perfect at any time of the year.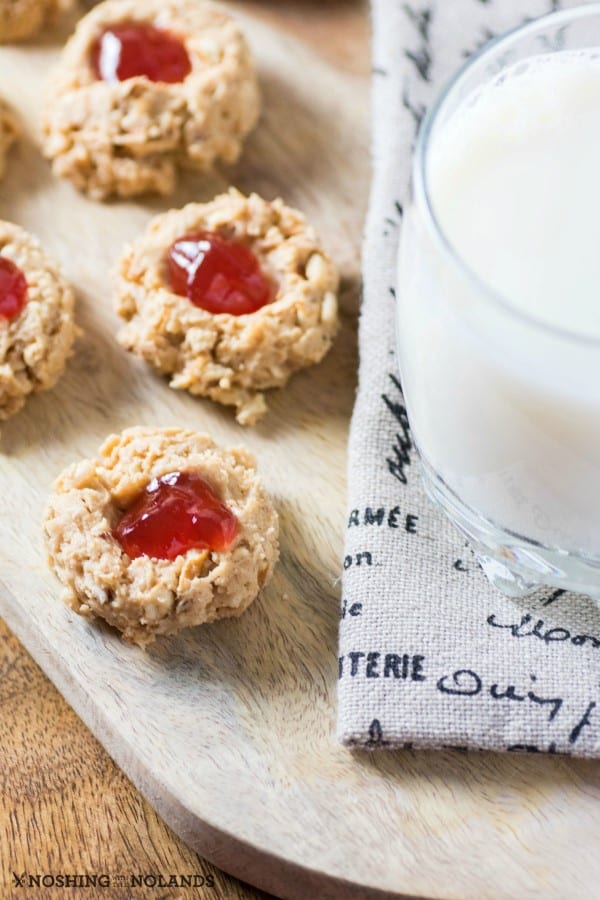 The little dabble of jam in the center is classic and makes them a true thumbprint! Get out a big glass of cold milk, peanut butter screams for it!!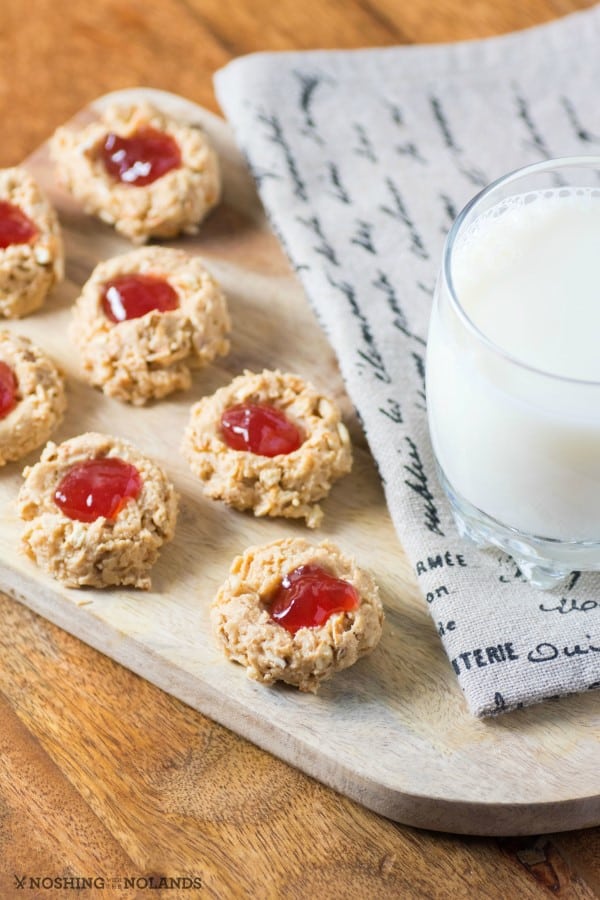 These will become your next family favorite. Kids will be loving these as an afterschool snack and mom will be happy to whip some up in no time!!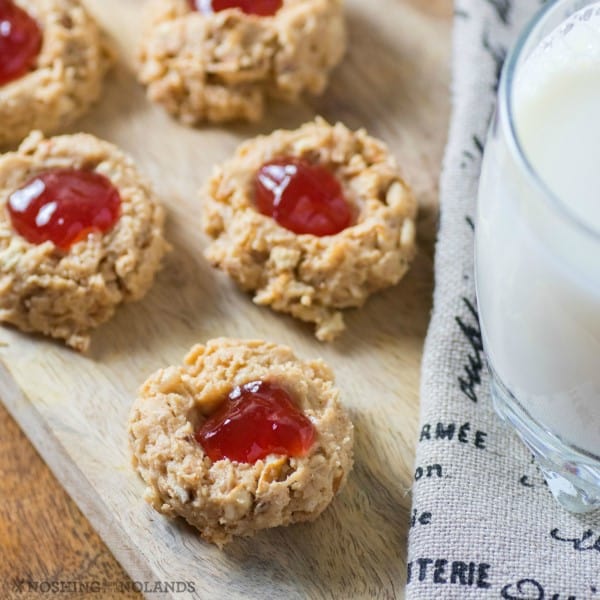 Just roll these in little balls and then place them on a wax paper or parchment lined cookie sheet. Press your thumb or index finger in to create the indentation. You may want to spray a little cooking spray on your finger to keep them from sticking. Then spoon in your favorite jam!! We kept it traditional with strawberry jam!! So classic, so good!!
The Recipe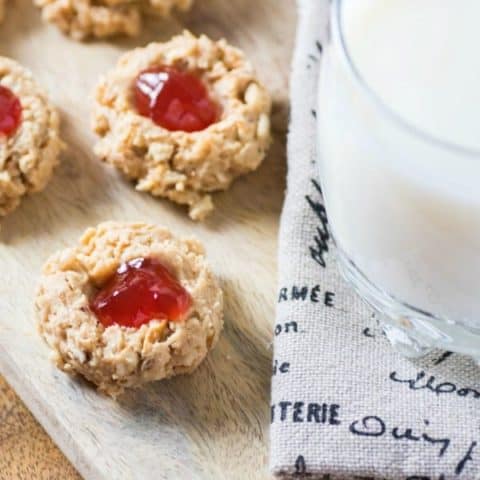 No-Bake Peanut Butter Jam Thumbprints
Yield: 30 cookies
Prep Time: 15 minutes
Total Time: 15 minutes
A fun No-Bake Peanut Butter Jam Thumbprint that adults to kids will love!!
Ingredients
1 1/4 cups confectioners sugar, powdered sugar or icing sugar
1 cup creamy peanut butter
3 Tbsp. butter
1 cup crushed pretzels
1/2 cup rice krispies
1/4 cup strawberry jam
Instructions
In the bowl of a standup mixer with a paddle attachment beat the sugar with the peanut butter and the butter, mixing well. Add the pretzels and rice krispies and mix gently.
Shape the mixture into about 30 balls. Place the balls on wax paper or parchment lined cookie sheet.
Press your thumb or index finger into each ball making an indentation. Spoon about 1/4 tsp. jam into each dent. Chill the cookies for 2 hours. Serve cold. Can be refrigerated for 7 days.