My neighbor asked me for a Poppycock recipe last year and I said I had never made it before. She near fell over!!! Never made poppycock??!!! We had made caramel popcorn before but not poppycock.
No, for some reason I hadn't. My first kick at the cat was not very successful last Christmas, so I put Ken on the job now to do his best. He likes to try out new and different recipes; I was helping out with my two cents; in the end, the results were fantastic!
We love making treats here like Garlic Rosemary Olive Oil Popcorn, Almond Roca, Easy Chocolate Walnut Fudge, Microwave Peanut Brittle, and Peanut Butter Popcorn. And now our new 25 Best Christmas Candies.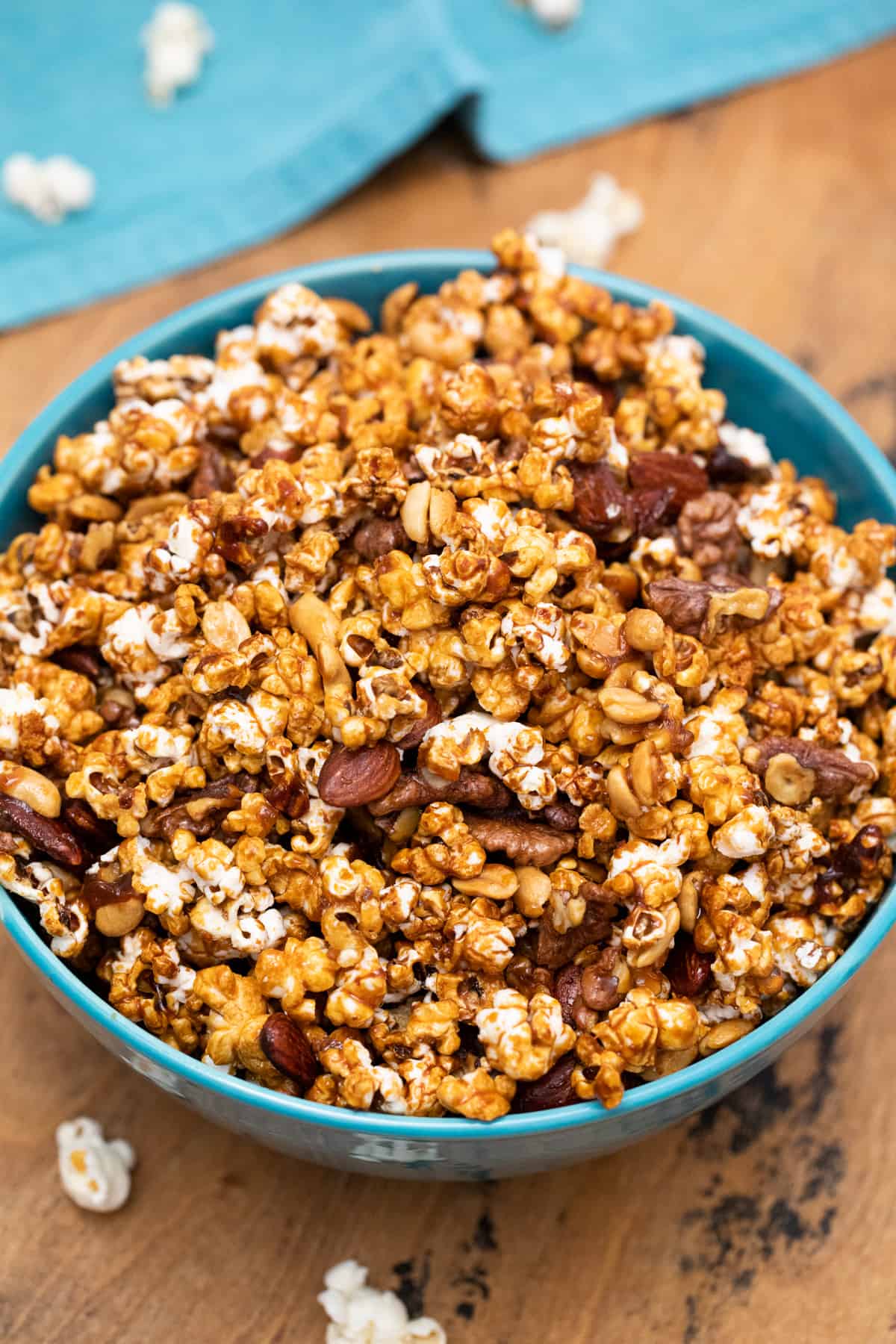 Helpful Items For This Recipe
This post contains affiliate links. As an Amazon Associate, I earn a small portion from qualifying purchases at no extra charge for you.
How to Make Poppycock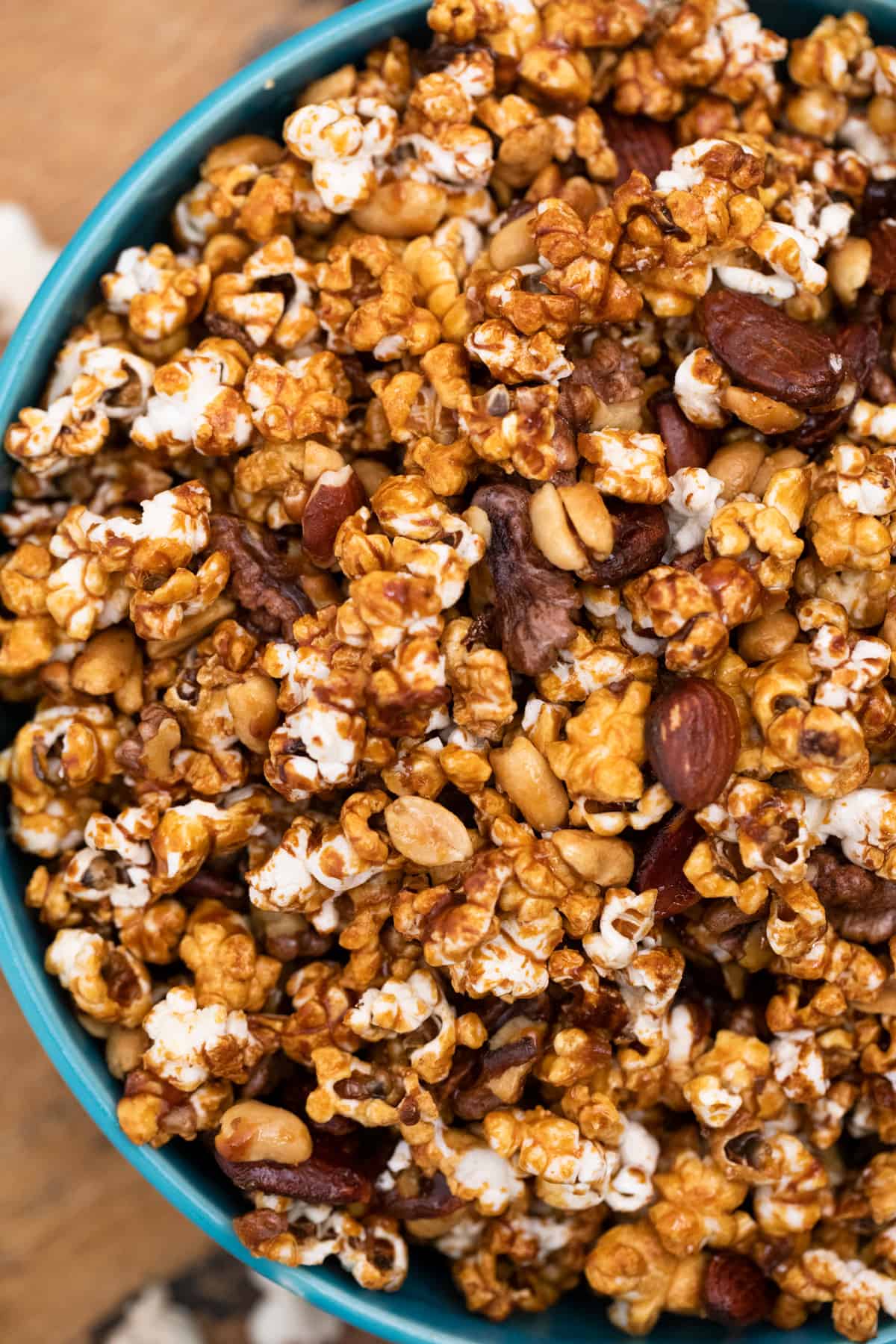 Obviously, you have to start with popcorn. The best popcorn for this is made the old fashion way with a popcorn popper; microwave popcorn is not what you are going to want to use. Using 2 large baking sheet pans divide the popcorn and nuts between them. We use a mixture of nuts, like almonds, peanuts, pecans, and cashew.
In a large saucepan over medium heat bring the brown sugar, butter, and corn syrup to a boil while stirring. Continue to boil the mixture, cook for 5 minutes without stirring.
You don't even need a candy thermometer for this recipe. Then just remove from heat, stir in vanilla and baking soda. Some recipes use cream of tartar but we stuck with baking soda.
Pour the caramel sauce over the popcorn and nuts and mix well to make sure everything is coated. Bake them in a 225 degree F oven for an hour, stirring every 10 minutes.
Allow the popcorn mixture to cool completely before storing it in an airtight container or ziplock bag for up to a few weeks but as if it would last that long, never would in this household.
You and I both now have an easy poppycock recipe for any occasion!!! It makes a lot, but if you are going to the trouble might as well make double.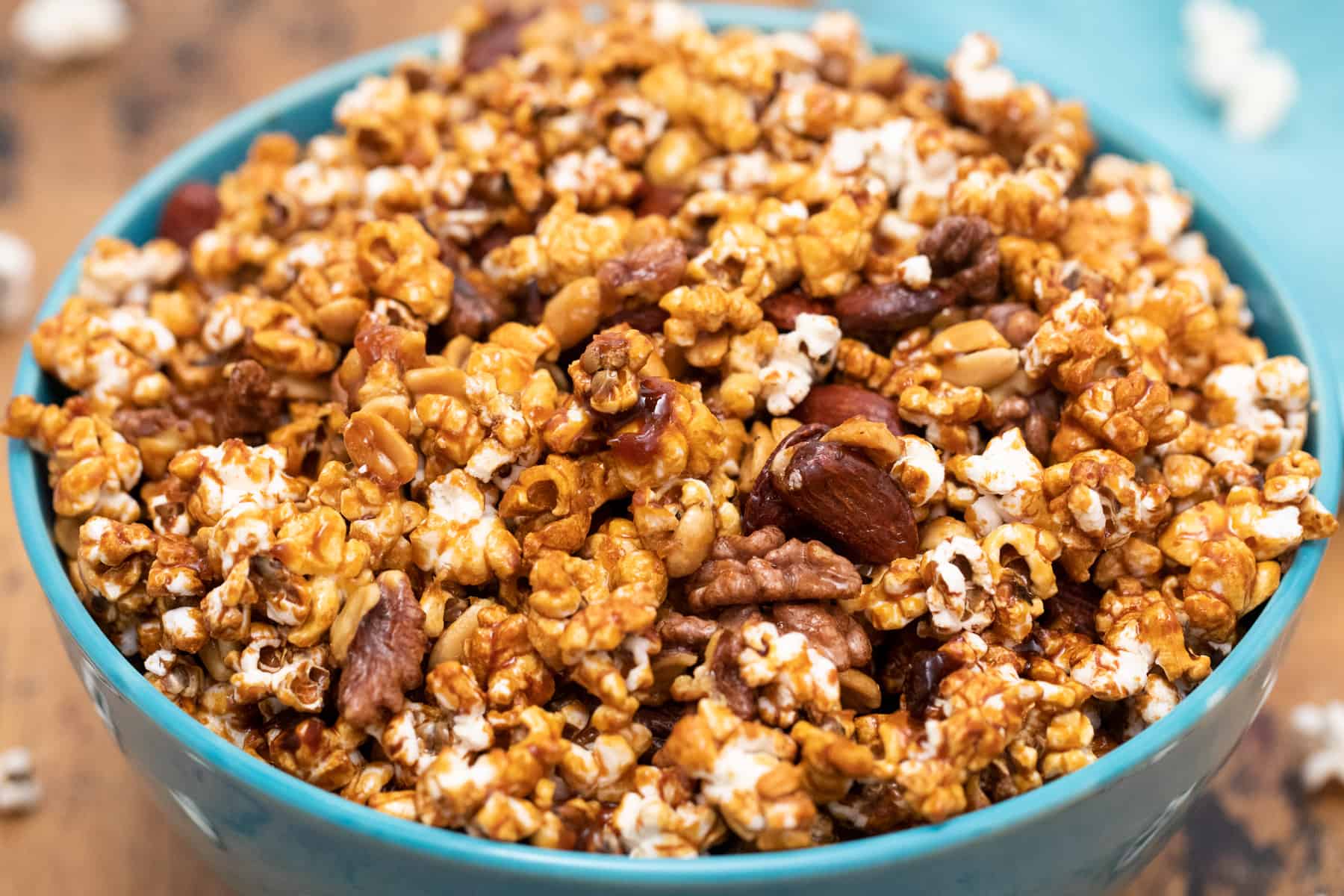 What Does Poppycock Really Mean?
Today the definition of Poppycock is senseless chatter; nonsense. Kind of a fun term for this fun treat!!
It is believed that Poppycock, the treat you see here, was invented by Howard Vair in the 1950s as a snack to accompany him on road trips.
In 1960, Wander, a Swiss company, bought the rights to Poppycock and moved production to their Villa Park, Illinois, facility.
It has been a family favorite of ours for years but we had never made it before. I am glad we were prompted by our neighbor to come up with this delicious recipe for ourselves and for you!!
Enjoy this over the holiday season but also it makes a great treat for long car rides, picnics and other gatherings at any time of the year. Also makes a great present to bring to a hostess or as a treat to a potluck! Everyone loves Poppycock!!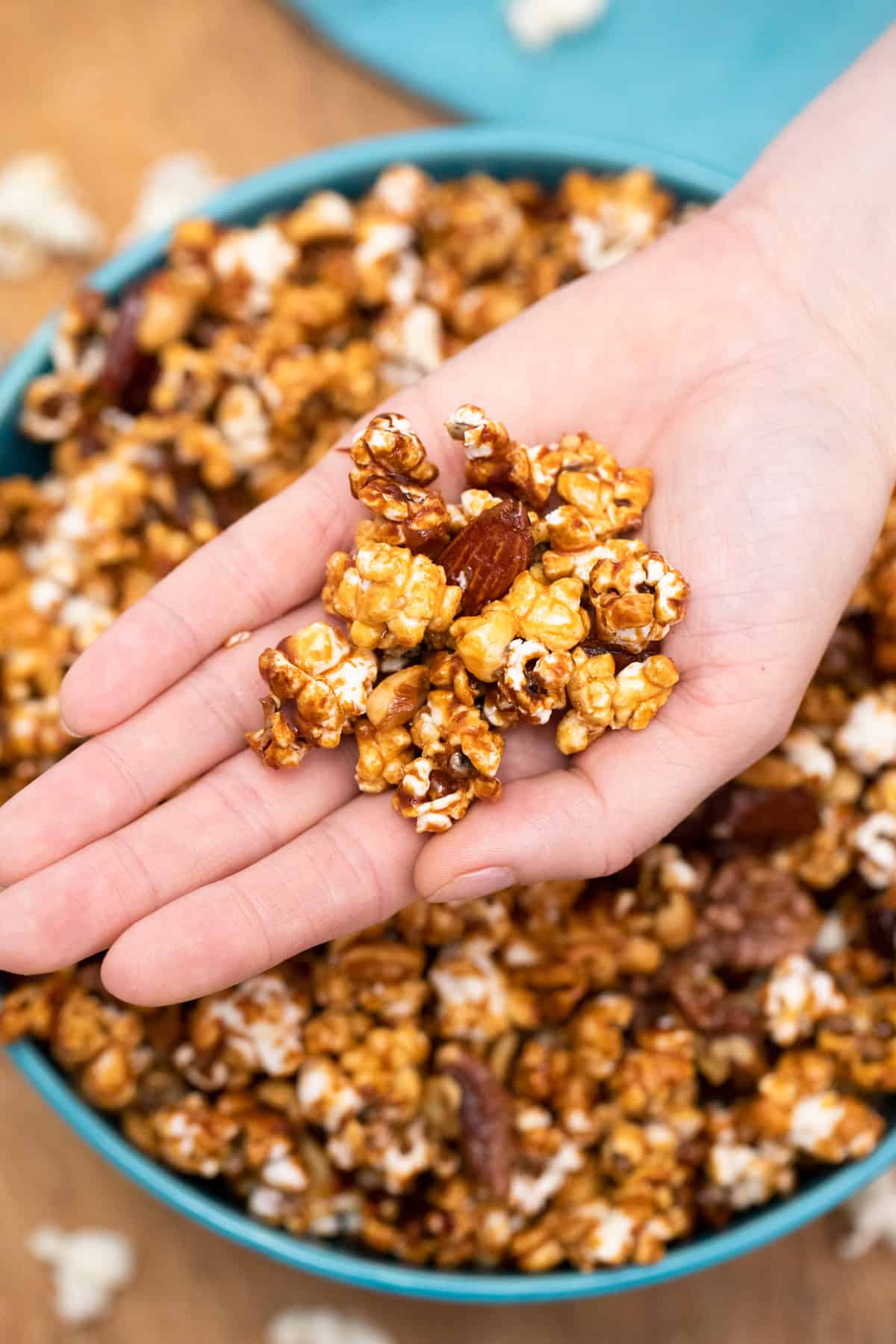 Old picture of our recipe in case you have this already pinned.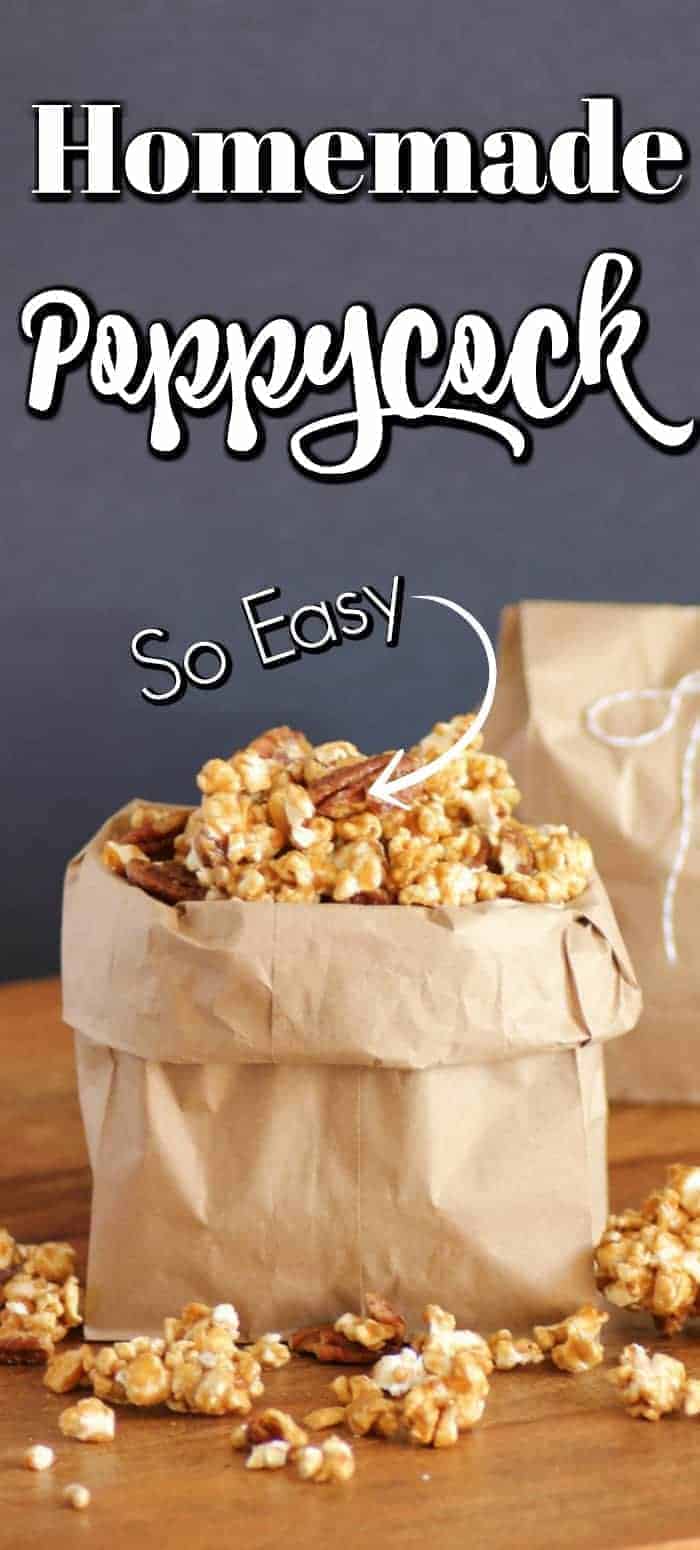 Homemade Poppycock Recipe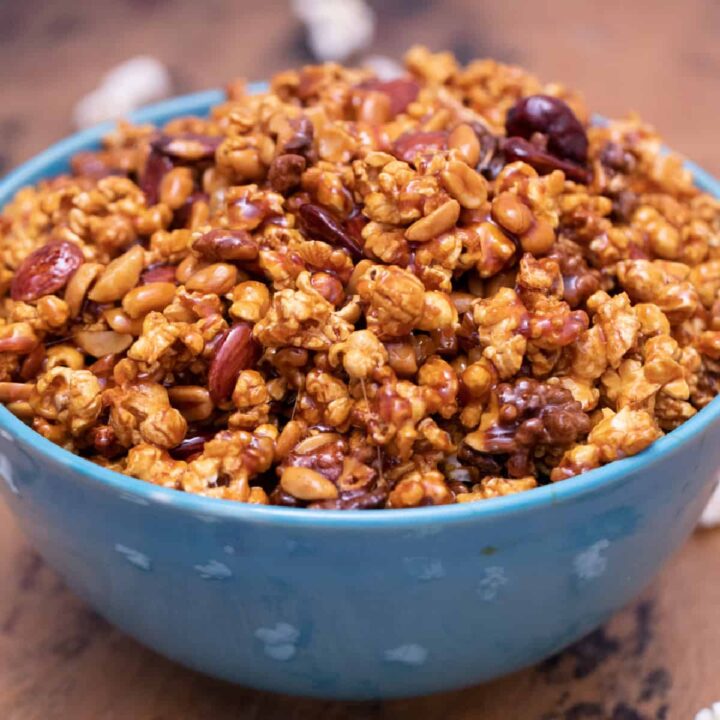 Poppycock Recipe
Yield: 12 servings
Prep Time: 30 minutes
Cook Time: 1 hour 7 minutes
Total Time: 1 hour 37 minutes
This homemade poppycock recipe is wonderfully chewy, and as easy as pie! It's caramel popcorn with a twist!
Ingredients
24 cups popped popcorn
2 cups brown sugar
1 cup butter
1 cup of corn syrup
2 tsp. vanilla
1 tsp. baking soda
4-5 cups mixed roasted unsalted nuts
Salt to taste
Instructions
Preheat oven to 225F.
Place popped popcorn on two large baking sheets or roasting pans and divided nuts among the two pans.
Salt the popcorn.
In a large saucepan bring butter, brown sugar, and corn syrup to a boil, stirring constantly.
Let boil for 5 min. on medium heat without stirring.
Remove the saucepan from heat and stir in vanilla and baking soda.
Pour over the popcorn and stir to coat.
Place the pans in the oven. If they both don't fit you will have to bake one and then the other or you can halve the recipe.
Stir every 10 min. so that the mixture does not burn. Bake for 1 hour. Let cool completely and then store in Ziploc bags or sealed containers. Yum!!
Recommended Products
As an Amazon Associate and member of other affiliate programs, I earn from qualifying purchases.
Nutrition Information:
Yield: 12
Serving Size: 1
Amount Per Serving:
Calories: 436
Total Fat: 22g
Saturated Fat: 11g
Trans Fat: 2g
Unsaturated Fat: 9g
Cholesterol: 41mg
Sodium: 428mg
Carbohydrates: 61g
Fiber: 2g
Sugar: 52g
Protein: 2g
Recipe calculation was provided by Nutritionix and is estimation only. If you need nutritional calculations for medical reasons, please use a source that you trust.