Peanut Brittle for #ChristmasWeek #Freund
Peanut Brittle for #ChristmasWeek #Freund!! Welcome to Day #5 of Christmas Week, a multi-blogger event co-hosted by Kim of Cravings of a Lunatic and Jen from Juanita's Cocina!
Each day we will be celebrating the holidays with a different set of Christmas-themed treats, as well as a fabulous Christmas giveaway. We hope you enjoy this fabulous event. Tune in each day starting Monday, December 9th, and ending Saturday, December 14th.
We also love to make Chocolate Turtles, Microwave Peanut Brittle, Easy Chocolate Walnut Fudge, Poppycock, Peanut Butter Popcorn, and Grand Marnier Chocolate Cherries.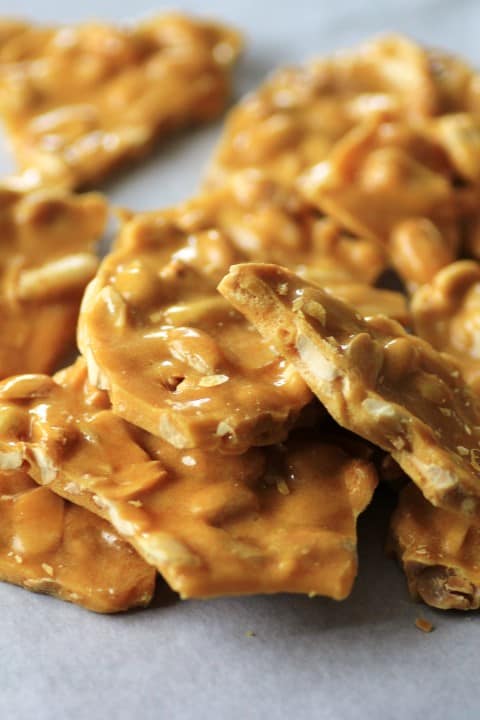 Today's recipe is super easy but you might have to test it once to see how your microwave is. I have made this in at least three different microwaves and it has turned out each time, but once, see the story below! Super easy and addictive peanut brittle!! I had to package it up quickly or I would have eaten it all!!
Personal Experience
I have to share with you a funny story about making this brittle, many years ago now I had some surgery. Serious enough that I was put under and then sent home on lots of pain meds.
Leave it to me not to take the day off and just rest, oh no, I wanted to make peanut brittle. I didn't want to eat it, just make it. So off I staggered in my stupor to create this. I pulled out a plastic bowl (never do this) and put together the recipe and started nuking it. Well, you guessed it the whole thing was molten lava inside my microwave!!
Did that stop me, oh no!! More determined than ever and now out of ingredients I send Ken to the store. I made that peanut brittle and it turned out great in the end.
The moral of the story don't try and do anything in the kitchen after general anesthetic and on narcotics, not a good situation. I did settle down after that and rested quietly on the couch. Poor Ken, not even a break when I have surgery!! LOL
You know peanut brittle, crunchy, slightly salty, sweet and leaves you wanting more!!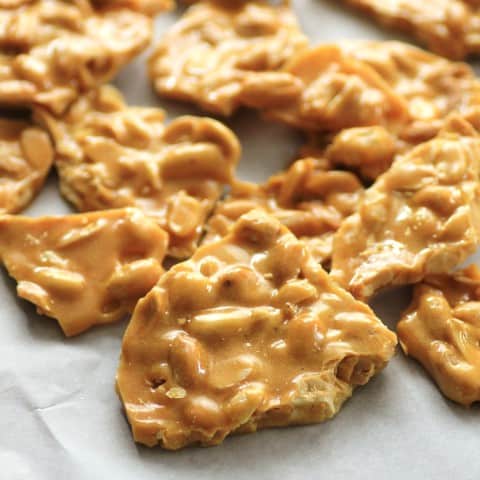 The Recipe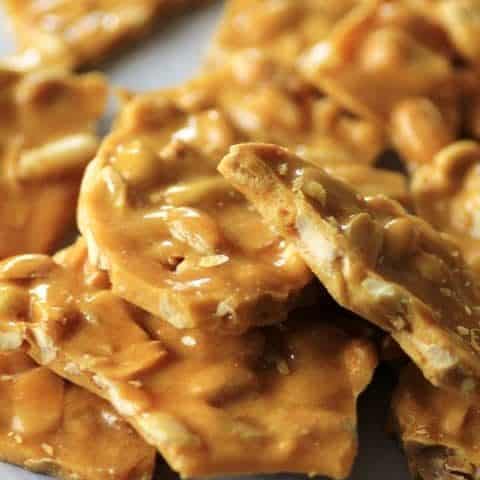 Peanut Brittle for #ChristmasWeek #Freund
Yield: 8 Servings
Prep Time: 5 minutes
Cook Time: 10 minutes
Total Time: 15 minutes
Super easy microwave peanut brittle. This treat will have you making it more than once for the holidays.
Ingredients
1 cup sugar
1/2 cup white corn syrup
1 1/2 cups salted peanuts
1 tsp. butter
1 tsp. vanilla
1 tsp. baking soda
Cooking spray
Instructions
Spray a rimmed cookie sheet with cooking spray and set it aside.
In a 2 L (2 quart) glass bowl stir together sugar and corn syrup with a wooden spoon until mixed well. Microwave on high or 100% for 6-8 minutes until syrup is pale yellow. Keep a close eye on it!!
Carefully remove the bowl from the microwave, the syrup is very hot. Stir in the peanuts and mix well.
Microwave for 1-2 min. more or until golden in color. Immediately add the butter, vanilla, and baking soda and stir until foamy.
Quickly pour onto the prepared cookie sheet and spread evenly.
Cool and break into pieces.
Nutrition Information:
Yield: 8
Serving Size: 1
Amount Per Serving:
Calories: 324
Total Fat: 14g
Saturated Fat: 2g
Trans Fat: 0g
Unsaturated Fat: 10g
Cholesterol: 1mg
Sodium: 287mg
Carbohydrates: 47g
Fiber: 2g
Sugar: 43g
Protein: 7g
Recipe calculation was provided by Nutritionix and is estimation only. If you need nutritional calculations for medical reasons, please use a source that you trust.
Visit all the other Christmas Week Peeps for more Holiday Baking Goodness:

Christmas Week
Today's #ChristmasWeek giveaway comes courtesy of Freund Container & Supply. Freund Container & Supply has been helping build businesses since 1938 as the largest distributor of glass bottles, containers, and wholesale packaging supplies online. Freund offers over 5,000 items in stock every day, 98% same day shipping, and low-price guarantees. Take a look at Freund's wide selection of jars, tins, bottles, and vials for all your crafting and food-related needs!
Today's winner will receive one $250 Freund gift certificate, as well as one copy of "The Pioneer Woman Cooks: A Year of Holidays". To enter, read the details and use the Rafflecopter below!
***This giveaway is for one $250 gift certificate to Freund Container & Supply, as well as one copy of "The Pioneer Woman Cooks: A Year of Holidays". Gift certificate is a one-time use certificate and must be used in its entirety; any leftover monies on the gift certificate will be forfeited. This giveaway is open to both US and Canadian residents. However, it should be noted that due to current International shipping rates, any Canadian winners will pay higher shipping costs for orders. ***
***Disclaimer: This gift certificate is being provided by Freund Container & Supply, while the cookbook has been provided by Juanita's Cocina. #ChristmasWeek bloggers have not received product or been compensated as a part of this giveaway.***