Swirl Cookies
Welcome to Day #4 of Christmas Week, a multi-blogger event co-hosted by Kim of Cravings of a Lunatic and Jen from Juanita's Cocina! Each day we will be celebrating the holidays with a different set of Christmas-themed treats, as well as a fabulous Christmas giveaway. We hope you enjoy this fabulous event. Tune in each day starting today, Monday, December 9th and ending Saturday, December 14th.
Here we are on the fourth day of our Christmas week already. Today I wanted to do a swirl or pinwheel cookie, lots of ideas were swimming around in my head but I came across my container of dates and then knew I wanted to do an old fashioned date and nut pinwheel. Something that I have never made before but knew I would love due to rich delicious dates and wonderful flavors from the walnuts.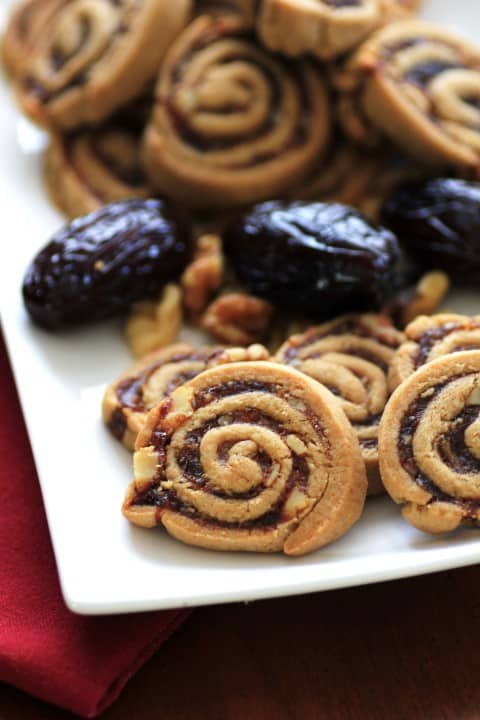 The cookie dough for this recipe is called Caramel Refrigerator Cookies and it tastes amazing, it was one of the best cookies from 1940-1945 according to Betty Crocker!! The recipe is adapted from Betty Crocker's Cooky Book, love how they spelled cookie. This cookbook I got from my dear friend Nan who collects all sorts of wonderful vintage items and then sells them with her daughter Courtney. They call themselves "The Kitschy Chicks". So much fun, I love going to their sales!! Always find lots!!
Look at the size of those dates, love them!!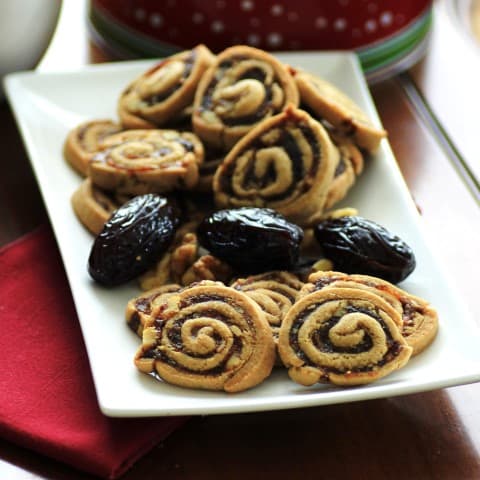 Swirl Cookies for #ChristmasWeek #Giveaway
A wonderfully nutty pinwheel cookie that is paired perfectly with rich dates.
Ingredients
Caramel Refrigerator Cookie
½ cup butter
1 cup brown sugar
1 egg
½ tsp. vanilla
1¾ cup flour
½ tsp. soda
¼ tsp. salt
Date and Nut Filling
¾ lb. moist pitted dates, chopped
⅓ cup sugar
⅓ cup water
½ cup walnuts, finely chopped
Instructions
For the dough, in a standup mixer with a paddle attachment mix butter and sugar together. Add the egg and vanilla and mix well. Whisk flour, soda and salt together and add, mix well. Remove dough from bowl and divide in half. Wrap each half in plastic wrap. Chill for ½ hour.
To make the filling mix the dates, water and sugar together in a small saucepan and heat over medium low until the dates have dissolved slightly and the mixture is thickened. Stirring constantly. Set aside to cool.
Roll each half of dough on wax paper with a floured rolling pin into a 11x7" rectangle. Divide the cooled date and nut filling between the two rectangles and spread evenly over the dough. Beginning at the wide end and using the wax paper to help, roll the dough up tightly. Pinch edge to seal. Wrap the logs now up in the wax paper and refrigerate for several hours.
Preheat the oven to 400F and slice the logs into ¼" slices. Place on a lightly greased baking sheet and bake for 8-10 min. until lightly browned.
Recipe adapted from Betty Crocker's Cooky Book
I am sure having fun with my blogger buddies doing all these wonderful sweet treats for you each day. I hope you are enjoying them too!!
Visit all the other Christmas Week Peeps for more Holiday Baking Goodness: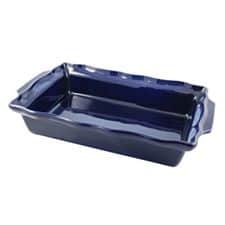 Today's #ChristmasWeek giveaway comes courtesy of Swissmar. Le Cordon Bleu has been a worldwide leader in gastronomy and hospitality for over 100 years and are widely considered the guardian of French culinary technique. Swissmar now combines this culinary expertise with their own knowledge and brand recognition to introduce this fantastic new line.
The Le Cordon Bleu ceramic ovenware from Swissmar are all freezer safe, oven safe, dishwasher and microwave safe. The French-inspired Charmant Collection 5 qt. Rectangular Roaster has scalloped edges and is beautiful enough to go straight from oven to table! To enter to win a Swissmar Roaster, read the details and use the Rafflecopter below!
***This giveaway is for one Swissmar Charmant Collection 5 qt. Rectangular Roaster (winner's choice of color: blue, yellow, red, or white)! This giveaway is open to Continental US residents only . When the contest concludes, the winner will be chosen by random draw. The winner will be notified through e-mail and they will have 3 days to respond or another winner will be chosen.***
***Disclaimer: This giveaway is being provided by Swissmar. #ChristmasWeek bloggers have not received product or been compensated as a part of this giveaway.***