Do you enjoy making candy, chocolates, and cookies during the holidays? We sure do!! One of our all-time favorites is these Homemade Chocolate Turtles. I make them every year!!
We love to do up boxes of goodies for friends and thank yous to all the wonderful people that have done work for us over the year. I think our goodies are well-loved as people can't wait to get them.
Making something homemade is not only satisfying to you but also to the recipients. They know it is made with love!! The combination of pecans, caramel, and chocolate is one of my all-time favorites!! This is a go-to holiday recipe for sure!!
Warning though these are not soft caramel like the well-known turtles. The caramel is hard and lasts so much longer. One is very satisfying but you still want to go for more!! Want more? Try our Scrumptious Turtle Bars too.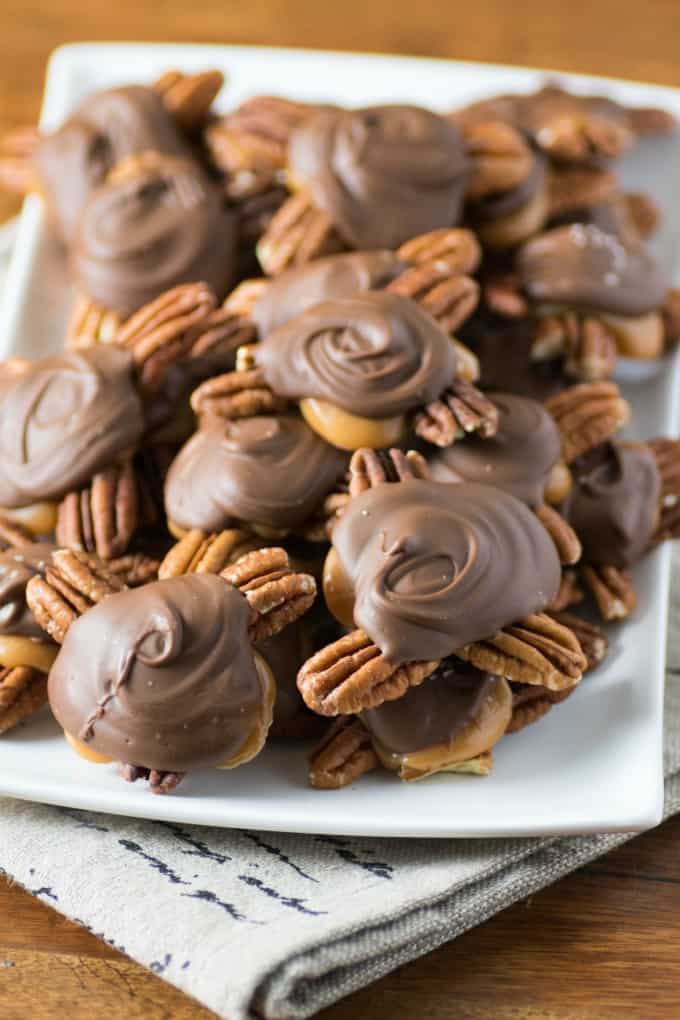 I keep them in the refrigerator. This is supposed to deter me from eating them as they are nicer when the caramel is a bit softer. In this house, they disappear regardless if they are cold or not. I think I actually like them cold, they are really chewy and hard and yummy and last longer!!
CAN'T
STOP
EATING
THEM!!
They are so easy to make, your kids can help by putting down the pecans and then the caramels. I hope you make these, again and again, we sure love to!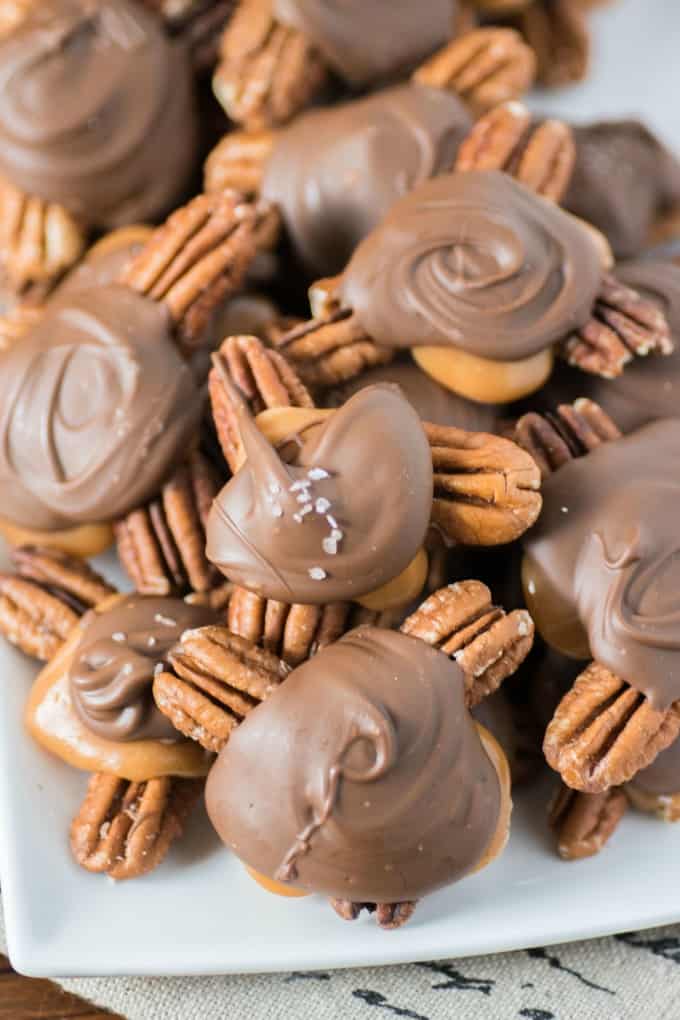 Sometimes we add on a little sea salt for an extra treat. That salty-sweet combination is so good!! Either way, these confections are a big hit!! This is a gluten-free treat too if you need that. The caramel should not have any gluten in it but do check the package to make sure.
Pro Tip! If you want a softer caramel then make our Salted Caramels, they are soooo very good. See an important tip in the recipe card.
The Recipe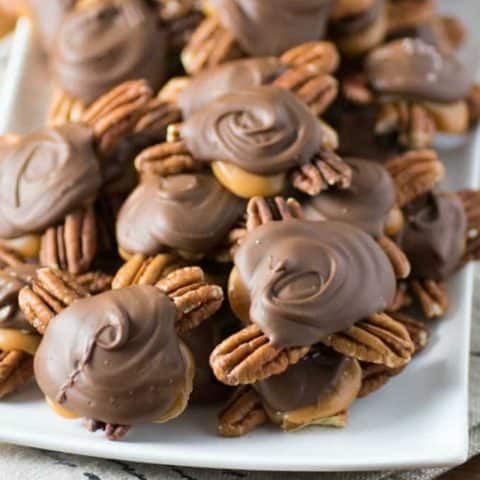 Homemade Chocolate Turtles
Yield: 24
Prep Time: 20 minutes
Cook Time: 10 minutes
Total Time: 30 minutes
These very easy Homemade Chocolate Turtles will be a hit all season long. Give them as gifts with other goodies. I have made these for years and years!!
Ingredients
Three pecans per turtle (72)
One caramel (individually wrapped, unwrapped) per turtle (24) or our recipe for Salted Caramels, see link below.
Good quality milk chocolate (approx. 1 1/2 cups), melted
Sea salt (optional)
Instructions
Preheat oven to 300F. On a Silpat or parchment paper lined tray place three pecans per turtle in a "Y" formation. Top with a caramel or make our Salted Caramels. (If making homemade caramels then cut the baking time down to only 4 min. AND WATCH CLOSELY! As opposed to 9-10 minutes for commercially bought caramels.)
Bake for 9-10 min. or until caramel just starts to melt. Remove from oven.
Top each with the melted chocolate and sea salt if using.
Refrigerate until hardened. Store in a tightly sealed container in the refrigerator. Let warm to room temperature before serving.