Bacon Cheddar Roll Ups
These have been a non-stop hit ever since my girlfriend Deb gave me the recipe so many, many years ago. One of the reasons I love Bacon Cheddar Roll Ups so much is that you can make them ahead of time and then freeze them in bags. The perfect appetizer for the holidays when friends drop in! I bet we have made hundreds and hundreds of these little roll ups over the years. They are always requested at big functions!!
What is not to love about these? Bacon, cheddar is rolled up with bread and a sweet mustard sauce. You will want to eat these one after another!! I even have a video for you to see how easy they are to make!
You may not have seen a recipe like this before. It is fairly unique using a slice of bread rolled out and then slathered with a sauce. It works well in keeping the cheddar inside and not running out. I think these are best made from frozen but are also doable made right away. The cheddar cheese though seems to stay in better when it is frozen though.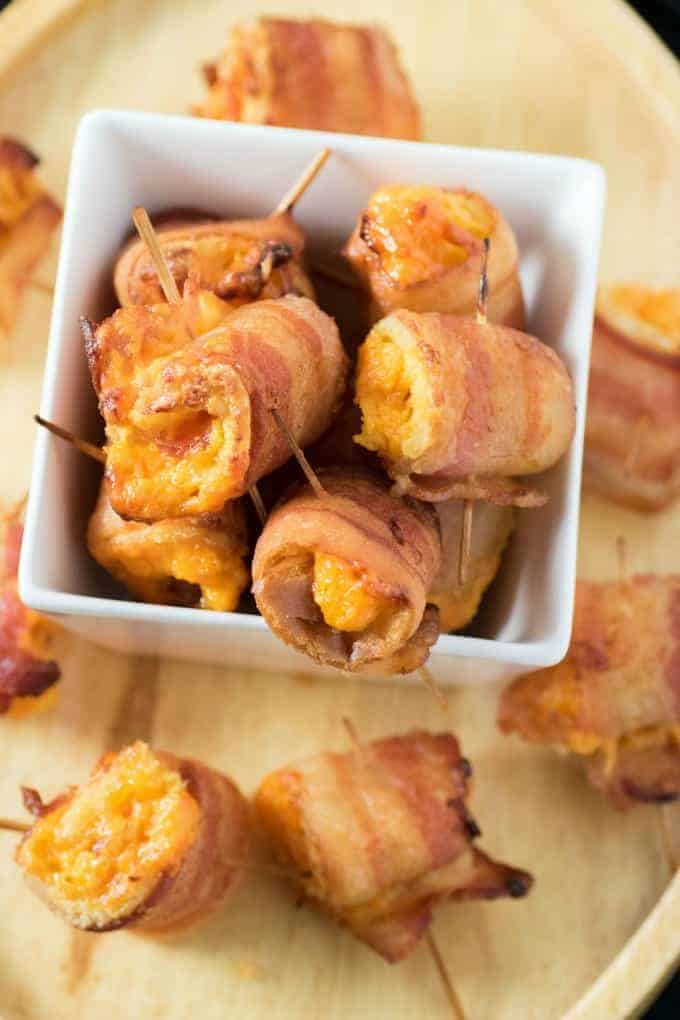 You are going to be saying where has this recipe been all my life!! These are perfect at any event, even a wedding. They are a gorgeous snack to be served. The recipe does make quite a lot. It depends on the width of your bacon though to how many you come out with. Try to buy bacon that is not too wide.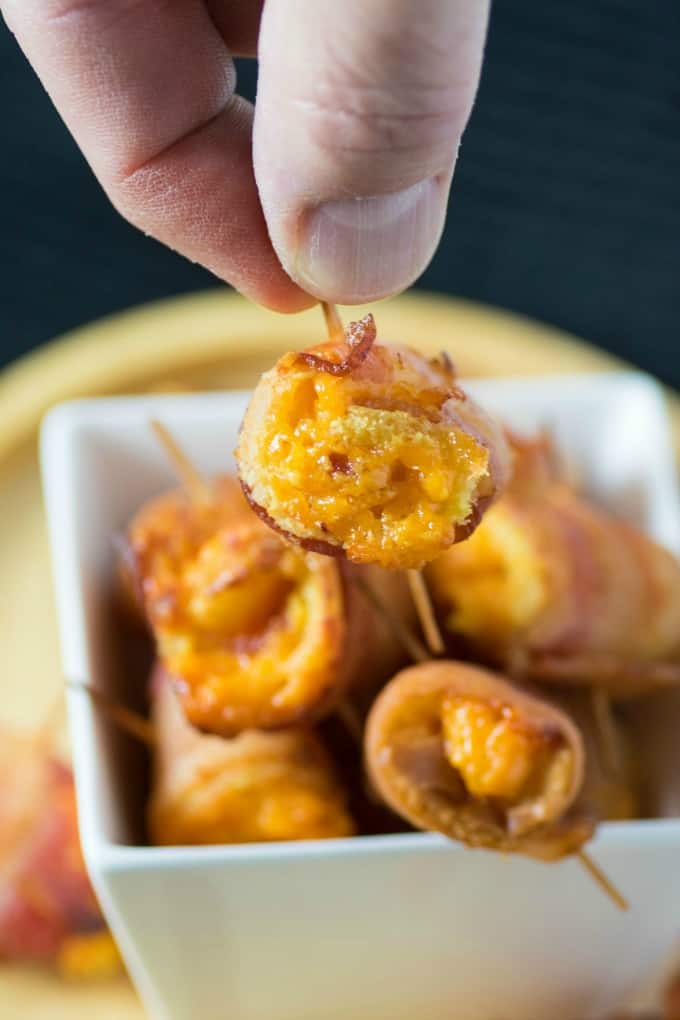 Just watch these disappear one after another!! I just love their sweet salty goodness! An appetizer or hors d'oeuvre should be bit sized at a party and easy to navigate with a drink in hand. These fit the bill perfectly. 
The Recipe
Bacon Cheddar Roll Ups
These Bacon Cheddar Roll Ups are a complete hit with their sweet and salty flavors! Perfect for entertaining as they stay in the freezer until you are ready to heat and serve.
Ingredients
3 loaves sandwich bread, crusts removed, rolled out flat with a rolling pin
3 pkg. regular sliced bacon
1 can sweetened condensed milk
¼ cup yellow mustard
1 tsp. worcestershire sauce
18 oz. grated sharp cheddar cheese
Instructions
Mix together the sweetened condensed milk, mustard and worcestershire sauce in a small bowl and set aside.
Cut the bacon in half. Lay two to three ½ slices of bacon down on the counter. You will want them to match the width of the bread. If you have skinnier bacon you will get more smaller roll ups. See the video to help. Lay the bread on top of the bacon.
Spread some of the mustard mixture on top of the bread and top with a small handful of cheese.
Roll up the bacon and cut between the slices, giving you two or three pieces. Hold together with a toothpick.
Freeze on parchment lined cookie sheets and then place in plastic freezer zip bags. I usually do 20 per bag.
When ready to bake preheat oven to 400F and cook from frozen. Place a cookie cooling rack over a foil lined rimmed baking tray and place roll ups on top of the cooliing rack to let the drippings fall through. You will get crispier roll ups this way or you can use a broiler pan.
Bake for 15-20 min. turning once or until bacon is crisp. Let cool for a few minutes and serve hot.