Copycat Almond Roca is one of my ultimate favorites. Rich caramel with crunchy almonds and both white and semi-sweet chocolate makes this the perfect confection for the holidays.
Somehow making it at home doesn't seem as decadent as buying a big box of it from the store. This is a loved candy at Christmastime, but why not have it at any time of the year!!
We love making lots of different chocolates and candy recipes at Christmastime, and besides this Almond Roca, we make Chocolate Turtles, Microwave Peanut Brittle, Easy Chocolate Walnut Fudge, Poppycock, Peanut Butter Popcorn, and Grand Marnier Cherries.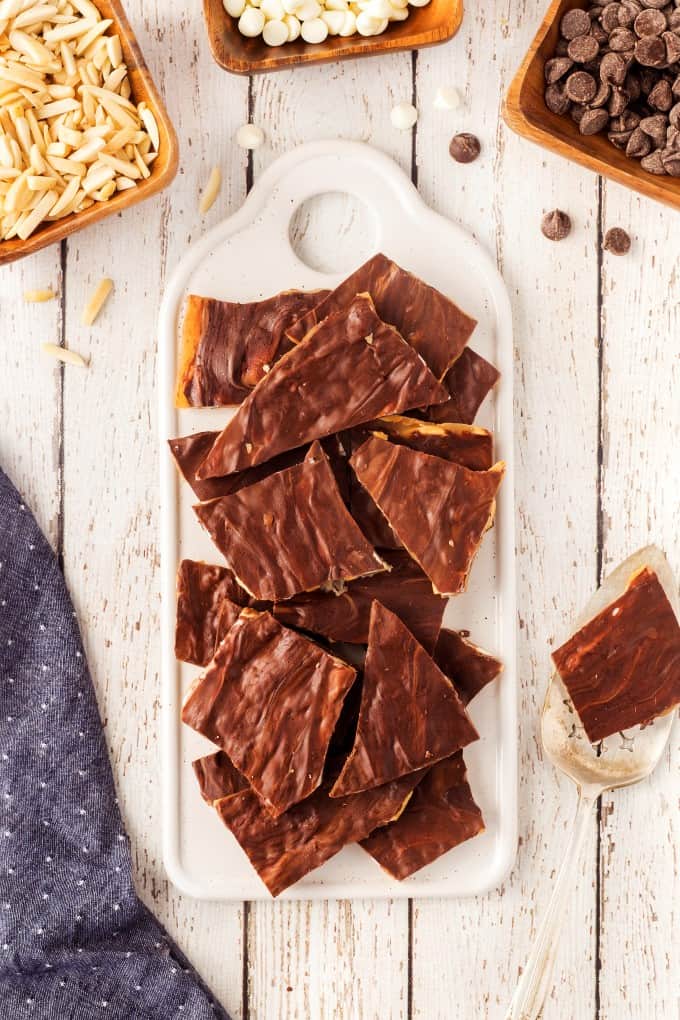 Helpful Items For This Recipe
This post contains affiliate links. As an Amazon Associate, I earn a small portion from qualifying purchases at no extra charge for you.
Christmas Nesting Tins with Windows for Cookie and Candies
This recipe is from a friend of mine, Sonia, who graciously allowed me to share it with you all. What a fabulous treat to make for your family or a great gift for a dinner party for the hostess, a wonderful teacher gift, a great birthday treat.
The list goes on and on about why you should be making this scrumptious confection!! They all will be asking where you got the recipe, so just send them on over here!!
I hope you all enjoy it as much as we do!!
What is Almond Roca?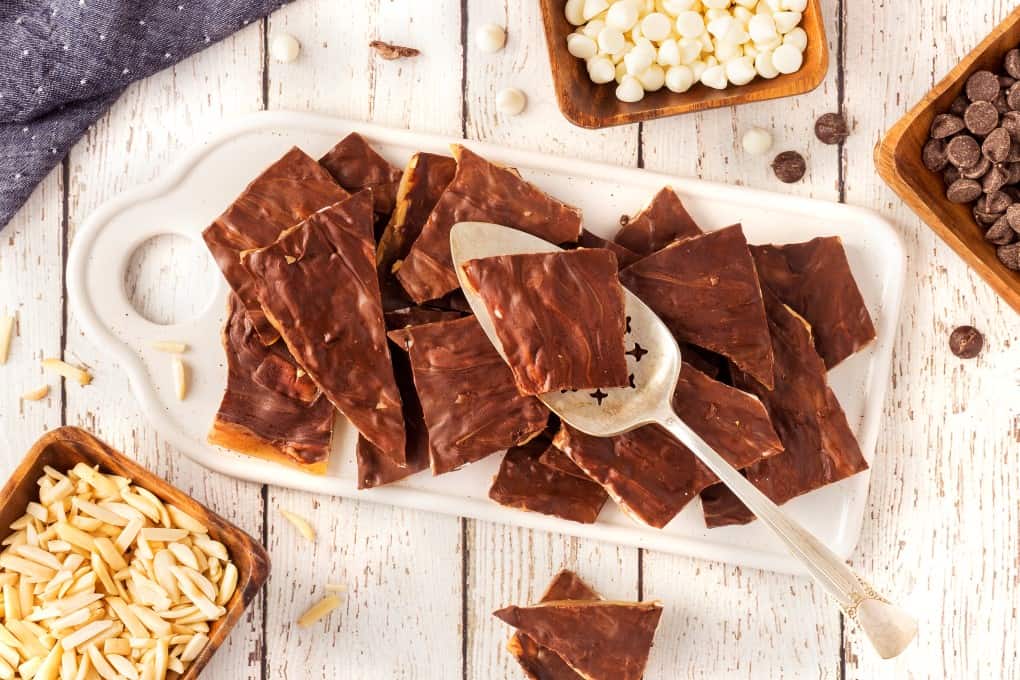 Almond Roca is a brand name for a chocolate-coated, almond buttery hard toffee that has a coating of almonds on the outside. It is similar to chocolate-covered English toffee.
The candy has been around since 1914 by the Brown & Haley Co. of Tacoma, Washington. The candy is shaped into little logs and individually wrapped in gold-colored aluminum foil. Their trademark pink tin containers have been around since 1927.
This Almond Roca recipe is my ultimate favorite. Like crazy favorite, one that I just don't want to live without for the holidays!! Make this old-time classic for cookie platters, gift boxes, tins and more.
It is so addicting with its buttery rich flavor and the crunch, oh the crunch just gets me good!! Never mind then the almonds on the bottom and the chocolate on the top. The perfect combination of flavors.
How To Make Almond Roca
Ingredients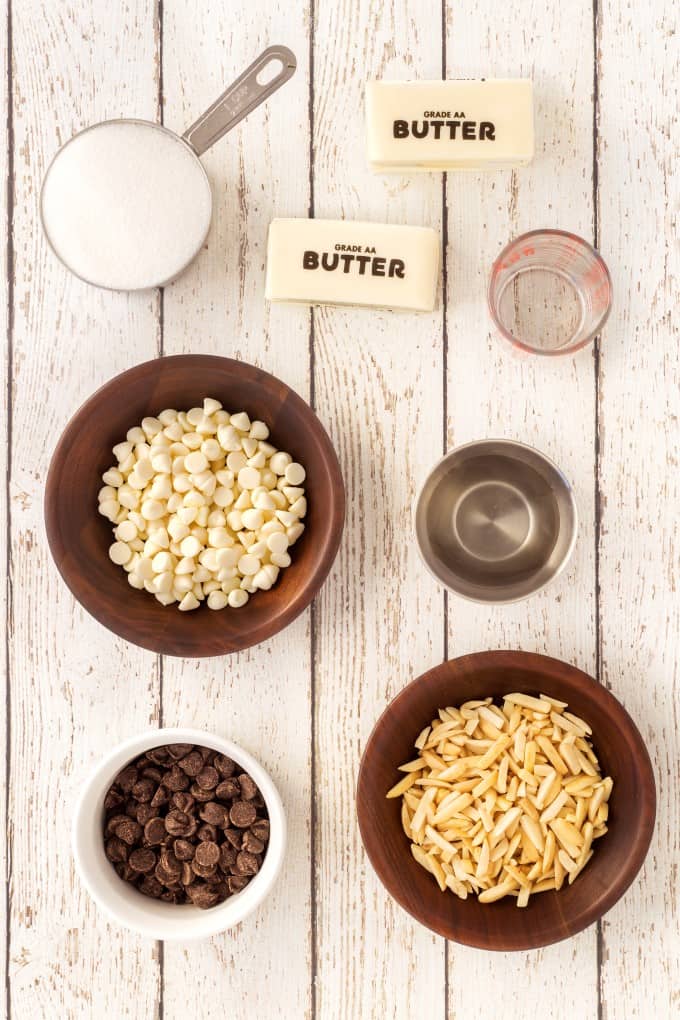 Really simple ingredients that you can easily find at any grocery store.
Slivered almonds – I find the slivered ones work best but they definitely need to be toasted first.
Butter – Use salted butter for this recipe then you don't have to worry about adding in extra salt.
White sugar – Some people like to use brown sugar but I prefer white sugar in this recipe.
Boiling water – Have your water at boiling point so it won't cease your other ingredients and won't delay cooking time either.
Light corn syrup – Keep to the light corn syrup the dark is too much for this recipe.
Semisweet chocolate chips – You can use other chocolate but I find this gives a perfect balance in sweetness.
White chocolate chips – We have always added in the white as it makes for a pretty marbling effect.
To make Homemade Almond Roca is quite easy. You start with some toasted slivered almonds on a jelly roll pan.
The toffee is then made by first melting butter and white sugar together. The heat is increased and while stirring occasionally with a wooden spoon you continue to boil it for about 5 min. We don't use brown sugar but some recipes do.
You don't want to be stirring constantly at any stage of this candy-making. It needs to be left for periods of time not stirring.
Then water and corn syrup are added to the butter mixture and brought up to 275F; if you go right to 300F we find that it burns. You can use a candy thermometer but we find that our instant thermometer is faster and easier to use.
Finishing The Almond Roca
Once you reach the temperature you need to work quickly. Remove from heat and pour the toffee over the almonds and spread out as evenly as you can.
While the toffee is hot, chocolate chips are then placed on top. You can use either milk chocolate, semi-sweet chocolate, or dark chocolate whichever you prefer plus white chocolate chips. After a few minutes, the melted chocolate is then spread out over the toffee.
Because the chocolate is applied when the toffee is still very hot and melts right on top it won't have a tendency to be separating from the toffee and adheres nicely.
We then place the pan outside in the cold or in the refrigerator to set. Break into pieces and store in a cookie tin in the refrigerator.
As long as you get the toffee part right you are off to the races as the rest is so very easy. Be very careful with the toffee though as that is extremely hot. Make sure all children and pets are out of the room while you are working with this candy. This is not a recipe to make with young children.
How Long Does Almond Roca Last?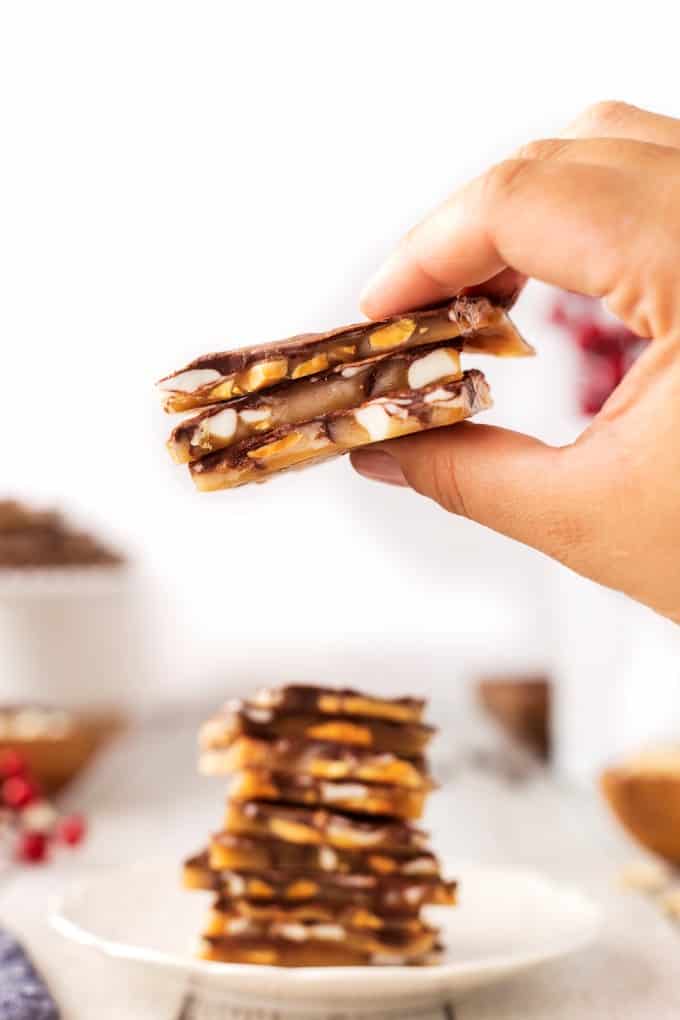 Well, in this house it is the first one to disappear out of all of our candies and chocolates. I just love it!! We make our cookies throughout November and freeze them all.
Then come December we start to make our chocolates. They last if not eaten beforehand for the holiday season, so 3-4 weeks in the refrigerator.
Don't just save this treat for Christmas as it would be wonderful at Easter, Valentine's Day and more. Great at any party and will be gobbled down!!
What is the Difference Between Almond Roca and English toffee?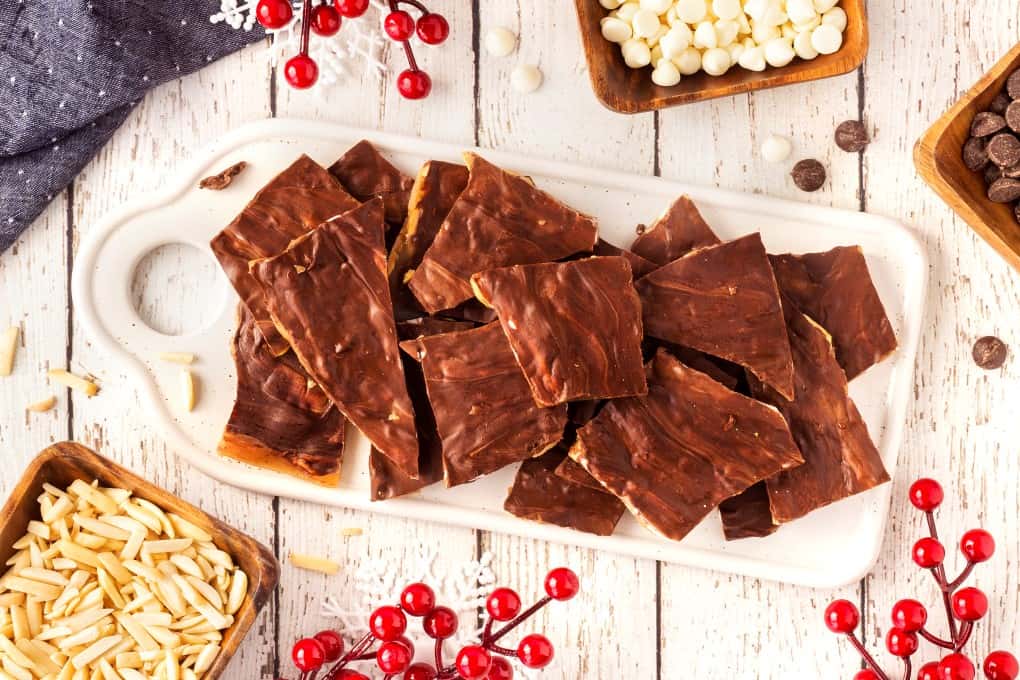 As I mentioned above English toffee and Almond Roca is or can be very similar. Almond Roca has nuts and chocolate particularly almonds of course and English toffee can also.
You can use other nuts though with English toffee like pecans or walnuts and usually they are presented on top the chocolate not hidden in the caramel like our recipe is.
Then of course there is just plain toffee and one that I grew up with was MacIntosh's Creamy Toffee. I just loved that toffee and bought it as a treat regularly. I haven't seen it though for years but it may still be out there.
Toffee came into existence sometime in the early 1800's with the abundance of butter. It is basically a butter and sugar confection. Toffee is very popular in England and is called "buttercrunch" and can come in a chewy variety or a hard variety.
What Happens If You Cook Toffee Too Long?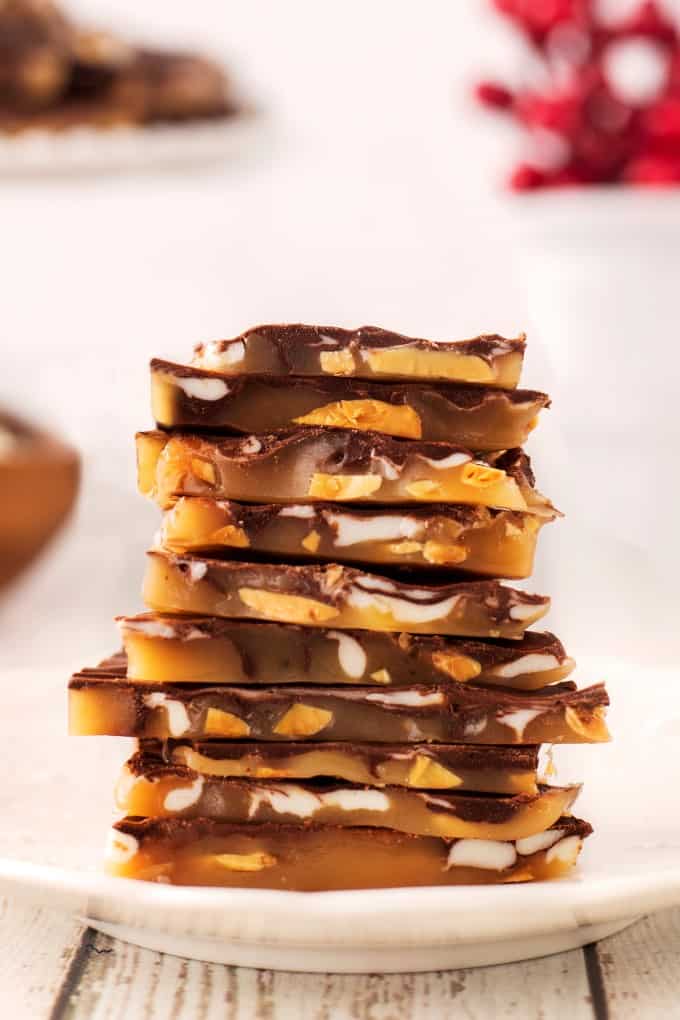 Cooking toffee can be a test of will at times. You have to gain experience and really pay close attention to temperature and appearance of the toffee.
Cooking if for too long, at a very high heat will result in a burnt toffee which can happen right in front of your eyes.
For this recipe, if you let the sugar-butter mixture get to the "Hard Crack" stage (300 degrees F) your toffee will be overdone and burnt so I take it off at about 275 degrees F. or when it is just starting to turn golden brown.
Toffee will continue to cook in the pan beyond that temperature so it is best to work quickly so that you get it into the pan to start to cool.
Other Confections We Love to Make
While Almond Roca is my number one favorite we also enjoy making other candies and treats too. We do a lot of baking, chocolate, and candy making over the holidays. Here are some more of our favorite recipes.
Hot Chocolate Bombs (Super popular this year)
Cookie Cutter Christmas Fudge (A recipe given to us from Ken's aunt)
Easy Peanut Butter Fudge (Another childhood favorite)
Homemade Poppycock Recipe (Very popular on our site)
Homemade Chocolate Turtles (These are made easy with store-bought caramels)
Peanut Brittle (Another huge favorite of mine and made easily in the microwave)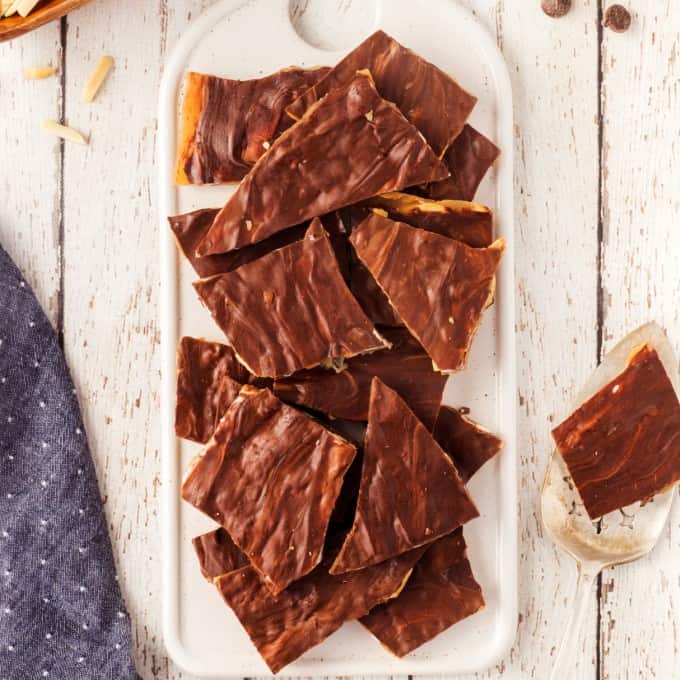 Pin it HERE!!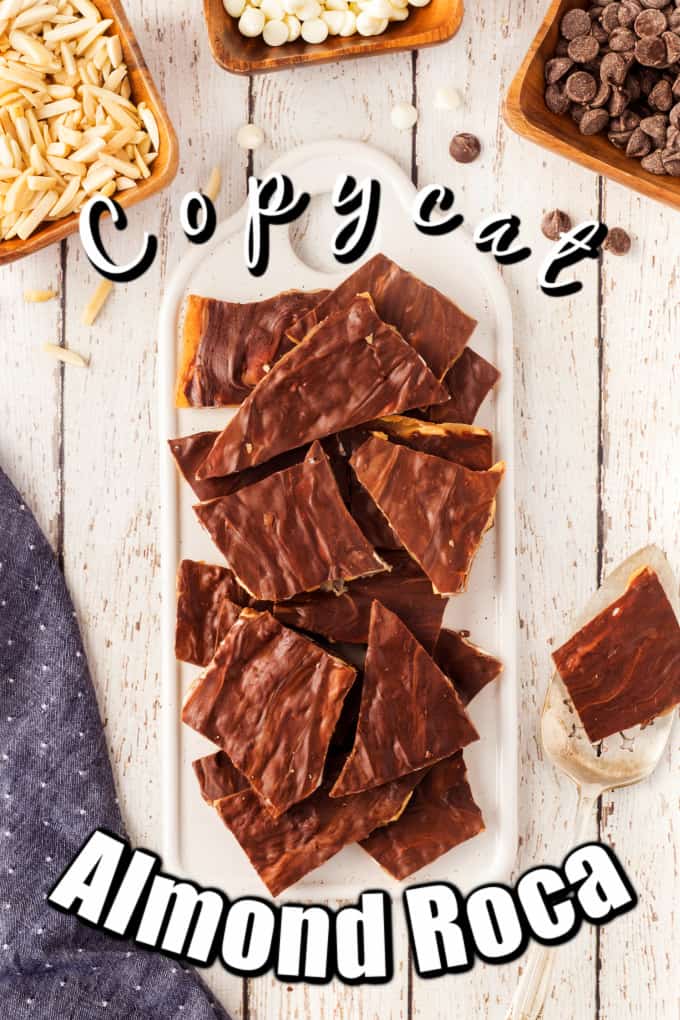 Pin it HERE!!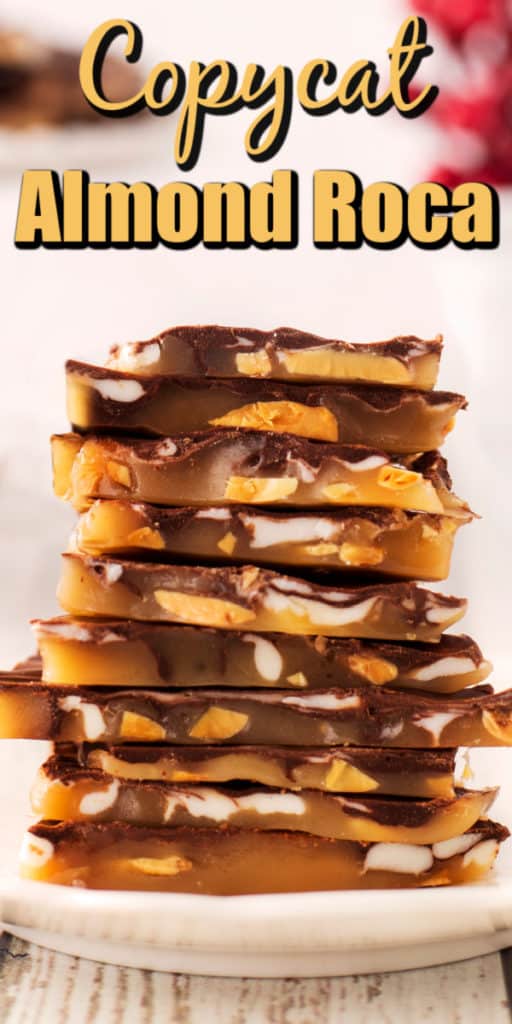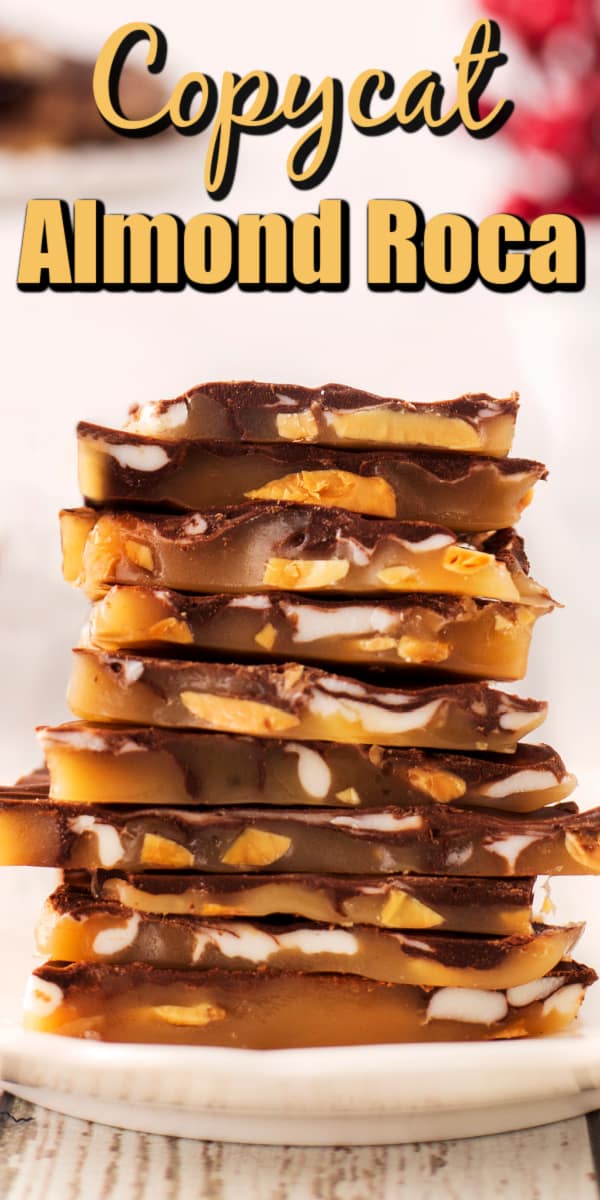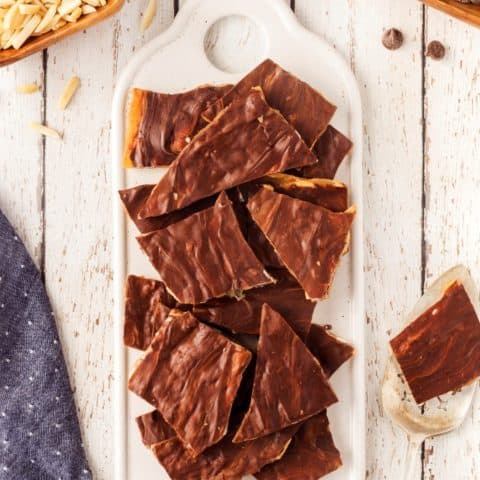 Copycat Almond Roca
Yield: 20 pieces
Prep Time: 5 minutes
Cook Time: 35 minutes
Additional Time: 30 minutes
Total Time: 1 hour 10 minutes
This Copycat Almond Roca is so good you may just stop buying it and decide to make it for yourself from now on! With a layer of caramel and almonds topped by semi-sweet and white chocolate, this is always a crowd-pleaser.
Ingredients
½ cup slivered almonds
1 cup butter
1 cup white sugar
3 tablespoons boiling water
2 tablespoons light corn syrup
½ cup semisweet chocolate chips
½ cup white chocolate chips
Instructions
Sprinkle almonds on a greased 15-in. x 10-in. x 1-in. baking pan.
Bake at 300 degrees F for 15 minutes or until toasted and golden brown being careful not to burn them; remove from the oven and set aside.
In a saucepan over low heat, cook butter and sugar for 5 minutes stirring occasionally.
Add water and corn syrup and bring to a boil over medium heat; cook, stirring occasionally until a candy thermometer reads 275 degrees F (just before hard-crack stage).
Quickly evenly pour over the toasted almonds.
Immediately sprinkle both the chocolate chips on top; let stand for 1-2 minutes or until melted.
Spread and swirl chocolate over candy.
Cool completely; break into pieces.
Notes
If you let the sugar-butter mixture get to the "Hard Crack" stage (300 degrees F) your toffee will be overdone and burnt so I take it off at about 275 degrees F.
Recommended Products
As an Amazon Associate and member of other affiliate programs, I earn from qualifying purchases.
Nutrition Information:
Yield: 20
Serving Size: 1
Amount Per Serving:
Calories: 184
Total Fat: 13g
Saturated Fat: 8g
Trans Fat: 0g
Unsaturated Fat: 5g
Cholesterol: 25mg
Sodium: 79mg
Carbohydrates: 17g
Fiber: 1g
Sugar: 17g
Protein: 1g
Recipe calculation was provided by Nutritionix and is an estimation only. If you need nutritional calculations for medical reasons, please use a source that you trust.