Almond Roca is one of my ultimate favorites. Some how making it at home doesn't seem as decadent as buying a big box of it from the store. This is a loved candy at Christmas time but why not have it at any time of the year!!
This recipe is from a friend of mine Sonia who graciously allowed me to share it with you all. What a fabulous treat to make for your family or a great gift for a dinner party for the hostess, a wonderful teacher gift, a great birthday treat. The list goes on and on why you should be making this scrumptious confection!!
I hope you all enjoy it as much as we do!!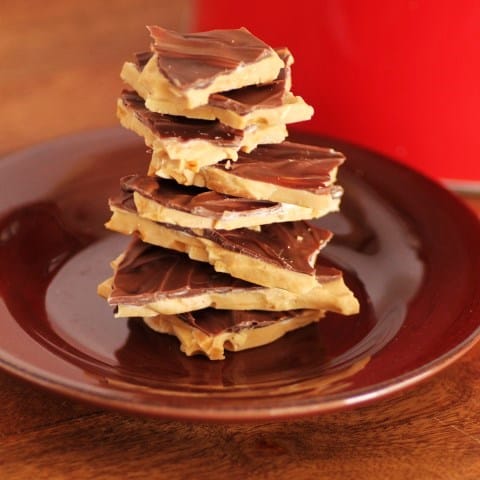 Coycat Almond Roca
An easy and delicious candy that tastes just like the original.
Ingredients
½ cup slivered almonds
1 cup butter or margarine
1 cup sugar
3 tablespoons boiling water
2 tablespoons light corn syrup
½ cup semisweet chocolate chips
½ cup white baking chips
Instructions
Sprinkle almonds on a greased 15-in. x 10-in. x 1-in. baking pan. Bake at 300 degrees F for 15 minutes or until toasted and golden brown; remove from the oven and set aside. In a saucepan over low heat, cook butter and sugar for 5 minutes. Add water and corn syrup. Bring to a boil over medium heat; cook, stirring occasionally, until a candy thermometer reads 300 degrees F (hard-crack stage). Quickly pour over almonds. Sprinkle chips on top; let stand for 1-2 minutes or until melted. Spread and swirl chocolate over candy. Cool completely; break into pieces.