Stuffed Baked Potatoes
These traditional Stuffed Baked Potatoes eat like a meal. Just serve them with a big salad and they are the perfect comforting dinner.
Do you use your toaster oven for anything besides toasting and heating pizza (which is the only way to re-heat pizza, BTW)? This is a great appliance that is sometimes overlooked and one that can save you time and money.
Toaster ovens are versatile, compact, and convenient. I love making Stuffed Baked Potatoes in ours and it is so much better than revving up the big oven and waiting forever for it to heat.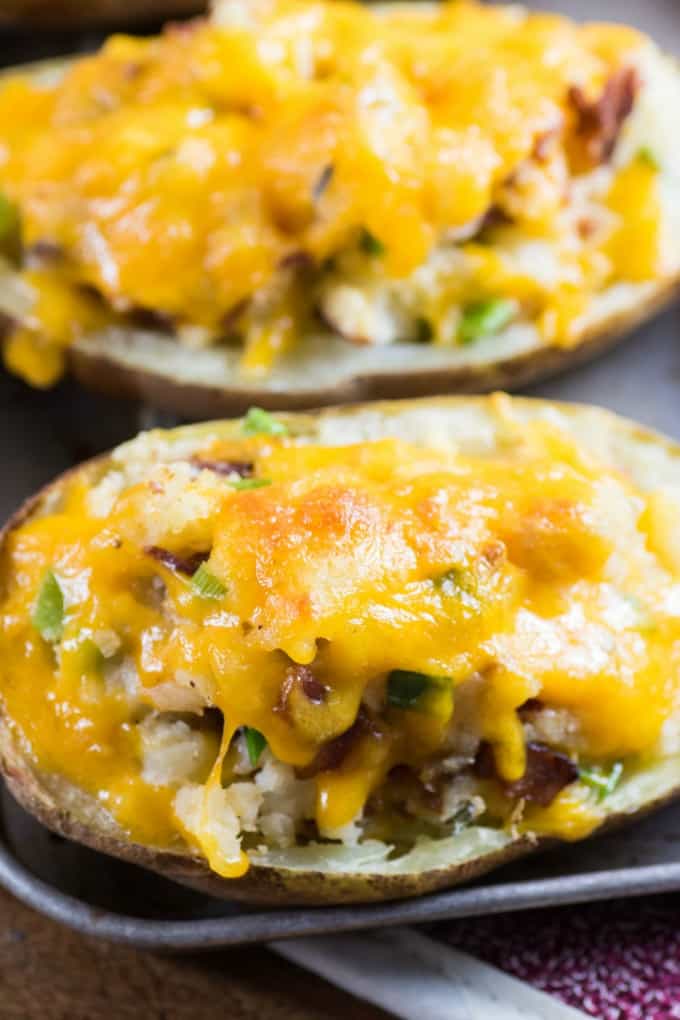 A toaster oven uses up far less space than a conventional oven and can be used a lot as a second oven or one in small quarters like a dorm.
I was very happy to review 150 Best Toaster Oven Recipes by Linda Stephen to get even more ideas to use this great appliance.
Doesn't get much better than this for comfort food!! This is almost a meal onto itself! A big gorgeous salad and you would be complete but think of this with a big juicy steak.
You could easily serve these up for Sunday dinner or for when guests arrive. Everyone loves a Stuffed Baked Potato.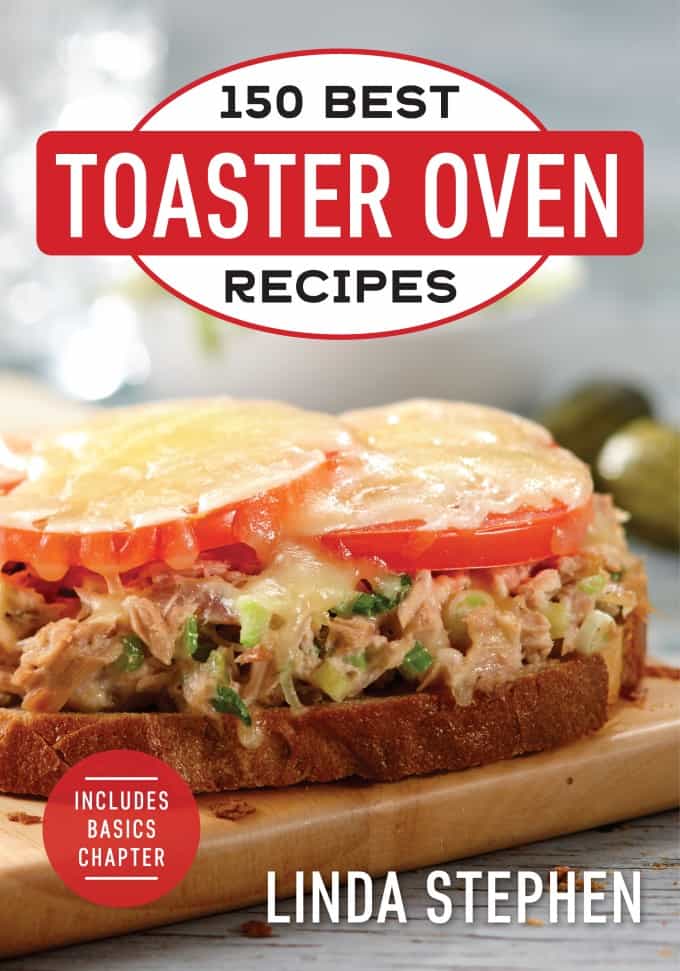 This updated edition includes 125 delicious recipes from Linda's previous book plus, practical tips, information on various toaster ovens and now an all-new "Basics" section with 25 easy recipes.
This is a great addition with recipes like Easy-Peasy Chicken Parm, The Ranch Beef Burger, Lemon Garlic Salmon and Oven-Baked Sloppy Joes.
How do you make stuffed baked potatoes?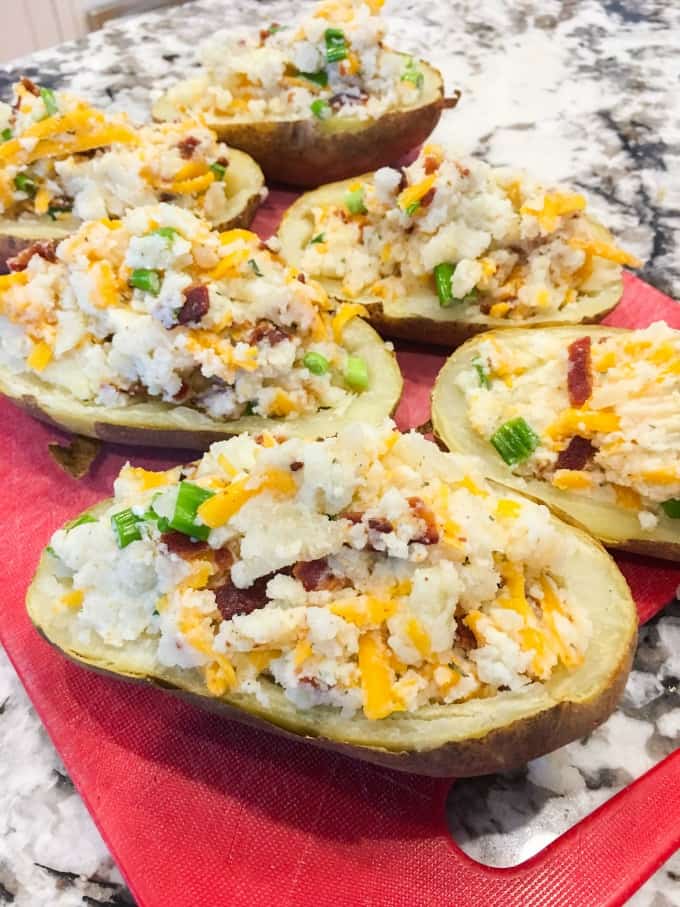 Fluffy baked potatoes filled with cooked bacon, cheese, green onion and a new ingredient for me in baked potatoes, tarragon.
I do love the liquorice-like taste of tarragon. It also has a slightly bittersweet flavor and an aroma similar to anise. It was very nice in the baked potatoes.
All you have to do is bake the potato first in the toaster oven for 1 hour and when it is cool enough to handle you then slice it in half. Next, scoop out the potato leaving the shell intact.
The potato is then mashed. To the mashed potato you add all the other ingredients and then place that back into the potato, top with cheese and bake again.
Sometimes these potatoes are called twice baked potatoes as they go into the oven twice to be baked.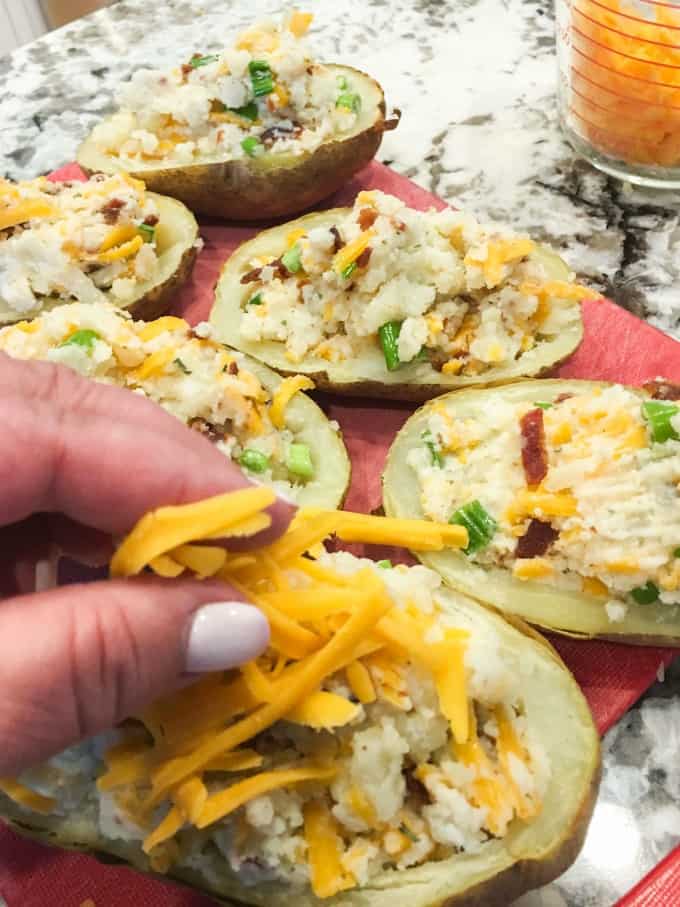 Baked Stuffed Potatoes are very easy to make for any night of the week. There are other recipes that are just as easy as this including Deli Tuna Melts, BBQ Meatballs (I have done meatballs many times in my toaster oven), Vegetable Bean Chili, and even Chocolate Chip Muffins.
All of the recipes in the cookbook are designed exclusively for toaster ovens. With easy-to-prepare and clear instructions these recipes are simple for the novice cook, students and singles.
But honestly anyone can get the benefits from using this cookbook and this fantastic often over looked appliance.
How do you make cheesy baked potatoes?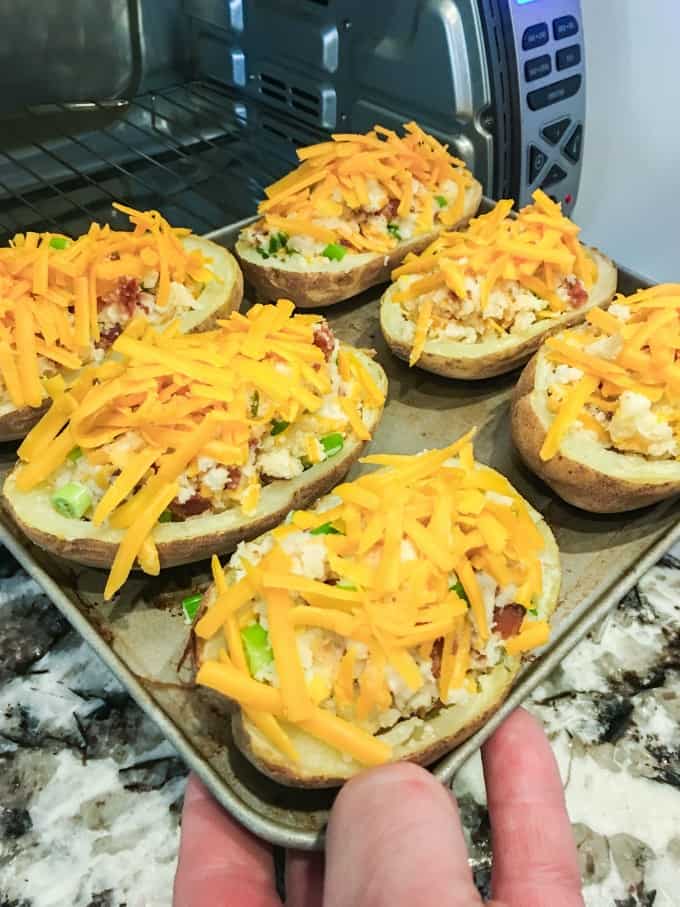 Don't forget though that a toaster oven doesn't just bake or toast. We use ours to broil and keep food warm too. Here are the potatoes going in for the final bake to melt that cheese and make them nice and warm inside.
Cheese is the essence to making these potatoes delicious!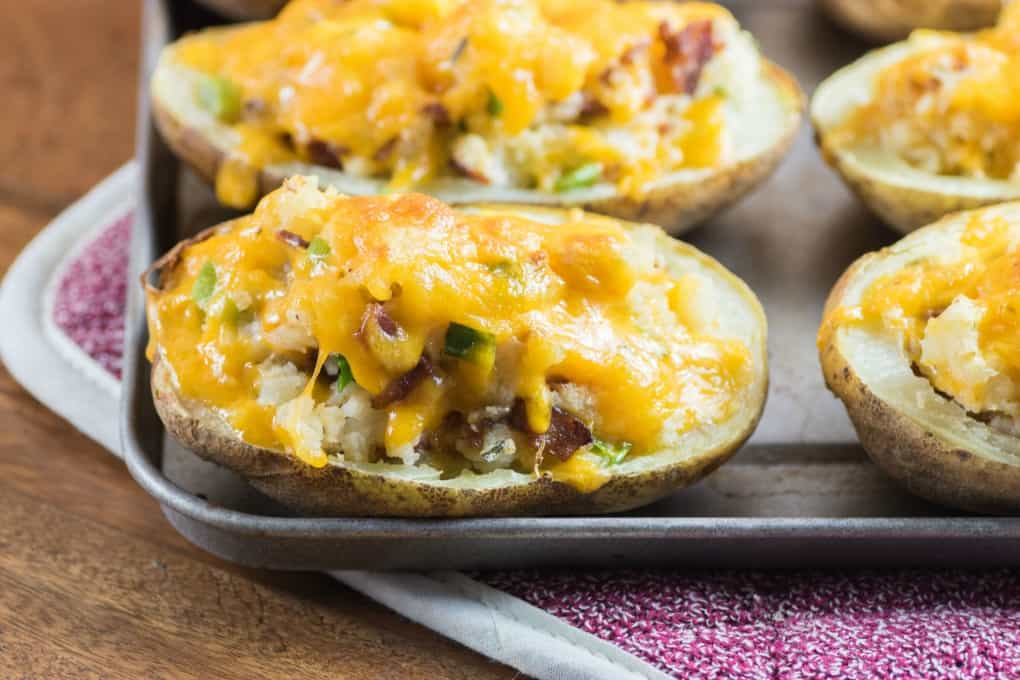 About the author: Linda Stephen is a professionally trained chef whose recipes have appeared in magazines and cookbooks. Linda runs her own cooking school, Linda's Country Kitchen.
She is also the author of The Convection Oven Bible and the Complete Book of Thai Cooking, both by Robert Rose also.
What are the best potatoes for stuffed potatoes?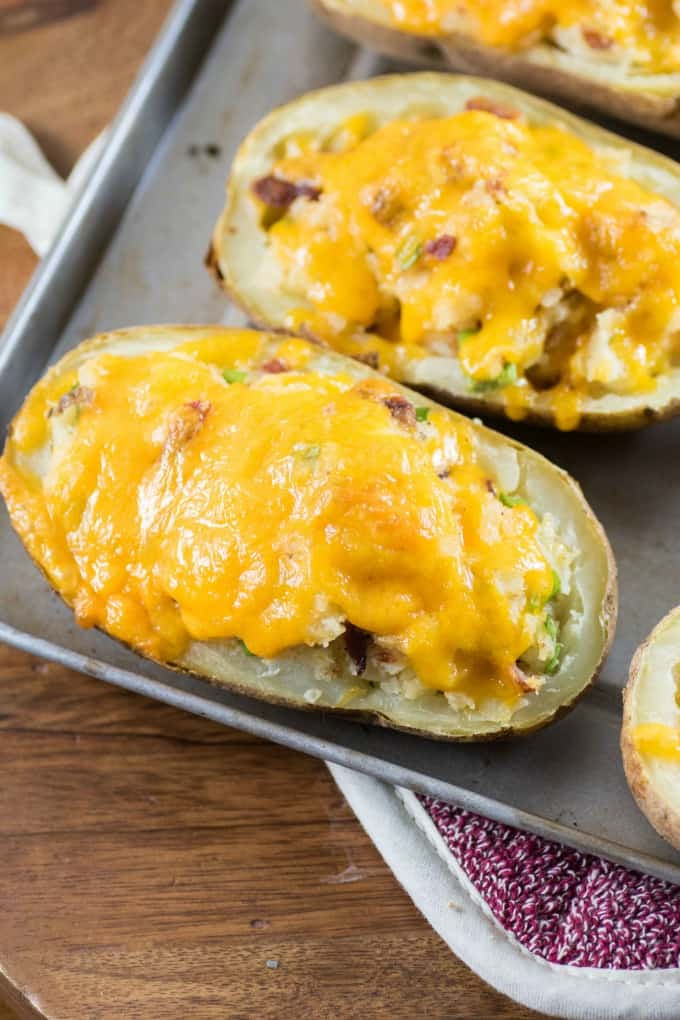 Large baking potatoes or russets are best for this recipe. If they look like Mr. Potato Head you have the right potato, LOL! Sweet potatoes are also great for baking too but I would try different toppings for that one.
You can go for the sweet side of the sweet potato and do a recipe like this one but make it into individual portions. Adding on a crunchy topping with butter, brown sugar and pecans would be a sure fire hit for the holidays.
The author gives two variations for the Stuffed Baked Potato. Either Baked Potatoes with Mexican Topping or Baked Potatoes with Tuna Nicoise Topping sound amazing!!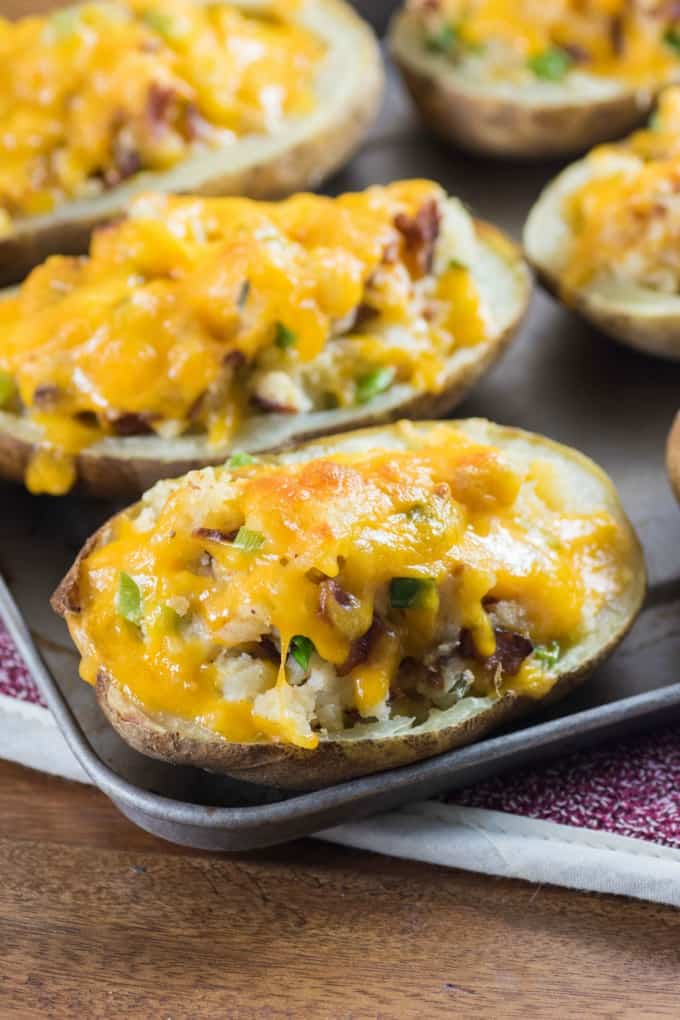 If you don't have a toaster oven, I think it is a must appliance and one that we have had for years. I have not owned a regular toaster for as long as I can think.
The true versatility of a toaster oven will take you from breakfast to dinner. Once you start using it, you will discover all that you can make in it. We often use it for things like baking bacon, which produces the best crisp bacon ever with very little clean up.
Or, for making the best Open-Faced Tuna Melt Sandwich. We truly love our toaster oven so this new cookbook will come in very handy.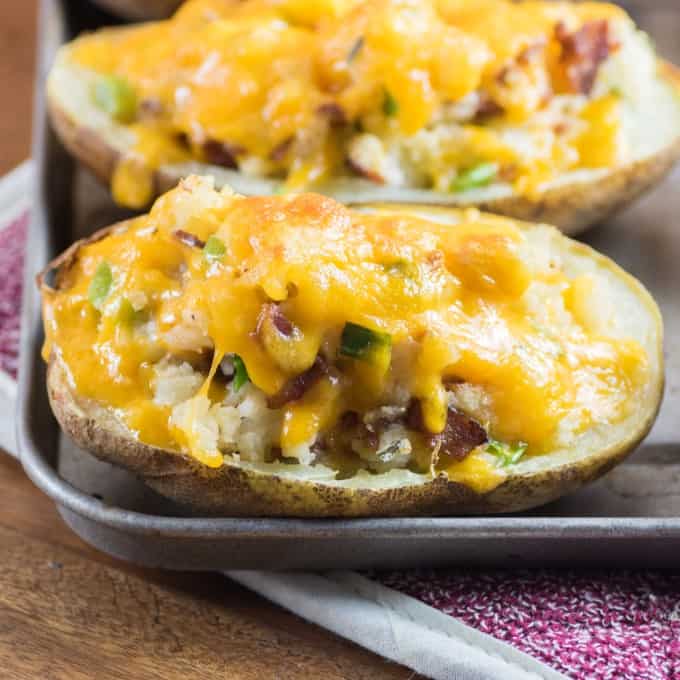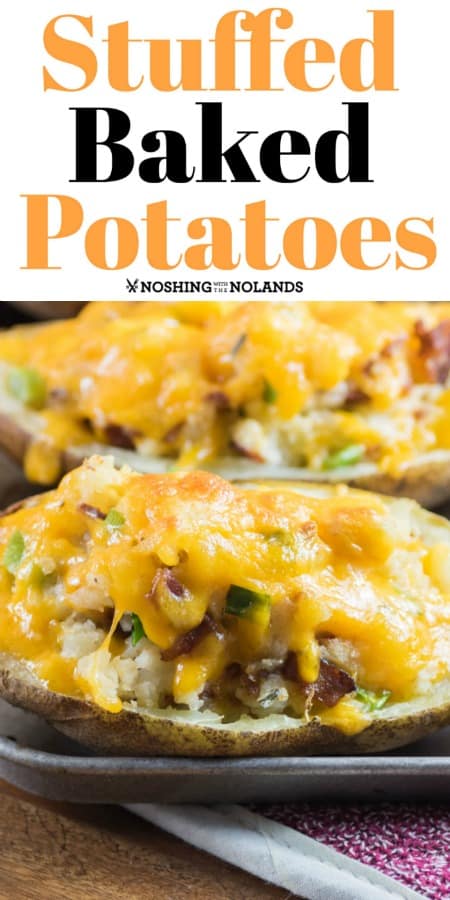 Stuffed Baked Potatoes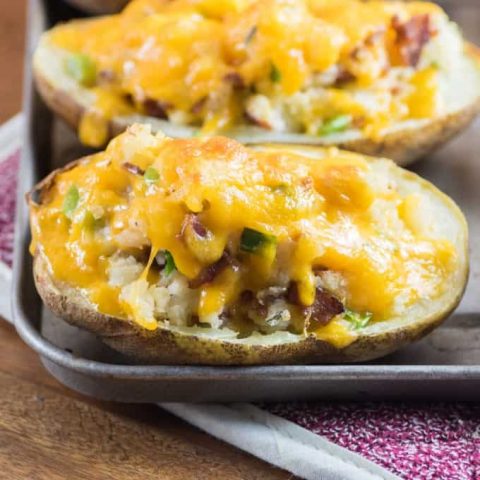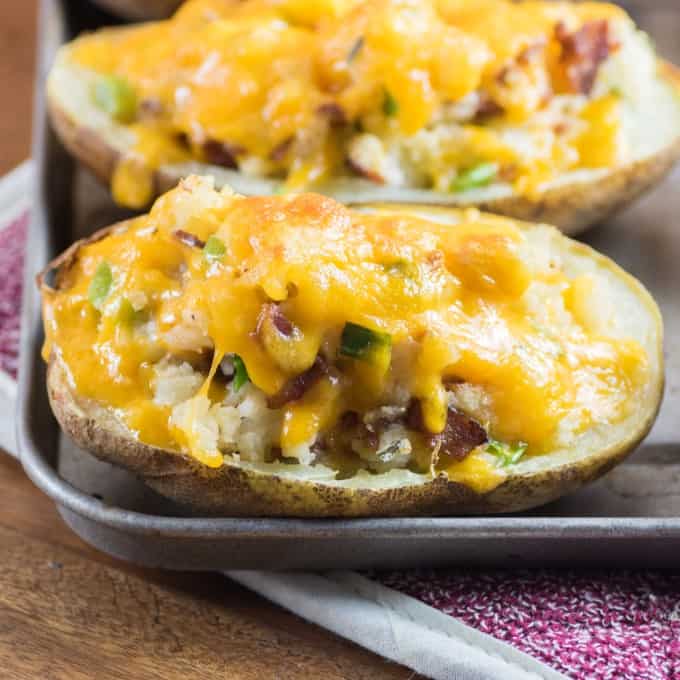 Stuffed Baked Potatoes
Yield: 4 to 6 servings
Prep Time: 15 minutes
Cook Time: 1 hour 18 minutes
Total Time: 1 hour 33 minutes
Potatoes bake beautifully in the toaster oven. Serve these cheesy herb-stuffed potatoes with cold meats, poultry or fish, or just with a salad for a light meal.
Ingredients
3 large baking potatoes
1⁄3 cup sour cream or unflavored yogurt
2 tbsp olive oil or butter
1 1/2 cups grated Gruyère or Cheddar cheese, divided 

1⁄4 cup chopped green onion or chives
2 tsp chopped fresh tarragon, or 1⁄2 tsp (2 mL) dried 

1⁄2 tsp salt
1⁄4 tsp black pepper
1⁄2 cup diced cooked bacon or ham
Instructions
1. Pierce potatoes with a fork. Place directly on rack and bake in preheated 400°F (200°C) toaster oven for 1 hour, or until potatoes are tender when pierced. Cool slightly.
2. Carefully cut potatoes in half lengthwise. Gently scoop out potato pulp, leaving enough shell to act as a container.
3. Place pulp in a large bowl and mash. Add sour cream, oil, 3⁄4 cup (175 mL) cheese, green onion, tarragon, salt, pepper and bacon. Mix well.
4. Spoon mixture into potato shells, mounding in center. Sprinkle with remaining 3⁄4 cup (175 mL) cheese.
5. Arrange potatoes on oven pan. Return to toaster oven and bake for 15 to 18 minutes, or until potatoes are heated through and cheese has melted.
Courtesy of 150 Best Toaster Oven Recipes by Linda Stephen © 2018
www.robertrose.ca
Reprinted with permission. Available where books are sold.
Photo credit: Mark T. Shapiro